Bordered by the Alps in the north, Italy is renowned around the world for its stunning scenery, which consists of picturesque countryside, beautiful coastline, and the idyllic islands of Sardinia and Sicily. While the Apennine mountains run down the center of the peninsula, its long and scenic coastline is bordered by the Adriatic, Ionian, and Tyrrhenian Seas.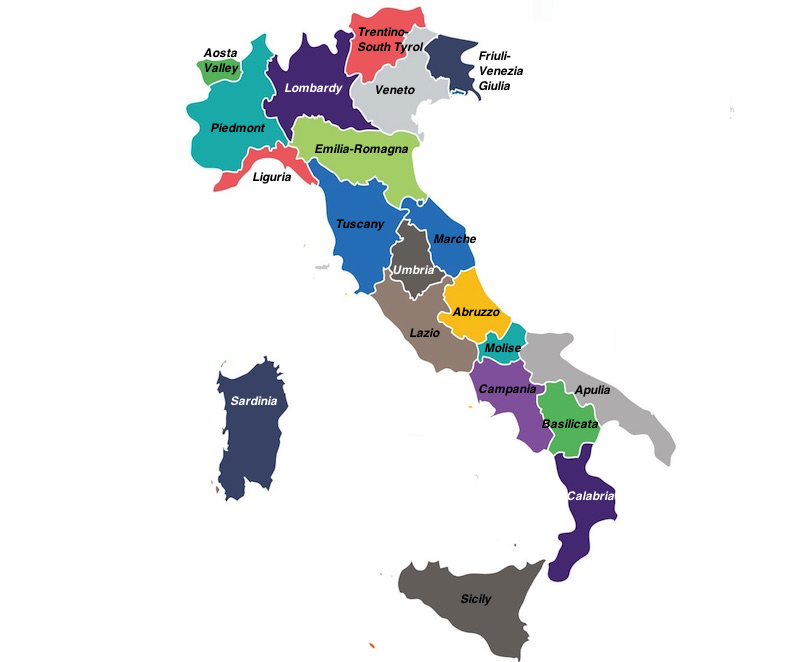 Tucked away among its varied landscapes you'll find a myriad of iconic cities, such as Florence, Rome, and Venice, while the Italian lake district in the north and the Italian Riviera in the west also boast endless charming villages.
Abruzzo
Lying in the central part of Italy, Abruzzo is awash with beautiful nature; remarkably, almost half its landmass is set aside as national parks and nature reserves. As such, it really is a nature lover's dream. There are loads of great outdoor activities on offer, with hiking, rock climbing and skiing all very popular.
The landscapes are diverse, and much of the scenery is untouched and unspoiled. Marvel at the Apennines rising dramatically in the west and the beautiful Adriatic coastline stretching away to the east.
Among the rolling hills, sweeping valleys, and low lying plains that make up the rest of the region, Abruzzo also boasts some very impressive castles and medieval towns; L'Aquila, Pescara, and Sulmona are the most popular destinations with visitors.
Aosta Valley
Located high in the Alps and bordering both France and Switzerland, Aosta Valley may be the smallest region in Italy, but it certainly packs a punch when it comes to incredible sights.
Home to Mont Blanc – the highest mountain in Europe – and a host of lofty peaks such as the Matterhorn, Monte Rosa, and Gran Paradiso, the region is a delight to visit. There is an endless array of scenic treks for you to enjoy, with each offering stunning views of the surrounding scenery. Additionally, mountaineering and skiing are also well-loved outdoor activities with locals and tourists alike.
While the awe-inspiring mountains, valleys, and Grand Paradiso National Park are what most people come for, the region also boasts some cute little mountain towns and hillside villages. Aosta and Courmayeur are the picks of the bunch.
Apulia
Covering Italy's 'heel,' Apulia is the most southeastern region in the country, and is blessed with a warm and inviting climate that makes it a very popular holiday destination.
While much of its long coastline consists of rugged cliffs, some lovely beaches can be found here and there. Hidden away amid the wonderful scenery are loads of fascinating historical sights and gorgeous towns and cities for you to check out.
Although Bari and Brindisi certainly have their charms, the piece de resistance is undoubtedly Lecce. This spot is justifiably referred to as 'the Florence of the South' due to its wealth of beautiful architecture, historical sights, and cultural landmarks. You really can't go wrong in Apulia, as history, culture, and nature are all around you. It's really up to you whether you choose to visit sights such as the historic city of Gallipolli or the breathtaking Tremiti Islands.
Basilicata
Often overlooked by visitors to southern Italy, who instead head to neighboring Calabria and Apulia (Italy's 'toe' and 'heel'), Basilicata is certainly worth checking out for all that it has to offer.
As a third of the region is made up of nature reserves and national parks, there is a lot of lovely scenery to discover. The natural wonders are varied, with the verdant and more mountainous interior contrasting starkly with the arid, wild coastline.
Tucked away among all this are some gorgeous towns for you to visit, such as Irsina and Maratea. The region is littered with impressive archaeological sites, and castles, with Matera – the 2019 European City of Culture –the highlight for many.
Calabria
Blessed with a bewitchingly beautiful coastline, Calabria's stunning scenery will set your heart racing. Italy's 'toe' is bordered by the Tyrrhenian Sea to the west and the Ionian Sea to the east.
While most of the culture and city life in Calabria revolves around the sea, the region is actually home to three majestic mountain ranges, and its center is made up a vast, forest-filled mountain plateau.
With a laidback way of life that goes back centuries if not millennia, Calabria makes for a relaxing holiday destination. While traveling around the region, you're sure to come across lots of interesting Greek archaeological sites, Byzantine churches, and charming little towns and villages.
Campania
Italy's most densely populated region is awash with incredible historical, natural, and scenic sights for you to enjoy; you'll really have your work cut out trying to fit everything in.
While Naples and the nearby sights of Mount Vesuvius and Pompeii attract hordes of visitors, the Amalfi Coast is just as famous. Cute little towns such as Positano and Amalfi are nestled away at the foot of steep mountains that look out over the sparkling Mediterranean.
The region of Campania truly is a delight to visit. In addition to its breathtaking scenery and fantastic historical sights, it also boasts the idyllic islands of Capri and Ischia for you to enjoy.
Emilia-Romagna
As with most regions in Italy, Emilia-Romagna features an astounding array of beautiful old towns and cities, with each appearing to be more impressive than the last. This is equally true for its diverse range of landscapes and habitats.
For instance, Bologna – the capital of the region – is home to the oldest university in Europe. While it is possibly the most popular draw in Emilia-Romagna, Ferrara, Modena, and Ravenna are just as visit-worthy for all their amazing churches, museums, and monuments.
As the region stretches westwards from the Adriatic, it encompasses a number of different environments. The mountains, hills, and valleys tower above the Po basin and the surrounding plains that make their way to its glorious coastline.
Friuli-Venezia Giulia
Because it borders both Austria and Slovenia, Friuli-Venezia Giulia has a different look and feel to it than the rest of the regions in Italy. This is best exhibited in the capital of Trieste, which is home to a delightful mix of people, cultures, and architectural styles.
As mountains, forests, and alpine lakes dot the region, there is lots of magnificent scenery to take endless snapshots of. Many people go hiking, mountaineering, and swimming in the summertime, while in winter, skiing and snowboarding are popular.
Set in an important location between Southern, Central, and Eastern Europe, there are lots of castles and historic monuments for you to visit; these date back to various empires and kingdoms which have ruled the region over the years.
Lazio
Although it is dominated by Rome, which is home to an impressive array of iconic sights, there is much more to Lazio than just the capital of the country. It is well worth taking the time to explore further afield in the region.
Just a short distance from Rome and the Vatican, for instance, are the Castelli Romani – a lovely collection of little hillside towns set in a beautiful location with lakes and hills all around them. Civita Castellana and Tivoli also make for great day trips from the capital.
While most of Lazio is quite flat in comparison with other parts of the country, there is lots of picturesque countryside to explore, and its lovely coastline is almost entirely made up of sandy beaches.
Liguria
Hugging Italy's northwest coastline, Liguria is a beautiful region to visit that is renowned for being home to the Italian Riviera. There's also the stunning Cinque Terre – a series of five charming villages lying next to the sea with steep hills and cliffs towering around them.
The narrow strip of land that makes up the region is full of the most picturesque towns and villages imaginable for you to discover. Genoa – Liguria's capital – is the largest and liveliest city in the area, and the charming Portofino one of its most popular draws.
Despite its modest size, Liguria certainly punches above its weight when it comes to its glorious scenery, as it is bordered by the Alps and Apennines to the north and the Mediterranean to the south. The stark differences make for some impressive views, with lots of lovely hiking trails winding their way along the coastline.
Lombardy
Bordering Switzerland in the north of Italy, Lombardy boasts a wealth of incredible scenery. The Alps in the north give way to the Prealps, the Italian lake district, and magnificent cities such as Milan, Bergamo, and Lecco.
As such, there really is something for everyone to enjoy; you can explore Milan's numerous fashion boutiques before taking a scenic cruise on Lake Como or Lake Garda, then continuing to the Alps for awesome views from the plethora of fantastic hiking trails.
Many of Lombardy's cities are located in stunning settings. You can wander around age-old cities with their beautiful historic centers while enjoying the view of the mountains in the distance or the sparkling lakes nearby.
Marche
With its scenic Adriatic coastline, ancient hilltop towns, and picturesque, rolling countryside, Marche in central Italy is a delightful region to visit. If you're looking for a quiet and peaceful holiday, it attracts substantially fewer visitors than more popular destinations such as Rome, Naples, and Venice.
Often described as 'all of Italy in one region,' it has the Apennines in the west, rolling farmland and plains in the center, and beautiful beaches and steep cliffs along its eastern shore.
The main city in the region, Ancona, is awash with history in the shape of its many museums and monuments. Scattered around Marche, you'll find lots of hidden gems, such as the ancient town of Ascoli Piceno, the walled city of Cingoli, and the beach resort town of Fano.
Molise
A very much off the beaten path destination, Molise is the second smallest region in Italy and receives very few visitors, as it is almost unknown even to Italy aficionados. As such, it is a great place to head if you're looking for the authentic side of Italy away from all of the crowds.
Home to a varied range of landscapes, the southern region lies on the Adriatic coast, which is dotted with beautiful beaches and rugged, rocky cliffs. Its interior is bursting with splendid nature reserves and parks for you to explore.
Dotted amongst all this are some fascinating archaeological sites and castles for you to check out, while the tiny villages of Carovilli, Ripalimosani, and San Pietro Avellana are delightful to visit; surrounded by forests, mountains and rolling hills, they feel untouched by time.
Piedmont
Bordering France in the northwest of Italy, Piedmont is awash with breathtaking scenery, as it is bordered on three sides by the magnificent Alps that look out imperiously over the region.
Away from the mountains and the wealth of outdoor activities they offer up, Piedmont is also home to the twinkling Lake Maggiore and rolling hills, which are covered in picturesque vineyards and lovely little wineries.
Exploring the region really is a treat. While Turin may be the undisputed capital and center of Piedmont, it is well worth venturing further afield to visit some of its other marvelous towns and cities, such as Asti, Bra and Stresa.
Sardinia
Lying just south of Corsica and surrounded by the sparkling Mediterranean, the wonderful island of Sardinia is breathtakingly beautiful to visit. While its jagged cliffs and scenic coastline are undoubtedly the main draws, its mountainous interior is just as fantastic to explore.
Due to its diverse range of landscapes and Mediterranean climate, Sardinia is an outdoor lover's dream. Watersports such as swimming, sailing, and windsurfing are all popular, while its charming countryside is ideal for hiking and camping.
Cagliari and Sassari – the island's two largest cities – are both great to visit. Scattered around Sardinia's stupendous scenery are lots of cute and charming villages for you to discover, away from the crowds that mainly head to the island's beautiful beaches.
Sicily
The largest island in the Mediterranean, Sicily is very distinct from the rest of Italy, as everyone from the Greeks and Romans to the Arabs and Normans once ruled this beautiful part of the country.
As such, its cities and towns such as Palermo, Catania, and Trapani make for fascinating viewing. Everywhere you go, you are greeted with the most astounding scenery imaginable, as well as lots of fascinating archaeological sites and ruins dotted around the countryside.
Although Sicily is a trendy beach destination, the island has much more to offer up in terms of its varying habitats. It is home to the majestic Mount Etna – the largest volcano in Europe – and its interior is comprised of a patchwork of hills, farmland, and scenic villages.
Trentino-South Tyrol
Bordering both Switzerland and Austria in the northeast of the country, Trentino-South Tyrol is famed around the world for its majestic mountain scenery. It is here that you'll find the glorious Dolomites.
The alpine region lends itself perfectly to hiking, skiing, and mountaineering. While some of the little towns and villages are very Germanic in look and feel, others are more Italian, with Brizen, Meran, and Val Gardena all well worth a visit – alongside Bolzano, the capital of the region.
Home to the Dolomiti Bellunesi National Park – the most visited in the country – Trentino-South Tyrol boasts an incredible range of awe-inspiring natural sights. Away from the towering mountains, you'll find lovely lakes, rivers, and valleys to explore. The Seiser Alm – the largest alpine plateau in Europe – is yet another highlight.
Tuscany
Tuscany is one of the most popular regions to visit in Italy – and with good reason; it boasts not only the romantic renaissance city of Florence, but the medieval city of Siena, the world-famous Leaning Tower of Pisa, and the renowned Chianti wine region.
Needless to say, exploring the region really is a treat. Away from Tuscany's beautiful cities – which are replete with history and culture – its fabulous countryside is full of picturesque hills, farmland, and vineyards for you to discover.
Also sporting an impressive coastline that borders the Tyrrhenian Sea, Tuscany really does have it all. Just to complete the perfect picture, the region also has many great nature parks, hot springs, and little islands.
Umbria
Although it has no large cities to speak of, the landlocked region of Umbria more than makes up for it with its delightful rolling countryside, and there are a host of interesting towns and villages for you to visit.
For instance, both Perugia – a lively university town with a beautiful, medieval center – and Assisi, an important religious center, are fascinating to explore. These are just the tip of the iceberg in terms of what Umbria has to offer.
Traveling around the region and discovering hidden gems such as Gubbio, Bevagna, and Trevi is a wonderful experience, and the rural landscapes all around you only add to Umbria's charm.
Veneto
While Venice is undoubtedly Veneto's main draw with all its majestic canals, stunning architecture, and fascinating historical sights, the region actually has a lot more for you to see and do.
In the northern realms of Veneto, for instance, you'll find the sophisticated Cortina d'Ampezzo, which provides breathtaking views of the Dolomites as well as some fantastic skiing and hiking – depending on the season.
Stretching to the west of Venice are a string of incredible cities and sights for you to visit, with Treviso, Padua, Vicenza, and Verona all calling your name. Tucked away on the border with Lombardy is the majestic Lake Garda; yet another of the marvelous attractions you need to visit in Veneto.