A very rewarding region to travel around, Emilia-Romagna sprawls across a massive part of northern Italy. Aside from boasting some of the best food in the country (and that's saying something!), it also has lots of captivating cities and countryside to explore.
Extending from the endless Apennines to the mouth of the Po River and Adriatic Sea alongside it, the region's diverse landscapes contain tons of enchanting old towns.
While its capital Bologna attracts the most attention, Ravenna's riches and Parma's fresh produce also see plenty of people visit. Other than ambling about their attractive centres, you can always lounge on the beach at the popular resort of Rimini.
As you visit the medieval places in Emilia-Romagna, you can try not just tortellini and tagliatelle but Bolognese sauce, Parmigiano cheese and Parma ham too. Providing the perfect combination of history, culture, nature and cuisine, Emilia-Romagna has everything you could want from a holiday destination.
In this post, we'll cover:
12. Castell'Arquato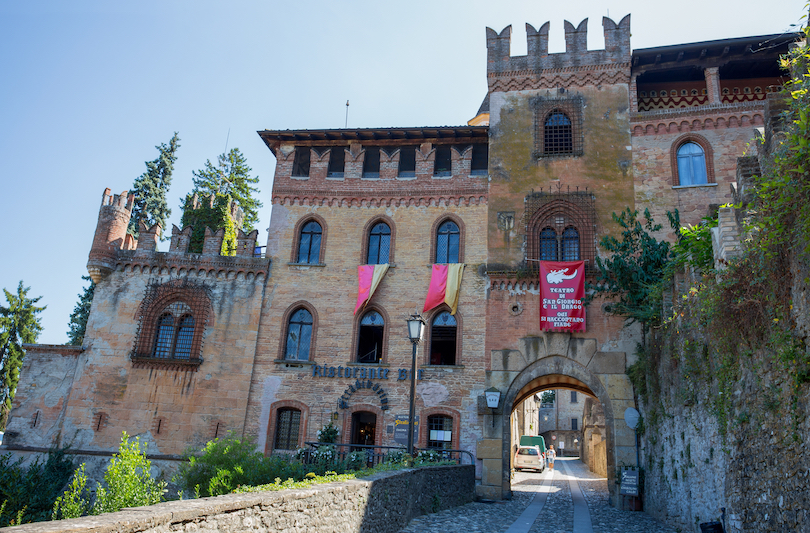 If you're looking for a peaceful, picturesque place to visit that is off the beaten path, the charming old Castell'Arquato is a fantastic option. Spread across the first few hills of the Arda Valley, it lies almost equidistant from both Parma and Piacenza.
Founded back in Roman times, the small hilltop town boasts a magical medieval centre bordered by loads of well-preserved palaces. As well as exploring the centuries-old Visconti Castle, you can stroll about Santa Maria Assunta Church and the important Podesta Palace. Asides from admiring their ornate facades, you can also enter the former and see fading frescos and fabulous religious artworks.
Only recently included on lists of the 'Most Beautiful Villages in Italy', it is also known as the 'City of Lovers' due to its romantic nature. Well worth a visit, Castell'Arquato is surrounded by verdant forests and vineyards that stretch endlessly away into the distance.
11. Rimini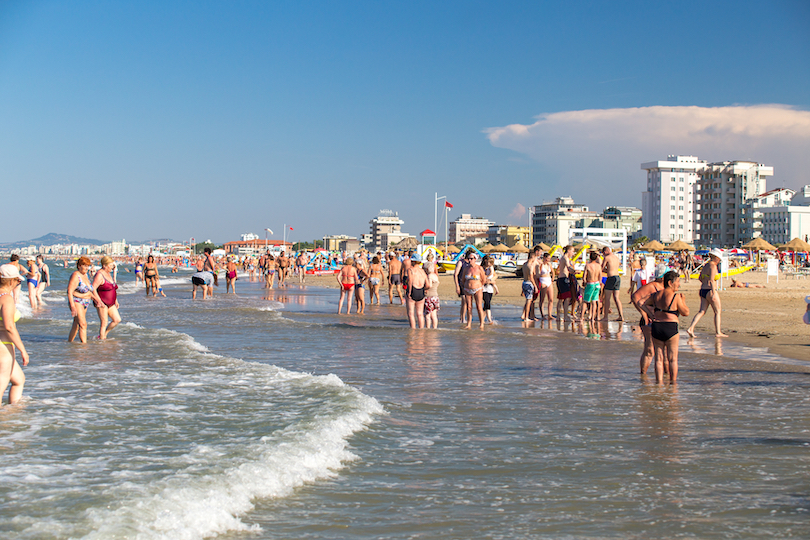 Long a popular holiday destination, the lively resort town of Rimini lies at the heart of the resplendent riviera of the same name. Other than lounging on its sun-kissed sands, you can visit age-old historic sights and enjoy its pounding nightlife.
Sprawling alongside the Adriatic Sea, its broad beaches impressively stretch over fifteen kilometers in length. Dotted along them are hotels and seafood restaurants with fun bars and nightclubs also on offer. In summer, the city and its sands get pretty packed with both local and foreign tourists.
Since its first 'Bathing Establishment' was opened in 1843, people have flocked to Rimini to soak up some sun and swim and splash about in its shallows. There are however some interesting sites and museums to see in its center. These include the 27 BC Arch of Augustus, Tiberius Bridge and ruined amphitheater; all built by the Romans.
10. Comacchio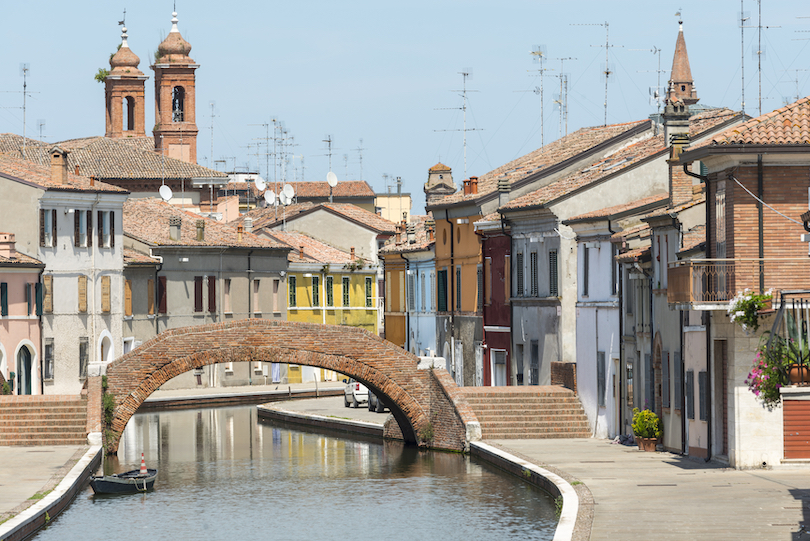 Much calmer and quieter, the little town of Comacchio is located roughly ninety minutes' drive up the coast from Rimini. Set just inland along the shores of a large lagoon, it is delightfully known as 'Little Venice' due to its lovely canals, bridges and ancient buildings.
Just like La Serenissima, the scenic Etruscan settlement is constructed across countless isles joined by bridges and canals. Although sacked at one point by their rivals the Venetians, it still has a wealth of impressive buildings to admire. Many of these are religious in nature with numerous monasteries and churches lying alongside the colossal Comacchio Cathedral.
In addition to snapping some photos of its wonderful waterways, there is an excellent archaeological museum to see. To top it all off, the tiny town is also famed for its relaxing lidos that line the nearby coast. As it looks like Venice in places but is way less crowded, we really loved the half-day we spent exploring Cornacchio.
9. Ferrara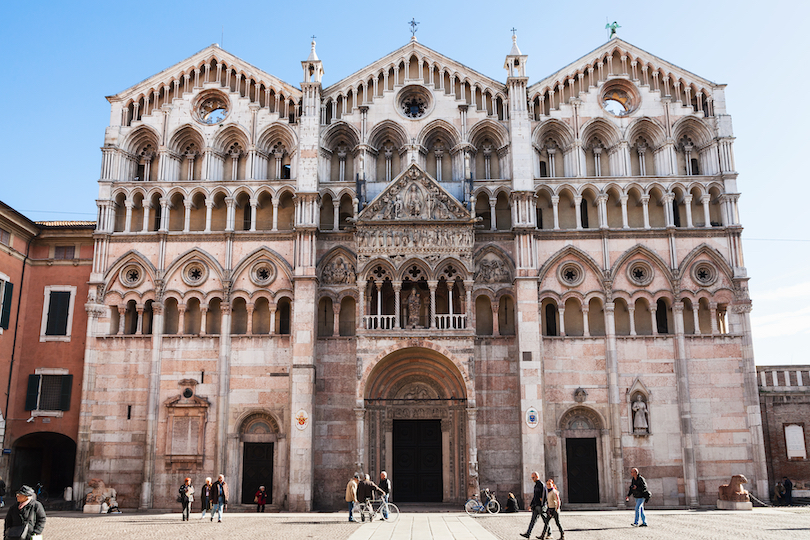 Forty minutes drive further on again is the refined city of Ferrara which is the capital of the province of the same name. Oft-overlooked in favor of Bologna, Parma and Ravenna, it is certainly well worth visiting if you have the time. This is because its Renaissance rulers, the Este family, erected so many pretty palazzi, churches and piazze.
As it sits on the exposed Po Valley plain, the city eventually built sturdy brick walls and the imposing Este Castle to protect themselves. Remarkably intact today, these are fascinating to amble all around with its Gothic Cathedral of Saint George being another highlight.
Under the patronage of the Este family, Ferrara became a thriving center of the arts and architecture in Italy. This is immediately evident as you walk around the historic center and see the phenomenal Piazza del Municipio and marble-clad Palazzo dei Diamanti.
Besides perusing captivating collections of jewellery, tapestries and sculptures, make sure to try some of its traditional cappellacci di zucca. Absolutely delicious, the special ravioli are filled with melt-in-the-mouth butternut squash.
8. Parco del Delta del Po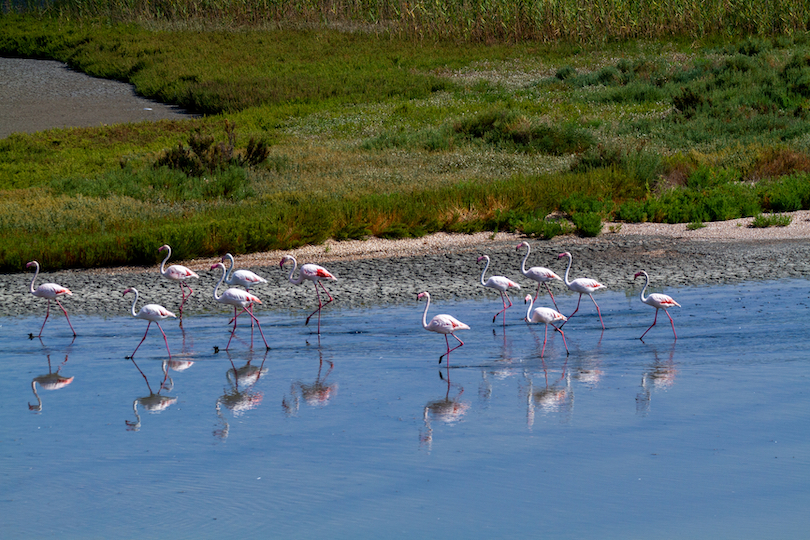 Italy's longest river, the Po finally enters the Adriatic Sea at the point where both Emilia-Romagna and Veneto's coastline meet. Now protected as a regional park, the wetlands' wild reaches offer all kinds of exciting outdoor activities.
Covering an absolutely enormous area, the river delta is home to a wide variety of fauna and flora. As you hike along its trails or kayak about its waterways, you can sometimes spy otters, hedgehogs and even flamingos! In total, over 300 bird species reside in the park which was created back in 1988.
Cycling and paddling about all its diverse landscapes is a treat as you'll barely come across another soul, outside of its scattering of towns. The delta encompasses not just coastal dunes and secluded beaches but swamps, lagoons and islands too. After seeing soooo many historic sights and old city centers, we really appreciated immersing ourselves in the unique ecosystem's nature.
7. Brisighella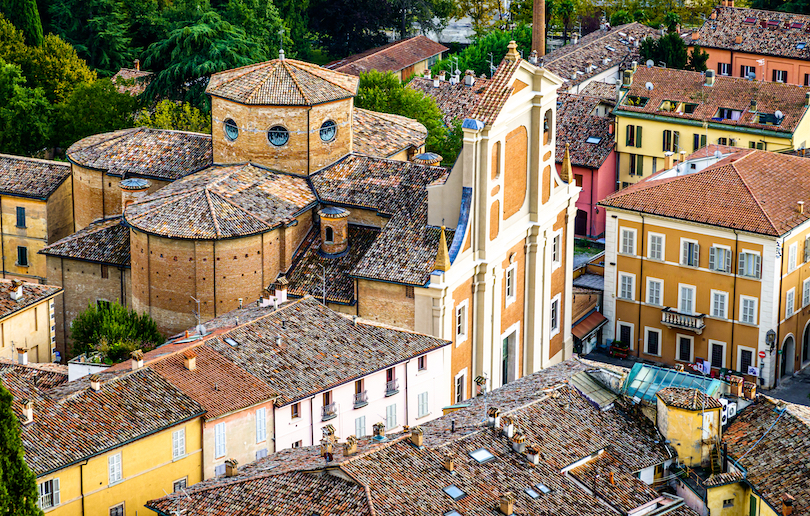 Lying on the slopes of the almost endless Apennines is yet another of the region's hidden gems: the beautiful Brisighella. A photographer's dream, its pastel-colored squares and streets are a delight to get lost in with a fairytale fortress surrounded by forests also overlooking their roofs.
Located about an hour's drive from Bologna and Ravenna, the medieval village lies amongst loads of rolling hills and vineyards. Its most distinctive landmarks are the old 1228 castle and clocktower that peek above the trees coating its hilltops. Beneath its two standout sights is the centuries-old Church of the Osservanza and arched stone walkways of Via dei Assini.
As the town is an agro-tourism destination, stop by some local restaurants, farms and wineries to try its fresh produce. You can also venture into its nearby countryside which offers divine panoramas of Brisighella and its breathtaking backdrops.
6. San Leo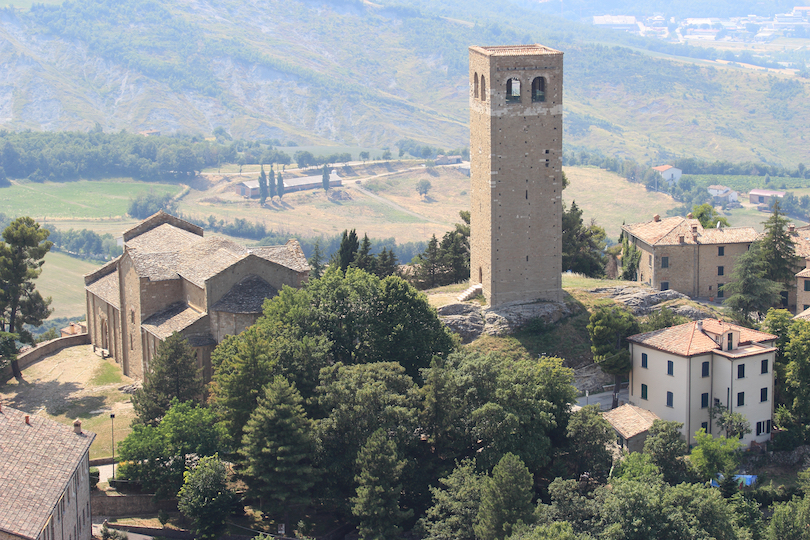 At least rivaling and possibly even outdoing Brisighella in terms of its beauty is the even smaller San Leo. Perched atop a rocky outcrop, its dramatic setting and stunning castle saw it named one of the 'Most Beautiful Villages in Italy'. Having previously never heard of it, we were very glad a local recommended we visit as it really is special.
Almost impenetrable, the fortified town, its walls and fortress are set atop towering cliffs with only a single winding road leading up its steep side. Dante Alighieri himself even used its teetering position to describe purgatory in his Divine Comedy.
Certainly very impressive to see, its most important civic and religious buildings are clustered around Piazza Dante. While the seventh-century Parish Church is the oldest, the sandstone Cathedral of San Leo attracts the most attention. This is because of its considerable size and precarious setting pretty much on the cliff edge.
The highlight, however, has to be exploring its fort and gazing out over the bucolic countryside all around it.
5. Modena
Not to be missed, the magnificent city of Modena is famed for both its fine food and fast cars. Lying in between Parma and Bologna, the birthplace of Enzo Ferrari and Luciano Pavarotti has loads of fun things for you to see and do.
While these larger-than-life characters have helped put Modena on the map in modern times, the city has now been around for well over two millennia. An architectural treasure trove, its historic centre is home to tons of picturesque palazzi and atmospheric old churches. Of these, the 1634 Ducal Palace and ginormous cathedral alongside Piazza Grande are undoubtedly the pick of the bunch.
Besides taking photos of the Ghirlandina bell tower, the city's main symbol, you have to sample some of its food. Most known for sweet balsamic vinegars, its traditional meats, salamis and tortellini can be tried at either the acclaimed Osteria Francescana or busy Mercato Albinelli market. Many visitors also head to its numerous automobile museums, the best of which is dedicated to all things Ferrari.
4. San Marino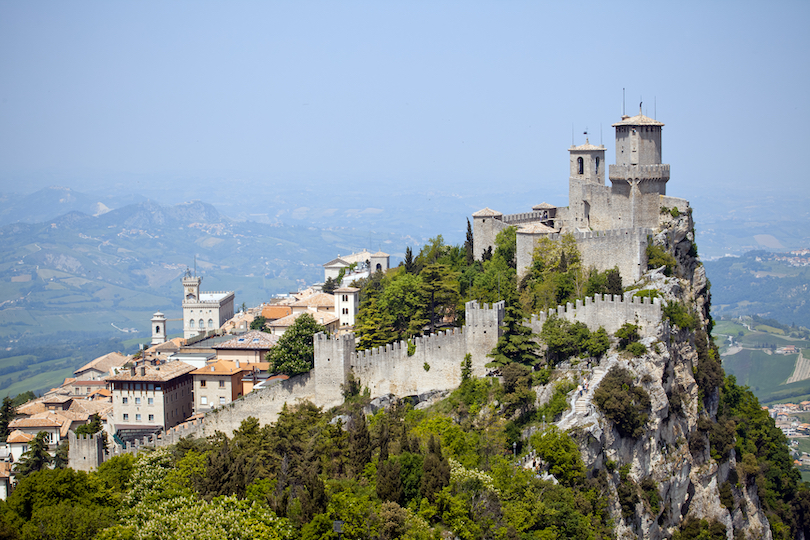 Although it is technically not a part of Italy, the mountainous microstate of San Marino is completely surrounded by the Emilia-Romagna and Marche regions. Aside from ticking another country off your list, the 'Most Serene Republic' is awash with attractive architecture and spellbinding scenery.
Overlooking Rimini from its prominent setting amidst the Apennine Mountains, the landlocked nation is remarkably the fifth-smallest in the world. Having been founded in 301 AD, it also claims to be the oldest republic.
Its capital's charming cobbled streets certainly are crammed with hundreds of old historic sights. Set atop Mount Titano are three fantastic castles to check out, all of which boast astounding views over the Adriatic. Other than venturing up their lofty towers, you can wander about its walled old town, see the Basilica di San Marino and stop by some of its small museums.
3. Parma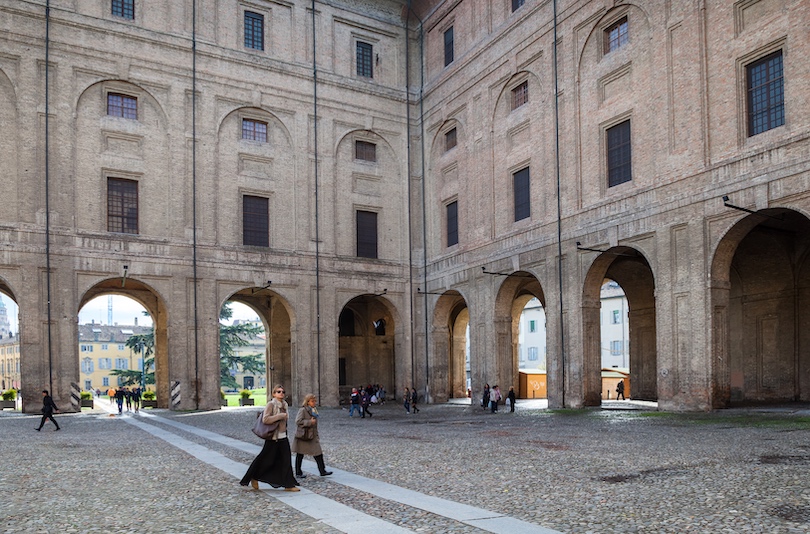 After the capital Bologna, the oft-overlooked city of Parma is the largest in the region. Renowned for its world-famous cheese and ham, it also has an enchanting historic center to explore. Thanks to the University of Parma's large student population, the city has a lovely lively yet laidback feel.
Already a built-up area back in the Bronze Age, the ancient city has a fascinating history, culture and heritage for you to delve into. Divided in two by the smallish stream of the same name, its main sites are centered all about Piazza Duomo. Here you can find its incredibly ornate cathedral, unique-looking baptistery and elegant bishop's palace.
After admiring their refined facades and religious artworks, you can always sip an aperitivo in one of its scenic squares or attend an unforgettable opera. When in town, you also have to try at least some Parmesan cheese and locally-produced prosciutto.
2. Ravenna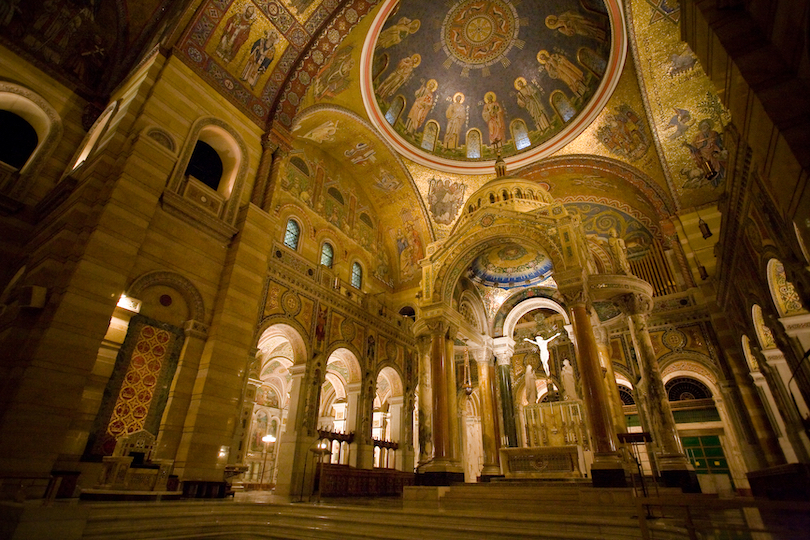 As it was formerly the capital of the Western Roman Empire, Ravenna is arguably the most important historic city in all of Emilia-Romagna. We found exploring its old streets absolutely magical due to all of its very well-preserved Roman and Byzantine architecture. Many of its early Christian monuments are also decorated with intricately-crafted, colourful mosaics.
Now connected to the Adriatic by the Candiano Canal, the city flourished for centuries under various rulers. These ranged from the Ostrogoths and Byzantines to the powerful Papal States and rivals the Republic of Venice.
Despite these tumultuous times, its compact center is still packed today with all kinds of artistic and architectural treasures, many dating to the sixth century. These include not just the beautiful Basilica of San Vitale and Arian Baptistery; both clad in amazing mosaics.
Countless old churches and palazzi are also scattered about with every corner offering up something new and interesting. Should you somehow have enough of its glittering riches and gorgeous piazze, the Marina di Ravenna's beaches lie only a short train ride away.
1. Bologna
Although it is sadly often skipped by tourists who instead head to Florence, Rome or Venice, Bologna has long been one of Italy's most important and influential cities. Known as 'the fat', 'the learned' and 'the towered', Emilia-Romagna's capital has a very rich history and culture to uncover.
Due to its strategic setting on the Po Plain, the area has been inhabited since about the tenth century BC. As well as being a bustling center of culture and commerce, it is home to the oldest university in Europe. Its sizeable student body means there's a vibrant atmosphere about its old streets and their lengthy porticos. While some are unfortunately covered in ugly graffiti, most are in remarkably good condition considering their age.
Rising dramatically above the university town's red-tiled rooftops are dozens of tall towers which boast some incredible views. Bologna's last nickname relates to its renowned culinary traditions that you just have to try out after checking out its richly decorated churches and charming old piazzas.
Map of Places to Visit in Emilia-Romagna, Italy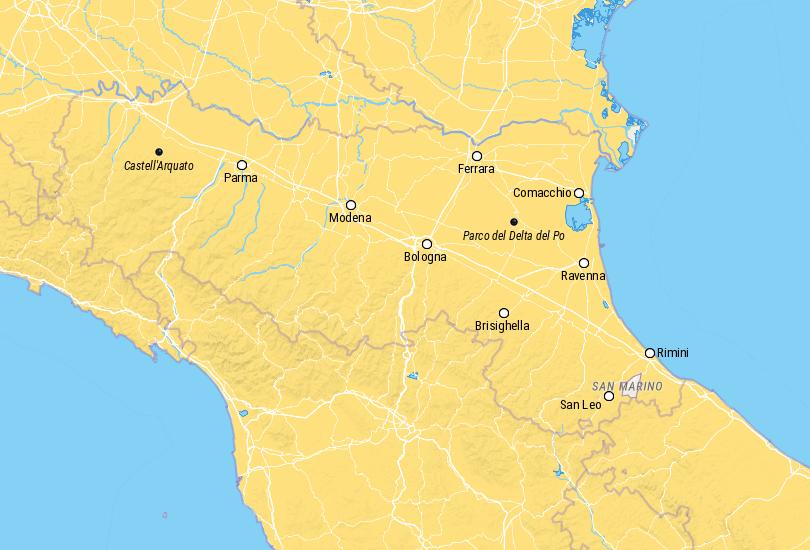 © OpenStreetMap © MapTiler © Touropia