The Italian island of Sardinia, the second largest in the Mediterranean Sea – after Sicily, of course – has 2,000 kilometers of coastline. Much of that coastline is taken up by a multitude of stunning beaches, from famous beaches to those set on archipelagos, secluded coves, and beaches where water sports enthusiasts are drawn.
Expect white sands and turquoise waters. But the beach isn't the only natural attraction of Sardinia; sections of its rocky coast are great for sea view hikes, while the interior of the island is all about walking the hills and driving through rustic villages.
Sardinia is also a place of deep history. Throughout the island, visitors are likely to come across ruined beehive-shaped structures – a little bit like castles, maybe. But these aren't medieval. In fact, they're not even Roman. Called nuraghi, they're much, much older, dating to between 1900 and 750 BC.
Of course, Roman history makes its appearance here, as do powerful medieval European states like Aragon, from Spain, and the Pisans from Italy. As a result, Sardinia is a museum of intrigue, with old cathedrals and churches sitting next to forts which have seen centuries of conflict and changing flags.
Map of the Best Places to Stay Sardinia
© OpenStreetMap © MapTiler © Touropia
With this mix of human history and some of the Mediterranean's most beautiful beach offerings, Sardinia is naturally a place you're going to want to visit. And it's easily done: from the northeast, where celebrities and the otherwise well-to-do jet setters of the world disembark from yachts and head to private villas and upscale hotels, all the way to well-touristed towns with resorts and apartments for all manner of affordable stays.
You could even go for something further from the regular tourist route and find yourself in an affordable, family-run B&B in an authentic Sardinian building. Whatever it is you want, Sardinia will have it.
Alghero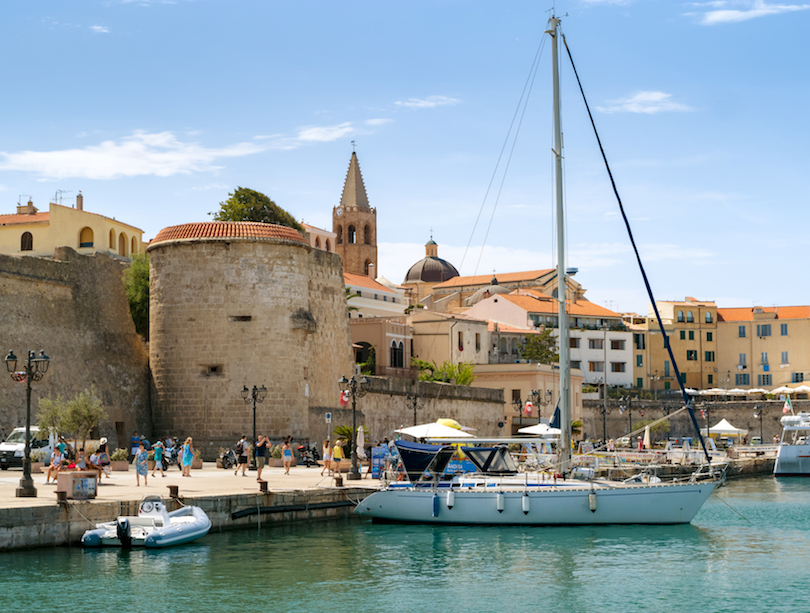 This harbor town sits on the northwest Sardinian coast. Its narrow streets wind and weave around the medieval citadel as the centerpiece; here, you'll find plenty of boutiques and restaurants to explore. This – the Centro Storico – is the main focus of this town and is actually one of the best preserved in the area, making it an excellent place for history buffs and architecture lovers to discover.
Interestingly, the street signs in Alghero are both in Italian and Catalan, which is a testament to over 300 years of Aragon Spanish rule. Today, it's something of a resort town and gets particularly busy in July and August. It's a good place to use as a base to explore the surrounding area and beautiful natural scenery. Stay at one of the many hotels in town, soak up the Spanish-infused atmosphere, and rent a car to get around.
Where to Stay in Alghero
Cagliari
The capital of Sardinia, Cagliari is a beautiful seaside town with the history match; DH Lawrence once famously described it as "Jerusalem but without trees." Accordingly, you will find ancient Roman ruins, baroque churches, crumbling piazzi to hang around in, and the Castello district with its granite paving stones.
Cagliari certainly has a lot to offer those who like to wander. In particular, there is the impressive Roman amphitheater, built in the 2nd century BC, and the Lion's Door, which was constructed in 1535 and formerly served as the city's southern gate.
Away from the history, there is Poetto Beach, a long slice of sand lapped by pale blue waters that gets busy in the summer, with good nightlife to be found. You'll be able to stay in all sorts of lodgings here, from boutique hotels in historic buildings and villas to modern resorts and tiled apartments.
Where to Stay in Cagliari
Olbia
This northeastern town is the main ferry port of Sardinia. This, combined with its nearby international airport, means that it is something of a gateway to the rest of Sardinia – especially the northeast region. But Olbia has impressive credentials itself that make this more than just a port town; in some ways, it has retained something authentic about it that more heavily touristed areas may lack a little.
Olbia is all about drinking wine on terraces and dining on good food in one of the restaurants in the cobbled streets around the Piazza Regina Margherita. There is a busy shopping street – the Corso Umberto I – which is a bustling spot to shop after dark. For the golfers, there's a golf course nearby. Hotels here range from rustic, terracotta roofed villas to modern, relaxing offerings with pools and all the amenities you could desire.
Where to Stay in Olbia
San Teodoro
On the east coast of Sardinia lies the town of San Teodoro. This is the place to come for those of you who have white powdery beaches and warm, turquoise waters in mind. A former fishing village that has since become a popular destination for people looking to get away from it all, there is a still a lot of old world charm to be had in San Teodoro.
The beach is dotted with clubs and bars for a party atmosphere. But if that's not you, there is always the option to get on the water for some kitesurfing – this is a perfect spot. There are wetlands to explore nearby, too, and a lagoon called the Stagno di San Teodoro. Staying in this town is all about low-key Mediterranean lodgings, but there are some more upmarket options as well.
Where to Stay in San Teodoro
Sassari
The second largest city in Sardinia also happens to be one of the oldest on the island. As such, there is a lot of history and heritage for Sassari to be proud of. The historical center of this city is still very much part of everyday life here.
It feels like everything has been repurposed and geared towards tourists; this university town is real and alive. Grand boulevards in the center of town line areas filled with piazzi and palazzi, ancient alleyways with old churches hidden down them.
Staying in Sassari, set 225 meters above sea level in the northwest of Sardinia, means having this green and terraced region dotted with springs on your doorstep. There are a whole lot of down to earth B&Bs and apartments on offer in Sassari, which makes for a more budget stay than other places on Sardinia.
Where to Stay in Sassari
Villasimius
The coastal town of Villasimius in southeastern Sardinia is all about beautiful blue waters and long sandy beaches. There is a Marine Protected Area at the Capo Carbonara, which is definitely the place to come if you like diving. Expect barracuda, amongst many other fish species, and lush seagrass meadows.
Another amazing natural sight in the area is the Stagno di Notteri, a large lagoon that plays host to flocks of migrating flamingos and other rare bird species. Take in the different blue hues of the sea around Villasimius from the 16th century Aragonese Tower – and then head down to enjoy it yourself.
Boutique stays and hotels boasting sea views are the norm for accommodation in Villasimius, with a whole lot of bars and restaurants in piazzi to enjoy in the town itself – around a kilometer from the many beaches. Hiring a car is a good idea to explore the natural wonders of the area.
Where to Stay in Villasimius
La Maddalena
An archipelago off the northern coast of Sardinia, La Maddalena is centered on the island of the same name around a mile offshore. The islands here offer up stunning seascapes and beautiful scenery, such as the pale blue waters of the craggy Caprera. In the town of La Maddalena itself, life is centered around the Piazza Umberto, with shops, restaurants, bars and a port. It has become popular with visitors who arrive via boat from Palau on the Sardinian mainland.
You can stay in everything from grand hotels and residences to coastal hotels and unfussy B&Bs so that everyone can enjoy this spot. Roman history, infamous visitors like Napoleon, and residents such as the Italian revolutionary Giuseppe Garibaldi make it an interesting place. But La Maddalena is all about the coastline; a national park of the same name protects around 180 kilometers of the shore.
Oristano
If you are looking to relax, then Oristano on the central west coast is a good town to stay in. With a few fascinating museums in town, as well as charming streets boasting sights like the Oristano Cathedral and the Tower of Mariano II, you can spend days here enjoying the history as well as the lively local life. However, Oristano also makes for a great base to explore the glorious wild interiors of Sardinia, dotted with those mysterious Neolithic nuraghi.
This coast tends to be less touristy than other parts of the island, but there's no real reason for that; it's still very much a beautiful, fascinating place. There are fewer lodgings on offer in Oristano, but you can find yourself authentic stays in historic buildings for a breath of fresh air away from busier hubs. Rent a car, and the island will be yours.
Where to Stay in Oristano
Santa Teresa Gallura
Set on the northernmost tip of Sardinia, the town of Santa Teresa Gallura is a busy resort destination that buzzes with visitors in the summer months. But don't let that put you off; there is still a whole lot of charm, local life, and soul to enjoy here. The modern town, interestingly, was founded in 1808 in an effort to stop smugglers, though it is thought that Santa Teresa Gallura was the site of the ancient town, Tibula.
Today, there are bustling shops and cafes to enjoy, but sadly, many of these close during the winter. To the north, however, is the Rena Bianca – a sandy beach edged with scrubby hills – as well as the secluded Capo Testa – a rocky area with some fun hiking trails. Thanks to this town's popularity, there are tons of places to stay, ranging from large tourist hotels, resorts, and apartments to more quaint B&Bs.
Where to Stay in Santa Teresa Gallura
Stintino
The small town of Stintino sits on the northwestern headland of Sardinia. It boasts gorgeous white sand beaches such as La Pelosa and Pelosetta, both of which have shallow waters – perfect for lazing around in and ideal for families with small children. Thanks to its celebrated beaches and proximity to the stunning island of Del'Asinara, Stintino has become a popular resort town, boasting everything from hotels with outdoor swimming pools and sea views to more affordable self-catering holiday apartments.
For a little postcard-friendly history, the Torre della Pelosa – dating back to 1578 – is a picturesque tower that sits on an islet out to sea. To properly appreciate the serene and scenic coastal nature, head out on a boat trip or kayak across.
Where to Stay in Stintino
Castelsardo
Originally a fort dating back to the 12th century, Castelsardo has a long history of ownership and battles – from the Genoese to the Aragonese, and now – Italy. The fort itself is an eye-catching sight. It's perched high on a headland looking out over the sea, as the buildings of town literally spill down the hills below it to the coast. There is a wonderful historical center to wander about here, a medieval jewel with narrow alleyways and cathedrals, but Castelsardo also has its own beach. Named the Marina del Castelsardo, this beach is small but beautiful, with sparkling waters and – most importantly – views of the dramatically placed fort.
Staying in Castelsardo on the northwest coast means a choice of accommodation – small hotels, rustic lodgings with views of the fort, and outdoor terraces. Many visitors flock to Castelsardo on day trips, so staying in the town itself often provides a more budget-friendly option.
Where to Stay in Castelsardo