As it is home to both the Cinque Terre and the Italian Riviera, Liguria certainly is a magical part of the country to explore. Located in the northwest of Italy, it has dozens of famous and photogenic fishing villages for visitors to stop by.
Sandwiched between the Alps, Apennines and the Mediterranean Sea, its thin, crescent-shaped stretch of land is characterized by dramatic cliffs, coves and beaches. Dotting the region's sunny shores are idyllic towns full of fabulous historic sights, incredible nature spots and unforgettable viewpoints.
Now a tourist hotspot, Liguria has a rich maritime history for you to uncover with Genoa being by far its largest city. While the coastal region's capital is well worth exploring, most people head straight to all the colourful seaside villages nearby. With so many unimaginably beautiful places to visit in Liguria, you can't go wrong wherever you go in the region.
Map of Places to Visit in Liguria, Italy
© OpenStreetMap © MapTiler © Touropia
12. Noli
A very peaceful spot to spend some time, the small seaside town of Noli lies just over an hour's train journey west of Genoa. Besides its arresting beach and mountainous backdrop, it also has countless interesting historic sights for you to check out.
Founded in 1192, it soon flourished thanks to its secluded harbor, effective shipyard and successful alliance with the Genoese Republic. To protect the tiny maritime republic's commercial interests, an imposing castle was erected overlooking the bay. Wealthy merchants also built elegant townhouses as well as several medieval towers and magnificent old churches.
Coupled with all its pretty pastel-colored buildings, these now make Noli's old town a treat to amble around slowly. After exploring Castello di Monte Ursino and San Paragorio church, visitors can either lounge on its beach or hike the picturesque Pilgrim's Path to Varigotti. Noli often features on lists of Italy's most beautiful villages due to its scenic setting and well-preserved historic sites.
11. Santa Margherita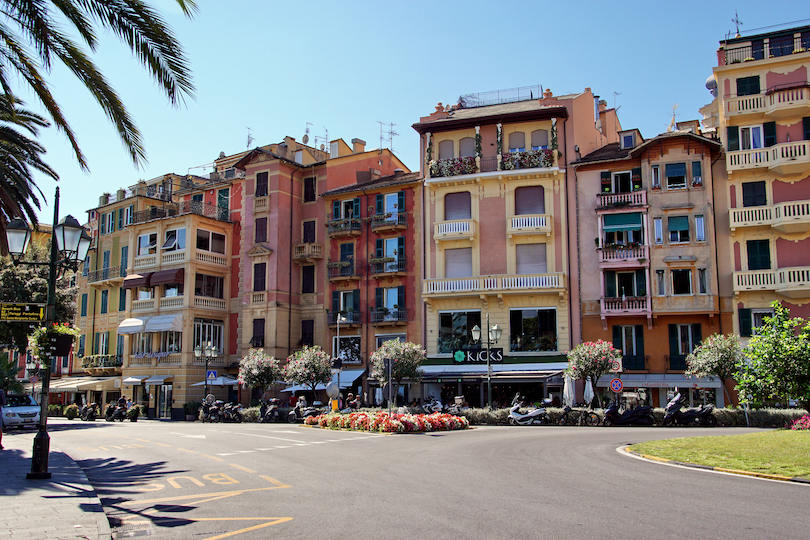 Another picture-perfect place to hit up is the sun-kissed Santa Margherita at the heart of the Italian Riviera. Nestled between the chic Portofino and seaside resort of Rapallo, the 'Pearl of Tigullio' is not to be missed when in Liguria.
Formerly a sleepy fishing village, Santa transformed into a top tourist destination in the second half of the 1800s. After being connected by train to Genoa, word of its natural beauty quickly spread and holidaymakers poured in. All along its little harbour, grand hotels sprung up with charming cafes and restaurants now lining the promenade.
Aside from sunbathing and splashing about in the sea, you can also visit its sixteenth century castle or brilliant baroque basilica. Not far away too is Villa Durazzo; a lavish estate packed with paintings and period pieces. It also has an absolutely gorgeous garden to stroll around that boasts sweeping views over the sparkling sea before you.
10. Lerici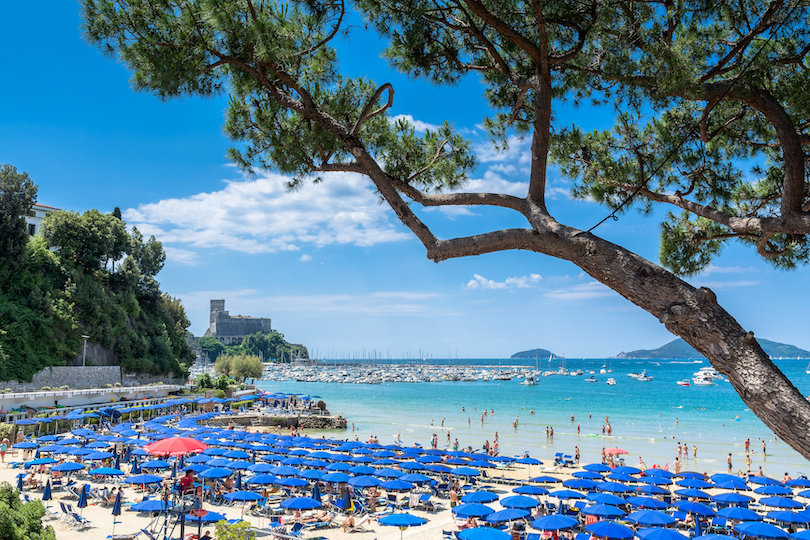 Lying along the glittering Gulf of Poets, the lovely Lerici has long welcomed writers and artists to its shores. Set just southeast of La Spezia, its gently curving cove, craggy cliffs and colourful buildings make for some phenomenal photos. To top it all off, two atmospheric old castles overlook the town at either end.
Due to its strategic setting at the entrance to the enormous bay, the ancient Etruscan port was often fought over, eventually ending up under Genoese control. To learn all about its fascinating past, you can stop by the Paleontology Museum in its well-maintained, twelfth century castle. From up high, its huge ramparts also offer up divine panoramas over the romantic town, bay and boats below.
Every bit as breathtaking as Le Cinque Terre, Lerici has captivated artists' imaginations for centuries. Much quieter than its nearby neighbor, its long promenade, narrow alleys and lively piazzas are a delight to explore. With so much going for it, it's easy to see why revered writers like Lord Byron, the Shelleys and D. H. Lawrence all lived here over the years.
9. Old Bussana
Loads of fun to wander around, the once abandoned Old Bussana is now instead home to a thriving artists' community. Amidst the crumbling ruins of the medieval village, you can now find all kinds of creative craft shops and cafes. Some intriguing outdoor art installations and a couple of outstanding local restaurants are also dotted here and there.
Inhabited since Roman times, the hilltop town was severely damaged by a massive earthquake back in 1887. After decades left untouched, small groups of painters, potters, musicians and sculptors all breathed new life into the ghost town in the sixties. They set up cool little studios and galleries in the husks of destroyed buildings.
Its meandering cobbled streets and stone houses are amazing to explore with its roofless old church being particularly impressive. Aside from enjoying the unique ambience and architecture, guests can also pick up some imaginative artworks to take home. Old Bussana is located just outside Sanremo, at the top of a narrow, steep, winding road.
8. Camogli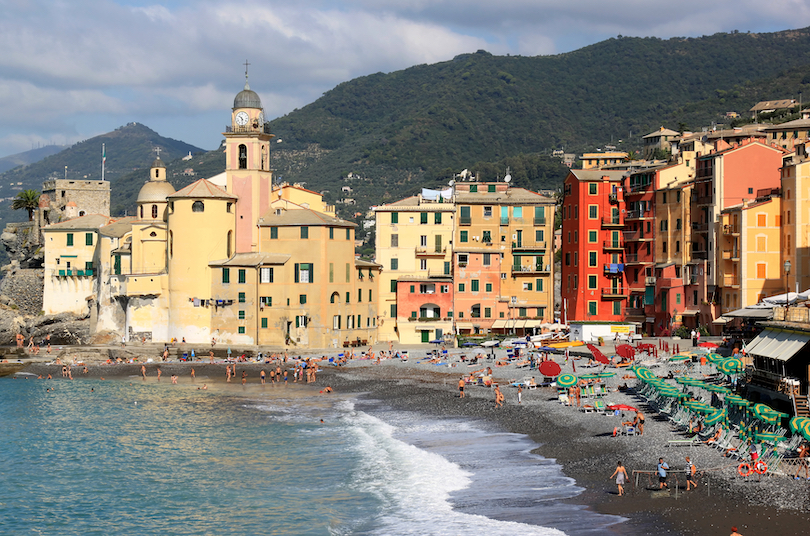 Perched along the same peninsula as both Portofino and Santa Margherita is the scenic and serene seaside town of Camogli. Overlooking the aptly named 'Paradise Gulf', the small fishing village and tourist resort can be reached in no time at all from Genoa.
For centuries, the 'city of a thousand white sails' served as an important seaport, watched over by its clifftop castle. Clustered about its secluded harbor and beaches is now a wall of colourful houses, cozy B&Bs and traditional restaurants. Some of its main sights include the superb Basilica of Santa Maria Assunta and a magnificent maritime museum. Its artifacts and exhibits provide an interesting look into Camogli's rich history, culture and heritage.
Other than sunning yourself and strolling along the promenade, you can enjoy tasty seafood dishes or explore its stunning coastline. The Punta Chiappa promontory is a must-visit for its soaring cliffs and spectacular panoramas over the shimmering Mediterranean Sea.
7. Albenga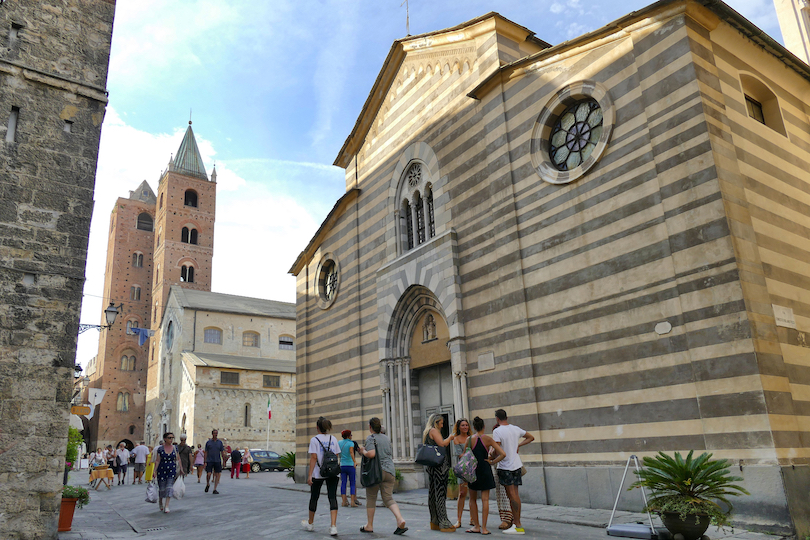 Delightfully known as the 'city of a hundred spires', Albenga lies around a ninety minute train journey southwest of Genoa. As well as a wonderful medieval walled city, it has a number of small beaches and a three kilometer-long sea promenade for visitors to enjoy.
Founded in the fourth century BC, it prospered largely thanks to its setting at the mouth of the River Centa. This helped the town control much of the area's maritime trade until its port silted up. The rise of the Genoese Republic also put paid to its power. During its heyday, however, luxurious palaces and lofty towers shot up all around town. These now make its historical center and the lively yet laidback Piazza San Michele pretty special to walk around.
Lining its central square are its colossal cathedral, fifth-century baptistry and a whole host of brilliant cafes and bars. Here too, you can find the trio of closely clustered medieval towers for which the tiny town is famed. Albenga actually ended up as one of our favourite stops along the Italian Riviera just because it was so unexpected and felt very authentic.
6. San Remo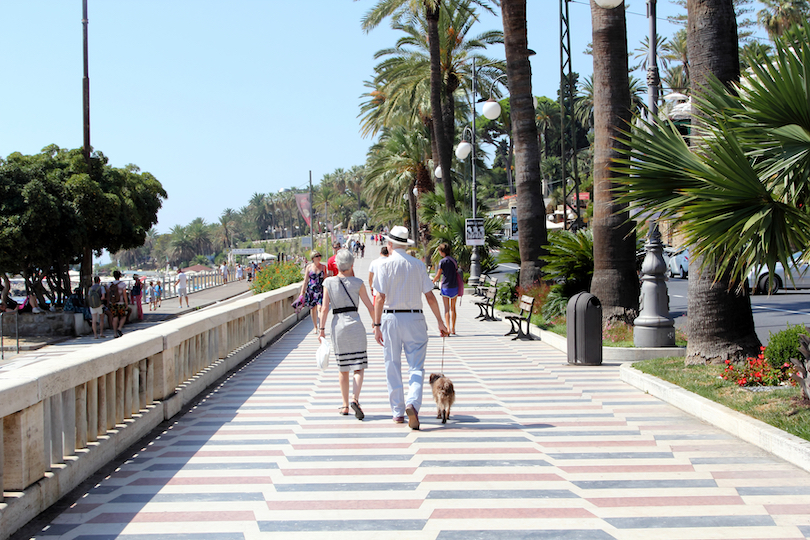 Even further along the coast, towards Monaco, Nice and France, is the popular and picturesque city of San Remo. Backed by massive mountains, its grand houses, hotels and glittering waterfront all make for quite the sight.
Towards the end of the nineteenth century, European royals flocked here for its sunny weather and attractive seafront. They commissioned ostentatious homes like Villa Ormond and Villa Nobel; both of which also boast some exquisite gardens. Its onion-domed Russian Orthodox church also dates to this period as does its elegant Art Deco casino.
Besides gambling and enjoying shows at the casino, you can amble around its harbour and amazing La Pigna medieval area. The 'city of flowers' is also known for its annual flower festival and Milan to San Remo cycle race. After all the sightseeing and music shows, you can kick back and relax on one of its sweeping, sandy beaches.
5. Porto Venere
An oft-overlooked gem, Porto Venere is located in a gorgeous spot right at the entrance to the Gulf of Poets. Set just a stone's throw from both La Spezia and Le Cinque Terre, it offers up a tantalizing mix of history, nature, beaches and viewpoints.
Perched at the end of a jagged peninsula, its brightly painted houses tumble their way down to its old harborfront. Known as La Palazzata a Mare, this colourful collection of fishermen's homes is what the village is most known for. After exploring its labyrinth of little streets and hidden staircases, head up to the crumbling Doria Castle for dramatic panoramas. The Church of San Lorenzo also provides some jaw-dropping views over the sparkling sea and three small islands just offshore.
Occupying the tip of its rocky promontory is the Church of Saint Peter and Lord Byron's Grotto: two of its must-visit sights. Once you've seen these, you can hike about the town's regional national park on the nearby Palmaria Island. Its winding paths take you past idyllic beaches, incredible sea caves and up enormous cliffs.
4. Boccadasse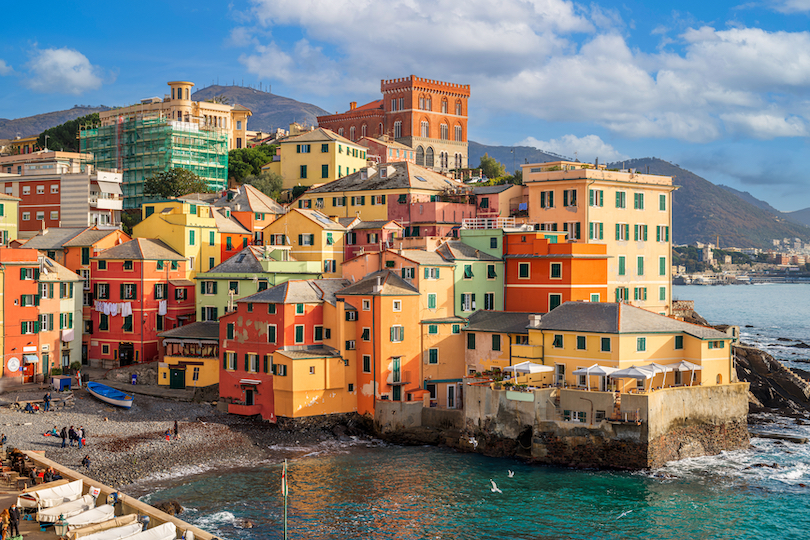 Widely considered to be the most charming part of Genoa, Boccadasse lies at the southeastern edge of the sprawling city. Unchanged for centuries, the traditional village's pretty pastel-colored houses huddle about its small pebble beach. From here, fishermen still set out each day, returning with boats full of fish for its superb seafood restaurants serving Genoese specialties.
Lying at the end of the coastal city's Corso Italia promenade, the neighborhood is mostly residential in nature. As such, typical trattorie and tasty ice cream shops can be found next to relaxed bars and bakeries. Coupled with all its beautiful buildings, it is Boccadasse's down-to-earth look and feel that entices tourists to town.
While most of life revolves around Piazza Nettuno and the beach, there are also several historic sites to check out. These include its centuries-old church dedicated to Saint Anthony of Padua and the Art Nouveau-style Turcke Castle.
3. Genoa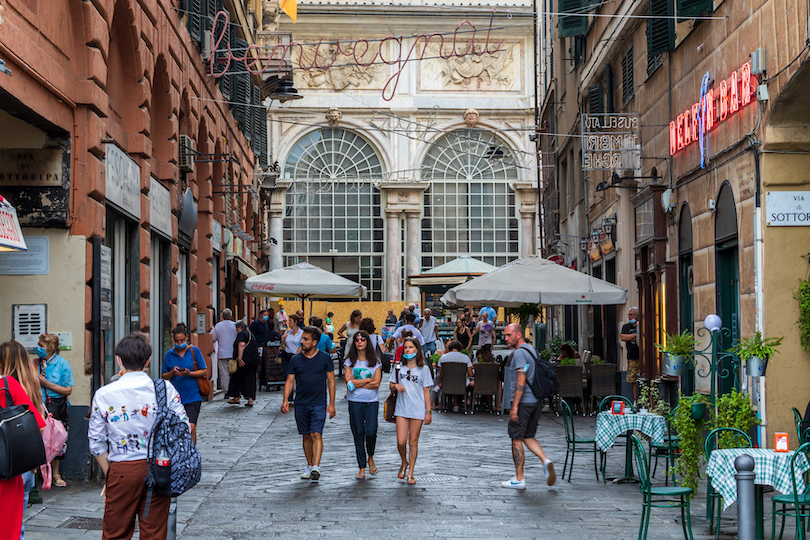 Strangely overlooked, considering it is Italy's sixth-largest city, the grand but decaying Genoa is well worth visiting for a couple of days. While most people head straight to Portofino or Le Cinque Terre, its historic streets hide all kinds of treasures.
Once one of the most powerful maritime republics, it has long been one of the Mediterranean's most important ports. Although it certainly does have some ugly industrial areas, the city centre contains countless elegant palaces, churches and baroque boulevards. Amongst its most impressive edifices are the important Palazzo Ducale and colossal Cathedral of San Lorenzo.
While getting lost in its narrow lanes known as 'caruggi' is a fun way to spend the day, its waterfront also has lots to see and do. Here you'll find its world-class aquarium and attractive old harbor with its striking seafront promenade. After all the rather similar seaside towns we visited along the coast, grubby Genoa actually made for a welcome change.
2. Portofino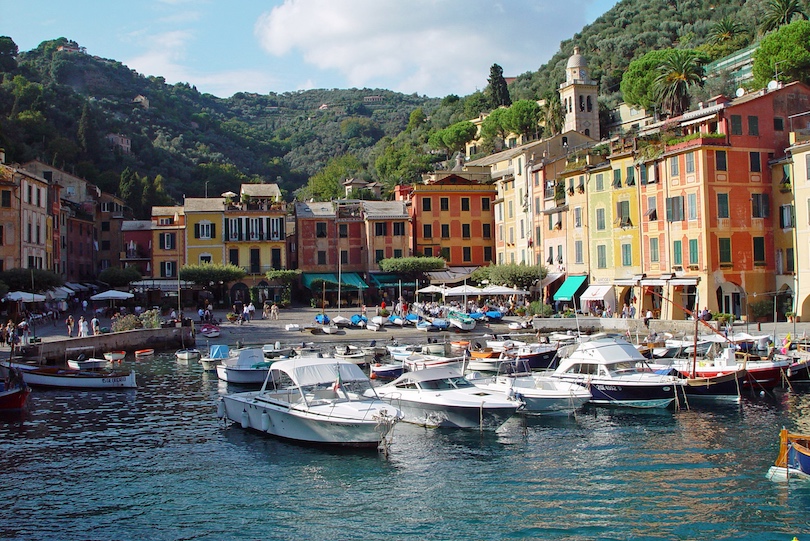 Having said that, you really can't visit Liguria and not explore the picture-perfect Portofino. Rightfully renowned for its scenic waterfront, the popular yachting destination is easily accessed from Genoa by train, bus and ferry.
Formerly a small, sleeping fishing village, it now has a decidedly chic feel as sleek yachts and sailing boats bob about its bay. High-end boutiques, restaurants and cafes also occupy the bright yellow, red and orange houses that line the harbor. Taking in its laid back yet luxurious atmosphere is the main thing to do besides seeing its small castle and churches.
Although iconic, its waterfront is actually artificial as the buildings are painted to look older than they are. If you're after a more authentic Italian experience (and a much more affordable one at that), you are probably better off heading elsewhere. Portofino does definitely make for some fabulous photos and viewing though that you won't forget in a while.
1. Cinque Terre
The main reason people visit Liguria is, of course, for the Cinque Terre and all its colourful little villages that are strung along the craggy coastline. A must-visit, Vernazza, Riomaggiore, Monterosso, Corniglia and Manarola are the highlight of many people's time traveling around Italy.
Connected by both trains and hiking trails, its five fishing villages are precariously perched on rugged, rocky hillsides alongside the Mediterranean. Clinging to steep terraces, their cluster of brightly painted buildings make for a spectacular sight. What with the magnificent mountains and sea all around them, each is well worth visiting in its own right.
Due to their spellbinding settings and shimmering waterfronts, Vernazza and Manarola are the most popular and photographed of the lot. Now protected as a national park, the Cinque Terre is certainly one of the most enchanting places imaginable. Although the crowds have increased considerably in recent years, you're sure to fall in love with the Italian Riviera's magical landscapes and romantic villages.