The many Italian regions offer travelers varying experiences. However, there may be no area as stately and elegant as Piedmont. Home to Turin, vast and stunning lakes, plus an assortment of charming villages, Piedmont is designed to be discovered.
Slow-cooked dinners and delightful wines are a common sight here. Helping travelers indulge in fine Italian specialties while reflecting on their day. Close to the Swiss border, the cuisine mingles with a rollercoaster past of wars and an ancient royal family that helped unify a region once rife with individual fiefdoms.
This leaves travelers exploring all the things to do in Piedmont with the knowledge that there's more to see than just the tourist highlights. Go, get lost and discover colorful streets where lovely aromas and wine flow.
In this post, we'll cover:
12. Lake Orta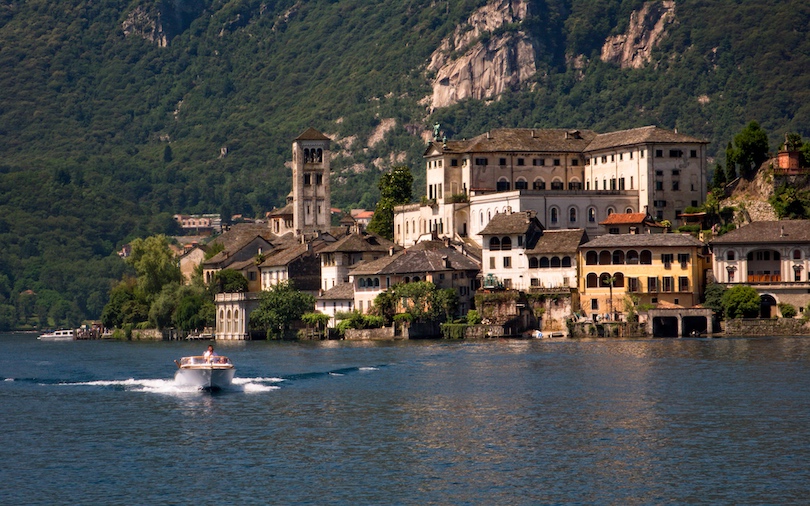 A ninety-minute jaunt from the region's capital of Turin is Lake Orta. Affectionately referred to as the "Italian lake tourists have yet to discover" Lake Orta is charming and quaint.
It's here you'll find the village of San Giulio nestled upon a promontory giving the illusion it is floating on the lake. A short boat ride will see you in the idyllic Isola San Giulio, home to the 12th century Basilica di San Giulio.
Ortafiori is a festival hosted by San Giulio each April and May and an absolute must if you plan on traveling here in those months. During Ortafiori, the village hosts a large feast and displays an abundance of flowers in the streets.
11. Asti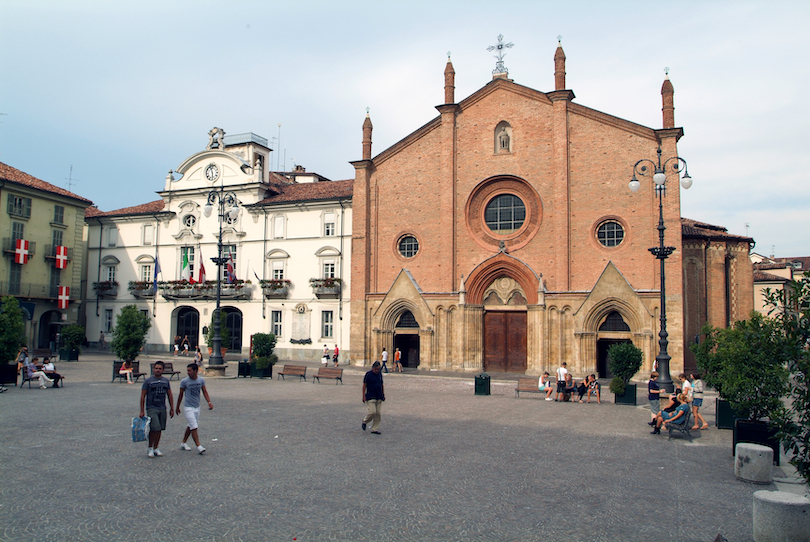 The story of Asti goes beyond the middle ages. In fact, it was first established during the Roman era. But it was not until the 1100s that it rose to prominence to become one of the most important independent societies in this region. This rise to relevance can be seen today in many landmarks, historic plazas and churches, the majority of which were built in the Middle Ages.
You will want to start your day in the plaza for coffee before making your way to Asti Cathedral. Next up, the Mazzetti Palace is home to the Civic Art Gallery, which will keep you entertained for hours and immersed in valuable collections dating back to the 1400 and 1500s.
Finish your day with a glass of Moscato d'Asti. This is a famous wine unique to this region. Bubbly with a sweet taste, this glass makes for an excellent dessert and the end to your adventure around Asti.
10. Fenestrelle Fort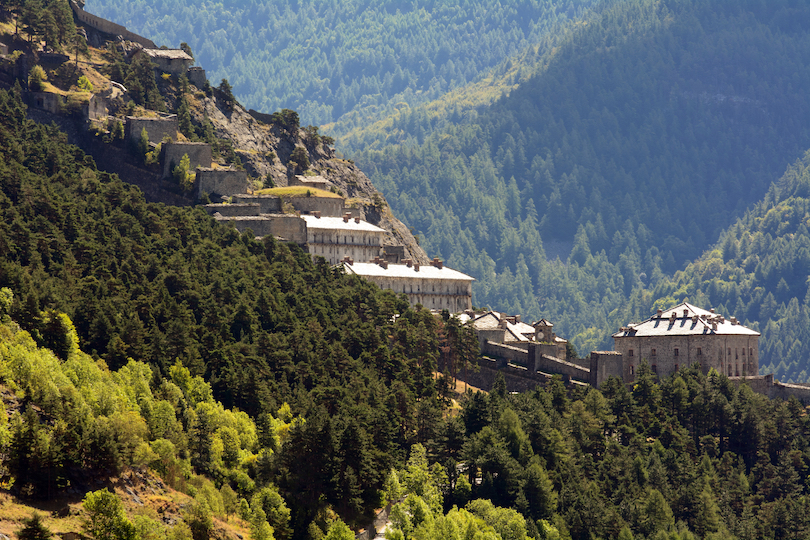 Located in the middle of picturesque Val Chisone, otherwise known as the "Olympic Valley" from the 2006 Torino Olympics, is the dramatic Fenestrelle Fort. Visible from across the valley, visitors can see this massive structure well before arriving in Val Chisone.
Fenestrelle Fort is made up of three individual forts that are brought together by a 3km wall. This wall is also home to the famous "world's longest covered staircase" boasting an impressive, leg-numbing 4000 steps.
Construction of the fortress started in 1728 but took 122 years to complete. What was built mainly to defend against invasions ended up primarily used as a prison and garrison. The fort fully lost purpose after WWII and was subsequently abandoned. You can visit via guided tours or test your endurance with a hike along the massive walls of the fort to fully experience the fortress' grandeur.
9. Bra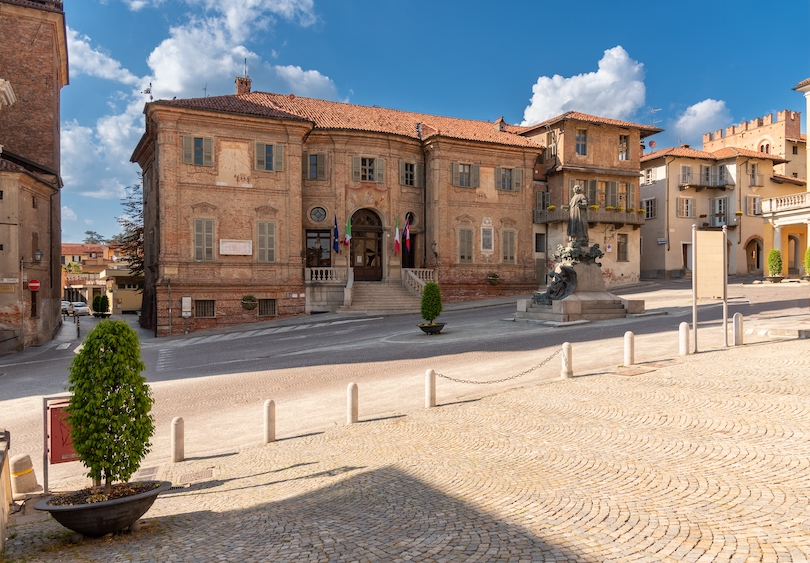 If you have ever heard of the "slow food movement" and believe in its practices and principles, Bra will be your number one place to visit. With Bra being the birthplace of this movement, the organization has grown well beyond the little Italian town. It's now spread worldwide.
If you have not heard of the Slow Food Movement, well, Bra's annual cheese festival is enough reason to add it to your list. Hosting cheese producers from around the world and fully dedicated to raw milk cheese, this festival will put any cheese lover in pure heaven.
Once you have savored the delicious dishes Bra has to offer, make sure to check out San Andrea Church. Built in 1682, this impressive baroque church has paintings, statues and frescoes from the Renaissance kept in impeccable condition.
8. Gran Paradiso National Park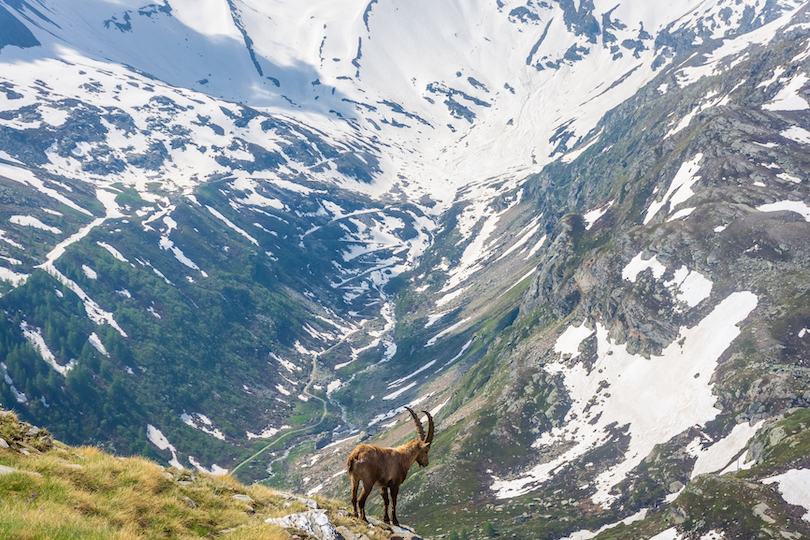 If you ever woke up one day and thought "I wonder what an Italian Yellowstone might look like?" then look no further than Gran Paradiso National Park. Home to over 100 species of fauna, 1100 unique types of flora, 59 glaciers and an impressive 183 lakes, the possibilities at Gran Paradiso are endless.
Depending on when you plan to visit, the trails can be used for hiking, walking and biking during the summer or snowshoeing and skiing during the winter months. Some of the more famous hikes range from the Alpe Money, a 10 mile trek along valleys, with jaw dropping vistas or the shorter Valnontey River Trail and Rifugio Vitorrio Sella.
The latter two both offer staggering views. Not to mention, their shorter lengths will also see you back in a chalet, wine in hand, sooner. If you are after a ski adventure, consider coming in February to enjoy any of the five ski resorts within the park.
7. Barolo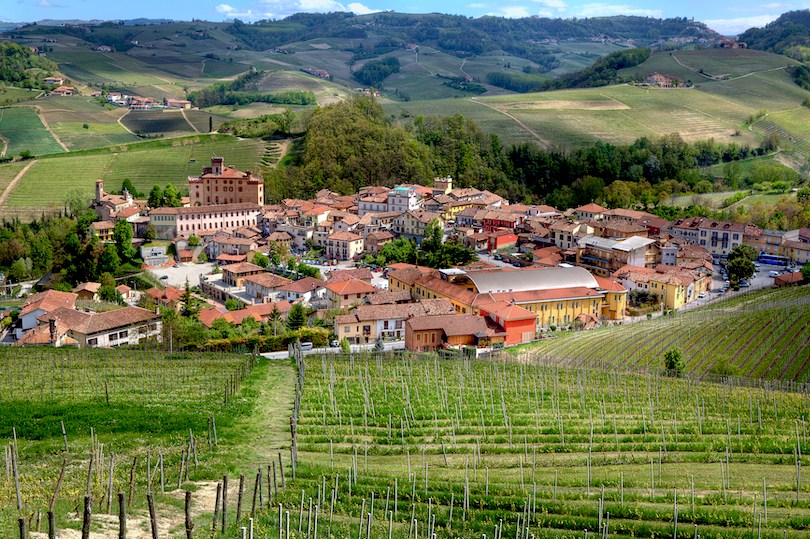 Red wine connoisseurs will want to find their way to the beautiful Barolo. Barolo wine, which has made the region famous, is made from the Nebbiolo grape and is one of Italy's most iconic wines.
Start your day visiting one of the many small, local and family-owned wineries in this region and have several tastings of the complex and flavorful Barolo wine. It's important to note a reservation may be necessary for some tasting rooms.
If wine tasting alone hasn't quenched your wine thirst, check out the Wine Museum located in Falletti Castle. The castle, originally built in the 10th century, is an impressive structure providing 360 views. However, with several floors of history on wine to explore within the museum, you will surely leave a wine expert.
6. Sacra di San Michele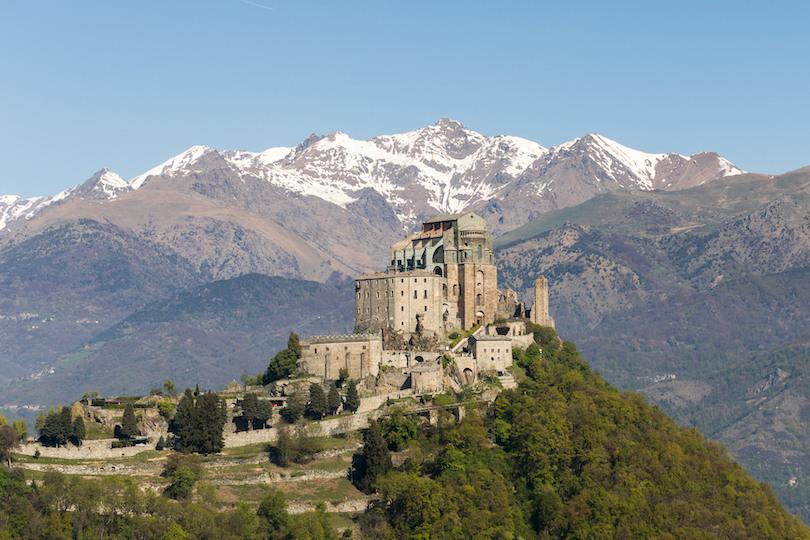 Dating back to the late 10th century, Sacra di San Michele boasts some of the most memorable Romanesque architecture not just in Piedmont, but Europe. Set high in the Italian Alps, this former abbey has inspired travelers and writers alike, having inspired Umberto Eco's celebrated novel The Name of Rose.
Such is the history of Sacra di San Michele, visitors will want to take a guided tour of the ancient community. Go beyond the fortress walls to discover the abbey's intact history, on display today as if it was still the Middle Ages.
Your journey begins with a trek up the so-called stairways of the dead, where you'll soon be met by memorable views of the surrounding Susa Valley in addition to the stunning peaks that rise towards the heavens.
Highlights of your time here will be learning about the members of the ancient royal family, the Savoy, who are buried here. Plus exploring the remains of the Tower de Bell'Alda, which harbors views of distant Turin.
5. Saluzzo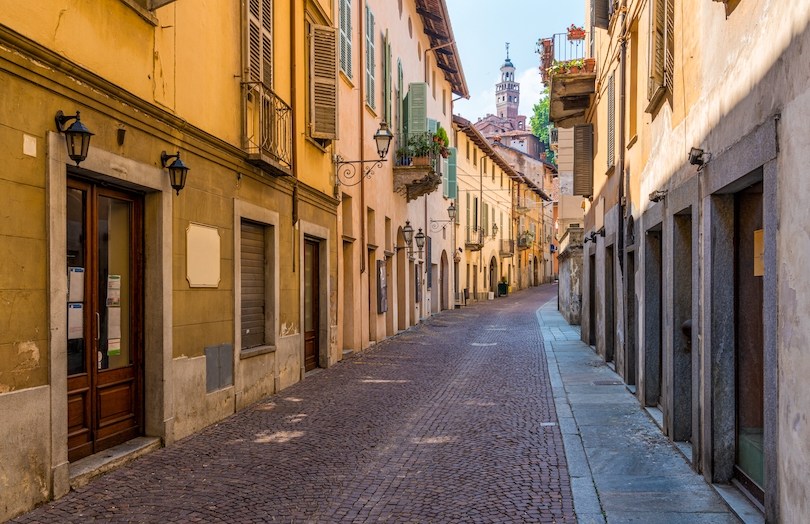 For those looking to be transported back to the 15th century, then a trip to Saluzzo is a must. This small town has remarkably kept much of its medieval old town intact, giving a feeling of time travel to those who visit.
Start your journey in Saluzzo with the Cathedral of the Assumption, located in the Piazza Risorgimento. Give yourself time to admire the various works of art within the cathedral such as the wooden crucifix made in the 14th century and a traditional Baroque altar by Carlo Giuesppe Plura.
Once you have explored the magnificent walls within the cathedral, head to Piazza Castello. Marvel at Drancia, the central historic fountain, and La Castiglia, a majestic castle overlooking the ancient village. Finally, we suggest you complete your tour of Saluzzo sampling the local cuisine.
With this region being known for Paglierina, a cheese originating in the Langhe region, and Cavour also known as the "white hen" of Saluzzo, there is no shortage of flavorful and unique foods to try.
4. Skiing in Via Lattea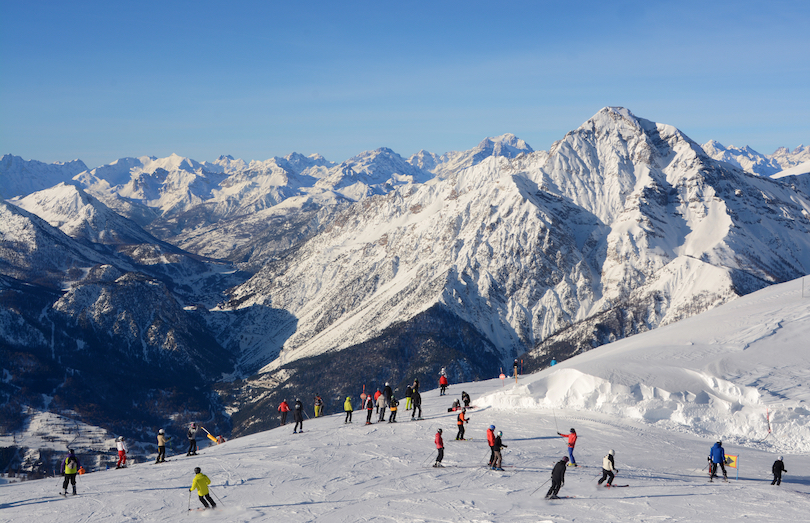 Looking for the largest ski area in western Italy? Look no further than Via Lattea. Meaning the "Milky Way", Via Lattea links six resorts with over 70 ski lifts in Piedmont to create an awe-inspiring ski area any snow chaser would enjoy.
A large amount of the terrain at Via Lattea is perfect for intermediate skiers. But that doesn't mean experts will grow bored. In fact, the challenging black runs promise to get the heart pumping. In addition, beginner slopes and ski instructors lie in wait for those new to the sport.
After a long day on the slopes, Sauze d'Oulx is the go-to après-ski destination. With lively bars and upscale restaurants, there is something for everyone looking to relax with a few beverages or refuel with fine foods.
With a good combination of high altitude, north-facing slopes and snow-making abilities, you can have a ski vacation in the Italian Milky Way from December to March.
3. Alba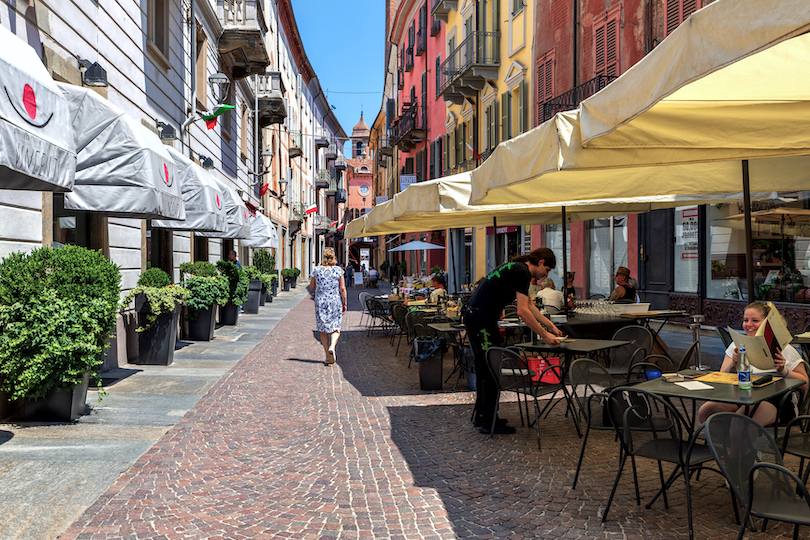 Known as the unofficial food and wine capital of Piedmont, make sure Alba lands at the top of your list. Highly regarded for its fine foods and white truffles, Alba's White Truffle Fair is also worthy of planning your trip around. Along with a plethora of delicacies served using the mouthwatering truffle, you will find some of the most flavorful Barolo and Barbaresco wines to pair with each bite.
With Piedmont being the world's largest hazelnut producer, you won't be too surprised to find out that Alba is also the home of the notorious Nutella. What better place to try the sweet treat than in its original city!
Once you are too full to eat another bite, you can wander to the historic center of Alba. With its ruins predating Roman times, there is so much history to get lost in.
2. Turin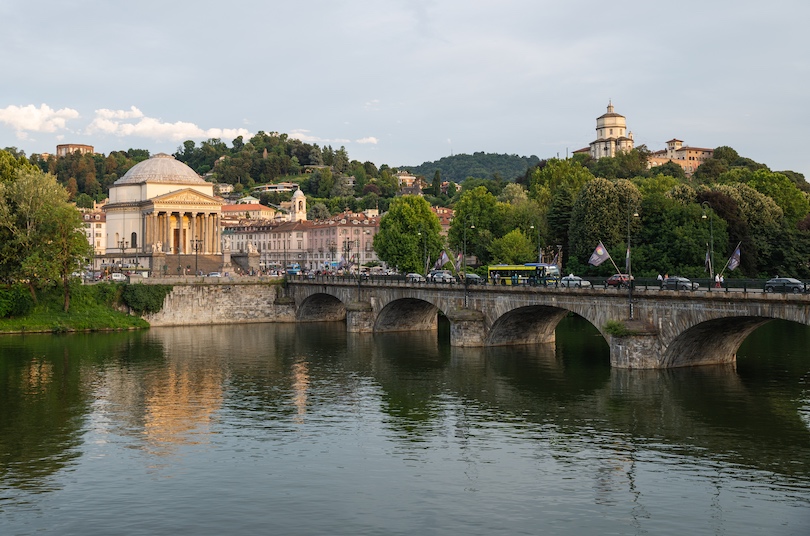 Italy's fourth largest city, often referred to as the "Capital of the Alps", is Turin. With so much to do in Piedmont's largest city, we recommend starting your day at the Palazzo Reale, which helps paint a story of Turin's prime years when it was Italy's first capital in 1861.
This fascinating museum is not only educational but beautiful, boasting chandeliers and blooming gardens. If you have worked up an appetite, the Caffe Mulassano is a great place for a bite, given that they proclaim to have created the tramezzino (small crustless sandwich) here in 1926. With over 30 different filling options, there is something for everyone.
As Turin is known to be a street art hub, we highly recommend the Museo di Arte Urbana Aumentata (MAUA). As an open-air gallery mixed with an augmented reality experience, it makes every piece of art more than meets the eye.
1. Lake Maggiore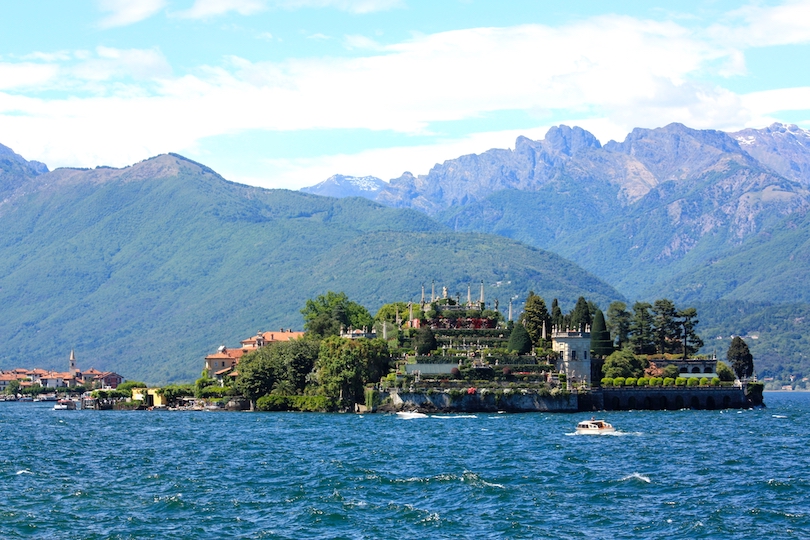 Italy's second largest lake, Lake Maggiore, is a stunning sight. The elegant stretch of water glimmers under the Piedmont sun, with her many scenic towns reflecting on the water below. It's thus no surprise that Lake Maggiore is known as the Eden of Italy.
Such is her size. Lake Maggiore even ventures across the border to Switzerland while also touching the Italian region of Lombardy. Since the 1800s, this gorgeous location has been the scene of many local and international travelers and aristocrats. Many of which developed the beautiful architecture and lakefront villas you see today.
Along the lake's edge are the charming towns of Angera, Stresa and Baveno, each with their own personality to discover. Add on the Borromean Islands and you'll quickly have a packed itinerary. See them all from the water on a kayak, or jump onboard the Lake Steamer, to explore in comfort.
Map of Places to Visit in Piedmont, Italy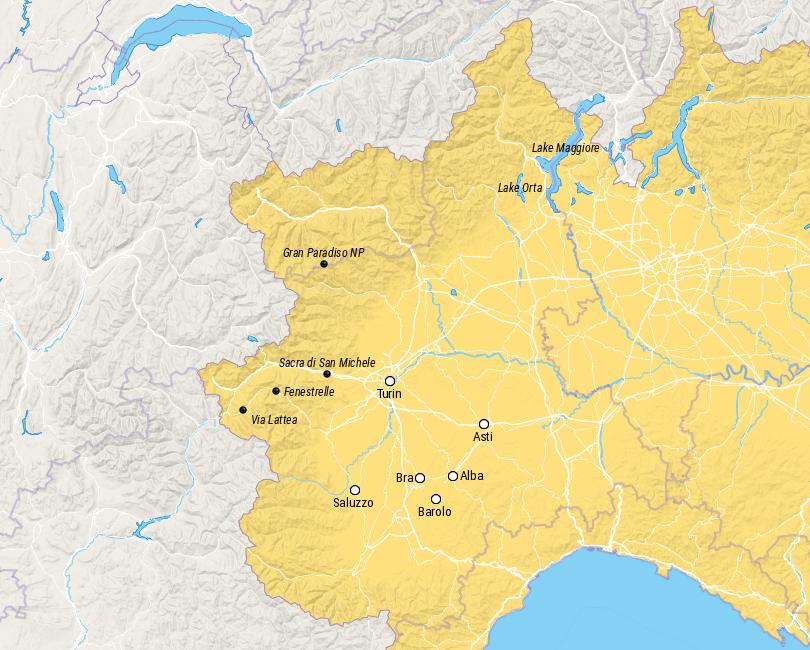 © OpenStreetMap © MapTiler © Touropia