Best known for the cities of Venice and Verona, Veneto is one of the most rewarding regions to travel around in Italy. An autonomous republic until 1797, it has lots of amazing old cities and enchanting towns to explore. On the way between them, you'll come across fertile wine areas, forested hills and bucolic countryside scenes.
Stretching from the soaring Dolomite Mountains to the sparkling Adriatic Sea, it occupies a massive part of northeastern Italy. Part of the hugely powerful Venetian Republic for over a thousand years, it has a remarkably rich history, culture and heritage to delve into. Wherever you go, you'll find arresting artistic works and architectural treasures decorating its centuries-old settlements.
Besides the capital Venice, the City of Canals, cities such as Vicenza, Padua are also not to be missed places to visit in Veneto. With great food and fantastic wines guaranteed throughout the region, visiting Veneto never gets old.
Map of Places to Visit in Veneto, Italy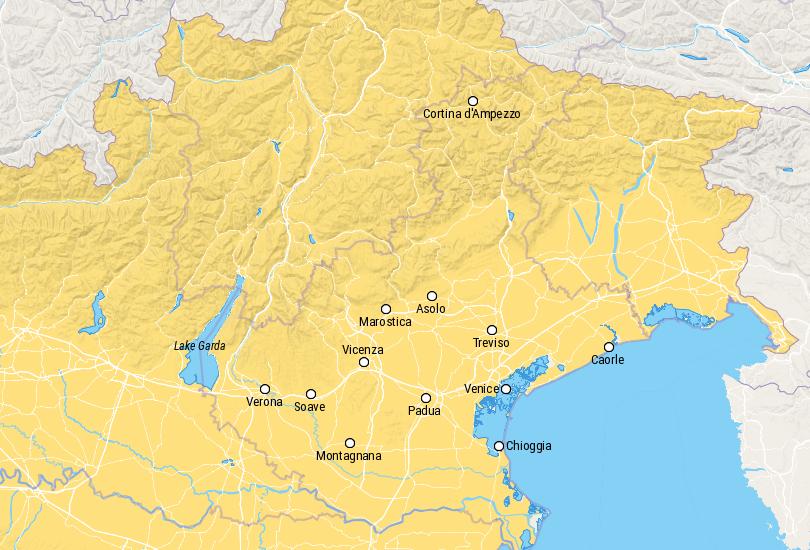 © OpenStreetMap © MapTiler © Touropia
14. Marostica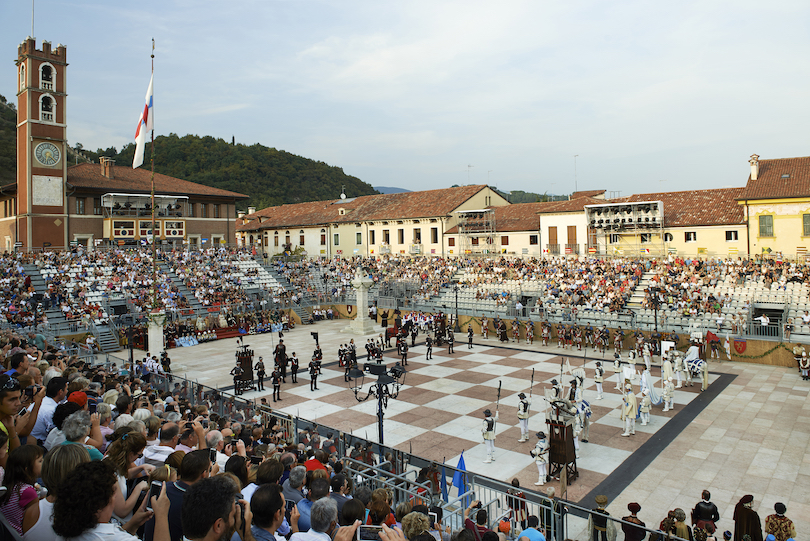 Just one of many medieval walled cities in Veneto, Marostica is located just outside the much bigger Bassano del Grappa. As well as its charming historic center, the smallish town is known for its local cherries and live chess events.
Once a Roman military outpost, its already considerable fortifications were expanded by the Scaglieri family who ruled over Veneto in the fourteenth century. Its two castles and long defensive wall that snakes its way about the surrounding hills are now Marostica's main attractions.
At the heart of its main square is a huge chessboard that hosts the exciting human chess games for which it is famed. In September of each even year, people and horses representing chess pieces play out a dramatic game before baying crowds. This striking spectacle reenacts a legendary match that saw two nobles compete for the love of a local lord's daughter.
13. Treviso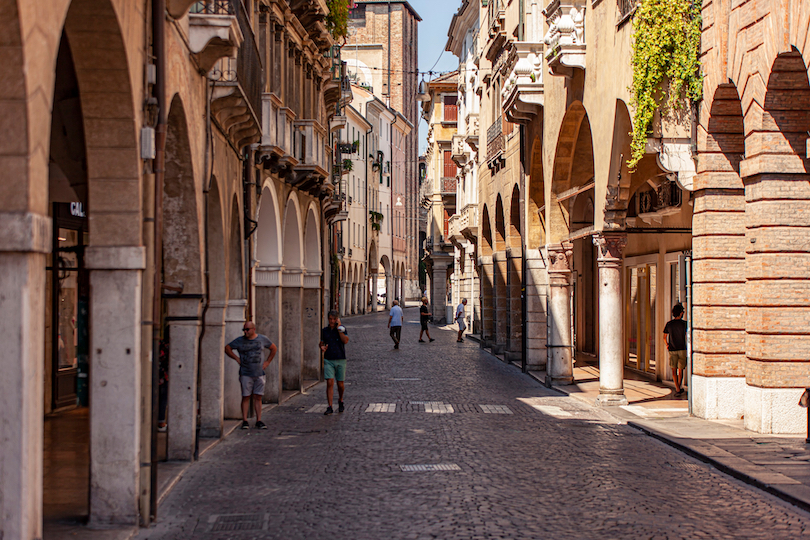 While most visitors head straight to Venice or Verona after arriving at its airport, Treviso is well worth a visit. Often overlooked, the sizeable city has a gorgeous center for you to explore, full of impressive buildings and important landmarks.
The first mainland settlement to fall under the rule of the Venetian Republic, it has a fascinating past to uncover. Over the course of two millennia, everyone from the Romans and Franks to the French and Austrians controlled the city at some point or other. As you stroll about, you'll see centuries-old palazzi next to countless churches and the Cathedral of St. Peter. Hemmed in by old stone walls, its cobbled streets and stunning piazze are a delight to get lost in.
Asides from enjoying all its amazing architecture, you can examine extensive collections of artifacts and artworks in its Civic Museums. Lots of fun concerts and community events are also still held at Loggia dei Cavalieri which astonishingly dates to 1276.
12. Caorle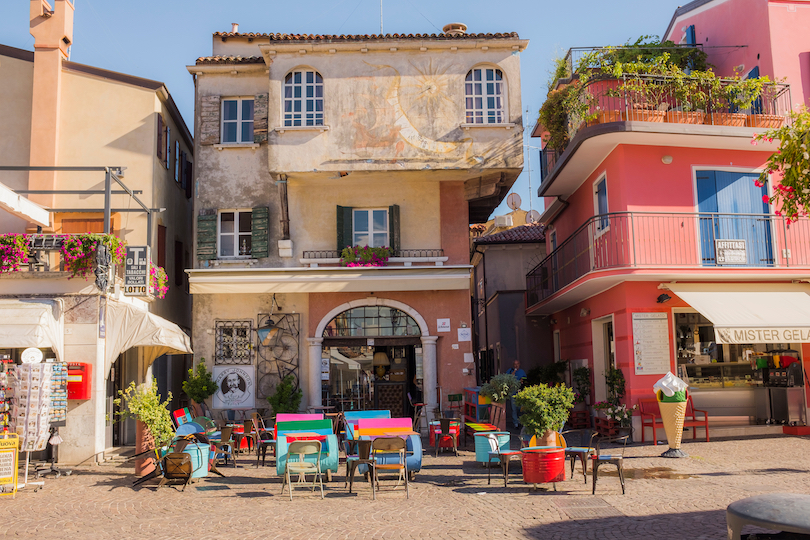 If you're looking for some sun, sea but history too, then the picturesque Caorle is the place to go. Set alongside the shimmering Adriatic Sea, it lies just up the coast from Venice and the Lido di Jesolo. A laidback fishing town, its broad beach offers loads of fun, family-friendly activities to enjoy.
Nestled between the estuaries of the Livenza and Lemene rivers, it was founded in the first century BC by the Romans. Most known for its cathedral's cylindrical bell tower, the town has much more to see than just its thousand-year-old landmark. Lining its mess of calli (alleys) and campielle (squares) are a myriad multicolored houses home to shops, restaurants and bars.
At the end of its long promontory is the Church of the Blessed Virgin of the Angel. From here, visitors can bask in divine views over the vast beach and glittering sea beside it. Other than splashing around and swimming in its shallow waters, you can sunbathe or play games on its sweeping sands.
11. Montagnana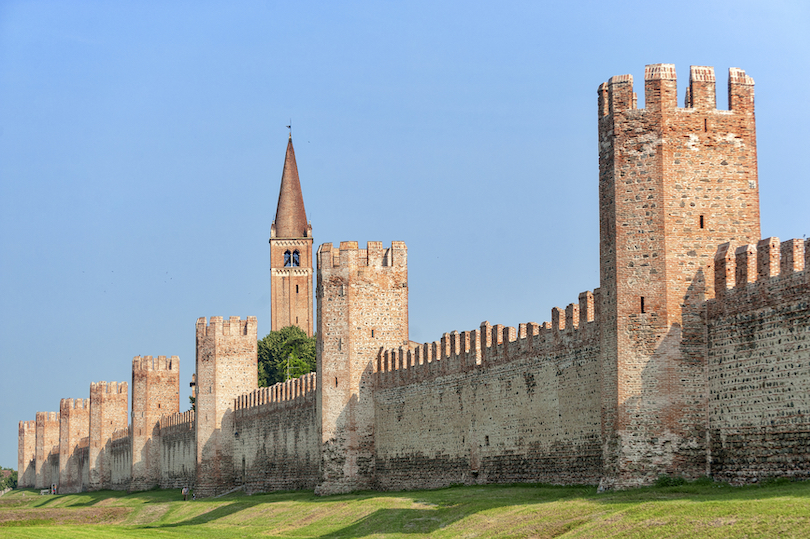 Still surrounded by remarkably well-preserved old walls, the small town of Montagnana lies about an hour's drive southeast of Verona. While its formidable fortifications are the reason most people visit, its center boasts plenty of beautiful palazzi and colourful houses.
Stretching over two kilometers in length, its long wall was erected in the eleventh century to protect the town. One of the finest examples of medieval military architecture in Europe, its four huge gates and 24 towers are almost perfectly intact today.
Once inside its historic old town, you'll find elegant villas and traditional restaurants lining the central Piazza Communale. Overlooking it is the enormous Cathedral of Santa Maria Assunta which displays some exquisite architecture and contains impressive religious artworks. Montagnana is also known for its delicious prosciutto which is found on almost every menu in town.
10. Palladian Villas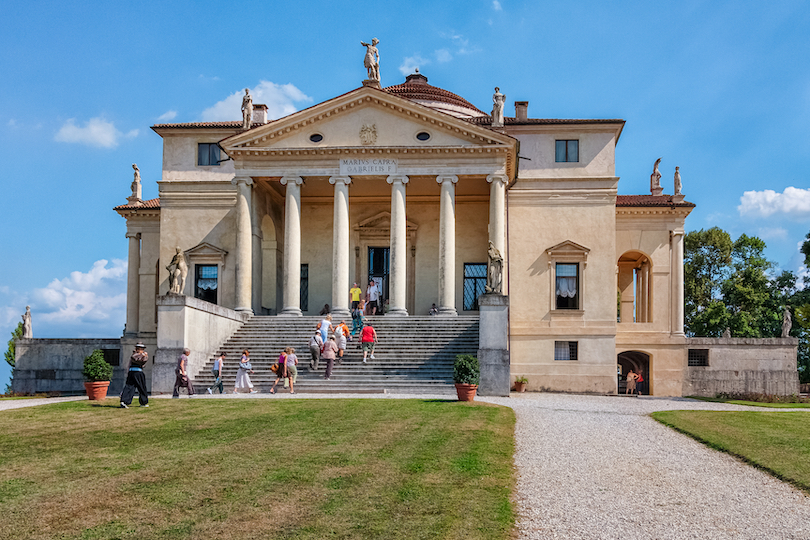 One of the most renowned architects in world history, Andrea Palladio's fabulous villas are found all throughout Veneto. While most are concentrated around Vicenza, his home town, other extraordinary examples lie outside Treviso, Padua, Venice and Verona.
Born in 1508, the Renaissance-era architect was inspired by Roman and Greek architecture. He often incorporated colonnaded porches, fetching facades and arched Palladian openings in his designs. Some of his most famed works are Villa La Rotonda outside of Vicenza and the richly decorated Villa Emo. Although most known for his classic country houses and villas, he also designed churches, palaces and theaters too.
Now replicated around the world, his arresting architectural-style influenced world-famous buildings like Thomas Jefferson's Monticello and Oxford University's Radcliffe Camera. Due to their captivating beauty and gorgeous grounds, you really have to check out at least a couple of Palladian Villas when traveling around Veneto.
9. Asolo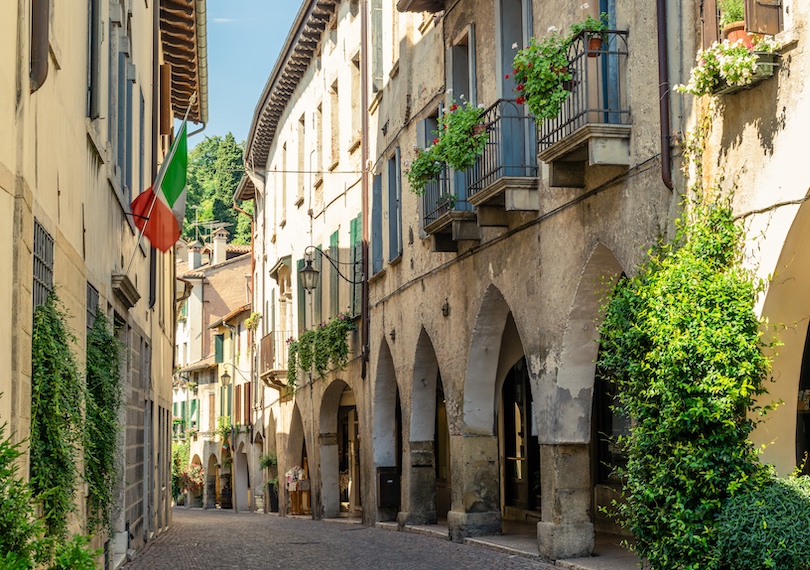 Yet another of the area's attractive walled towns is the adorable old Asolo in the province of Treviso. Delightfully known as the 'City of a Hundred Horizons' due to its hillside setting, its romantic, winding streets are a treat to explore.
Strung across the forested foothills of the Dolomites, Asolo is located between the endless Venetian plains and far-off eastern Alps. Inhabited since prehistoric times, its compact center contains lots of historic palazzi, a simple but stately cathedral and small castle. Overlooking everything is the twelfth-century Rocca fortress which affords you incredible views over the surrounding countryside.
Scattered about town are also the remains of ancient Roman theaters, aqueducts and amphitheaters for you to see. After taking in its artistic and architectural gems, try some award-winning prosecco at one of the cozy bars lining its scenic squares.
8. Chioggia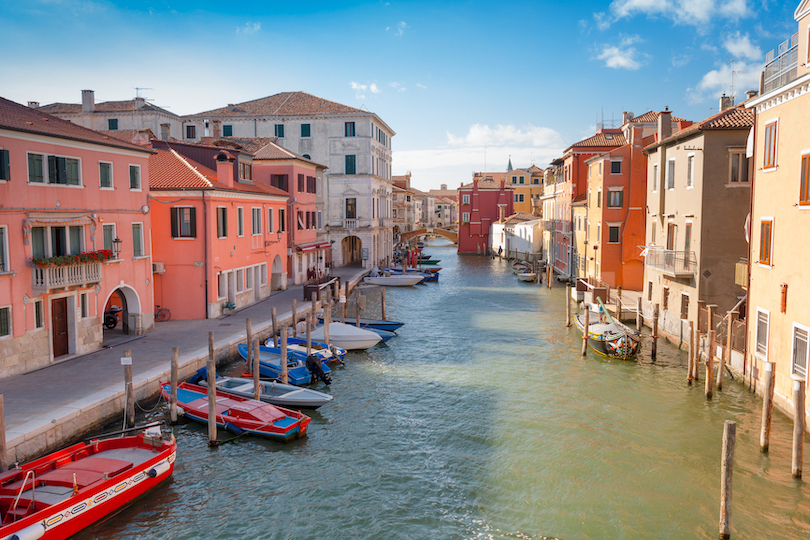 Often called 'Little Venice', the cheerful Chioggia is also home to countless canals and colourful old buildings. Lying at the southern end of the lagoon, its picturesque waterways and atmospheric alleys thankfully lack the large crowds that flock to its nearby neighbor.
Occupying a tiny little island, the unassuming fishing town is connected to the mainland by a couple of causeways. Although much smaller than La Serenissima, its pretty canalside palaces and historic churches still make for some fantastic photos. Among its main sites are the colossal 1627 Chioggia Cathedral and Church of San Domenico.
Besides sipping a spritz and nibbling some chicchetti while gazing over the canals, you can hit up its enormous beach. Much quicker and more convenient to reach than the Lido from Venice, it stretches six kilometers in length. All along its soft sands are playgrounds and beachfront cafes with mini-golf courses and nightclubs also dotted here and there.
7. Vicenza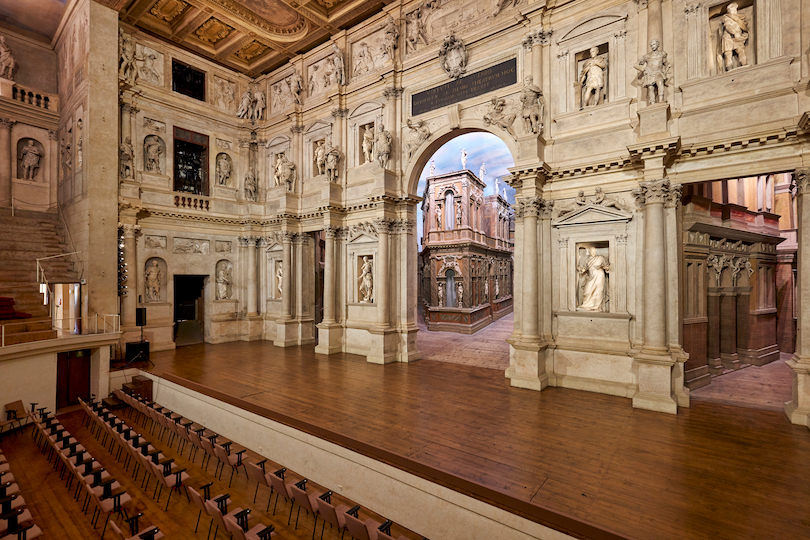 Usually (and understandably) overlooked in favor of both Venice and Verona, the elegant Vicenza is another of Veneto's finest cities. Located almost equidistant between the two, it has a lovely historic center to explore full of architectural masterpieces and museums. One of our favorite places in the whole of the region, it has a very sophisticated look and feel.
Founded in the third century BC, it is now known as the 'City of Palladio' due to all the fancy villas and palaces he built in the area. His instantly recognizable architectural style can be spotted pretty much everywhere you go in Vicenza. The most breathtaking example is undoubtedly the delightful Basilica
Not far away is Teatro Olimpico (another of the architect's most important works) where you can watch unforgettable operas. Asides from touring all the city's refined palazzi and artifact-filled museums, make sure to head to Monte Berico. From its prominent hilltop and basilica, you can enjoy phenomenal views over all of Vicenza. The famous Villa La Rotonda nearby is also a must-visit.
6. Soave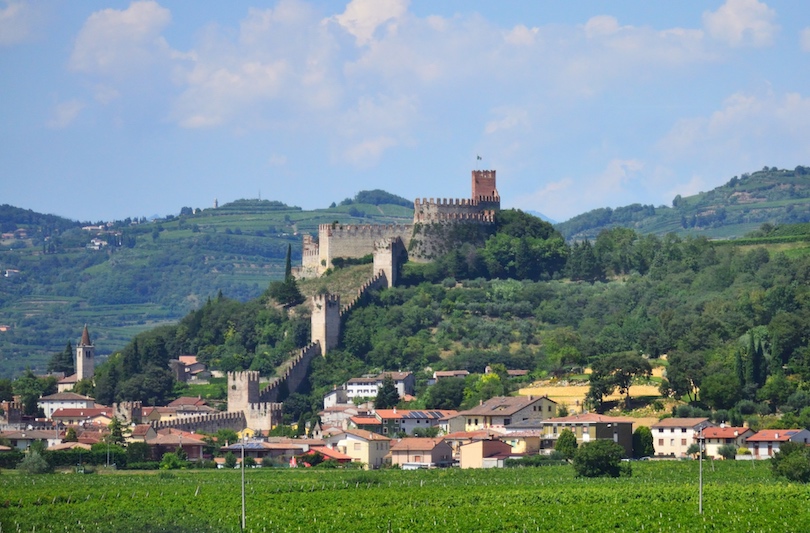 On the way from Vicenza to Verona, you'll come across the absolutely stunning city of Soave. While it is rightfully renowned for its dry white wines, the small medieval town has much, much more to offer.
Completely surrounded by sturdy stone walls and crenelated towers, it is presided over by the Castle of Soave. Occupying the whole of a hilltop, the former Scaglieri family fortress, its lavish courts and ginormous gates is one of the best-preserved in all of Italy.
After seeing how lords and ladies lived in the fifteenth century, you can stop outside Scaliger Palace and Palazzo Cavalli. Both boast some superb architecture as does the nearby Justice Palace. Santa Maria dei Domenicani is also worth checking out for its fading frescoes and religious treasures. After exploring all its sites, sit down at one of its traditional bars and sip a refreshing glass of soave.
5. Padua (Padova)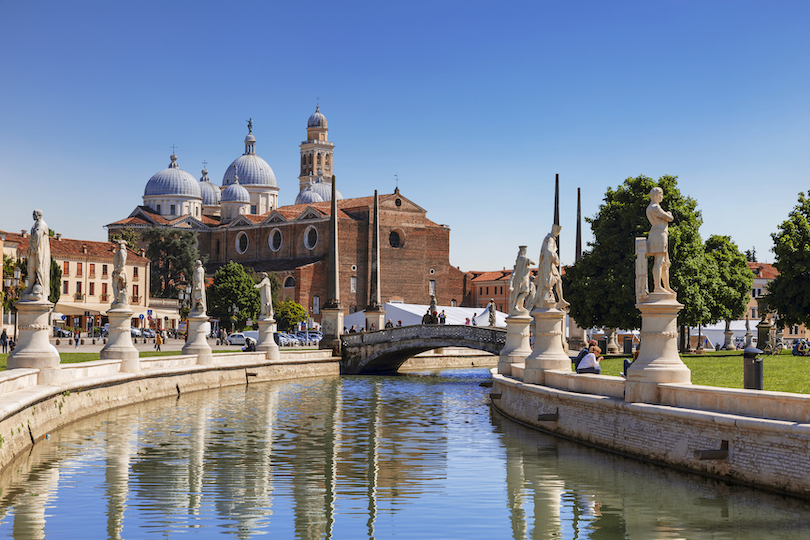 Much larger and livelier than the cities we've seen so far, Padua has long been an important center of culture and learning. Besides its prestigious university which was founded in 1222, it has impressive piazze and palazzi, cathedrals and chapels to see.
Lying along the Bacchiglione River, it claims to be among the oldest cities in northern Italy. Thought to have been established around 1183 BC, Padua is certainly packed with centuries-old sights. These include the stupendous Scrovegni Chapel and beautiful Basilica of St. Anthony. While the former is famed for its fascinating frescos, the latter is a popular pilgrimage site. After seeing its old relics and religious artworks, you can wander about the statue-lined lawns of Prato della Valle outside.
Although often visited as a day trip from Venice, Padua also has a thriving nightlife scene thanks to its sizeable student population. Great fun to explore, its arcaded streets and sprawling squares lead to stylish cafes and lively student bars.
4. Lake Garda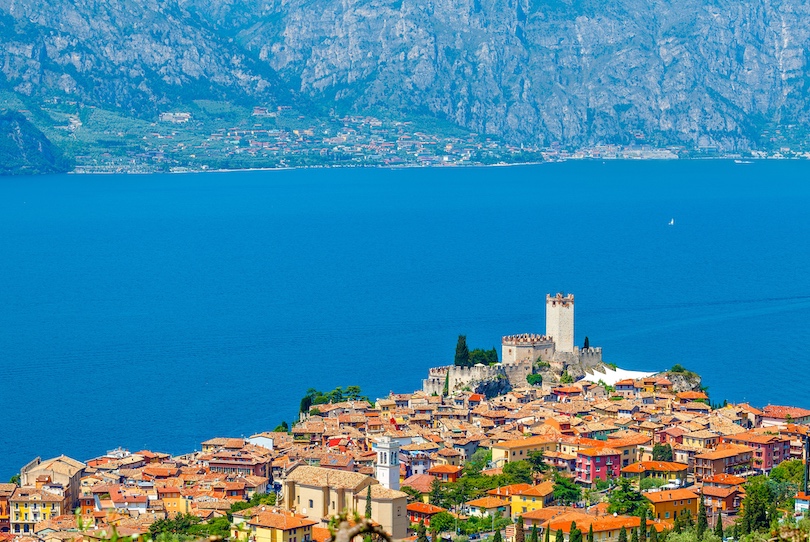 Yet another of the Veneto region's unmissable attractions is the absolutely spectacular Lake Garda. One of the most popular places to visit in Italy, its reflective waters are lined by scenic snow-topped mountains and charming lakeside towns.
The largest lake in the country, its dramatic shores and idyllic islands are divided between Lombardy, Veneto and Trentino Alto-Adige. In just half an hour's drive from Verona, you can already find yourself by the lake admiring its incredible views. Aside from sunbathing and swimming at its beaches, you can hike amidst its hills or take boat trips and pedalos out on the lake.
On the Veneto side, Garda and Peschiera del Garda are two of the most enchanting towns to visit. As well as cute centers and waterfront restaurants, they have little walled fortresses, villas and palaces to amble about. A place we've returned to time and time again, Lake Garda guarantees unbelievable scenery and views wherever you go.
3. Verona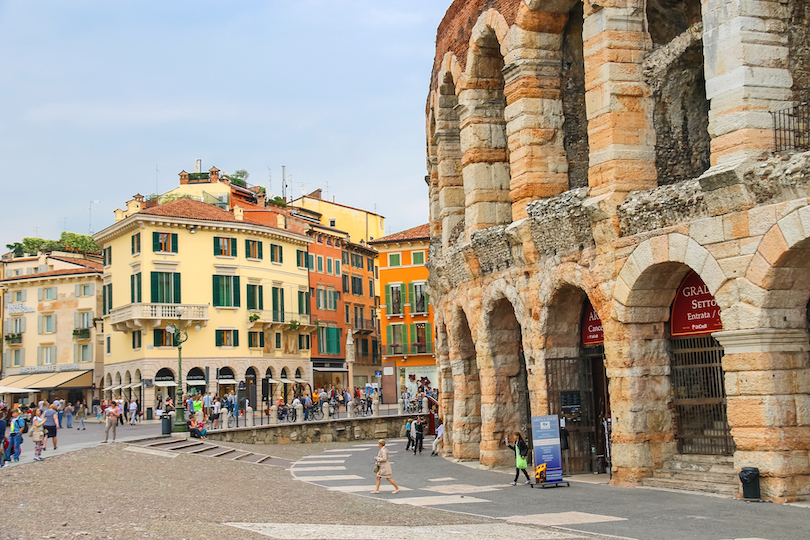 Every bit as romantic, Verona is renowned all around the world for being the setting of Shakespeare's Romeo and Juliet. The second largest city in the northeast of Italy, its well-preserved historic center has a staggering array of arresting sights for visitors to check out.
Dominating and defining the city is its enormous Roman amphitheater that was erected back in 30 AD. Still in great condition, its ancient stage and stone steps host top-class concerts and opera performances each summer. After seeing its countless churches and cathedral, head up to the red brick Castelvecchio perched upon the hillside. From here, you can bask in sweeping panoramas over the city's rooftops, river and bridges below.
Much less crowded than Venice, Verona has a lovely laidback atmosphere, especially at night when most tourists have departed. Other than must-see sights such as the little balcony at 'Juliet's House', simply strolling around its medieval heart is a memorable way to spend the day.
2. Cortina d'Ampezzo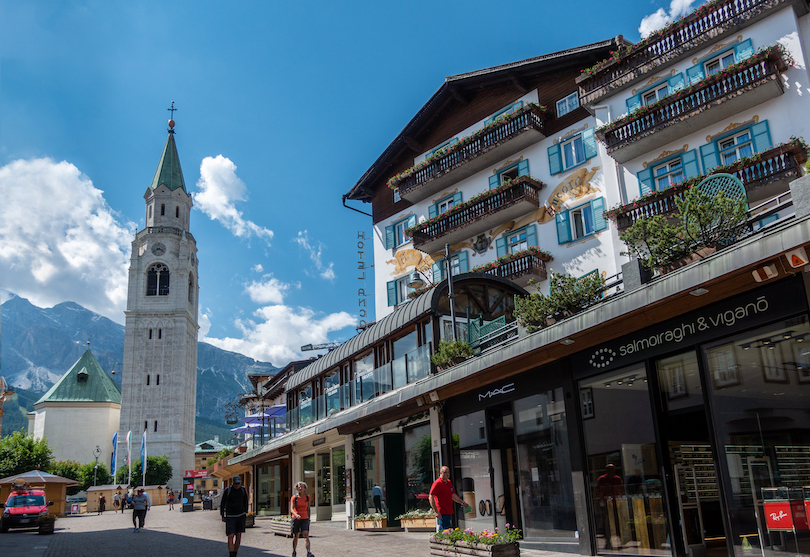 If instead of sightseeing and city trips, you're after superb skiing and mountain scenery, then the chic Cortina d'Ampezzo is definitely the place to go. Nestled high amidst the Dolomites, the famous and fashionable resort town has all kinds of exciting outdoor activities to enjoy.
Tucked away in a vast alpine valley, its luxurious lodges have been welcoming the wealthy for over a century. Catering to its clientele are upscale shops, craft stores and exclusive restaurants. A couple of moderately interesting castles, churches and museums can also be found dotted about town.
After hosting the Winter Olympics in 1956, it was catapulted to fame as a skiing and snowboarding destination. Part of the Dolomiti Superski area, Cortina d'Ampezzo remarkably has over 850 thrilling pistes for you to shoot down. In summer, you can hike and bike about its mighty mountains or climb cliff faces and jagged peaks.
1. Venice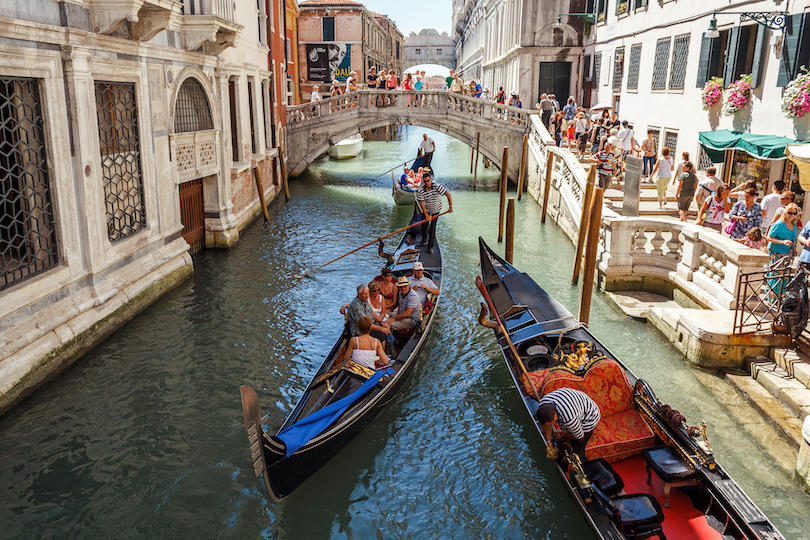 For many the most magical and romantic place on Earth, Venice is the crown jewel of what Veneto, and arguably the whole of Italy, has to offer. Almost unchanged in appearance for over 600 years, its scenic canals, bridges and squares are a treat to explore.
Built across 118 small islands in the Venetian lagoon, La Serenissima is an artistic and architectural gem unlike any other. Its enticing alleys and canals lead to such famous sites as Piazza San Marco, its breathtaking basilica and Doge's Palace. From the Rialto Bridge or on gondola rides, you can gaze out over the iconic Grand Canal. Seeing all its wonderful waterfront palaces and boats zipping about is an image sure to live long in the memory.
Besides exploring historic neighborhoods like San Polo and Dorsoduro, you can peruse outstanding art collections in the Guggenheim and Gallerie dell'Accademia. At almost all its restaurants and bars, you can enjoy gorgeous views over the picture-perfect squares and canals before you. While it does certainly get quite crowded, there is a reason people return to the irresistible Queen of the Adriatic time and time again.