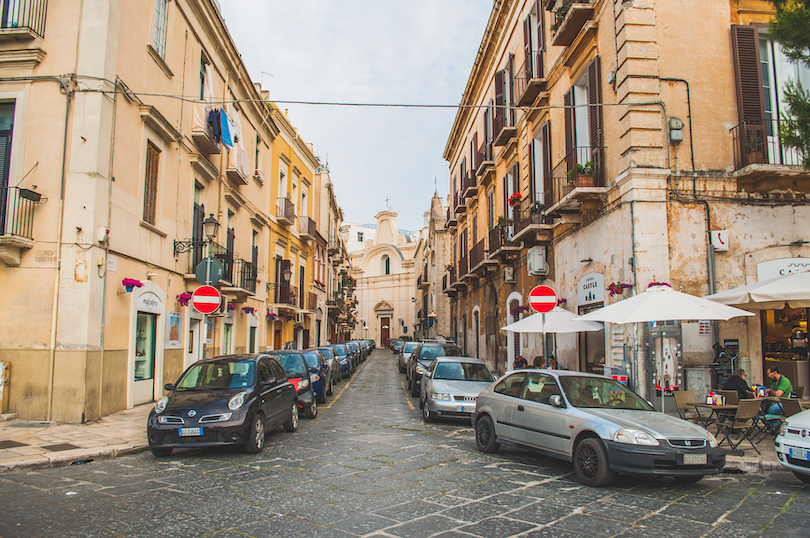 Lying along the southeast coast of Italy on the Adriatic Sea, Bari is both the largest city and capital of the Puglia region. Most known for its maze-like Old Town, its alleys and piazze are bordered by loads of charming old buildings and churches. Its colossal cathedral and castle also count among its other main tourist attractions.
Long an important economic center, the smallish peninsula's strategically positioned port has been used since Roman times. Due to this, everyone from the Saracens and Byzantines to the Normans and Neopolitans ruled over the centuries. These cultural influences are still on show today with interesting architecture and ancient historic sights wherever you look.
As Bari Vecchia is sandwiched between two ports, there are sublime sea views to enjoy with pristine beaches located nearby. Besides several great things to do in Bari itself there are also enticing day trips to places such as Matera and Polignano a Mare. It is easy to see why Bari does make for a great holiday destination.
Map of Bari
© OpenStreetMap © MapTiler © Touropia
In this post, we'll cover:
14. Old Harbor
One of the most picturesque parts of Bari, the Old Harbor is full of lovely little fishing boats bobbing about. Known in Italian as the Porto Vecchio, it lies nestled between the Sant'Antonio and San Nicola piers, just southeast of its handsome historic center.
Remarkably enough, the city's sheltered waters have been used as a harbor since at least the third century BC. Each morning, fishermen still unload their catch here and sell their haul at its vibrant fish market. At any time, hundreds of colourful boats are either moored at its quays or dot the harbors tranquil waters.
This all paints a very pretty picture with both early morning and sunset being the most magical times to visit. Other than snapping some photos of the bay and Teatro Margherita bathed in beautiful light, you can sample some fantastic fresh seafood here.
13. Piazza Mercantile
Just a stone's throw away is the magnificent Piazza Mercantile which has long been one of the city's main squares. Lined by lots of attractive old buildings, local bars and restaurants, it is a very pleasant spot to spend some time.
Since the early fourteenth century, the spacious piazza has served as an important commercial and political hub. Aside from the striking Palazzo del Sedile – Bari's former town hall – it also contains the Colonna della Giustizia. It was against this small stone column that petty criminals and debtors were tied, ridiculed and punished in medieval times.
We really liked the square's lively yet laidback ambience and all its worn facades and historic feel. As there are loads of cafes, gelaterie and trattorie here, we stopped by several times during both the day and evening. At its southern end, it merges into Piazza del Ferrarese which has even more options to try out.
12. Visit Polignano a Mare
When in town, many people also take a trip to the very popular Polignano a Mare. Located just a forty minute train journey down the coast, it is most known for its charming center and stunning sea cliffs overlooking the Adriatic.
Thought to have been settled in prehistoric times, the tiny city developed atop a dramatic rocky spur with pebble beaches, caves and grottos lying all around it. As you amble about its mess of medieval streets, you'll see a fascinating mix of cultural influences and architecture. This is because everyone from the Romans and Arabs to the Normans and Venetians ruled at one time or another.
Seeing all its old buildings clustered along the top of its steep cliffs is an epic experience. Other than taking some pics and exploring its atmospheric center, you can lounge on its white pebble beaches and go cliff diving if you dare! With so many phenomenal viewpoints to enjoy, it is no wonder the city is often called the 'Jewel of Puglia'.
11. Teatro Margherita
Back along Bari's sparkling waterfront is the massive Teatro Margherita. Overlooking the Old Harbor, its elegant Art Nouveau building now hosts excellent contemporary art exhibitions. It also has quite a unique history to uncover, as well as some fine architecture to admire.
Once used as a theater and cinema, it was officially opened in 1914, replacing an earlier wooden one. Designed by Francesco de Giglio, the enormous structure was initially erected atop pillars in the sea. This was so the city could technically keep its pact with the Petruzzelli family – owners of the ornate theater of the same name – not to build one rivaling theirs on municipal ground.
Now connected to the mainland by a boardwalk, its elaborate arched entrance is flanked by two tall towers. Once past its pink and white facade, fabulous stuccoes and frescoes decorate its dome. While its architecture is arresting, the innovative art installations, photo exhibitions and virtual art displays the museum puts on are just as good.
10. Strada delle Orecchiette
One of the Old Town's most famous streets, Strada delle Orecchiette is where you can watch nonnas making and selling the traditional pasta from Puglia. All along Via Arco Basso, small stalls are set up outside their homes, covered in the distinctive ear-shaped orecchiette.
For centuries now, generations of housewives have handed down their tips and tricks for seamlessly shaping fresh pasta into the perfect profile. While some make all the orecchiette in their kitchens opening onto the street, others craft them in the narrow alley.
Very friendly, welcoming and chatty (for the most part!), the grandmothers also sometimes sell a few other artisanal products like taralli and sun-dried tomatoes. Besides watching them carefully shape the pasta, we actually got to try some with ragu in one of their homes. A really nice local experience, it ended up being one of our highlights from our time in town.
9. Teatro Petruzzelli
If after all the endless sightseeing and strolling around you want to catch a superb show, then Teatro Petruzzelli is the place to go in Bari. Very highly regarded, it puts on a packed schedule of top-class operas, ballets and classical music concerts.
The fourth-largest theater in all of Italy, the exquisite opera house and its enormous auditorium date to 1903. First proposed by the Petruzzelli brothers – successful traders and shipbuilders – its red and white facade is topped by bright glinting statues.
Lavishly decorated, its lobby, halls and theater are all decked in rich red, gold and marble with some stupendous stuccowork also featuring. Five tiers of boxes overlook its hallowed stage where famous names such as Luciano Pavarotti and Frank Sinatra have performed. If you don't manage to watch a ballet or opera, you can always take a tour of the theater instead.
8. Castello Normanno Svevo
Sprawling across a huge area just to the west of the Old Town is the Castello Normanno Svevo. One of the city's standout sights, its sturdy stone ramparts are very interesting to see with old artifacts, artworks and archaeological findings also contained within.
Surrounded by a wide moat and the sea on one side, the hulking great castle is believed to have been built by the Norman King Roger II around 1130. Over the course of the next century, it was destroyed, then rebuilt and reinforced by Holy Roman Emperor Frederick II.
While its ramparts look quite imposing and impressive from the outside, we found the museum itself inside quite underwhelming. Not particularly special or extensive, its collection mostly consists of fragments of pots and statues. Most of the castle's towers and walls are also off-bounds to visitors with its handful of exhibits not providing much information (or decent English translations).
7. Pane e Pomodoro Beach
As it is the closest beach to the Old Town, Pane e Pomodoro is where most people go for some sun, sea and sand. Located just a fifteen minute bus ride down the coast, it is a very scenic spot to relax and unwind.
Meaning 'Bread and Tomato' in Italian, the pristine beach borders the shallow, sparkling waters of the Adriatic. Stretching just over a kilometer in length, its soft sands are backed by gently waving palms, a boardwalk and bars. Alongside it too are some gorgeous green spaces with public bathrooms and showers dotted here and there.
Aside from lounging on its sands and swimming in the sea, you can enjoy nice views of the city and its twinkling turquoise waters. If you have the time though, it is worth heading further up or down the coast for more idyllic beaches. As Pane e Pomodoro gets very crowded at weekends, you're probably best off visiting during the week.
6. Piazza del Ferrarese
Bari's other main square is the picturesque Piazza del Ferrarese which opens out onto the city's Old Harbor and waterfront. Also connected to Piazza Mercantile, it has tons of terrific cafes, restaurants and bars to check out.
Like its nearby neighbor, the square is bordered by a number of beautiful historic buildings. Among them are the stately Palazzo Starita and Romanesque Vallisa church's triple apse. You can also see the remains of an old Roman road that was remarkably built back in the second century.
Very lively at night and during the weekends, the popular gathering spot has plenty of outdoor tables to sit at and take in the atmosphere. With the water and marina right there and ancient buildings and busy bars all around, the piazza was one of our favourite places to hang out in the city.
5. San Sabino Cathedral
Although it is somewhat overshadowed by the spectacular San Nicola, seeing San Sabino Cathedral is still a must. Once past its rather austere and imposing exterior, you can admire its uncluttered yet elegant interior and venture down into its subterranean crypt containing ancient relics.
An excellent example of Apulian Romanesque style architecture, the cathedral was completed back in 1292 after the previous one was destroyed by William the Wicked of Sicily. Above its three simple portals is a wonderful rose window with a tall campanile also rising from its roof.
Other than inspecting the few statues and paintings lining its nave, its atmospheric crypt is usually of the most interest to visitors. Here you can see the sarcophagus of Saint Columba, an exquisite altar and other glittering treasures. Adjoining it is an archeological museum that presents the city's Greek, Roman and Byzantine past. The highlight here is its marvelous mosaic floor dating back millennia.
4. Lungomare Promenade
A treat to stroll along slowly, the lovely Lungomare Promenade takes you alongside the coastal city's stunning seafront. Lined by attractive architecture and old buildings, it offers up some spellbinding panoramas over the Adriatic before you.
Built in the 1920s, it now stretches fifteen kilometers in length, reaching from Pane e Pomodoro Beach to the port on the north side of the historic center. While ambling along, you can see the Old Harbor, Teatro Margherita and Piazza del Ferrarese amongst other sights.
Besides enjoying some exercise, the sea breeze and views, you can stop off at some little local cafes and bars along the route. While sunset is the most memorable time to visit, we really liked watching all the colourful fishermen's boats come and go during the day.
3. Day Trip to Matera
If you want to see a bit more of Southern Italy, then what better and more beautiful place to visit than magical Matera. Perched atop a rocky outcrop in the neighboring region of Basilicata, its unique cave dwellings, narrow alleys and old churches are fascinating to explore.
One of the oldest continuously inhabited settlements in the world, it is thought to have been founded around 10,000 BC. The small city is most known for its incredible sassi that make up much of the old town. Its extensive series of claustrophobic caverns are cut out of the soft limestone on the side of a steep ravine.
Wandering around its winding streets and staircases is an unforgettable experience as you follow in the footsteps of Italy's first inhabitants. Numerous churches and museums are also scattered about, the best of which are San Pietro Barisano and Palazzo Lanfranchi's medieval and modern artworks. As Matera only lies an hour's drive southwest of Bari, it really is a must if you have the time.
2. Basilica San Nicola
Absolutely immense, Basilica San Nicola is by far the most important and impressive building in the city. Set on the north side of the Old Town, the popular pilgrimage site is most known for its opulent interior which contains the remains of the revered Saint Nicholas.
Rather forbidding at first sight, its sturdy square walls look almost more like those of a castle than a church. An outstanding example of Apulian Romanesque style architecture, the basilica was erected between 1087 and 1197 when Italo-Normans dominated Puglia.
After snapping some photos of its vast facade, head inside to admire its glittering golden ceiling and fine bishop's throne. Magnificent statues, mosaics and other religious artworks also feature. Its crypt is also home to an intricately crafted Orthodox altar, as well as the tomb of Saint Nicholas. Outside of the basilica too, there is a superb statue of the saint welcoming you to the house of worship.
1. Citta Vecchia
Lots of fun to explore, Bari's enchanting Old Town has a mess of narrow streets, vibrant piazzas and centuries-old churches to get lost among. Lying alongside the Mediterranean Sea, it boasts many of Bari's main attractions and best restaurants and bars.
Known as Bari Vecchia or la Città Vecchia in Italian, its small peninsula has been occupied since at least the third century BC and even then probably a millennium earlier than that! As such, it has a rich history to uncover with the Greeks, Romans and Normans all having left their mark. On show are old castles and churches, palazzi and piazze with plenty of excellent local eateries also dotted around.
Once considered off-limits even to locals due to all the petty crime, the Old Town is now the highlight of most people's visits to Bari. We loved walking along its waterfront, eating in traditional trattorie and taking in the superb sights and intoxicating ambience. Even without venturing beyond its warren of alleys, you can already have an unforgettable time in Bari.
Where to Stay in Bari
As everything is within easy walking distance, you are best off staying in the attractive Old Town. This means you can roll out of bed and find yourself amidst its all architectural gems and winding alleys. The more modern Murat section of town is another option as many hotels, B&Bs and hostels are based here.
Guaranteeing guests a comfy, convenient stay right on the edge of the Old Town is the Hotel Boston. Just a five-minute walk from the castle, the four-star hotel has spacious, modern rooms equipped with en-suite bathrooms, minibars and air conditioning. There is also a simple little lobby bar to have a drink in with tasty breakfasts being provided each day.
Just a ten-minute walk from the historic center, right next to the train station, is the three-star Hotel Adria. As well as good-sized rooms with TVs, air conditioning and minibars, it has an exercise room, spa area and rooftop terrace for guests to make use of. In its old-world restaurant, visitors can enjoy a delicious breakfast, order meals or have a nightcap at the bar.
How to get There
Very easy to get to, the city is served by Bari Karol Wojtyla Airport which is just a twenty-minute drive, taxi ride or shuttle bus away. It connects you to numerous other cities in Italy and all around Europe.
High-speed trains also take you up and down the coast or further on to major cities such as Naples, Rome and Florence. These do take quite a while though as the distances covered are considerable.
As Bari is an important port, many people also take ferries here to cities in Albania, Croatia, Greece and Montenegro. These are often seasonal though so make sure to check the schedule beforehand.
Once you arrive, you should be able to see most tourist attractions in Bari on foot or hop on a bus or train to reach any slightly further away.
Approximate travel times:
Alberobello – 1 hour by car, 1 hour 30 minutes by train and bus
Matera – 1.5 hours by car, 2 hours by train and bus
Lecce – 2 hours by car, 1.5 hours by train
Brindisi – 1 hour by car, 1 hour by train
Naples – 3 hours by car, 3 hours 30 minutes by train
Rome – 4 hours by car, 4 hours 30 minutes by train
Best Time to Visit Bari
Lying along the Adriatic Sea, Bari has an attractive Old Town for you to explore with loads of beautiful beaches dotted up and down the coast. As many head here to sunbathe and swim in the sea, summer is the most popular time to visit.
From June to September, average temperatures stay at a sweltering 26 to 29°C (79-84°F). Most of its hotels and restaurants are packed during this time, and prices are higher as a result. The heat can make it hard to amble about the center without melting. Its bright blue skies, warm waters and stunning coastal scenery, however, do make for a very memorable holiday!
Spring and autumn are also excellent times to visit as temperatures remain at 17°C or higher, (62°F) even up until November. May also sees the famous Festival of Saint Nicholas take place – note that the crowd do thin out a bit the earlier or later you arrive during these busy seasons.