The region of Puglia (also known as Apulia) is a hidden gem, which unlike much of the rest of Italy, does not suffer from mass tourism.
Located within the heel of Italy's boot-shaped peninsula, it is known for its rich history, stunning architecture, charming towns, and gorgeous coastline. Offering visitors a unique, authentic and unforgettable travel experience that should not be missed.
Puglia has a wealth of fascinating UNESCO World Heritage sites throughout its towns and cities to explore. But its true beauty lies in its miles of sandy beaches and crystal-clear waters that define its seaside.
In this guide, we will highlight some of our favorite places to visit in Puglia. From stunning national parks to medieval castles, there is something for everyone in this wonderful part of Italy.
In this post, we'll cover:
17. Nardò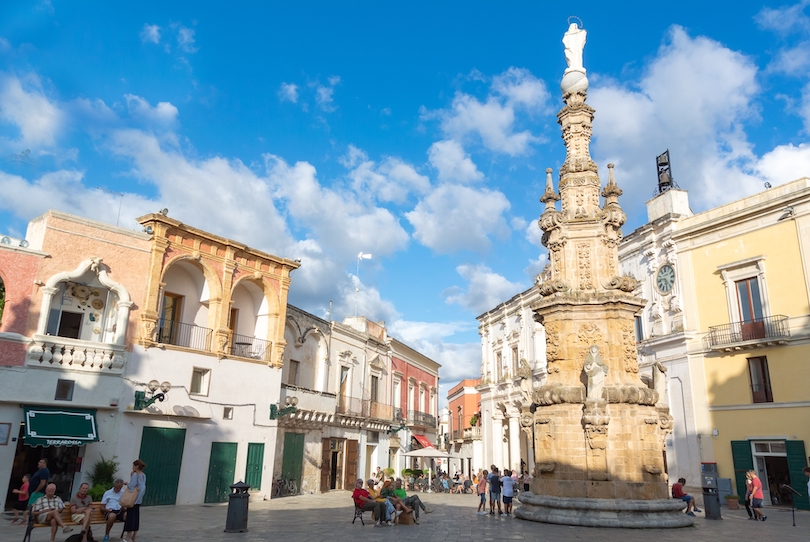 A charming town located in the Salento region, we love its beautiful baroque architecture, which is best seen by wandering through the town's narrow streets and alleyways.
Most of these buildings have ornate facades and balconies that are fascinating to observe. Each time we see them, we notice something different about their artistry, which compels us to look even closer!
One of the highlights of any visit to Nardò should be seeing the Basilica di Santa Maria Assunta. The intricate details and stunning frescoes within these buildings are breathtaking, and you'll be blown away by their incredible appearance. The vision, dedication and execution required to create such a masterpiece are something we find particularly inspiring.
For those who enjoy good Italian food, Nardò will not disappoint. The seafood at the cafes and restaurants is exceptional, and if you ever get the chance, we urge you to try the orecchiette with broccoli rabe. Your taste buds will thank you for it later!
16. Cisternino
Located in the heart of the Itria Valley, Cisternino is a beautiful town with a unique charm. The town is defined by its stunning whitewashed houses, impressive churches and stately central piazza. The latter of which showcases splendid panoramic views of the surrounding countryside from various lookout points.
From there, the sight of the conical white-tipped trulli roofs and rustic stone walls against the lush rolling hills and green fields is mesmeric. Be sure to view it at dusk, when the descending sun illuminates the scene with spectacular hues of orange, red and pink.
Its central piazza is also a good place for people-watching at this time, with many locals being on their evening passeggiata. The surrounding cafes, gelaterias, restaurants and bars also fill up with patrons to create an intoxicating atmosphere.
Elsewhere in town, there are several notable buildings you can visit. They include the Norman-Swabian tower, which dates to the 13th century and features a small statue of San Nicola on top of it.
15. Bari
Bari is a bustling port city that offers a more urban tourist experience than Brindisi or Lecce.
Located on the Adriatic Sea, one of the first things you will notice about it is that its boulevards are much grander than other parts of Puglia. They comprise colorful architecture and narrow alleys that mysteriously wind around blind corners, just waiting to be discovered.
Bari Vecchia, the historic old town, is an especially charming place. There you can visit the Basilica di San Nicola, a stunning church that houses the remains of Saint Nicholas – who, of course, was the inspiration for Santa Claus. Bari is also a good place to try street food, including panzerotti, a type of deep-fried dough filled with tomato and mozzarella, that is synonymous with the area.
For those wanting decent nightlife, the city also has some notable clubs to visit. Demode Club on Viale Dei Cedri is a popular place to dance to modern music. While we enjoyed a lovely evening of jazz at Noise, an intimate venue at Viale Salandra.
14. Gargano National Park
For those into gorgeous scenery, a visit to the stunning Gargano National Park is a must.
Situated on the Gargano Peninsula, it is an area renowned for its rugged and wild landscape, which is unlike anywhere else in Italy. To get there, we drove along winding roads surrounded by dense forests, rocky cliffs, and pristine beaches. In itself, this was a spectacular experience, and we found ourselves slowing down and stopping regularly to take in the magnificence of the scenery.
The park is famous for the Foresta Umbra, a dense forest of beech and oak that is the last remaining woodland of its type in Italy. When visiting the park we hiked through it, fascinated by its distinctive colors and unique composition.
We also ascended to Monte Calvo, the highest part of the Gargano Peninsula. From there, we took in spectacular views of the dazzling white limestone cliffs dropping dramatically into the sea.
13. Trani
We'll wager Trani is somewhere you might never have heard of before. But if you go there, we guarantee you will never forget it!
Called 'the Pearl of the Adriatic', this delightful town comprises spectacular beaches, a charming city center, notable architecture and delicious seafood.
We loved visiting the Cathedral of San Nicola Pellegrino, a stunning example of Apulian Romanesque architecture that dates back to the 12th century. The narrow streets and captivating architecture of the Jewish Quarter are also fascinating areas to explore.
Additionally, we spent quite a bit of time admiring the yachts and fishing boats while walking around its harbor, as well as sunbathing on its golden beaches.
However, our abiding memory of Trani is the delicious red mullet and seabream we enjoyed, al fresco style, at one of the local harborside restaurants. With the sun setting and whilst drinking a glass of the region's famous rosé wine, it was a splendid way to end our visit there.
12. Tremiti Islands
On your trip to Puglia, we strongly recommend you visit the spectacular Tremiti Islands.
Forming part of Gargano National Park, the Tremiti Islands are a small archipelago in the Adriatic Sea. In our opinion, they are home to some of the most beautiful beaches in Italy, and the water is crystal clear.
We swam in the warm sea for hours and lounged on the sandy beaches, which was the perfect way to relax after a couple of busy days sightseeing around Puglia.
The islands are noted spots for diving, which we will do next time we visit. One of them, San Nicola, is also home to a spectacular 11th-century abbey which features incredibly detailed and intricate mosaic flooring. Another, San Domino, is home to the Ripa dei Falconi, which is a breeding area for rare falcons.
11. Martina Franca
Those who enjoy opera should head to the pretty town of Martina Franca during their summer visit. At this time (and every year since 1975), the town hosts a fantastic annual festival – Festival della Valle d'Itria – dedicated to this form of theater.
This huge event draws visitors from all over the world, so you will need to plan ahead. We attended a show and enjoyed the beautiful music, intoxicating atmosphere and impressive talent of the performers.
Even if you are not an opera fan, you should come here to see the Baroque architecture and winding streets that define the town. The 18th-century Basilica di San Martino, in particular, is a stunning example worth seeing.
10. Polignano a Mare
Polignano a Mare is another town to get to if you can because it features one of the most unusual beaches in Puglia.
Situated on the southern Adriatic coast, the Lama Monachile consists of white pebbles, which creates an impressive appearance. Unfortunately, you won't be able to walk barefoot on it due to its rough nature. But you can rent two sun beds and an umbrella and soak in its delightful ambience.
The historic center comprises very narrow alleyways, stunning churches, picturesque streets and photogenic buildings, which are interesting to explore. However, it does get very busy during the day, so we recommend doing this around 7 am when there are no crowds.
At Polignano a Mare, another popular thing to do is take a boat trip up and down its coastline. You will get a terrific vantage point of the city's aesthetic. In addition, you will also stop at remote caves and swim in the stunning azure waters around them. Take it from us this is a magical experience!
9. Monopoli
Monopoli is another lovely town on the Adriatic Sea, worth visiting if you enjoy historical structures.
Its main highlight is the Baroque Monopoli Cathedral, which is notable for its stunning bell tower. It also accommodates a fascinating archaeological museum which exhibits ancient tombs and sculptures that provide excellent insight into the history and culture of the area.
Another major drawcard of the town is its imposing 16th-century Castle of Carlo V. Sitting on a promontory, it is notable for its massive stone portal. While not too far from it, the Palmieri Palaces showcases tremendous frescos that date to the 1700s.
8. Otranto
Beautiful Otranto is the kind of small coastal town that immediately tugs at your heartstrings.
We instantly fell in love with its gorgeous old town, and in particular, its piazzas on our last visit. Spending many hours people-watching from various benches and in cafes, and immersing ourselves in its atmosphere, it gave us a real sense of what life was like there for the locals.
One of our favorite experiences in Otranto was taking in the beautiful sea views from the Torre Matta tower. Situated by the harbor, the sun's reflection off the azure water was captivating. Its serenity made us just want to jump in a boat and head off into the horizon!
Another terrific sight was the stunning rose window and gorgeous mosaics at the Otranto Cathedral. Dating back to the 11th century, we stood in awe of it for quite a while. Marveling at the sheer levels of skill required to produce something that exquisite.
7. Locorotondo
If you are more into rural views than coastline, you should schedule a trip to Locorotondo. Situated in the Valle d'Itria between Alberobello and Martina Franca and not too far from Bari, the landscape around it is sensational.
One of the best things to do is hire a car, or better still, a moped or bike and explore the various lookout points in the area. You'll see comely stretches of verdant countryside interspersed with the whitewashed, trulli, cone-roofed houses that are famous that are like something out of a storybook.
Locorotondo is also worth visiting because it has received the coveted Orange Flag, which denotes it as one of Italy's most beautiful villages. As you wander through its charming, narrow, winding streets, and especially through its historic center, you soon come to appreciate why.
6. Brindisi
Brindisi is a historic port city that should be high on your must-visit list.
Set around the Adriatic Sea, one of its most prominent features is the magnificent Aragonese Castle. It is made of red stone and resides on a tiny island by the entrance of the harbor. For many tourists, this is the first place they head to on arrival.
Another place most people check out is the Monumento al Marinaio d'Italia. This Instagram-worthy limestone rudder-shaped memorial is dedicated to sailors and conveys spectacular views of the city and sea.
On the other side of the harbor, the 13th-century Swabian Castle is an impressive structure to explore. While closer to town, the Roman Columns on the top of Virgil's Staircase should also be on your itinerary.
5. Gallipoli
We always look forward to visiting the splendid coastal town of Gallipoli.
What we like most about this destination is that its historic center sits on an island. Residing just off the mainland, it can only be accessed by sea or a bridge, giving it a mystical quality that instantly draws us.
On the island, you will find stunning churches, most notably St. Agatha's Cathedral, which has an elaborate facade. Notable for its intricate tiled, maiolica floor, you can also visit the Church of St. Mary of Purity. Additionally, the Gallipoli Castle is worth checking out. It incorporates the stunning Rivellino tower, which is detached from the main building.
The old town is a wonderful place to explore and features beautiful Baroque buildings and charming piazzas. We also enjoy some of the best (pistachio) gelato here we've ever had there. This goes a long way to explaining why we are so fond of this place!
4. Castel del Monte
Enjoying an imperious position atop a hill in Andria, the Castel del Monte was both a citadel and castle.
When we visited it, we were immediately struck by its unique octagonal shape. We also really enjoyed exploring its interior, which included a phenomenal collection of frescoes, intricate carvings and mosaics that adorned the ceiling and walls.
On a guided tour, we were fascinated to hear our guide relate stories about Emperor Frederick II. Who built the castle in the 1240s as a symbol of his power and intellect. We also learnt about several legends and myths that surround the castle's origins.
The tour also took us to the top of the castle, where we enjoyed breathtaking views of the surrounding countryside.
Doing this, gave us the idea to later hike through the nearby nature reserve, which was a fabulous experience.
3. Ostuni
We had not heard of Ostuni before and only went there on the recommendation of other travelers we met. But we are certainly glad we took their advice to visit it.
The thing we first noticed about the city was that its entire old town is whitewashed. We found this instantly endearing. We also found the locals very accommodating and spent a bit of time talking to a few of them when we stopped for lunch at one of the local cafes.
During our time at Ostuni, we stopped by its lovely cathedral, which incorporates a mix of Romanesque, Byzantine and Gothic elements. We also took in the Porta San Demetrio – one of its two medieval gates – and visited the Civic Museum and Archaeological Park.
There we saw the fascinating skeleton of a woman born in Paleolithic times. Seeing her made us realize that somewhere, right now, her relatives are going about their daily lives. Isn't that an incredible thought?
2. Lecce
Lecce is known as the 'Florence of the South' for good reason. Full of Baroque architecture and rich cultural heritage, it is one of the most beautiful cities we have ever visited.
If you come here, you can explore plenty of churches, palaces and public squares in its historic center. Start your visit at Piazza Sant'Oronzo, the heart of Lecce, where you can find the ancient Roman amphitheater, which dates back to the 2nd century AD. Next, head to the beautifully adorned Basilica di Santa Croce with its impressive facade showcasing the skill of local stonemasons.
Another must-visit attraction is the Piazza del Duomo. This square is home to Lecce Cathedral, the Bishop's Palace, and the Seminary, all featuring astonishing architectural details. Lecce is not just about architecture though – the narrow winding streets offer authentic Italian cafes, bustling markets, and local artisan shops that you'll love to explore.
1. Alberobello
If, like us, you are captivated by the whitewashed trulli stone huts and their conical roofs, then you should come to the town of Alberobello.
Over at the Rione Monti district, you can see almost 1000 of them whilst hiking through the olive groves, vineyards and rolling hills that define the landscape. We have also spent a good amount of time here during our visits, enjoying the views over a picnic lunch.
Whilst in town, you should head to the Rione Monti quarter. There you can amble through its narrow trulli-lined streets to see them up close.
One of the most intriguing trullis to visit is the Trullo Sovrano, which spans two levels and dates to the 18th century. It houses an interesting heritage museum which presents artifacts and original furnishings from the region.
Map of Places to Visit in Puglia, Italy
© OpenStreetMap © MapTiler © Touropia