Small isn't necessarily bad. When it comes to the small villages of Italy, small is grrrrreat!
While small towns may lack the amenities and sheer number of historical sites the big cities have, they more than make up for this with the spectacular water views you'll find in Castelmola, the fields ablaze in colorful flowers of Neive and villages clinging to eroded pinnacles like Civita di Bagnoregio. If picture-postcard medieval villages appeal to you, it's time to head to one of the many small towns in Italy.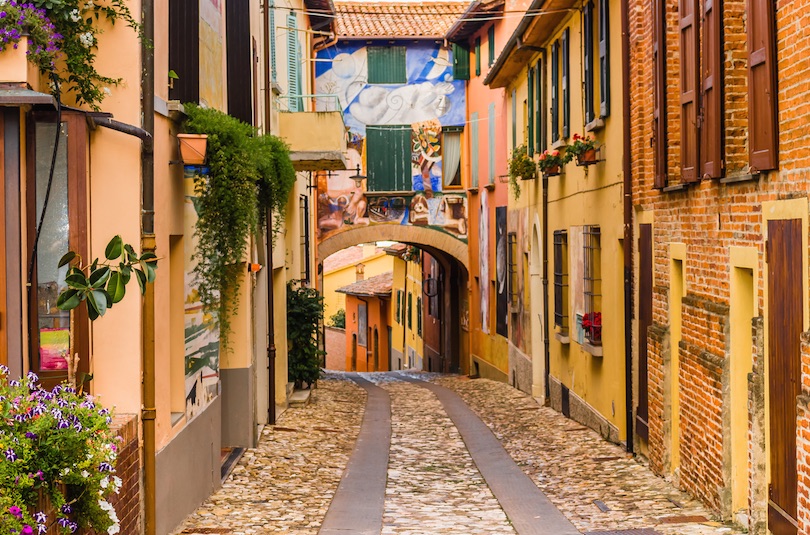 Not too far from Bologna, you'll find Dozza, a small village that is famous for turning itself into an artist's canvas. This medieval village is like an open-air art museum, with colorful paintings adorning the houses, walls, streets and squares.
Anytime is a good time to visit this charmer, but the third week of September is especially good since the Biennial Exhibition of the Painted Wall, drawing artists from all over, takes place then. The village also is known for its summer wine festival and its old fortress, which served as a private home until 1960.
Castelmola is a small village on Sicily. Although it overlooks Taormina, a popular tourist destination, it gets few visitors outside of Sicilians. This may or may not be a good thing. The good thing is this means that Castelmola is relatively unspoiled.
The bad thing is that people who don't make the trek up to Castelmola are missing out on views that are more spectacular than Taormina's. The climb is steep, so reward yourself with locally made almond wine at the top.
12. Cortina d'Ampezzo
[SEE MAP]
If you're into winter sports, then Cortina d'Ampezzo is the place to visit. Located in the Dolomite Alps, Cortina is a winter resort known for its skiing – it hosted the 1966 Winter Olympics – as well as après-skiing activities.
It's popular with the jet set because of this. The alpine village has been a tourist destination since the late 19th century. A major attraction is the 18th century Basilica Minore dei Santi Filippo e Giacomo built on the site of two earlier churches.
Enrico Strocchi / Flickr
If you've read Dante's Divine Comedy, San Leo in Marche may be familiar to you. That's because the renowned poet based purgatory on this small mountain village, particularly the fortress, parts of which were built by the Romans.
The village is famous for this castle that sits on a steep cliff above it. Listed as one of the most beautiful villages in Italy, you won't want to miss the 7th century Parish Church on Piazza Dante nor the 12th century Romanesque San Leo Cathedral.
Neive, located in Piedmont, is considered one of the loveliest villages in Italy. It has it all: narrow cobblestone streets, medieval architecture and colorful flowers climbing the stone walls of quaint cottages. Most people don't visit Neive to experience this charm, though; they come to drink its famous wines.
Comfortable walking shoes are a must if you plan to explore beyond the wine bars. There's an old watchtower; the Baroque Chisel di San Petro is considered one of the most important churches in the city.
Bosa, on the island of Sardinia, is one of the more colorful towns you'll come across in Italy. That's because the houses are painted in a rainbow of pastel colors. The settlement was established by the Phoenicians and later raided by Arab pirates.
Bosa's charm is enhanced by fishing boats, though once tanneries were its main economic base. Strolling through the town is a pleasant way to while away the hours, then walk up to the town's impressive ruined castle for panoramic views of where you've just been.
Southern Italy's Alberobello is bigger and younger than most small towns in Italy, many of which date back to Roman times. This town, founded by 40 families in the 16th century, has more than 10,000 people.
It's a trulli picturesque town, with buildings having conical roofs often tipped with white. The white-washed houses also are unique because they were built with stone without the use of mortar – a ruse to get out of paying taxes on them.
Castelmezzano, in southern Italy, is another charming place that's designated one of the most beautiful small towns in Italy. Because it's surrounded by mountains with good hiding places, it became a refuge for bandits in the 19th century.
It has a year-round population of about 1,000 people, a number that swells to many thousands in the summer when visitors come here to zip-line through the mountains At night, when everything is lit up, the village has been described as a living nativity scene.
It's hard to believe that Malcesine, on the eastern shore of Lake Garda, has never been anything but picture-postcard beautiful. It's past hasn't been all that peaceful, however. . It was fought over by everyone from the Romans to the Ostrogoths and Franks to Napoleon.
Perhaps that's why it's most important landmark is the Castello Scaligero, a 13th century fortress that replaced one built in the 5th century. It's marked by a medieval tower made of white stone; an Etruscan tomb was found inside its walls.
Castelluccio is a tiny village (less than 200 people) that is the highest village in the Apennines of Umbria. Located adjacent to Monti Sibillini National Park, the village is known for growing fabulous lentils in the cultivated fields surrounding it.
Mother Nature is at her finest here from May through July when the fields bloom with brightly colored flowers, including poppies and violets; this time is known as "Florita" or "the flowering." Florita feast days are the third and last Sundays in June.
Abdulsalam Haykal / Flickr
Be prepared for stunning scenic beauty when you visit Positano, a small village in the hills above the Amalfi Coast. Positano transformed itself from a poor fishing village to a tourist hotspot after John Steinbeck wrote about it in Harper's Bazaar in 1953.
A key sight is the church of Santa Maria Asunta, home to a black Madonna and a spectacular dome made of majolica tiles. Positano has been featured in several films, and hosts an international cartoon festival.
Pitigliano is a small town in Tuscany that is known as "little Jerusalem" because of its strong Jewish community over the centuries, though few Jews live there now. A 16th century synagogue in the town is a top sight.
For a region with less than 4,000 people, there are a number of Catholic church, including the Church of Saints Peter and Paul a 16th century Catholic church also known as Pitigliano cathedral. Another must see is the Medici Aqueduct with its Fountain of Seven Taps.
2. Civita di Bagnoregio
[SEE MAP]
Founded by Etruscans 2,500 years ago, Civita di Bagnoregio sits on a pinnacle buffeted by winds and erosion. Nonetheless, it offers some pretty amazing views from on high. Erosion caused parts of the town to tumble over the cliff, and worn away land access, but you can access this gem by footbridge.
This charming town oozes a Middle Ages atmosphere, from the cobblestone streets to centuries' old ivy-covered arches. The village hosts donkey races in the main square in July and September.
Located in northern Italy, Manarola is a small Cinque Terre town. This, however, doesn't make it any less worthy of a visit. It's a picturesque coastal town with a name that translates as "large wheel" in reference to its mill wheel.
The village has been famous for its wines since Roman times; be sure to try its signature Sciacchetrà. Houses are colorful hiking trails abound, either to Riomaggiore or around the vineyards and hills.