Visited by millions tourists every year, Tuscany is one of the most popular regions in Italy. Located in the center of the country, Tuscany boasts scenic and serene landscapes with pretty villages and towns dotted about its rolling hills, low-lying mountains, and fertile farmland. To the west, it is bordered by the Ligurian and Tyrrhenian Seas, where you can also find the idyllic island of Elba and the tantalizing Tuscan Archipelago.
While exploring the scenery in the Val d'Orcia and Chianti Wine Region is a treat, Tuscany is also famed for its romantic cities and towns. It's tourist attractions include age-old churches, elegant piazzas, and impressive palaces.
These are lovely to wander around, with the historic centers of Siena, Pisa, and Lucca particularly delightful places to visit in Tuscany. On top of all this, Tuscany's capital of Florence is undoubtedly one of the most beautiful cities in the world and is almost unrivaled when it comes to its countless artistic and architectural treasures.
Map of Places to Visit in Tuscany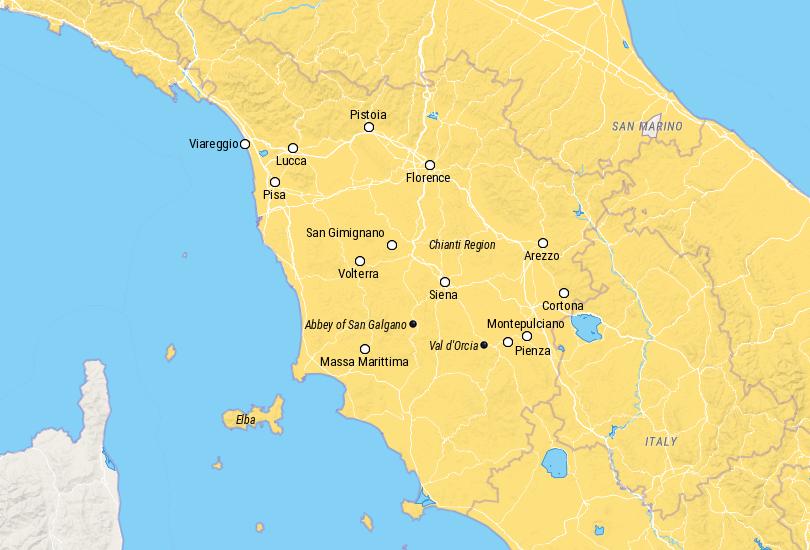 © OpenStreetMap © MapTiler © Touropia
To do it right, the day begins early in Tuscany. Travelers rise with the early sun, watching the low hanging light bounce between the mist and the rolling amber hills. Golden wheat flows with the wind, interrupted by groves of olives and vineyards that are the start point of Tuscany's insatiable cuisine. Your eyes then cross paths with cypress alleys that lead to terraced homes atop a hill. You begin to wonder if you really do have to leave.
18. Pistoia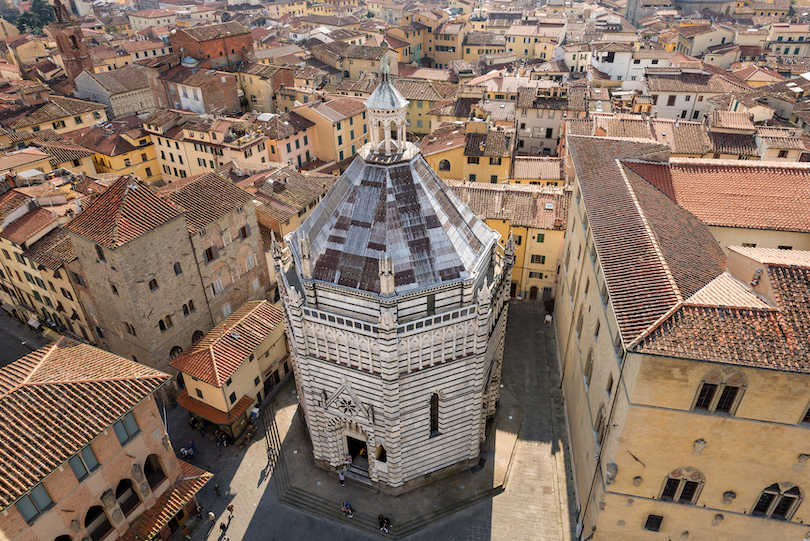 Sitting in the shadow of Florence, Pistoia is devoid of tourists who travel blissfully unaware of what they're missing. Once voted as the nation's Capital of Culture, Pistoia is home to an array of mouthwatering restaurants, medieval churches, and palaces. All of which can be enjoyed without battling a line.

In the heart of Pistoia, is the Piazza Del Duomo. This town square has brought locals together for centuries. Encased in monuments such as the Palazzo Comunale and a sightly cathedral, there's plenty of sightseeing within a few steps. But with the community gathering as the evening grows, be sure to take time to soak in the Piazza's atmosphere.

Re-energize with a visit to a local restaurant to feast on Tuscan cuisine like crostini and pappa al pomodoro before heading to an underground passage. Built in response to the bubonic plague, this tunnel was built by subverting the river to create more hospital space.

17. Medici Villas and Gardens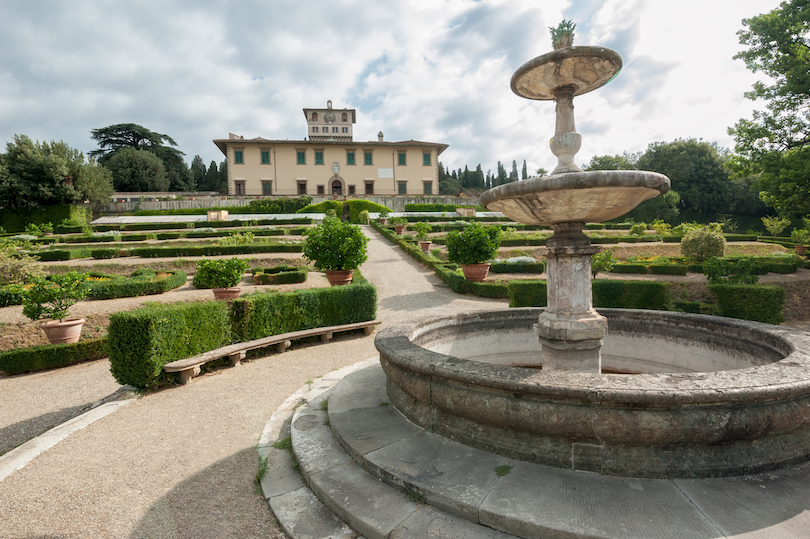 In a region of sweeping, yellow hills, the Medici Villas and Gardens represent the intersection of natural and man-made beauty. The Medici Villas are a significant display of both Renaissance and Baroque architecture. They also preserve the culture of each era.

Featuring a dozen villas and two gardens, the space preserves the Medici family's cultural and artistic influence over not just Tuscany but through Europe. Across multiple centuries, beginning in the 1400s, the villas were designed to work in harmony with nature. Now, they show visitors how sublime the blend can be when humanity and a gorgeous environment collide.

Spread across the countryside, it can take some time and planning to see them all. But by beginning in the Mugello area, you can see the Trebbio and Cafaggiolo villas. The two that started it all. Another highlight is in Poggio a Caiano which hosted royals and was owned by Lorenzo il Magnifico.
16. Abbey of San Galgano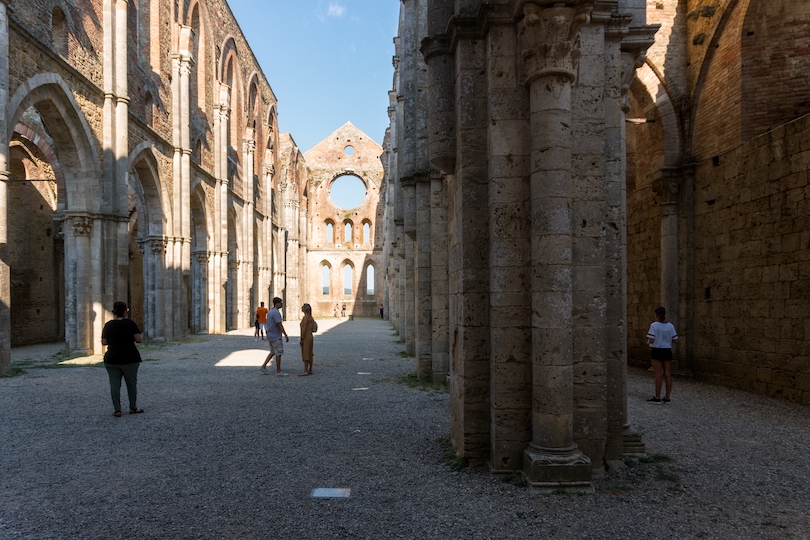 About 50 minutes south of Sienna, the Abbey of San Galgano is shrouded in history and features head-turning architecture. The centerpiece of this jaw-dropping place is the enormous monastery that's home to a church without a roof.

Your time here begins with a jaunt through the alleyways lined by cypresses. Their flowing leaves guide you to the entrance of the Abbey of San Galgano. Through a small passageway, you'll find yourself in a hallowed space, where Cistercian monks resided for over 200 years from the 13th century.

You've heard of King Arthur's heroics with swords. But have you heard of the legend of San Galgano? The man retired to the Hermitage of Monte Siepi, which still stands in the heart of the Abbey, to be a hermit. It's here you'll find the famed sword in a stone, surrounded by the gorgeous gothic church, the first of its kind in Tuscany…and now without a roof.
15. Massa Marittima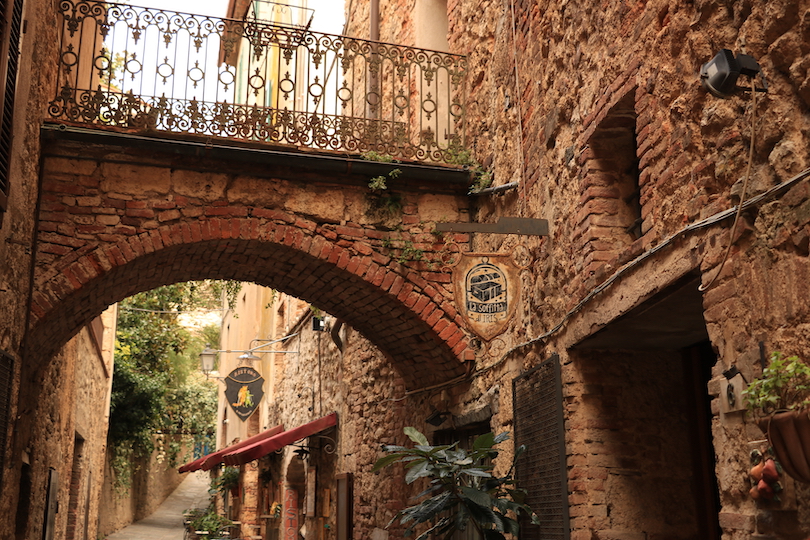 Perched atop a hill overlooking lots of picturesque countryside, the town and comune of Massa Marittima lies in the province of Grosseto in the south of Tuscany. Often overlooked in favor of Florence, Pisa, and Siena, it boasts a beautiful Old Town and is thankfully devoid of large crowds and tour groups.
Founded more than a thousand years ago, the small town is home to many impressive and interesting historic sights, with its gorgeous cathedral being the highlight. Built in a Romanesque-Pisane style, it exhibits some wonderful art and architecture; its majestic bell tower rises dramatically above a mesmerizing mess of medieval streets.
Scattered around the historic center are centuries-old churches and palazzi for visitors to explore, as well as countless cafes and traditional restaurants. In addition to this, Massa Marittima has a number of fantastic museums which provide a fascinating look at the town and region's rich mining history and heritage.
14. Pienza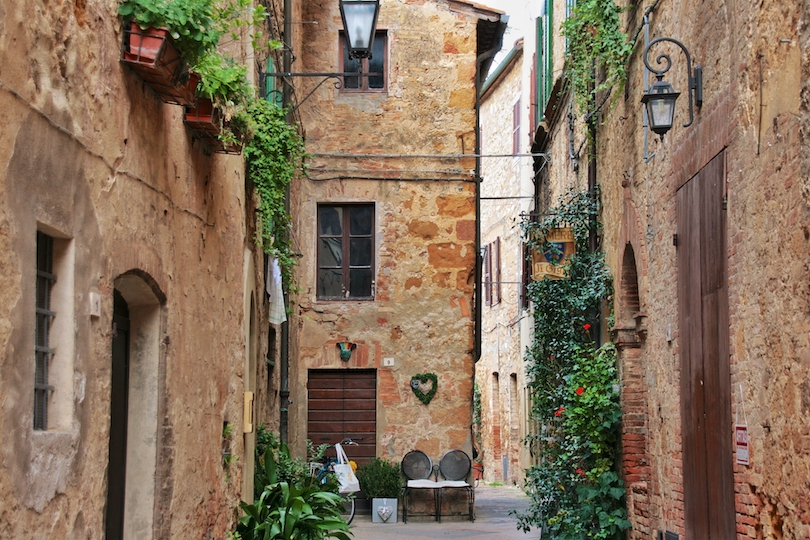 Lying in the historic Val d'Orcia region of Tuscany, Pienza is a pleasant and pretty place to visit that owes its fame and fortune to its former resident Pope Pius II. It was this influential figure who completely transformed the once sleepy backwater into the romantic Renaissance town we see today.
Rebuilt around 1459 to be a papal retreat, Pienza was renamed after Pius II, with monumental buildings shooting up around town. Lining its grand and elegant central piazza, you can now find a stunning cathedral and town hall, as well as Palazzo Piccolomini, where the famous pope once lived. From the papal palace's lush gardens, you can enjoy spectacular views over the surrounding fields and farms, with Mount Amiata lurking in the distance.
Pienza's charming historic center is noted for being the first instance of humanist urban planning. This was later replicated all across Italy and Europe. Wandering among its pastel-colored buildings and winding cobbled streets is a treat, with plenty of scenic streetscapes to discover.
13. Chianti Region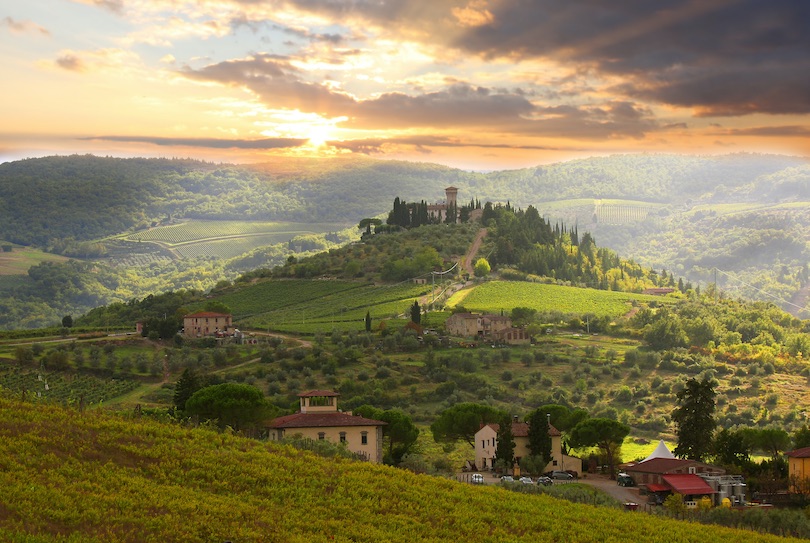 Famed around the world for its fantastic wines, the Chianti Wine Region is home to stunning scenery, with fertile vineyards and farmland coating its rolling hills and low-lying mountains. Set between Florence and Siena, the loosely defined area is a very popular place, with thousands of people visiting its wineries and towns every year.
The best way to explore the region's beautiful countryside is by car; this allows you to stop off at charming towns such as Greve, Panzano and Radda. Set in scenic spots amidst farms, forests and olive groves, they certainly paint a pretty picture, with stone farmhouses, romantic Romanesque churches, and crumbling castles on show.
As the Chianti Wine Region is such a large producer of agricultural products, no visit is complete without sampling some of its fine cuisine and delicious wines. Lots of serene and secluded wineries dot its divine landscapes; these offer tasting sessions in an unforgettable Tuscan setting.
12. Viareggio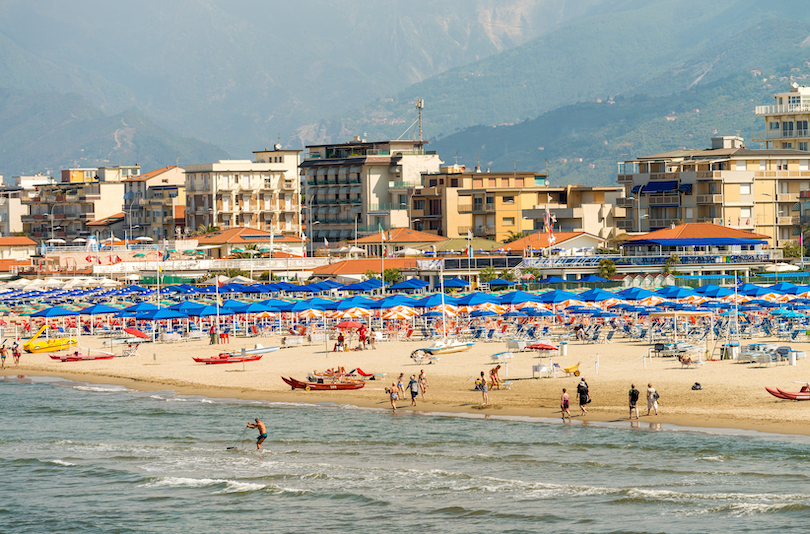 A very popular place to visit due to its sun, sea and sand, Viareggio lies in the north of Tuscany on the shores of the Tyrrhenian Sea. While its heyday has long been and gone, the small city makes for a great beach holiday. Every year, thousands of revelers visit during its famous, fun, and festive carnival.
Lining its gorgeous golden sands are lots of decaying yet delightful art nouveau buildings, now home to countless cafes, restaurants and bars. Life in the city revolves around its seafront, with children's play areas and lively resorts found alongside its bustling port and marina.
Besides its sun-kissed sands, Viareggio is also known for its colorful carnival, which is held every year. Over the course of a month, parades and parties, masked balls, and float-filled festivities take place, with everyone dressed in costumes, enjoying the lively ambience.
11. Cortona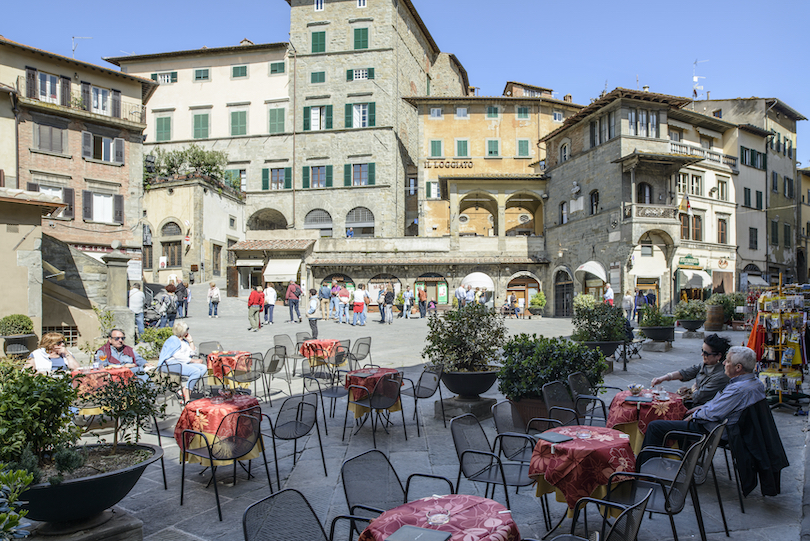 Set in a spectacular spot atop a prominent hill, Cortona is blessed with awe-inspiring views in every direction. Located in the Province of Arezzo, the small town is home to lots of lovely medieval buildings and Renaissance architecture and was once part of the Etruscan League.
Hidden away among its ancient cobbled streets are elegant piazzas for visitors to explore, with centuries-old churches and palaces dotted here and there. Such is Cortona's picturesque nature that large parts of Under the Tuscan Sun were filmed here. Its stunning setting only adds to its popularity.
To gain a greater understanding of the town's rich history, heritage, and culture, it is well worth visiting the fabulous Diocesan Museum and Museum of the Etruscan Academy. Both of these are home to interesting exhibitions, impressive artworks, and age-old artefacts, while numerous archaeological sites can also be found around town.
10. Volterra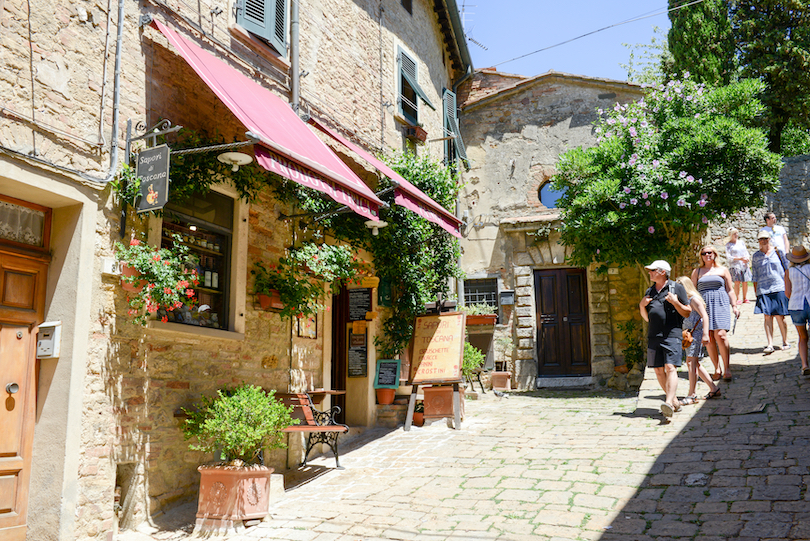 Another of Tuscany's charming hilltop towns is Volterra, which lies in the Province of Pisa looking out over an endless patchwork quilt of farms and fields. Remarkably, it is believed to have been continuously inhabited since the eighth century BC, so many interesting and important historical sights and cultural landmarks can be found dotted about.
While exploring the small city's streets, visitors will come across Roman ruins and medieval town squares, while craggy walls dating to the Etruscans encircle its centuries-old buildings. Among its most ancient sites are the fourth century BC Porta all'Arco – the town's main gate – and the Roman Theatre, while comparatively new additions include its hulking Duomo and hilltop Medici Fortress.
Besides its exquisite architecture and astounding historical sights, Volterra is also noted for its superb alabaster carvings, which are still produced in the town's workshops. It is a great place to pick up souvenirs; lots of shops and boutiques sell artisanal handicrafts and locally made artworks.
9. Arezzo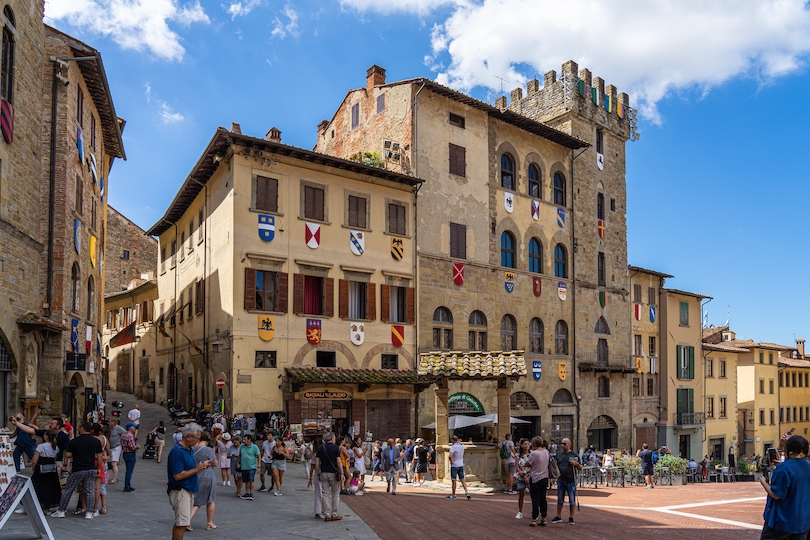 Located some 80 kilometers to the southeast of Florence, Arezzo is the capital and largest city of the province of the same name. Once one of the 12 hill towns of the Etruscan League, it is now known for its many churches and museums, as well as for its phenomenal Piazza Grande.
Set on a sloping hillside, this magnificent medieval square is lined by pretty, pastel-colored palaces. It was here that parts of the award-winning La Vita e Bella were filmed. Life in the city revolves around the piazza, with an extensive antique market held on its flagstones every month and countless scenic streets snaking away from it.
Exploring Arezzo's historic center really is a delight. Centuries-old churches, ancient monuments, and arresting architectural styles abound. While its art and archaeological museums allow you to delve into the town's two thousand years of history, its rich culture and cuisine can also be sampled in any one of its excellent restaurants, cafes and bars.
8. Montepulciano
Although it is renowned for its fabulous wines, Montepulciano has much more going for it: it's home to a lovely medieval center full of impressive historical sights and cultural landmarks. As it is set on a limestone ridge, it also boasts beautiful views out over the stunning scenery of the Val d'Orcia and Val di Chiana regions of Tuscany.
Lying at the heart of the small town is the picturesque Piazza Grande, lined by marvelous palaces that exhibit fine Renaissance and medieval features. From Palazzo Communale's clock tower, visitors can enjoy sweeping panoramas over the surrounding countryside, while its 14th-century walls also offer breathtaking vistas.
Montepulciano's main draw, however, is its delicious local produce. Fine cheeses, hams, and pasta dishes can all be sampled alongside its world-famous wines. Numerous restaurants, cafes and bars around town serve up the divine Vino Nobile, and many places also offer tasting sessions or tours of vineyards and wine cellars.
7. Val d'Orcia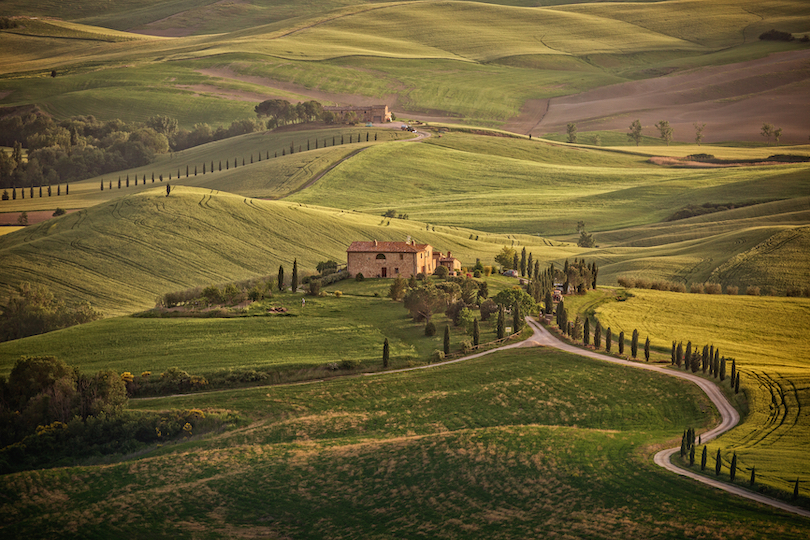 One of the prettiest and most picturesque parts of Tuscany, Val d'Orcia is a beautiful valley known for its rolling hills, fertile farmland, and idyllic medieval towns. Extending from the hills south of Siena to the looming lava dome of Mount Amiata, the region is full of alluring landscapes and small settlements that are a treat to explore.
While Pienza attracts the most visitors with its papal past and gorgeous Gothic and Renaissance architecture, towns such as Montalcino and Castiglione d'Orcia are just as worthwhile visiting. These are both home to fantastic hilltop fortresses, which offer splendid views over the valley's countryside. Local agricultural produce can be sampled in their cafes and restaurants.
Such is the region's beauty that over the centuries, Val d'Orcia's landscapes have often been replicated in Renaissance paintings or photo form. In more recent times, parts of Gladiator, The English Patient and A Midsummer Night's Dream were all filmed here.
6. Elba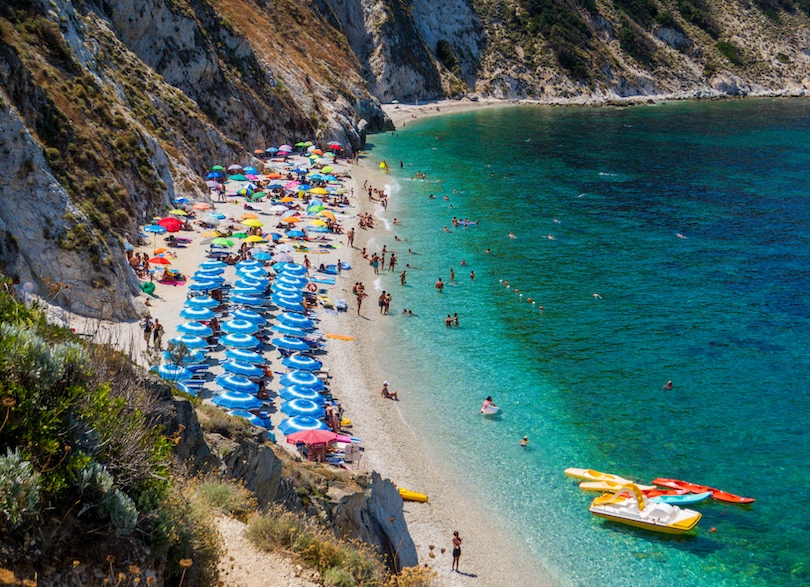 Surrounded by the sparkling waters of the Tyrrhenian Sea, Elba is blessed with beautiful beaches, small, secluded coves, and lots of breathtaking landscapes. Famed for being the site of Napoleon's first exile, it lies just ten kilometers off of the mainland and is the third-largest island in Italy.
Along the island's coastline are lots of lovely towns and villages for you to explore, with Portoferraio, Marciana Marina, and Porto Azzurro counting among its most popular. Here you can delve into Elba's rich cultural heritage and cuisine while looking out over the gorgeous seascapes before you.
While Elba's scenic, sun-kissed shores lend themselves perfectly to sunbathing, swimming, and sailing, its interior is home to fertile vineyards and small mountains. These are excellent to hike or cycle around, with ancient towns, settlements, and castles dotted about. Superb views can be enjoyed from the top of the 1,018 meter high Monte Capanne.
5. San Gimignano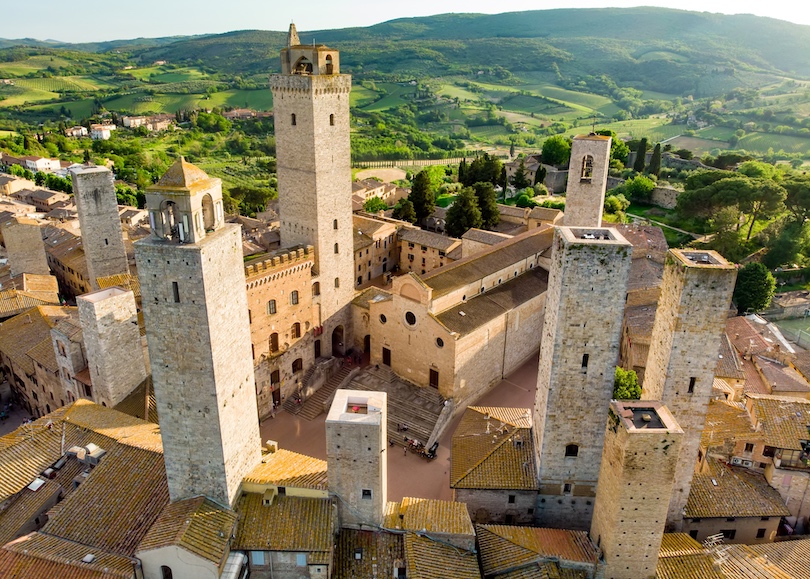 Rising dramatically in the distance, San Gimignano's 14 medieval towers make for an unforgettable sight. Located in the Province of Siena, the walled town is renowned for its spectacular skyline: at one point, an incredible 72 towers dotted its prominent hilltop.
Towering up to 70 meters, these awe-inspiring edifices were erected by powerful families who competed to show off their wealth and prestige. From atop of them you can bask in the magnificent views of the tantalizing mess of medieval streets down below and the romantic rural landscapes all around.
While simply getting lost in its ancient streets and taking in the views is a lovely way to pass the time, San Gimignano also has a couple of excellent museums that are home to astounding artworks and artefacts. Here you can learn more about the former Etruscan village's more than two thousand years of history, and about the Gothic and Romanesque architecture that dots its pretty piazzas.
4. Lucca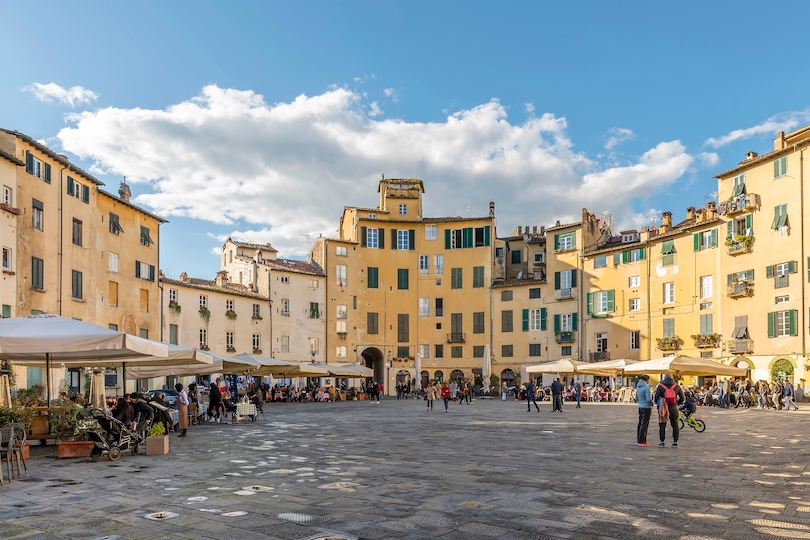 Lying just a short train or bus journey to the northeast of Pisa, Lucca is a great place to visit that is mostly known for its well-preserved city walls. Now a pleasant pedestrian promenade, they encircle an enchanting old town, which is home to elegant piazzas, palaces, and churches.
Founded by the Etruscans around the third century BC, Lucca boasts ancient architecture and arresting historic sights, with its delightful Duomo one of the highlights. Lying at the heart of the small city is Piazza dell'Anfiteatro; this former Roman amphitheater is now a public square surrounded by picturesque pastel-colored houses and cafes.
Hidden amongst Lucca's cobbled streets are centuries-old churches, while a couple of lofty towers can be spotted here and there. While the small city has a laidback feel to it, as evening descends, its bars and restaurants come to life, and its dimly lit streets have a magical air about them.
3. Pisa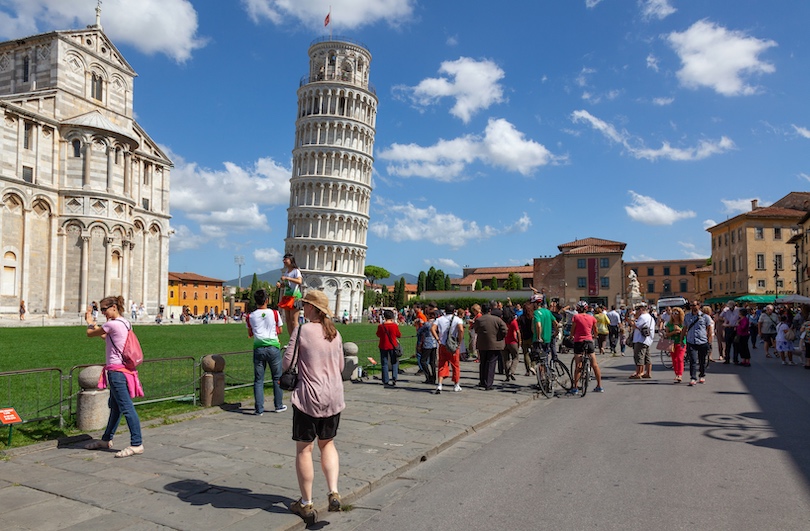 Although it is most famous for its iconic Leaning Tower, Pisa has much more to it: a wealth of artistic and architectural treasures can be found around town. Once a significant maritime power, the riches the city derived from commerce and conquest fueled the construction of grand Gothic churches, refined Renaissance piazzas, and beautiful Romanesque buildings.
Wandering around the small city is a treat, with impressive facades and fine architectural features wherever you look. Dotted here and there are several great museums, while Piazza dei Miracoli is the star attraction. Not only is it home to the world-famous tower, but also a splendid baptistry and cathedral, which boasts marvellous marble columns, magnificent mosaics, and some monumental works of art.
Despite all the history on show, Pisa has a lively and youthful feel to it due to its prestigious university. A host of great bars and cafes line its piazzas, while a packed schedule of parties, cultural events, and small festivals takes place throughout the year.
2. Siena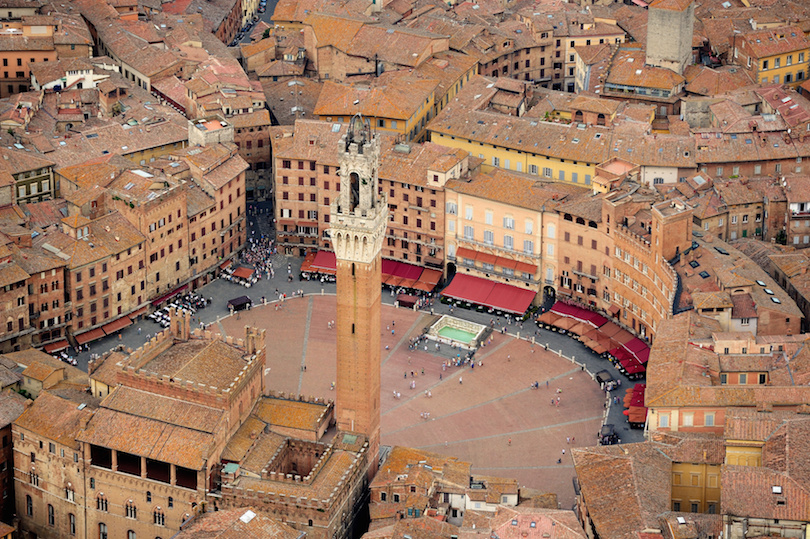 One of the most popular and picturesque places to visit in Tuscany, Siena lies some 70 kilometers to the south of Florence, surrounded by rolling hills and farmland. Founded by the Etruscans over two millennia ago, the small city is full of architectural marvels. Impressive historical sights and cultural landmarks can be found around its charming centro storico.
At its heart lies the shell-shaped Piazza del Campo, widely regarded to be one of the most majestic medieval squares in Europe. Famed for being the site of the exhilarating Palio di Siena horse race, it is lined by pretty palaces and townhouses, with its 102-metre-high Torre del Mangia towering above the city's endless red rooftops.
While getting lost in Siena's atmospheric old streets is a must when in town, its dashing Duomo is the real showstopper. Built out of black and white marble, the Romanesque cathedral exhibits exquisite art and architecture, with fantastic frescoes, stunning sculptures, and a subterranean baptistry all on show. With so much art, history, and culture to be explored, Siena is not to be missed when visiting Tuscany.
1. Florence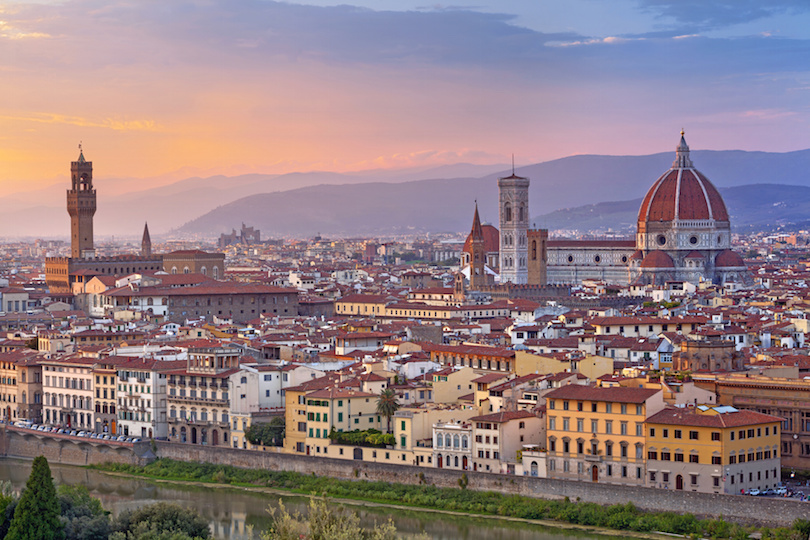 Renowned for being the birthplace of the Renaissance, Florence is one of the most resplendent, romantic and refined cities on Earth. Packed with astonishing artworks and architecture, the capital of Tuscany lies on the banks of the Arno River, surrounded by gently rolling hills.
For centuries one of the most important centers in Europe, Florence flourished with astounding edifices such as Palazzo Pitti, Ponte Vecchio, and Santa Maria del Fiore all springing up. Boasting an incredible facade, the latter is one of the largest cathedrals in the world and dominates Florence's skyline. It is, however, just one of many beautiful buildings. While exploring the city's cobbled streets, you'll come across many elegant palaces, centuries-old churches, and impressive monuments.
As it was once home to masters such as Botticelli, Da Vinci, Donatello and Michelangelo, the city's many museums are full of world-famous paintings, sculptures and artworks. While this rich history and culture is on show wherever you go, Florence is very much a living and breathing city which is just as famed for its cutting-edge fashion and shopping as its culinary traditions and Tuscan wines.