While many tourists focus on Rome, Venice and Sicily, Calabria, in the southernmost region of Italy, is a hidden gem that often gets missed.
We have always been drawn to the beauty and charm of this part of Italy. Ever since we first saw it on Globe Trekker back in the early 2000s.
Its rugged beauty, fascinating ancient history, and delicious cuisine captivated us then. And it most certainly didn't disappoint when we explored its quaint towns and villages some years later.
Offering an authentic Italian experience that is hard to find elsewhere, the best places to visit in Calabria offer something for everyone. Not least for its stunning coastline and intoxicating ambiance.
In this post, we'll cover:
12. Civita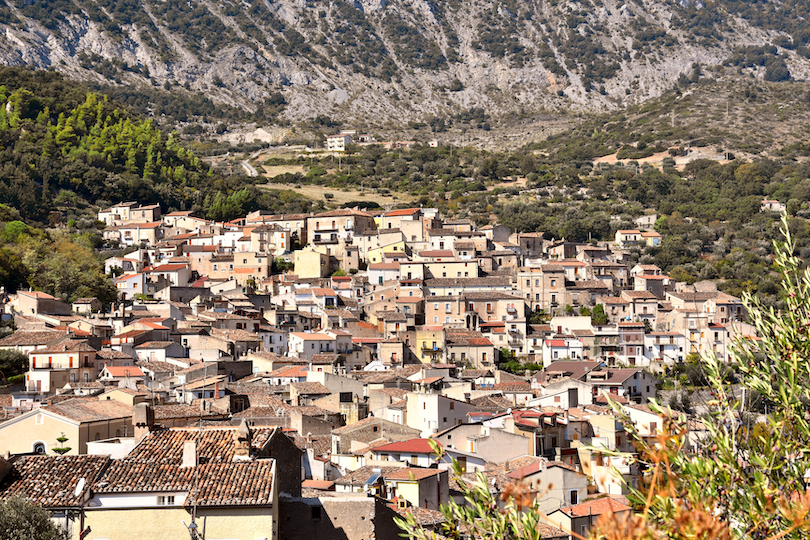 Nestled in the heart of the Pollino National Park, Civita offers a unique combination of stunning natural beauty and rich history.
The first thing you'll notice is the spectacular arched entrance greeting you upon your arrival. Known as Porta Coeli, or "Door to the Heavens," it certainly lives up to its name. As you pass through these divine arches, bask in the warm hues of the sunlit stone buildings crowding the narrow lanes.
Be sure to keep an eye out for the town's beautiful and historic architecture, including the centuries-old stone houses, the Byzantine-style San Nicola Church, and the charming Marquis Palace.
While wandering through Civita, you will also come across the town's famed Devil's Bridge, a striking architectural marvel that spans the Lao River below. Take a moment here to capture some beautiful photographs and appreciate the stunning views of the surrounding mountains.
Finally, the nearby Pollino National Park offers a variety of trails and breathtaking landscapes, all of which serve as an idyllic backdrop for a day of exploration and connection to nature.
11. Stilo
Stilo is another enchanting small town worth visiting in Calabria for its fascinating history, architecture and charm.
One of the main reasons to come here is to explore its well-preserved Byzantine architecture, including the Cattolica di Stilo. This is a quaint small church that dates back to the 9th century. What we loved most about it was its impressive interior, which featured some very intricate mosaics.
Whilst we strolled through its narrow streets, its timeless beauty and rich history were evident in all its buildings. The locals were just so friendly and welcoming. We enjoyed chatting with them, especially in local cafes and trattorias, where we learnt a lot from them about the town and its traditions and culture.
10. Pentedattilo
One of the most intriguing places to visit in and around Calabria is Pentedattilo. Established in the Middle Ages, it enjoys a magnificent location perched on a rocky hilltop.
Although it is now a ghost town, it is worth coming here alone for the breathtaking views of the surrounding landscape. However, as you stroll through the town's abandoned streets, you will be struck by its eerie beauty and mysterious atmosphere.
The old stone buildings and narrow alleys, in particular, are a testament to its rich history. Indeed, the more we explored it, the more we imagined what life was like for those who once lived there.
Arguably the highlight of our visit was climbing to the top of the hill to see the ruins of its old castle. It offered us the best spot to take in the gorgeous views of the countryside, which were breathtaking.
9. Scilla
If you are into Greek mythology, you will want to visit Scilla.
The town is situated on a promontory overlooking the crystal-clear waters of the Tyrrhenian Sea. It features lots of colorful houses, some lovely local shops and eateries, and historic buildings that date back centuries.
However, the main reason to come here is to try and spot the town's legendary sea monster, the Scylla.
According to local legend, this mythical creature was responsible for luring sailors to their doom in the treacherous waters around Scilla. We spent a bit of time hoping to catch a glimpse of the Scylla during our visit but unfortunately did not see her.
However, doing this added an extra layer of intrigue and excitement to our exploration of this beautiful coastal town.
8. Dino Island
Imagine yourself stepping onto an island straight out of a Jurassic Park movie. Welcome to Dino Island, also known as Isola di Dino, a small but exciting part of Calabria. If you're a fan of nature and stunning geological formations, this is the place for you.
As you approach the island, you'll spot its impressive cliffs, rocky shoreline, and lush vegetation. You might even find yourself humming the Jurassic Park theme song under your breath.
The real stars of the island are its famous blue grottoes. These maritime caves, sculpted by millennia of crashing waves and erosion, emit a mesmerizing blue light. You can explore some of these by boat or even snorkeling.
While soaking up the beauty of this mysterious island, also keep an eye out for the protected and endangered Peregrine Falcons that call Dino Island home.
7. Gambarie
Located in the heart of the Aspromonte National Park, Gambarie is a charming mountain village that offers a refreshing escape from the bustling seaside resorts of Calabria. Surrounded by lush forests and rolling hills, you'll enjoy the serene atmosphere and delightful scenery as you explore this enchanting destination.
Your visit to Gambarie would be incomplete without taking advantage of the numerous hiking and walking trails that crisscross the area. As you wander through the picturesque landscape, you'll be treated to breathtaking views of the surrounding mountains and valleys.
During the winter months, Gambarie transforms into a popular ski destination, offering a variety of slopes suitable for all skill levels. The village is home to several ski schools and equipment rental shops, making it easy for you to hit the slopes and experience the thrill of skiing in Southern Italy.
6. Reggio Calabria
If you love ancient history you should visit Reggio Calabria.
This place is home to the National Archaeological Museum, which houses one of the world's finest collections of ancient Greek artifacts, including the famous Riace Bronzes.
As well as the museum, we took some time to visit several historic landmarks. These included the Castello Aragonese, a stunning 15th-century fortress that overlooks the sea, and the impressive 11th-century Cathedral of Reggio Calabria.
Even if you are not a history buff, it is worth coming here because the city has a wonderful seafront promenade. The waterfront offers breathtaking views of the Strait of Messina and the Sicilian coast.
Be sure to indulge in the local cuisine while in Reggio Calabria. Look for dishes featuring 'nduja, a spicy Calabrian sausage, and Pecorino del Monte Poro, a delicious sheep's milk cheese typical of the region.
Lastly, don't miss the opportunity to visit the nearby beaches of Reggio Calabria. Scilla, Bova Marina, and Taureana di Palmi are just a few beautiful spots where you can relax, soak up the sun, and dip your feet in the crystalline waters of the Ionian and Tyrrhenian seas.
5. Sila National Park
In a country as beautiful as Italy, there are several different national parks you can visit. But if you only have time to get to one of them, please make it to Sila National Park.
Covering over 270 square miles of mountainous terrain, this vast protected area incorporates a range of breathing landscapes. All of which lay against the backdrop of the Sila Grande, Sila Piccola, and Sila Greca mountain ranges.
If you enjoy hiking, you will love exploring the several miles of trails in the park. They take you through dense forests, crystal-clear lakes, and closer to those stunning mountain peaks. The views you'll see are so incredible, you'll take hundreds of photos for your Instagram!
As well as hiking, you can also explore the area by cycling or horseback riding. It is a very good thing to do as it enables you to cover much more ground within the park. You also get to see it from a more elevated perspective.
4. Arco Magno
If you love beautiful natural landmarks, then the Arco Magno is a magnificent site that every traveler to Calabria should make the effort to see.
A beautiful natural arch, it was formed over time by the erosion of the rocky coastline by the sea. Residing not far off the coast of Dino Island, visitors can reach the arch by boat or on foot via a steep trail.
We found the trail a bit of a challenge. So you might prefer to take a boat there. However, once you arrive, you can swim, sunbathe, or take in the breathtaking views of the surrounding coastline.
The area around the Arco Magno is also a popular spot for snorkeling and diving. We didn't get a chance to do this on our visit, but next time we will make sure we do. It supposedly houses some very colorful marine life.
3. Le Castella
Le Castella is a picturesque seaside village located in the province of Crotone. The town is named after the Aragonese Castle of Le Castella, which is an impressive fortress, built in the 16th century. It stands imperiously on a small island that is connected to the mainland by a strip of land.
One of the best things about its location is that it offers spectacular views of the crystal-clear waters of the Ionian Sea. It is also surrounded by sandy beaches and rocky cliffs, which gives it a very dramatic feel, especially at sunset.
Overall, we loved touring around the castle, browsing through the traditional shops and relaxing on the beach. We also ate rather too much gelato (our excuse was it was very warm!), which probably wasn't a bad thing, as it was delicious!
2. Piedigrotta Church
The Calabria region has its fair share of beautiful churches. But for its location and stunning architecture, few have made as much an impression on us as Piedigrotta Church.
This magnificent church is located in Pizzo and is notable for being built into the side of a rocky cliff that overlooks the sea. Whilst its facade is very impressive, what captivated our attention was the interior of the church, which is entirely carved out of rock. The intricate details of the walls and ceiling are truly incredible and made us wonder how they managed to create it with such artistry.
The church was built, in the 17th century, by local fishermen. We couldn't help but think the creative vision and skills they must have were nothing short of amazing.
1. Tropea
Italy has some amazing beaches, and we are lucky to have visited quite a few. In our opinion, though, none can compare to the ones at Tropea, which have a real 'pinch me' quality – such is their beauty.
The most popular beach in the area is Spiaggia di Tropea. It takes the form of a long stretch of white sand surrounded by crystal-clear waters, which is a perfect spot for swimming, sunbathing, and snorkeling.
You can spent many enjoyable hours soaking in the Mediterranean rays here. But when not sunbathing, there is also the option of exploring the town's charming cobblestone streets, medieval architecture, and picturesque churches.
There are also plenty of excellent restaurants to visit in the town. Most of which serve up delicious Calabrian cuisine, including fresh seafood and dishes that showcase locally grown produce.
Map of Places to Visit in Calabria, Italy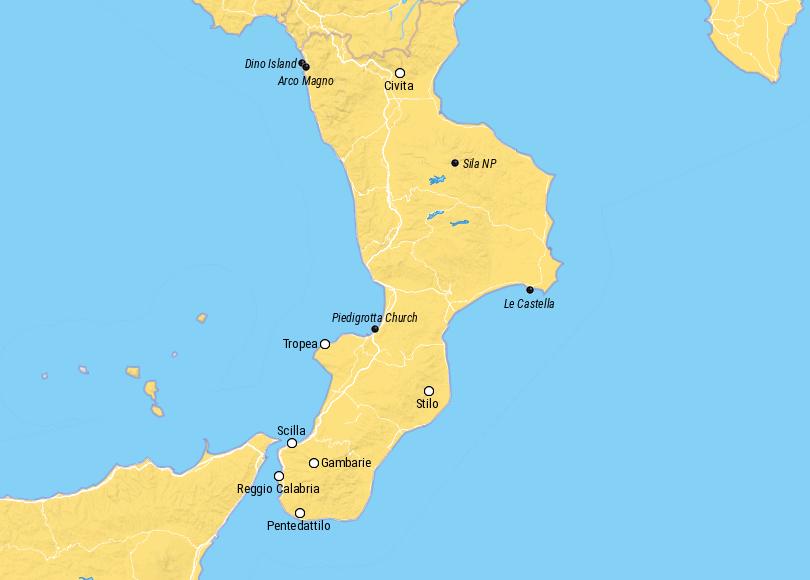 © OpenStreetMap © MapTiler © Touropia