A region in the South of Italy, edged by the Mediterranean Sea, Campania is made up of five provinces – Salerno, Caserta, Benevento, Avellino, and Naples. It's an area of Italy that's incredibly beautiful, not just for its nature – complete with dramatic coastline and marvelous mountains – but for its impressive history too.
Here is the place to come for ancient archaeological sites that tell the story of this region, from the Ancient Greeks to the Romans; from crumbling ruins to masterpieces of the classical world. Campania is also the place for sultry beaches and the glamour of the good life. It's also a cradle of Italian food, being the home of pizza, spaghetti, limoncello, cannelloni, and mozzarella. What are you waiting for? Campania awaits.
In this post, we'll cover:
15. Pisciotta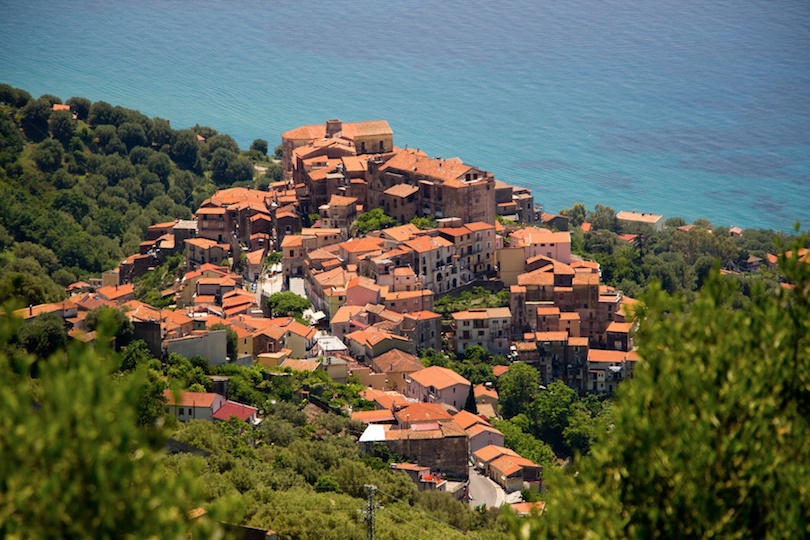 Further south from the much larger Salerno, Pisciotta is a coastal town situated on a hill looking out over the Tyrrhenian Sea. The town itself dates back to medieval times and is filled with architecture from the era. Without much overdevelopment happening, the town retains much of its old-world charm, with pastel houses, narrow lanes, and old churches hidden in small, cobbled piazza.
Here, the 17th-century Palazzo Ciaccio with its archways is particularly stunning; from there, walk down an ancient path called the La Chiusa through olive groves to the shoreline, and the beautiful beach of Pisciotta.
14. Caserta
© Marbenzu / Dreamstime
A stone's throw from Naples, the city of Caserta is the proud owner of the magnificent Baroque Royal Palace of Caserta, complete with ornate gardens decorated with immaculate lawns and fountains. Other sights in this Campanian city include the Monumental Complex Belvedere San Lucio; the charming buildings of this former silk factory have now become a resort for everyone to enjoy.
The Aqueduct of Vanvitelli, dating back to 1762, used to supply water to the Caserta area, while there are also the ruins of a gladiatorial Amphitheatre in town. Being so historical, there are plenty of heritage buildings to stay in on your trip to Caserta.
13. Cilento
© Josefina Morena / Dreamstime
This beautiful area of Campania sits between the Gulf of Policastro and Paestum and is a glorious place to experience the rugged nature of the Campania coast. With an abundance of nature in Cilento National Park, crystal clear waters, and laid-back living, it's a popular destination.
Visiting Cilento means staying in one of the many charming villages and small towns that are dotted around the area; it's ideally visited by car, which gives you the freedom to explore on your own time. Food, of course, is very important. A number of restaurants here serve fresh fish and local pasta dishes drizzled in olive oil.
12. Pozzuoli
© Alexey Pevnev / Dreamstime
Part of the metropolitan area of Naples, the city of Pozzuoli boasts a great fish market and some fabulous restaurants. It also has not just one, but two Roman-era amphitheaters, and was founded in 338 BC by none other than the Romans themselves. Due to this long history, there are many archeological sites dotted around the town.
It's not all history, though; the city is vibrant, with neighboring Neapolitans heading there for seaside breaks and good food. Because of its popularity, there is a wide selection of hotels and bed and breakfasts to stay at on a trip to Pozzuoli.
11. Procida
Procida is one of the Phlegraean Islands strung out off the coast of Naples. The smallest of the three islands, it's a fantastic place to take a break from the hustle and bustle of Neapolitan life. There's a slow pace of life here, with pretty, pastel-colored buildings jostled around the harbor.
The island is so small that it can be comfortably walked around in two days, making it the perfect place to explore on foot. While there aren't a lot of beaches, Lido di Procida is the most popular one. Staying on this gem of an island is made possible thanks to a clutch of small hotels.
10. Salerno
© Cisilino / Dreamstime
Salerno is a fun and friendly port city situated between the Amalfi Coast and Cilento National Park. Although the city saw much damage during World War II (it was the site of the Allied landings), its whitewashed buildings and terracotta tiles are still very attractive. There's also a historic center featuring a labyrinth of alleyways dotted with monuments.
After dark, Salerno comes alive, with the many shops, restaurants, and bars of the Movida district open till late, and plenty of locals enjoying the nightlife. Ferries depart from here to the Amalfi Coast. As it's a lesser-visited destination, accommodation in Salerno is more affordable.
9. Ischia
Situated in the Gulf of Naples, Ischia is a volcanic island and is famous for its thermal spas. It was a colony of Ancient Greece in the 8th century BC, and today there are many archaeological sites and still-standing monuments that can be seen; that's alongside many manicured gardens and a grand Aragonese castle.
It's an unfussy island without too much glitz and glamour (with affordable lodgings, too), meaning you can easily get to grips with local life in the bars and restaurants. Sant'Angelo in the south boasts laid back beaches and a picturesque harbor. Elsewhere, vineyards grow up the side of Monte Epomio.
8. Herculaneum
One of the two famous towns devastated by the Mount Vesuvius eruption in 79 AD, Herculaneum was virtually mummified by the ash from the eruption, leaving amazingly intact buildings. You can discover the basilica, houses decorated with mosaics, as well as villas and public baths; a visit to Herculaneum gives you a glimpse into Roman life.
Discovered in 1709, it wasn't until the 1980s that 300 skeletons were found, thought to be escaping by boat; Herculaneum was on the coast before the eruption. The best way to get there is to go to the Ercolano Scavi train station, where you can get tickets and audio guides to uncover the mysteries of this town for yourself.
7. Naples
The city of Naples is a mix of energy, history, gritty streets, and some amazing food. One of the oldest ancient cities in Europe, Naples can trace its history back to the 9th century BC, when it was settled as an Ancient Greek colony. As such, there are archaeological museums that showcase items from Pompeii and Herculaneum, as well as other sights, like Roman villas and aqueducts around the city.
A trip to Naples wouldn't be complete with food – and that means pizza. This is where the world-famous dish was born. The city shouldn't be missed; thankfully, there's a large selection of accommodation for just about anybody.
6. Paestum
A remarkably well-preserved Ancient Greek city, Paestum remained wholly forgotten until it was rediscovered in 1740. Much of this incredible town remains unexcavated, but visitors can still see a lot, including the Temple of Hera – the oldest known example of Doric architecture. There are also amazing sculptures and the Tomb of the Diver.
Paestum has been popular with visitors for centuries, being part of the Grand Tour that many aristocratic Europeans embarked on of Classical sights around the continent. To top it off, there's a beach to relax on near the city, and a selection of resort-style and low-key hotels lining it.
5. Sorrento
Sorrento is a rustic resort town set high above the Mediterranean, with breathtaking vistas out across the Gulf of Naples to Mount Vesuvius. This seaside town was a popular summer vacation spot for Ancient Greeks and Romans. Today, its mild climate, attractive streets, and friendly locals keep Sorrento popular.
There's a lot to do: Piazza Tasso is always full of hustle and bustle; Corso Italia is lined with cafes, restaurants, and shops; and Piazza Vittoria is home to the ruins of the Temple of Venus. Elsewhere, there's the Romanesque duomo (cathedral) dating back to the 1400s. With a variety of lodgings tucked down charming streets, Sorrento is a good base for exploring Campania.
4. Mount Vesuvius
This infamous volcano is the backdrop to Naples' skyline, but it's actually the smallest active volcano in the world. Even though it's active, it's still a popular place to visit. Cono Grande, complete with a wide crater, makes up most of the volcano, while its highest point is Mount Somma (1,149m).
There's so much nature that the Vesuvius National Park was set up to protect the beauty of the area, and the fertile soil around here means that vineyards thrive. You can hike its many trails and enjoy views of the Gulf of Naples; take your time, because it's just a short day trip from Naples.
3. Capri
Capri is a picture-perfect island known for its glitz and glamour, where high cliffs drop off into the depths of the sparkling blue sea. There's a mild climate here, and some beautiful, rocky nature to enjoy. The Romans liked Capri too; Emperor Tiberius built a palace and numerous villas here.
Similarly, in modern times, it became a spot for the rich and famous to holiday. The Blue Grotto is a spectacular cave with azure waters which draws travelers from far and wide; the Marina Grande features a fun, seaside resort atmosphere around its beachfront. Accommodation here edges towards the high-end, but there are still some more modest options.
2. Pompeii
Pompeii is a world-famous archaeological site. It's well known for being destroyed by Mount Vesuvius erupting back in 79 AD – and for good reason. Before the eruption, it was a holiday destination for wealthy ancient Romans, who built villas, wineries, and even hotels and swimming pools here.
Around Pompeii, a new town has sprung up, providing many hotels, shops, and restaurants, making it convenient for people to visit the ancient city. Pompeii is a time capsule; picture ancient streets with grooves from carts that trundled through them thousands of years ago, intricate mosaics, ancient graffiti, and food stalls.
1. Amalfi Coast
This jewel of the Mediterranean sees a jumble of picturesque buildings clinging to the sides of cliffs for a slice of the quintessential dolce vita. This area lures many visitors to the hillside towns of Ravello, Positano, and Amalfi itself. The gem-like waters splash against the pastel houses and mix with the green hills for a brilliantly intense color palette.
This summer destination is also popular with hikers who travel the towns by foot; these retain a rustic way of life, with fishing being one of the primary industries. Each town features a different atmosphere – and a selection of beautiful hotels and homestays – but all are perfect for a day along this storied coastline.
Map of Campania, Italy
© OpenStreetMap © MapTiler © Touropia