For more than two decades, France has reigned as the world's most popular tourist destination, receiving 82 million foreign tourists annual. Travelers from all over the world are drawn to France's sophisticated culture, exquisite cuisine, fine wines, romantic chateaux and picturesque countryside.
Many people immediately picture Paris when they think of France. Whilst the country's capital is a beautiful city filled with neoclassical architecture and some of the country's most recognizable monuments (think the Eiffel Tower), there's a lot more to see around the country than just one city.
Map of France
© OpenStreetMap contributors © Esri — National Geographic
Click to enlarge
Try the D-Day landing beaches in Normandy on for size or the Germanic culture in the Alsace region. Visit the Loire Valley for castles and vineyards, or Brittany for its earthy Celtic culture. For more wine, there's the globally renowned Bordeaux region – famous for you know what. There are the French Alps, with Europe's highest peak Mont Blanc to visit. In the south, there's the endless charm of the French Riviera, including Saint-Tropez. There's a lot to fit in, but here are the best places to visit in France.
See also
10.
Marseille
Where to Stay
One of Europe's oldest cities and France's second largest city, Marseille is a major Mediterranean seaport located off the southeast coast of France. Boasting an idyllic climate, Roman ruins, medieval architecture and distinguished cultural venues, Marseille is also a working city with several universities and industries. At the core of Marseille is its old port. Dominated by two historic forts, this bustling harbor is lined with waterfront cafes, shops and bars. One of Marseille's best natural attractions, the Calanques are a series of small inlets with astonishing blue water and majestic limestone cliffs.
Read more: Top Marseille Attractions
9.
Lyon
Where to Stay
Located in east-central France, Lyon is the capital of the Rhone department in the Rhone-Alpes region. Boasting a long history, Lyon today is the third largest city in France, known for its historic architecture, gastronomy and vibrant cultural scene. Lyon is comprised of various districts, each offering their own share of interesting treasures. For example, Presqu'île is the heart of the city with its restaurants and bars, while Croix-Rousse is known for its hundreds of hidden passageways. Fourvière boasts Roman ruins and Gothic churches, and Brotteaux is the wealthy district containing the beautiful Tete d'Or park.
Read more: Top Lyon Attractions
8.
Strasbourg
Where to Stay
Situated right on the border of France and Germany, Strasbourg is the capital city of the Alsace region. The city serves as the seat of the European Parliament and numerous other important European institutions such as the European Court of Human Rights and the Council of Europe. The city's historic center, Grande Île, is what makes Strasbourg one of the best places to visit in France. Here among a blend of both French and German architecture, visitors can find many museums, shops, cafes and striking attractions such as the stunning Gothic cathedral, which features intricate carvings and a 300-year old working, astrological clock.
Read more: Top Strasbourg Attractions
A popular tourist destination, the Loire Valley is a region in the center of France, regarded for its spectacular scenery, splendid chateaux, picturesque vineyards and historic villages. The Loire Valley stretches 280 km (175 miles) along the Loire River, twisting and turning through some of France's most beautiful villages and charming chateaux. Some of the most famous chateaux include Chambord, Amboise, Rivau, Chinon and Chenonceau. The valley is home to many wineries that offer tours and wine tastings.
6.
Bordeaux
Where to Stay
flickr/raphael.chekroun
Built upon the River Garonne just half an hour inland of the Atlantic Ocean, Bordeaux is a major port city stuffed with fine architecture, historic sites, exceptional shopping and a world-class arts and culture scene. Bordeaux's city center, features more than 350 historic structures and landmarks that include medieval churches and charming old bridges such as the Ponte de Pierre. The city also features several beautiful plazas of which the Place de la Bourse is the most stunning with its mirror-like effect. A visit to Bordeaux would not be complete without a drive through the surrounding wine country where tourists can admire picturesque villages, vineyards and chateaux.
Read more: Top Bordeaux Attractions
5.
Luberon
Where to Stay
dreamstime/© Jacques Vanni
If you want to mingle with the hoi polloi of French society in the south of France, the Luberon is the place to do it. It's a haven for French society, as well as American and British visitors who come during the summer months to experience charming villages. This region in central Provence took off as a tourist destination after Peter Mayle published his books about life in Provence. With its lush forests, fields of lavender, farmers markets and colorfully painted houses, you'll soon see why the Luberon is such a tourist magnet. A great souvenir is pottery from the village of Oppede le Vieux that still maintains its Middle Ages ambiance.
4.
Mont Saint-Michel
Where to Stay
Rising up from the midst of vast mud flats and some of Europe's most powerful tidal waves is the rocky island of Mont Saint-Michel, located off France's northwestern coast in Normandy. The tidal island is one of the most popular places to visit in France for its construction of medieval structures built as if stacked upon one another and crowned with the star attraction, the Abbey of Mont Saint-Michel. The awe-inspiring abbey was built by devoted monks in 708 AD after the Bishop of Avranches was allegedly visited by the Archangel Michael.
3.
Dordogne
Where to Stay
dreamstime/© Peter Adams
Unless you have weeks or months to spend in the scenic Dordogne region of southwestern France, you're going to pick and choose the things you want to see. There is just so much to see and do here, beginning with picture-postcard villages and chateaus, including the well-preserved Chateau de Baynac, a hilltop castle. The scenery is pretty awesome, too, with the Dordogne River running through it. The Dordogne also has some of the best prehistoric cave art in France. The walls of Lascaux feature mainly animals. Unfortunately, they're closed to the public now, but a replica is a must-see.
2.
French Riviera
Where to Stay
flickr/Artur Staszewski
Located on the French coast of the Mediterranean Sea, the French Riviera (Cote d' Azur) is the playground for the rich, famous and hordes of international tourists. Although the Riviera is famous for the glamour of St. Tropez, Monaco or the Cannes Film Festival, there are many other less well known destinations, such as the perched villages of Eze and Saint-Paul de Vence, and the perfumeries of Grasse to name a few. The region enjoys a wonderfully mild to warm climate all year round, despite being one of the more northerly coasts on the whole Mediterranean.
Read more: Best French Riviera Destinations
1.
Paris
Where to Stay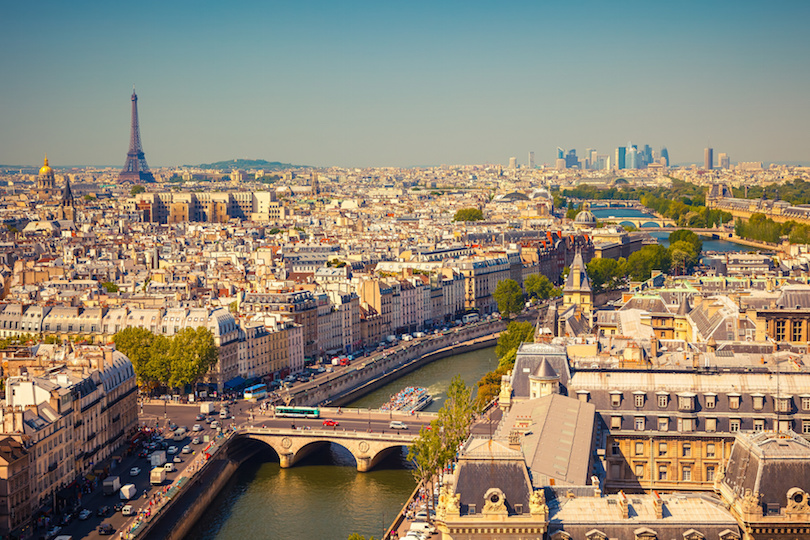 Attracting more than 45 million visitors annually, Paris is the world's most popular tourist destination. Dubbed various nicknames like the City of Lights, City of Love and Capital of Fashion, Paris is the capital city of France, known for its romantic ambiance and command in industries like business, entertainment, gastronomy, fashion and art and culture. In addition to iconic landmarks like the Eiffel Tower, Arc de Triomphe and Notre Dame Cathedral, Paris is also home to some of the world's finest museums that include the Louvre Museum and Musee d'Orsay.
Read more: Top Paris Attractions
Loading ...