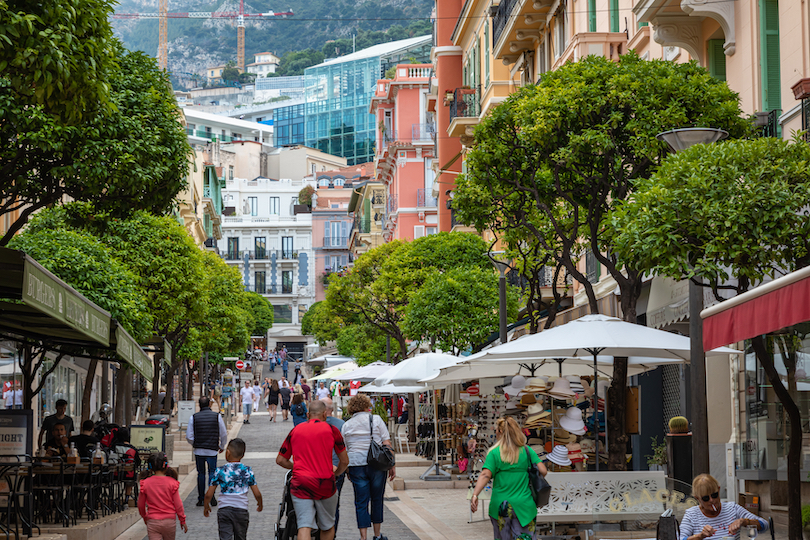 Monaco may be the world's second tiniest country (the Vatican is the smallest), but that doesn't stop it from being a great place to visit. It's a principality that has been ruled by the Grimaldi family since the 13th century.
Defined by its azure Mediterranean coastline, Monaco is famous for its gambling, car races and fairy tale romances, such as when the beauty (American actress Grace Kelly) marries the handsome prince (Prince Rainier). This microstate is glitzy and glamorous, and offers travelers a chance to mingle with the rich and famous, if only to ooh and ah over the awesome yachts in the harbor.
Travelers who fear they can't afford this lifestyle can see the attractions in Monaco on day trips from more budget friendly locations, such as Nice and Menton in France, and San Remo in Italy. This article will serve as your comprehensive guide to exploring the city, providing insights into the best things to do in Monaco and the experiences that make this enclave a destination like no other.
Whether you stroll along its elegant promenades, immerse yourself in its cultural riches, or indulge in the Mediterranean lifestyle, Monaco will enchant and captivate every traveler's heart.
Map of Tourist Attractions in Monaco
© OpenStreetMap © MapTiler © Touropia
In this post, we'll cover:
18. Les Jardins Saint-Martin
Monaco can be a bustling city, so if you want a moment of serenity, head to the gorgeous Les Jardins Saint-Martin.
Situated within the Monaco-Ville ward, the gardens comprise a network of paths along the Rock of Monaco's southwestern face.
As you stroll through these exquisite gardens, you'll instantly be captivated by the lush greenery, shaded alcoves, and picturesque fountains you'll see along the enchanting pathways.
One of the standout features of the gardens is the panoramic view of the Mediterranean Sea, which provides a breathtaking backdrop for your visit. You can sit on several benches to take them in.
Elsewhere, the meticulously manicured rose garden is another highlight, while a bronze statue made by François Cogné of Prince Albert I as a sailor is also notable.
17. Car Collection of HSH Prince Rainier III
If you are into cars, you'll want to check out the extraordinary Car Collection of HSH Prince Rainier III. You will find this incredible automobile museum in the Stade Nautique Rainier III, within the La Condamine district. Once there, the sheer majesty of the vehicles on display will blow you away.
The museum boasts a vast collection of vintage cars, from the early 20th century to contemporary gems. Its main drawcards include an opulent Rolls-Royce Phantom IV, the iconic Bugatti Type 35 and the powerful Ferrari F40.
But what sets this collection apart is its unique focus on the personal vehicles of Prince Rainier III. They include his stunning wedding cars and official state limousines, which provide a fascinating glimpse into Monaco's royal history.
16. Opera de Monte-Carlo
For those wanting a spot of culture, the Opera de Monte-Carlo promises an experience of unparalleled elegance.
This renowned opera house, built in 1879, is an architectural masterpiece. It features a grand facade and opulent Belle Époque interior, adorned with lavish chandeliers, gilded decorations and plush velvet seating, creating a luxury ambience.
Attending an opera, ballet, or classical concert is an unforgettable treat for the senses. But apart from the world-class performances, you can also explore the Opera's museum. They house a fascinating collection of costumes, stage sets, and memorabilia, offering insight into its rich history.
In addition, the Opera de Monte-Carlo has a breathtaking seafront location that adds to the charm – making it a must-visit cultural gem.
15. Casino Cafe de Paris
Feeling lucky? Well, why not pay a visit to the Casino Café de Paris? This legendary casino offers a thrilling gaming experience for those who fancy a flutter.
Inside, you'll find almost 500 slot machines for your entertainment, which gives you a sense of the venue's size. Additionally, there are gaming tables for American roulette, Punto Banco, Blackjack, Ultimate Texas Hold'em and French roulette, as well as electronic games.
Even if you are not into gambling, it is worth coming here for the delicious cocktails and gourmet cuisine served at its chic bars and restaurants.
The casino also has an outdoor terrace that boasts stunning views of the Place du Casino, making it a prime spot for people-watching and enjoying the Mediterranean breeze.
14. Princess Grace Rose Garden
Another beautiful botanical garden to visit in Monaco is the fabulous Princess Grace Rose Garden.
An enchanting tribute to the late Princess Grace of Monaco, who was known for her elegance and love of flowers, it takes the form of an English Rose Garden.
Despite residing within Fontvieille Park, the garden is an entirely separate entity, known for its fantastic collection of rose bushes in full bloom. Strolling through the garden, you'll be captivated by the vibrant colors, fragrant scents and meticulously landscaped paths.
The garden also offers panoramic views of the Mediterranean Sea, providing a picturesque backdrop for a leisurely afternoon. Overall, it's a place of tranquillity and reflection well worth visiting, featuring statues and plaques dedicated to Princess Grace's memory.
13. Hike up Tete de Chien
Hiking up Tête de Chien should be on the list of things to do in Monaco for those who fancy a bit of adventure.
This iconic rock formation is a popular destination for hikers and nature lovers wanting breathtaking views of the Mediterranean coastline, the city of Monaco, and the French Riviera.
One of the hike's main highlights is the vantage point known as 'The Dog's Head', which provides a jaw-dropping 360-degree view of the principality and neighboring towns.
As you ascend this rugged terrain, you'll encounter picturesque trails, fascinating wildlife and unique rock formations worth exploring. At the same time, the site also holds historical significance as it once served as a military fortification.
12. Metropole Shopping Monte-Carlo
If your idea of a good time is shopping, then you will enjoy visiting the Metropole Shopping Monte-Carlo.
This luxurious retail destination offers an exquisite blend of high-end fashion, fine dining and upscale experiences. Within it, you'll discover a curated selection of international and luxury brands, ranging from haute couture to jewellery and accessories.
Some of the flagship boutiques within the Metropole are renowned designers like Chanel, Dior and Louis Vuitton.
Aside from shopping, the complex boasts fine dining restaurants, trendy cafes and elegant bars where you can enjoy gourmet cuisine and indulge in refreshing cocktails. It is also known for hosting regular fashion events, art exhibitions and cultural happenings throughout the year – making it a vibrant social activity hub.
11. Japanese Gardens
Featuring the best of Japanese horticultural artistry, the stunningly landscaped Japanese Gardens are worth visiting – if you are not all gardened out!
The gardens are notable for their meandering pathways lined with lush vegetation, traditional Japanese bridges over serene ponds and exquisite bonsai trees. The koi fish swimming in the ponds and the soothing sound of water features add to the garden's enchanting ambiance.
Visitors can also explore the tea pavilion, where you can experience the Japanese tea ceremony and savor traditional matcha tea and Asian snacks.
Overall, the garden's meticulous design creates a sense of harmony and balance. Subsequently, it is a fabulous place to visit for meditation, reflection, or to simply enjoy a leisurely stroll in the Mediterranean sun.
10. Port de Fontvieille
Port de Fontvieille is a bustling waterfront destination that offers visitors a fabulous blend of leisure, entertainment and stunning coastal views.
This vibrant harbor is a hub of activity, best known for its fantastic marina, home to several luxurious, multi-million dollar yachts and sailboats. It resides at the eastern foot of the Rock of Monaco and is a great place for watching these vessels glide in and out of the harbor.
When not looking at the boats, visitors can also explore the charming boutiques, cafes and restaurants lining the quays, which offer a range of culinary delights and shopping options.
The port is also a perfect starting point for a seaside stroll along the scenic Promenade Princess Grace – featuring palm-lined paths and beautiful sea vistas.
9. St Nicholas Cathedral
Every Catholic country has its national cathedral; in Monaco, this is St. Nicholas Cathedral, named for Monaco's first Catholic church that was built in the 13th century and demolished in the 19th century. The church today is known as the Cathedral of Our Lady of the Immaculate Conception.
The cathedral boasts a stunning white marble facade, intricate stained-glass windows and an exquisitely decorated interior that exudes opulence. It is renowned for being the final resting place of Monaco's royal family – most notably Princess Grace and Prince Rainier III.
Visitors can pay their respects at the tombs of the royal family members and witness the graceful elegance of their eternal resting place.
One can also find impressive frescoes, ornate altars and a remarkable organ with intricate woodwork inside the cathedral. The cathedral's calm and peaceful ambiance makes it a terrific place for contemplation and spiritual reflection.
8. Oceanographic Museum
One of the most fascinating attractions in Monaco must be the Oceanographic Museum.
Perched atop a dramatic cliff overlooking the Mediterranean Sea, the museum boasts a breathtaking location. Inside, you'll encounter diverse marine life, including colourful coral reefs, exotic fish species, and even a shark lagoon.
Other notable highlights include the legendary whale skeleton – a defining symbol of the museum. You should also witness feeding sessions, while several fascinating interactive displays offer insights into ocean conservation. For a unique experience, check out Turtle Island, a sanctuary for rescued sea turtles.
Additionally, the Oceanographic Museum hosts exhibitions and events related to marine science and conservation throughout the year, making it a dynamic and engaging destination for visitors of all ages.
7. Larvotto Beach
Given how much there is to see and do when it comes to sightseeing, you'll no doubt want some downtime during your visit to Monaco. For this reason, Larvotto Beach is an excellent place to go.
Offering a glamorous and sun-soaked escape along the Mediterranean coastline, this beautiful sandy beach is a perfect spot to relax and soak up the Riviera's sunshine.
Its crystal-clear azure waters are perfect for swimming, snorkeling, or simply floating serenely on it. The beach also has various beach clubs and restaurants, offering sumptuous Mediterranean cuisine and refreshing cocktails with stunning sea views. So, it is a place you can happily linger all day.
For those seeking adventure, you can rent water sports equipment such as paddleboards and jet skis, adding an exciting dimension to your beach day.
6. Jardin Exotique
As you have read, Monaco has its fair share of botanical marvels, and another one to visit is the Jardin Exotique.
Residing in the traditional quarter of La Condamine, this stunning garden sits on a dramatic cliffside that offers breathtaking panoramic views of Monaco and the Mediterranean Sea. It has captivated visitors with its open-air display of exotic and rare plant species since it opened in 1933.
One of the garden's most striking features is its vast collection of succulents and cacti from around the world, displayed in striking terraced landscapes. They bloom at various times of the year to provide an eye-catching contrast against the chalky cliffs.
At the base of the cliff lies the Observatory Cave, a large cavern featuring prehistoric rock formations.
5. Monaco Grand Prix
United Autosports / Flickr
Travelers with a passion for fast cars won't want to miss the Monaco Grand Prix, which is considered one of the most prestigious car races in the world. Because Monaco's streets are narrow and have sharp corners, the track is considered one of the most demanding in Formula One racing, with racers having to go slower than the 190 mph mandated under Formula One rules.
This Grand Prix has been affiliated with Formula One since 1955, though the first Grand Prix took place in 1929. The race, which takes place in May, follows the same route every year.
4. Monte Carlo Harbor
The famous Monte Carlo Harbor is a glamorous and iconic waterfront destination known for its luxurious yacht-filled marina – which docks some of the world's most extravagant vessels. Aside from the boats, the harbor boasts the city's best panoramic views, which you should try to see from an elevated viewpoint.
A walk along the harbor area reveals beautiful gardens and stunning million-dollar homes. You can also enjoy al fresco fine dining at upscale venues offering stunning sea views and meals from Michelin-starred chefs.
Located in La Condamine, Monaco's second oldest neighborhood,, the Monte Carlo Harbor also hosts regular events throughout the year, including concerts, fireworks and a Christmas market. Overall, it encapsulates the glitz and glamour of Monaco, making it a vibrant destination that combines maritime elegance with a lively atmosphere.
3. Monaco-Ville
Monaco-Ville, also known as Le Rocher or The Rock, offers visitors a chance to stroll through the country's oldest neighborhood. This old town, which is built on rocky land that juts out into the Mediterranean Sea, may date back to the 6th century BC when the ancient Greek established a colony here.
In the 13th century, Monaco's founders, the Grimaldis, made an ancient fortress their headquarters. Monaco-Ville is made up almost entirely of pedestrian streets and passageways and retains its medieval character.
There are a number of hotels, restaurant and souvenir shops, as well as several of the city's famous landmarks, including the Prince's Palace, the Oceanographic Museum and St. Martin's Gardens.
2. Monte Carlo Casino
Located in the heart of the principality is a legendary symbol of elegance, luxury and entertainment – The Monte Carlo Casino.
The casino was established in the 19th century to save the Grimaldi family from bankruptcy. At that time, Monaco was poor with little infrastructure to support tourism. The plan worked. The Monte Carlo Casino today lures gamblers to Monaco, with games of chance, including roulette, Baccarat, craps and slot machines; even James Bond tried his luck here.
Its architecture is a masterpiece of Belle Époque design, featuring lavish interiors adorned with crystal chandeliers, marble columns and intricate frescoes. The casino has a dress code and charges admission; foreign visitors need to show passports or other ID as Monaco residents are not allowed inside.
Even for non-gamblers, the Monte Carlo Casino is a must-visit. Its public areas, like the lavish Salle Garnier opera house and various bars, offer an elegant atmosphere for relaxation and socializing.
1. Prince's Palace of Monaco
The Prince's Palace of Monaco is the official home of the country's rulers, the Grimaldi family, which is currently headed by Prince Albert II, the son of Grace Kelly and Prince Rainier.
The fairy tale palace began as a fortress in the 12th century, but over the centuries fell into a shambles; Prince Rainier is credited with restoring the palace to its former grandeur. The palace is open to the public annually from June to October.
Once inside they'll find a courtyard made from 3 million pebbles that form a geometric pattern, and historic Genovese frescoes. Everyday at 11:55 AM, in front of the Palace's main entrance visitors can watch the changing of the guard ceremony performed by the "Carabiniers".
Where to Stay in Monaco
When selecting the best areas to stay in Monaco, two prominent options stand out, each offering a unique experience within this glamorous principality. The Larvotto district, located to the east, is renowned for its stunning beaches, making it an ideal choice for sunseekers and beach lovers.
It's also home to the luxurious Le Méridien Beach Plaza, which boasts direct access to Larvotto Beach, elegantly appointed rooms, and breathtaking sea views. The hotel's proximity to Larvotto Beach and its casino and easy reach of the Japanese Gardens and Monte Carlo Country Club make it a popular choice.
On the other hand, Fontvieille, to the southwest, is a more tranquil and residential neighborhood known for its picturesque harbor and the Monaco Heliport. Here, the 3-star Hôtel Columbus Monte Carlo offers a comfortable and stylish stay with spacious rooms and a beautiful terrace. Fontvieille is also close to attractions like the Princess Grace Rose Garden, perfect for those seeking a quieter ambiance yet still within reach of Monaco's major landmarks.
How to get there
Overall, Monaco is an easily accessible destination.
If coming from outside France, the most common way to get there is to fly into the Nice Côte d'Azur Airport – the closest major international airport to Monaco. You can take a taxi, shuttle, or helicopter transfer from there – the latter providing a quick and scenic transfer to the heart of the city center.
If you're already in France, take a train from French cities like Nice or Menton to Monaco's train station, Gare de Monaco. The train offers a picturesque ride along the city's coastline, Alternatively, you can drive to Monaco, as the principality is well-connected by road networks.
Approximate travel times:
Nice – 30 minutes by car, 20 minutes by train
Cannes – 45 minutes by car, 30 minutes by train
Menton – 15 minutes by car, 10 minutes by train
Genoa (Italy) – 2 hours by car, 2 hours 30 minutes by train and bus
Marseille – 2.5 hours by car, 2 hours 30 minutes by train
Paris – 10 hours by car, 6 hours by train
Best Time to Visit Monaco
Lying along the Cote d'Azur, the glitzy, glamorous Monaco sees the most visitors in both July and August. During the searing summer months when temperatures average 25°C (77°F), its restaurants and hotels are at their fullest. Prices are also at their highest.
This is the best time for swimming and watersports with June and September also ideal. The latter also sees the chic Monaco Yacht Show take place. As they are a couple of degrees cooler, these months are also more comfortable for sightseeing.
Spring is yet another popular time to visit with prices remaining high as a result. This is when two of the city's most famous events are held. At the end of April, the Monte Carlo Tennis Masters attracts huge crowds as does the Monaco Grand Prix in late May.
While October can still be pleasant, this month and November are the rainiest months. The chilly weather of December to March puts off most visitors though the lower prices can make it a nice winter getaway.
Although it loses a bit of its lustre during these months, exciting events like the Monte Carlo Rally and its enchanting Christmas market do liven things up.