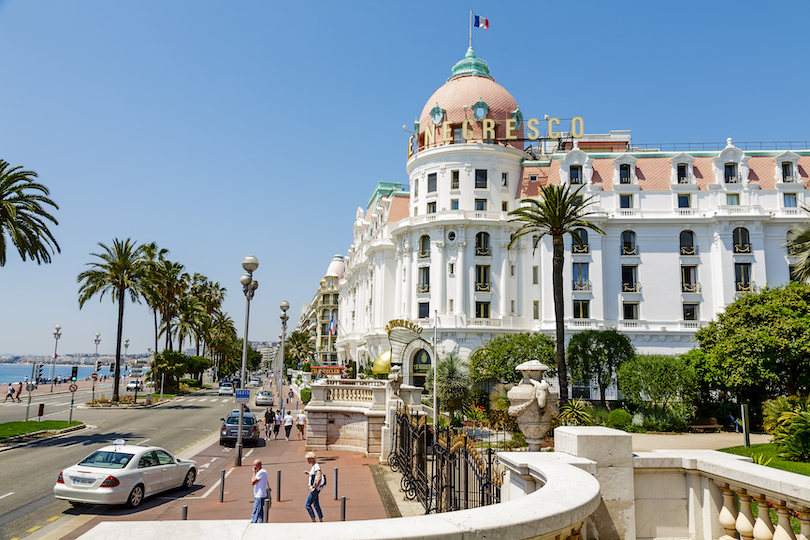 Striking the perfect balance between a seaside resort and a cosmopolitan city, Nice serves as an ideal base for a holiday on the French Riviera.
A popular travel destination since the late 18th century, the city boasts a mild Mediterranean climate, a rich culture, a lively Old Town district and a picture-perfect shoreline bordered with grand hotels.
Set in a stupendous spot by the Mediterranean Sea, the city was founded in the fourth century BC at the foot of the French Alps. As it was once a retreat for the European elite, plenty of grand mansions line its boulevards. The city's soft but intense light, charming architecture and colorful marketplaces have long attracted artists, including Matisse and Chagall, and there are more museums in Nice than in any French city save Paris.
See also: Best Neighborhoods & Hotels in Nice
Very pedestrian-friendly, 'Nice La Belle; strikes the perfect balance between a cosmopolitan city and a seaside resort. As it is blessed with warm sunny weather, wonderful food and, of course, a winning location, it is no wonder you'll find plenty of things to do in Nice. Its Promenade des Anglais also offers up one of the most iconic images of the French Riviera.
Map of Nice
© OpenStreetMap © MapTiler © Touropia
In this post, we'll cover:
22. Musee Massena
Offering a fascinating look at the history and art of the Riviera over the centuries is the marvelous Musée Massena. Set along the Promenade des Anglais amidst lovely lush gardens, the Belle Epoque mansion is packed with all kinds of amazing old artifacts and artworks.
Once the winter residence of Prince Essling, the sumptuous Neo-Classical-style seaside villa was first opened as a museum in 1921. Its pretty painted ceilings, sparkling chandeliers and sweeping marble staircases all highlight how the aristocracy once lived in Nice. Lots of antique furniture and umpteen statues also decorate its grand rooms.
On display are not just fabulous paintings and photos but exhibits examining various aspects of the city's past. Personal effects from Napoleon are also on show, including the emperor's death mask.
21. Basilique Notre-Dame
Another architectural gem is the Neo-Gothic Basilique Notre Dame. Known for both its imposing twin towers and twinkling stained-glass windows, it overlooks Avenue Jean Medecin in the center of Nice.
Completed in 1868, the design of the big bright white basilica was inspired by Angers Cathedral. The idea was to add more French architecture to the port city following its acquisition by France from the Kingdom of Sardinia only a few years earlier.
Towering 65 meters in height, its two towers lie on either side of a wonderful rose window. The church's interior is just as majestic as soaring columns prop up its vast vaulted ceiling far above. Aside from admiring its striking stained-glass scenes, an elaborate altar and huge organ also adorn its walls.
20. Museum of Modern and Contemporary Art
If you want to see yet more incredible artworks and architecture – this time abstract and avant-garde – then the Museum of Modern and Contemporary Art is a great place to go. Located just a short walk from Vieux Nice, its rooftop also boasts some of the best views over the city.
Almost impossible to miss, its modern building looks quite castle-like as four massive marble towers surround its otherwise glass and metal tetrapod arch. Although its dramatic design and panoramas already make it well worth visiting, the imaginative installations within are just as impressive.
Now home to around 1,400 thought-provoking sculptures, paintings and photos, its collection covers the 1950s up to the present. As well as American Pop Art and European New Realism, the MAMAC displays works by the School of Nice. Particularly big names exhibited include Yves Klein and Andy Warhol with interesting and unique artworks appearing almost wherever you look.
19. Parc du Mont Boron
Just east of Old Nice is the peaceful and picturesque Parc du Mont Boron. Other than hiking along all its shady trails, there is a fantastic fort and some phenomenal viewpoints to check out.
Coated in gorgeous woodlands, the 190-metre-high hill looms above the Cap du Nice and port far, far below. Amidst all the oaks, pines and olive trees, you can wander along its eleven kilometers of paths or enjoy a relaxing picnic. While the sixteenth-century Fort du Mont Alban is unfortunately closed to the public, its sturdy stone walls and turrets still make for some brilliant photos.
The highlight though has to be the park's astonishing views over the city's scenic coastline. Besides gazing down at the Old Town and port on one side, the other looks out over the Cap Ferrat peninsula, Villefranche-sur-Mer and even the Esterel Mountains in the distance.
18. Nice Carnival
One of the best times of year to visit the seaside city is in February when the colourful Nice Carnival takes place. During two fun-filled weeks, more than a million visitors flock here to see its monumental floats and famous flower parade.
Actually one of the largest carnivals in the world, the origins of its lively celebrations remarkably date back to 1294. Taking over the Promenade des Anglais, its countless concerts, parades and firework shows are held each year in the run-up to Lent.
Wheeling about in elaborate costumes, thousands of ecstatic dancers and musicians accompany its sumptuously-decorated floats. A stupendous light show parade also takes place each evening. The carnival finally comes to a close when the giant figure of a king is set on fire. Certainly up there with those of Rio, Venice and Mardi Gras, Nice Carnival really is an unforgettable experience!
17. Palais Lascaris
In contrast to all the frenzied festivities and flower throwing, visiting Palais Lascaris is a rather more regal and refined affair. Lying right in the heart of Old Nice, its fine artworks and frescoed ceilings are a treat to peruse. It also houses an astounding collection of antique musical instruments.
Built in the first half of the seventeenth century, the aristocratic palace is delightfully decorated with sculptures, paintings and tapestries. Magnificent staircases and hallways lead to both period salons and stately apartments, many of which feature fabulous painted ceilings.
Over 500 ancient musical instruments are also displayed here with some even dating to the sixteenth century. Easily overlooked due to its rather unremarkable facade, the ornate palace, its extraordinary instruments and artworks are definitely worth a quick stop.
16. Day Trip to Eze
Not all too far from Nice is the romantic medieval village of Èze. Perched high up on a steep hillside overlooking the Mediterranean, its charming cobbled streets are lovely to stroll around with stunning views guaranteed wherever you go.
One of the French Riviera's most magical towns, its winding walkways are bordered by beautiful old stone buildings home to little art galleries, boutiques and cafes. Looking out over all its red rooftops and the sparkling sea below is a breathtaking botanical garden. Full of succulents and cacti, it really is a must for its plants and panoramas.
Aside from ambling about taking in its ambience and views, you can also enter the village's cute little church. Only half an hour east by car, Èze is often listed among the loveliest towns in France thanks to its spectacular setting and sweeping views over the Cote d'Azur.
15. Avenue Jean Medecin
One of Nice's main shopping streets, Avenue Jean Medecin runs north to south from the train station to Place Massena. Lined by hundreds of shops, restaurants and cafes, it hums with life at almost any time of day.
Referred to simply as 'the avenue' by residents, the almost endless street is named after the former mayor who helped transform the city's fortunes after the Second World War. Other than the tram line running down its center, the boulevard is now entirely pedestrianized. Some important old buildings and attractive facades also overlook much of it.
While the northern end near the train station acts more as a neighborhood artery, the southern part is of more interest to tourists. Atmospherically illuminated at night, it has tons of clothing shops and restaurants serving a wide range of cuisines to stop by.
14. Place Garibaldi
Connecting the Old Town to the 'new' is the expansive Place Garibaldi and all its pretty old buildings. Rightfully known for its history and architecture, the square has some great restaurants and bars for you to grab a drink at.
Laid out in the late eighteenth century, the plaza is named after Giuseppe Garibaldi – the Italian hero who was born in Nice and helped unify Italy in 1861. An eye-catching statue of the general occupies its centre while stately Baroque buildings border it on all sides.
After taking some pics of the famous figure and surrounding facades, its cafes and restaurants have some nice outdoor terraces to sit at. A wonderful old-fashioned carousel also lies in one corner with cultural events sometimes taking place here.
13. Cathedrale Sainte-Reparate
Also showcasing some exquisite Baroque architecture is the colossal Cathedrale Sainte-Reparate in the heart of Vieux Nice. The city's most important place of worship, its soaring facade and sparkling belltower overlook the rather small, cluttered Place Rossetti.
Deceptively large and opulent inside, the current cathedral was constructed between 1650 and 1865 atop the site of an even older church. As well as three ornate organs and a magnificent main altar, it contains the relics of Saint Reparata.
Once you've admired its incredible art-filled chapels, you can gaze up at its towering campanile from one of the cafes outside. Always lively, the picturesque Place Rossetti hosts numerous markets and music concerts with the cathedral and square magically lit up at night.
12. Visit Villefranche-sur-Mer
Set in a very scenic spot between the Mediterranean Sea and mountains is the little resort town of Villefranche-sur-Mer. Located along a deep natural bay immediately east of Nice, it is a very pleasant place to wander about and take photos of all its brightly-colored facades down by the waterfront.
Due to its spellbinding setting and scenery, the seaside town has regularly featured in films over the decades. You may recognise its gorgeous coast and yacht-filled waters from The Bourne Identity and The Jewel of the Nile among others.
Besides lounging on its beaches and going deep sea diving or sailing, you can stroll about its historic harbour and watch boats come and go. Right next to it is the sixteenth-century St. Peter's Chapel and a crumbling fortress to see. In addition to the town hall, the latter houses some cool art collections with its gardens and ramparts offering awe-inspiring views over the coastline.
11. Cimiez Monastery
Founded in the ninth century by Benedictine monks, Cimiez Monastery still overlooks all of Nice from atop its prominent hillside spot. Right next to all its glorious Neo-Gothic buildings and gardens, you'll also find the Musee Matisse and some Roman-era ruins.
Run by Franciscan friars since the sixteenth century, the monastery's atmospheric old church boasts a beautiful facade and contains three masterpieces by the renowned Italian painter Ludovico Brea. It also has a charming courtyard and phenomenal frescoes emblazoned across its ceiling to inspect.
After seeing centuries-old artworks and interesting exhibits on life at the monastery in its museum, make sure to amble about its gardens and cemetery. Next to all its monumental tombs, you'll see the graves of famed figures such as Henri Matisse and Raoul Dufy. Captivating views over Nice and the Cote d'Azur can also be enjoyed from its grounds.
10. Promenade du Paillon
One of the most relaxing things to do in Nice is to slowly make your way along the Promenade du Paillon. Stretching just over a kilometer in total, its gardens and green spaces contain children's playgrounds and a fun water fountain to cool off on hot days.
Since its inauguration back in 2013, the pretty promenade has been a firm favorite with both locals and tourists alike. Following the former path of the Paillon River, it takes you from the Promenade des Anglais and Jardin Albert 1er right up to the MAMAC and Theater National de Nice.
Along the way, you can explore its lovely landscaped gardens, see cool statues and stop off at Place Massena. There is always a nice vibe about the promenade with its architecture, nature and views all lying just a short walk from either the Old Town or the more modern city center.
9. Musee Marc Chagall
Rosino / Flickr
Back up in the hilly suburb of Cimiez is the excellent Musee Marc Chagall. Housing one of the world's largest collections of his works, its galleries exhibit everything from paintings and prints to ceramics, sculptures and stained glass.
Set amidst quiet, leafy grounds, the museum was opened in 1973 with the famous Russian-French artist himself having played a large role in its design. Mostly dedicated to his biblical-themed works, the collection highlights both his technical virtuosity and universal message of peace.
Throughout the museum, you can examine his colourful, creative paintings and amazing, illuminated stained-glass windows. It also displays seventeen of Chagall's Old and New Testament illustrations which count among the finest works he ever created. Afterwards, you can relax for a while in its garden before continuing up the hill to the Musee Matisse.
8. Russian Orthodox Cathedral
Somewhat surprising to see in Nice, the Russian Orthodox Cathedral's soaring spires and giant green onion domes make for quite the sight. Located just to the west of the main train station, it really is a must for architecture lovers. Its resplendent interior is also painted in brilliantly bright blue and gold.
Actually the largest cathedral of its kind in Western Europe, it was built in 1912 to accommodate the growing number of Russian aristocrats who wintered in Nice. The cathedral's construction was funded by Czar Nicholas II in memoriam of his heir, Nicholas Alexandrovitch, who died in Nice in 1865.
After ogling at its ornate facade, head inside to see all its glittering icons and golden murals. Thanks to its majestic altar, architecture and exquisite paintings, it is considered one of the most beautiful Orthodox cathedrals outside of Russia.
7. Musee Matisse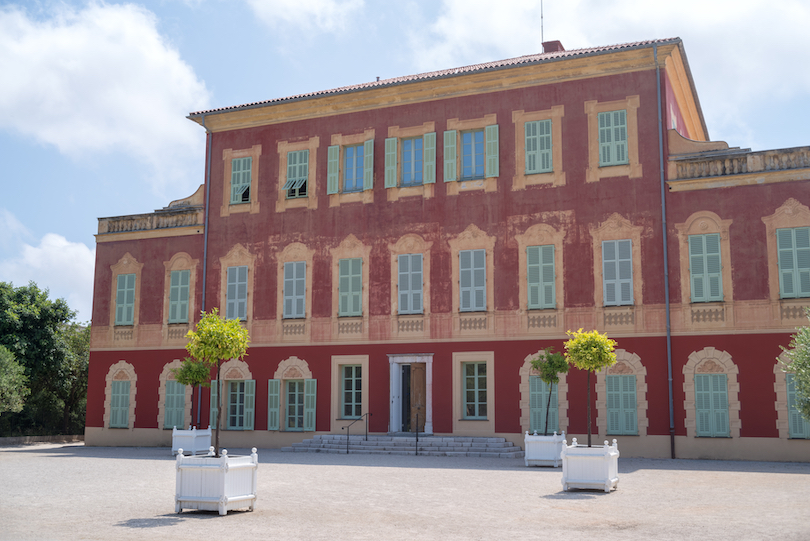 Long one of the seaside city's most important cultural institutes, the Musée Matisse explores the life and works of the revered artist. Again perched up amidst the hills of Cimiez, its extensive collection occupies an elegant seventeenth-century villa.
Founded in 1963, it offers up a fascinating look into the artistic beginnings, evolution and influences of Henri Matisse who lived in Nice for much of his life. On show are hundreds of his paintings, prints, drawings and sculptures. Many of his personal belongings also feature.
While you unfortunately won't see all that many of his main masterpieces, both his Fauve period and his later gouache cut-out creations are well presented. Before carrying on to the nearby Roman ruins or monastery, it's nice to spend some time in its Mediterranean gardens.
6. Take the Train to Monaco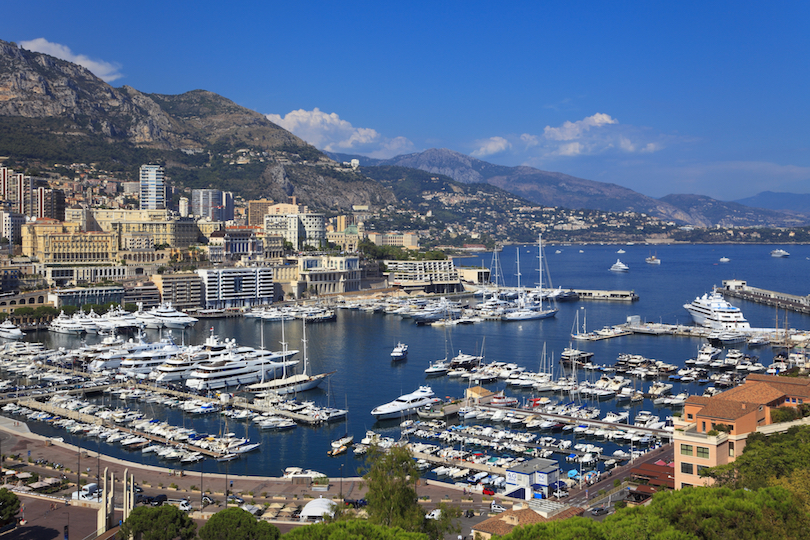 If you want to tick another country off your list and see how the rich and famous live, then Monaco is only a short train trip east of Nice. Known for its glitzy casinos, yachts and Grand Prix, the glamorous principality makes for a fun, fancy day trip.
The second-smallest country in the world, the densely-populated city is nestled between lush green mountains and the glimmering Mediterranean Sea. Fabulously wealthy, its picture-perfect harbor is full of luxurious yachts while sleek supercars cruise about its scenic streets.
Other than taking in its delightful views over the French Riviera, there are exotic gardens and opulent palaces to visit dotted along its dramatic coastline. You can also always try your luck at the iconic Monte Carlo Casino or watch an incredible show at the Monaco Opera House.
5. Place Massena
Nice's main square, the massive Place Massena is surrounded by loads of important and impressive Neo-Classical-style buildings. Just a short walk from both the Old Town and Promenade des Anglais, it hosts countless concerts, cultural events and festivals during the year.
Laid out in 1844, it was originally divided into two parts until the Paillon River was covered over. As its bridge was the only convenient way to get from the Old Town to the new, the vast square has always served as an important meeting point. Both the Nice Carnival and Bastille Day celebrations normally pass by here as do other parades and processions.
Very Mediterranean in terms of its look and feel, the plaza's checkerboard flagstones are bordered by tons of cafe terraces and restaurant patios. At the center of all its colourful red and yellow buildings is its stunning Fountain of the Sun God. Once you've snapped some photos of the enormous figure of Apollo, you can branch off and explore Vieux Nice.
4. Colline du Chateau
Rising steeply above all the city's red rooftops is the lofty Colline du Château. Boasting absolutely spectacular panoramas over the Old Town and Cote d'Azur, it is by far the most popular park in Nice.
Towering ninety meters in total, the rocky hill is named after the medieval fortress that protected the bay from the eleventh to eighteenth century. As it was eventually destroyed by Louis XIV, only a few ruins remain. Amidst its woods, you'll instead find several shady cafes, a children's playground and a mesmerizing waterfall cascading down a cliff.
You can either pant your way up to the top of Castle Hill or take an elevator from next to Hotel Suisse. Up high, you're rewarded with unbelievable views of the city and sea before you. An absolute must when in Nice, the large landmark is particularly special to visit at sunrise or sunset.
3. Cours Saleya Flower Market
Another unmissable Nice experience is exploring all the fragrant outdoor flower markets found along Cours Saleya. Super picturesque due to all the brightly-colored flowers, facades and food products on show, the broad boulevard runs parallel to the Quai des Etats-Unis in the Old Town.
As it was formerly a park for the city's upper classes, the long, tree-lined street is overlooked by lots of eighteenth-century mansions, now home to little local cafes and restaurants. Almost every day of the week, vendors sell artisanal food products and freshly cut flowers here from beneath the striped awnings of their stalls. On Mondays, a flea market instead sets up along the entire street.
Buzzing with life, the famous flower market is always fun to amble about. It is also the perfect place to pick up some tasty snacks, souvenirs or stop for a coffee break.
2. Vieux Nice
A mess of narrow medieval streets and pastel-colored houses, Vieux Nice is undoubtedly the most atmospheric part of the city to explore. Located just off the Promenade des Anglais, the vibrant area looks and feels much more like Italy than France. This is because Nice was ruled by both the Duchy of Savoy and the Kingdom of Sardinia for centuries.
Popularly known as 'Babazouk', its warren of cobblestone alleys are sandwiched between the Colline du Château, Quai des Etats-Unis and Promenade du Paillon. Lining its shady streets and squares are loads of tiny local cafes, boulangeries and patisseries. Its old Italianate-style buildings are also home to traditional restaurants and artisanal ice cream parlors serving some tantalizing Nice specialities.
Aside from getting lost and enjoying the ambience, you just have to check out its cathedral and the very lively Place Rossetti. The heart of the Old Town, they make for some fantastic photos with something always going on.
1. Promenade des Anglais
The city's most iconic symbol and site is, of course, the Promenade des Anglais which runs its way alongside the Baie des Anges. One of the Mediterranean's most famous seaside walks, it takes you past lots of chic cafes and luxury hotels. With gently waving palms backing it and sweeping sea views before you, slowly sauntering along it is a must when visiting the French Riviera.
Stretching seven kilometers in length, it owes its name and existence to the English holidaymakers who flocked to Nice in the early eighteenth century. Enchanted by its warm weather and phenomenal vistas, a group of wealthy aristocrats funded the waterfront walkway's construction.
A firm favorite with locals and tourists, the picture-perfect promenade is lovely to walk, run or cycle along. With the Old Town, Musee Massena and nineteenth-century palaces bordering its eastern end, there are also plenty of spots to stop along it. Humming with energy at all times of day, the relaxed seaside walkway is what everyone instantly imagines when they think of Nice.
Where to Stay in Nice
As the city isn't massive and many of the main tourist attractions in Nice aren't located too far from one another, the area in between the main station and promenade is a convenient place to stay. From here, you can easily walk to most museums, explore the Old Town or hop on a train along the coast if you feel like it.
Along Avenue Jean Medecin right by the gare for instance is the cozy, comfortable Hotel 64 Nice. As well as its excellent location and transport links, its well-equipped rooms and public spaces are very stylish and modern. Despite lying near tons of restaurants, bars and shops, the family-friendly hotel's quiet rooms guarantee guests a relaxing stay.
A great budget option is the Hotel Villa Rivoli which lies just a stone's throw from Musee Massena and the Promenade des Anglais. A very pretty property, the tastefully-decorated Belle Epoque mansion's rooms are full of old-school French charm. The boutique hotel also has a delightful garden to relax in and is highly recommended for its friendly, welcoming staff.
How to get There
Very well connected to the outside world, the seaside city is served by Nice Cote d'Azur Airport; one of the busiest in France. Many companies also run seasonal flights here in summer from all around Europe.
The country's well-developed rail system can also whisk you to Nice from either Paris or Marseille in about 5.5 and 2.5 hours respectively. Countless regional trains and buses also make their way along the French Riviera to cities such as Cannes and Monaco.
Besides driving to the city, several ferries call in at its port from various stops in Corsica.
Once you arrive, most tourist sites should be within walking distance of the main train station or city center. If not, just hop on a bus or tram and you'll be there in no time at all.
Approximate travel times:
Cannes – 30 minutes by car, 15 minutes by train
Monaco – 30 minutes by car, 25 minutes by train
Antibes – 20 minutes by car, 10 minutes by train
St. Tropez – 1.5 hours by car, 2 hours by bus
Marseille – 2 hours by car, 2 hours 30 minutes by train
Aix-en-Provence – 1 hour by car, 1 hour 30 minutes by train
Avignon – 2 hours by car, 2 hours 30 minutes by train
Paris – 8 hours by car, 5 hours 30 minutes by train
Best Time to Visit Nice
Due to the summer holidays, and its sparkling sunshine and warm sea waters, the most popular times to visit Nice are July and August. This is also the most expensive period, however, with its hotels, beaches and promenade all being quite busy.
Ambling along the picturesque Promenade des Anglais though in summer is a quintessential French Riviera experience with both Fete de la Musique and Bastille Day also falling in July. Temperatures stay around 26°C (79°F) so don't forget to lather on that sun cream. As many of its hotels still don't have air conditioning, the heat can get too much at times.
April to June and September to October are also great times to visit Nice. Although still very popular, the prices, temperatures and crowds have all come down a bit. Averages of around 15 to 23°C (59 to 73°F) mean you can sightsee or lounge on the beach and swim in both June and the warmer autumn months.
From November to March, relatively few people visit so there are no queues and prices are at their lowest. While temperatures stay around 11 to 14°C (52 to 57°F), there is less daylight and a higher chance of rain. Nice Carnival in February is another highlight of the year when colourful floats, parades and its famous 'flower battles' take over the seafront promenade.