Southeast Asia is a group of diverse countries between the Indian Ocean and the Pacific Ocean, featuring indigenous cultures influenced by Indian, Chinese and Western culture. The region includes the most populous Muslim country in the world, very prominent Buddhist countries, and quite significant Christian, Hindu and Animist communities.
It has long been a favorite corner of the world for globe-tramping backpackers, known for its perfect beaches, tasty cuisine, low prices, and good air connections.
The countries of Southeast Asia represent a totally different culture for Western travelers. Instead of cathedrals, they'll find temples. Instead of cold temperatures and snow in the winter, for the most part they'll be bathed in a tropical climate. They may find simple accommodations in remote fishing villages but also luxurious five-star hotels in the bigger cities and on the more popular islands.
Southeast Asia will appeal to active, adventuresome travelers, who want to trek through steamy jungles, dive in some of the world's best coral reefs, camp or go whitewater rafting on new rivers. But the region also offers the less active travelers something, who, after a day of visiting temples and other cultural sites, just want to relax in comfort in a luxury hotel. An overview of the best places to visit in Southeast Asia:
29. Vientiane
flickr/james_antrobus
See also: Where to Stay in Vientiane
Vientiane, the capital of Laos, is located on the Mekong River near the border with Thailand. A former French holding, it is a graceful city that is now the country's economic center. Visitors to Vientiane won't want to miss the Pha That Luang, a a Buddhist stupa that dates back to 1586. Buddhist temples and sites abound, but travelers also will want to walk through the Mekong Riverside Park.
Read more: Vientiane Attractions
28. Sihanoukville
flickr/ND Strupler
Cambodia's most popular beach destination, Sihanoukville is where the U.S. fought its last battle in the Vietnam War. Though none of Sihanoukville's beaches would qualify as Southeast Asia's finest it is a great place to relax after visiting all the Khmer ruins in the rest of the country.
The beaches are popular with a variety of travelers from backpackers who stay in huts on the beach to those who prefer the luxury of five-star hotels. Snorkeling is popular on some of the offshore islands.
Read more: Best Sihanoukville Beaches
27. Sapa
Situated in the remote northwest of Vietnam, Sapa is a quiet town used as a base for trekking in the surrounding mountains, touring rice paddies and visiting traditional villages and hill tribes.
In the town of Sapa itself, there are attractive French colonial sites worth visiting while the various ethnic tribes in the area often gather at the town market to sell their handicrafts, which make excellent souvenirs.
26. Perhentian Islands
flickr/Adamina
The Perhentian Islands are a small group of beautiful, coral-fringed islands off the coast of northeastern Malaysia, not far from the Thai border. The two main islands are Perhentian Besar and Perhentian Kecil (Big and Small Perhentian). Kecil attracts more travellers as it has cheaper accommodation, while Besar caters more to families and those who want to avoid the backpacker party scene.
25. Hanoi
flickr/Greg Hayter
See also: Where to Stay in Hanoi
Hanoi, the capital of Vietnam, blends the charm of the old world with a pace of life that is quickening as this old city modernizes. Visitors may see locals taking tai-chi lessons in the park in the mornings, while skateboarders zoom by. At the heart of Hanoi is its Old Quarter, an open-air museum of historic Asian and French colonial architecture that has largely remained intact. Ancient temples and art museums share the attractions list with museums devoted to the Vietnamese revolution and military history.
Read more: Top Hanoi Attractions
24. Vang Vieng
See also: Where to Stay in Vang Vieng
Vang Vieng is a picturesque town north of Vientiane that is known for its limestone karst formations. Located on the Nam Song River, the town is surrounded by karst hills, making it very scenic.
This town of 25,000 people is popular with backpackers who come to tube and kayak on the river. Visitors also like to hike, explore caves and rock climb in the hills. Textiles are a popular purchase.
23. Phuket
flickr/Anol Bhattacharya
Known for its gorgeous beaches and excellent diving, Phuket is Thailand's largest island and most popular destination outside of Bangkok. With resorts, hotels, shops, restaurants and vibrant nightlife, Patong Beach is the most popular beach.
Phuket is also a place for ultimate relaxation and pampering with its numerous options that range from massage tents on the beach to world-class spa resorts in breathtaking settings.
Read more: Best Places to Visit in Phuket
22. Kuala Lumpur
dreamstime/© Joyfull
See also: Where to Stay in Kuala Lumpur
Kuala Lumpur is a bustling city that serves as the capital of Malaysia. The country's most populous city, it has a landscape filled with innovatively designed skyscrapers, including the iconic Petronas Twin Towers, the world's tallest twin towers. Kuala Lumpur also boasts an outstanding Islamic Arts Museum; the Bukit Bintang pedestrian bridge and tunnel that connects the downtown area, and a bird park that is the world's largest walk-in aviary.
Read more: Top KL Attractions
21. Gili Islands
The Gili Islands are three small islands located in northwestern Indonesia off the coast of Lombok. The islands are perfect for travelers who want to get away from the hustle and bustle of modern life.
Cars aren't allowed on the islands, with people using horse carriages or bicycles to move about. Relaxing may be the primary activity here, but the islands also are popular with divers and snorkelers.
20. Phnom Penh
flickr/ND Strupler
Once known as "the pearl of Asia," Phnom Penh is considered one of the prettiest of the cities the French built in Indochina though the city is still recovering from war and revolution. French influence can still be found today in Cambodia's capital.
Located on the Mekong River, the city actually dates back to the 15th century. Top attractions include the Royal Palace and the National Museum, which contains a large collection of Khmer artifacts.
Read more: Top Phnom Penh Attractions
19. Chiang Mai
dreamstime/© Sutprattana
See also: Where to Stay in Chiang Mai
Chiang Mai, in northern Thailand, was founded in the 13th century, and is one of the most culturally significant cities in the country. It's located on the Ping River among Thailand's highest mountains.
The region is home to more than 300 Buddhist temples and also hosts a night market that is famous for handicrafts. It's a good place to take in one of the area's Thai festivals.
Read more: Top Chiang Mai Attractions
18. Inle Lake
Inle Lake, located in southeast Myanmar, is the country's second largest lake. The Intha people live in small villages round the lake and in floating houses on the lake itself, making for a picturesque scene. Besides fishing, locals also grow fruits and veggies on floating gardens.
Commuter and tourist motorboats and flat-bottomed skiffs navigate the vast lake, the latter propelled by the unique Intha technique of leg rowing in which one leg is wrapped around the paddle to drive the blade through the water in a snake-like motion.
17. Palawan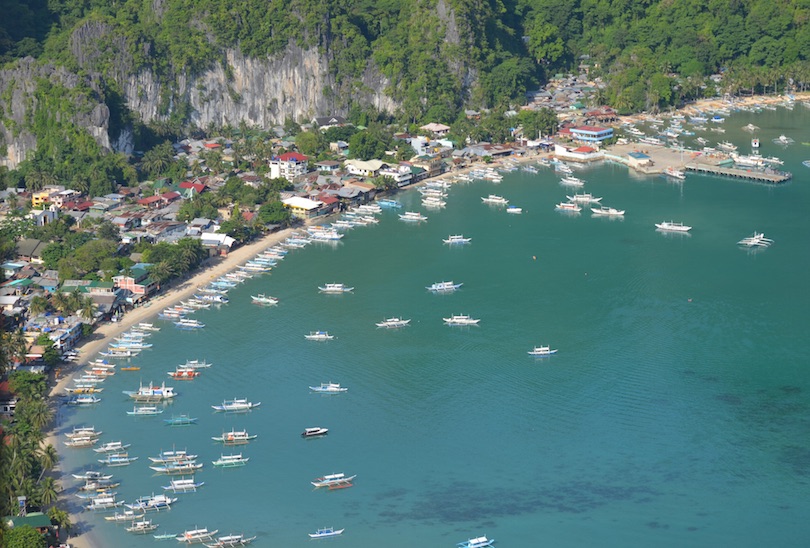 flickr/Philippine Fly Boy
See also: Where to Stay in Palawan
Palawan is an island province in the Philippines that stretches from Mindoro to Borneo between the South China and Sulu seas. Puerto Princesa, which is close to large karst formations with an underground river, is the provincial capital.
Coron Reefs on Busuanga Island is one of the best diving spots in the world, drawing divers who want to explore Japanese shipwrecks from World War II. Another popular destination is El Nido, a town sandwiched between towering limestone karst cliffs and the beautiful Bacuit Bay.
16. Taman Negara
flickr/wazari
Taman Negara is a national park located in Malaysia's Titiwangsa Mountains. It's one of the best places to visit in Southeast Asia for ecotourists and travelers who want to get up close and personal with a tropical jungle. Popular activities include walking through the jungle, sometimes on rope bridges through the forests; hiking, whitewater rafting, rock climbing, fishing and camping. Travelers will need a high level of energy to tackle all the activities the park offers.
15. Hoi An
flickr/jmhullot
Hoi An is a charming town known for its great atmosphere at the mouth of the Thu Bon River on Vietnam's central coast. Also known as Fai-Fo, the town boasts a well-preserved Southeast Asian trading port, which it once was until the river silted up.
The narrow, winding lanes of the old port are lined with beautiful old architecture, traditional wooden houses and hundreds of tailor shops selling everything from clothing to souvenirs.
Read more: Top Tourist Attractions in Hoi An
14. Yangon
With more than 5 million residents, Yangon, also known as Rangoon, is a former capital of Burma and Myanmar's largest city. Once a small fishing village, Yangon was ruled by the British at one time and has the most colonial buildings of any city in Southeast Asia.
Top tourist attractions include the Shwedagon Pagoda, an ancient Buddhist shrine surrounded by parks, a war cemetery, and the city's only synagogue, Musmeah Yeshua.
13. Boracay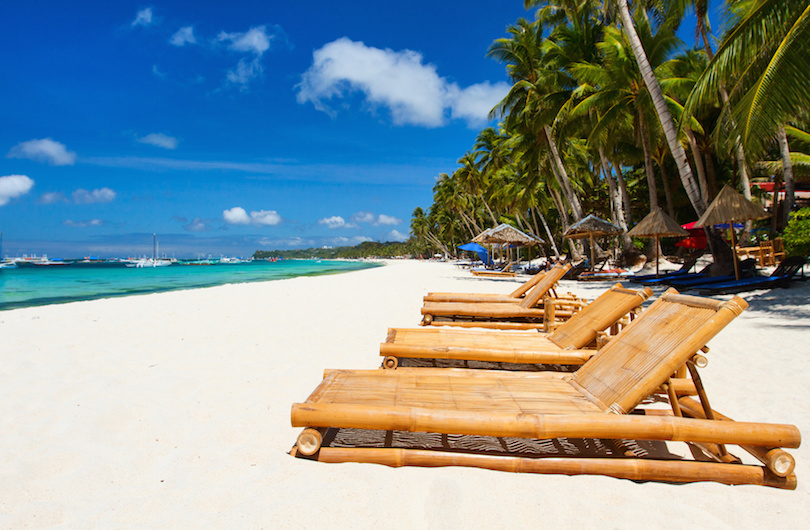 See also: Where to Stay in Boracay
Boracay is a small island located less than 320 km (200 miles) south of Manila, the country's capital. It is most famous for its beautiful beaches, which various travel publications have termed some of the best in Southeast Asia.
Top beaches include Yapak, known for its white shells, and White Beach, known for stunning sunsets. Another top attraction is Wiley's Rock, which features a statue of the Virgin Mary sitting atop a volcanic formation.
12. Mount Kinabalu
flickr/Eric in SF
Towering 4095 meter (13,435 ft) above northern Borneo, Mount Kinabalu is the highest mountain between the Himalayas and the island of New Guinea. The main peak of the mountain can be climbed easily by a person with a good physical condition, and requires no mountaineering equipment although climbers must be accompanied by guides at all times.
For those with limited time or energy, there are gardens and many short walks through the jungle to enjoy in the vicinity of the entrance.
11. Komodo National Park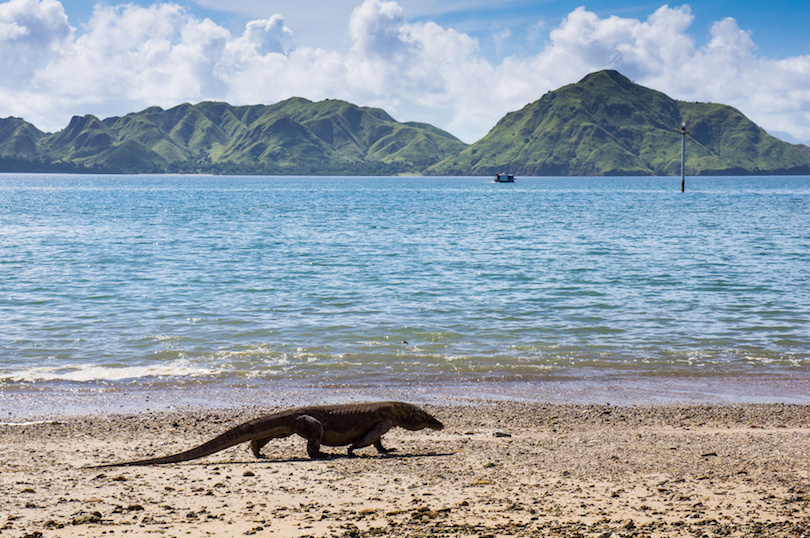 Komodo National Park is located on an archipelago near the island of Flores. The islands are populated by thousands of giant lizards known as "Komodo dragons" because of their appearance and aggressiveness.
This is the only place in the world where these lizards, the largest in the world, can be found. Although attacks are very rare, Komodo dragons have been known to attack humans.
10. Singapore
See also: Where to Stay in Singapore
Singapore, a city-state, lies at the south end of the Malay Peninsula just 137 km (85 miles) above the equator. Chinese are the predominant ethnic group, at 75 percent of the population. Travelers will hear residents speaking a variety of languages: Mandarin, English, Malay and Tamil. Singapore is a former British colony, with its top sights including the graceful Raffles Hotel, gardens and nature trails, the Buddha Tooth Relic Museum, and the city zoo.
Read more: Top Singapore Attractions
9. Ko Phi Phi
flickr/MikeBehnken
Phi Phi is a beautiful archipelago located in the Krabi Province not too far from Phuket. Ko Phi Phi Don is the only island in the group with permanent inhabitants while the smaller Ko Phi Phi Leh is famous as the filming location for the 2000 movie "The Beach". Travelers go here enjoy the beaches and to participate in a variety of water recreation activities, such as snorkeling, scuba diving and kayaking. The island was devastated by the 2004 tsunami, but is bouncing back with new construction.
Read more: Best Beaches in Ko Phi Phi
8. Luang Prabang
See also: Where to Stay in Luang Prabang
Luang Prabang lies at the confluence of the Mekong and Nam Khan rivers in northcentral Laos. The former royal capital is famous for its Buddhist temples and monasteries, with monks walking through the city collecting alms in the morning.
The old town is popular with tourists who want to shop, visit temples or soak in the atmosphere. There are several waterfalls nearby, as well as the famous Pak Ou Caves.
Read more: Luang Prabang Attractions
7. Borobudur
Located on the island of Java, 40 km (25 miles) northwest of Yogyakarta, the Borobudur is the largest and most famous Buddhist temple in the world. The Borobudur was built over a period of some 75 years in the 8th and 9th centuries by the kingdom of Sailendra, out of an estimated 2 million blocks of stone.
It was abandoned in the 14th century for reasons that still remain a mystery and for centuries lay hidden in the jungle under layers of volcanic ash.
6. Ifugao Rice Terraces
Photographers will want to have lots of memory cards with them when they visit the picturesque Ifugao Rice Terraces on the island of Luzon. For 2,000 years, people have been growing rice on terraces that follow the contours of the Cordilleras Mountains.
The most famous ones can be found around the town of Banaue. They were created by the Ifugao ethnic people without modern tools and are still used today.
5. Bagan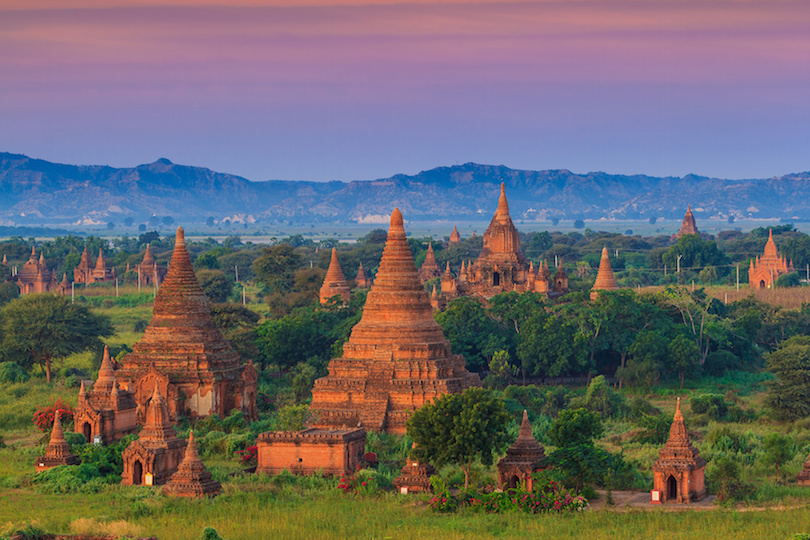 Myanmar's answer to Angkor Wat, Bagan, on the banks of the Ayeyarwady River, is home to the largest concentration of Buddhist temples, pagodas and stupas in the world. Bagan was the capital of the First Burmese Empire from the 9th to the 13th centuries.
The site that Marco Polo once described as the "gilded city" was home to around 13,000 Buddhist temples in its 11th-century heyday. Thousands remain, including the famous Ananda temple with its sparkling gold spires.
4. Bangkok
flickr/Kumaravel
See also: Where to Stay in Bangkok
What started out as a small trading post in the 15th century has now grown into a city of eight million people: Bangkok, the capital of Thailand. Visitors will find plenty of photo ops at the city's famous floating markets where they can also buy veggies, tropical fruits and Thai snacks made in a floating kitchen. When travelers grow weary of visiting temples, they can visit a snake farm or just go shopping.
Read more: Top Bangkok Attractions
3. Ha Long Bay
Located in northeastern Vietnam, Ha Long Bay resembles a scene from a fantasy story with its thousands of limestone karst islands of different shapes and sizes. Some of the islands contain lakes while some are hollow, with a colorful fairyland of grottoes inside.
Four fishing villages composed of floating houses where the occupants fish for 200 different fish and 450 kinds of mollusks, can be found on Ha Long Bay.
2. Bali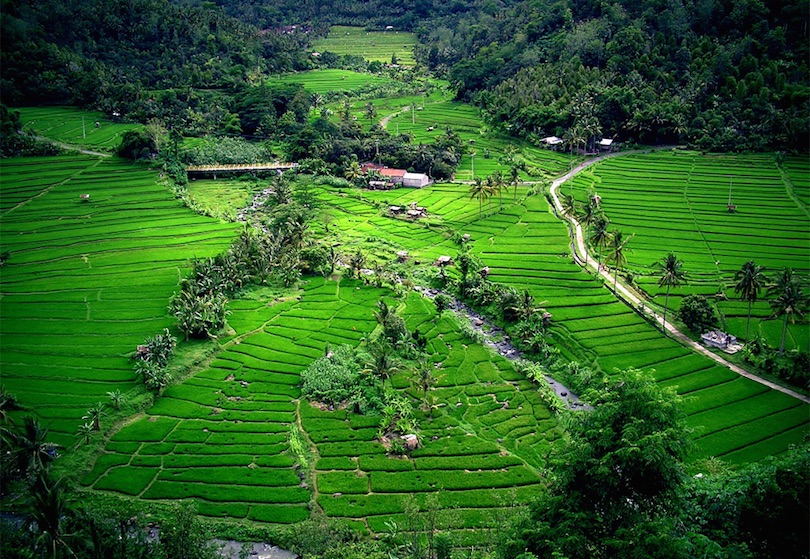 flickr/Riza Nugraha
See also: Where to Stay in Bali
The undisputed favorite of Indonesia's more than 17,000 islands, Bali lives up to its reputation as the quintessential tropical paradise. The waters around Bali are known for its high marine diversity and coral reefs while the lush rice terraces provide a picturesque backdrop to its colorful and deeply spiritual Hindu culture.
The island also has several great beach towns, like Kula, as well as other areas, such as Ubud, which are known for performing and artistic arts.
Read more: Best Bali Places
1. Angkor
When it comes to archeological sites, travelers won't want to miss Angkor in northern Cambodia. It contains some of the world's most important cultural remains. These include the enormous Angkor Wat temple, the Bayon temple with its multitude of massive stone faces and Ta Prohm, a Buddhist temple ruin entwined with towering trees.
Historically, Angkor served as the Khmer capital from the ninth to 14th centuries, which influenced art throughout Southeast Asia.
Read more: Top Angkor Temples