Nestled in the lush mountains of northern Thailand, Chiang Mai has long been a mecca for travelers searching for a vibrant cultural experience steeped in ancient history. With its fascinating mix of centuries-old Lanna heritage, traditional art and crafts, and countless outdoor adventures, it is easy to see why Chiang Mai has become a must-visit destination for anyone exploring Southeast Asia.
The plethora of things to do in Chiang Mai appeals to every type of traveler, from temple-hopping to scouting out the lively night markets for spectactular street food. Offerings span from the laid-back to the adventurous, with opportunities to immerse oneself in nature, discover the charming Old City, or even partake in an authentic Thai cooking class.
See also: Where to Stay in Chiang Mai
In this guide, we will illuminate the very best attractions in Chiang Mai, guiding you through the experiences that make this city not just another stop on your itinerary, but a treasured memory that will stay with you long after you've returned home.
In this post, we'll cover:
18. Wat Chiang Man
If you fancy yourself as an Indiana Jones-type, you're in the right place. Also known as the "Elephant Temple," Wat Chiang Man has an irresistible charm you simply can't miss on your Chiang Mai adventure.
Wat Chiang Man is the oldest temple in Chiang Mai. Established by King Mengrai during the founding of the city, this remarkable site features stunning Lanna architecture and various Buddhist relics.
One of the key attractions within the temple is the Chedi Chang Lom, characterized by elephant sculptures at its base. Additionally, the temple also houses two revered Buddha statues: the Phra Sila, a marble statue from the Tang Dynasty, and the Phra Sae Tang Khamani, a small, cherished crystal statue.
As you wander through the peaceful grounds, take a moment to admire the intricate wood carvings adorning the doors, windows, and roof of the main chapel. The temple's serene atmosphere offers a perfect environment for quiet reflection or meditation.
17. Saturday Night Market
Welcome to the ultimate shopping escapade, the Saturday Night Market! Held right in the heart of Chiang Mai, this market runs nearly a mile long on Wualai Road. It's a thrilling experience that you won't want to miss.
As you wander the vibrant, bustling street, you'll discover an eclectic array of goods, from souvenir trinkets to local handicrafts. Aside from shopping, indulge in the delectable street food options lining the market. You'll encounter authentic Thai dishes such as Pad Thai, grilled meats, and mouthwatering mango sticky rice. Additionally, there are various spots to rest and enjoy live music or traditional Thai dance performances.
Open from around 4:00 PM to midnight, the vibrant market also makes for the perfect opportunity to practice your haggling skills! Remember, the key is to stay friendly, smile, and not take it too seriously.
16. Mae Sa Waterfall
Looking for an escape from the bustling city? Mae Sa Waterfall is your nature retreat! This heavenly oasis attracts Chiang Mai visitors with its series of ten waterfalls and pools nestled in the heart of lush landscapes.
At the entrance, you'll encounter several food stalls, perfect to grab a quick bite before you begin your slippery, watery journey. Just imagine the aroma of fresh mangoes teasing your senses as you amble past.
Each waterfall tier presents its unique charm. Sidle up to the 5th tier and bask in its serenity, or explore tier 8 to admire the mini natural pool. Take a quick refreshing dip in the crystal-clear waters or just splash your face to rejuvenate your spirit.
Mae Sa Waterfall caters to all fitness levels, and there's no need to tackle all ten tiers. Pace yourself and savor each stop, a masterpiece of nature's artistry. But be prepared – the higher you go, the more challenging the climb.
15. Tha Phae Gate
As the sun rises in Chiang Mai, strap on your walking shoes, and head straight to Tha Phae Gate. As one of the city's most famous landmarks, it holds a treasure trove of experiences waiting to be discovered.
Tha Phae Gate, now a bustling hotspot, was once part of the ancient walled city. As you walk along the ancient walls, you'll notice the impressive brickwork and the remnants of the moat that once surrounded the city. The area around the gate has now been turned into a charming public park, perfect for a leisurely stroll or picnic.
On Sundays, the Tha Phae Gate transforms into a shopper's paradise. The weekly Sunday Night Market comes alive, offering a unique blend of handmade crafts, clothing, and souvenirs. Be sure to practice your bargaining skills, as the friendly vendors love a good haggle.
14. Talat Warorot
Just next to the Ping River is the Talat Warorot, one of the biggest and oldest markets in all of Chiang Mai. The market is a unique blend of vendors that appeal to both tourists and local residents.
Stands offer goods like hand knotted nets for fishing, bags of dried tea leaves and spicy Thai sausages. In addition to the more permanent stalls, vendors navigate the paths through the market with carts on wheels, calling out what is for sale along the way. Talat Warorot is also one of the few spots in Chiang Mai where shoppers can still flag down rickshaws for rides.
13. Museum of World Insects and Natural Wonders
If you're a fan of all things creepy-crawly, make your way to the Museum of World Insects and Natural Wonders. Embrace your inner entomologist and explore the vast collection of insects, butterflies, and other fantastic specimens from around the globe!
Founded by husband and wife team Dr. Rampa Rattanarithikul and her late partner, Manop, this unique museum houses over 20,000 insect species collected over five decades. The couple's passion for bugs and nature led them to create this charming trove of knowledge, perfect for those who appreciate unusual sights.
Get up close and personal with giant beetles, colorful butterflies, and even some fossils. Prepare to have your mind blown by the sheer variety – who knew there were so many species of insects?
12. Hang Dong Quarry
Oh, you thought the Grand Canyon was exclusive to the US? Think again! Chiang Mai has its very own mini version, lovingly known as Hang Dong Quarry. And yes, it's every bit as Instagram-worthy as its larger counterpart (sort of).
Previously a humble limestone quarry, Hang Dong has now been transformed into an adventurous playground. What draws travelers here are the crystal-clear, turquoise waters hugged by dramatic cliffs. You'll find thrill-seekers cliff jumping, while others prefer lounging on bamboo rafts or splashing about in the refreshing water.
For the non-daredevils, worry not, as there are more relaxing ways to appreciate Hang Dong Quarry. Simply marvel at the breathtaking scenery, have a picnic by the water's edge, or if you're eager for a little wander, explore the beautiful walking trails lining the quarry.
11. Wat Umong
Imagine strolling through a lush forest while soaking up the mystical atmosphere of an ancient temple. Welcome to Wat Umong, one of Chiang Mai's hidden gems! Built in the 14th century, this unique temple nestled among trees promises an enchanting experience.
Dare to get lost in the temple's labyrinthine tunnels? These ancient passageways are adorned with impressive murals and feature a large statue of the reclining Buddha – remember to bring a flashlight and a sense of adventure.
At Wat Umong, you also get exclusive access to the whimsical world of Buddhist fortune-telling. Hop on over to the fortune-telling trees, shake a bamboo container, and discover the cryptic message that awaits you.
Also worth noting is the grand stupa at the entrance of Wat Umong and the scenic ponds where visitors can feed the turtles.
10. Hill Tribe Trekking in the Surrounding Mountains
One of the most authentic things to do in Chiang Mai is taking part in a hill tribe trek. This adventure allows you to explore the lush, green mountains surrounding the city while getting to know the local tribes who call this region home.
Treks usually last between two and three days, and include visits to remote villages inhabited by the Akha, Lisu, Karen, and other tribes. Throughout the journey, you'll be guided by experienced local experts. They'll lead you through dense jungle, serene rice paddies, and eventually to the welcoming hill tribe villages. You might just learn some valuable survival tips along the way!
As you trek through these villages, marvel at the vibrant attire of the tribe members and delve into their unique customs. With their profound knowledge of the terrain and keen sense of hospitality, the villagers are sure to make your visit an unforgettable experience.
9. Doi Inthanon National Park
Doi Inthanon National Park is a must-visit destination when exploring Chiang Mai. The park is home to the highest peak in Thailand, standing at 2,565 meters above sea level, and is a popular spot for hiking and birdwatching.
Among the park's highlights are two impressive waterfalls, Mae Klang and Wachirathan. These natural wonders are accessible by well-maintained trails and offer refreshing pools in which to cool off after a hike.
For a cultural experience, be sure to visit the two majestic pagodas, Phra Mahathat Naphamethanidon and Phra Mahathat Naphapholphumisiri, built to honor the king and queen of Thailand. These architectural marvels are surrounded by beautiful gardens and offer incredible panoramic views of the park.
8. Wat Phan Tao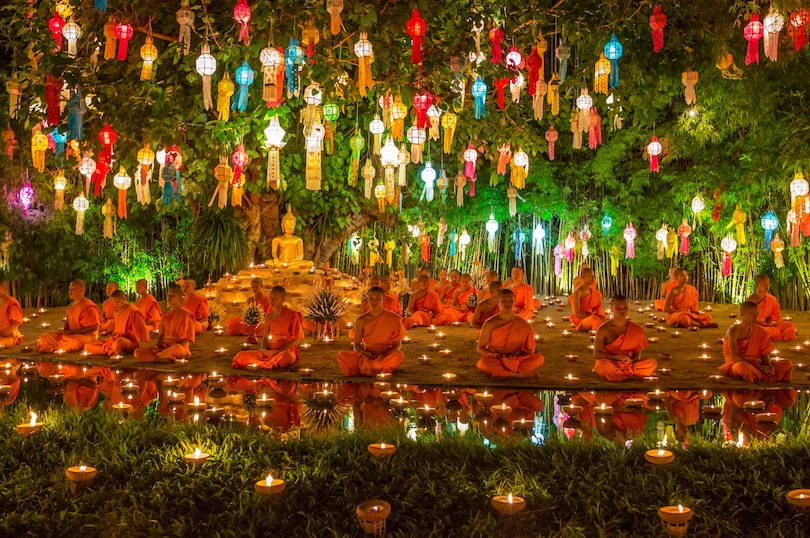 The enormous Wat Phan Tao is made entirely from wood, with gorgeous teak panels being the highlight of this architectural structure.
Located within the walled center of the city of Chiang Mai, Wat Phan Tao is elegant and detailed. The roof boasts golden finials meant to represent snakes, the Lanna flower motif is repeatedly carved into the teak facade and large, sturdy wooden posts support the equally impressive wooden beams overhead.
At the back there is a pond and a Buddha statue underneath a Bodhi tree. Bright orange flags and the bold colors of the monk's robes only intensify the visual appeal of this remarkable temple.
7. Royal Park Rajapruek
Guess what, you're in for a royal treat! Stroll down the magnificent Royal Park Rajapruek, nestled in the picturesque Chiang Mai countryside. This enchanting park, truly a tribute to Thailand's beloved King, features enchanting flora and fauna, making it a paradise for nature enthusiasts like yourself.
As you meander through this magical kingdom, take delight in the colorful flower gardens that change shades with the seasons. Capture that perfect Insta-worthy shot with the majestic Ratchaphruek tree (Thailand's national tree), showering you in a golden hue. Don't forget to explore the awe-inspiring Ho Kham Luang Pavilion, an architectural masterpiece that showcases traditional Lanna style.
The park is large, but there are trams that can shuttle visitors around the park to see as much of the space as possible. The area is a popular place for a scenic stroll as well as a picnic when the weather is sunny.
6. Wat Phra Singh
The best known of Chiang Mai's temples is the Wat Phra Singh. The temple dates back to the 14th century, and it was built by the King Pha Yu as a tomb for his father.
The main highlight of this temple is the Phra Buddha Sihing statue, which is believed to have been brought from Sri Lanka and is considered one of the most important Buddha images in Thailand. The statue resides in the Viharn Lai Kham, an intricately decorated building with detailed wall murals and a beautifully carved wooden ceiling.
Another noteworthy feature of Wat Phra Singh is the stunning example of Lanna architecture displayed in the various buildings within the temple complex. The main stupa, or chedi, is covered in gold leaf and has a unique octagonal shape. The exquisite wood carvings and gold stenciling found throughout the temple grounds are sure to leave an impression on any visitor.
Buddhist monks still gather, train and live within Wat Phra Singh, so religious respect should be given.
5. Elephant Nature Park
If you're looking for a memorable and heartwarming experience in Chiang Mai, the Elephant Nature Park will not disappoint. This sanctuary and rescue center is home to elephants who've said their goodbyes to a life of labor and abuse.
Upon your arrival, you'll be greeted by these gentle giants, who are now enjoying their freedom in the lush surroundings. Forget about riding them; here, it's all about bonding and getting up close and personal with these magnificent creatures. Get ready to fill your Instagram feed with selfies of you bathing, feeding, and hanging out with your new elephant pals (talk about scoring some serious social media cred).
At the park, you'll have the opportunity to learn more about the elephants, their history, and the sanctuary's conservation efforts. While you're having the time of your life, remember that it's not just about the fun and games; you're also contributing to a great cause.
4. Thai Cooking Classes
Thai Secret Cooking School / Wikipedia
One of the most popular pastimes for travelers to Chiang Mai is taking part in Thai cooking classes. There are over two dozen establishments within the city where it is possible to learn to cook traditional, authentic local cuisine. Most classes will focus specifically on dishes from Northern Thailand, and many others emphasize vegetarian cuisine.
One of the most enlightening choices is cooking in a home with a local, or getting to shop at the local markets for fresh ingredients. A popular dish to create is khao soi, or noodles in a spicy red broth that is often topped with either chicken or beef.
3. Wat Chedi Luang
Although it isn't as decorative or grand as some of the other temples in the city, Wat Chedi Luang is still a historic stop. This towering, tiered temple dates back to the 15th century and was constructed in the traditional Lanna style.
At one point, the temple was the largest structure in Chiang Mai, but damage in centuries past from hurricanes and fires caused extensive ruin. Thankfully, serious restoration has been going on for 30 years, and visitors can now admire the Buddha statue called Phra Chao Attarot and watch the daily rituals performed by monks just outside of the temple structure.
2. Night Bazaar
There is no shortage of fantastic markets in Chiang Mai, but the Night Bazaar is by far the most famous.
Not surprisingly, it is also one of the most popular tourist attractions in Chiang Mai. As the sun begins to set, the Night Bazaar comes to life. From about 6 pm each evening until midnight, the Night Bazaar is filled with locals and tourists alike who are browsing the various stalls.
For souvenirs, this is undoubtedly one of the top spots to shop. Many sellers speak English, and most are willing to negotiate on price. Turn into the smaller alleys off the Night Bazaar for more local products and vendors as well as fewer tourists.
1. Wat Phra That Doi Suthep
What makes Wat Phra That Doi Suthep such an impressive temple, and one that should definitely be visited, is its location. The temple is found on a mountain overlooking the city of Chiang Mai, which means it has the best vantage point in the entire region.
Of course, location isn't the only reason to visit. Wat Phra That Doi Suthep is highly recognizable thanks to its gold-plated chedi, or stupa, which is sometimes visible from the city below on clear days. In order to reach the temple, visitors will have to climb over 300 stairs at high altitude or opt for the cable car.
Map of Things to do in Chiang Mai
© OpenStreetMap © MapTiler © Touropia