Thailand is a collage of animated scenes that comprise bustling modern cities crowded with motorbikes and tuk-tuks, Buddhist temples tended by orange-robed monks, hill tribes selling handicrafts, lush landscapes dotted with traditional farming villages, ancient ruins and stunning coastlines peppered with gorgeous beaches and blue lagoons. Such a captivating portrait explains why Thailand is Southeast Asia's most popular travel destination.
Those looking to spend a few weeks exploring tropical islands should head to the picture perfect Thai Islands. If the exciting energy of a capital city is more your style, Bangkok will more than provide an unforgettable experience. For getting to grips with nature and understanding more about the various ethnicities within Thailand, the city of Chiang Mai serves as the perfect jumping off point to the mountainous landscapes of the north.
This overview of the best places to visit in Thailand shows where to find the cultural, historic and natural attractions. For an insight in Thailand's most popular islands & beaches see also this island list.
flickr/Akuppa
The northernmost city in Thailand, Chiang Rai serves as the main hub of the Golden Triangle, which contains the borders of Thailand, Laos and Myanmar. A busy town offering something for everyone, Chiang Rai is often used as a base for exploring the surrounding region. The town itself is quiet during the day, when most of its package tourists are out on day trips, but at night the neon lights flash on and souvenir stalls and restaurants spring into action.
The city is also home to a few museums that exhibit local heritage, culture and art. With its lovely green spaces, trees and flower, Saun Mai Ngam Park is a nice place to relax or attend a flower festival at year's end. Markets and a night bazaar offer food, handicrafts, souvenirs and free cultural performances. Chiang Rai Beach is popular for picnics and riverboat cruises.
Outside of Chiang Rai, the Gate of Siam is a special place on the Laos border where visitors can enjoy lovely views. Namtok Khun Kon Forest Park offers nature walks and scenic waterfalls. Lion Hill Cave is an interesting cavern surrounded by picturesque scenery, hiking trails and picnic areas. Various tour companies operating from Chiang Rai guide tourists to nearby hill tribes to experience their culture and traditions.
Read more: Top Chiang Rai Attractions
flickr/Mark Lehmkuhler
Once just a quiet village in northern Thailand, Pai is now a booming town that is part of the Mae Hong Son Loop stretching between Chiang Mai and Mae Hong Son. Noted for its picturesque valley and relaxed atmosphere, Pai is a favored destination among backpackers and tourists wishing to explore the region.
Due to Pai's increasing influx of tourists, the city has increased in tourism facilities with numerous guesthouses, restaurants, souvenir shops and bars. Pai's Wednesday Market is a popular attraction, which draws crowds from other villages around the Pail Valley.
With Pai's location in the foothills of the mountains, many tourists use the city as a base for exploring natural attractions, trekking tours and visits to the hill tribes of Lisu, Karen, Lahu and Hmong. Also just outside the city are spas, elephant camps, hot springs and beautiful waterfalls. Additionally, the Pai River offers tubing and whitewater adventures. Other area must-see sites include the Pai Canyon, the WWII Memorial Bridge and a Chinese village where tourists can buy teas and view a Ferris wheel powered by humans.
8.
Phanom Rung
flickr/John Shedrick
Sitting on an extinct volcano in northeastern Thailand, Phanom Rung is a Hindu shrine complex regarded for its outstanding architecture. Located near the village of Nang Rong, this temple sanctuary was built by the Khmer culture between the 10th and 13th centuries as a dedication to the Hindu god, Shiva. Constructed of sandstone and laterite, Phanom Rung was built to represent Mount Kailash, the sacred home of Shiva.
The complex faces east, and four times a year the sun shines through all 15 sanctuary doorways. During these events the park extends its hours, and locals celebrate the Phanom Rung Festival around the April alignment, with ancient Brahmin ceremonies and modern sound-and-light shows.
dreamstime/© Gumbao
Railay (or Rai Leh) is a small peninsula in south Thailand that is only accessible by boat due to the high limestone cliffs cutting off mainland access. These cliffs attract rock climbers from all over the world, but the area is also a popular attraction in Thailand due to its beautiful beaches and quiet relaxing atmosphere. Almost every patch of buildable land fronting in the eastern and western part of the peninsula has been taken over by bungalow resorts, and development is creeping up into the forest behind. But at least there are no high-rise buildings, and much of the construction is hidden among trees or set amid prettily landscaped gardens.
dreamstime/© Jaruncha
Considered by many to be one of Thailand's most beautiful wildlife reserves, the Khao Sok National Park covers jungle forests, limestone karsts, rivers and lakes in the Surat Thani province of southern Thailand. The national park is home to wildlife such as Asian elephants, barking deer, wild boar, bears, Malayan tapirs and various monkeys breeds like gibbons, pig-tailed macaques and langurs. Exotic flora also grows here as well including the raffelsia flowers, which bloom in late January and early February.
There are several trails in the Khao Sok National Park from which visitors can choose to enjoy trekking through the jungle to spot wildlife, photograph beautiful waterfalls, swim in natural pools and admire stunning vistas from viewpoints. Other activities available include ziplining, cave exploring and kayaking and tubing on the Sok River.
Souvenir shops and convenience stores selling fresh fruit and juices are located at Khao Sok's entrance, while the main road through the park is lined with a variety of guesthouses, restaurants and bars.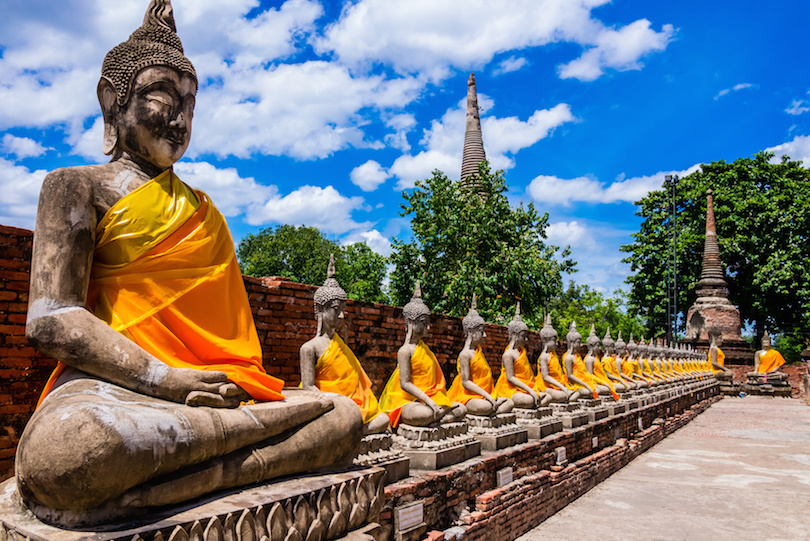 Founded in 1350, the city of Ayuthaya is located in the Chao Phraya River valley in Central Thailand. It sits on an island surrounded by three rivers connecting it to the Gulf of Siam. King U Thong proclaimed it the capital of his kingdom, the Ayuthaya Kingdom, better known as Siam. Once declared the most magnificent city on earth, the ruins of Ayuthaya are now a major attraction for those visiting Thailand.
As the capital of the Thai Kingdom, Ayuthaya was an impressive site, with three palaces and more than 400 temples. From the 14th to the 18th centuries, the city flourished. By the year 1600, Ayuthaya had a population of approximately 300,000 people, and by 1700, the population reached nearly 1,000,000. The city had a water system that was technologically advanced and unique in the world at that time. Ayuthaya became a center for trade as well as a connecting point between the West and the East.
In 1767, the Burmese attacked and conquered Ayuthaya. The majority of the once magnificent reliquary towers, monasteries, temples and palaces were destroyed during this invasion. However, some structures still stand and tourists are welcome to visit these.
Many of the ancient remains in Ayuthaya lie in the western section of the island, while others are more widespread. One of the most popular sites is Wat Phra Mahathat. Here one will find a sandstone Buddha head entwined with the roots of a Bodhi tree. One of the most important images of the seated Buddha can be found at Wiharn Phra Mongkhon Bophit, and is a highlight for the Buddhists as well as others visiting the site. Thailand's largest gilded Buddha, known as Phra Buddha Triratana Nayok, is found at Wat Phanan Choeng. It is a nearly 20 feet (6 meter) tall seated Buddha and is one of the most venerated in Thailand.
Today, Ayuthaya is a modern city filled with ancient wonders. It is just 80 km (50 miles) north of Bangkok, and is easily reached by train, bus and van. Although many visitors choose a day trip from Bangkok, one may want to lengthen that time to two or three days in order to have time to enjoy the great number of ruins as well as the local charm and excellent food found in Ayuthaya.
Read more: Ayutthaya Attractions
flickr/permanently scatterbrained
Located in western Thailand and admired for its beautiful scenery and accessibility to national parks and waterfalls, Kanchanaburi is best known for its iron bridge that is linked with the historic Death Railway to Burma in which thousands of Asian laborers and POWS died during its construction under Japanese occupation during WWII.
While Kanchanaburi is a thriving city, the main attractions are associated with WWII, chiefly the iron railroad bridge that was portrayed in the Academy Award winning 1957 film, "Bridge over the River Kwai."
Several museums and war cemeteries all present information about the city and its bridge during the 1940s Japan occupation. The city is also home to many spas and temples of which the Tiger Temple is the most popular.
Outside of Kanchanaburi are various national parks, including Erawan and Srinakarind National Parks, all offering beautiful scenery, waterfalls, caves, recreational activities and visits to tribal villages.
Read more: Top Kanchanaburi Attractions
dreamstime/© Sutprattana
Surrounded by the mountains of northern Thailand, Chiang Mai is a flourishing city often used as a base among tourists wishing to explore the lush landscapes, hill tribes and outdoor adventures of the region. Nevertheless, Chiang Mai itself is a large and culturally important city where historical and modern Thai architecture and traditions coexist.
A walk around the historic center bestows views of old city walls and dozens of beautiful ancient temples. However, the most famous of these temples, Wat Phrathat Doi Suthep, lies outside Chiang Mai on a mountainside overlooking the city. Modern-day Chiang Mai offers handicraft markets, an abundance of massage and spa parlors, botanical gardens and swimming pools, zoo and an elephant nature park where visitors can bathe and feed elephants.
Those seeking to experience the beauty, wildlife and adventure of the mountainous region will find a large variety of organized tour companies operating out of Chiang Mai that feature trekking, mountain biking, ziplining, river rafting and visits to local hill tribes.
Read more: Top Chiang Mai Attractions
flickr/Kumaravel
Thailand's capital city and by far the largest city in the country, Bangkok, is a buzzing cosmopolis of high rise buildings, magnificent palaces, ancient temples, glittering nightclubs, bustling markets and streets lined with vendors hawking souvenirs and tantalizing foods. While the city is sometimes described as a concrete jungle jam-packed with noisy traffic and air pollution, Bangkok is not without its natural beauty that is seen in its remaining canals, green spaces and flowering tropical plants.
Located in Central Thailand, Bangkok is a sprawling city offering something for everyone. The famous tourist street, Khao San Road, is a good place to begin with its interesting sites and cheap shopping and nightlife. The city is well known for its myriad of temples such as the sacred Wat Phra Kaew, which contains the Emerald Buddha. Zoos, aquariums, water parks and amusement parks all present family fun. Shopping in Bangkok is sensational with numerous shopping malls and markets, including the not-to-be-missed floating markets. Sporting venues host Thai boxing matches.
From scores of street vendors to market stalls and a variety of restaurants for every budget and taste, Bangkok offers a fantastic dining experience. The city is also well known for its wild nightlife.
Due to the city's congested traffic, the best transport options around Bangkok are the Skytrain, the metro and tuk-tuks. A memorable way to experience Bangkok is by a boat ride on the canals.
Read more: Top Bangkok Attractions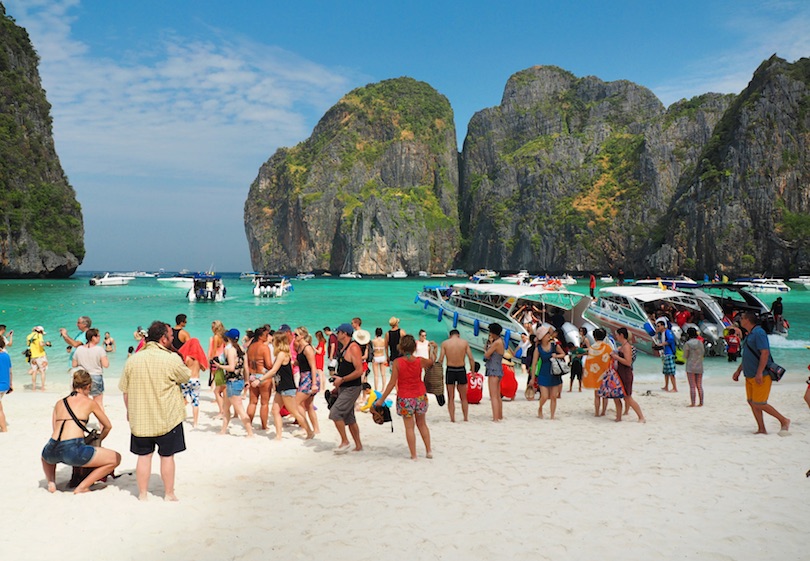 dreamstime/© Nevenm
The islands off the coast of Thailand are famous throughout the world for their beautiful beaches, others for their gorgeous scenery and some even claim their fame for the party atmosphere. There are three main sets of islands in Thailand. To the east of Bangkok there are Ko Samet and Ko Chang, in the Gulf Ko Samui lie Ko Pha Ngan and Ko Tao, and in the Andaman Phuket and Ko Phi Phi.
Phuket is the country's largest and most developed island, connected to the mainland by two bridges. Ko Phi Phi is famous for the movie "The Beach", while Ko Tao is Thailand's diving mecca. But there are many, many more beautiful islands to choose from.
Read more: Best Islands in Thailand
Map of Thailand
© OpenStreetMap contributors © Esri — National Geographic
Click to enlarge