With hundreds of beautiful tropical islands, Thailand has no shortage of fine beach resorts. This list presents the best beach resorts in Thailand, as rated by visitors. Although hotels in Thailand are available in every price range, the resorts on this list rank at the higher end. Most of the luxury beach resorts can be found on the islands of Koh Samui and Phuket.
The best prices for accommodation can be found during Thailand's low season, which not surprisingly also coincides with the region's monsoon season.
10. Bo Phut Resort & Spa
[SEE MAP]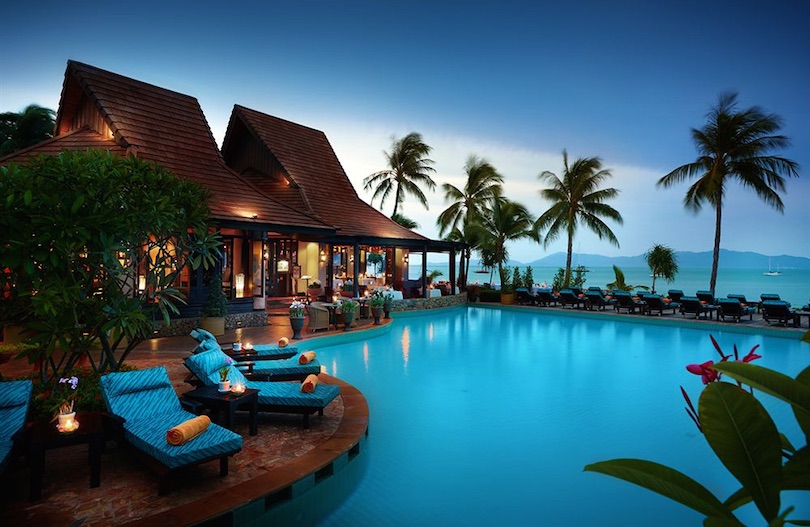 Combining an exotic and tranquil setting, the Bo Phut Resort & Spa resort is situated in the northern tip of Koh Samui in the Gulf of Thailand. The 32 villas and 29 deluxe rooms are designed in a Modern Thai style, featuring modern amenities.
9. Le Meridien Khao Lak
[SEE MAP]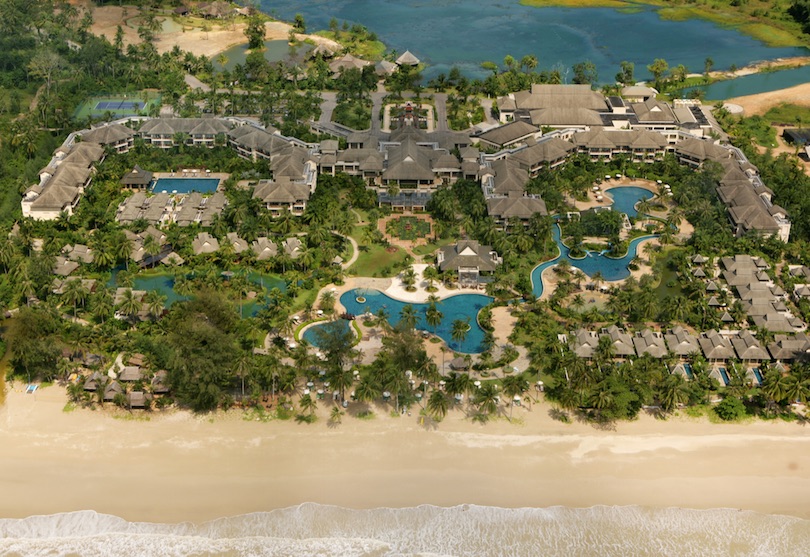 Tucked between primeval forests and 10 kilometers of pristine beach, Le Méridien Khao Lak Beach and Spa Resort offers an indulgent experience. The extensive facilities include three swimming pools, an award-winning spa, six restaurants with creative menus, and an array of sports facilities.
8. Mai Samui Beach Resort & Spa
[SEE MAP]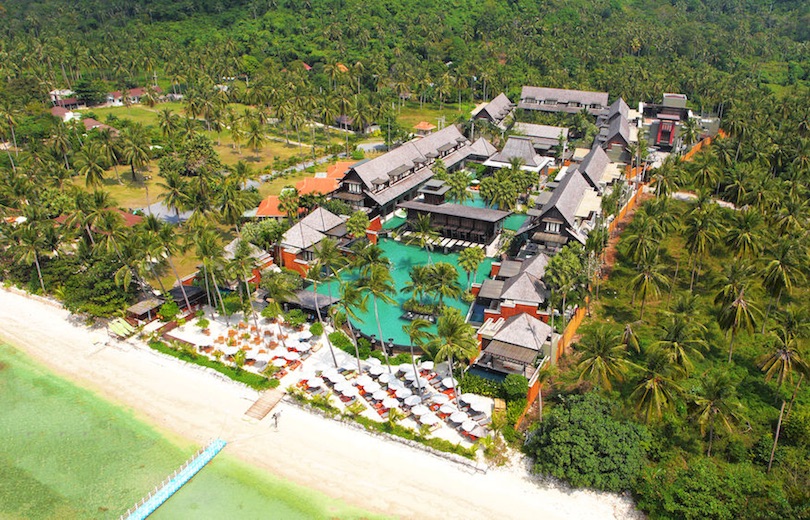 The Mai Samui Beach Resort is a stylish hideaway situated on the west coast of Koh Samui. The resort consists of 97 rooms ranging from the chic Deluxe Room and the decadent Mai Pool Villa. The hotel spa host a number of pampering treatments, from purifying facials to aromatic salt scrubs and ancient Thai massage all delivered by professional spa therapists in a wonderfully soothing environment.
7. Long Beach Chalet
[SEE MAP]
Perhaps the most affordable among this list of Thailand beach resorts, Long Beach Chalet is located on the island of Ko Lanta, close to Long Beach and Klong Dao Beach. A beach bar, a poolside bar, and a lounge bar are all open for drinks. Each of the 15 individually furnished and decorated rooms have a balcony with garden views. The rooms also contain free internet and cable television.
6. Sri Panwa Villas Phuket
[SEE MAP]
This boutique hotel is situated high above the waters of the Andaman Sea on Cape Panwa in the south east of Phuket. It offers both panoramic views from the top of Cape Panwa, as well an exclusive private beach. The resort offers accommodation in one- or two-bedroom pool villas and family suites. Amenities in all the villas include a private infinity swimming pool with a jet stream spa pool and outdoor soaking tub.
5. Ko Yao Island Resort
[SEE MAP]
The Koyao Island Resort is located on the island of Ko Yao in the Phang Nga Bay near Phuket in southern Thailand. Remote but still accessible, the beach resort is surrounded by secluded beaches, rain forests and uninhabited islands. The hotel has 23 luxury villas, designed in traditional Thai architectural style, each villa facing the beach with its own private garden.
4. Sandalwood Luxury Villas
[SEE MAP]
Sandalwood Luxury Villas is situated on a hillside amongst lush tropical gardens on the island of Koh Samui. The villas are a stylish combination of traditional Thai design and modern elegance. Each of the 40 villas has its own unique charm and features a balcony or terrace from which guests can enjoy breathtaking views of the Gulf of Siam.
3. Layana Resort And Spa
[SEE MAP]
The luxury beach resort Layana Resort and Spa is located on the west coast of Koh Lanta Yai, at tje Phra-Ae beach. Facing a 3 kilometer stretch of fine white sandy beach, the adult-only hotel is set against a picturesque backdrop of forested hills. The hotel provides 50 rooms each with four guestrooms, nestled within landscaped gardens, balcony, satellite and multi-lingual TV channels.
2. Paresa Resort Phuket
[SEE MAP]
Perched high on a cliffside, amid tropical forests, overlooking azure blue waters and a picturesque panorama of the Andaman Sea, the Paresa Resort is an oasis of tranquility and luxury. All villas and suites face the ocean and offer different views of the sea and nature. This Thailand beach resort in Phuket is situated close to many attractions, including Patong Beach, and close to Karon Beach, as well.
1. Banyan Tree Samui
[SEE MAP]
The Banyan Tree Resort boast a collection of private villas, each with its own private infinity pool. Each villa in this luxury Koh Samui resort is designed with Thai elements using local materials. Large glass windows and sliding glass doors open onto the open decks. The resort overlooks the rocky cliffs and sandy beaches along Lamai Bay in Koh Samu and is just a half hour's drive from Samui International Airport.