Thailand is the most popular tourist destination in Southeast Asia, and for a reason. You can find almost anything here: crystal blue beaches, thick jungle, great food, cheap beach front bungalows and some of the best luxury hotels in the world. There is something for every interest and every budget.
As the only Southeast Asian country never to be colonized, it is also studded with incredible cultural and historical sites, including ruins that stretch back hundreds of years. And despite the heavy flow of tourism, Thailand retains its quintessential identity with its own unique culture and history and a carefree people famed for their smiles.
The only trouble with planning a trip to Thailand is narrowing things down to a few sights. It helps to start with the most popular tourist attractions in Thailand, which include:
Just a short trip from Kanchanaburi, the Erawan Falls are the major attraction of the Erawan National Park in Western Thailand. The waterfall was named after the erawan, the three-headed white elephant of Hindu mythology. The seven-tiered falls are said to resemble the erawan. Macaques are common around the falls while occasionally water monitor lizards can also be seen. The park is open for visitors all year and generally very busy during the weekends.
© Serebryakova / Dreamstime
Formally Ao Phra Nang ("Princess Bay"), Ao Nang is the most popular beach town in the Krabi province of southern Thailand. It was originally a backpacker hotspot but now moving slowly upmarket as the airport brings in higher flyers. While not quite as scenic as Rai Leh, there is a good range of cheap accommodation, many good restaurants, easy transport and plenty of travel agencies, making it a good base for exploring Krabi.
Accommodation: Where to Stay in Ao Nang
23. Floating Markets near Bangkok
[SEE MAP]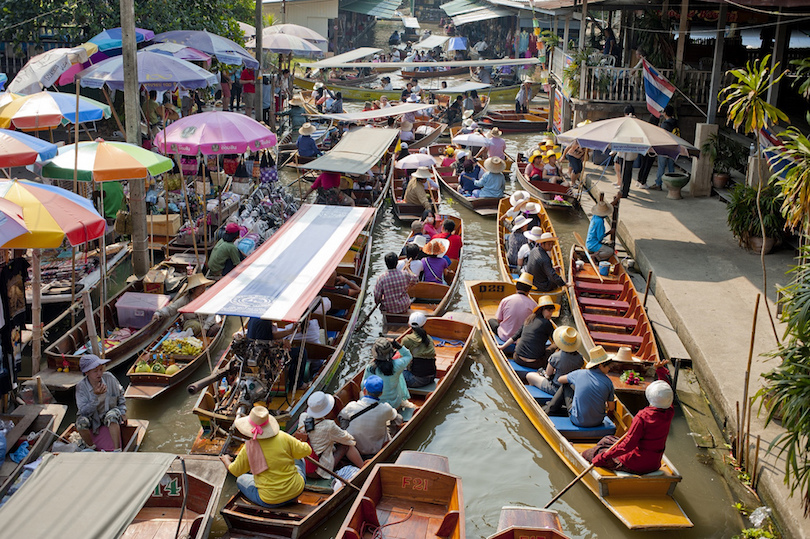 Colin Tsoi / Flickr
To get an idea of what shopping in Bangkok used to be like before all the canals were filled in, many people visiting the capital take a day trip to one of the floating markets outside the city. Though today floating markets typically function as tourist attractions and community meeting places rather than vital aspects of local farming economies, they still remain vibrant places brimming with scrumptious food. The most popular floating market for foreign tourists is Damnoen Saduak while most Thai favor the Amphawa Floating Market.
Originally, built in the 1920s as a royal getaway for King Rama VII, Hua Hin has been a long-time favorite weekend getaway for Bangkok residents. Today, the 8 km (5 mile) long beach is also popular with tourists. Hua Hin is the site of the Klai Kangwon Palace, which is still used by Thai royalty today. In addition it is home to the highest concentration of golf courses in all of Thailand.
21. Prasat Hin Phimai
[SEE MAP]
Prasat Hin Phimai boasts some of the most impressive Khmer ruins in Thailand. Similar in style (if much smaller) than those at Angkor, the temples were built during the 11th and 12th century, during which time the area was part of the Khmer empire. Though built as a Mahayana Buddhist temple, the carvings also feature many Hindu deities as explained in the visitor center.
20. Khao Yai National Park
[SEE MAP]
tontantravel / Flickr
The third-largest national park in Thailand, Khao Yai National Park is located in the eastern part of the country in the Nakhon Ratchasima Province. Homes to a wide array of wildlife, including Asian elephants and black bears, the park offers observation towers, hiking trails, lodges, cabins and campsites. There are even dinosaur footprints, so visitors find surprises at every turn.
19. Mu Ko Ang Thong
[SEE MAP]
Ang Thong, which means "Bowl of Gold," is a popular national park in the Gulf of Thailand. Consisting of 42 islands, which are close together for easy island hopping, the park is headquartered on Ko Wua Talap. There, travelers can stay in lovely bungalows and take in incredible views of the surrounding islands and bizarre rock formations. Exploring the island's white sand beaches and snorkeling among the shallow coral gardens makes a popular day trip from Ko Samui.
18. Sukhothai Historical Park
[SEE MAP]
Located in northern Thailand, Sukhothai Historical Park contains the ruins of Sukhothai, which was the capital of the kingdom of the same name during the 13th and 14th centuries. Roughly translating to mean "Dawn of Happiness," the walled-in park contains nearly 200 sets of ruins, including 26 temples and the Royal Palace. In addition to exploring the many fascinating wats and other ruins, visitors can learn more about the Sukhothai culture at the Ramkhamhaeng National Museum.
Isderion / Wikipedia
Ko Nang Yuan is a tiny island very close to Ko Tao. It is a popular day trip from Ko Tao, so its beautiful beaches can be crowded at times. But it's a pretty island and its clear waters are perfect for snorkeling and scuba diving. To visit this island, travelers who are not staying on Ko Nang Yuan must pay a 100 baht fee. The island does have one dive resort for travelers who prefer to stay on this small island.
The name of this lavishly adorned temple roughly translates to mean "Temple of Dawn," which is fitting as it was built to honor Aruna, the Hindu god that is most commonly represented by the radiations of the rising sun. Located in the Bangkok Yai district on the west bank of the Chao Phraya River, Wat Arun's distinctive prang, or spires, are lavishly adorned with colorful patterns of seashells and porcelain. The central prang rises more than 85 meters (280 feet) high.
15. Chiang Mai Night Bazaar
[SEE MAP]
Abdul Rahman / Flickr
The famous Night Bazaar in Chiang Mai sprawls along several city blocks along footpaths, inside buildings and temple grounds. It has handicrafts, arts, clothing and and imported products of all descriptions, and a number of large, well-appointed modern shopping centers. At first, the market was owned by Chinese merchants, but since it grew in size as more commercial buildings were built, it was no longer owned by a single group of people. Instead, there are many owners, and most of them are Thai.
Accommodation: Where to Stay in Chiang Mai
magical-world / Flickr
Located in the Andaman Sea off the Satun Province, Koh Lipe is a tiny island near the Malaysian border. Small enough to be covered by foot within about an hour, Koh Lipe boasts four gorgeous beaches whose waters are home to about 25 percent of the world's fish species. Coral reefs attract snorkelers and scuba divers, and travelers can stay in beach bungalows in different sizes.
See also: Best Beaches in Ko Lipe
13. Chatuchak Weekend Market
[SEE MAP]
joyfull / Shutterstock.com
Known locally as JJ Market, Chatuchak Weekend Market in Bangkok is the largest of its kind in Thailand. Some even say it's the largest weekend market in the world. With more than 8,000 stalls peddling wares ranging from antiques to clothes to furniture, the wildly popular market draws in more than 200,000 people on weekends and includes a wide array of tasty restaurants. Shoppers are also entertained by shows, including dancing and live music.
Accommodation: Where to Stay in Bangkok
12. Khao Sok National Park
[SEE MAP]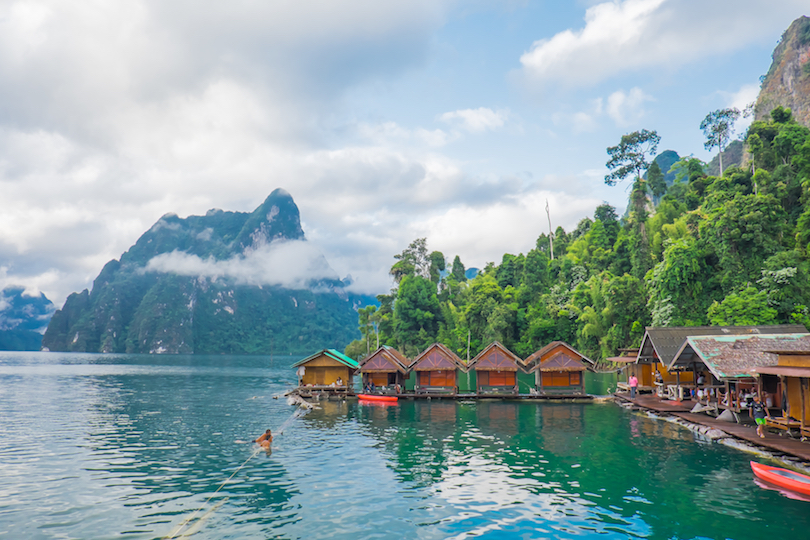 © Jaruncha / Dreamstime
Home to the largest expanse of virgin forest in Thailand, Kao Sok National Park is a must-visit destination for people who want to immerse themselves in the natural beauty of Thailand. The remnants of an ancient rainforest stretch across the park, which is split by a dramatic limestone mountain range. More than 5 percent of the world's animal species can be found in this lovely national park, which also boasts networks of dirt trails, soaring waterfalls and a beautiful lake.
Accommodation: Where to Stay in Khao Sok National Park
John Shedrick / Flickr
Sitting on an extinct volcano in northeastern Thailand, Phanom Rung is a Hindu temple regarded for its outstanding architecture. Located near the village of Nang Rong, this temple sanctuary was built by the Khmer culture between the 10th and 13th centuries. Constructed of sandstone and laterite, Phanom Rung was built to represent Mount Kailash, the sacred home of Shiva.
10. Similan Islands
[SEE MAP]
Made up of nine primary islands and two far-flung ones, the Similan Islands archipelago is one of the most popular diving destinations in the country. Situated off the coast of the Phang Nga Province in southern Thailand, the waters surrounding the islands boast gorgeous coral reefs and underwater rock formations that take on many unique shapes. Experienced divers particularly enjoy hot spots like East of Eden and Elephant Head Rock.
9. Full Moon Party at Haad Rin
[SEE MAP]
OlegD / Shutterstock.com
The infamous Full Moon Party is an all-night beach party that takes place in Haad Rin on the island of Koh Phangan. It has grown from an improvised wooden disco for about 20-30 people in 1985 to a major event that draws a crowd of about 20,000-30,000 every single month. If you're not on Ko Pha Ngan during the full moon, don't worry: there are other parties to be had, including Half Moon, Black Moon and Shiva Moon party.
Accommodation: Where to Stay in Ko Phangan
8. Thai-Burma Railway Death Railway
[SEE MAP]
Shutterstock.com
The two-hour train journey along the notorious Thailand–Burma Death Railway from Kanchanaburi, via the Bridge over the River Kwai, to Nam Tok is one of Thailand's most scenic and most popular train rides. Though the views are lovely, it's the history that makes the ride so special. During WWII, the Japanese built the railroad to connect Yangon, the then-capital of Burma, with Bangkok, enlisting POWs and Asian laborers in a horrifying and deadly race to the finish. Today, only a portion of the original rail line is in operation.
Accommodation: Where to Stay in Kanchanaburi
7. Ayuthaya Historical Park
[SEE MAP]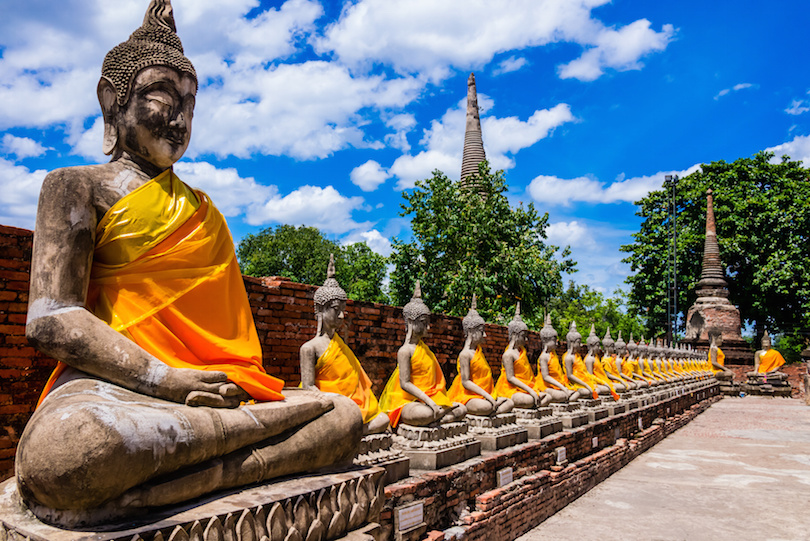 Also known as Ayutthaya Historical Park, this popular tourist attraction contains the ruins of the second capital of Siam, which was founded around 1350. By 1700 Ayutthaya had become one of the largest cities in the world with a total of 1 million inhabitants. In 1767 the city was destroyed by the Burmese army, resulting in the collapse of the kingdom. Fortunately, renovations that began in the late 1960s restored the once-vibrant city to much of its former glory, allowing visitors to experience the eclectic array of architectural styles that can be found amid its grid-like patterns of moats, roads and canals.
See also: Ayutthaya Attractions
6. Mu Ko Chang National Park
[SEE MAP]
Located in the Trat Province of eastern Thailand, this exquisite national park is made up of more than 50 islands. Without a doubt, Ko Chang is the most notable of the bunch and is famous for its steep peaks, lush jungles and relaxed atmosphere. White Sand Beach is where people from around the world congregate to have a great time. The islands also feature white sand beaches, premium snorkeling and diving sites and many waterfalls. From fishing to dining to kayaking, there's something for everyone here in Kog Chang. Though still far quieter than islands like Phuket or Ko Samui, it's probably better to go now than later.
5. Northern Hill Tribes
[SEE MAP]
Northern Thailand is home to several interesting and colorful ethnic minorities, known as the hill tribes. Most of the hill tribes have migrated into the region during the past 100 years from the Asian interior and have largely preserved their traditional ways. It is possible to go on a trekking tour and visit one of the numerous villages where they are happy to receive tourists. Since most are rural and poor, any economically uplifting opportunities are welcomed.
© Gumbao / Dreamstime
Also known as Rai Leh, this popular rock-climbing destination is located in the Krabi Province on the coast of the Andaman Sea. Accessible only by boat, Railay boasts a variety of exciting attractions. Its more than 700 bolted rock-climbing routes are a major draw. However, there are also several stunning beaches, and visitors can also explore a series of caves. Accommodation on Railay ranges from inexpensive bungalows popular with backpackers and climbers, to the renowned jet-set resort of Rayavadee.
Accommodation: Where to Stay in Railay
As the official residence of the kings of Siam — and, later, Thailand — since 1782, the Grand Palace is perhaps the most famous attraction in the bustling city of Bangkok. Situated on the banks of the Chao Phraya River, the walled-in complex contains a compelling series of pavilions, halls, wats and other buildings interspersed with vast lawns, lavish gardens and stately courtyards. Of the many sights here, Wat Phra Kaew, or the Temple of the Emerald Buddha, is probably the most memorable.
Located just over 95 km (60 miles) from the island of Phuket, Phang Nga Bay is one of the top tourist attractions in Thailand and one of most scenic areas in the country. It consists of beautiful caves, aquatic grottoes and limestone islands. The most famous island in the bay is a sea stack called Ko Ping Kan (more commonly known as James Bond Island) which was featured in the James Bond movie "The Man with the Golden Gun". A popular way of visiting Phang Nga Bay is by sea kayak as they are the only way to get inside the grottoes and sea caves.
MikeBehnken / Flickr
Phi Phi is a beautiful archipelago located in the Krabi Province not too far from Phuket. Ko Phi Phi Don is the only island in the group with permanent inhabitants while the smaller Ko Phi Phi Leh is famous as the filming location for the 2000 movie "The Beach". Travelers go here enjoy the beaches and to participate in a variety of water recreation activities, such as snorkeling, scuba diving and kayaking. As a result of the masses of tourists, Ko Phi Phi is becoming less and less attractive but for now it is still a very beautiful place to visit.
See also: Best Beaches in Ko Phi Phi