There are 8 living species of bear found in the continents of North America, South America, Europe, and Asia. Some species can be dangerous to humans, especially in areas where they have become used to people. All bears are physically powerful and are capable of fatally attacking a person, but for the most part, they will try to avoid humans.
Sometimes it's possible to view these magnificent animals without a guide, but most of the time a guided bear safari is the best way to ensure a safe, successful experience of viewing bears in their natural habitat. An overview of some of the best destinations in the world for a great bear safari.
10. Piatra Craiului Mountains
[SEE MAP]
tim ellis / Flickr
With about 4,500 bears, Romania has the largest bear population in Europe. While many tour operators advertise bear watching tours in Romania, it is actually very difficult to see bears in the wild and bear (or wild animal) searching is perhaps a better term. A good place to go on a bear safari tour are the Piatra Craiului Mountains, a mountain range in the Southern Carpathians. The whole range is included in a national park. Zărneşti is the most important town for visiting the national park.
9. Admiralty Island
[SEE MAP]
Diana K / Flickr
Located off the coast of the Alaska Panhandle, Admiralty Island is home to the highest density of brown bears in North America. An estimated 1,600 brown bears inhabit the island, more than the entire lower 48 states, and outnumbering Admiralty's human residents nearly three to one. Most of Admiralty Island is occupied by a protected wilderness area. The rainforest vegetation provides ideal habitats for black and brown bears and other animals such as deer and eagles.
Yukon White Light / Flickr
Wrangel Island is a mountainous island located well above the arctic circle. Woolly mammoths survived here until 1700 BC, the most recent survival of all known mammoth populations. However, due to limited food supply, they were much smaller in size than typical mammoths. Wrangel Island has the highest level of biodiversity in the high Arctic. The island boasts the world's largest population of Pacific walrus and the highest density of polar bear dens (snow caves).
7. Wolong National Nature Reserve
[SEE MAP]
Chi King / Flickr
Wolong National Nature Reserve is a protected area in central China. The reserve is also a home to many endangered species including red pandas, golden monkeys, white-lipped deer. The most famous creatures in the park are the 150 highly endangered giant pandas however. The Giant Panda is an endangered bear species, with only about 1,500 individuals left in the wild. Due to the May 2008 earthquake, the Wolong Panda Center is currently closed to the public. Most of the pandas have been relocated to the sister Center, Bifengxia, outside Ya'an City.
Chris Parker / Flickr
Knight Inlet is located in the southern section of the Great Bear Rainforest, which begins just 125 miles north of Vancouver, and contains some of British Columbia's most popular Grizzly Bear safari destinations. Knight Inlet is one of the few places in North America where these normally solitary animals gather in large numbers. During the autumn salmon run bear viewing is conducted from two secure viewing stands overlooking a spawning channel, and it isn't uncommon to see half a dozen bears competing for the best fishing spots.
5. Kronotsky Nature Reserve
[SEE MAP]
tom-b / Flickr
Kronotsky Nature Reserve is located on the coast of the Kamchatka Peninsula, where bear safari tours are become increasingly popular. Kronotsky is often called the Land of Fire and Ice due to its mix of volcanoes and geysers. The nature reserve boasts over 700 brown bears, some of the largest in the world that can grow to over 540 kg (1,200 pounds). Bears in the Kronotsky Reserve often encounter each other at salmon streams in the park where they can socialize freely with each other.
4. Denali National Park
[SEE MAP]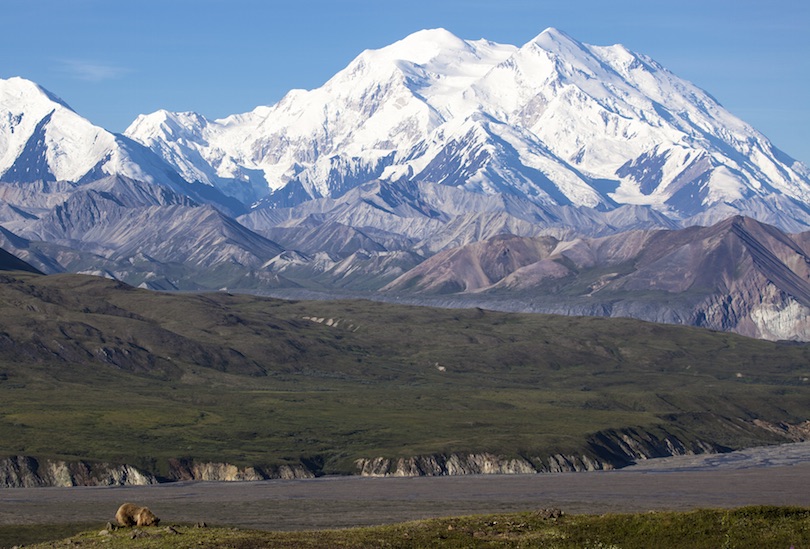 Denali NPS / Flickr
The Denali National Park and Preserve is located in Interior Alaska and contains Mount McKinley, the highest mountain in North America. The word "Denali" means "the high one" in the native Athabaskan language and refers to Mount McKinley. Denali is home to a healthy population of grizzly bears and black bears. Wild blueberries and soap berries thrive in this landscape, and provide the bears with the main part of their diets. Despite the large concentration of bears in Denali, efforts by rangers to educate visitors about preventative measures have greatly reduced the number of dangerous encounters.
3. Svalbard Polar Bear Safari
[SEE MAP]
Martha de Jong-Lantink / Flickr
Svalbard is an archipelago situated about midway between mainland Norway and the North Pole. Polar bears are the iconic symbol of Svalbard, and one of the main tourist attractions. Svalbard and Franz Joseph Land (a Russian archipelago in the east) share a common population of 3,000 polar bears. The islands of Kong Karls Land have the largest concentration of Polar bear in Svalbard but are closed for visitors. Polar bears can be extremely unpredictable and are far more dangerous than European brown bears. While protected, anyone outside of a settlement is required to carry a rifle as a last resort should a Polar Bear attack. The bears can therefore best be watched on an organized bear safari.
2. Katmai National Park
[SEE MAP]
Marshmallow / Flickr
Katmai National Park is a national park roughly the size of Whale in southern Alaska. Katmai is one of the premier brown bear safari destinations in the world. The most recent bear survey documented over 2000 brown bears in the park. Bears are especially likely to congregate at the Brooks Falls where they come to feed on the salmon. Rangers at the Katmai Park are extremely careful not to allow bears to obtain human food or get into confrontations with humans. As a result, the bears are uniquely unafraid of and uninterested in humans, and will allow people to approach (and photograph) much more closely than bears elsewhere.
Churchill is a small town on the shore of Hudson Bay in Canada. Due to the many polar bears that move toward the shore from inland in the autumn, it is nicknamed "Polar Bear Capital of the World". Tourists can safely view polar bears from specially modified buses known as tundra buggies. November are the most feasible times to see polar bears, hundreds of which wait on the vast peninsula until the water freezes on Hudson Bay so that they can return to hunt their primary food source, ringed seals.