Widely considered one of the most beautiful cities in the world, Vancouver is set in a stunning spot with scenic shores and soaring mountains lying all around it. The second most popular place to visit in Canada after Toronto, there are fine dining and fantastic shopping options, outdoor activities and enticing tourist attractions in Vancouver.
Cultured and cosmopolitan, Vancouver has many different neighborhoods to explore with pretty parks and gardens. Aside from visiting its multitude of museums and galleries, you can also head to nearby beaches or go hiking and skiing up in the mountains. With so many things to see and do in both the city and its surroundings, Vancouver is definitely well worth checking out if you have the chance.
See also: Where to Stay in Vancouver
17. Science World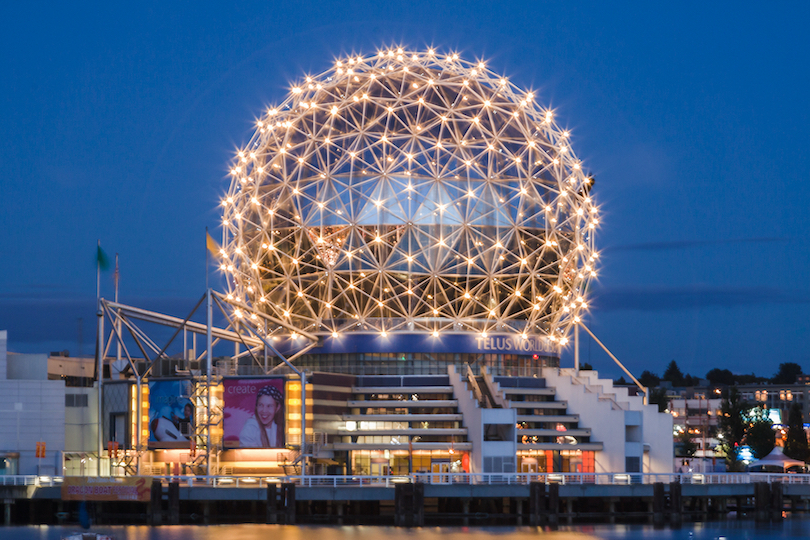 A fascinating place to visit, Science World is home to all kinds of interesting exhibitions that shine a light on everything from art and the body to water, air, and animals. Set at the end of False Creek, it occupies a state-of-the-art center that is instantly recognizable due to its distinctive geodesic dome.
Since opening in 1989, the museum has been a firm favorite with locals and tourists alike. Its interactive displays encourage you to explore the fields of science and technology. Besides trying out fun hands-on activities and experiments, you can also watch live demonstrations or educational films in its gigantic Omnimax Theatre.
16. Bloedel Conservatory
Perched atop the city's highest point are the lovely lush gardens and aviary of the Bloedel Conservatory. Located within Queen Elizabeth Park, its huge historic dome is a treat to explore with beautiful exotic plants, trees, and birds.
Looking out over the city and its surroundings, the colossal conservatory was founded in 1969 and now contains three separate climatic zones and habitats. While wandering about its humid tropical rainforest and dry desert areas, you can spy more than five hundred species of flowers, plants and trees. Countless colorful birds flit about freely overhead.
15. Vancouver Lookout
If you're after city panorama, then you can't beat a trip to the top of the lofty Vancouver Lookout. Towering 550 feet above street level, its futuristic viewing deck offers unrivaled 360-degree vistas of the city, surrounding mountains and the sea.
Located atop the soaring Harbour Centre skyscraper, the lookout lies in the centre of Downtown Vancouver, just a stone's throw from the waterfront. Guests can also learn about the attractions and historic sites down below or stop off for a delicious meal at its revolving restaurant.
14. Spanish Banks Beach
Set just fifteen minutes' drive to the west of town are the scenic and serene sands of Spanish Banks Beach. Lying alongside the shores of English Bay, it has an outstanding array of outdoor activities, as well as epic views over both the nearby coastline and Vancouver in the distance.
Aside from lounging on the beach and swimming in the sea, visitors can play volleyball or soccer, and there are cycle paths, picnic areas and park benches dotted about. In addition, the beautiful beach has some great kitesurfing and skimboarding with lifeguards posted during the summer months.
13. VanDusen Botanical Garden
The vast and verdant VanDusen Botanical Garden is just ten minutes' drive to the south of the center. It has lots of pretty paths and ponds and stunning scenery wherever you look.
First opened to the public in 1975, the gorgeous garden now has countless different sections, including a maze, meditation garden, Rhododendron Walk, Korean Pavilion and sino-Himalayan area. A particularly magical time to visit is around Christmas when thousands of twinkling fairy lights coat its plants, trees and shrubs.
12. Queen Elizabeth Park
Right next to the garden you can find the enormous Queen Elizabeth Park which attracts both locals and tourists alike. Centered around Little Mountain, the highest point in the city, it boasts breathtaking views over Vancouver and has loads of lovely green spaces and fun outdoor activities for visitors to enjoy.
Besides walking, jogging, and cycling around its scenic confines, you can play pitch-and-putt golf or tennis, with countless playing fields and sports facilities. In addition, it contains a number of idyllic gardens, as well as Bloedel Conservatory and Nat Bailey Stadium, which is where the Vancouver Canadians play their baseball games.
11. Vancouver Aquarium
One of the city's main tourist attractions, Vancouver Aquarium is home to an array of aquatic animals, exhibits, and ecosystems. Located within the sprawling confines of Stanley Park, the marvelous marine center is a delight to explore due to all its incredible sea creatures both large and small.
First opened in 1956, the aquarium now impressively houses over 70,000 animals with seals, sea otters, and penguins on show alongside vast shoals of shimmering fish. While it mainly focuses on animals and ecosystems from Canada, and its surrounding cold waters, some sections delve into the tropics or Amazon rainforest, with snakes, sloths and caimans also on display.
10. Kitsilano Beach
Although it lies just ten minutes' drive to the west of the center, Kitsilano Beach feels a world away from the hustle and bustle of Downtown Vancouver. Facing out onto English Bay, it boasts stunning sands and scenery, as well as the city's only saltwater swimming pool.
Particularly popular during the summer months, the beach has playgrounds, picnic areas, and volleyball courts, with basketball and tennis also on offer. Aside from all its outdoor activities, Kitsilano Beach is also known for its awe-inspiring views over the bay, city and mountains in the distance.
9. Dr. Sun Yat-Sen Garden
jmv / Flickr
Vancouver's Chinatown is home to the first Ming Dynasty-styled garden built outside of China, with 52 craftsmen coming from Suzhou, China, to ensure the authenticity of the Dr. Sun Yat-Sen Classical Chinese Garden. Named in honor of the first president of the Republic of China, the garden takes visitors back to 15th century China, though it was built only in the mid 1980s.
The garden's rocks that were imported from Suzhou, plants, water and architecture blend into an oasis of serenity in this bustling city. The garden's courtyards provide a good place for visitors to relax and let their senses take over.
8. Robson Street
Shinsuke Ikegame / Flickr
Just as New York has its Madison Avenue and London has its Knightsbridge, Vancouver has Robson Street, the best shopping district in British Colombia. Named after a provincial premier, Robson Street has been attracting shoppers like honey draws flies since the late 1800s.
Robson Street has more than just fashionable shops and upscale boutiques. It also offers art galleries, and casual and fine dining in various ethnic cuisines. Street performers come out in force at night to entertain shoppers or people-watchers who sip coffee at a sidewalk café.
7. Museum of Anthropology at UBC
The Museum of Anthropology at the University of British Columbia is a must-see for anyone who wants to learn more about native peoples of the world, including British Columbia's Northcoast Indians who are known as First Nations. Founded in 1949, the museum houses 38,000 ethnological items and more than 500,000 archaeological objects.
Wonderful examples of huge totem poles, used by Northcoast natives to tell stories, can be found here as well as implements used by all indigenous peoples in their daily lives. Besides being a public museum, the Museum of Anthropology is Canada's largest teaching museum, though it is difficult to imagine anyone studying in this spectacular setting that overlooks the sea and mountains.
6. Canada Place
Canada Place is a striking landmark on Vancouver's skyline, with fabric-covered roof peaks that resemble sails. The facility itself is colorful with the colors representing the diversity found in Canada. Canada Place was built in 1927 to serve Canadian Pacific Railway and other traders shipping goods by sea across the Pacific Ocean.
Today, the multipurpose facility sends passengers on cruises to Alaska. It also is home to the Vancouver World Trade and Convention Center and a major hotel. Remodeled over the years, the waterfront Canada Place served as the Canadian Pavilion during the 1986 World's Fair.
5. Grouse Mountain
The first people to climb Grouse Mountain, just 15 minutes outside of Vancouver, hunted grouse on their way to the top, thus giving the mountain its name back in 1894. Grouse Mountain today is one of the most popular year-round adventure attractions in Vancouver, with hiking in the summer and great skiing in the winter.
Any season of the year, a tramway whisks visitors to the top of the mountain where they'll see awe-inspiring views as well as nature movies. The resort also boasts a wildlife refuge, complete with bears, wolves and interpretive programs. Equally enjoyable is a lumberjack show where visitors can watch lumberjacks competitively chop, saw and roll logs.
4. Stanley Park
Stanley Park is a treasure set on almost 1,000 acres in central Vancouver. The city's first and biggest park is a place to relax with a bike ride on 8.8 kilometers (5.5 miles) of the seawall along English Bay. Meanwhile, 27 kilometers (16.7 miles) of trails through a rainforest beckon visitors who prefer a more leisurely pace as they stop to enjoy wildlife, such as the hundreds of species of birds that call the park home.
The City of Vancouver, which owns the park, offers horse-drawn carriage rides through this serene and scenic setting. Nine totem poles carved by First Nations tribal members add a colorful touch to the park, which has been serving the city since 1888.
3. Granville Island
One of the most successful urban renewal projects in North America, Granville Island (actually a peninsula) started off as industrial land. Overtime, its warehouses and shops were abandoned and left to decay when the industry moved on. Today Granville Island serves many uses.
A public market selling fresh produce and fish is open daily. There are waterfront restaurants, art galleries and a lively entertainment scene that offers everything from comedy to contemporary theater, with plenty of buskers to entertain shoppers throughout the market and around the boutiques.
2. Gastown
Gastown is Vancouver's Old Town. The city's original city center was named for a Yorkshire seaman, "Gassy" Jack Deighton, but became Vancouver in 1886. It was destroyed by fire that same year, and was quickly rebuilt, but deteriorated in later years.
Gastown was reborn in the 1960s. Today, Gastown is Vancouver's center for art, food, fashion and entertainment. As a national historic area, Gastown's old buildings are filled with trendy shops and boutiques, innovative restaurants, traditional Native and cutting edge art, and a lively entertainment scene.
1. Capilano Suspension Bridge
A walk through the forest takes on an entirely new meaning when it comes to the forest at Capilano Suspension Bridge Park. Visitors walk among the upper reaches of an old-growth rain forest on a suspension bridge that is 140 meters (460 feet) long and peaks at 70 meters (230 feet high) as it crosses the Capilano River.
The park also offers Cliffwalk, a walkway that clings to the side of a granite cliff, and Treetops Adventure where seven suspension bridges are as high as 30 meters (100 feet) above the forest floor, with platforms where visitors get a squirrel's eye view of the forest. Less adventuresome visitors will enjoy strolling a ground trail and seeing Totem Park and Northwest natives making traditional crafts.
Map of Tourist Attractions in Vancouver
© OpenStreetMap © MapTiler © Touropia