The largest city in Western Canada, Vancouver is set in an absolutely spectacular spot with dramatic mountains and coastline lying all around it. Thanks to its abundance of natural riches and awesome outdoor activities, the normally pricey metropolis has lots of fun, free attractions for you to see and do.
Overlooked by the majestic North Shore Mountains, its gleaming skyline and bustling port occupy the Burrard Peninsula in British Columbia. The city's desirable location just inland from the Pacific Ocean, and the thriving economy saw immigrants from all around the world arrive here in the twentieth century.
See also: Where to Stay in Vancouver
Thanks to the multicultural make-up of its population, the stylish 'Hollywood North' has numerous sides with Gastown and Granville Island being just two of its most popular neighborhoods. Asides from taking in all its interesting historic sights, there are loads of other free things to in Vancouver with mountains and parks just minutes away from downtown.
In this post, we'll cover:
14. Lighthouse Park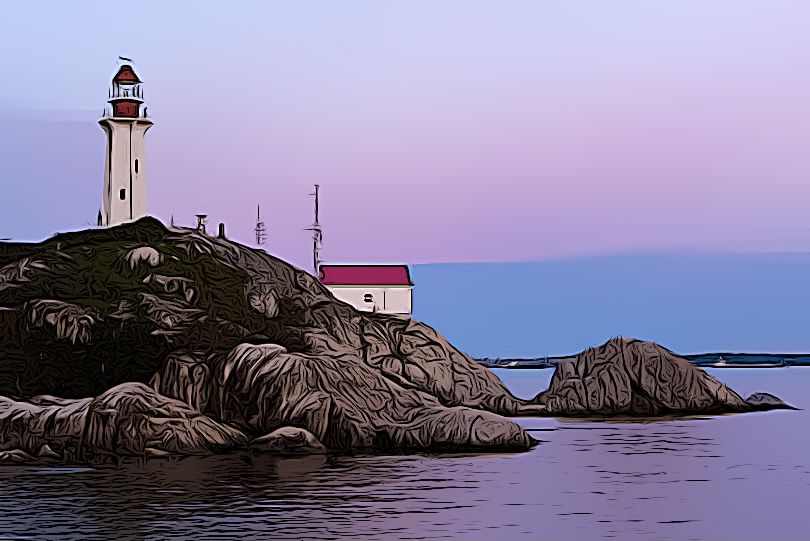 Just half an hour's drive up the coast from downtown is one of Vancouver's prettiest outdoor spaces: the lovely Lighthouse Park. While it is most known for the lonely light at the tip of its peninsula, its rocky reaches and rainforest also have plenty of scenic trails and viewpoints for visitors to enjoy.
Now listed as a National Historic Site, it is named after the Point Atkinson Lighthouse which looks out over the Burrard Inlet from atop its rocky outcrop. Built in 1912, it makes for some phenomenal photos with the rugged coastline, rough waves, and sweeping sights all around it.
Other than drinking in yet more divine panoramas at Eagle Point and West Beach, you can explore vast tracts of virgin rainforest or enjoy a peaceful picnic while gazing out over the Howe Sound.
13. Christ Church Cathedral
One of the oldest and most impressive buildings in Vancouver, the Christ Church Cathedral lies right in the center of town, just a stone's throw from many of its other main sights. Free to visit on weekdays, it exhibits some exquisite Gothic Revival-style architecture with its interior being just as appealing.
Located just across the street from the humongous Fairmont Hotel, it was erected back in 1894 with a superb stained-glass bell spire now lying in front. While rough, weathered-looking stones make up its walls, the church's interior is very cozy as warm tones are used throughout and a twinkling organ overlooks the nave.
Its vaulted ceilings and elegant arches were all intricately carved out of dark Douglas firs by master craftsmen who also worked as shipbuilders. Aside from taking in all the cathedral's fine features and examining its stunning stained-glass windows, you can sometimes listen to both choir and chamber-music recitals here.
12. Spanish Banks Beach
In just a fifteen-minute drive from downtown, you can already find yourself soaking up some sun on the spectacular Spanish Banks Beach. Part of the West Point Grey neighborhood, it has all kinds of fun outdoor activities and watersports for beachgoers to try out.
Stretching almost endlessly into the distance, its soft sands and expansive tidal flats are divided into three distinct sections with the rocky and narrow extension being a dog's off-leash area. East, you can enjoy some great swimming while West is best for skimboarding and kitesurfing. They are both lined by volleyball courts and concession stands with lifeguards patrolling all three parts in summer.
From Spanish Banks, you can bask in breathtaking views of the city's skyline and the soaring North Shore Mountains on the opposite side of English Bay.
11. Mt Seymour Provincial Park
Certain to delight nature lovers and outdoor enthusiasts alike, Mt Seymour Provincial Park lies just half an hour's drive northeast of the center. Amidst its untouched wilderness, you can hike, bike, and horseback ride til your heart's content with black bears and bobcats sometimes spied here and there.
Named after the local colonial administrator Frederick Seymour, the park was founded in 1936 with several snow-coated peaks of the North Shore Mountains lying within its confines. Its large network of trails takes you by shimmering lakes, through amazing old-growth forests, and up the steep side of some seriously rugged mountains.
From their summits, you can enjoy commanding views over the area with the mighty Mount Bishop being the highest of the lot at 4,951 feet. In winter, you can ski, snowboard and tube at the park's ski resort though this of course involves a fee to use the trails and chairlifts.
10. Queen Elizabeth Park
Boasting lots of gorgeous gardens and viewpoints is the ever-popular Queen Elizabeth Park just off South Main. Perched atop Little Mountain, the city's highest point has a wealth of immaculate green spaces and state-of-the-art sports facilities for visitors to make use of.
Once the site of a basalt quarry, the prominent hill was transformed into a pretty park and opened to the public in 1939. Named after Queen Elizabeth, it encompasses some fantastic flower gardens and public art installations while its arboretum is said to contain every species of tree native to Canada.
As you amble about its winding paths, you'll sometimes come across striking vistas of downtown's skyline and the snowy mountains sparkling in the distance. For a fee, you can also enter its geodesic conservatory which contains steamy tropical plants, merry fountains, and hundreds of exotic birds.
9. Kitsilano Beach
Even closer to the center than Spanish Banks is the brilliant Kitsilano Beach and all its innumerable amenities. One of the city's favorite spots to hang out in summer, its soft sands and calm waters lie just across False Creek and the Burrard Street Bridge from downtown.
Bordered by a leafy park, playgrounds, and basketball and tennis courts, 'Kits' is home to the longest swimming pool in the country. Open each year in summer, the enormous outdoor pool stretches 450 feet in length with both locals and tourists alike paying to access its soothing saltwater and slides.
Besides lounging on the pristine beach and splashing about in the bay, you can also try out some of the trendy bars and restaurants found in the neighborhood.
8. Vancouver Public Library
Back across the bridge from the beach is yet another of the city's incredible architectural treasures: the Vancouver Public Library. Designed to look like the Colosseum in Rome, it houses a ginormous collection of books and newspapers, CDs, DVDs, and video games.
While the origins of its public library system date to 1868, Central Branch's unique and imaginative building was only unveiled in 1995. The work of renowned architect Moshe Safdie, its nine stories are encircled by sturdy stone colonnades and sparkling glass windows while a wonderful garden lies up on the roof.
Asides from snapping some pictures of the must-see landmark, you can also head up to its two top floors for fine views over the rest of the city around you. Free to enter, the cavernous library also has quiet areas where you can sit and pick out a book or browse the internet in its coffee shops.
7. Dr. Sun Yat-Sen Park
A very peaceful and picturesque place to spend some time, the delightful Dr. Sun Yat-Sen Park can be found right in the heart of Chinatown. Not to be confused with the traditional Chinese garden of the same name next door, it is completely free to wander around any day of the week.
Very lovingly landscaped, its lush plants, winding paths, and pretty pagoda are centered around a little lagoon full of koi fish and turtles. Named after the nationalist leader who is considered the 'father of modern China', it was opened along with its fee-charging neighbor in 1986.
Both the park and garden symbolize friendship between the countries and promote Chinese culture with an excellent museum of the nation's history and art also lying alongside them.
6. Canada Place
Jutting out into the reflective waters of the harbor is Canada Place: one of Vancouver's most iconic attractions. Instantly recognizable from its distinctive design, the large waterfront complex contains a convention center, hotel, and ferry terminal.
Originally home to the Canadian Pacific Railway's pier, it was redeveloped and reopened in time for Expo 86; a World's Fair that coincided with the city's centennial. Designed to resemble a sleek and stylish cruise ship, its roof is topped by five fiberglass sails that are lit up magnificently at night.
Other than hopping on a ferry or attending an event, visitors can dine at its huge food hall or catch a film in its IMAX theater. If these things are too pricey, you can also stroll along its scenic promenade and watch the ships slowly glide in and out of the harbor.
5. Grouse Mountain
If you want to see even more of Vancouver's stunning surroundings, then you can't beat clambering up to the top of Grouse Mountain. One of the most popular hiking trails in the area, the 'Grouse Grind' offers epic views over Vancouver and its vast waters from up high amid the North Shore Mountains.
Commonly referred to as 'Mother Nature's Stairmaster', the grueling climb sees you gain 2,800 feet in elevation over just 1.8 miles of very mountainous terrain. If panting your way up its 2,830 steep steps to the summit wasn't arduous enough, particularly hardy hikers also often time themselves and try and beat their previous best.
From the peak's plateau, you can bask in phenomenal panoramas before either hiking back down or paying for the comfort and commanding views of its gondola.
4. Granville Island
One of the hippest and most happening districts in town, Granville Island lies in between both Kitsilano and the city center. Once an industrial manufacturing area, its old warehouses are now instead home to countless art galleries, shops, and cafes with its lively public market always being a popular stop.
Part of the Fairview neighborhood, the small peninsula was created by the partial filling-in of False Creek back in the 1950s. After the decline of its industries, the opening of the gigantic Granville Island Public Market in 1979 helped rejuvenate the area with fifty or so food vendors and farmers packing out its old buildings.
Aside from picking up some snacks and drinks, visitors can saunter along the seafront or stop by the eclectic artists' studios and design boutiques that dot the aisle. A couple of theater companies are also based here with exciting music acts and magicians regularly performing in its small outdoor plazas.
3. Gastown
The heart and soul of life in the city, Gastown is where Vancouver's first neighborhood sprung up along the waterfront, all the way back in the 1860s. While the vibrant area is certainly quite touristy, its quaint cobblestone streets are lined by plenty of old brick and stone buildings home to chic shops and top-class restaurants.
Now a National Historic Site, it was named after 'Gassy Jack' John Deighton – a Yorkshire seaman and saloon keeper who was renowned for his gift of the gab and constant stream of chatter. Around his bar, the seaport, and the sawmill, the city steadily grew with much of the historic old area thankfully very well-preserved today.
Besides ambling about its softly-lit streets and enjoying the European look, feel and ambiance, you can shop for souvenirs and check out its trendy bars. Not to be missed is the Gastown steam clock; a famous landmark that emits clouds of steam and whistles to tell the time.
2. Lynn Canyon Suspension Bridge
Lying high above the picturesque creek and park of the same name is the Lynn Canyon Suspension Bridge. Completely free to visit and slowly sway your way across, it lies only twenty minutes drive from downtown, hidden away amidst the sweeping North Shore Mountains.
Stretching more than 150 feet in total, its wooden slats, ropes, and cables whisk you 160 feet above the rugged ground of the canyon far, far below. From the swaying suspension bridge, you can enjoy dramatic views of the valley's forest-coated slopes and the shining stream running through the park.
Afterward, you can always hike around the surrounding mountains and their old-growth rainforest with black bears and dear sometimes spied within the canyon and bridge's vicinity.
1. Stanley Park
Home to lots of beautiful beaches, woods, and gardens is the scenic Stanley Park that coats the entire northwestern half of the city's downtown peninsula. Its innumerable attractions and idyllic outdoor spaces make it a firm favorite with locals and tourists alike.
The third-largest park in all of North America, it is surrounded by the twinkling waters of the Burrard Inlet, English Bay, and Vancouver Harbor. As you walk, run or cycle along its century-old seawall, you can enjoy magnificent views over their shimmering surfaces and the mountains in the distance.
While exploring the park and seeing its many monuments and totem poles is free, paid attractions such as its outdoor swimming pools and the Vancouver Aquarium are also dotted around. With well-maintained rose gardens and a water park to enjoy and fun concerts, cultural events, and community festivals all taking place here in summer, Stanley Park really is not to be missed when in town.
Map of Free Things to do in Vancouver