Bangkok, also known as the 'City of Angels', is easily one of the craziest cities you could ever set foot into. A land filled with many diversities, Bangkok has something for everyone. While hundreds of digital nomads make it their home every year, thousands flock to the city to experience Thailand's culture, lifestyle, and of course, the party scene.
Krung Thep (the city's official name), the capital and the most populous city in the Kingdom of Thailand is truly a budget traveler's paradise, however, it also has plenty of luxurious places and experiences for more lavish travelers. The city is packed with activities and attractions and 3 days in Bangkok is just about perfect to experience the most prominent sights.
One of the most amazing things about Bangkok is its public transportation. Though they also have a single City Pass (for sightseeing and transportation), the BTS, the public buses, and of course, the tuk tuks are a better (and probably cheaper) way to explore the city.
Another important tip while shopping (in street markets) and taking tuk tuks is to haggle as best as you can and not settle for the often "foreigner" price first offered. But, remember to always smile, never raise your voice or come across as rude – if there's one thing Thai nationals dislike, it is to lose face. Be polite and move on if something doesn't meet your needs.
Day 1: A Temple Tour of the City
Start your first day with a nice breakfast at your hotel or a street stall (try Joke or Khao Tom) and then prepare to immerse yourself in the magnificent Wats (Thai temples) scattered all around the city.
Morning: Grand Palace, Temple of the Emerald Buddha, & Temple of Reclining Buddha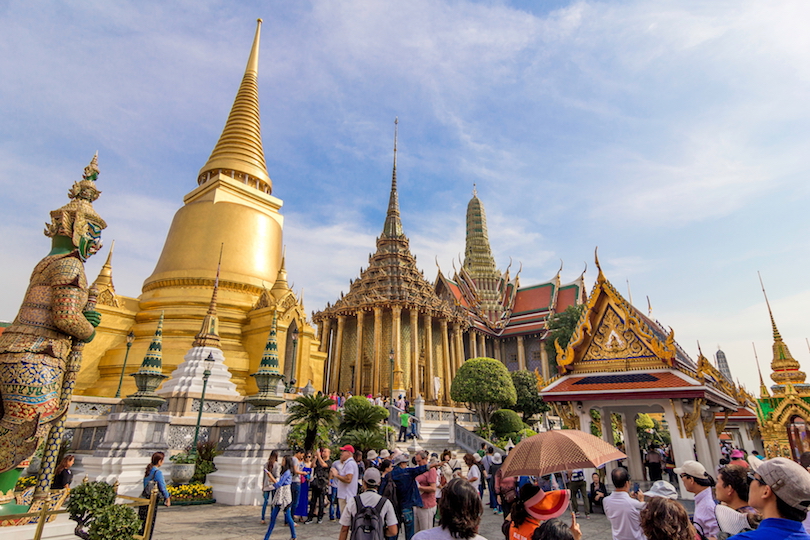 © Kelvintt / Dreamstime
Take the Chao Phraya river ferry until No. 9 The Chang and walk 10 minutes to get to the Grand Palace. It can get really busy so try to be here as early as 8:30am when the temple opens for visitors. Located adjacent to the Grand Palace is the Temple of the Emerald Buddha, officially known as Wat Phra Kaew. There are about 100 structures here and the traditional Bangkok-style architecture is an absolute must-see. Remember to dress conservatively.
After spending a couple of hours appreciating the remarkable temple compounds, it's time for yet another Bangkok gem – Wat Pho or the Temple of Reclining Buddha. To get here you could walk for 10 minutes from the Grand Palace or take the ferry again to No.8 Pier. If you already feel hungry (it's a very Thai thing to eat several small meals throughout the day), grab a quick snack at one of the many nearby street stalls and then go on inside the temple to gawk at the 46-metre-long and 15-meter-high gold-plated reclining Buddha. The compound also houses over 390 gold-covered Buddha images.
Afternoon: Temple of the Dawn & Temple of the Golden Buddha
Across the river from Wat Pho is Wat Arun a.k.a. Temple of the Dawn. Walk up the steep stairs of the Khmer-style tower found in the middle of the temple's grounds and admire the panoramic view of the Thai capital.
It is finally time to try your first of many Pad Thai meals. Whether you sample at one of the restaurants around the temple or at a no-frills street food stall, Thai people always cook this dish to perfection and you cannot leave Thailand without trying it at least once.
We now recommend heading over to Chinatown from here and visit Wat Traimit, the Temple of the Golden Buddha which reportedly houses the largest of its kind in the world.
Evening: Chinatown & Thai Dance
© Thamanansakul / Dreamstime
After exploring the Temple of the Golden Buddha take your time to wander around the bright and lively lantern lit streets of Chinatown. The lanes here are filled with shopping and dining options. In fact, come evening, Yaowarat Road is known to transform into one of the best street food spots in the world!
Relax here for the rest of the night with a chilled beer or walk over to Sala Chalermkrung Theatre (open since 1933) to treat yourself to a traditional Thai masked dance performance.
Day 2: Floating Markets & Shopping Malls
You visited some of the architecturally superb attractions yesterday but today is mostly about the old and modern ways to shop in Bangkok.
Morning: Floating Market & Jim Thompson House
© Denis Costille / Dreamstime
Depending on the day of the week, you could either start your day with a visit to Khlong Lat Mayom Floating Market (Mon-Fri; 9:00AM) or Taling Chan Floating Market (Sat-Sun; 8:00AM). Keep in mind that both these markets are quite far from the main city center so we recommend starting early from your hotel to reach them as soon as they open. This is the best way to avoid the crowds for a better experience. Enjoy the views, floating stalls, live bands, and the unique Thai market atmosphere that these destinations offer.
Make your way back into the city and head over to the Jim Thompson House. Jim Thompson, an American businessman best known for almost single-handedly saving the country's silk industry, mysteriously disappeared from the Cameron Highlands in Malaysia in 1967, resulting in one of the largest land search operations in Southeast Asia. His house has become a popular attraction for tourists.
Afternoon: Shopping Malls and Lumpini Park
© Gabriel Murad / Dreamstime
Since you're already in the neighborhood, take a visit to the ENORMOUS shopping malls of Bangkok – the Siam Centre, Siam Paragon, and Siam Discovery. Paragon is the most upscale of all and houses almost all major fashion and luxury brands as well as SEA LIFE, a massive marine wonderland. Even if you're not interested in buying anything, it's still worth going inside these huge malls to see thousands of young and trendy Thais enjoying an experience bought over from the West. Bangkok shopping malls also offer fantastic inexpensive food courts for the best variety of Thai food.
Your feet probably need some rest after all that walking through floors and floors of major shopping brands, so walk for just another 15 minutes to get to Lumpini Park. Lumpini Park is the best place to take a break from the city chaos, rest your feet and maybe spot a monitor lizard! Lumpini Park is often called Bangkok's Central Park.
Evening: A Night At the Movies
It might not be at the top of your list of things to do in Bangkok, however, catching a movie in a theatre that was built in the 1960's is truly great experience. The Scala is as well-preserved as any structure from that period can be. With mind-blowing, vintage architecture and 100-baht movie tickets, it's a great way to spend the evening.
The surrounding area is full of delightful Thai restaurants for a romantic pre-movie dinner and cocktails.
Alternatively, you could head over to Silom Road, a busy commercial block in the day which turns into one of the most happening jaunts at night.
Day 3: The World's Largest Weekend Market
Of course, the best has to be saved for the last day so you go home with a heart overwhelmed with memories to cherish until your next visit.
Morning: Chatuchak Weekend Market
© Themorningglory / Dreamstime
If you are in Bangkok for the weekend (and hopefully you are), you must pay a visit to the insanely huge Chatuchak Weekend Market. Also known as JJ Market, this street bazaar is the largest of its kind not just in Thailand but the whole world. With over 200,000 to 300,000 daily visitors, a visit to the market can easily take an entire morning, if not a whole day!
Tip – If you like the look of something and are tempted to make a purchase, it is probably a good idea to bargain and buy it there and then because your chances of finding that very same stall again are pretty slim. There are over 15,000 of them!
While you are here, a great idea is to try all the street food you can – try the noodle soups, Papaya
salads, green/red/yellow curries, steamed buns and of course, Mango and sticky coconut rice.
During a weekday you could also take a quick day trip out of the city to Ayutthaya, a ruined old city and one of the top destinations in Thailand. Get onto an early train or bus and make your way to Ayutthaya while it's still cool and pleasant. The journey shouldn't take longer than 1.5 hours. Once you've arrived in Ayutthaya, you could either explore the main sites yourself via walking/bicycle (bike rentals are available) or if you're short on time and want to explore the less-visited corners of the city, hire a tuk tuk and driver for the day to take you from one site to another. The cost for a tuk tuk shouldn't be more 200-250 baht an hour.
Afternoon: Chatuchak Park & Bangkok Butterfly Garden
© Gabriel Murad / Dreamstime
After all the market mayhem, it is time to spend the afternoon amidst nature and tranquility at Chatuchak Park. One of the oldest in the city, the park is a great place to relax and take a gentle stroll.
A few minutes walking within the park grounds will bring you to the beautiful Bangkok Butterfly Garden. Be surrounded by flowers, waterfalls, and of course, butterflies – lots and lots of them.
Depending on the time you get back to your hotel you could wind down further with a traditional Thai or oil massage. These are available at many hotels and massage shops across the city and can cost as little as 200 baht for one hour.
Evening: Khao San Road or Rooftop Bar
You didn't think you could leave Bangkok without a visit to the famous Khao San Road, did you? Love it or hate it, Khao San Road at night is a Bangkok experience not for the faint hearted.
Every Bangkok guidebook and blog almost never fails to mention this street and all that it's famous for – Thai street food (including fried insects), market shopping, cheap drinks by the bucketload, a great crowd, and a buzzing atmosphere. If this sounds fun to you then party the night away with hundreds of fellow travelers from all around the world. Adhere the 13th and the Day of the Dead are two of the most prominent bars in the area while The Club and Brick Bar are two very popular venues for a party.
© Bidouze Stéphane / Dreamstime
For something more relaxing, Bangkok offers some stunning rooftop bars atop of the many sky high hotels. Vanilla Sky and Sky On 20 come highly recommended.