With a population of over 9 million inhabitants, Bangkok is one of the biggest cities in the world. Its heavy traffic congestion, intense heat and naughty nightlife do not immediately give visitors a warm welcome. But first impressions can be misleading. It is one of Asia's most cosmopolitan cities with magnificent temples and palaces, a vibrant nightlife and great shopping, that has something for every traveler.
Ancient traditions blend harmoniously with modern marvels, creating an unforgettable tapestry of sights, sounds, and flavors. This bustling metropolis, often called the 'City of Angels', is Thailand's captivating capital and a gateway to Southeast Asia's rich cultural heritage.
Adorned with lavish temples, Bangkok is a city where ancient wonders like Grand Palace and Wat Arun reside adjacent to towering skyscrapers and bustling markets. It is also a city where the tantalizing aroma of street food wafts through the air as you explore lively alleys such as Chinatown and the floating markets.
See also: Where to Stay in Bangkok
Beyond these tourist attractions, there are many different experiences and things to do in Bangkok, from tranquil river cruises along the Chao Phraya River to luxurious spa retreats and lively nightlife. Why not embrace the warm hospitality of the locals and immerse yourself in the captivating mix of tradition and modernity that make Bangkok a special place to visit?
Due to the city's congested traffic, the best transport options around Bangkok are the Skytrain, the metro and tuk-tuks. A memorable way to experience Bangkok is by a boat ride on the canals.
In this post, we'll cover:
28. Yaowarat Road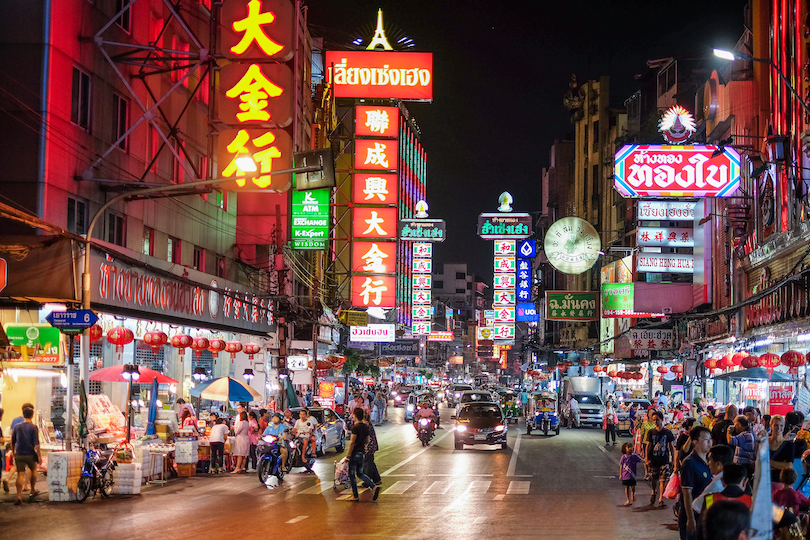 Located in Bangkok's vibrant Chinatown, Yaowarat Road should be one of the first places you should visit.
The historic district encompasses a bustling stretch of colorful streets and is a treasure trove of cultural experiences and delectable culinary delights.
As you wander through Yaowarat Road, you'll be able to marvel at the intricate Chinese architecture adorned with ornate dragon sculptures. You can also shop for traditional herbs, spices, and unique souvenirs at the bustling market stalls.
Congruently, indulge your taste buds with an array of mouthwatering street food, from steaming bowls of noodle soup to succulent barbecued meats and tantalizing desserts.
Try also to visit it at night when the neon lights illuminate the streets, creating a captivating atmosphere that captures the vibrant spirit of the community.
27. Erawan Shrine
Nestled amidst the frenetic streets of Bangkok, the Erawan Shrine is a revered cultural landmark.
It is a beautiful shrine dedicated to the Hindu deity Brahma that draws visitors worldwide seeking blessings, solace, and a glimpse into Thailand's spiritual fabric.
Adorned with intricate carvings and colorful decorations, the Erawan Shrine exudes an air of tranquility and reverence. Whilst there, you can witness the captivating sight of devotees offering prayers, lighting incense, and making traditional flower garland offerings. At the same time, delight in the enchanting melodies of Thai classical music and graceful traditional dances performed throughout the day.
The shrine is easy to access, located centrally in the city. However, it is always busy, so it's worth getting to it early in the morning to avoid the crowds.
26. Bangkok Art and Culture Center (BACC)
If you love art, visiting the Bangkok Art and Culture Center is one of the best things to do in Bangkok. Situated in the Pathum Wan district of the city, it is a dynamic center of creativity that showcases the city's contemporary art scene.
It occupies several levels of exhibition space and accommodates various galleries, which feature diverse art forms, including paintings, sculptures, installations, and multimedia works by local and international artists.
Established in 2008, it also incorporates displays, workshops, talks, and performances relating to music, theater, film, and design. Additionally, it houses a library, cafes, and shops where you can browse unique art-related merchandise.
Overall, the center is worth visiting as it offers an enriching insight into Bangkok and Thailand's fascinating artistic landscape.
25. MBK Center
The MBK Center, also called Mahboonkrong, is a shopaholic's paradise.
Sprawling across eight floors packed with over 2,000 shops, this iconic shopping complex offers an extensive range of products. They include everything from high fashion and cutting-edge electronics to ornate jewellery and intricate handicrafts.
The center is open every day of the week from 10 am until 10 pm. It is just as well because you could easily spend a day here discovering its treasure trove of bargains, trendy fashion items, and the latest gadgets.
As well as a total shopping destination, the center is a prominent place for foodies. Within it is an expansive food court of restaurants offering a vast array of Thai and international dishes, as good as anything you can get in Bangkok.
24. Wat Saket
Perched atop the Golden Mount, Wat Saket offers a serene escape.
Also known as the Temple of the Golden Mount, ascending the 318 steps to its summit rewards visitors with breathtaking panoramic views of the city's skyline.
With its gleaming golden chedi (stupa), this sacred temple holds great significance for locals and pilgrims. During your visit, you should explore the temple grounds and immerse yourself in the peaceful atmosphere of beautiful statues, lush greenery, and intricate Buddhist artwork.
You may also want to ring the temple's giant bell, a traditional act believed to bring good fortune.
Should you be visiting Bangkok in November, be sure to check out the annual temple fair. It is a high-spirited celebration featuring markets, food stalls, and cultural performances you are sure to enjoy.
23. Bangkok National Museum
The Bangkok National Museum is a terrific place to visit to learn more about Thailand's history, art, and culture.
You'll find it in a former palace, once owned by the vice king, that faces the Sanam Luang and lies between National Theater and Thammasat University.
Providing insight into the country's past, it has an extensive collection showcasing various artefacts. They include ancient sculptures, intricate royal regalia, exquisite paintings, and centuries-old ceramics.
Highlights include the stunning King Rama IV throne hall and the exquisite exhibits from the Ayutthaya period, which captivate with their intricate details.
The best way to experience the museum is to go on a guided tour, as your knowledgeable guide will relate some fascinating backstories about individual exhibits.
22. Asiatique The Riverfront
Asiatique The Riverfront is a contemporary waterfront destination in Bang Kho Laem that seamlessly blends shopping, dining, and entertainment.
Located on the banks of the Chao Phraya River, this open-air complex is a terrific place to spend a day. You can stroll along its promenade and browse in the boutique fashion, handicrafts, and souvenir shops. At the same time, you can enjoy cultural performances, live music, and theatrical shows on the outdoor stage.
There are also plenty of food stalls, eateries, and restaurants you can visit offering an excellent range of Thai and international dishes. When night falls, you should ride the iconic Ferris wheel, which offers panoramic views of the city's illuminated skyline. Just be sure to take your camera with you!
21. Chao Phraya River Cruise
Embarking on a Chao Phraya River Cruise is a captivating way to explore the city's enchanting waterways and iconic landmarks.
By stepping aboard a luxurious boat, you can sail along the majestic river, immersing yourself in the scenic beauty of Bangkok's skyline.
Along the way, you will glide past historic temples, such as Wat Arun and Wat Phra Kaew, with their golden spires shimmering in the sunlight. You'll also be able to marvel at the grandeur of the Royal Grand Palace and observe the bustling river life unfold before you.
To elevate the experience, you can choose to indulge in a delectable dinner buffet or enjoy a romantic sunset cocktail. But regardless of whether you choose a daytime excursion or an enchanting evening cruise, it promises to be an unforgettable experience.
20. Museum of Contemporary Art (MOCA)
Another must-visit cultural attraction for art lovers is MOCA – The Museum of Contemporary Art.
Housed within a striking white building which in itself is a work of art, the gallery takes you on a captivating journey through the evolution of Thai art.
Its impressive collection of modern and contemporary displays spans several levels and galleries. They are filled with thought-provoking paintings, sculptures, installations, and multimedia exhibits by renowned Thai artists.
From traditional Thai motifs to cutting-edge experimental pieces, the collection represents the diverse artistic expressions of the country. You'll need the best part of the day to visit the museum, especially if you want to attend artist talks.
It also runs workshops, enabling you to delve deeper into the artistry and concepts behind the exhibits.
19. Damnoen Saduak Floating Market
One of the best ways to immerse yourself in the traditional Thai way of life is to visit the Damnoen Saduak Floating Market.
This iconic market is about 100 km from the city, encapsulating the charm and spirit of Thailand's cultural heritage. It comprises a vibrant maze of wooden boats that float along narrow canals, brimming with colorful fruits, vegetables, and handicrafts.
While the market is officially open until 4 pm, the best time to visit is around 7 am.
To do so, you must take a memorable long-tail boat ride through the bustling waterways, observing the hustle and bustle of the market from a unique perspective.
If you do, you can sample delicious local snacks, like fresh coconut pancakes and tropical fruits, while bartering with effervescent vendors.
18. Visit a Rooftop Bar
Bangkok is renowned for its exceptional nightlife, and an exciting way to explore it is through some of the city's rooftop bars.
Ascend to the uppermost levels of towering skyscrapers and indulge in breathtaking panoramic views while sipping on expertly crafted cocktails. Each venue offers a unique ambiance and atmosphere, from the iconic Sky Bar at Lebua State Tower to the trendy Octave Rooftop Lounge and Bar. At them, you can watch the sunset or the city's glittering lights as you unwind in stylish surroundings and enjoy live music or DJ sets.
Many rooftop bars also offer exceptional food experiences, including Thai and fusion cuisine. So, whether you're seeking a romantic evening or a lively night out, Bangkok's rooftop bars will not disappoint.
17. Day Trip to Ayutthaya
Between 1350 and 1767, Ayutthaya was the capital of the ancient kingdom of Siam. So it is worth taking a day trip from Bangkok to see its rich history and architectural wonders.
About 80 km from the city, Ayutthaya is a sprawling ruin of Buddhist temples, palaces, statues, and monasteries, showcasing the once-thriving kingdom's grandeur. Its main highlight is the iconic Buddha head entwined in tree roots at Wat Mahathat. Additionally, the intricate carvings of Wat Yai Chai Mongkol are also noteworthy.
Because the site is so big, renting a bicycle is a good idea as this will make it easier to traverse it. The archaeological site is also on an island which lies between 3 rivers. Therefore, a boat ride along them is another good way to explore.
16. Queen Saovabha Institute Snake Farm
If you do not like reptiles, give the Queen Saovabha Institute Snake Farm a miss. However, if you are okay with Serpentes, this is one of the most intriguing tourist attractions in.Bangkok on offer.
Housed within the premises of the Thai Red Cross Society, this fascinating institution is dedicated to research, conservation, and public education about snakes.
Whilst there, you can explore the farm's facilities and witness captivating live snake handling demonstrations by experienced handlers.
You can also learn about various species and their behavior, including cobras, vipers, and pythons while understanding their importance in multiple ecosystems.
Additionally, you can gain insight into venom extraction and the production of life-saving antivenom. The Snake Farm also provides a valuable resource for snakebite victims, offering medical treatments and support.
15. Wat Suthat
Bangkok has its fair share of temples, and it's possible to get 'templed-out'. But one you should make a point of visiting is Wat Suthat.
One of the most revered temples in the city, it is located in the Old City and boasts a striking red façade and exquisite architectural details.
The magnificent Buddhist temple features stunning wall murals depicting scenes from Buddhist scriptures. It also has massive red and gold teakwood doors, intricately carved with mythological figures.
The centerpiece of Wat Suthat is the towering Giant Swing, a symbol of Hindu influence in Thai culture. The swing, constructed towards the back end of the 18th century, is 20 meters high and was used regularly in Brahmanic ceremonies.
14. Lumpinee Boxing Stadium
If you are a fan of Muay Thai, you'll want to visit the Lumpinee Boxing Stadium. It is the national sport of Thailand, which locals passionately follow.
This iconic venue is located in the city's Pathum Wan district and is excellent for watching combat sports. It presents world-class Muay Thai fights showcasing the participants' athleticism, speed, skill, and cultural significance.
Fighters compete over five rounds of 2-minute durations. Overall there are about around 20 separate fights on any card.
The stadium has a capacity of 9500, and as you witness these intense contests, the energy in the air is incredible. Its aura, with roaring crowds and traditional music, offers an adrenaline-pumping immersion into the heart and soul of this captivating contact sport.
13. Terminal 21
If you still want to shop after visiting MBK, you should head to Terminal 21.
What sets this destination apart from other malls is the concept and attention to detail of its design.
Not so much a shopping mall but a unique and captivating retail experience, it transports visitors to different global destinations.
Featuring a design that resembles an airport, each floor represents a different city replete with iconic landmarks and themed decor. So, you can shop in London, Tokyo, Istanbul, or several other iconic cities.
The various shops and boutiques offer a wide range of fashion, accessories, electronics, art, and kitchenware. You can also enjoy dining at a fantastic international food court, where each section reflects the culinary delights of a specific country.
12. Siam Paragon
Siam Paragon is yet another of Bangkok's premier shopping and lifestyle destinations.
One of the largest malls in Thailand, it offers a wide range of high-end fashion brands, luxury boutiques, and international designer labels. Thus making it a paradise for fashion enthusiasts.
As you explore the multi-level complex, you will discover an impressive selection of cosmetics, electronics, home furnishings, and gourmet delicacies. You will even see car showrooms showcasing an exclusive range of fancy sports cars.
In addition, Siam Paragon houses a magnificent cinema, an art gallery, and a diverse range of dining options. They range from upscale fine dining restaurants to hip and trendy cafes.
It also boasts opulent architecture and stunning displays that exude sophistication and style, providing plenty of photo opportunities.
11. Wat Prakeaw
Visiting Wat Phra Kaew – often referred to as the Temple of the Emerald Buddha -is an awe-inspiring experience.
Situated within the grounds of the Grand Palace, this sacred temple is home to the revered Emerald Buddha, a small statue carved from a single block of jade.
During your time there, you can admire the intricate details of the temple's architecture, resplendent with colorful mosaic tiles, golden spires, and ornate carvings. You can also explore the various pavilions and halls that house exquisite Buddhist artifacts and stunning murals depicting mythological scenes.
As one of Thailand's most important religious sites, Wat Phra Kaew offers a unique glimpse into the country's spiritual heritage and cultural significance. It also has a serene atmosphere that invites contemplation and reverence as you explore it.
10. Dusit Palace
Located in the Dusit district of Bangkok, Dusit Palace is a sprawling palace complex that presents the elegance and splendor of Thai royalty.
The fascinating complex features serene gardens with manicured lawns, vibrant flowers, and tranquil ponds, perfect for strolling through.
It encompasses several magnificent buildings, including the Vimanmek Mansion, the largest teakwood building in the world.
Resplendent with a hexagonal roof, the mansion offers a glimpse into the opulent lifestyle of King Rama V. Its lavishly decorated rooms are filled with royal artifacts, intricate woodwork, and beautiful handicrafts.
Elsewhere, the Ananta Samakhom Throne Hall, with its white marble façade, is another remarkable sight. You can discover the palace's rich history and cultural significance through fascinating guided tours and informative exhibits.
9. Wat Traimit
Whilst in Thailand, you will notice a lot of Buddhas. One of the largest of them resides at Wat Traimit in the Chinatown area.
Also known as the Temple of the Golden Buddha, it is famous for housing a solid gold Buddha statue weighing a staggering five and a half tons!
Even though it is nearly five meters tall, the gleaming golden Buddha statue was out of sight for many years. The figure was covered with colored glass and a stucco layer and was only discovered by chance when a plaster exterior cracked, revealing its true splendor.
Today visitors can admire its intricate craftsmanship and serene expression, symbolizing prosperity and spiritual significance. You can also explore the temple complex, adorned with elegant decorations and traditional architecture.
8. Chatuchak Weekend Market
You can't visit Bangkok and not go to the Chatuchak Weekend Market!
A sprawling shopper's paradise, the iconic market features over 8,000 stalls offering an endless assortment of goods.
You'll find it all here, from clothing and accessories to handicrafts, home decor, plants, and antiques, and bartering is expected. Prices are relatively inexpensive, so try to exercise some self-control!
Navigating the market's labyrinthine lanes, you'll immerse yourself in a sensory feast of colors, scents, and sounds. You can also indulge in delectable street food from the various regions of Thailand as you explore.
The market's lively atmosphere, bustling crowds, and bargaining opportunities create a unique and energetic ambiance. Even if you don't want to buy anything, it is worth coming here to experience the vibe.
7. Khao San Road
Khao San Road is a legendary street renowned for its vibrant and bustling atmosphere.
A haven for backpackers and travelers, it offers a unique blend of culture, entertainment, and excitement.
Whilst there, stroll along the bustling street lined with shops, market stalls, and street food vendors offering a wide range of local delicacies and souvenirs.
You should also take the opportunity to explore its vibrant nightlife. Its array of bars, clubs, and live music venues creates an electric atmosphere where you can party well into the early hours.
Khao San Road is also a hub for budget accommodations, making it a popular choice for those seeking affordable lodgings.
The real attraction of Khao San Road, though, is its energetic spirit. So make sure you embrace it as you traverse its buzzing street scene.
6. Jim Thompson's House
Jim Thompson's House in Bangkok is a captivating museum. It pays homage to the life and legacy of Jim Thompson, a visionary American entrepreneur who revitalized the Thai silk industry.
This charming complex showcases traditional Thai architecture and houses an impressive collection of Southeast Asian art and artifacts.
The museum also offers insights into Thai culture, history, and art through guided tours. During your visit, you can explore the beautifully preserved teakwood house, surrounded by lush gardens and tranquil ponds.
You should also pay particular attention to the exquisite craftsmanship, intricate woodwork, and stunning antiques that define the interiors.
Additionally, take the opportunity to learn about Jim Thompson's contributions to the silk industry and his mysterious disappearance – a still unsolved case.
5. Lumphini Park
Bangkok is a high-octane city, so you'll want a change of place at some point during your trip there.
At this time, a trip to Lumphini Park is a good idea. This expansive green space is situated in the heart of the city and offers a welcome retreat from the urban chaos.
Whilst there, you can stroll along the tree-lined pathways, surrounded by lush greenery, and enjoy the peaceful ambiance. The park features a large lake where visitors can rent paddleboats and leisurely explore the serene waters.
It's also a popular spot for outdoor activities such as jogging, yoga, and tai chi. The park isn't short of fauna either – monitor lizards roam, adding a touch of wildlife to the surroundings.
4. Temple of the Reclining Buddha
Referenced in the song 'One Night In Bangkok' by Murray Head, The Temple of the Reclining Buddha is a renowned Buddhist temple in Bangkok.
Locally known as Wat Pho, it houses one of the world's most significant and impressive reclining Buddha statues, measuring an astounding 46 meters long.
The golden statue is the main attraction, featuring intricate details and a serene expression. However, the temple complex also has beautiful architecture, colorful tiles, ornate spires, and elaborate murals depicting Buddhist stories that are also captivating.
Wat Pho is also famous for being Thailand's first public university and it remains a center for traditional Thai medicine and massage. For this reason, you might want to indulge in a traditional Thai massage at the school within the temple grounds.
3. CentralWorld
If you still fancy a bit more shopping, a trip to CentralWorld is worth considering.
Another massive shopping and lifestyle destination, it features over 500 shops and boutiques, including most of the world's most renowned international brands.
It's more than just the big boys represented, though, as many local designers also run outlets in the mall.
A one-stop destination for all your shopping needs, everything from fashion and electronics to home decor and jewellery, is available here.
As you would expect, several exceptional dining options are also onsite, ranging from traditional street food to elevated international cuisine.
Additionally, CentralWorld hosts a regular program of exciting events, exhibitions, and entertainment at any given time, making it a vibrant entertainment destination too.
2. Wat Arun
Wat Arun is one of Bangkok's premier tourist attractions.
A Buddhist temple in the Bangkok Yai district, the striking landmark resides on the banks of the Chao Phraya River.
It is also known as the Temple of Dawn and accommodates a design of porcelain tiles and delicate seashells, reflecting sunlight and creating a mesmerizing visual spectacle. When the sun starts to set, the temple illuminates brilliantly against the darkening sky.
Impressively, it was designed specifically for this to happen. It is named after Aruna, the Hindu god often depicted as the rising sun's radiations.
When you visit Wat Arun, try to ascend the steep steps of the central prang. You'll enjoy panoramic views of the river and the surrounding area.
1. Grand Palace
The Grand Palace is probably the most famous of Bangkok's tourist sites and attractions.
The construction of the Grand Palace started in 1782 when the capital of Siam was moved from Thonburi to Bangkok. The palace served as the residence of the Kings of Thailand until the mysterious death of King Ananda Mahidol in 1946. His brother King Bhumibol Adulyadej who succeeded him moved permanently to the Chitralada Palace.
This sprawling complex showcases a blend of Thai, European, and other Asian architectural styles. It has served as the official residence of the Kings of Siam since the 18th century.
The Grand Palace offers a glimpse into Thailand's royal history with its intricate murals, stunning throne halls, and magnificent gardens.
There are several buildings to explore, with features like golden spires and elegant, intricate detailing.
One area you should spend some time appreciating is the Emerald Buddha. Sitting within the Wat Phra Kaew temple, it is made from a solid piece of beautiful green jade, clothed in gold and diamonds, and has a real 'WOW' factor.
Map of Things to do in Bangkok, Thailand
© OpenStreetMap © MapTiler © Touropia