The summer month of August is a colorful time when it comes to celebrations. There are the oranges and yellows of fire, the fiery redness of tomatoes and lobsters, the blues of pristine waters, and glorious sunsets under the midnight sun. Travelers in search of a colorful experience need only pick a destination for the fun to begin. An overview of the best places to visit in August:
10. Rockland, Maine Lobster Festival
[SEE MAP]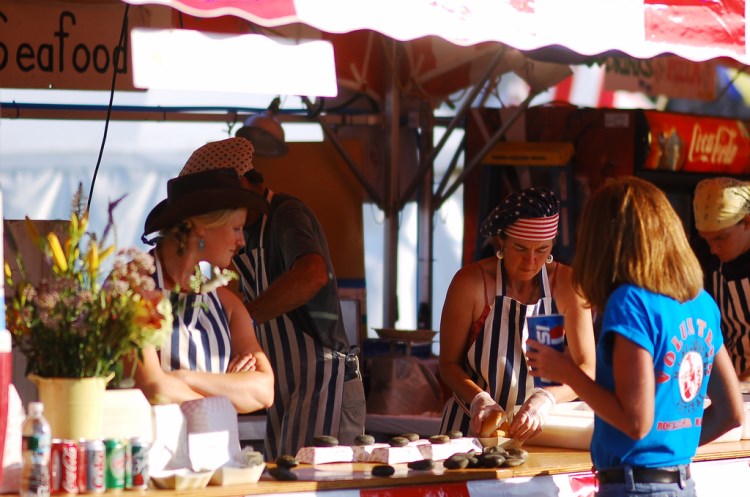 flickr/manray3
Lobsters, all fiery red when cooked, are considered rules of the seafood restaurant scene. What better place to celebrate this crustacean than the Maine Lobster Festival, held annually at Harbor Park in Rockland, a popular place to visit in Maine. From eating lobsters to racing them, this festival has something for everyone. Lobster-centric activities include people racing over lobster crates floating on water, a fun run, and a lobster cooking contest, entertainment, a parade and displays on marine life. Proceeds from the annual event are donated to local organizations that improve people's lives, which makes the festival a good place to have fun while supporting good causes.
9. Bristol International Balloon Fiesta
[SEE MAP]
flickr/christopher_brown
The skies over Bristol, England, take on a colorful appearance in August as hot air balloons participate in what is considered the largest ballooning event in Europe. More than 120 hot air balloons take off at dawn and dusk as well as do night glows when they return to earth. The four-day festival draws half a million visitors annually. Visitors can watch balloons take flight as they breakfast on bacon sandwiches in the morning. When the balloons aren't up, other aircraft fill the sky with exhibition flying. Other fun includes carnival rides, face painting, food stalls, music and fireworks.
8. Japan Bon Festival
[SEE MAP]
flickr/mcmay
While China holds its Lantern Festival at the end of the Lunar New Year festival, Japan waits until August when the weather is more conducive to enjoying the sights of thousands of lanterns lighting up the night sky. The Bon or Obon Festival is a Buddhist tradition aimed at honoring one's ancestors. The three-day celebration, which has been taking place for 500 years, revolves around Japanese returning to their ancestral homes for family reunions. Japanese dressed in traditional costumes sing and perform folk dances that vary from region to region.
7. Edinburgh Festival Fringe
[SEE MAP]
wikipedia/Festival Fringe Society
The Edinburgh Festival Fringe is considered the world's largest arts festival. Started in 1947 as an alternative to the Edinburgh International Festival, it concentrates mainly on the performing arts, particularly live theatre. The event draws actors from 47 countries who perform in everything from the ancient Greek classics to today's experimental theatrical productions. It is not juried, which means there are no limitations on the types of performances. Music, including opera, and dance productions are performed, though not as much as theatre. Nearly two million people attend the annual event which offers 40,000 performances.
6. Kandy Esala Perahera
[SEE MAP]
flickr/S Baker
Esala Perahera is considered to be one of the most elegant celebrations in Asia as well as one of the oldest in the world, since it dates back to the 3rd century BC. The festival, held in the Sri Lankan city of Kandy in July or August, is thought to have originated from two ancient celebrations, one praying to the gods for rain and the other centered around Buddha's Sacred Tooth Relic. The perahera, or procession, actually involves five parades, all of which must be done in a specific order. The parades involve elephants, whip crackers, colorfully dressed dancers and a tooth custodian wearing ancient royal garb from when Kandy was a kingdom.
5. Holbox Whale Sharks
[SEE MAP]
flickr/dfinney23
Holbox, an island northwest of Cancun in the Gulf of Mexico, is gaining international fame as a place to view whale sharks migrating. These sea beasts, so named because they are the largest fish in the world, sometimes are accompanied by dolphins and turtles as they make their annual summer swim through the warm gulf waters. Holbox is a quiet island where residents and visitors get around mostly by electric golf cart. Getting there involves a ferry ride from the Mexican mainland. Some tour companies offer adventurous visitors the chance to swim in the open sea with whale sharks. The whale sharks arrive between June and September to spend their summer breeding grounds in the warm, plankton-rich waters off Isla Holbox. July to August is peak season.
flickr/Janus Kinase
The Palio di Siena is a famous horse race that draws huge annual crowds. The 700-year old tradition involves representatives from 17 different districts racing bareback on the cobblestone plaza. For those that missed it on the 2nd of July, there is another opportunity to see the horse race on August 16h. The one in August is named Palio dell'Assunta, in honor of the Assumption of Mary. From 1900, only two districts have ever succeeded in winning both the July and the August races in a single year. After exceptional events or important anniversaries the Sienese sometimes decide to hold even a third Palio! The most recent was in 2000 to mark the millennium.
3. Bunol - La Tomatina
[SEE MAP]
flickr/grahammclellan
La Tomatina Festival in the small town of Buñol is certainly colorful and messy. It is so popular, the organizers have had to limit the number of participants in what is billed as the world's biggest food fight. More than 110 tons of overripe tomatoes are tossed onto streets, where participants throw the juicy red orbs at one another. Other activities include music, dancing, parades, fireworks and a paella cooking contest. The tomato fight is held within the old town area of Buñol, with shopkeepers covering their buildings with plastic for protection. Accommodations are limited in Buñol, so visitors may want to consider staying in nearby Valencia.
flickr/Ulrich Latzenhofer
One of the best places to visit in August is Iceland. Temperatures are in the 20s°C/70s°F, the skies are sunny and the sun only sets for a few hours each night. It's a time when most tourist activities, including golfing at midnight, take place. One popular attraction is the Blue Lagoon where travelers can have a warm mineral bath, even on their way to the airport. The moderate temperatures make sightseeing of volcanoes and geysers a pleasant activity outside of the capital, Reykjavik.
flickr/Bexx Brown-Spinelli
What began as a small way to celebrate the summer solstice on a San Francisco beach in 1986 has evolved into a multi-day celebration in the deserts of northwestern Nevada. Beginning on the last Monday in August and ending the first Monday in September (Labor Day), the event involves building a temporary town of up to 60,000 people – all participants in some way as spectators aren't allowed. Participants are required to share some form of art with the others. At the end of the event, a huge wooden man is burned, hence the name Burning Man Festival, as is most of the "town.