Spring, especially April, is always a good time to get away. Temperatures are mild and the air is fresh and new. Easter generally falls in this month, with cities around the world celebrating the death and resurrection of Christ in unique ways.
Some countries celebrate their new year at this time. Travelers who prefer to celebrate nature, rather than partying, for sure won't be disappointed with their forays into the great outdoors. An overview of the best places to visit in April:
10. Comayagua Street Carpets
[SEE MAP]
benpohl / Flickr
During the week between Palm Sunday and Easter Sunday, the quiet colonial village of Comayagua in Honduras bursts into a flurry of activity and color with its street carpet tradition. Made with layers of colored sawdust and other natural materials like rice and flower petals, the huge carpets are elaborately designed to depict Biblical figures and events leading up to the crucifixion of Jesus Christ.
The community then joins in a procession of reenacting the events of the crucifixion by walking on the carpets in costumes, carrying religious icons and reading from scripture.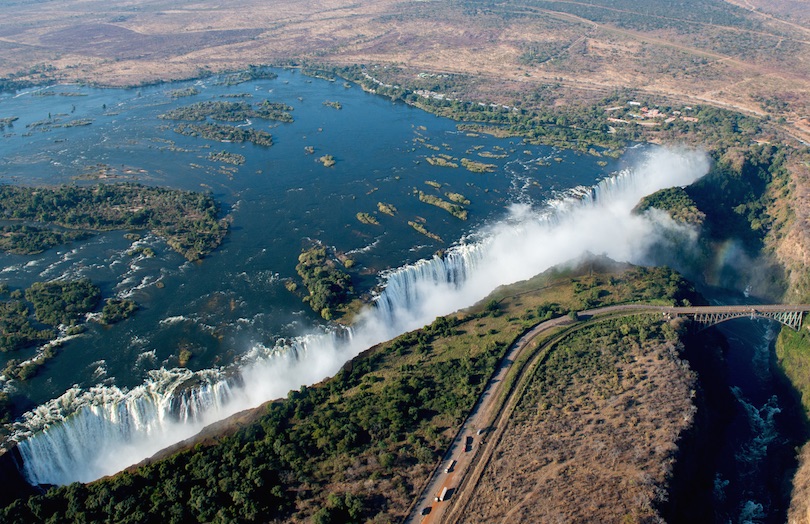 Victoria Falls is the crowning glory of the Zambezi River. Water drops more than 90 meters (300 feet) over its approximately 2.5-km (1.6-mile) span. The falls is impressive any time of year, but is especially so in April when the water flow is at its peak. That's when more than 500 million cubic liters (132 million gallons) of water per minute cascade over the falls.
The spray is so thick, visitors need goggles; umbrellas just won't cut it. Though Africa's most magnificent waterfalls can be seen from miles away, the best place to view the falls from the ground is from Knife-edge Bridge while a helicopter tour provides a spectacular view from the air.
belindah / Flickr
While just about any time is a good time to say "aloha" to Hawaii, April is a great time to visit Maui. Most wintertime visitors have returned home, which means lower prices for spring visitors who can take advantage of the island's best weather. April also is a good month to hop a boat and cruise off into the ocean to watch for humpback whales that are migrating.
Maui's calm, relatively shallow water appeals greatly to these marine beasts. Federal regulations prohibit boats from coming closer than 300 feet but that's still close enough to see them dive and spout.
7. Bhaktapur Bisket Jatra
[SEE MAP]
Biraha Prakash Dangol / Flickr
Residents of Bhaktapur, a town east of Kathmandu, celebrate Bisket Jatra, also known as Nepali New Year, in a unique way. Bhaktapur, which is nicknamed the "City of Devotees," marks the Nepali New Year in April, with a chariot festival. Beginning at the temple for the god Bhairab, residents pull heavy cars through town while simultaneously involved in a tug of war between the two sides.
The winner gets to escort the car to the Hanumante River, where it sits for seven days; people place offerings to the gods here. An 8 meter (25 foot) pole also is erected, with another tug of war when it falls, signifying the start of Nepali New Year.
6. Scoppio del Carro in Florence
[SEE MAP]
flickr/Monica Kelly
The Easter parade takes on a different turn in Florence, where this famous Italian city celebrates the day with Scoppio del Carro, or "Explosion of the Cart," a tradition that dates back almost 400 years. Begun in 1622, today's Easter Sunday ritual involves a cart, carry coals, traveling to the archbishop's cathedral where, near its end, lights a rocket that is launched toward the cart.
When it hits the cart, it explodes in fireworks. If the ritual takes place as planned and all fireworks explode, Florentines will have good luck for the rest of the year.
5. Semana Santa in Antigua
[SEE MAP]
flickr/Javier Lainfiesta
Semana Santa, or Holy Week, in Antigua, Guatemala, actually lasts more than a week. It begins on Ash Wednesday, the first day of Lent, but the week before Easter is the most impressive. Holy Week is marked with many parades that begin with a float bearing the Virgin Mary, followed by women dressed in black.
Men wearing purple robes carry floats with statues of Christ with a cross. All walk over colorful sawdust carpets that are destroyed during the procession. The week may be colorful but is solemn, as Catholics put on the largest Semana Santa in the region.
4. King's Day in Amsterdam
[SEE MAP]
wikipedia/Remi Mathis
One of the best places to visit in April is Amsterdam. Spring has well and truly sprung in the city, Keukenhof is in full bloom and King's Day celebrations wrap up a big month. King's Day started out as Queen's Day in 1885 when Queen Wilhelmina was born. It became King's Day in 2014 after Willem-Alexander ascended to the throne, and the date changed to April 27.
Amsterdam marks the day with a huge open air celebration, with everyone wearing orange, the color of the Dutch Royal Family. Celebrations include parties, DJ music and a huge street market where bargaining to get the lowest price is standard. This public holiday also boasts colorfully decorated boats cramming the city's narrow canals, with people watching from the banks and bridges.
flickr/Patrick Nouhailler
For a truly out-of-this-world travel destination, it's hard to match the Salar de Uyuni. Located in the Andes Mountains of Bolivia, Salar de Uyuni is the largest salt flat in the world and also one of the flattest places in the world. Usually, April is the end of the rainy season in Bolivia and the Salar becomes partly submerged.
The water sitting atop the cemented salt acts like a mirror, perfectly reflecting the sky above. The result is a surreal landscape where visitors can experience otherworldly and spectacular views of the surroundings.
2. Semana Santa in Seville
[SEE MAP]
flickr/Chris Bastian
Seville host two important celebrations in April: Semana Santa or Holy Week and the Feria de Abril that follows two weeks later. Holy Week in Seville is one of the country's best observances, with daily parades of floats depicting scenes from the Passion or images of a grieving Virgin Mary.
The fair is the Andalusian capital's biggest event with lots of partying going on, particularly in the casetas or private tents. Residents dress in traditional garb for a week of dancing, folk music and socializing.
1. Songkran in Chiang Mai
[SEE MAP]
flickr/Kazuhiro Nakamura
April is the hottest month in Chiang Mai, but Songkran, or Thai New Year, offers an opportunity to cool off. A highlight of the weeklong celebration is the water fight event. While this may have the effect of cooling people off, it's done mainly because the Thais believe the drenching brings them good luck.
Streams and canals are popular for this, but people also use water pistols and hoses when they're on the street. Besides cleansing themselves, the Thais also wash Buddhas with scented water contained in silver bowls. They also tie strings around other people's wrists to wish them good luck.