July is a month for racing around the world, whether it be racing horses, bulls or water buffalo. Whether the festivals are honoring a saint, historical event or just plain fun, July is a good month to be on the road, from Africa to Indonesia, from Norway to Asia. Warmer temperatures and longer daylight hours contribute to a pleasant travel experience. An overview of the best places to visit in July:
10. Negara Bull Races
[SEE MAP]
Gus Aik / Flickr
It's no bull to say that visitors to the water buffalo races in the city of Negara, Bali will be in for a unique experience. Think of it not only as a race of buffalo bulls but also as a beauty pageant for them as only the prettiest bulls compete. Their horns are painted; they wear decorated harnesses and silk ribbons. The adornments are removed and two bulls are hooked up to a two-wheeled cart. Colorfully dressed jockeys then race over a rocky road for 2.5 km (1.6 miles); surprisingly, the bulls can speed up to 100 km/h (60 mph).
9. Gion Matsuri in Kyoto
[SEE MAP]
wikipedia/Corpse Reviver
The Gion Matsuri, named after the Gion district in Kyoto, is perhaps the most famous celebration in Japan. The highlight of the month-long celebration to the Yasaka Shrine, is a parade with floats up to 25 stories high and 12 tons in weight. These floats are on public display for three days before the parade. It's a time for people to snack on street food, buy souvenirs and just enjoy themselves. The event may be one of the longest-running in the world since it was first held in 889 as a plea to the gods to spare people during an epidemic.
.
The best time to visit Norway's famous fjords depends on what you want to see, but travelers who want to cram the most into their days likely will prefer July. That's because Norway has about 23 hours of daylight, giving travelers lots of time to soak up the spectacular views of blue water, glaciers and mountains. July is also when Norway's weather is at its warmest. The average temperature under July's Midnight Sun is 18 °C or 64 °F degrees, so travelers might want to toss a heavy sweater in their luggage.
7. Bastille Day in Paris
[SEE MAP]
flickr/Yann Caradec
July 14 is to the French what July 4 is to Americans: a national day celebrating independence. July 14, 1789, is the day the French stormed the Bastille, a Paris prison, and officially began the French Revolution, overthrowing a royal regime that often threw people in prison there for no reason at all. While the day is marked all over France, the biggest celebration takes place in Paris, where one of Europe's largest and oldest military parades takes place on the Champs-Élysées. Military units from other countries participate in the parade today.
6. Boryeong Mud Festival
[SEE MAP]
Hypnotica Studios Infinite / Flickr
Travelers who enjoy getting down and dirty, literally, likely will enjoy the annual Mud Festival in Boryeong, South Korea. The Boryeong mud is said to have healthful properties, but those who participate in mud wrestling probably aren't thinking of this. Other activities include mud sliding and swimming in a pool filled with mud. Less energetic participants might enjoy a mud masque or taking in street and yacht parades. Fireworks and music on the beach round out each day's activities. The annual festival started in 1998 and now attracts more than two million people.
5. Masai Mara National Reserve
[SEE MAP]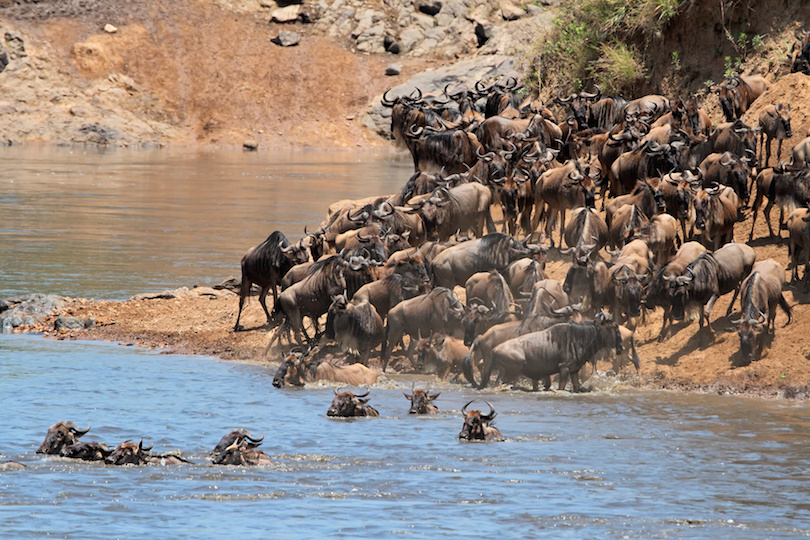 The thrill of seeing millions of animals roam the plains of Masai Mara National Reserve in Kenya is not easily forgotten. One of the most popular month to visit the Masai Mara is in July when the famous wildlife migration reaches the Masai Mara and the wildebeest and zebras are at their highest number. Not only do these animals provide a spectacular sight, they're also dinner just waiting to happen for predatory animals such as lions and leopards. The best times to view the animals in Kenya's most popular game park are dawn and dusk. Lucky travelers may also see giraffes, baboons, hippos and elephants.
4. Calgary Stampede
[SEE MAP]
flickr/Laszlo Ilyes
The Calgary Stampede, one of the most famous rodeos in the world, traces its origins back to the traveling wild west shows of the late 1800s and early 1900s. The Stampede has grown over the years, today attracting the best cowboys in the world who compete for $2 million in prize money. Other activities include live concerts, a carnival, lots of food and dancing as this Canadian city hosts the best in the west. A 4 km (2.5 mile) parade opens what is one of the best places to visit in July and what Calgary calls "the greatest outdoor show on earth."
3. Ulaanbaatar - Nadaam Festival
[SEE MAP]
scott.presly / Flickr
Nadaam is a festival featuring athletic competitions that is celebrated annually across Mongolia, with the biggest celebration taking place in Ulaanbaatar, the capital. The event features Mongolian wrestling, archery and long distance horse racing – the Mongols are famous for their horsemanship. Music with dancers wearing traditional costumes and playing games involving sheep anklebones are other popular activities. Nadaam, which has been going on for centuries, opens with transporting Genghis Khan's nine yak tails into the stadium.
Janus Kinase / Flickr
The United States may have its Triple Crown, but the Italians of Siena have their Palio, perhaps the most famous horse race in Italy. Races honor the Virgin Mary who appeared to residents centuries ago and the Madonna dell'Assunto who protected the Siena military during a 13th century battle. Two saints equal two races: July 2 and August 16. The Palio was first run in the 1650s, and still follows the same route through town today. Ten horses, each involving a different district in Siena, compete for the palio or banner bearing the image of the Virgin Mary. Race afternoon begins with a procession of Sienese wearing colorful medieval costumes.
1. Running of the Bulls in Pamplona
[SEE MAP]
the.joberg / Flickr
Travelers who pride themselves on being fast runners may want to head to Pamplona in July for the San Fermin Festival. A key part of this annual festival honoring St. Fermin, a patron of Navarre, is the running of the bulls. Six bulls and six steers are released onto a narrow Pamplona street for a half-mile run into the bullring, with hundreds of runners seeing if they can run faster than the animals. The festival of San Fermin dates back to at least the 14th century, and includes an opening fireworks display and an ending candlelight ceremony. In between there's a huge parade with participants carrying a 15th century statue of St. Fermin and a day devoted to making noise such as banging drums.