Japan is quickly becoming one of the top travel destinations in the world. More and more people are traveling to the island nation every year, lured by the promise of fresh sushi, amazing train rides, safe cities, intriguing traditions, and quirky pop culture. But there's more to Japan than cat and robot cafes; its many islands are surprisingly easy to travel around and well connected by railways, ferries and bus services.
Japan is a warm, welcoming and endlessly interesting travel destination with something for everyone. Learn about Ainu culture in the cold, snow-coated northern island of Hokkaido and discover the often forgotten Ryukyu culture in the tropical islands of Okinawa.
and the ancient wonders of the Edo capital of Kyoto. Embark on temple pilgrimages in Shikoku, explore the peaceful streets of Hiroshima or get lost in the never-ending glittering delights in the buzzing streets of Tokyo.
Map of Places to Visit in Japan
© OpenStreetMap © MapTiler © Touropia
Some of the most popular places to visit in Japan can be found in the Edo capital of Kyoto with its ancient wonders. Embark on temple pilgrimages in Shikoku, explore the peaceful streets of Hiroshima or get lost in the never-ending glittering delights in the buzzing streets of Tokyo.
In this post, we'll cover:
17. Kinosaki Onsen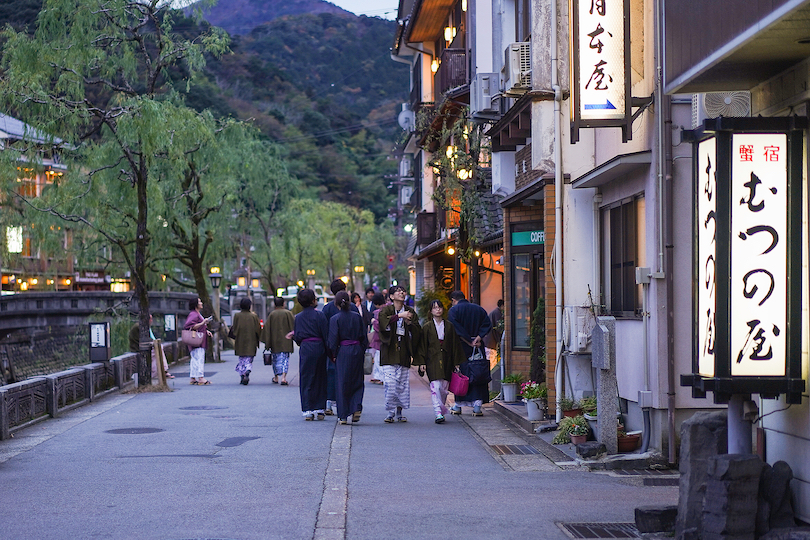 Famed for its fabulous hot springs, Kinosaki has been a popular onsen town since the eighth century. Set just inland from the Sea of Japan, its numerous bathhouses and traditional inns lie in the Kansai region of south-central Honshu.
Now considered to be part of the city of Toyooka, the small town is bisected by a lovely willow-lined canal, while the Maruyama River passes nearby on its way to the sea. In total, there are seven public onsen bathhouses for visitors to try out; their warm waters are reputed to have healing properties. With elaborate interiors, fine architecture, and pretty gardens, the hot springs are the main reason that people visit Kinosaki.
Staying in a ryokan is a quintessential part of this experience, and lots of the traditional inns can be found around town. In addition, Kinosaki also has lots of shops, cafes and restaurants that sell local handicrafts and tasty delicacies with the town being mainly known for its fresh seafood.
16. Naoshima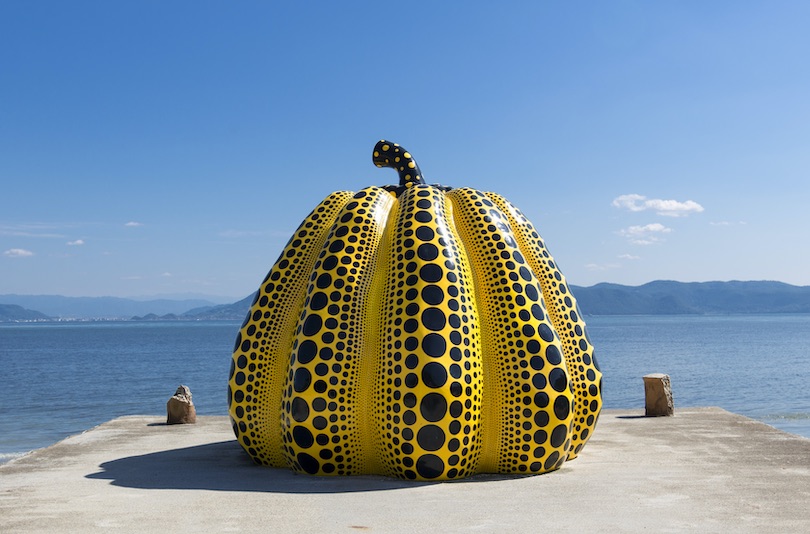 © Anthony Shaw / Dreamstime
Surrounded by the sparkling waters of the Seto Inland Sea, the idyllic island of Naoshima lies between the main Japanese islands of Honshu and Shikoku. Due to its lovely scenery, fantastic contemporary art museums, and numerous outdoor sculptures, it is a very popular tourist destination.
Before being chosen as the location for the Benesse Art Site in the late 80s, Naoshima was home to a dwindling fishing community. The Benesse corporation based in nearby Okayama then set up some world-class art galleries, such as the Chichu Art Museum and Benesse House Museum. Set amid some sublime scenery, these exhibit some exquisite architecture and house important art collections, while innovative outdoor installations are also scattered around the island.
While there is not all that much to do in the town of the same name, Naoshima certainly has enough arresting art, architecture, and scenery to keep visitors entertained. Thanks to the Benesse project's success, art museums and installations have also popped up on the other islands lying nearby.
15. Shirakawa-go and Gokayama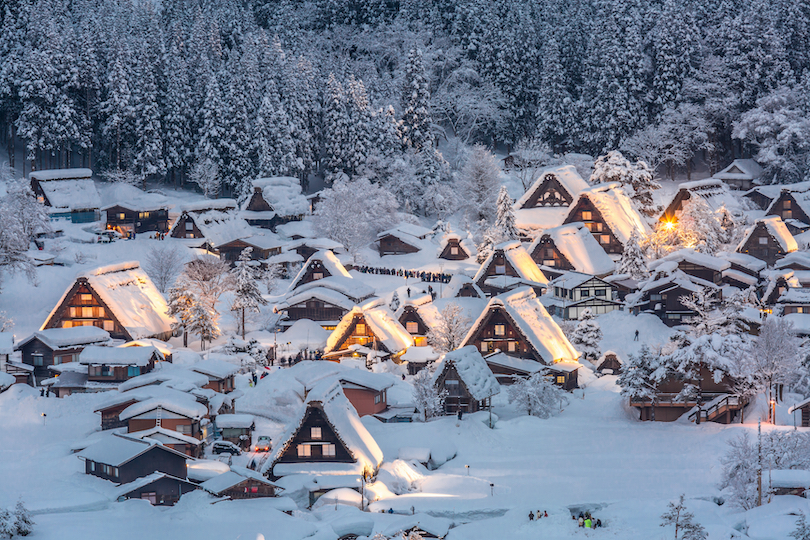 © Anthony Shaw / Dreamstime
Lying amid majestic mountains with sweeping valleys and verdant forests all around, Shirakawa-gō and Gokayama are two of the prettiest villages in the whole of Japan. Famed for their spectacular settings and traditional thatched-roof farmhouses, they count among central Honshu's most popular tourist attractions.
While this means they can get quite crowded, particularly during Golden Week and the cherry blossom season, the villages really are a treat to visit. This is because the distinctive gassho-zukuri buildings that look so stunning surrounded by fertile farmland and magnificent nature lend them a very charming, peaceful and rustic feel.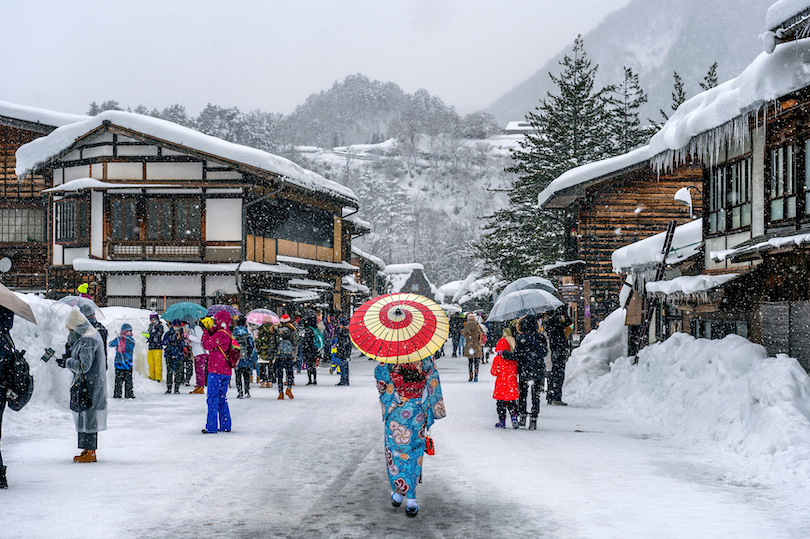 Besides taking in the incredible scenery and historic farmhouses, visitors can check out the Jim Homura Art Museum, buy some local handicrafts, and stay in a traditional ryokan inn. In addition to this, the mountains and forests surrounding Shirakawa-gō and Gokayama are home to scenic hiking trails, twinkling waterfalls, and breathtaking viewpoints.
14. Osaka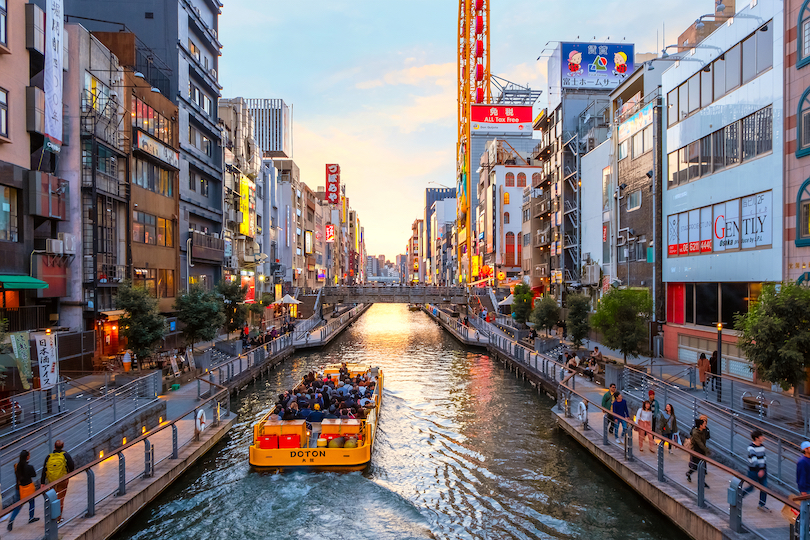 Lying at the heart of one of the most populated metropolitan areas in the world, Osaka is set on the shores of Osaka Bay and is surrounded by more than ten satellite cities. The sprawling metropolis is the third-largest in Japan and has long been a major economic hub and important financial center.
While its endless concrete jungle is not all that pretty to look at, Osaka is considered the best place to eat, drink and party in Japan. Much of its nightlife is centered around the neon-lit Dotonbori district, which boasts plenty of restaurants, bars, and entertainment options. For shopping, Shinsaibashi is the place to go; endless department stores, boutiques, and malls line the covered shopping street.
Although most people visit for its thriving culinary scene and nightlife, Osaka does have some interesting historical sights and landmarks that are worth checking out.
Its reconstructed castle, for instance, lies in a lovely park in the city center, while the Umeda Sky Building and Tsutenkaku tower count among its most recognizable sights. In addition, it boasts Sumiyoshi Shrine and Shitennoji Temple – two of the oldest religious sites in Japan.
13. Kiso Valley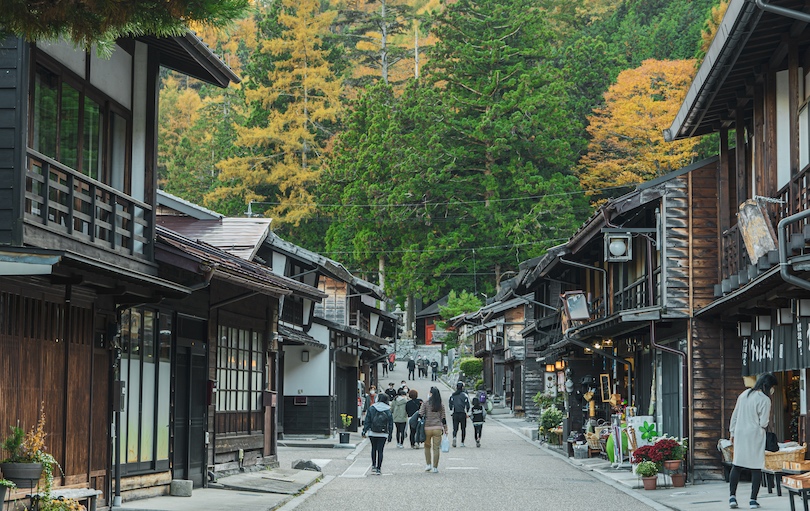 Once part of the historic Nakasendo trade route connecting Kyoto to Edo (present-day Tokyo), Kiso Valley is home to several charming old post stations as well as lovely scenery. Coated in thick forest and surrounded by steep mountains, the valley is centered around the Kiso River and lies in Nagano Prefecture in Central Japan.
Due to its well-preserved historical sights and dramatic mountain scenery, the valley is now a very popular tourist destination. One of its most famous and scenic stretches lies between the two Edo period post towns of Magome and Tsumago; many people choose to hike from one to the other. After strolling through verdant forests and crossing bubbling streams, there are plenty of atmospheric old buildings for you to take in and cozy ryokans for you to stay at.
Kiso Valley also has the charming post town of Nagai for visitors to check out, as well as delightful hiking trails that weave through the surrounding landscape.
12. Koya-san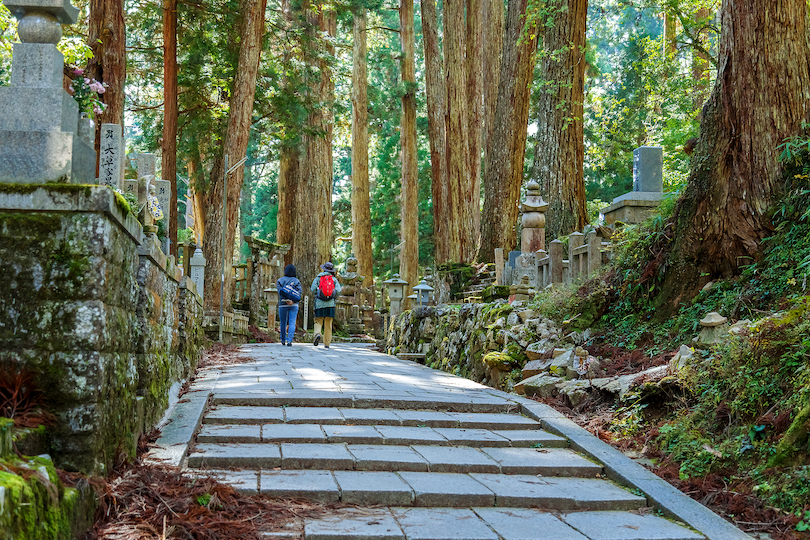 Located just to the south of Osaka in Wakayama Prefecture, Koya-san is primarily known as being the center of Shingon Buddhism. Edged by eight prominent peaks, the gorgeous mount is home to an abundance of temples, shrines and pagodas, as well as pristine nature and scenery.
First settled all the way back in 819 CE, the original monastery has since grown to include over 120 temples. Of these, Kongobu-ji, the head temple, is undoubtedly the most important and impressive with its centuries-old ceremonial halls, traditional buildings, and idyllic rock garden. Konpon Daito is also worth visiting for its lovely pagoda – as is the large and atmospheric graveyard of Okunoin.
While many people visit Koya-san as a day trip from Osaka, staying over and sleeping in one of the temples is an amazing way to experience monastic life on the mount. Besides visiting its numerous sacred sites and historic temples and shrines, there are loads of wonderful hikes you can do around the surrounding mountains and forests.
11. Ishigaki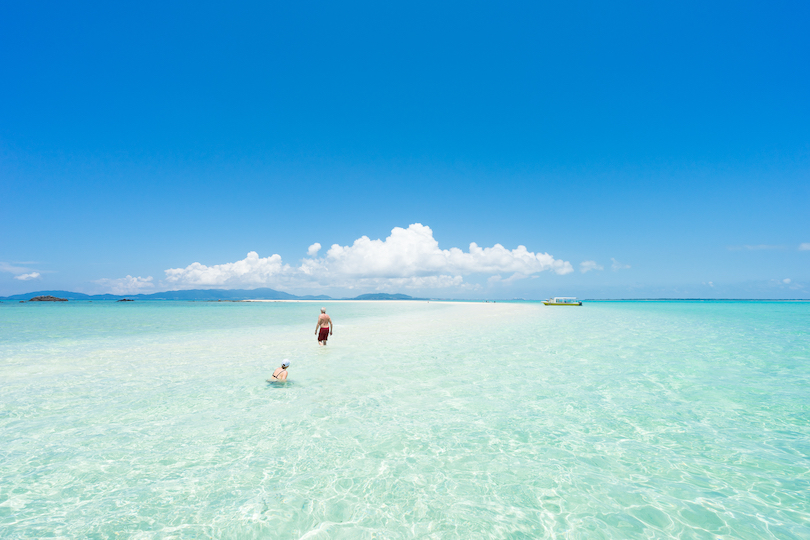 Located west of Okinawa, Ishigaki is Japan's premier beach destination and makes a good base to explore the other islands in the Yaeyama archipelago. Blessed with Japan's best beaches, it is particularly popular with families since the beaches at Fusaki and Maezato are net-protected.
Located 1,250 miles (2,000 kilometers) south of Tokyo, Ishigaki may not have the shrines and temples that other Japanese cities have, but it does have an exuberant nightlife for visitors who have the energy after a day of beachcombing, water sports or climbing Mount Nosoko.
10. Miyajima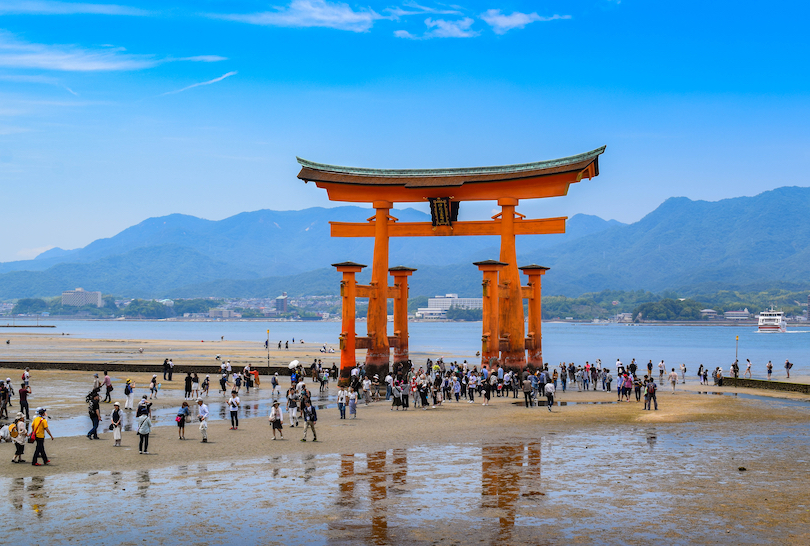 One of the most popular tourist destinations in the country, the small island of Miyajima lies in the northwest of Hiroshima Bay, surrounded by the Seto Inland Sea. Besides boasting one of the famed 'Three Views of Japan,' it is also home to some lovely scenery and a number of temples and shrines.
Miyajima – or 'Shrine Island' – is just the popular nickname for the island of Itsukushima, which has long been considered a holy place. Dominating its interior are the scenic and sacred slopes of Mount Misen, where you can find various Buddhist temples, Shinto shrines, and a fantastic five-story pagoda. Its gentle hills and lush forests make for some excellent hiking, and you'll often come across tame deer wandering freely around the island.
Miyajima's main attraction, however, is the 'floating' torii gate of Itsukushima Shrine that lies just off its shores. One of the most renowned and recognizable sights in Japan, it makes for some fabulous photos and attracts hordes of tourists every year.
9. Kanazawa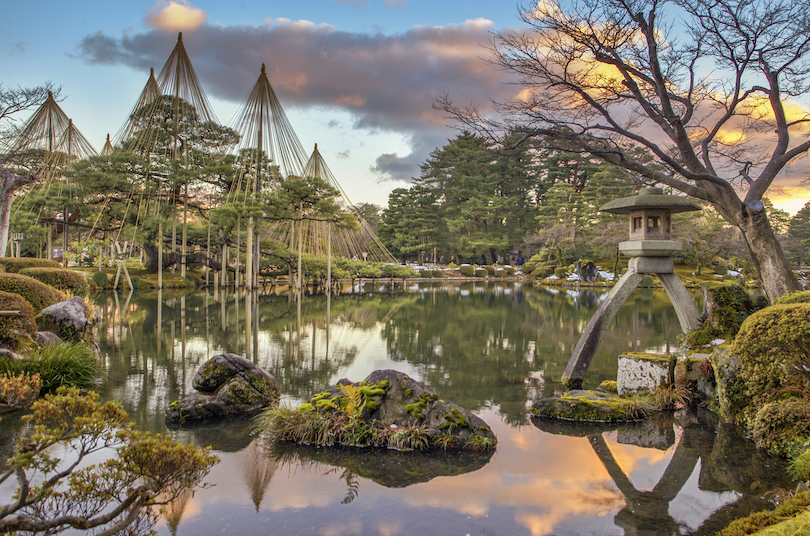 Located in the northwest of Ishikawa Prefecture, the historic city of Kanazawa lies between the wild waters of the Sea of Japan and the towering Japanese Alps. Long overlooked due to its remote setting, it is an increasingly popular destination and boasts a rich history, culture and heritage.
In the center of the city, you can find a fantastic centuries-old castle to explore, as well as charming and well-preserved samurai and geisha districts. Their narrow alleys are lined by traditional houses, cosy tea shops, and a number of atmospheric temples and shrines. Kanazawa is also home to some great museums and the busy Omicho Market, renowned for its fresh seafood.
Its most famous attraction is the lovingly landscaped Kenroku-en, which is considered to be one of the most beautiful gardens in Japan. Wonderful to visit at any time of year, it is home to a huge variety of trees and plants, with scenic ponds, bridges, and stone lanterns on display.
8. Hiroshima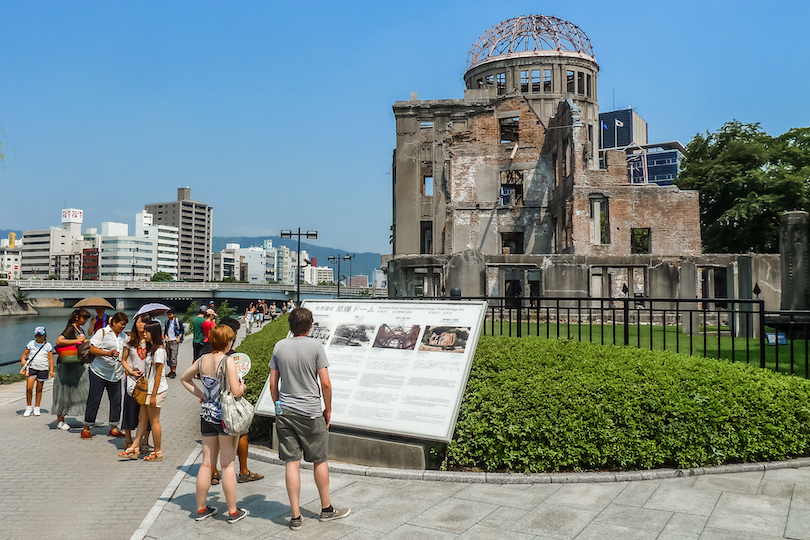 Hiroshima, located on Honshu Island, is younger than many Japanese cities, less than 500 years old, but its fate was forever sealed in history on August 6, 1945, when it became the first city in the world to have an atomic bomb dropped on it.
Although more than 60 percent of the buildings in Hiroshima were destroyed, the city has managed to make an amazing recovery since that devastating blast. In fact, by 1974, the city had actually managed to double its pre-war population, and it has also become a popular tourist destination.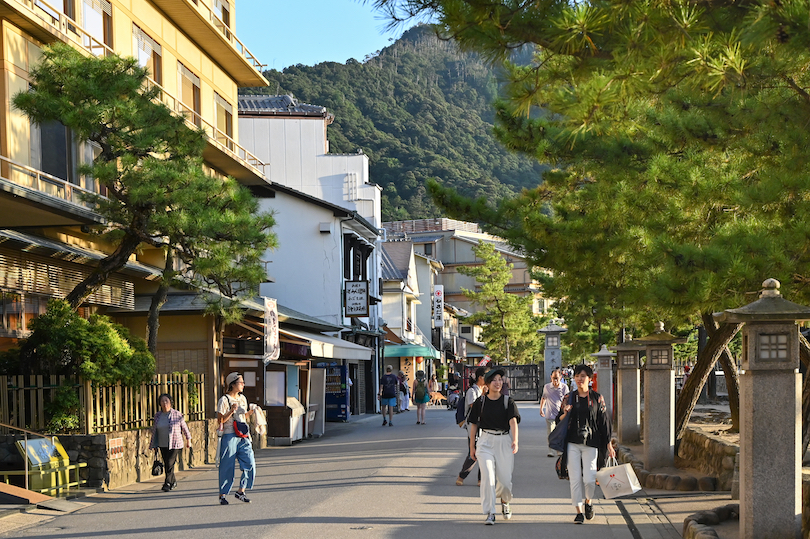 One of the most popular attractions in this city is the Hiroshima Peace Memorial Park, which was created in memory of all those who lost their lives or were injured by the atomic bomb. This large park is home to several interesting sites, including the Peace Memorial Museum where visitors can see the effect the bomb had on the citizens of Hiroshima.
Another must-see tourist site is the great Torii, a wooden shrine gateway that appears to be floating in the sea at high tide. The Torii is located on nearby Miyajima Island.
7. Kamakura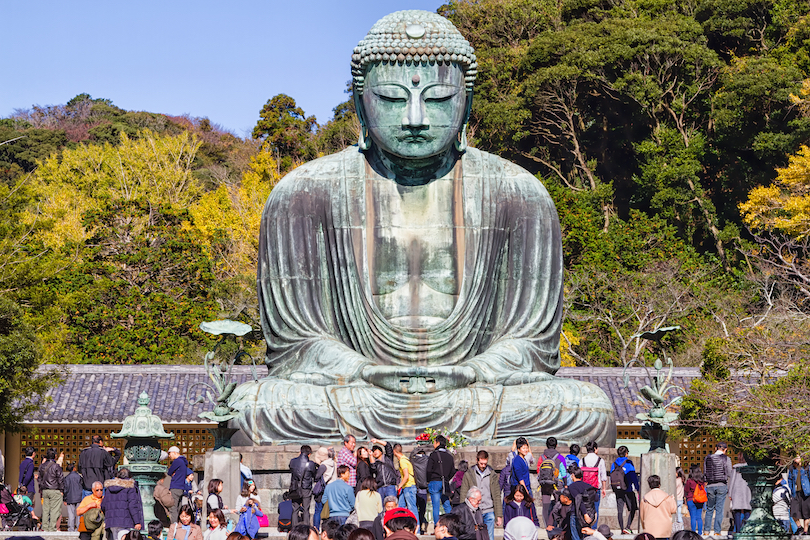 Set on the scenic shores of Sagami Bay, with forest-coated hills surrounding it, Kamakura is a top-rated destination and lies just an hour-long train ride to the south of Tokyo. As it was once the capital of Japan, the coastal city is home to many important landmarks and a plethora of beautiful temples and shrines.
Its defining symbol and most famous sight is the Great Buddha of Kamakura, which is 13.35 meters high. Made out of bronze, the mighty figure towers over its surroundings and is one of the city's most famed and photographed attractions. The large Tsurugaoka Hachimangu Shrine also attracts crowds of visitors, as do the pretty and peaceful zen temples of Kenchoji and Engakuji.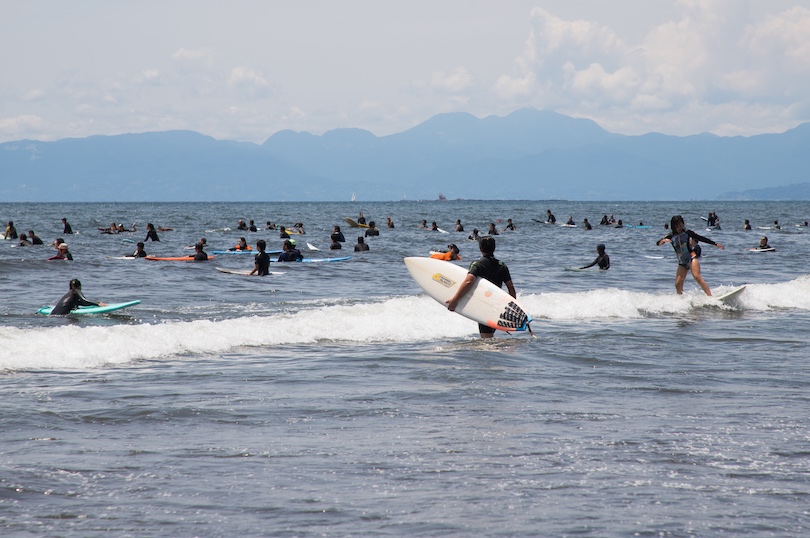 While Kamakura certainly has a lot of interesting historical and cultural sights on offer, the center of the city also boasts lots of fantastic shops and eateries. Many people also come to go hiking amidst its stunning nature or to enjoy sunbathing, swimming or surfing at one of its beautiful beaches.
6. Nikko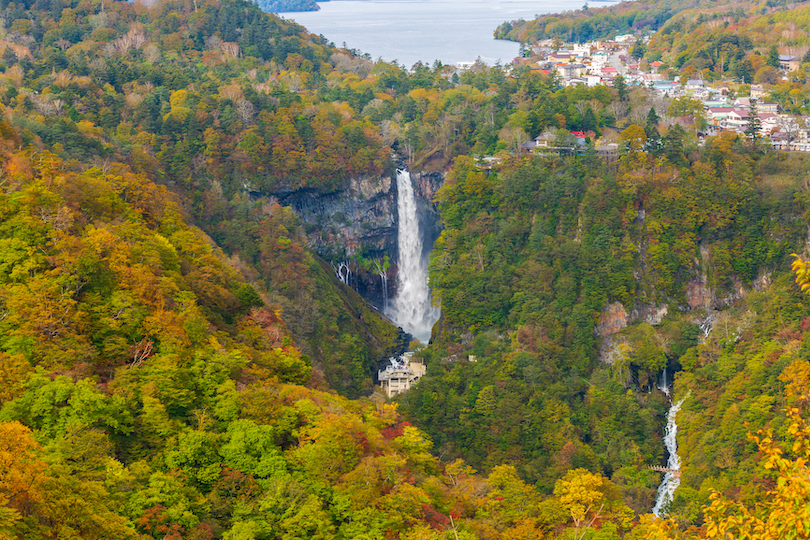 © Amnachphoto / Dreamstime
Located at the entrance to Nikko National Park, Nikko is set in a spectacular spot amid the mountains, with lush forests lying around it. Besides being famed for its scenery, the city boasts a wealth of important Shinto shrines and Buddhist temples and is located in Tochigi Prefecture.
Impressively, Nikko is home to two mausoleums of Tokugawa Shoguns; these can be found at the extensive and extravagant Tosho-gu complex. Surrounded by towering cedars, the site showcases wonderful Edo-era architecture, with countless shrines, temples, and pagodas.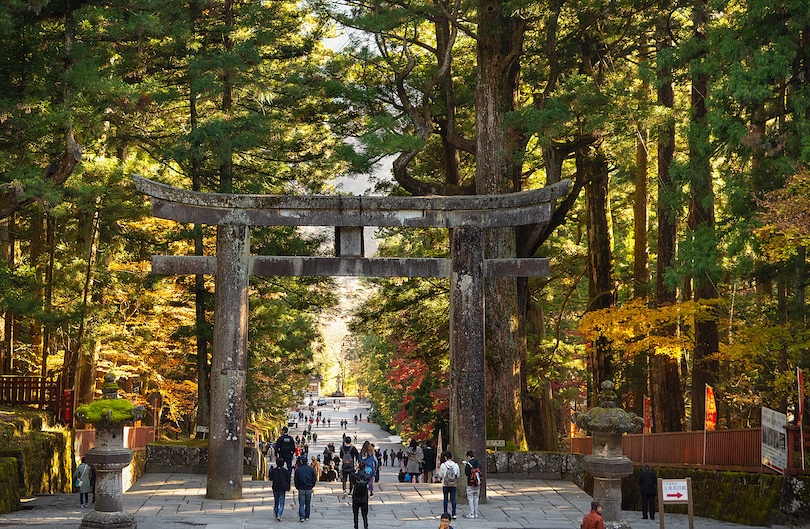 While the complex is undoubtedly Nikko's main attraction, two of its most famous and photographed sights are the centuries-old Shinkyo Bridge and twinkling Kegon Falls, both of which are rightfully lauded for their beauty.
In addition to this, many people visit Nikko for the lovely nature and scenery surrounding it. Tucked away among its endless mountains and forests, you can find sparkling waterfalls and lakes, as well as bubbling streams and boiling hot springs. Very easy to visit from Tokyo, all of Nikko's historical, cultural, and scenic sights lie just a two-hour train journey from the nation's capital.
5. Takayama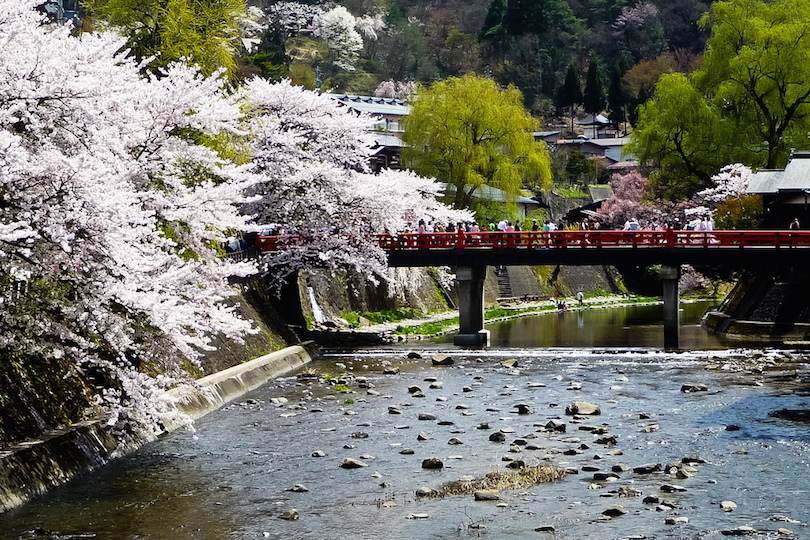 SteFou / Flickr
Nestled away among the northern Japanese Alps of Central Honshu, the small city of Takayama is a very picturesque place. Famed for its traditional townscape, stunning riverside setting, and unique culture and customs, it is fast becoming one of the region's most popular attractions.
In its well-preserved historic quarter, visitors can find lots of exquisite architecture dating to the Edo period, as well as little sake breweries, boutiques, and fantastic old merchants' homes. Shrines, temples and museums abound in Takayama, while numerous morning markets can be found near to the river.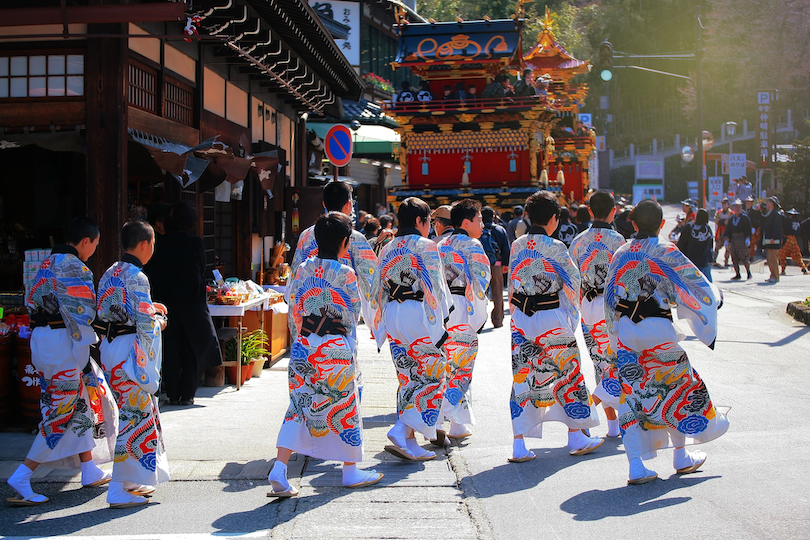 At the Hida Folk Village, you can watch artisans make local handicrafts and wander around a recreated mountain village, full of traditional thatched-roof farmhouses.
Due to its isolated setting, Takayama developed its own rich culture and traditions, as evidenced by the two famous festivals of Sanno Matsuri and Yahata Matsuri. During the festivities, large and lavishly decorated floats parade through the city, which is magically lit up by lanterns. Many people visit during the festivals for the lively ambience and atmosphere.
4. Hakone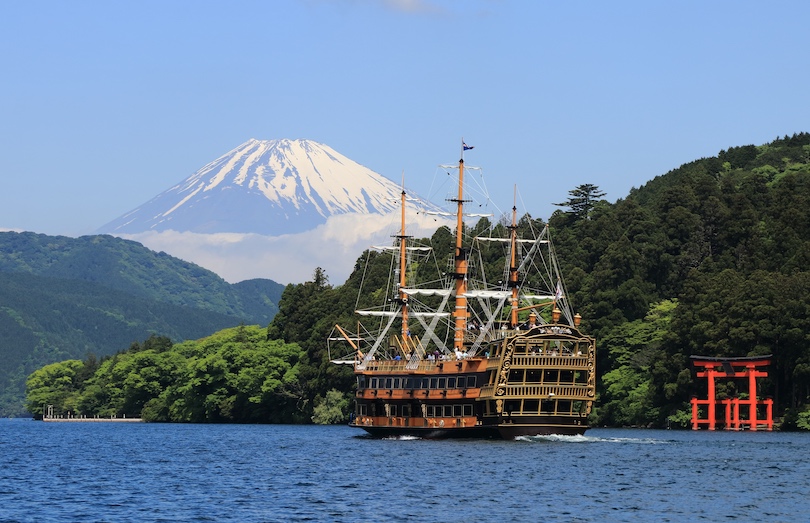 Boasting beautiful mountain scenery, relaxing hot springs, and a number of world-class art museums, Hakone is one of the most popular tourist destinations in Japan. Located just a short train ride to the southwest of Tokyo, the town lies on the shores of tranquil Lake Ashi, with iconic Mount Fuji rising in the distance.
A pleasant and picturesque place, Hakone is home to many lonsens and ryokans, so visiting one of the bathhouses and staying in a traditional inn is a must when in town. In addition, exquisite sculptures and artworks can be found in its numerous galleries and museums, while small shops and boutiques sell locally made handicrafts.
One of the most popular things to do is take a boat ride on one of the pirate ships that sail around Lake Ashi. From aboard their decks, you can enjoy breathtaking views of the lake's stunning scenery and majestic Mount Fuji in the distance.
While Hakone can get quite crowded, especially during weekends and holidays, Fuji-Hakone-Izu National Park has loads of peaceful hiking trails for you to explore if you want to escape the crowds.
3. Nara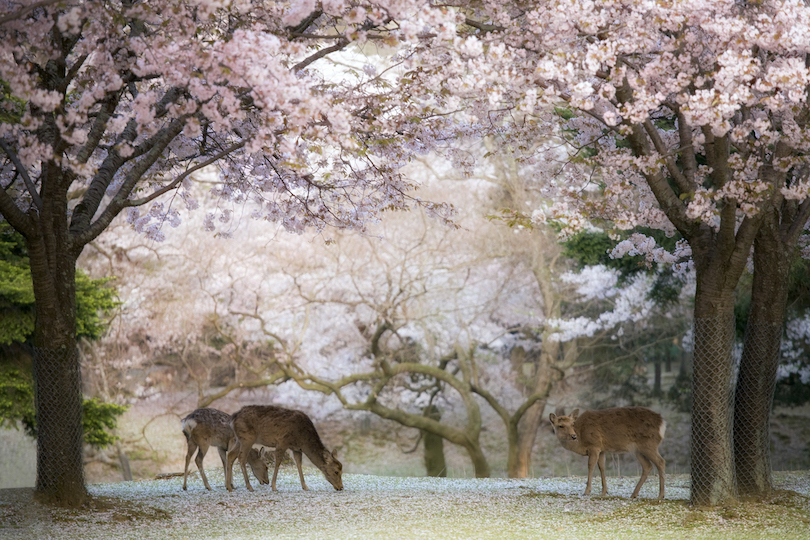 Nara, once known as Heijo, was the first permanent capital of Japan, established in 710. The capital was moved to Nagaoka in 784 when the government was threatened by powerful Buddhist monasteries. Located less than an hour from Kyoto, the city boasts a plethora of important and impressive historic sights, with countless temples and shrines.
Most of its main attractions can be found in the gorgeous, green Nara Park, also home to the city's multitude of tame deer that amble about asking tourists for food. Here you'll find the multi-storey pagodas of Kofuku-ji and splendid stone lanterns of Kasuga Taisha, as well as a couple of lovingly landscaped Japanese gardens.
The highlight, however, is Todai-ji Temple with its awe-inspiring architecture and enormous Great Buddha.
Besides its plethora of well-preserved historic buildings, Nara has a couple of excellent museums for visitors to check out, as well as the charming old merchant district of Naramachi. With so much history, art, and architecture on show, the former capital is certainly not to be missed out on.
2. Kyoto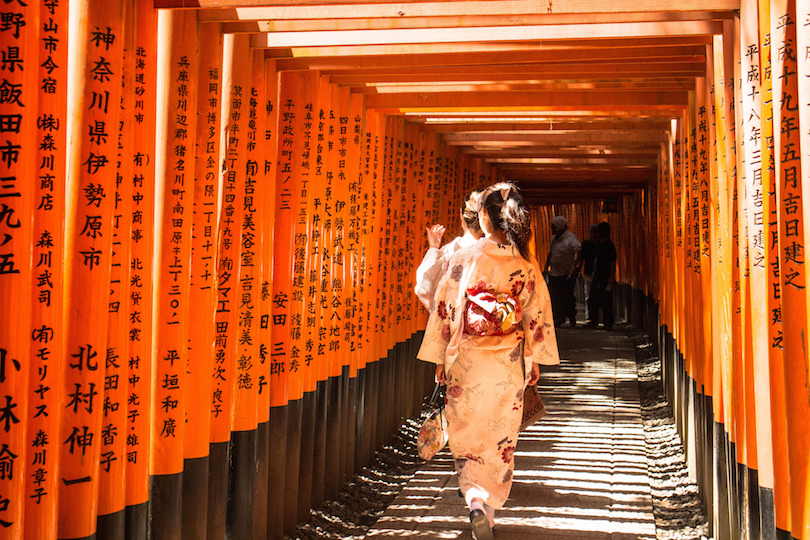 Calvin YC / Flickr
Kyoto today is the capital only of Kyoto prefecture, but it once served as the imperial capital of Japan for more than 1,000 years. If you're interested in catching a glimpse of old Japan, Kyoto should definitely be on your itinerary.
Because of its historical significance, this city was largely spared much of the destructive bombing that occurred throughout the rest of Japan during World War II.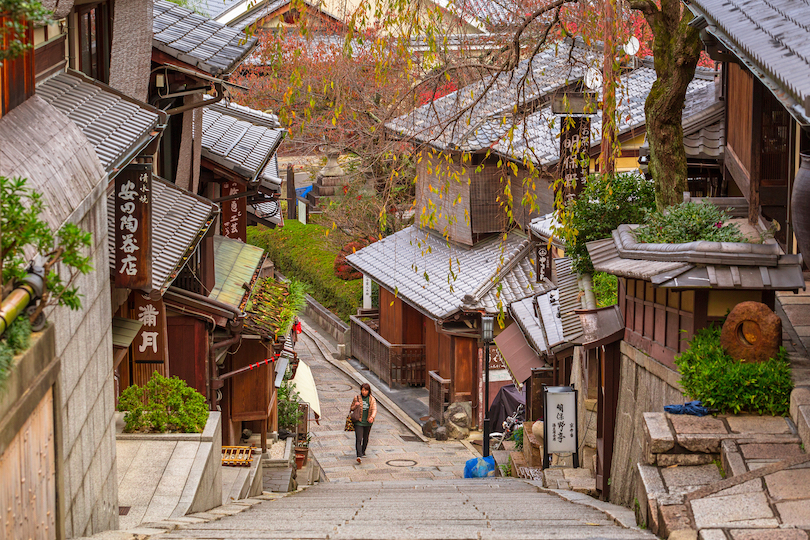 Located on central Honshu Island, this city of 1.5 million people, also boasts more than 1,000 temples and shrines, including one of the most photographed, the Golden Pavilion. In addition to the large number of religious structures, Kyoto is home to gorgeous Nijo Castle, the former residence of the Tokugawa shoguns.
Higashiyama, a well-preserved historic district and Gion, Kyoto's famous geisha district are also must-visit attractions. But Kyoto is not just about history, this city also boasts a world-class aquarium and for fun, you can learn how to become a Japanese assassin at the Ninja Training Dojo.
1. Tokyo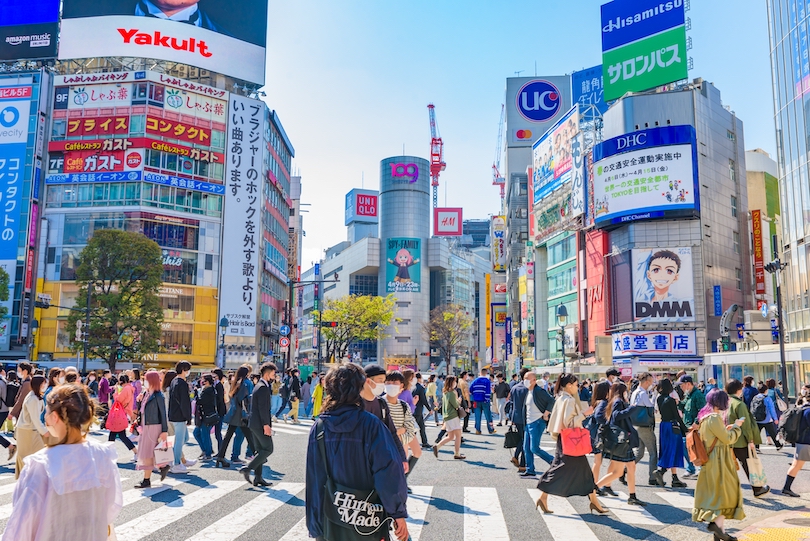 Travelers who like to mingle with people will love Tokyo. The Japanese capital's metropolitan area is the most populous in the world. From viewing spring cherry blossoms in traditional gardens to the fish market at Tuskiji. Tokyo blends the ancient with the new, from shrines to karaoke bars.
It's hard to be bored in frenetic, fast-paced Tokyo where even a walk down the streets can be interesting. This city's Shibuya intersection, for example, is famous for its controlled mob crossing. Another interesting neighborhood in Tokyo is Harajuku, known throughout the world for its amazing street fashion, including but definitely not limited to goth-Lolitas, punk or kawaii schoolgirls.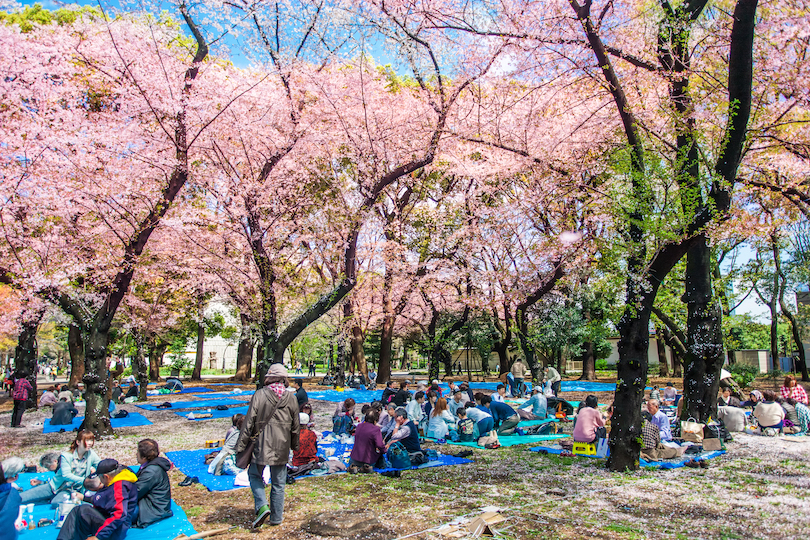 Tokyo is also home to several world-class museums and numerous shrines, including the most famous, the Meiji Shrine, and Sensoji Temple, one of its oldest.
Then there is the Tsukiji Fish Market. In most cities, a fish market wouldn't be a tourist attraction, but this is the world's busiest and largest, and it also happens to be on the itinerary of just about every visitor to Tokyo. Plus, it is one of the best places on the planet to get extremely fresh sushi. One caveat, because you'll be visiting the fish market early in the morning, you'll be having your sushi for breakfast.
Other interesting attractions in Tokyo include the Imperial Palace, the residence of the emperor, and Tokyo Tower. Fortunately, getting around Tokyo is easy as this city boasts a large and relatively easy-to-use transit system. If you have the time, you'll definitely want to consider taking a day trip to beautiful Mount Fuji.