The most populous city on the planet, Japan's capital Tokyo seamlessly mixes the ultramodern with the ancient. Beneath all its soaring neon-lit skyscrapers, you'll find centuries-old temples and shrines lying alongside sleek shopping malls and museums. With such a unique, interesting culture to discover, one could spend months seeing all its sights.
Made up of 23 wards, the massive metropolis lies at the head of Tokyo Bay, along Honshu's central coastline. Originally known as Edo, it has been an important cultural, political and commercial centre ever since the Tokugawa shogunate installed themselves here in 1603. Although it is now famed for its cutting-edge technology and design, it still has traditional tea ceremonies, sumo fights and kabuki theater plays to enjoy.
While the concrete streets and skyline seem never-ending, gorgeous parks and gardens do provide some welcome respite. Trendy neighborhoods known either for their crazy pop culture and eclectic fashion scene or lively nightlife and cherry blossom viewings are also dotted here and there. With so many things to do in Tokyo, planning your own itinerary can be overwhelming. Make it simpler by sticking to these top tourist attractions in Tokyo.
Map of Things to Do in Tokyo, Japan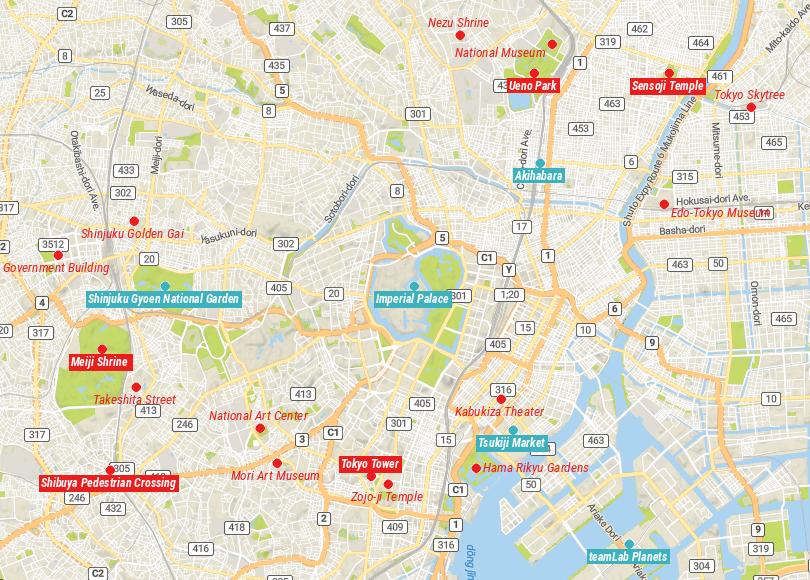 © OpenStreetMap © MapTiler © Touropia
23. Nezu Shrine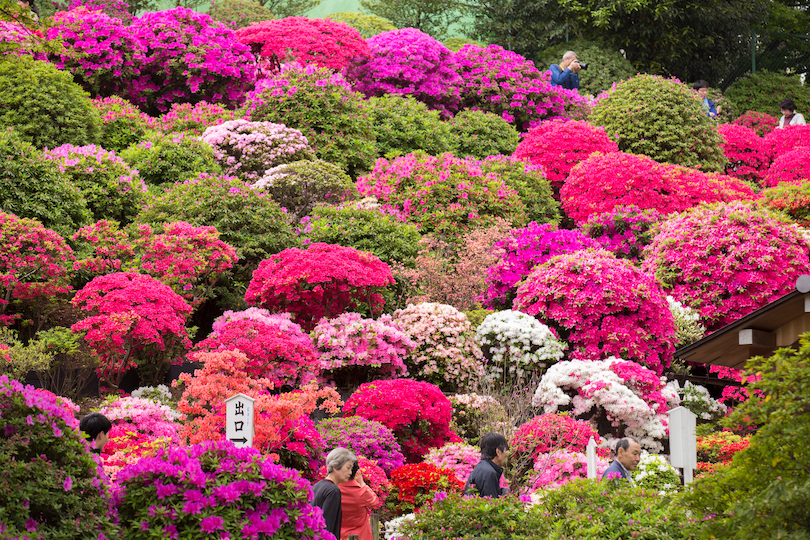 One of the oldest places of worship in the city, the scenic and serene Nezu shrine is definitely worth visiting. As well as its tunnel-like series of torii gates, it is known for the amazing azaleas that bloom around it in spring.
Often described as 'Tokyo's most beautiful shrine' (and that's saying something!), it was remarkably founded back in 1705. At its quiet complex, there is an exquisite romon tower gate and homon hall to admire among other buildings. Weaving their way up a hillside through lush woods are its terrific torii gates. They lead you to a viewing platform overlooking a little koi pond.
April and May are the best months to visit as this is when thousands of blooming azalea bushes create an explosion of color. During these months, hordes of locals and tourists alike descend upon Nezu to snap photos amidst the pretty plants. Part of the Bunkyo ward, a stop at the stunning Shinto shrine can easily be combined with the expansive Ueno Park and all its national museums nearby.
22. National Art Center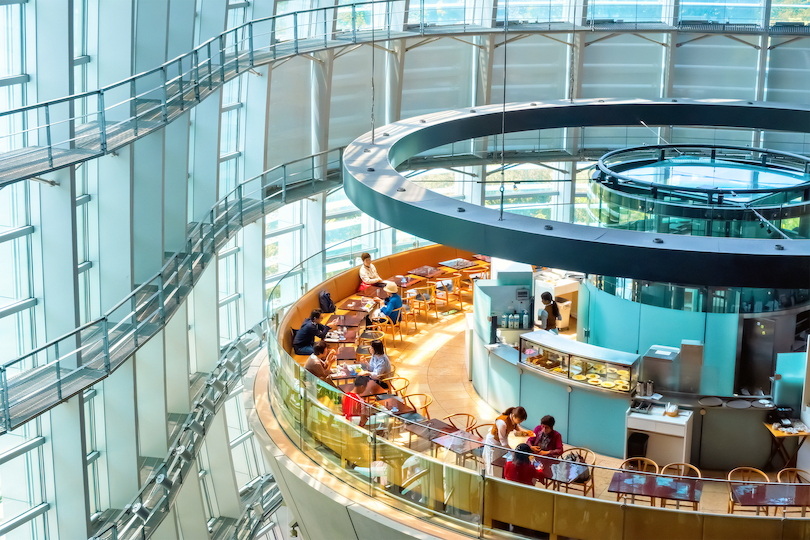 Located in the Roppongi part of town is the very highly-rated National Art Center. One of the city and country's most important cultural institutions, it puts on excellent temporary exhibitions of Japanese and international art.
This gigantic glass building was first unveiled to the public in 2007. Designed by renowned architect Kisho Kurokawa, it features a wonderful wave-like wall and has twelve exhibition spaces to explore inside. An art library, auditorium and several cafes are also dotted about.
Unlike Japan's other national museums, it doesn't have its own permanent collection. Instead, it has a rotating series of special exhibitions to check out. Always outstanding, these could be on everything from calligraphy and sculptures to paintings, photos and video installations. The architecture of the building and all its imaginative spaces inside are every bit as impressive as the artworks themselves.
21. Mori Art Museum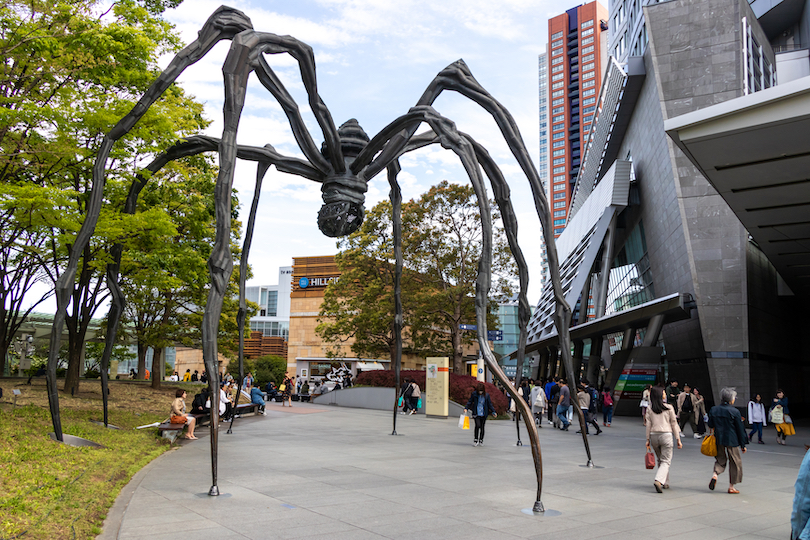 Just a short walk away is the top-class Mori Art Museum. Another gallery to regularly host temporary exhibitions, the state-of-the-art center is spread across the top six floors of the Roppongi Hills Mori Tower; one of Tokyo's tallest skyscrapers.
Since its opening in 2003, the museum has been dedicated to displaying imaginative installations and unique art by contemporary Asian artists. Over the years, it has housed thought-provoking pieces by Ai Weiwei, Makoto Aida and Tarek Al-Ghoussein among many others. While some feature paintings or photographs others involve performance art and immersive animation experiences.
Visitors can also examine its permanent collection of over 460 artworks from around Japan and the Asia-Pacific region. After taking in its interesting art and architecture, head to the building's roof for phenomenal views over the capital. While the museum's galleries, cafe and restaurant already offer fine panoramas, being buffeted by the wind at its outdoor observation deck makes for an even more exhilarating experience.
20. Shinjuku Golden Gai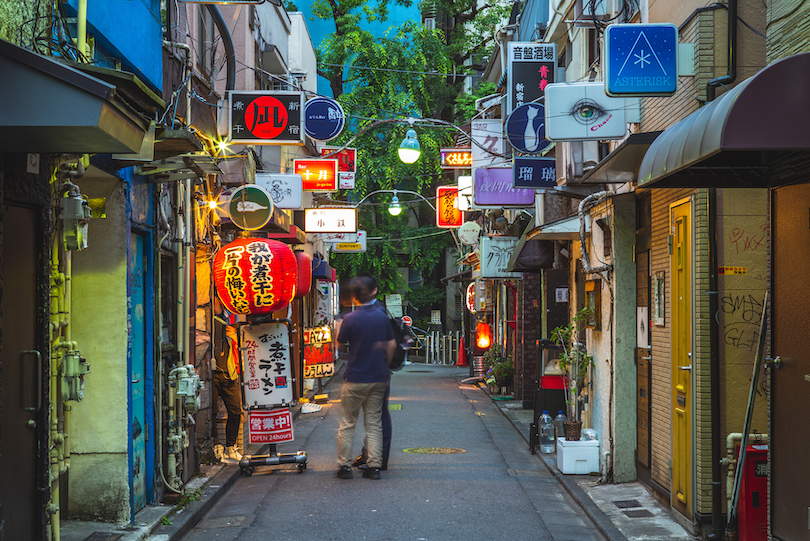 One of the most fun things to do in Tokyo, the narrow alleys of Golden Gai are crammed with hundreds of themed bars, music clubs and traditional izakaya. Often eclectically decorated according to their owner's interests, they usually only fit five to ten customers at any time. Spending a night out here in the shadow of all Shinjuku's skyscrapers is an absolute must for its intoxicating atmosphere.
Lying on the eastern edge of the Kabukicho entertainment district, its maze of claustrophobic streets was once home to lots of brothels. When prostitution was banned in the fifties, all kinds of drinking dens sprung up in their place.
Now numbering roughly 300 in total, each establishment has its own unique look, feel and character. While some feature cool jazz, rock and anime-themed decors, others have live music and karaoke to listen to. There are just as wide a variety of food and drink options to try ranging from craft beers and sake to sushi and yakitori.
Wandering about its narrow alleys, entering small bars and chatting to bartenders, locals and tourists was by far one of our most memorable nights out in Tokyo. Before bar hopping about, be aware that many have cover charges and some aren't too keen on foreigners stopping by.
19. Tokyo Metropolitan Government Building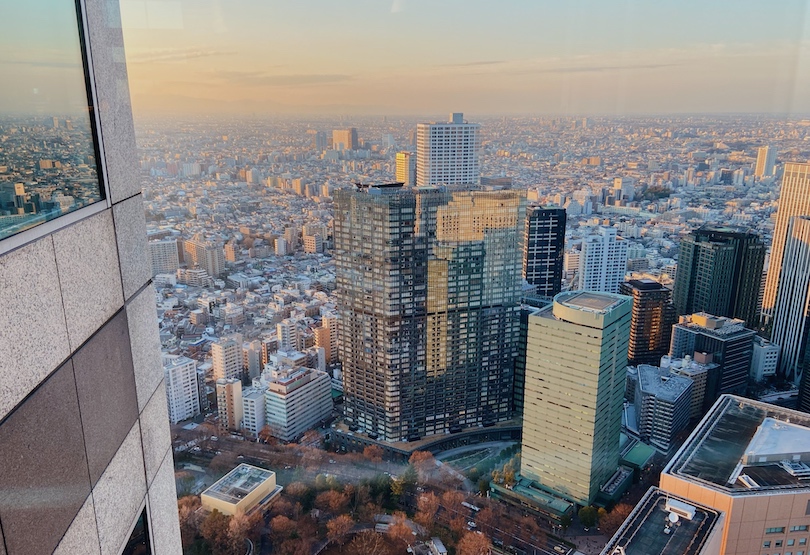 You might call it the Tokyo Metropolitan Government Building, but locals refer to it simply as Tochō. Either way, the building is a complex of three different structures, within which most of the government of Tokyo works each day.
Designed by the architect Kenzo Tange, Tochō is a staggering 48 stories tall, but at 33 stories there is a split. This gives the building the look of a Gothic cathedral, but there is still no doubt that it is a contemporary structure.
It offers an observation platform where you can admire the sprawling district of Shinjuku below you. On a clear day you might even catch a glimpse of Mount Fuji to the west. Access is free.
18. Kabukiza Theater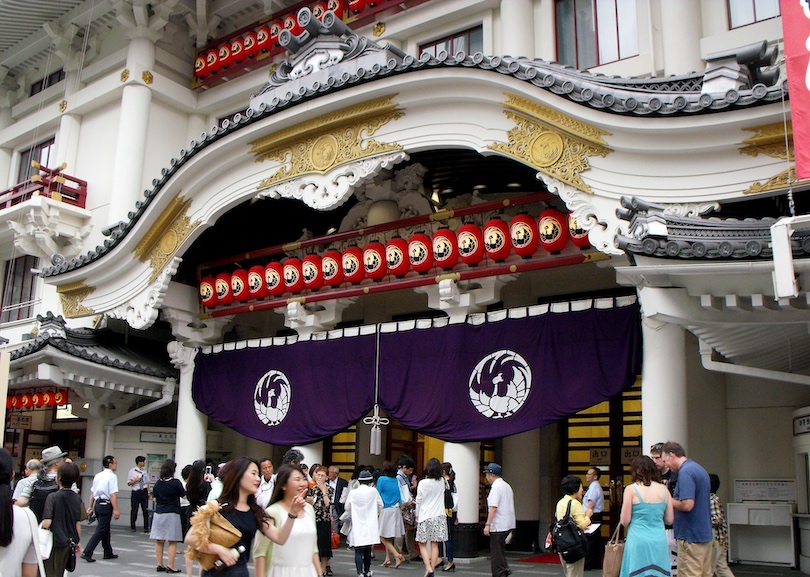 If you're after a scintillating show, then the charming Kabukiza Theater is the place to go. Located in the upscale Ginza district, the historic venue puts on a packed schedule of traditional Kabuki theatre performances. These involve dramatic dances, action-packed sword fights and moving singing.
While the original wooden theater was founded in 1899, its current baroque Japanese revivalist-style building only dates to 2013. Reminiscent of old castles and temples from the pre-Edo period, it hosts around three shows or even more a day. As these can go on for hours and hours, spectators are free to duck out and take a break in one of the theater's restaurants whenever they feel like it.
Although shows are only in Japanese, all the battles, betrayals and betrothals will definitely keep you entertained! It is however still worthwhile renting an electronic translator or picking up a programme so you have a sense of the plot. All the elaborate costumes, make-up and performances guarantee a great time even if you don't stay for all of it.
17. Takeshita Street
One of the most popular parts of Tokyo to explore, Harajuku is renowned for its outrageous fashion, cool shops and cutesy Kawaii culture. At the heart of the hip district is Takeshita Street which is lined by countless cosplayer costume stores and quirky cafes selling sweet treats.
Sandwiched between Shibuya and Shinjuku, the lively neighborhood is now the epicenter of Japan's weird, wild and wacky fashion scene. Along Takeshita, you'll find colourful clothing stores and unique boutiques alongside pet cafes, bubba tea stands and snack stalls.
Just as good as seeing its stylish shops and sampling delicious desserts is watching all the bizarrely dressed people walking by. While some are dressed as their favorite anime character, others display crazy hairstyles or outlandish fashion accessories. We really loved seeing the creative way everyone expressed themselves and wished we'd visited at the weekend when even more colourful characters take to the streets.
16. Zojo-ji Temple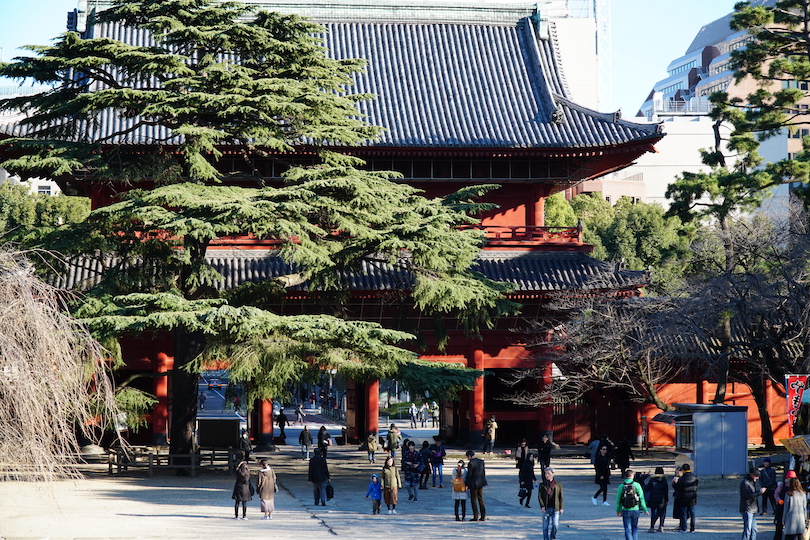 Overlooked by the enormous Tokyo Tower, Zojo-ji is the majestic main temple for the Jodo-shu sect of Buddhism in the city. Surrounded by gorgeous gardens and grounds, it contains the mausoleums of six Tokugawa shoguns. These all powerful military rulers governed Japan from 1603 to 1868.
Lying at the center of Shiba Park, its two-story main gate is impressively the oldest wooden building in the capital, dating to 1622. At its peak, over 120 halls and temples were found here. Sadly, almost all of them were destroyed during the Bombing of Tokyo in WWII.
Nowadays, the complex has some lovely architecture and statues to admire alongside the shoguns' serene final resting place. Many people combine a visit to the Tokyo Tower with a trip to the temple. Together they make some fantastic photos, contrasting the country's ancient history with its modern, dynamic present.
15. Hama Rikyu Gardens
Not too far away are the huge Hama Rikyu Gardens that lie right at the mouth of the Sumida River. A treat to amble about slowly, its pretty grounds and peaceful waterways are laid out in the attractive Edo-period style.
Opened to the public in 1946, its site was formerly home to a seventeenth-century villa owned by the Tokugawa family. After being used as hunting grounds by the shogun, it entertained prestigious state guests following the Meiji restoration.
These days it is one of Tokyo's top tourist attractions and anyone can enjoy its flower-filled fields, old pines and plum tree groves. Visitors can also stroll by its ponds and delight in nice views of all the high-rises peeking above the trees. Particularly memorable times to stop by are in autumn for the garden's colourful foliage and in spring to see the cheery cherry blossoms blooming.
14. Mt. Takao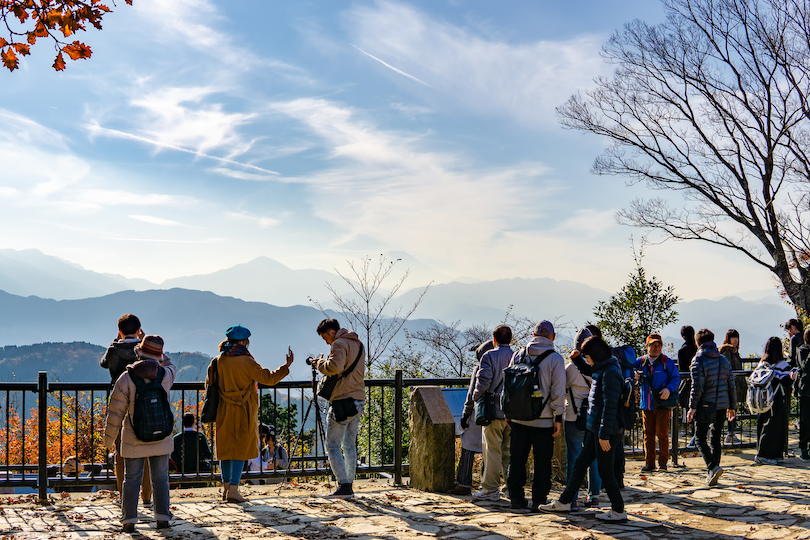 If you're after yet more nature after days spent exploring the city's endless concrete jungle, then visiting Mt. Takao is one of the best things to do in Tokyo. Conveniently located within an hour of downtown Tokyo, it has loads of scenic hiking trails, woods and wildlife to enjoy.
Now protected as part of a national park, the mount reaches 599 meters at its highest point. Winding their way about its forested slopes are eight trails to choose from or a fun funicular that whisks you half the way up.
Once you reach its summit, you can bask in sublime views over the mountains and metropolis below you. There is also the Takaosan Yakuoin Yuuki-ji Temple complex for you to explore, founded in 744.
13. Edo-Tokyo Museum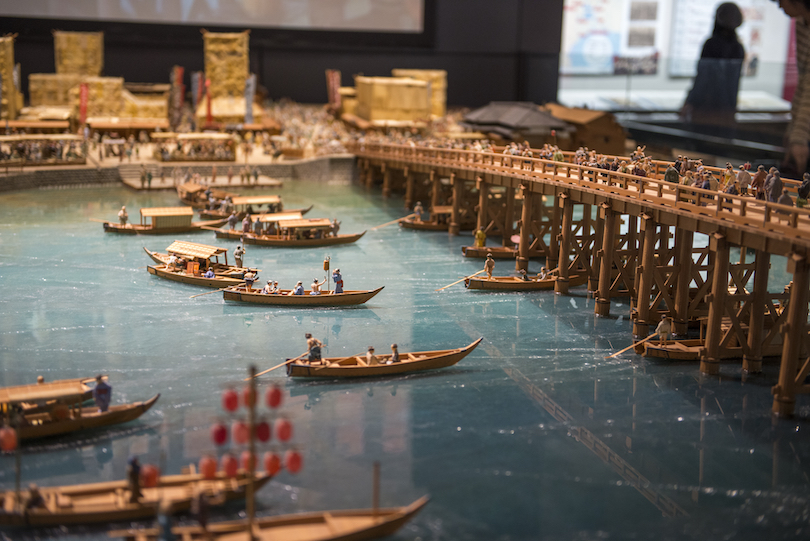 For those interested in history, the Edo-Tokyo Museum is an absolute must-visit attraction. Its impressive artifacts and engaging exhibits cover the capital's captivating past from 1590 to the present-day. As it is now unfortunately closed until 2025 for renovations, keep an eye out for the pop-up exhibitions it's putting on all around town.
Instantly recognizable from its futuristic building that looks like something out of Star Wars, the vast museum was established in 1993. Starting from the Edo period, it examines its growth, development and how it eventually became the world's largest city. You'll also hear about devastating events such as the Kanto earthquake and firebombings that flattened most of it in WWII.
On show are hundreds of artifacts, artworks and expertly done miniature replicas depicting daily life in Tokyo over the centuries. These look at everything from art and architecture of the Edo period to Kabuki theater and the Tokugawa shogunate. When it finally reopens, the museum is again going to be one of Tokyo's top attractions.
12. Tokyo National Museum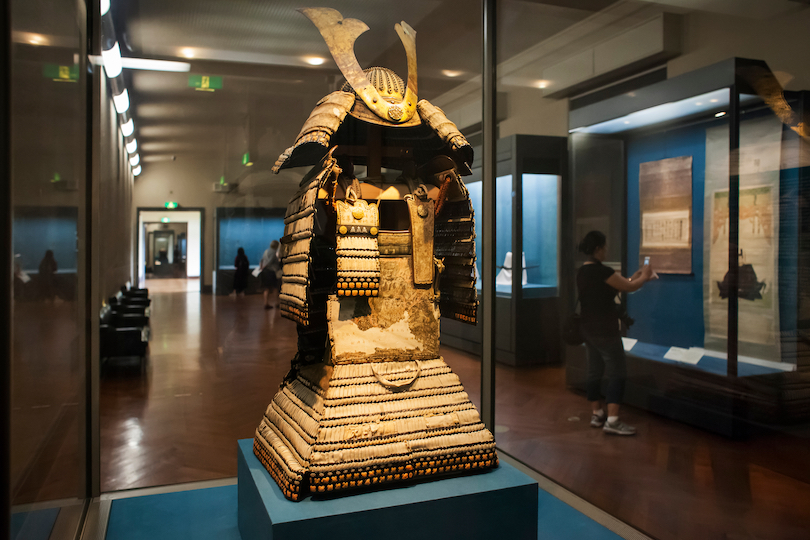 In the meantime, however, make sure to take a trip around the Tokyo National Museum. Tucked away in Ueno Park, its gigantic galleries display the largest number of Japanese artifacts and artworks in the world. Fascinating to explore, it was certainly our favorite museum we saw in the city.
Founded in 1938, its complex and collection have expanded considerably with more than 110,000 works now on show across its six buildings. While some focus on calligraphy, ceramics and tea ceremony art, other rooms look at woodblock prints or ink paintings. Its Toyokan gallery also has tons of treasures from all around India, China, Korea and the Khmer Empire to inspect.
While we knew it would take a long time to go around, we didn't expect it to take up the best part of a day! There were just so many cool kimonos, katanas and suits of samurai armor to see, we couldn't tear ourselves away. Outside, too, there are lovely landscaped gardens to stroll around and of course Ueno Park itself as well.
11. Tokyo Skytree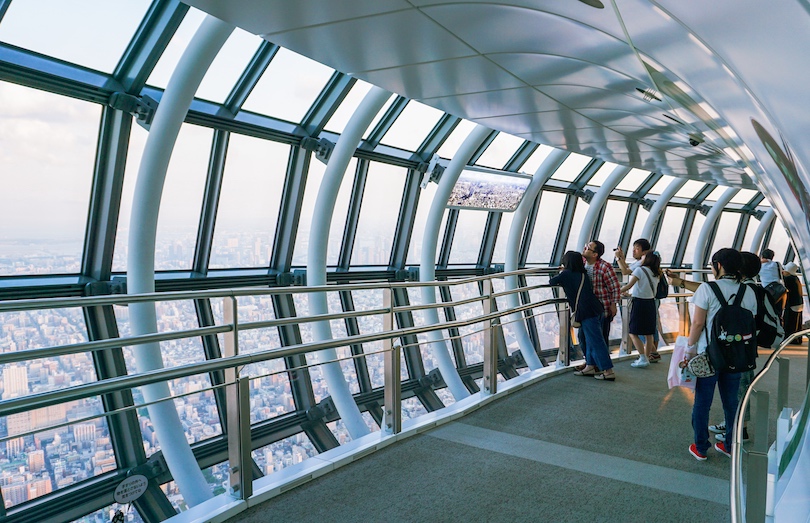 Boasting some of the most breathtaking views imaginable over the massive metropolis is the Tokyo Skytree. Rising dramatically above the Sumida ward and its surroundings, the very popular landmark is visible for countless kilometers around.
The world's tallest tower, it remarkably soars 634 meters straight up into the sky. Completed in 2012, the enormous broadcasting and observation tower contains two viewing decks, 350 and 450 meters above the ground. The latter also has a vertigo-inducing glass-covered skywalk that you can gingerly shuffle across while peering at the streets far, far below.
From up high, you see all the capital's now tiny skyscrapers stretch endlessly before you and Mount Fuji's snow-coated cone looming on the horizon. Gazing up at its neofuturistic features from below is almost as good, as its silhouette makes for some fabulous photos. Each night, the tall Skytree is delightfully lit up in different colour schemes.
10. teamLab Planets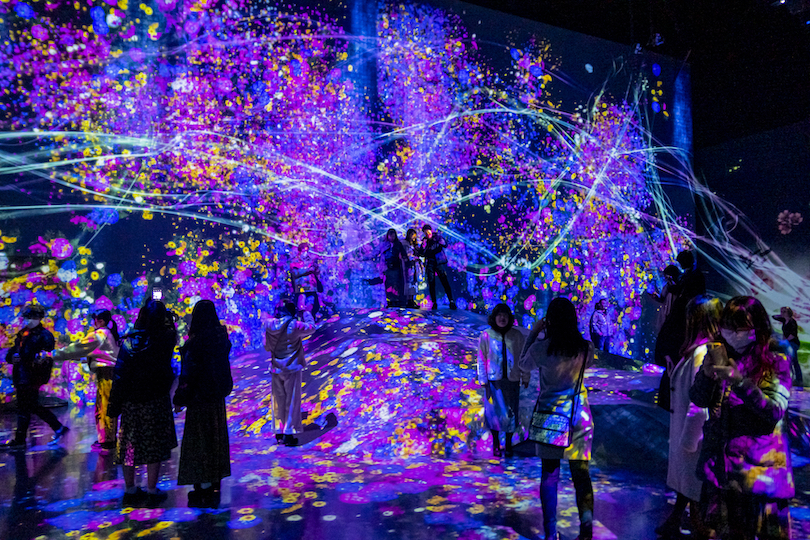 One of the most amazing, immersive art installations you are likely to come across, teamLab Planets has quickly become one of the must-visit tourist attractions in Tokyo. As well as stimulating your senses, its otherworldly exhibition spaces are certain to provide some of your best pics and selfies from your time in the city.
Originally intended to be temporary, the art exhibition's overwhelming popularity has thankfully seen it extended a number of times now. Blurring the boundaries between the body, nature and art, it sees you wander barefoot through dark, wet corridors before emerging in awe-inspiring, open spaces.
While some contain hundreds of colourful orchids or strange egg-like sculptures, others are covered in the most incredible multi-sensory digital art. All together, teamLab's innovative use of lights, touch, sound and engineering techniques makes for an utterly unforgettable experience.
We were very fortunate it wasn't too crowded when we visited as that can detract massively from the immersion. When booking, try and choose an earlier time slot so that fewer people are around.
9. Tsukiji Market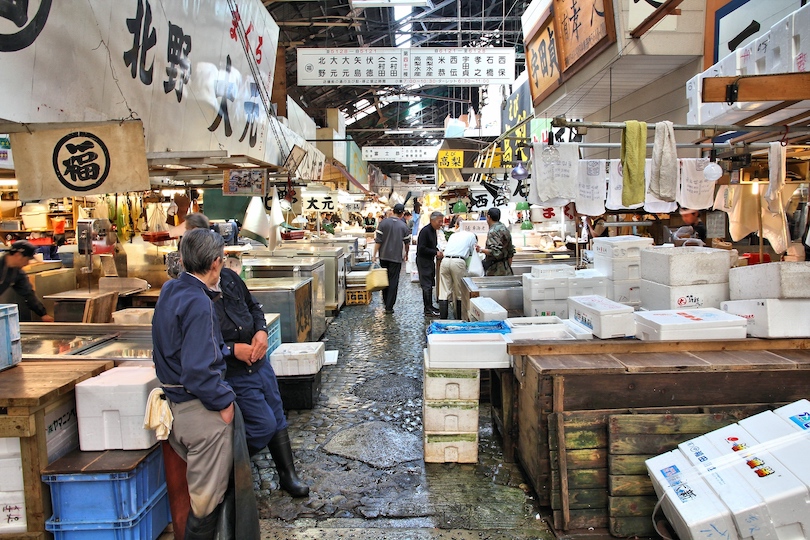 Seafood and sushi are big staples of the Japanese diet, but at the Tsukiji Market it is possible for you to see exactly where chefs and restaurants find their catch of the day.
Tsukiji is a wholesale fish and seafood market, and it is the largest on the planet. The inner market is where wholesalers purchase seafood in tremendous amounts, but the outer market is where you can snag just enough fish for dinner, or you can dine at sushi restaurants that truly do have the freshest fish possible.
For the best chance at experiencing the full bustle of the market, get there early. Most shoppers arrive before dawn, and by mid-morning the whole operation has largely shut down.
8. Imperial Palace & East Garden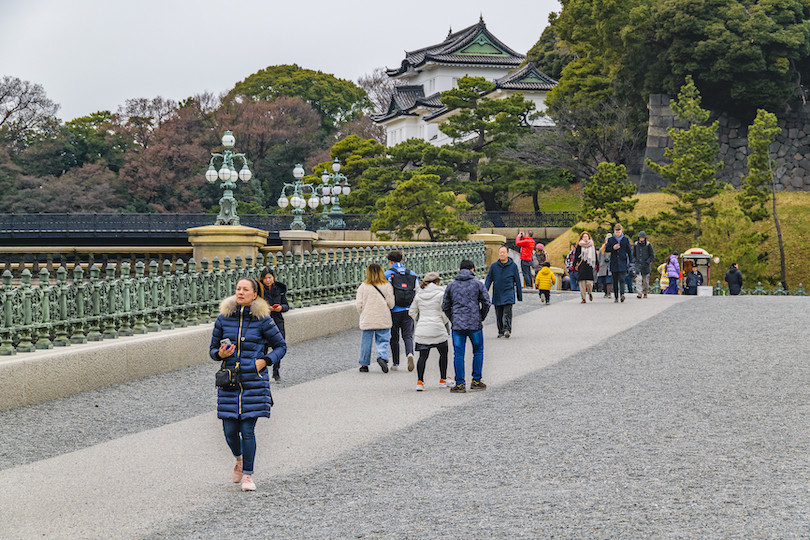 Covering a ginormous swathe of the center of Tokyo is the Imperial Palace and its endless grounds. Still used by the Emperor of Japan and his family, it has plenty of historic buildings and picturesque gardens to amble around.
Surrounded by impenetrable moats and stone walls, the current palace complex occupies the same spot where Edo Castle once stood. From here, the Tokugawa shogun ruled the country from 1603 to 1867 until the Imperial Family moved in following the Meiji Restoration.
On tours, you can actually enter its inner grounds and learn more about the refined residence and its revered royals. As you traipse through attractive gates and courtyards and over old bridges, there are also some ancient ruins and traditional buildings to appreciate.
If you don't manage to arrange a tour, the only part open to the public is the immaculately-maintained East Garden. Large, green and … rather unremarkable, we were pretty underwhelmed. Aside from the moat and a small, scenic section known as Ninomaru, you walk around seemingly forever without seeing much.
Hopefully, it is a bit better when the sakura are blooming or the azaleas are out. Just be prepared to cover a lot of ground when you visit!
7. Akihabara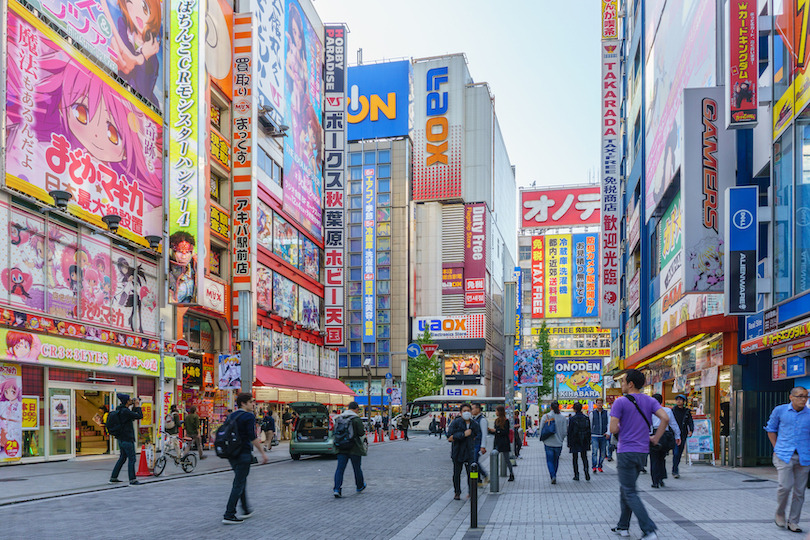 Within the Chiyoda Ward of Tokyo is a place known as Akihabara, a major shopping and electronics district.
While plenty of local residents flock here for all sorts of reasons, it is definitely a top pick for travelers, especially if you're looking to experience a different side of Japanese culture. Akihabara is known primarily for two things: Tech shops and otaku culture. If you're fascinated by the tech-savvy Japanese, then Akihabara is the place to see the new and wonderful in technology.
As a center of Japanese otaku and anime culture there are dozens of stores specializing in anime, manga and other collectables. There are also several maid cafes, where employees dress as maids and act like different anime characters.
6. Shibuya Pedestrian Crossing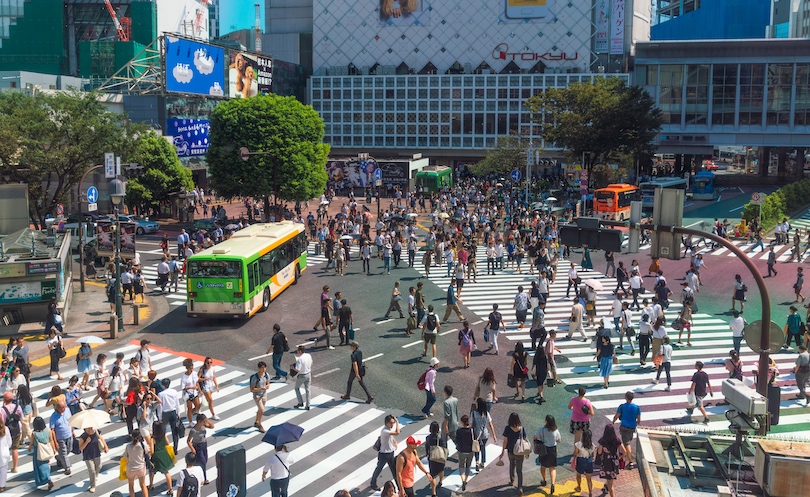 What definitely didn't disappoint was watching the mad scramble that takes place every few minutes at the Shibuya Pedestrian Crossing. The busiest intersection in the world, its five zebra crossings are almost completely covered by pedestrians, especially at peak times.
Located in front of Shibuya Station, the now iconic destination lies at the center of seven crossroads, surrounded by soaring skyscrapers displaying bright flashing adverts. Whenever the traffic lights turn red, hundreds if not thousands of businessmen, shoppers and tourists cross at any one time.
Finding yourself amidst this teeming throng of people is strangely exhilarating, especially in the evenings when it is busiest. For the best views of the chaotic crossing from above, head to either the Shibuya Sky rooftop or the second-floor Starbucks overlooking it. From both of them, you can snap great pics and videos of the frenetic confusion going on below.
5. Tokyo Tower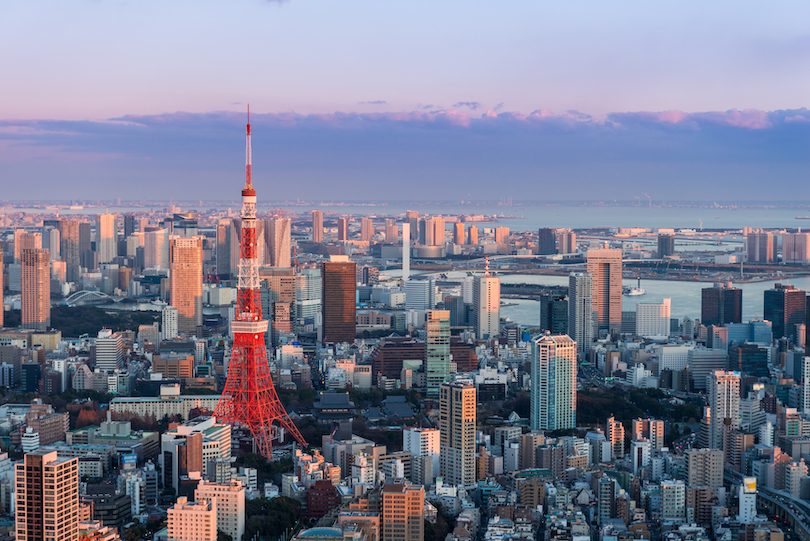 Long one of the city's most iconic landmarks, the Tokyo Tower has defined its sparkling skyline since the fifties. Asides from admiring its eye-catching architecture, it also has epic panoramas for you to enjoy from its viewing platforms.
The second-tallest structure in the country after the Skytree, the 333 meter-high tower was erected in 1958. Modeled after the Eiffel Tower in Paris, the immense lattice tower looks almost exactly like it though is taller, lighter and painted bright red and white.
From its Main Deck and the smaller Top Deck which respectively reach 150 and 250 meters in height, you can gaze out over all of endless Tokyo before you. Although its 360-degree views aren't quite as good as the Skytree's, various exhibits and historic photos explain its past. FootTown below also has a small amusement park, cafe and souvenir shops for you to check out.
4. Shinjuku Gyoen National Garden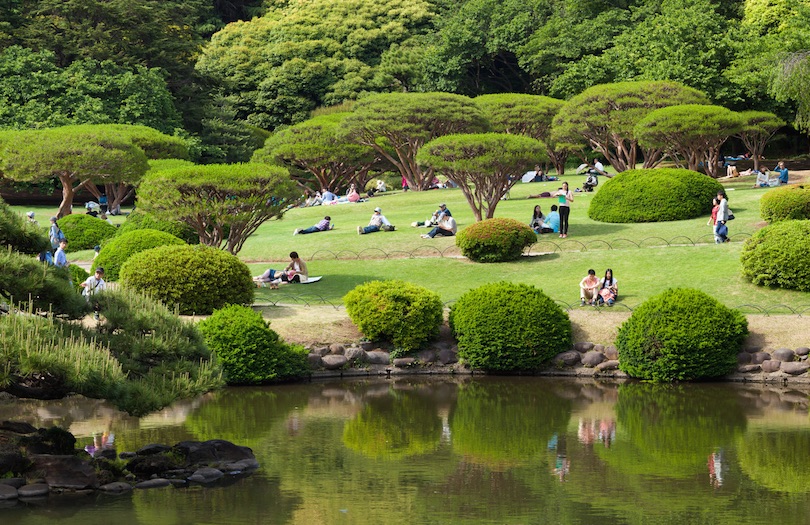 When many people think of Japan, what comes to mind is the skyscrapers, the bustling streets and the big shopping areas. That's why it is such a delight to come across the Shinjuku Gyoen National Garden, an area that belonged to the Naitō family in the Edo period. Today, the gardens are open to the public.
There are three beautiful and distinct landscape designs visible in Shinjuku Gyoen National Garden: English garden landscaping, French formal landscaping and traditional Japanese gardening. You can have a picnic, stroll along the paved walkways, admire the large greenhouses or just stop to see the over 20,000 cherry trees that fill the gardens.
3. Meiji Shrine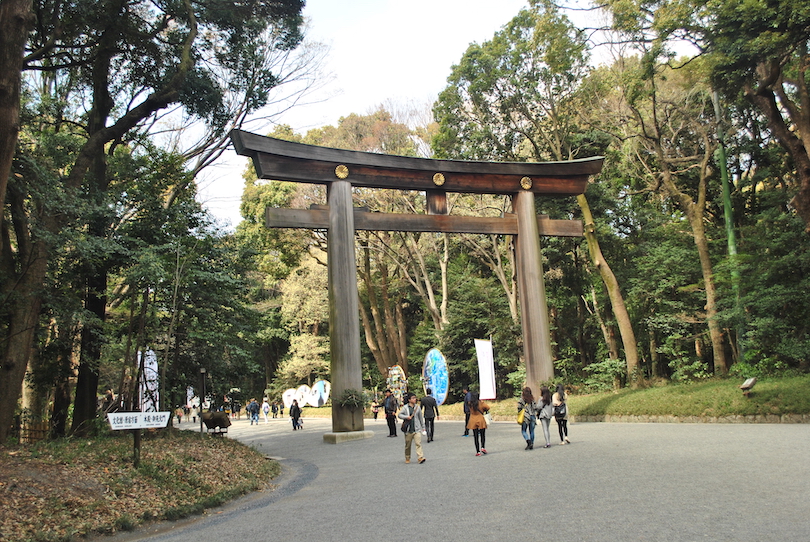 Just north of the Shibuya Scramble Crossing is the amazing Meiji Shrine. Surrounded by gorgeous forests and seasonal iris gardens, the important religious site is an oasis of peace and calm from the busy blocks around it.
Dedicated to the deified spirits of both Emperor Meiji and his wife, the stunning shrine was unveiled in 1921, almost a decade after his death. As it was later destroyed during WWII, the current complex only dates to the fifties. Here you can pay your respects at the giant wood temple and make a small offering at its main sanctuary.
Many also come to either relax or enjoy some exercise in its atmospheric forest. Aside from walking about beneath its towering trees, you can stop by its idyllic iris garden and traditional tea house.
2. Ueno Park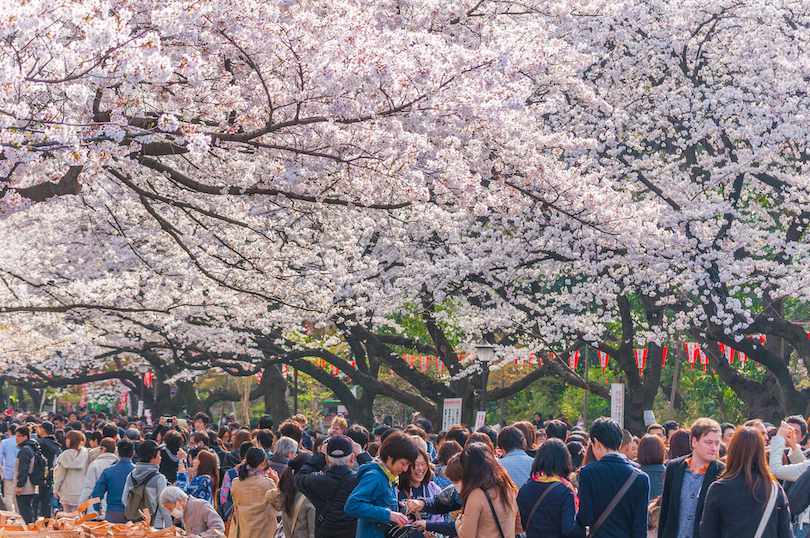 Another unmissable nature spot to explore is the absolutely enormous Ueno Park and its exhaustive list of attractions and activities. One of the most popular and picturesque green spaces in the city, its numerous temples, museums and highly-rated zoo can keep you occupied for days.
Spread across a massive part of the Ueno district, its scenic reaches were set aside for the public in 1873. Since then, several top-class national museums have been erected around the park. While some look at art, history and culture, others focus on science, technology or archaeology.
Other than ambling around its pretty paths and ponds, there are operas, ballets and plays to watch in its concert halls. You can also visit the country's oldest zoo, home to roughly 2,600 animals, and see the seventeenth-century Ueno Tosho-gu shrine.
What's more, the park is renowned for being one of the very best places to view cherry blossoms in Japan. We didn't expect to be so touched by the sight of the sakura blowing in the wind and couldn't recommend visiting in spring enough. Seeing everyone so enraptured by the thousands of trees full of delicate pink petals was a very special moment.
1. Sensoji Temple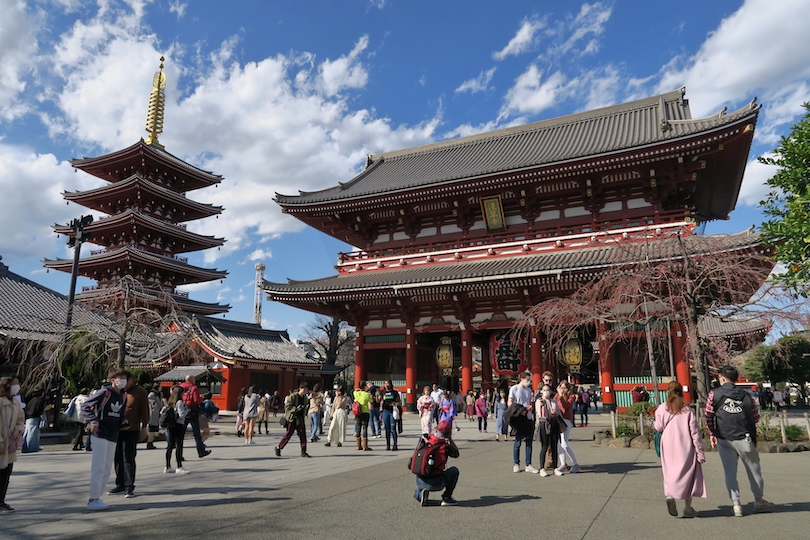 Japan is home to thousands of temples, but the oldest of them all is the Sensoji Temple in Tokyo.
By most accounts, the temple's history dates back to the year 645, making it over 1,400 years old. During the Second World War, much of the temple was destroyed, but it was rebuilt afterwards in the original style. This makes Sensoji Temple a reminder of the resiliency of the Japanese people and an example of new beginnings.
The entrance to the temple is the enormous Thunder Gate with hanging lamps, and it is the base of an annual festival held there each spring. When you visit Sensoji Temple, don't forget to spend some time at Nakamise-dōri, the street leading to the temple where you can buy souvenirs, snacks or even have your fortune told.