Forever associated with the world's first atomic-bomb attack that leveled the city on 6th August 1945, Hiroshima has bounced back remarkably since then and now looks much like any other modern Japanese city. Boasting some excellent cuisine, bustling nightlife, and the usual neon-lit streets and skyscrapers, Hiroshima lies in the west of Honshu and is the largest city in the region.
One of the most popular tourist destinations in the country, Hiroshima has many lovely leafy parks and art museums for you to explore, as well as shrines and temples that can be found at Miyajima.
Much of the tourist attractions in Hiroshima, however, revolves around its many memorials, museums, and monuments dedicated to the atomic-bomb attack. Promoting a message of peace, they are very touching and moving places to visit, and are the main focus of most people's visit to Hiroshima.
In this post, we'll cover:
10. Hiroshima Museum of Art
Founded in 1978, the Hiroshima Museum of Art houses a fantastic collection of paintings and artworks from both European and Japanese artists. Taking you on a delightful journey through art history with Romanticism, Post-Impressionism and Fauvism all represented, its extensive galleries will astound art lovers with all that they have to offer.
Among its many highlights are paintings by renowned names such as Vincent Van Gogh, Claude Monet, and Pablo Picasso. The museum is no less fascinating when it comes to its Japanese paintings; while some of them exhibit traditional techniques and content matter, others are a blend of Japanese and Western styles.
Located in Hiroshima Central Park, this wonderful museum is well worth visiting if you are interested in all things art, and it often hosts temporary exhibitions.
9. Orizuru Tower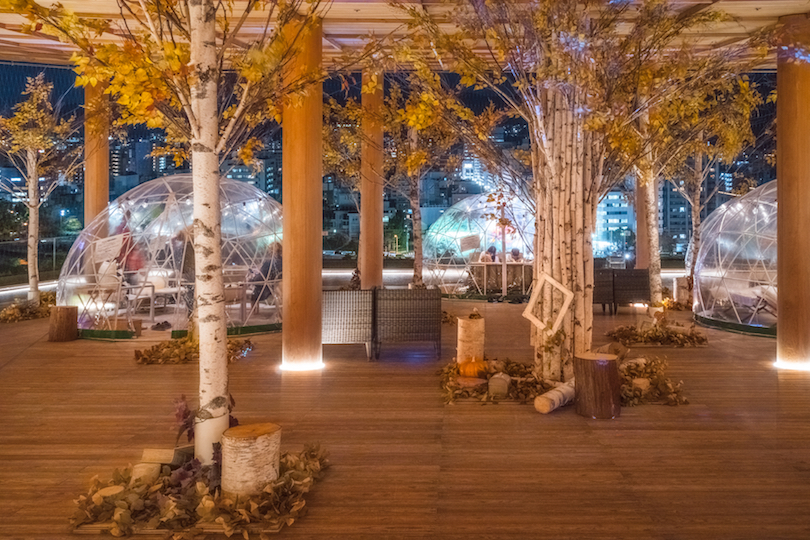 As it overlooks both the Atomic Bomb Dome and Peace Memorial Park, Orizuru Tower is blessed with one of the best views in the whole of Hiroshima. The sleek, modern building was only opened in 2016. Out of its observation deck's wall-to-ceiling windows, visitors can see all of Hiroshima spread out before them.
Although it makes for a spectacular sight at any time of day, it is particularly worthwhile visiting in the evening when the sun sets over the city. While many people understandably head straight to Orizuru Tower's observation deck, there is also a cozy cafe and souvenir shop for you to check out, as well as an interactive multimedia zone.
8. Shukkei-en Garden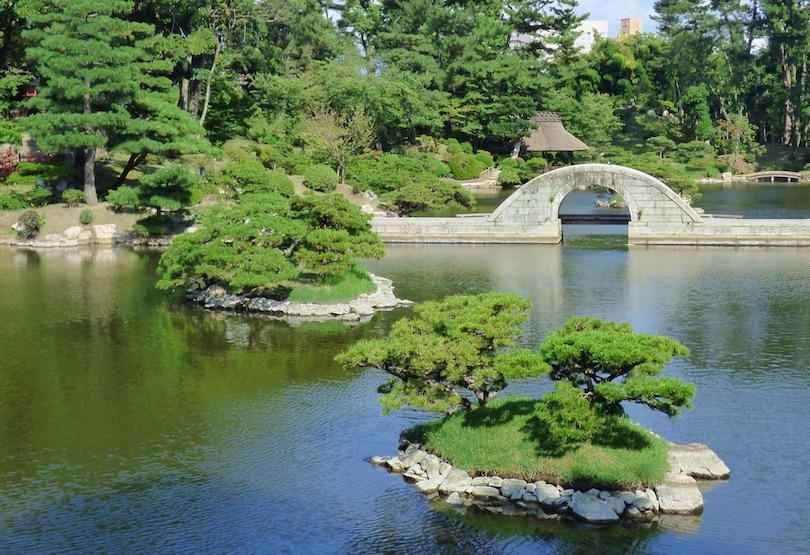 Despite its small size, Shukkei-en Garden packs a remarkable array of different landscapes into its grounds. Its name in English actually translates to 'shrunken scenery garden.' When walking around its beautifully laid out, well-landscaped gardens, you'll come across stunning mountain vistas, forests, and valleys – just in miniature.
Dating all the way back to 1620 when Asano Nagaakira – the daimyo, or feudal lord of Hiroshima – ordered it to be built, Shukkei-en Garden is a peaceful and pretty place to spend some time and unwind in nature. Located around the scenic pond that lies at its heart are a number of traditional Japanese tea houses. These provide fantastic views of the garden as well as delicious herbal brews and aromatic teas.
7. Hiroshima Castle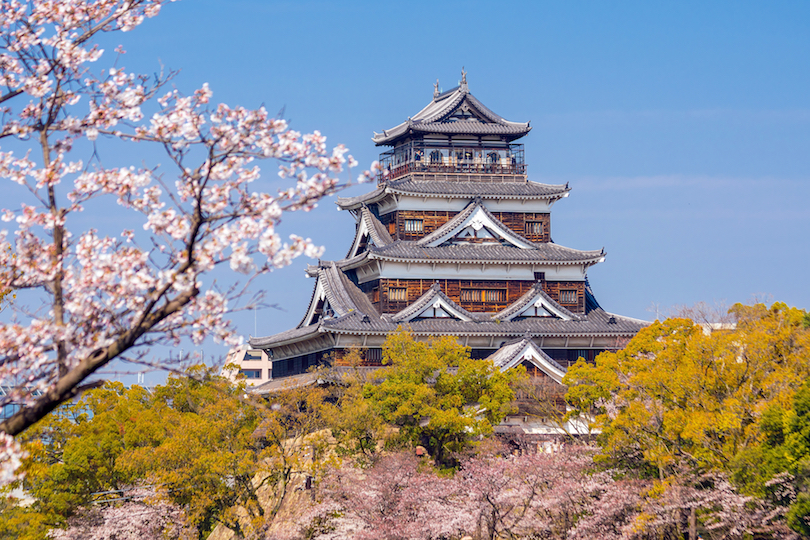 As the original Hiroshima Castle was just one of the city's many historical sights to be destroyed by the atomic bomb, the version we see today only dates back to 1958. You wouldn't guess it, however, as it was faithfully restored and rebuilt to mimic how it would have looked all the way back in 1589 when it was first constructed.
Surrounded by a moat and some delightful grounds, the five-story castle looks absolutely incredible and is particularly pretty to see in spring when the cherry blossom trees are in bloom. Besides wandering around Hiroshima Castle's leafy grounds and snapping endless photos of its towering keep, visitors can enter inside to learn more about its fascinating past.
With lots of artifacts and exhibits to discover, its museum is as interesting as it is informative. From the top of the keep, you can enjoy some fantastic views out over Hiroshima.
6. Okonomi-mura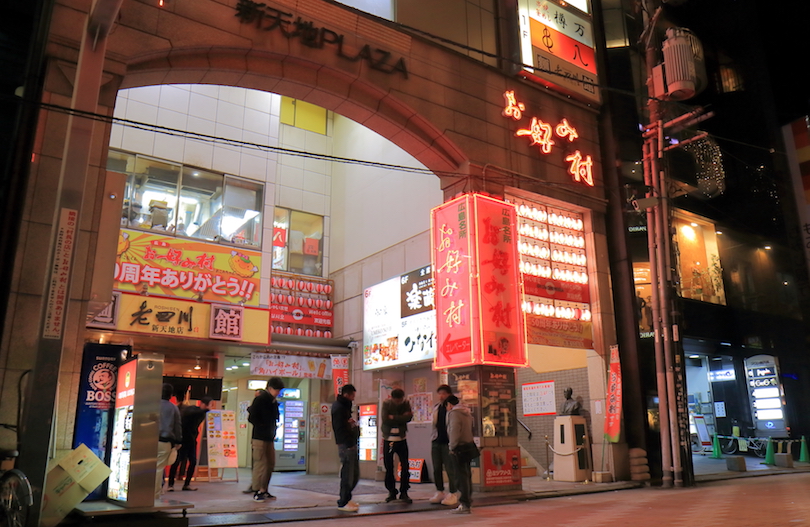 Spanning over three floors, Okonomi-mura is the place to go if you're looking to try one of Hiroshima's most famous and popular dishes: okonomiyaki. A type of savory pancake, okonomiyaki is served with a variety of different toppings, and shredded cabbage usually makes up a substantial part of its base and batter.
Meaning 'Okonomiyaki Village,' Okonomi-mura has over 25 different stands, all selling the same delicacy for you to try out, just in different styles and with varied ingredients. This colorful and lively food theme park is lots of fun to visit. Although it is quite touristy, you'll see just as many locals grabbing a bite to eat as foreigners.
5. Miyajima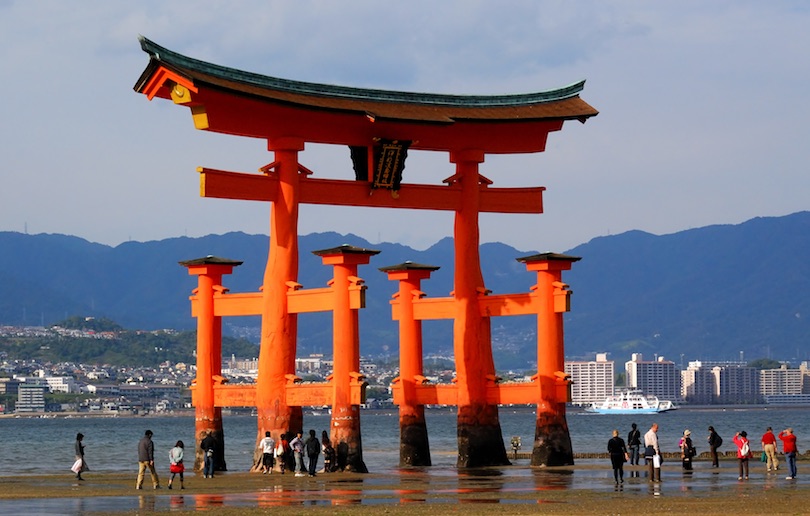 Lying just a short ferry ride away from the city in Hiroshima Bay, the small island of Miyajima is one of the nation's most popular tourist destinations, and rightfully so. Long considered to be a holy place, its many mountains and forests are home to some important and impressive Shinto shrines and Buddhist temples.
While the island's official name is actually Itsukushima, most people refer to it as Miyajima, or 'shrine island,' due to its many sites of worship. The most famous of these is Itsukushima Shrine, which boasts the iconic torii gate. Located just offshore with water all around it, the bright red gate welcomes visitors to the island and is one of the most photographed monuments in the whole of Japan.
Besides its delightful religious sites, Miyajima also boasts lots of breathtakingly beautiful nature for you to explore. Hiking amid the marvelous scenery really is a treat, and you'll often have friendly deer wander across your path or stop for a quick photo shoot.
4. Children's Peace Monument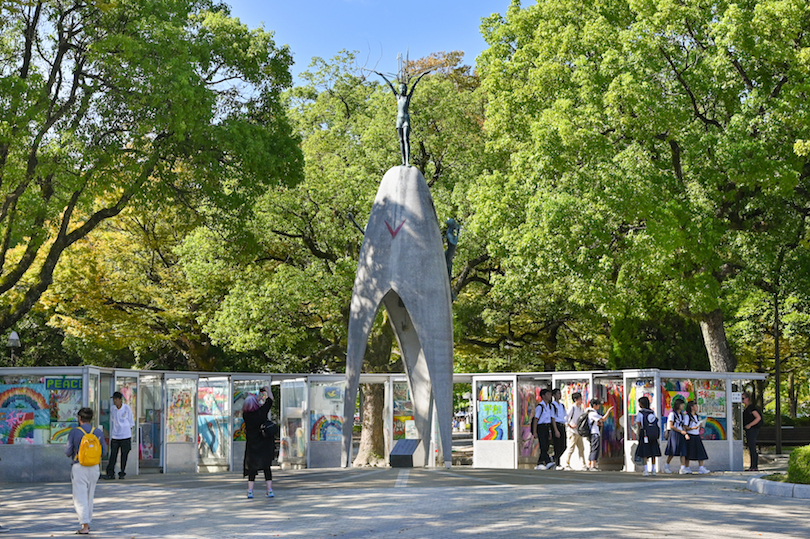 Dedicated to the thousands of children who lost their lives during the atomic bomb attack, the Children's Peace Monument is a very moving and inspiring place to visit and is a must when in Hiroshima. Unveiled on 5th May 1958, the memorial has a statue of a small girl standing atop of it, holding a wire crane up to the sky. The small girl in question is Sadako Sasaki, who at age eleven sadly developed leukemia due to the bomb's after-effects and decided to make a thousand paper cranes.
This is because in Japan it is believed that if one folds a thousand origami cranes, they will be granted a wish. Sadako wished for world peace and an end to nuclear weapons but sadly died before completing her goal.
In her place, her classmates folded the rest of the cranes for her. These can now be seen in glass cases surrounding the statue. Very touching to behold, the Children's Peace Monument lies just a short walk away from many of the city's other memorials and museums.
3. Atomic Bomb Dome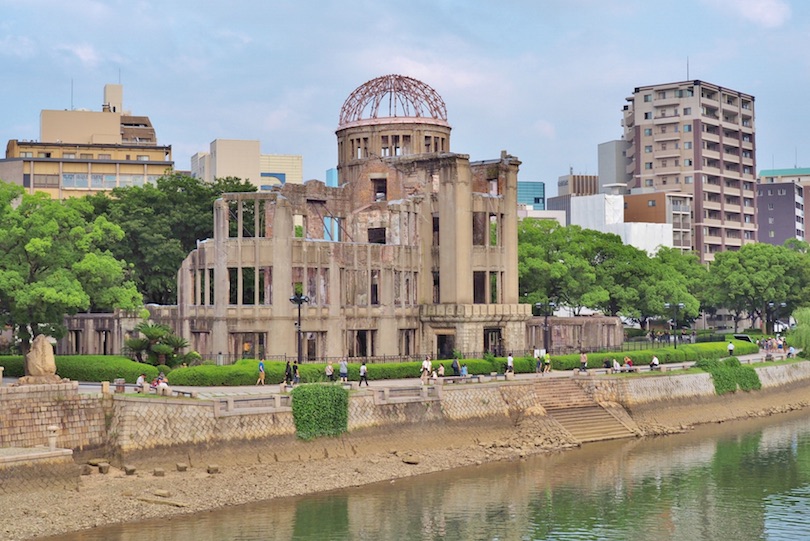 Nowadays known simply as the Atomic Bomb Dome, the shell of what was once one of the most impressive buildings in the city stands as a stark reminder of the destruction that the atomic bomb wrought upon Hiroshima. Surprisingly enough, much of what was then the Hiroshima Prefectural Commercial Exhibition Hall actually survived the blast; this was because it lay almost directly below the explosion.
While much of the rest of the city was cleaned up and rebuilt, its husk was left standing as it was just too big and difficult to demolish. Located in Hiroshima Peace Memorial Park, the Atomic Bomb Dome is one of the most recognizable symbols of the city and looks particularly haunting at night when it is lit up by floodlights.
2. Hiroshima Peace Memorial Museum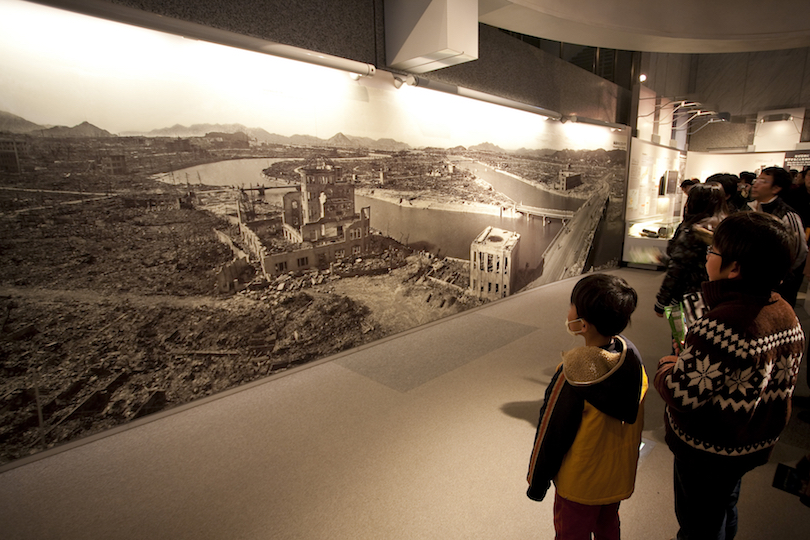 Although it is a harrowing place to visit, the Hiroshima Peace Memorial Museum is simply a must if you want to understand the tragic events that took place on 6th August 1945 and their aftermath. Located in the Hiroshima Peace Memorial Park, the museum documents the lead-up to the bombing, the effects of the atomic bomb, and its impact on the city and its people.
With lots of twisted and deformed everyday items on show, its many photos and displays effectively capture the horrific destruction caused by the bomb. Some of its most heart-wrenching exhibitions look at the detrimental impact and after-effects that the atomic bombing had on humans' health.
In addition to all this, the museum also has a moving section that calls for international peace and the elimination of all nuclear weapons.
1. Peace Memorial Park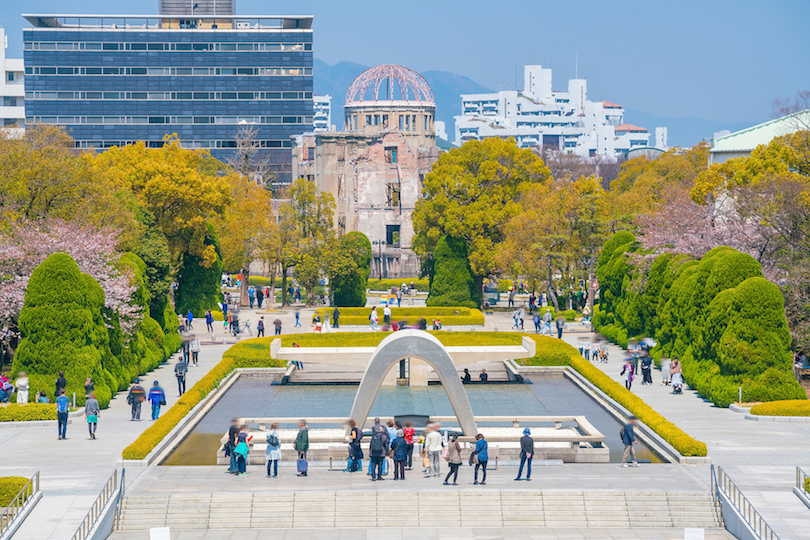 Lying in between the Ota and Motoyasu Rivers, Peace Memorial Park is where you can find the vast majority of Hiroshima's memorials and monuments to the horrific atomic bomb attack of 1945. Nowadays a very green and leafy place to wander around, it is hard to imagine that the park was once the bustling and busy center of Hiroshima.
There is loads to see in the park, and its main sights include the Atomic Bomb Dome, the Children's Peace Monument, and the Hiroshima Peace Memorial Museum. While it is dedicated to the memory of the bomb's many victims, the park also advocates for world peace and the end of nuclear weapons.
Covering a vast expanse of territory, no trip to Hiroshima can ever be complete without visiting at least some of its moving memorials and learning a bit about the tragic events that so shaped the city and its people.
Best Time to Visit Hiroshima
As summers are very hot and humid in Hiroshima, spring and autumn are considered to be the best times of year to visit. This is when the weather is warm and pleasant and either the flowers are blooming or all the trees' leaves are turning golden.
Very quiet from December through March, the city first sees a huge spike in visitors in April and May. Aside from snapping photos of its stunning sakura, you can attend the Hiroshima Flower Festival. Prices are high around this period as so many come to see the pretty cherry blossoms.
As June is the rainiest month, most people stay away though some do come for the Tokasan Yakata Festival. Despite the summer being so humid and temperatures averaging around 29 to 31°C (84 to 88°F), July and August are still popular months to visit. The Odon holidays and moving Toro Nagashi ceremony also attract plenty of visitors. Strong typhoons sometimes strike the city though right up until late September.
After this, October and November are much drier with the warm temperatures being perfect for strolling about taking in the autumnal foliage. As such, the prices and crowds rise again before dropping off as winter sets in.