Located around two hours to the north of Tokyo in Tochigi Prefecture, the small city of Nikko is one of the most popular tourist destinations in the country, and justifiably so. Tucked away among the mountains with forests all around it, Nikko is home to lots of impressive Shinto shrines and Buddhist temples; these exhibit some of the best examples of art and architecture from the Edo period.
In addition to its many historical and cultural tourist attractions, Nikko is renowned for its beautiful mountain scenery. The surrounding forests are full of sparkling waterfalls, glimmering lakes, and steaming hot springs for you to explore. While most people only visit as a day trip from the nation's capital, it is well worth spending a few days here to explore all the things to do in Nikko and see it's fantastic historical sites and natural wonders
12. Shinkyo Bridge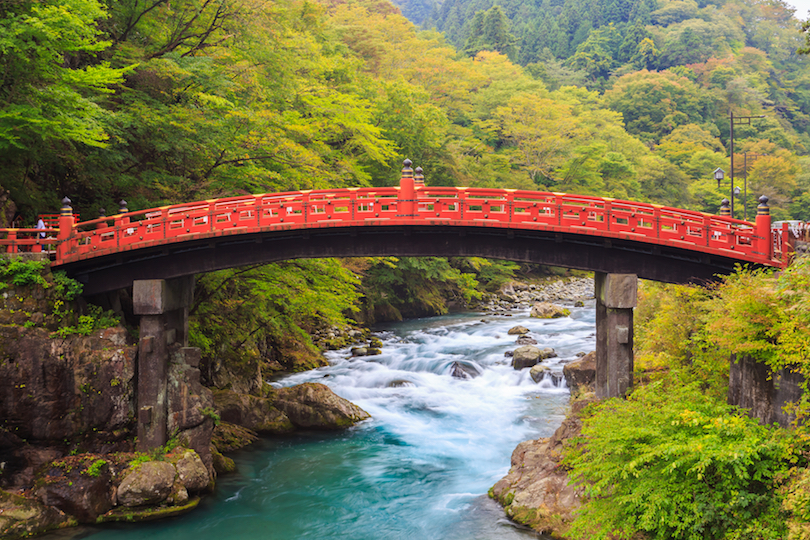 Widely considered to be one of the three finest bridges in the whole of Japan, Shinkyo is set in a lovely spot with thick forests lying to either side of the Daiya River that flows below it. Acting as both a gateway and entrance to Nikko's shrines and temples, people have crossed back and forth over Shinkyo Bridge since feudal times, although for much of its history, only the Shogun was allowed to use it.
This is because the bridge is part of Futarasan jinja – a Shinto shrine – and this means that Shinkyo itself is also considered to be sacred. Nowadays, for a small fee, visitors can stroll across the bridge and snap photos of the picture-perfect scenery on their way to the shrines.
11. Tobu World Square
Boasting not only the Statue of Liberty but the Eiffel Tower and Great Sphinx of Giza too, Tobu World Square makes for a great day out for all the family. The theme park has over a hundred replicas and models of world-famous buildings for you to wander around, with architectural wonders from America, Asia, Egypt, Europe, and Japan on display.
While they are obviously miniature versions of places such as the Duomo di Milano, the Tokyo Skytree, and Saint Basil's Cathedral, some of the models stand at over 20 meters high. One of the best times of year to visit is between November and March when the whole park and its many models are beautifully illuminated by spotlights and LED lights.
10. Tamozawa Imperial Villa Memorial Park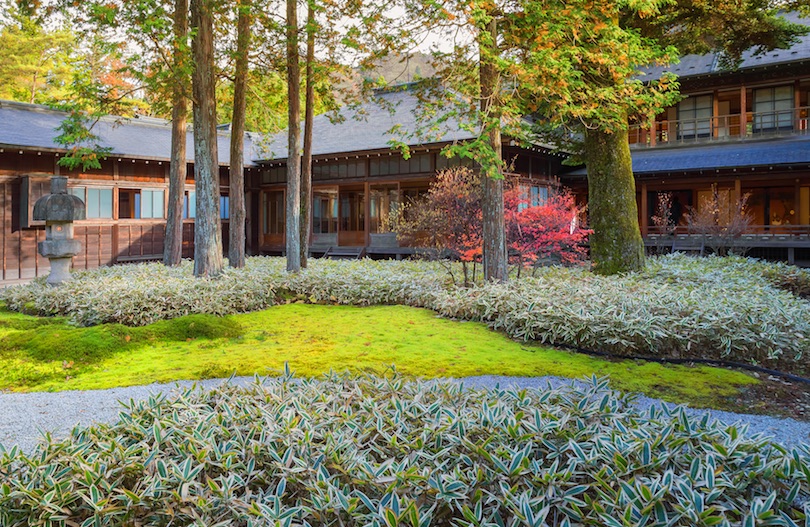 Built in 1899 as a summer retreat for the Emperor Taisho, Tamozawa Imperial Villa was also used later as a hide-out for Emperor Hirohito during the Second World War. Nowadays, its many rooms and gardens have been turned into a wonderful museum and memorial park; these offer a fascinating look at how the imperial family used to live.
Tamozawa Imperial Villa's 106 rooms exhibit some delightful architecture, with the Edo, Meiji, and Taisho periods all represented. It is one of the largest remaining wooden buildings in the whole of the country. While wandering around the huge complex, you'll find lots of exhibitions and displays that detail the life and times of the emperors, as well as the magnificent artisanship on show.
9. Taiyuinbyo Shrine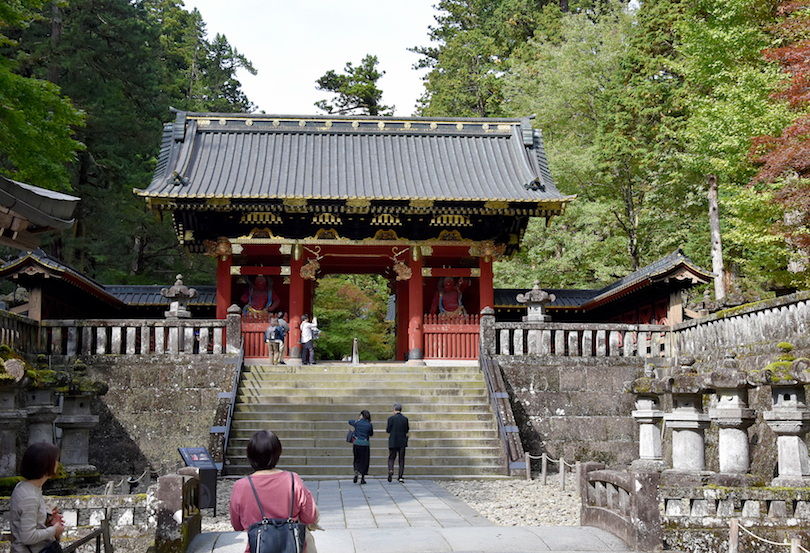 Nestled away in the forest, Taiyuinbyo Shrine makes for a spectacular sight with its elaborate architecture and lavish decorations. Dedicated to Iemitsu, the third Tokugawa Shogun, the shrine is quite unique, as its main temple faces in a north-east direction towards Toshogu Shrine. While this is traditionally considered to be an unlucky direction, this was done to pay homage and show respect to his grandfather, Tokugawa Ieyasu – the founder of the dynasty – who is buried nearby.
Although you cannot enter the main hall of the temple or its mausoleum, you can view them from outside, and they both showcase some fantastic Buddhist and Shinto elements. Two of Taiyuinbyo Shrine's most impressive features are the majestic Karamon and Nitenmon Gates, both of which are intricately decorated, with lots of amazing carvings on show.
8. Ryuokyo Canyon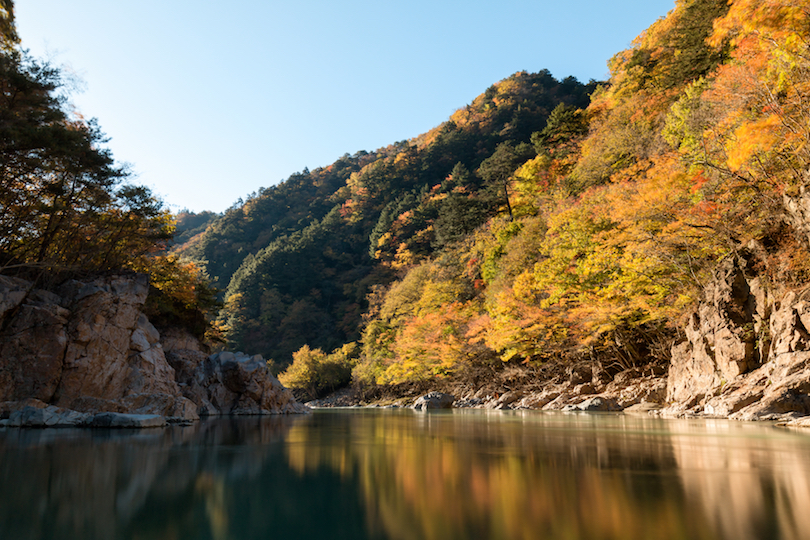 Formed over millennia by the Kinugawa River that courses through it, Ryuokyo Canyon boasts some of the most dramatic landscapes in the region. Beautifully framed by Ryuokyo's craggy walls, the emerald green waters of the river meander their way through Nikko National Park, with rocky outcrops popping up here and there.
The scenery above is no less spectacular, as the lush forests that tumble down the surrounding mountainsides threaten to engulf the canyon. A great way to see Ryuokyo Canyon is to hike along the scenic seven-kilometer-long trail that runs from Kawaji Onsen to Kinugawa Onsen. At the end, you can enjoy a relaxing soak in one of their marvelous hot springs.
While the canyon is awe-inspiring to gaze upon at any time of year, it is particularly worthwhile visiting in autumn, when the foliage of the surrounding forests is a mesmerizing mix of yellows, reds, and oranges.
7. Ryuzu Waterfall
Cascading its way down some 200 meters of stone steps, 'Dragon's Head Waterfall' – as it is known in English – is so named due to the distinctive rock that lies near its foot and divides the falls in two. Located just upstream of Lake Chuzenji on the Yukawa River, Ryuzu Waterfall is a popular draw amongst both locals and tourists alike, and there is a lovely little trail you can wander along that offers up fantastic views of the falls.
While many people come here during autumn when the surrounding forest is awash with different colors, it is equally bewitching to visit in May when its red azaleas are in bloom.
6. Yudaki Falls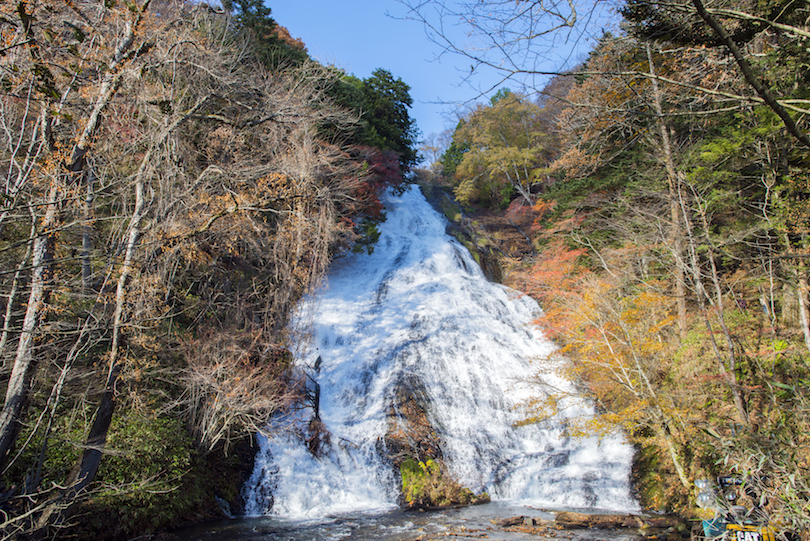 Originating from Lake Yunoko, Yudaki Falls's freezing waters drop some 70 meters down the mountainside before leveling out and turning into the Yugawa River. Despite the icy appearance of the frothing jets of water that make up the falls, its name in Japanese actually means 'hot water waterfall.'
From down below, there is an excellent viewpoint from which you can gaze up at Yudaki Falls and see it in all its splendor. Right next to its basin at the bottom is the fantastic Senjogahara Plateau Nature Trail for you to explore; this takes you along the banks of the river and through some wonderful marshlands and forests.
5. Lake Chuzenji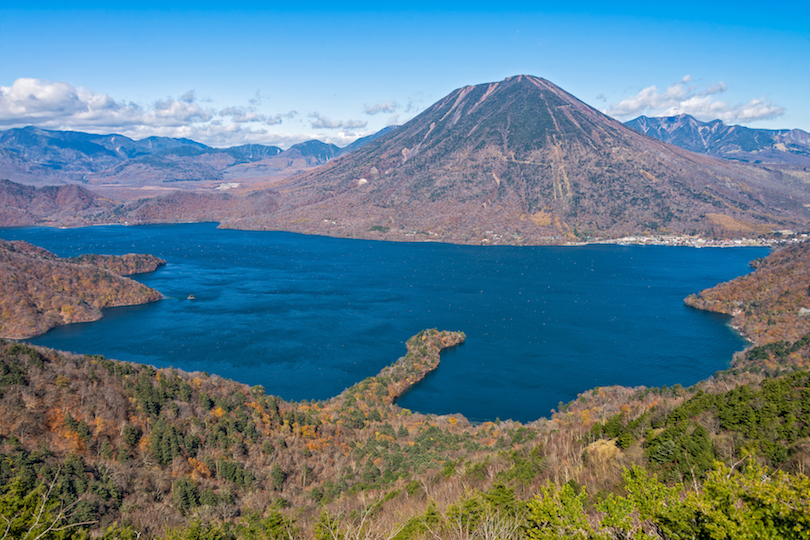 Located at over 1,200 meters above sea level, Japan's highest lake has long attracted visitors to its shores with its cool climate, stupendous scenery, and wealth of outdoor activities. Hemmed in on all sides by thick forests that crowd around the lakeshore, Lake Chuzenji's azure waters are overlooked by Mount Nantai, a volcano that is considered to be sacred.
While the shady woods and mountain slopes make for some brilliant hiking, they also hide away some interesting sights, such as Futara Shrine, Chuzenji Temple, and the Italian Embassy Villa Memorial Park. On top of all of this, the spectacular Ryuzu Falls and Kegon Falls are just a short hike to the north and east of the lake respectively.
To enjoy the best views of the lake, visitors can either take a scenic boat trip on its tranquil waters or a brief cable car ride up to the Akechidaira Plateau viewpoint.
4. Nikko National Park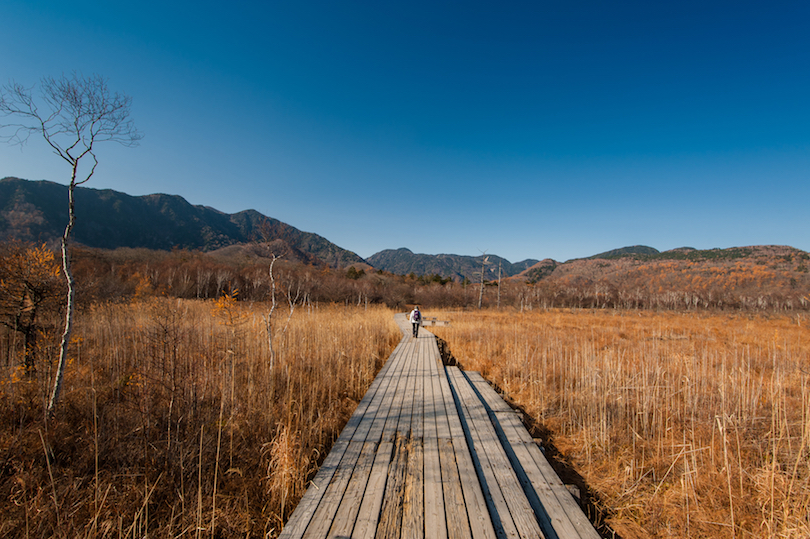 Established all the way back in 1934, Nikko National Park encompasses many of the region's most spectacular sights, with Lake Chuzenji, Ryuzu Falls, and Kegon Falls all to be found within its confines. Its many mountains, lakes, rivers, and forests provide numerous recreational opportunities, with hiking, skiing, and camping being particularly popular. Lots of people come to relax in its fantastic onsen hot spring resorts.
Besides its many natural wonders, Nikko National Park also boasts a number of important and impressive Shinto shrines and Buddhist temples, with Rinno-ji and Toshogu being the most majestic of the lot. With so many incredible landscapes and significant historical sights on display, it should come as no surprise to learn that it is widely considered to be one of the best and most beautiful national parks in Japan.
3. Edo Wonderland Nikko Edomura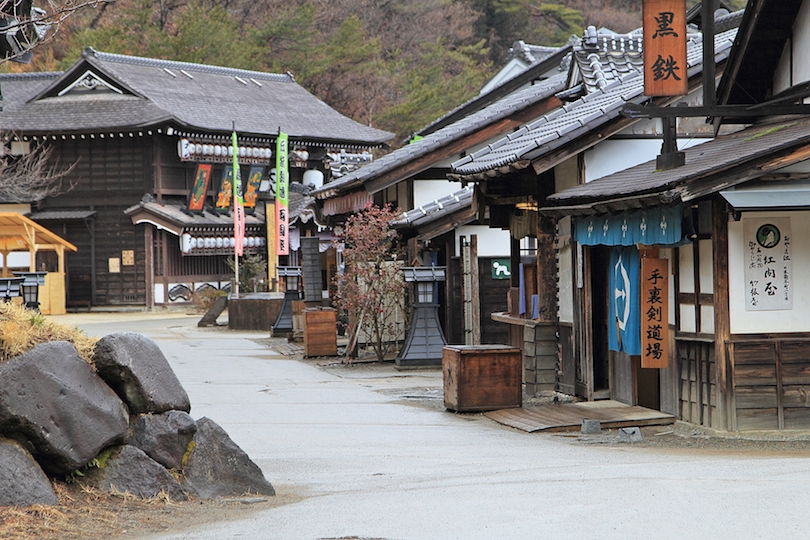 Offering a fascinating look at the life and culture of Japan during the Edo Period (1603 – 1868), Edo Wonderland Nikko Edomura is a fun and festive cultural theme park that is a perfect day out for all the family. As soon as you set foot in the park, you'll immediately feel like you've stepped back in time; the grand government buildings and samurai residences before you all exhibit Edo Period architecture.
On top of this, all the staff wear traditional attire and reenact how citizens of that time would have behaved. While wandering around – either in your own clothes or dressed up in a costume – you can try your hand at archery, shuriken throwing, and being a ninja. There is always something going on in the park, whether it's a performance or parade in its Edo-era streets or an oiran show in one of its seven traditional theaters.
2. Kegon Falls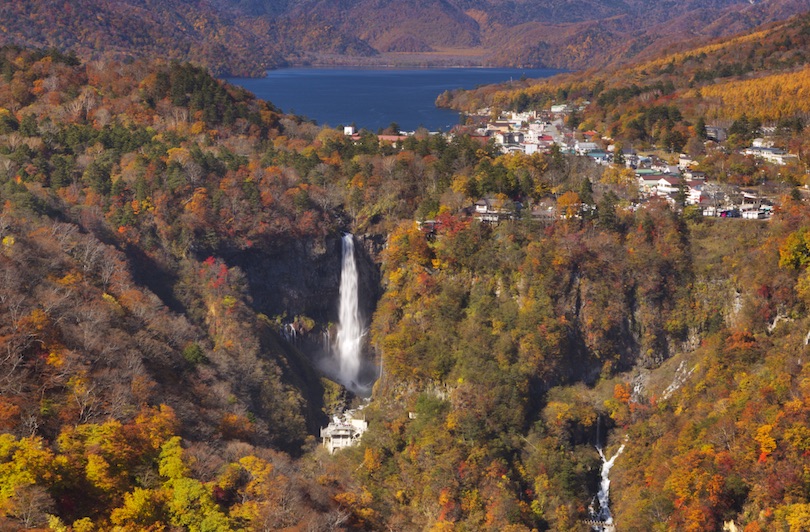 Towering to almost a hundred meters in height, Kegon is the most famous of Nikko's waterfalls and is even ranked among the top three most beautiful waterfalls in the whole of Japan. As such, it is certainly not to be missed out on when visiting the city. Located at the eastern end of Lake Chuzenji, Kegon Falls is set in a scenic spot with trees crowding all around it and is best viewed from the observation platform that lies in front of it.
While its dazzling bright white jet of water is undoubtedly the main show, there are actually 12 smaller falls found coursing their way down the same rock face. Autumn and winter are two particularly great times of year to visit Kegon Falls as it is either surrounded by the bright colors of the foliage or frozen completely solid and sparkling in the light.
1. Toshogu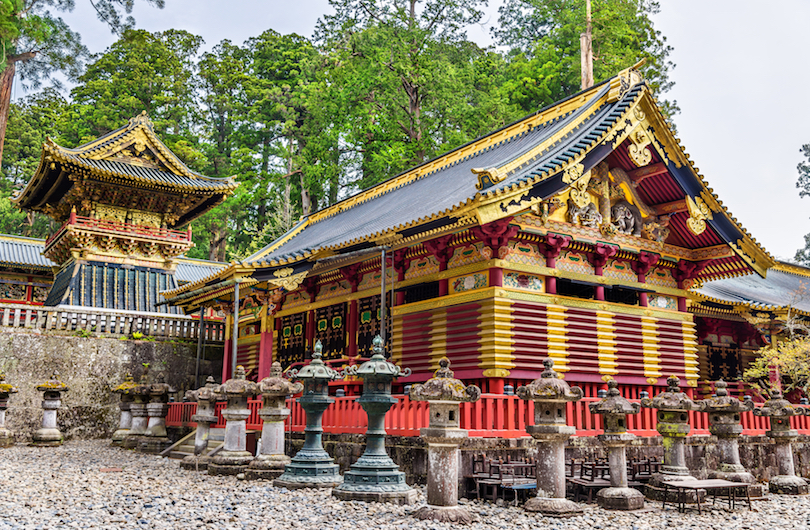 The most extensive and elaborate of Nikko's many Shinto shrines and Buddhist temples, the Toshogu shrine complex is the highlight of many people's trips to the city. Encompassing over a dozen different buildings, each more impressive than the last, the complex is dedicated to Tokugawa Ieyasu – the founder of the Tokugawa Shogunate.
While his mausoleum is quite simply decorated, the rest of the buildings showcase some absolutely stunning architecture, with Shinto elements mingling seamlessly with Buddhist features. Among the complex's most notable buildings are its fantastic five-story pagoda and the grand and imposing Yomeimon Gate.
With fabulous carvings and intricately decorated structures wherever you look, Toshogu really is a feast for the eyes as there is just so much art and beauty to take in.