Rich in history and culture, Japan is graced with traditional ryokans and ancient temples. But it also boasts cities like Tokyo, Kyoto, and Osaka that bustle with modern skyscrapers and high-tech gadgets.
In between, there are landscapes of breathtaking natural beauty. While the country is also a major commercial centre for fashion, cars and entertainment.
Then of course there is the food. From sushi and ramen to tempura and yakitori, Japanese food is renowned for its unique flavors and presentation. Travelers can sample traditional dishes at local eateries around the country, or indulge in Michelin-starred restaurants. Both of which will blow you away with their taste and presentation.
For the tourist, it really is a journey of Far Eastern discovery. However, the sheer diversity and wealth of tourist attractions in Japan can make it very difficult to plan a trip. This is why we've put together this list of things to do that will hopefully, provide you with some inspiration for where you will go in the 'land of the rising sun'.
Map of Tourist Attractions in Japan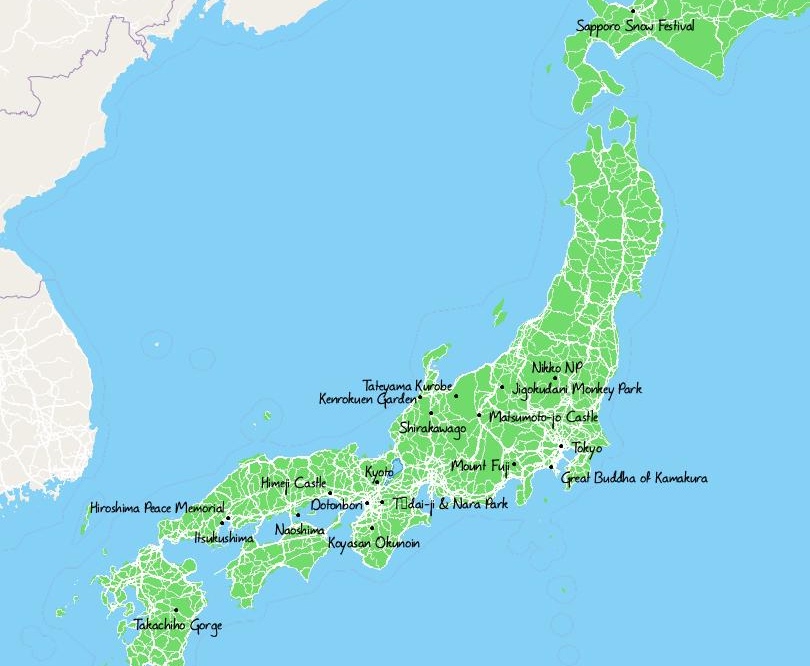 © OpenStreetMap © MapTiler © Touropia
27. Kenrokuen Garden, Kanazawa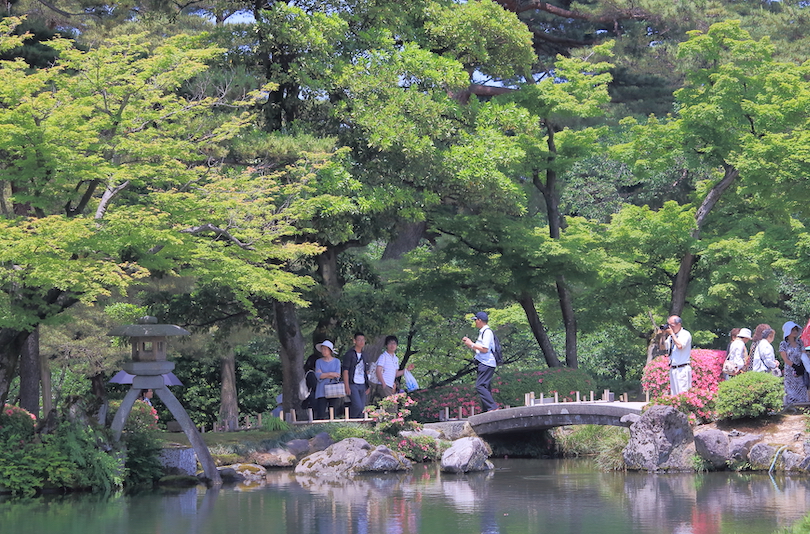 We love looking at beautiful gardens so we were very excited to see the famous Kenrokuen Garden in Kanazawa.
Established back in the 17th century its name means 'Garden of the Six Sublimities'. This references the six qualities that the Japanese believe make up a perfect garden. Namely abundant water, antiquity, artificiality, broad views, seclusion and spaciousness.
Changing throughout the year with the season, Kenrokuen certainly encapsulates all these elements.
In spring, the cherry blossoms are out in force, while in summer, the garden is very lush and green. In autumn, the leaves turn brilliant red and orange. While in winter, the garden is covered in snow, creating a majestic winter wonderland.
Whichever time of year you choose to visit, you'll be blown away by its beauty.
26. Senso-ji Temple, Tokyo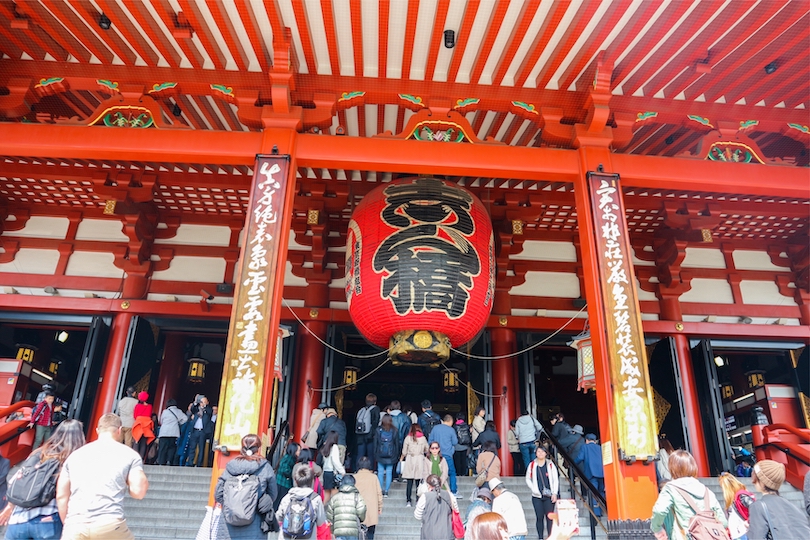 In Japan there are lots of temples. You won't be able to see them all of course, but one you should put on your schedule is a trip to the Senso-ji Temple.
This Buddhist temple is in the Asakusa neighborhood of Tokyo. It dates back over 1300 years and is one of the city's oldest and most famous temples.
An impressive structure, it is dedicated to Kannon, the Buddhist goddess of mercy. It is fronted by a main entrance known as the 'Thunder Gate'. This features a large red lantern and two statues of gods.
Beyond the gate is a long shopping street called Nakamise-dori, where you can buy plenty of traditional Japanese souvenirs and snacks. You'll also find the temple's main hall, 'the Hondo', as well as a five-story pagoda, and a beautiful garden.
25. Matsumoto Castle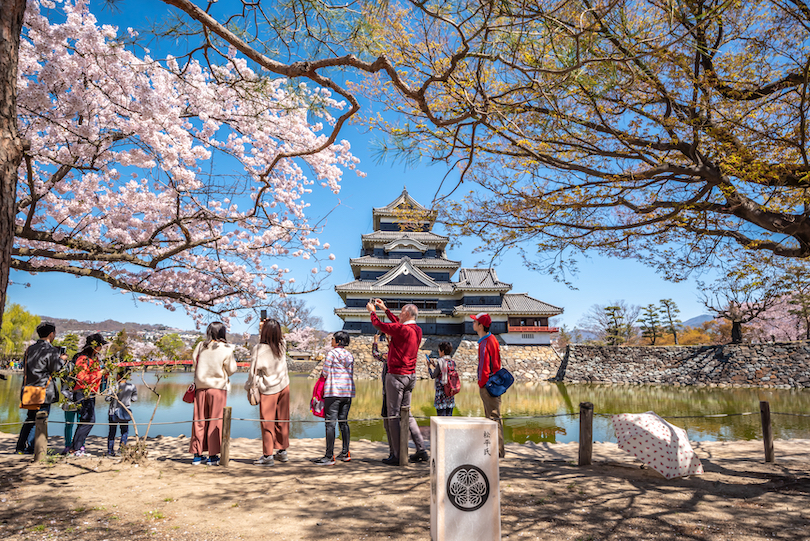 If you plan to head into the central Chūbu region we recommend you venture into the Nagano Basin. For a start, the food is fantastic there. But also, if you love snow sports, you will love the powder-covered peaks that dominate the area.
Should you go there, you'll be able to see the magnificent Matsumoto Castle. Also called 'Crow Castle' because of its stunning black exterior. It is one of Japan's most photographed structures.
Dating back to the 16th century, the castle's design is very unique, comprising a three-layered, six-story donjon. It also has a remarkable series of walls and gates that create a maze-like layout.
You'll be able to tour the castle's interior. It has several exhibits and displays that relate to its history and construction. Whilst there, be sure to go to the castle's top floor too. The panoramic views of the surrounding mountains and city are just incredible!
24. Art Island of Naoshima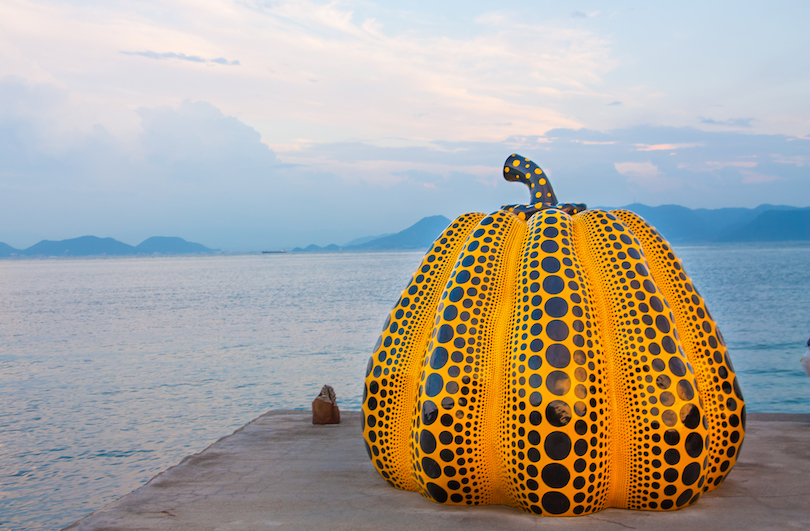 In our opinion, one of the coolest tourist attractions in Japan is The Art Island of Naoshima. Firstly, it has a dramatic location on a small island in the Seto Inland Sea that will captivate you.
But it also houses very impressive contemporary art installations, galleries and museums, you could ever wish to see.
These include the Chichu Art Museum, the Lee Ufan Museum, and the Art House Project. All of which are really pushing the envelope with their displays. If you love art, you'll love what's on show here.
As well as these cultural attractions, you can also visit beautiful beaches. Alternatively, you can tackle some of the hiking trails that snake around the island.
Should you want to, you can even stay overnight in one of the island's art-themed accommodations. This is a very cool thing to do!
23. Tateyama Kurobe Alpine Route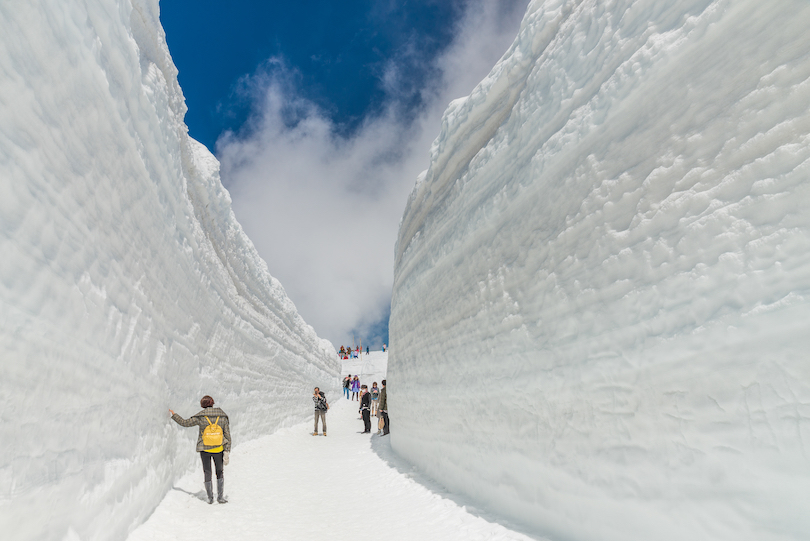 Want to do something with a bit of a wow factor? Then make sure you traverse the Tateyama Kurobe Alpine Route.
Located over in the Northern Japan Alps, this scenic mountain route spans the Toyama and Nagano Prefectures. It is known for its spectacular views of the surrounding mountains, including Japan's highest peak, Mount Fuji.
It is also home to the Kurobe Dam, one of the world's largest arch dams. It also accommodates the Mikurigaike Pond, which is known for its beautiful blue-green water. So there is plenty to see along the way.
The route is open from mid-April to mid-November and is a marvel of Japanese engineering. You can choose to traverse this route via bus, tunnel trolley bus, cable car or even on foot.
If you go in the spring, be sure to look out for the famous 'Snow Wall'. This is a formidable 20-meter-high wall of snow that forms along it.
22. Osaka Dotonbori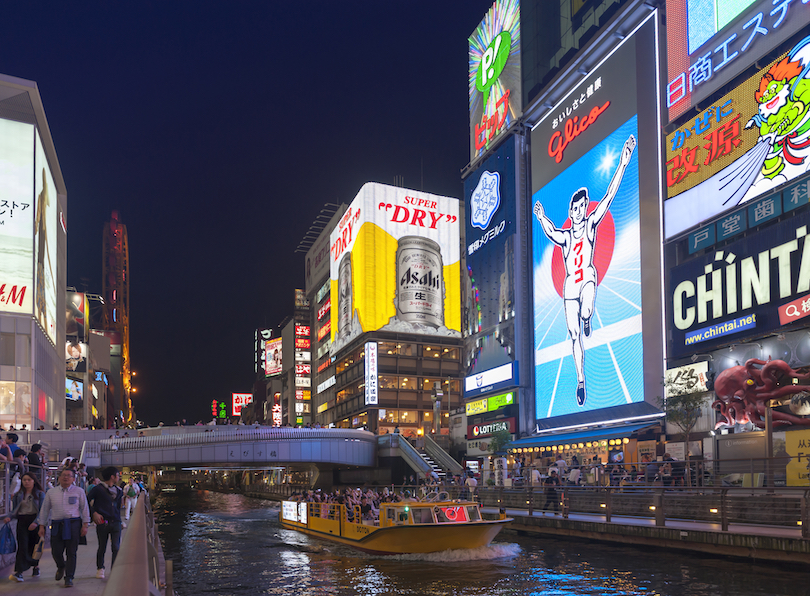 For its sheer spectacle, one of our favorite things to do in Japan at night is wandering around the Osaka Dotonbori. Not only is it a great place to people watch, but it also has a real 'wow' factor.
Centered around the Dotonbori Canal, you'll instantly recognize this popular shopping and entertainment district. It has all those colorful giant neon signs and billboards, which you've no doubt seen on TV.
These include the iconic Glico Running Man and the Kani Doraku crab. If you are anything like me, you'll be transfixed by both!
As well as the lights, the area is lined with shops, restaurants and bars. It also accommodates an awesome collection of street food vendors. So be sure to try the takoyaki (octopus balls) and okonomiyaki (savory pancakes) whilst you are there.
The kushikatsu (deep-fried skewers), are delicious too.
Your taste buds will thank you for it!
21. Okinawa Churaumi Aquarium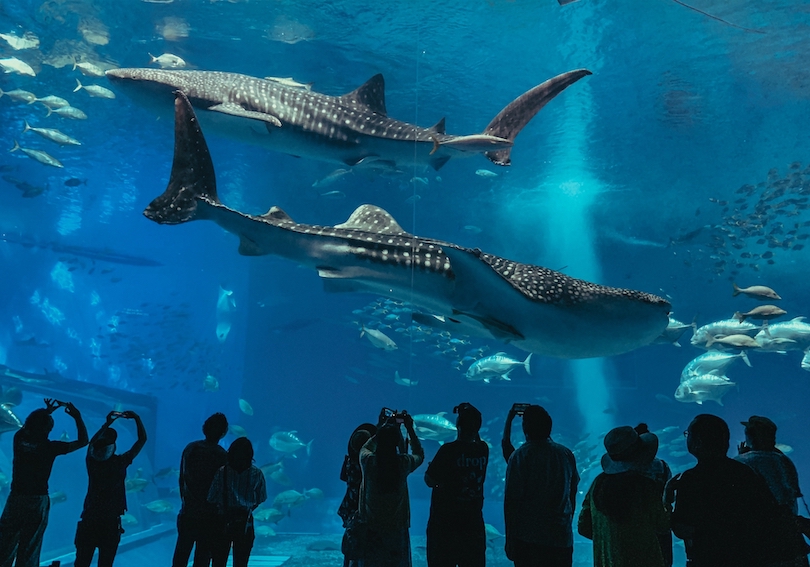 Okinawa is a lovely part of Japan to visit.
If you find yourself there with some time on your hands, make your way to the Motobu area. There you can visit the Okinawa Churaumi Aquarium. It is a terrific base to visit some of the surrounding islands.
It is one of the largest aquariums in the world. If you love looking at marine life, you'll love what is on display here. Its main tank, the Kuroshio Sea, is one of the largest in the world. It houses whale sharks, manta rays, and giant groupers which will captivate you.
It also has a number of other cool exhibits. These include a coral reef tank, a dolphin lagoon, and an exhibit dedicated to sea turtles.
Whilst there, you can watch feeding demonstrations and attend educational programs. You can even take part in interactive experiences like touching rays and sea cucumbers too.
20. Ride A Bullet Train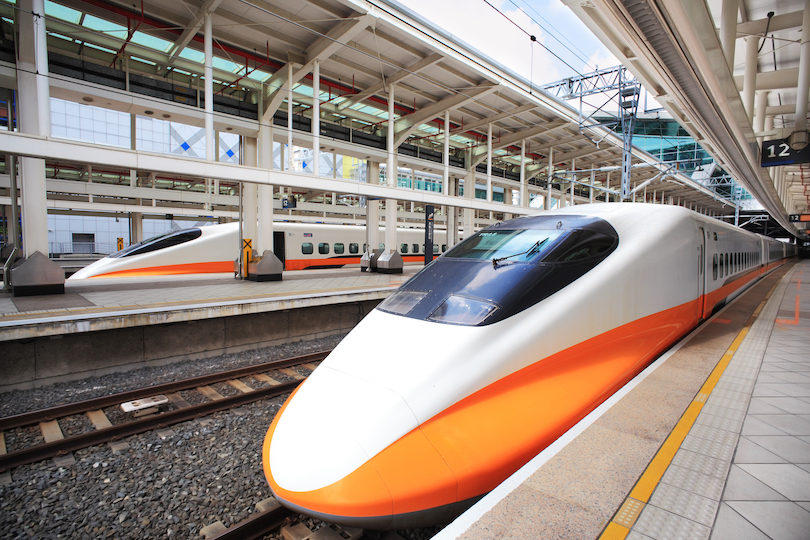 For any tourist, Japan is a big country to get around. While many people choose to fly, riding on the bullet train is an experience I can't recommend highly enough.
Also known as a Shinkansen, these trains can reach up to 320 km per hour. They can take you from Tokyo to Osaka in just two hours!
Yet despite this, it is actually a fairly smooth and quiet ride. They are also incredibly punctual, to the point where being even a minute or two late is unheard of.
The Shinkansen network spans most of Japan's major cities and there are regular departures and arrivals throughout the day. The trains are equipped with comfortable seats and very clean restrooms. Their food and beverage services are pretty good too.
19. Nara Park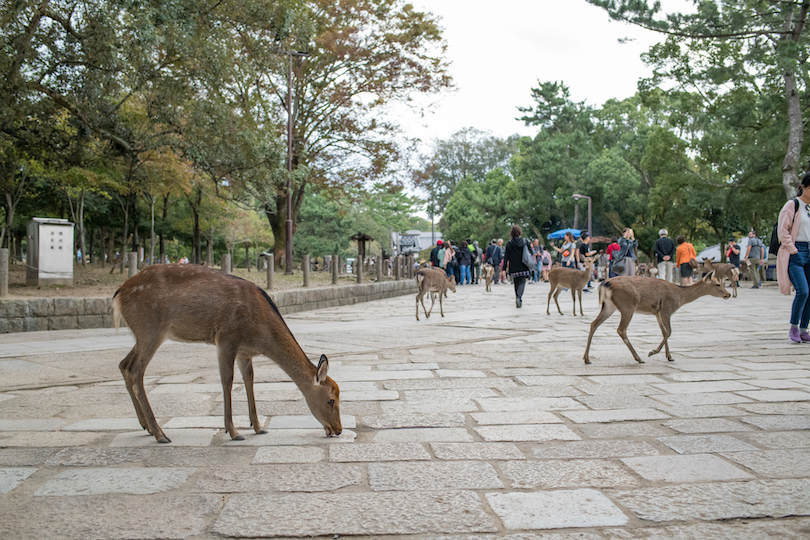 You might not have been aware of this, but deer are considered sacred in Japanese culture.
For this reason, we would suggest adding Nara Park to your itinerary of things to do if you visit Nara.
This large public park covers over 500 hectares. It is known for its population of free-roaming deer, of which there are hundreds.
If you love animals, you can buy special crackers to feed the deer, and even take photos with them.
As well as the deer, the Park also houses several famous temples and shrines, including the Todai-ji temple. This is also worth checking out because it is home to the largest bronze Buddha statue in the world.
18. Koyasan Okunoin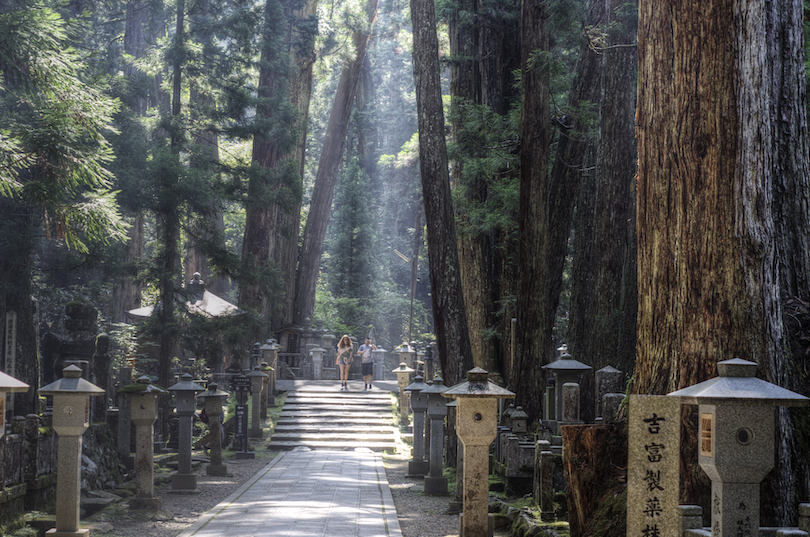 Ok, so visiting a cemetery might not be everyone's idea of a good time when on vacation. However, the Koyasan Okunoin is a unique exception everyone should make.
Located in the Koyasan mountain range, within the Wakayama Prefecture, this sacred site is the largest cemetery in Japan. It is also the final resting place of many famous figures in Japanese history.
The impressive site is centered around the magnificent Okunoin temple. This is surrounded by a large cemetery, which contains over 200,000 tombstones and monuments.
If you want to come here, you can explore the cemetery. You can also visit some of the various temples and shrines that are dotted around the area. Additionally, the site is also famous for its lanterns. They line the paths and are lit every evening.
17. Shirakawago
Japan is known for its cutting-edge technology. But if you want to experience life before the tech age, then it's worth visiting Shirakawago.
Located in the mountains of Gifu Prefecture, this picturesque village is known for its authentic gassho-zukuri farmhouses. They boast inclined thatched roofs that look a lot like hands held together in prayer.
The village is actually a UNESCO World Heritage Site that showcases traditional Japanese rural life. Whilst there, you can go on a tour of the farmhouses to see its traditional architecture and lifestyle. You will also be able to learn about the history and culture of the area.
We found Shirakawago fascinating, as it provided a point of reference to what Japan used to be like. Next time we'll time our visit with either their traditional New Year's celebration or summer dance festival. Both of which are meant to be amazing spectacles.
16. Nikkō National Park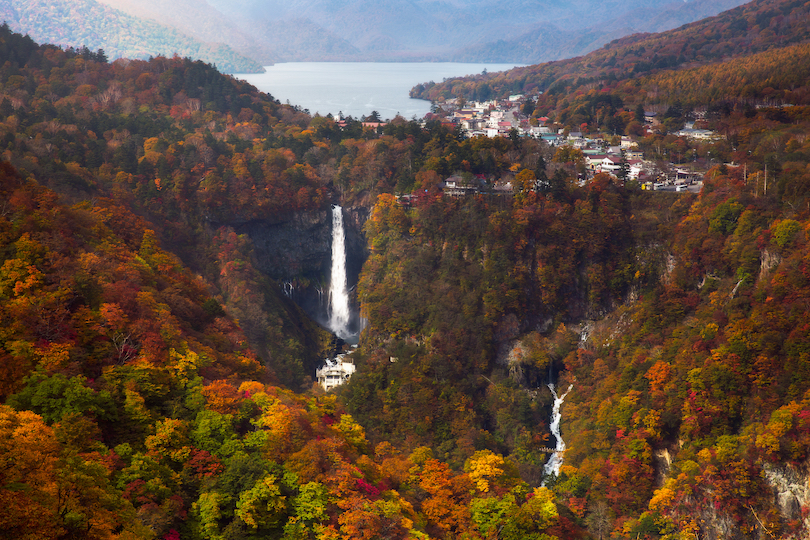 One of the most beautiful places we have ever been to in Japan is Nikkō National Park.
We visited here when we were in Tochigi Prefecture. Its stunning landscape of waterfalls, lakes, and mountain ranges blew us away.
You'll probably need to spend a couple of days in Nikko as the park is home to several famous landmarks. Namely, the Toshogu Shrine, which is a UNESCO World Heritage Site. The Kegon Falls, is also a beautiful cascade worth visiting.
The park offers a variety of activities, including camping, fishing, and hot springs. It also hosts several traditional festivals and celebrations throughout the year.
15. Sapporo Snow Festival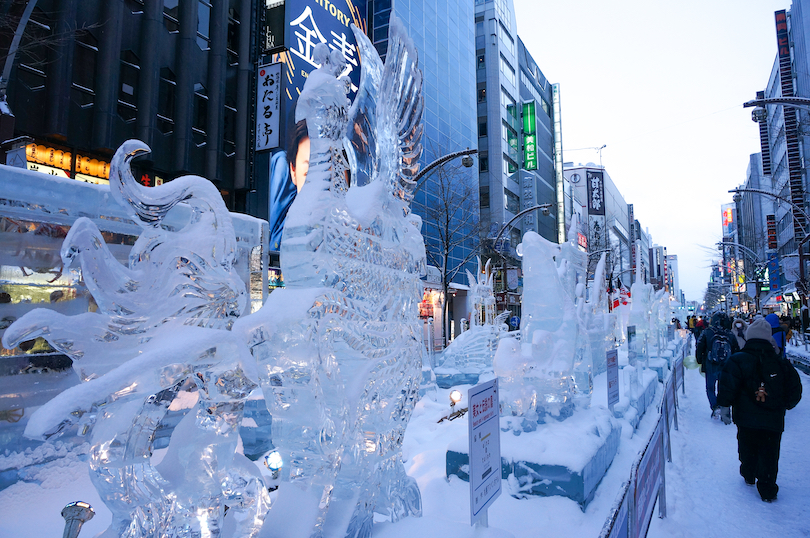 If you happen to be in Japan in January and February, then visiting the Sapporo Snow Festival is one of the smartest things to do. It is a fantastic celebration of winter sport, art and gastronomy that provides a great insight into Japan's culture.
This popular festival is held every year in the capital city of Hokkaido. As it attracts millions of visitors, we would suggest planning ahead.
The festival is famous for its impressive snow and ice sculptures which range in size. Some are small ornate figurines. While others are massive two or three-story high structures that tower over the crowds.
The sculptures are created by insanely talented artists who showcase their skills and creativity. We really don't know how they do it! However, their work is mightily impressive.
Being winter and with lots of snow around it will be cold. Thankfully there are lots of places to get hot chocolate or ramen to keep you warm and fed.
14. Takachiho Gorge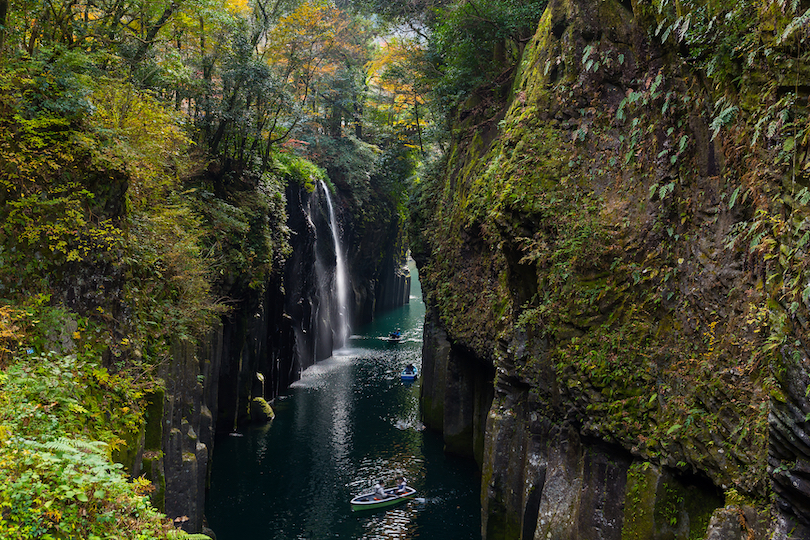 Japan is a country steeped in mythology and legend. There are lots of places you can go to experience it. For those who want to explore this folklore, one place we would suggest is the Takachiho Gorge.
According to Japanese mythology, the gorge was where the sun goddess Amaterasu hid in a cave. Thus, causing the world to fall into darkness. It is also believed to be the location where the god Susanoo slayed the eight-headed serpent Orochi.
Formed over thousands of years by the Gokase River, the gorge is a natural scenic wonder in Miyazaki Prefecture. It is known for its towering cliffs, cascading waterfalls, and emerald-green waters. These are best seen on foot via hiking trails or by traversing down the river in a rented rowboat – which, take it from us, is a lot of fun.
13. Watch Sumo Wrestling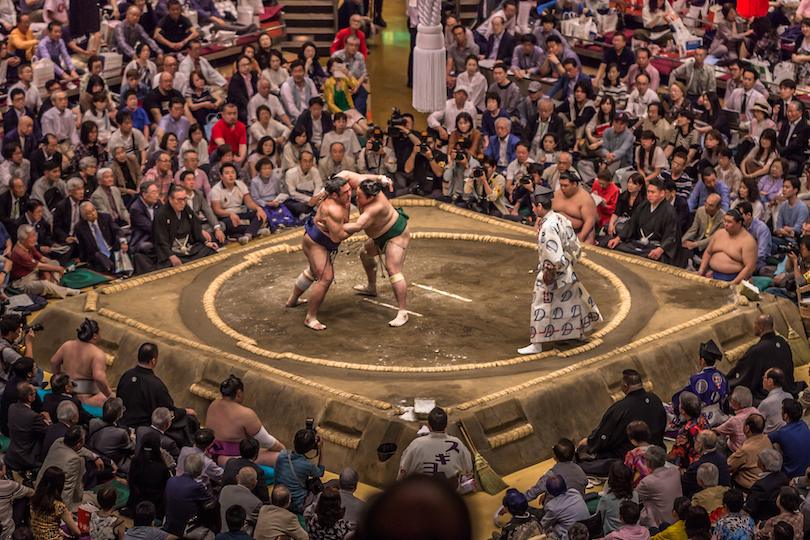 Sumo Wrestling captivated us from the first time we saw it at the Ryogoku Kokugikan in Tokyo. Located in eastern Tokyo, we went because the stadium was a short walk from Ryogoku Station. Although it cost about 10,000 yen per person to watch, it was an amazing spectacle.
Sumo is a traditional Japanese sport that dates back over a thousand years. It is not just two large men wrestling each other dressed in little more than a loin cloth. But rather a combat sport steeped in history and ritual.
If you can get to a professional sumo match it is something we would urge you to do. The matches are fast-paced and intense, and the wrestlers are incredibly skilled and agile. The atmosphere is really good too and you'll soon find yourself cheering for your favored competitor!
Six tournaments are held in Japan each year. Three of which take part in Tokyo – which is considered to be the Sumo capital of the world.
12. Itsukushima Shrine, Miyajima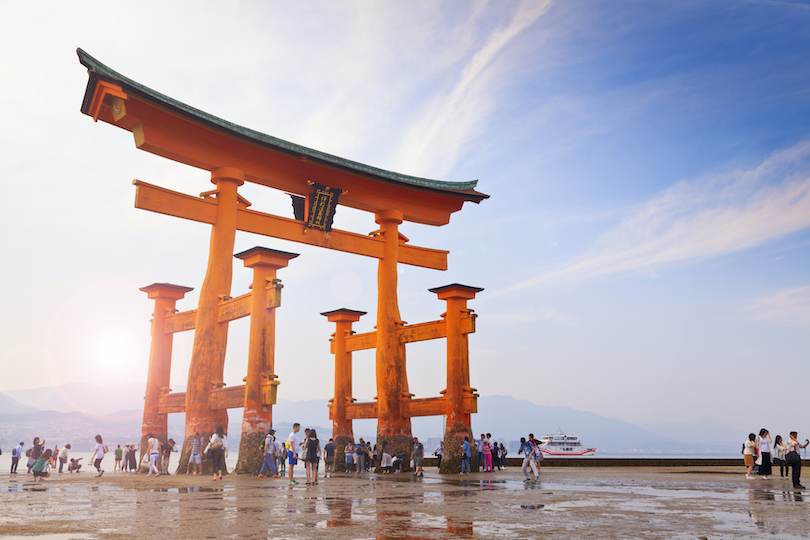 The Itsukushima Shrine is just one reason to head to the Hiroshima Prefecture. But it is a very compelling one.
One of Japan's most iconic landmarks, it is known for its captivating torii gate. This has the incredible illusion of floating on the water. Dating back to the 6th century, the shrine is a UNESCO World Heritage Site that has mystical properties.
We were mesmerized by its magical appearance and ornate detail as we explored its various buildings and courtyards.
The shrine is easy to get to by ferry from the mainland at Miyajimaguchi Station. While you are there you can also relax in the surrounding park or hike some of its scenic trails.
11. Shibuya Crossing, Tokyo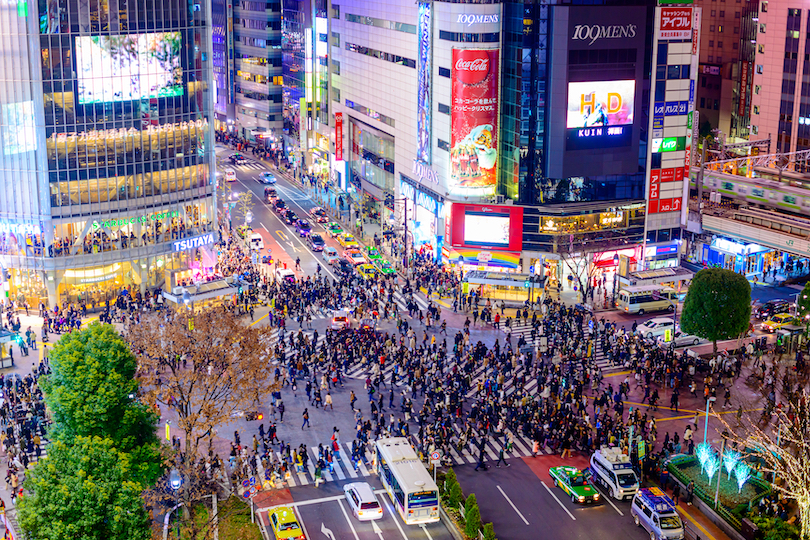 Shibuya Crossing is not a place you are likely to have to yourself. In fact, it is the world's busiest pedestrian crossing. So, you'll have on average about 3,000 people around you whenever you cross it.
However, it is a captivating and enchanting place to go to. Not least because of the unique atmosphere created by the sea of people that traverse it.
One of Japan's most iconic sites, Shibuya Crossing is characterized by its large neon billboards, flashy signs and noise. It is a symbol of Tokyo and modern Japan and has appeared in countless films and television shows.
We crossed it a few times when we visited Tokyo and also spent a bit of time looking down at the pedestrians from one of the cafes perched above it.
10. Fushimi Inari Shrine, Kyoto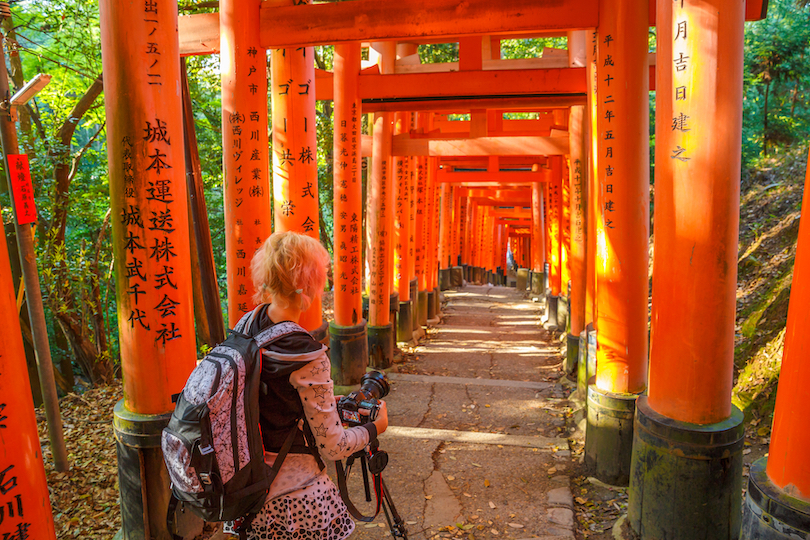 The Fushimi Inari Shrine is a remarkable site. We would strongly advise you to check out if you are in Kyoto.
Dedicated to Inari, the god of agriculture, it was founded in 711. It is famous for its over ten thousand vermillion-colored torii gates. They create a stunning site as they form a tunnel-like path up the mountain.
Many people, myself included, have walked the torii gate path, taking in wonderful views of Kyoto from the mountain. On a clear day you can see for miles, so be sure to have your Smartphone with you.
This path takes visitors through a dense forest of cedar trees. It also showcases smaller shrines and other offerings like statues of foxes. They are thought to be messengers of the god Inari.
9. Hiroshima Peace Memorial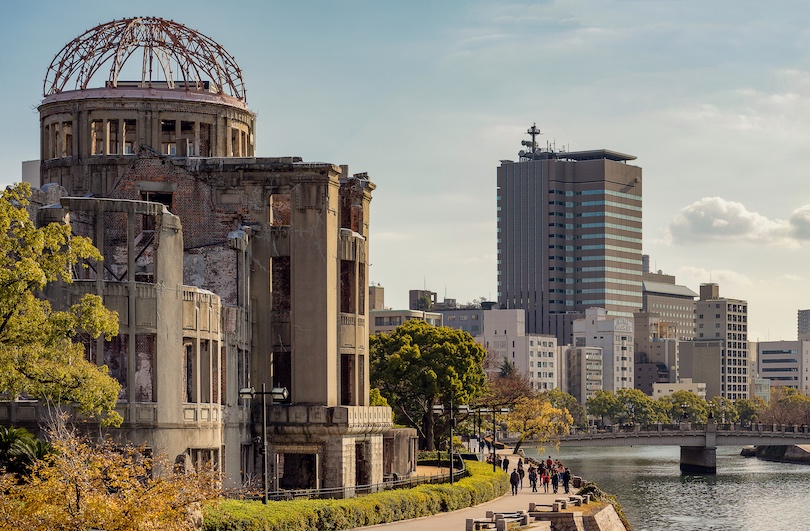 The Hiroshima Peace Memorial is one of the world's most thought-provoking places to visit. It certainly made us think about the tragic waste of human life. As well as how the incident changed the world.
A powerful symbol of peace, it is a sombre reminder of the devastation caused by the bombing of Hiroshima.
The memorial is made up of the remains of the Genbaku Dome. This is one of the few buildings in the city to survive the bombing. It also features the surrounding Peace Park.
The surrounding park is a pleasant space to wander and features various monuments and sculptures dedicated to peace. One of which is the Children's Peace Monument, which was inspired by a young girl called Sadako Sasaki, who died of leukaemia caused by radiation from the bomb.
8. Jigokudani Monkey Park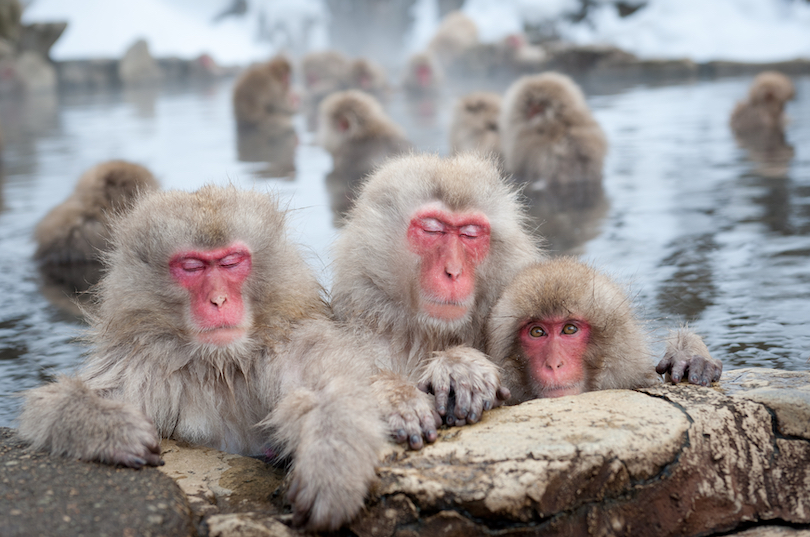 If you are not a big fan of monkeys you might want to skip to the next attraction. But if you are then you should pay a visit to the Jigokudani Monkey Park.
This popular wildlife attraction can be found in the Yamanouchi region of Nagano Prefecture. It is home to a large population of wild Japanese macaques, who are better known as snow monkeys.
What makes these creatures unique is that they are known for their unique behavior. This involves them taking hot spring baths during the winter months.
Getting to the park involves a short hike through a scenic forest trail in a mountainous region. However, the sight of the monkeys in the hot springs is worth it.
7. Kiyomizu-dera, Kyoto
Japan has its fair share of UNESCO World Heritage sites and another one worth visiting is the Kiyomizu-dera.
This historic Buddhist temple is found in eastern Kyoto. Impressively, its main hall is built on a steep slope and is supported by wooden pillars.
The temple has the nickname 'Pure Water Temple' on account of its Otowa Waterfall. Here visitors can drink from one of three streams of water. Each of them is believed to have different healing properties.
If you can get there in spring, Kiyomizu-dera is particularly beautiful as cherry blossoms are in bloom. During fall, it is also spectacular when the leaves change color.
Whatever time of year you visit, as well as drinking the water, you can also enjoy panoramic views of the city from the temple's large veranda.
6. Mount Fuji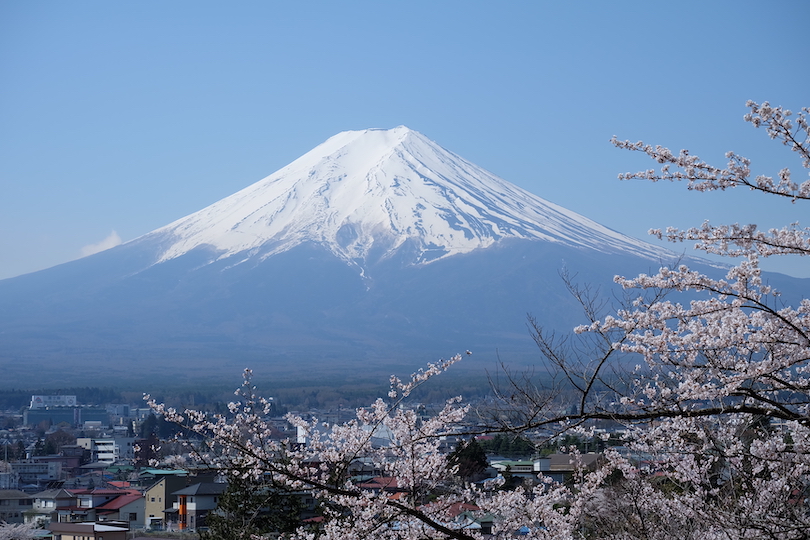 Mount Fuji is one of Japan's most active sites, but if you intend to visit it, just be aware it is an active stratovolcano.
Situated on Honshu Island, it is the highest peak in Japan, soaring to a height of 3,776 meters. It is also considered a sacred site in Japanese culture, although it is a popular destination for hikers and tourists to climb.
The best time to do this is between early July to mid-September. Overall there are several trails that will lead you to the summit. Just make sure you are wearing proper shoes when you do it.
Surrounding the mountain is a beautiful national park. The landscape of which you will be able to best see on the way up.
5. Himeji Castle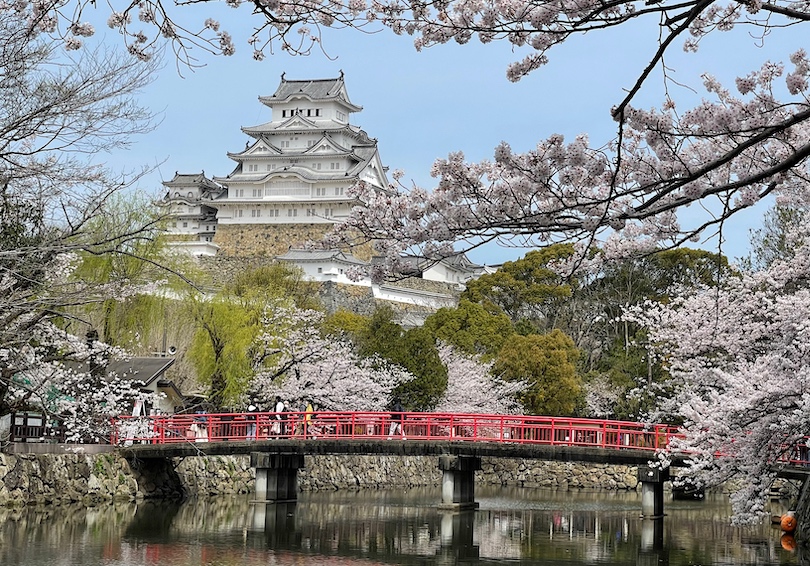 Himeji Castle is yet another UNESCO World Heritage site, but with good reason.
Known as the 'White Heron Castle' because of its white exterior and the way it resembles a bird taking flight, it is one of the most impressive castles we've ever seen.
It is also one of the few surviving original castles in Japan, as most were destroyed during wars, or by earthquakes.
The castle is surrounded by a beautiful park with cherry blossom trees and a moat. It also has numerous defensive features, including walls, gates, and towers that can be explored on a guided tour.
Inside, its ornate decor features beautifully painted screens, intricate wood carvings, and other works of art which are really impressive.
4. Great Buddha of Kamakura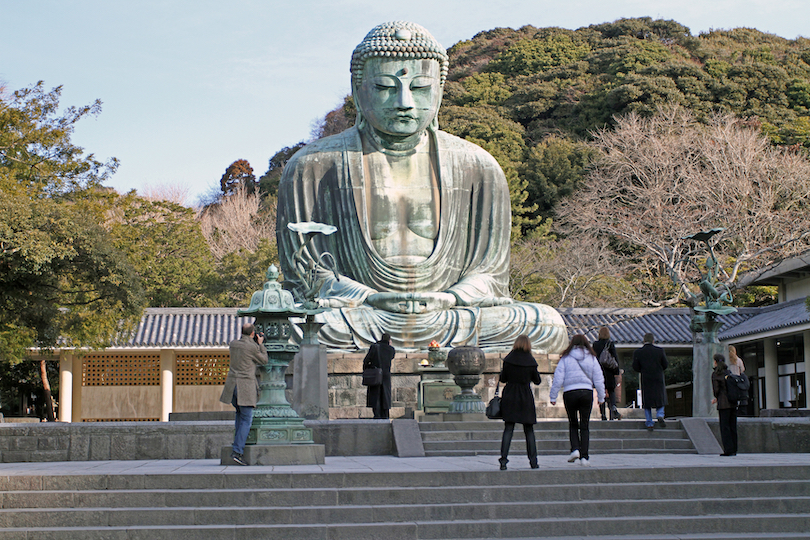 You'll see plenty of statues of Buddha in Japan but none quite like The Great Buddha of Kamakura.
Standing approximately 44 feet tall and weighing approximately 266,000 pounds, it is considered one of Japan's most iconic and beloved cultural treasures.
Originally cast in 1252, you will have to go to the city of Kamakura if you want to see this monumental bronze statue.
Apparently, the statue has survived numerous earthquakes and other disasters over the centuries and is considered a symbol of resilience, hope and strength.
If you go there, you will be able to explore the statue and its surroundings. There is also a small museum that presents information about the statue's history and significance.
3. Todaiji Temple, Nara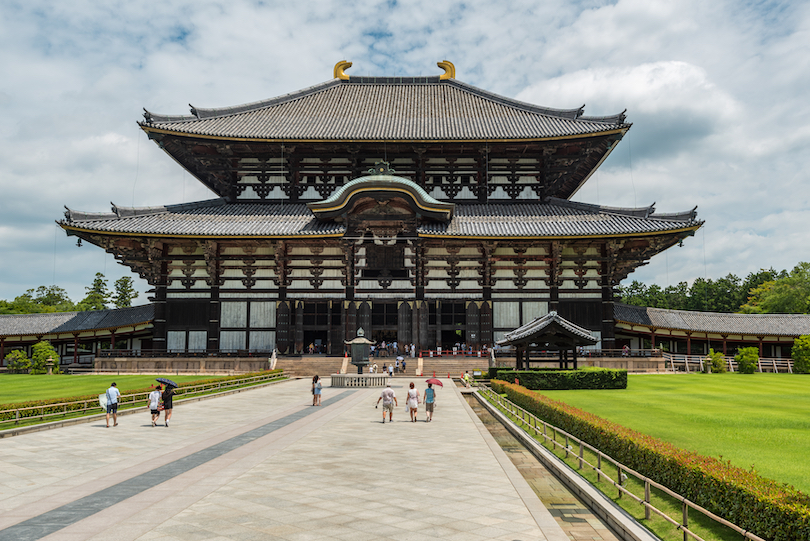 Another place where you can see a massive statue of Buddha is the Todaiji Temple.
This impressive Buddhist temple is situated in Nara and is renowned for the 52 feet high and 1.1-million-pound massive bronze statue of the extraordinary being.
The temple dates back to the 8th century and is located in Nara. Over the years it has been destroyed and rebuilt several times. However, its main hall – the Daibutsuden – remains one of the largest wooden structures in the world.
As it is a UNESCO World Heritage Site, it also contains thousands of precious art objects. While there you can also walk around its beautiful park, which features cherry blossom trees and roaming deer.
2. Tokyo Imperial Palace
For anyone visiting Tokyo, a visit to The Tokyo Imperial Palace is a must!
Nestled in the heart of Tokyo, it is the primary residence of the Emperor of Japan. Dating back to 1457, the palace is surrounded by beautiful gardens and is a very popular tourist attraction. We would recommend you go there early to avoid the crowds.
Once there, you can take a guided tour of the palace grounds. This includes the palace gardens, as well as the outer areas of the palace complex.
The palace also houses a museum that features exhibits on the history and culture of the Japanese imperial family. This enables visitors to learn about the rituals and customs of the royal family. You can also view a collection of imperial treasures and rare artifacts.
1. Golden Pavilion, Kyoto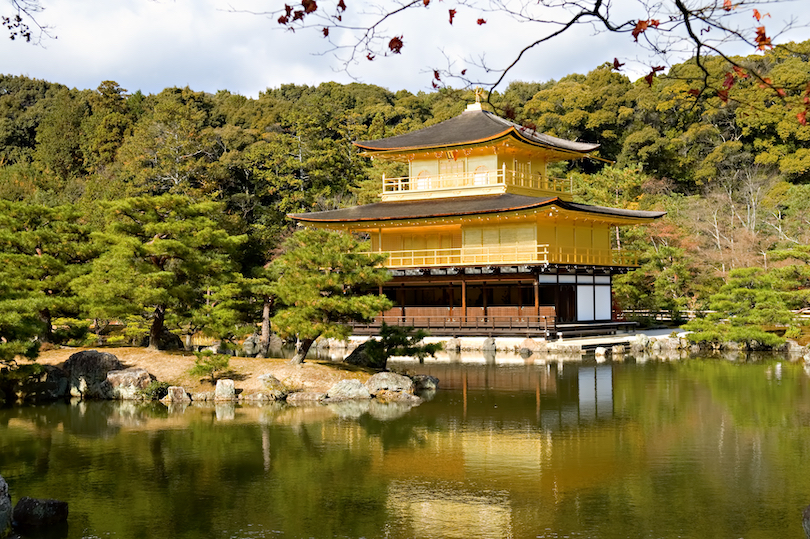 The Golden Pavilion is one of Japan's most popular tourist attractions, and it is not difficult to see why.
Also known as Kinkaku-ji, this Zen Buddhist temple is situated in Kyoto. It is highly regarded for its stunning architecture. This notably features the top two floors of its pavilion lavishly decorated in gold leaf.
Originally it was built in the 14th century as a retirement villa for a shogun. The temple is backed by lush forest and fronted by a beautiful garden and lake.
Both of these are lovely places to stroll by – we found the lake especially enjoyable. The flora around it was beautifully arranged and reflected on the water with perfect clarity. We stopped here for a good five minutes to really appreciate the scene.
There were several other buildings, including a temple hall and a tea house that we enjoyed looking at too.
This is another place that gets very busy. So try and avoid coming in the middle of the day.