Located just an hour to the south of Tokyo in a prefecture of the same name, Kamakura is a lovely laidback coastal town with lots for visitors to see and do. Although it is now somewhat hard to imagine, the small city was once the nation's capital, all the way back in feudal times. From 1200 – 1300 AD, it was the most populous settlement in Japan. Due to its former power and prestige, it boasts lots of Buddhist temples, Shinto shrines, and important historical monuments.
Besides its many tourist attractions, Kamakura is also blessed when it comes to its beautiful setting; it lies on Sagami Bay, with forest-coated mountains and hills all around it. Lots of wonderful beaches and stunning scenery are also found in the surrounding area. With so much things to do in Kamakura, the city can get quite crowded during the weekends and holidays, so it is best to visit mid-week if you have the chance.
In this post, we'll cover:
10. Shichirigahama Beach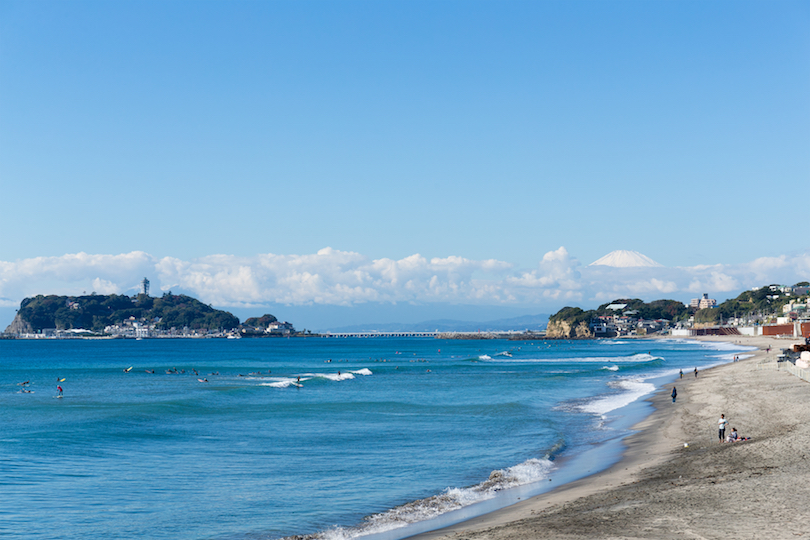 Although you unfortunately can't go swimming at Shichirigahama Beach, it is still a very pleasant place to kick back and relax. On clear days, you can enjoy a majestic view of Mount Fuji rising in the distance. Now overlooked by a road that runs along the top of its sea wall, the beach's dark sands have long attracted visitors to their shores, and over the centuries, it has featured in many ukiyo-e prints and paintings.
Due to its rough waves, it is a popular beach among surfers and windsurfers; on any given day, you'll see lots of them bobbing about on the water. Lying on the outskirts of Kamakura, Shichirigahama Beach is bordered at one end by Koyurugismaki cape, which has a small Shinto shrine for you to visit if you get bored of lounging on the beach.
9. Komachi Dori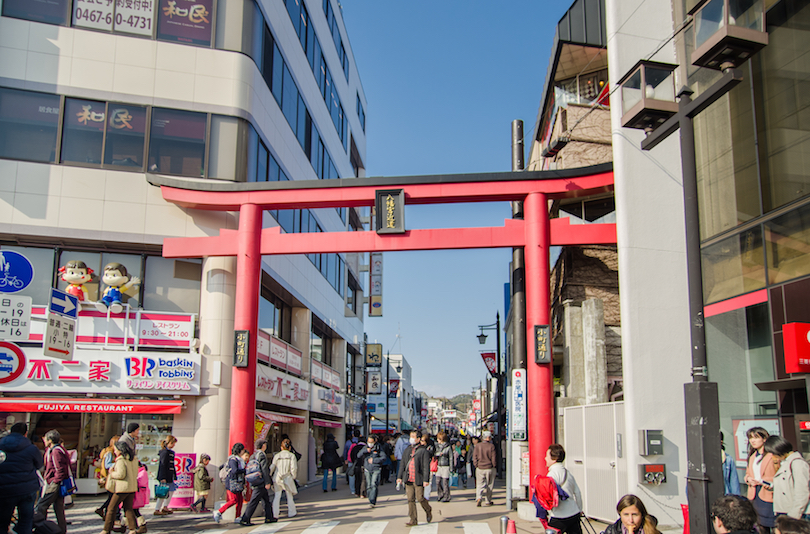 Home to an intoxicating mix of sights, sounds, and smells, Komachi Dori – the beating heart of the city – threatens at times to overwhelm your senses. Running through the center of Kamakura, the popular shopping street is lined by some 250 shops, restaurants, cafes, and boutiques, all calling out for you to stop and enter.
As such, it is a great place to grab a bite to eat, a cup of tea, or buy souvenirs. Bustling with life, Komachi Dori is a fun but chaotic place to explore, and the alleys to either side of it have just as many hidden gems for you to discover.
8. Engaku-ji Temple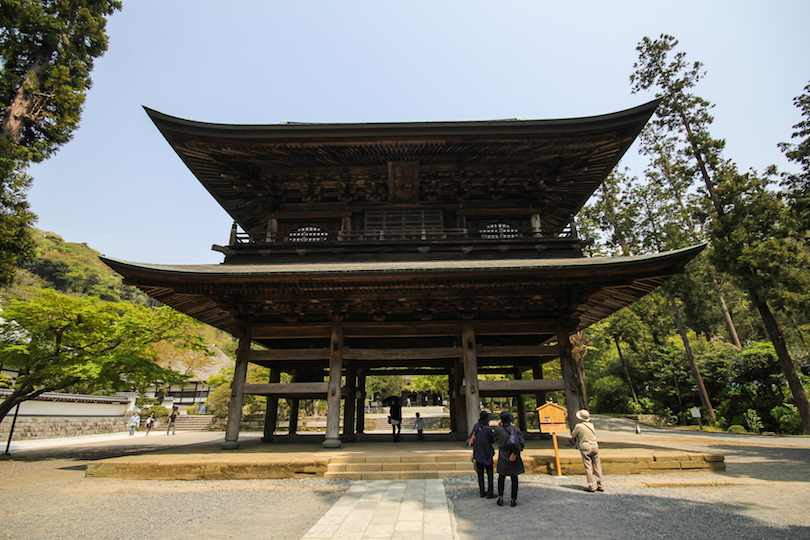 Founded all the way back in 1282 to commemorate the fallen Japanese soldiers who died protecting the country during the Mongol invasion, Engaku-ji is the second-most important of Kamakura's five Zen temples. Lying on the slopes of Kita-Kamakura, the temple is set in a scenic spot with lush forests all around it. This lends the complex a very serene and peaceful feel.

Engaku-ji has 16 beautiful temples built in the Chinese Zen monastic style for you to wander around. Highlights include its two-storied Sanmon Gate, Shariden hall, and large Butsuden hall. The latter two house some of the temple's most special sights in the shape of one of the Buddha's teeth and a statue of Shaka Buddha. After exploring the complex, many people stop off at the nearby tea house to try its famous sweet cold noodles before heading back into town.
7. Meigetsuin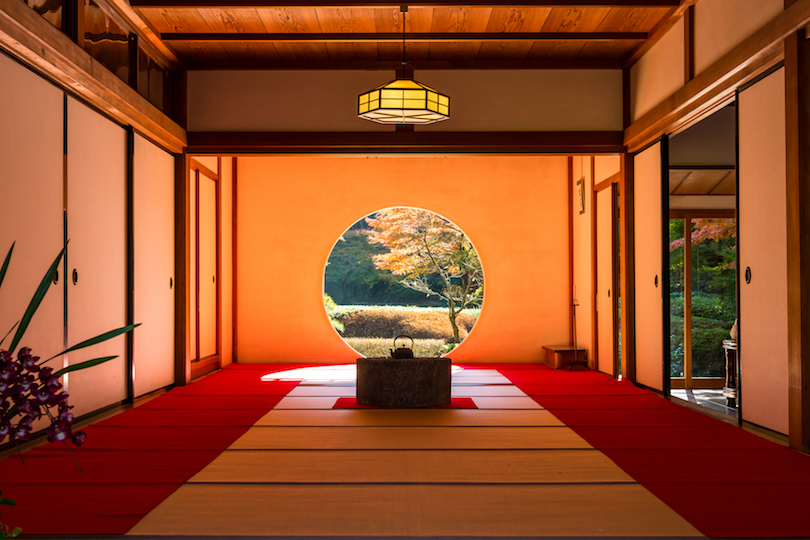 Nicknamed the 'Hydrangea Temple' due to all the gorgeous flowers that surround it, Meigetsuin was built in 1394. It is the only surviving buildings of what was once a much larger temple. Dedicated to the goddess Sho Kannon, the Rinzai Zen temple exhibits some lovely architecture and artworks, with the 13th-century statue of Uesugi Shigefusa, a National Treasure, being particularly delightful.
The best times of year to visit are in June when the hydrangeas and irises of the inner garden are in bloom, and August when the foliage is a majestic mix of yellows, reds, and oranges.
6. Kencho-ji Temple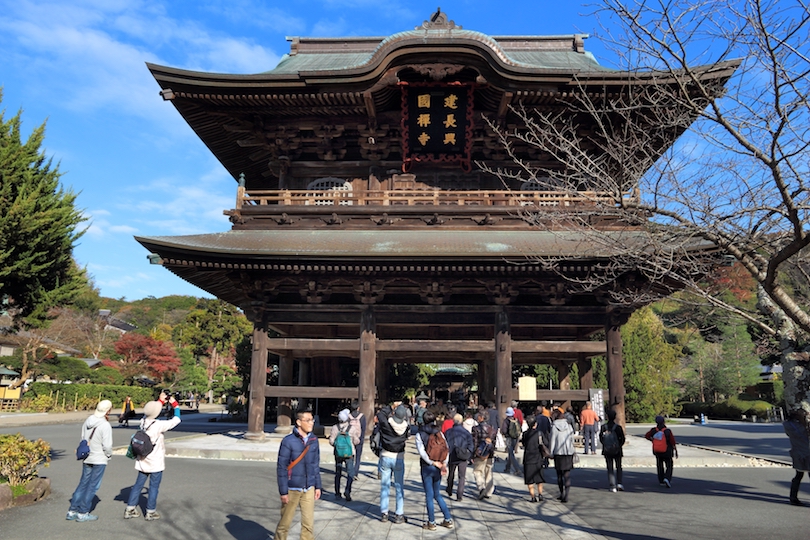 The oldest Zen temple in the whole country, Kencho-ji was completed in 1253 and is still in use today. Although over the centuries it lost many of its buildings to fierce fires, there is still an astounding array of different temples and sub-temples for you to explore. These are set among some absolutely stunning grounds.
Wandering around Kencho-ji is a very peaceful affair. Some of its main attractions include Sanmon Gate and its temple bell, both of which are National Treasures. Further inside the sprawling complex are the equally attractive halls of Butsuden, Hatto, and Hojo, all of which are replete with lovely art and architecture.
As it is the most important and impressive of Kamakura's five Zen temples, Kencho-ji is not to be missed out on when visiting the city.
5. Enoshima Electric Railway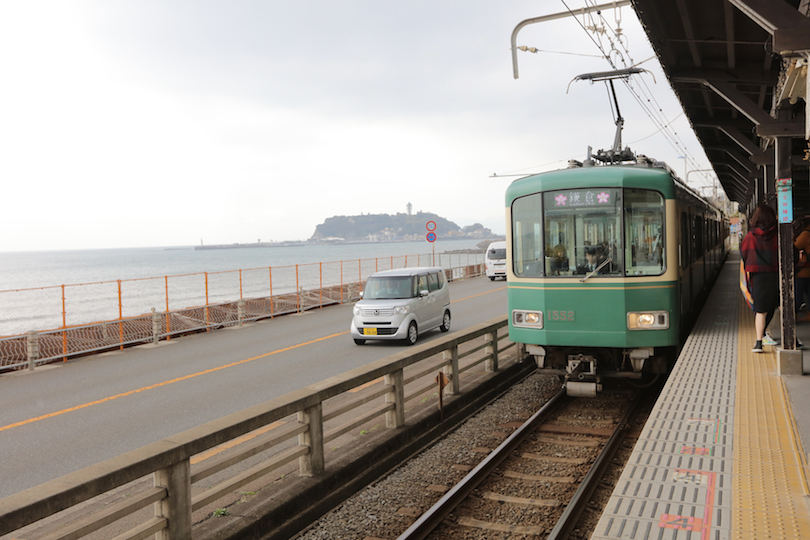 Running between Kamakura and Fujisawa, the Enoshima Electric Railway takes you on a beautiful journey along the city's scenic coastline. Opened back in 1902, the electric railway still uses old vintage models known as the Enoden. Train lovers from around the world descend on Kamakura just to ride on the railway line.
Sitting in the rattling half-train/half-streetcar is, in part, what makes the trip so memorable. On the way, you'll enjoy beautiful views of Enoshima Island as well as the stunning Shonan Coast.
4. Hokokuji Temple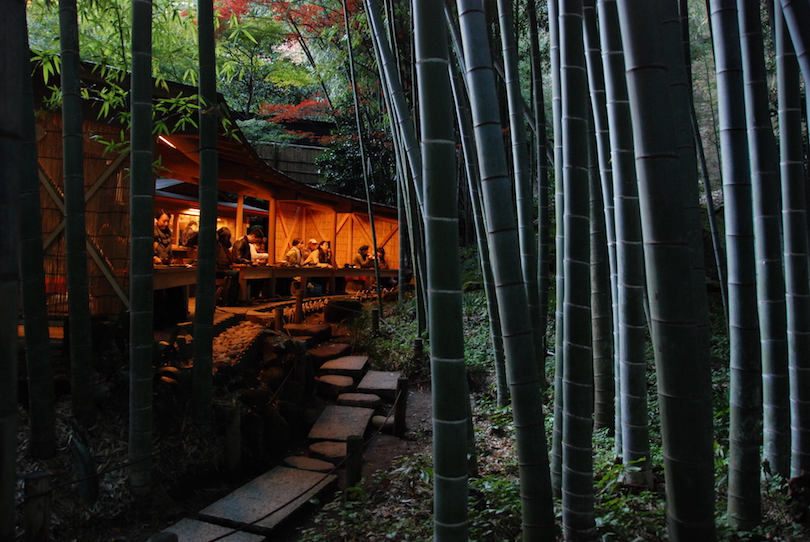 Located in the east of the city, Hokokuji Temple is a very tranquil and peaceful place to visit. It is primarily known for the beautiful bamboo grove that lies just behind its main hall. Meandering their way through the thick bamboo are a couple of lovely paths for you to wander along. At one end of the grove, there is a traditional tea house at which you can grab a cup of matcha tea.
Besides its bamboo garden, there is a fabulous statue of the Buddha for you to gaze upon in its main hall, as well as a distinctive looking bell tower. The temple also often goes by the name of Takedera – named after an artist who created a famous statue of Kashyap – a Vedic sage of Hinduism. The statue used to be held in a neighboring hall but was sadly destroyed during a fire in 1891.
3. Tsurugaoka Hachimangu Shrine
The most important Shinto shrine in the city, Tsurugaoka Hachimangu Shrine lies right at the geographical and cultural center of Kamakura and is hard to miss when wandering around. Founded in 1063, the shrine was moved to its current location in 1180 and is dedicated to Hachiman – the patron god of the Kamakura shogunate and the god of war.
To reach the shrine, visitors must walk along an extended approach that takes them from the city's waterfront, beneath numerous torii gates, and between two ponds to its entrance. While one of the ponds has three islands in it, the other has four; they are said to respectively represent the Minamoto and Taira clans, both of whom were arch enemies.
Indeed, symbolism can be found everywhere in the complex, and the shrine and its layout were actually designed with Feng Shui in mind. Covering a vast area, the Tsurugaoka Hachimangu Shrine has loads of fascinating temples, shrines, and torii gates for you to check out, with the Kamakura National Treasure Museum being particularly worthwhile stopping by.
Still in use to this day, the shrine hosts many cultural events and religious festivals throughout the year. It is one of the most popular places in Japan for hatsumode – the first visit of the year to a shrine.
2. Hase-dera Temple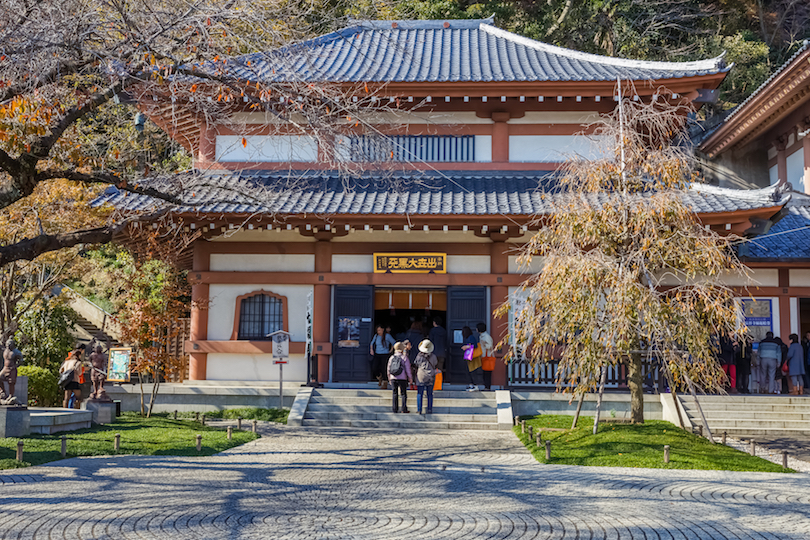 Lying on a hillside overlooking Kamakura, Hase-dera is blessed with one of the best views of the city, and its temple and grounds are no less beautiful to gaze upon. Its pretty ponds and tree-filled gardens lend it a very serene and peaceful ambiance, and a number of wonderful statues can be found scattered here and there.
Although there is lots of fantastic architecture on display in the shape of temples and shrines, Hase-dera's main draw is its famous nine-meter-high Kannon statue. Depicting the goddess of mercy, it is said to be one of the largest wooden carved statues in the country. You certainly won't forget its intricately carved eleven heads in a hurry.
In addition to all this, there is a charming little restaurant you can stop off at to enjoy views out over the city, as well as a small museum that houses some of the temple's Buddhist artworks and treasures.
1. Great Buddha of Kamakura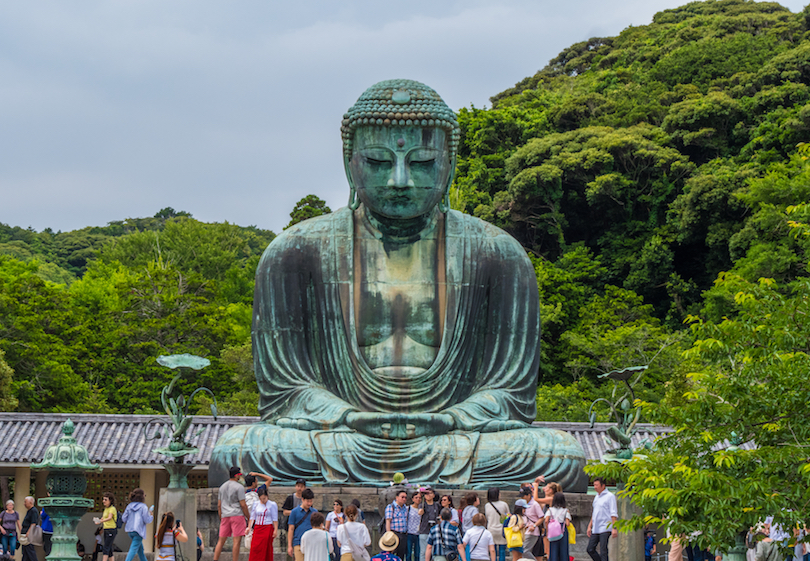 Towering to a height of 13.35 meters, the Great Buddha of Kamakura is the second-largest bronze statue in the country – and the most famous and iconic sight in the city. Once housed in a cavernous temple hall, it now lies exposed to the elements in the grounds of Kotokuin Temple after a tsunami swept away the building around it in 1498.
Cast in 1252, the magnificent statue has long attracted visitors to the city. On any given day, you will see throngs of tourists clustered around taking photos of it. If gazing upon its peaceful features isn't enough, you can even take a look inside to see how it was put together.
Having miraculously survived intact throughout the centuries, the Great Buddha of Kamakura is one of Japan's most recognizable icons and National Treasures.
Best Time to Visit Kamakura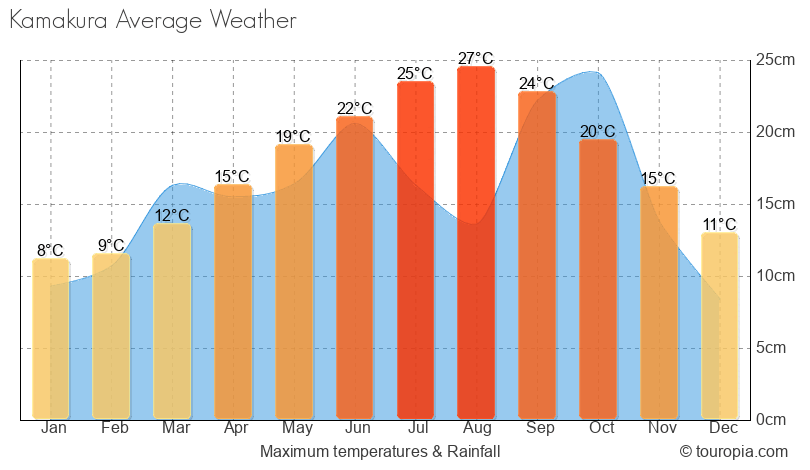 As it lies so close to Tokyo, Kamakura is a hugely popular tourist destination with its centre and shrines being rammed with people during peak times. In summer, many people also head here to lounge on its beaches and swim, surf or hike along its many trails.
April to June is the first high season of the year with the city being particularly crowded and expensive in April. This is when the sakura are blossoming and the lively Kamakura Matsuri festival takes place. With temperatures warming up, many also visit in May and June when its beautiful hydrangeas are blooming. However, the latter is quite humid and rainy.
Due to the holidays and hot temperatures of 26 to 27°C (79 to 80°F), the summer months are also very popular times to visit Kamakura. Prices again rise and crowds pack all its beaches, temples and trails. Although there is high humidity, it is way better by the sea than in many other Japanese cities.
Although very rainy in autumn, September to December still sees lots of people visit. All the colors of its trees paint a very pretty picture with temperatures still averaging 20°C (80°F) in October. Make sure to bring an umbrella though as typhoons offshore sometimes lead to huge downpours.