Full of incredible old temples and shrines, Nara was the first capital of Japan all the way back in the eighth century. Under the influence of Buddhism, an amazing array of beautiful buildings sprung up, while lots of wonderful artworks and books were produced. Much of the town's rich history and cultural heritage can still be seen today and one of the best things to do in Nara is just wandering around its ancient streets.
Although it is often overlooked in favor of nearby Kyoto or Osaka, Nara is a very pretty and picturesque city to explore, with lots of leafy parks and gardens found alongside its historical tourist attractions. Nara is also famous for its delightful park, which has hundreds of deer wandering around.
You can even stroke and feed the gentle creatures, as they are quite used to human contact. Boasting not only Buddhist temples and Shinto shrines but a grand imperial palace too, Nara has the most buildings which are designated National Treasures in the whole of the country. As such, it is not to be missed out on when traveling around Japan.
In this post, we'll cover:
11. Naramachi
With lots of gorgeous old buildings from the Edo Period, the historic district of Naramachi is a delight to wander around. Besides its many restaurants, cafes, and shops, there are also a couple of traditional houses and warehouses for you to check out if you want to see what life in Japan used to be like.
While simply strolling around and taking in the ambiance is a lovely way to spend an afternoon, you can also stop off to try some sake or stay the night in one of its ryokan – a traditional Japanese inn.
10. Yakushi-ji Temple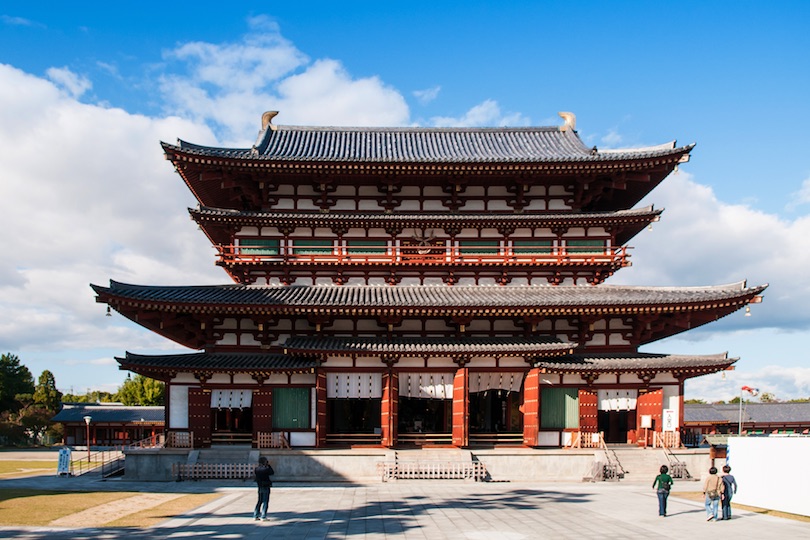 One of the oldest and most famous temples in the whole of Japan, Yakushi-ji is a site of great historical, religious, and cultural importance. Today, it still serves as the headquarters of the Hosso School of Buddhism. First built in 680 AD, the temple served as an offering to the Buddhist deities for the return to health of Emperor Tenmu's sickly wife.
Over the centuries, however, it was destroyed numerous times, so its only original building is the majestic East Pagoda. Widely regarded to be one of the finest such structures in the country, it displays some gorgeous architecture and stands opposite the slightly smaller West Pagoda.
Inside the main hall of the temple, you can find some of the most important Buddhist masterpieces around, with its famous Yakushi Triad the most impressive of the lot. This statue of the Buddha healing dates to the eighth century, and many other brilliant paintings and statues can be found around the complex.
9. Mount Wakakusa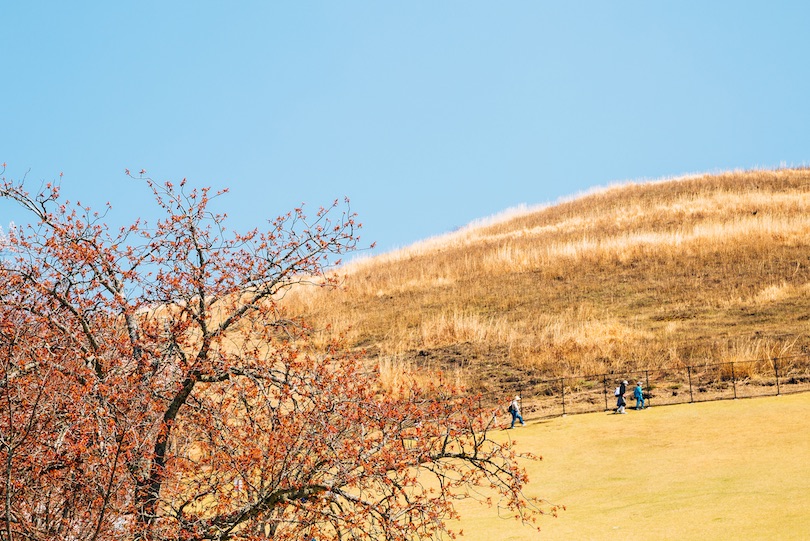 Although it only reaches a height of around 350 meters, Mount Wakakusa boasts one of the best views of Nara. The grass-covered mount lies just behind Nara Park, with some lovely cherry blossom trees dotted here and there. The hike to the top should take just under an hour, although most people stop off at a plateau which lies halfway up, as the view from there is just as stunning.
January is a particularly memorable time of year to visit. On the fourth Sunday of the month, its grassy slopes are set ablaze. Although the origins of the Wakakusa Yamayaki festival have long been lost, seeing the mountain afire behind the city makes for a spectacular sight, and lots of fireworks are let off during the celebration.
8. Toshodai-ji Temple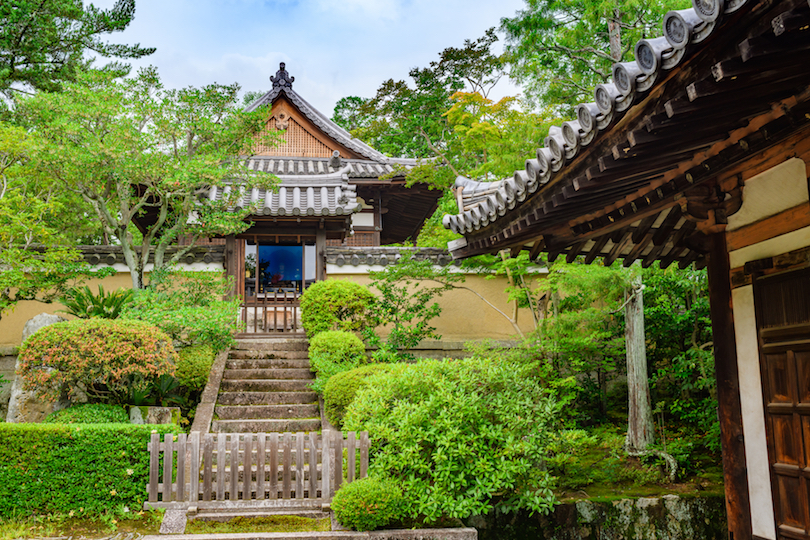 Surrounded by some beautiful and picturesque grounds, Toshodai-ji is another of Nara's oldest and most prestigious temples. Founded in 759 by Ganjin, a Chinese monk, both he and the temple had a profound influence on the spread of Buddhism in Japan. Invited to Nara by the emperor, Ganjin trained apprentices and priests and instructed them in the ways of the Buddha.
Although it looks quite plain in comparison with some of the other temples and shrines in the city, Toshodai-ji has some fantastic buildings and artworks for you to discover. Located in a very serene and peaceful spot amidst the gardens, Ganjin's grave is one of the main points of interest at the temple.
7. Kofuku-ji Temple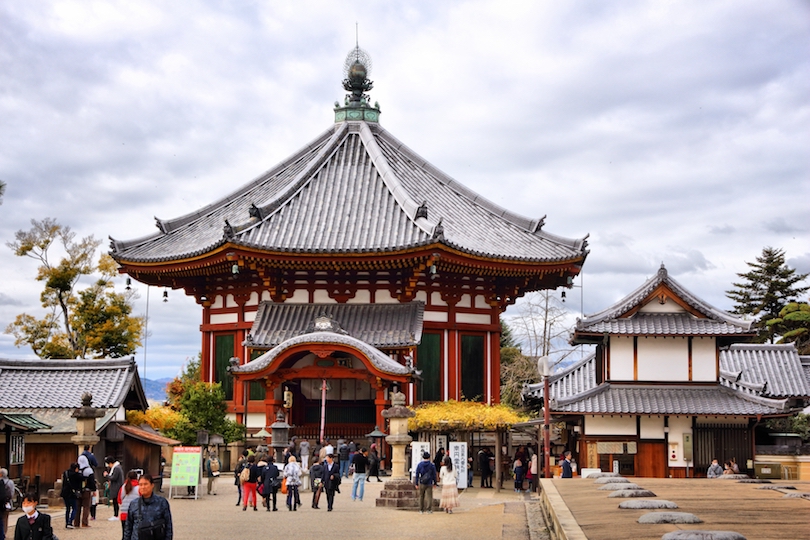 At the height of its power and prestige, the sprawling Kofuku-ji complex was remarkably made up of over 175 buildings, temples, and pagodas. It was once the family temple of the influential and aristocratic Fujiwara clan.
Founded all the way back in 710 AD, many of its buildings have long since been destroyed in fires and wars, although a number of delightful temples and treasures remain.
Of these, its five-storied and three-storied pagoda are undoubtedly the most impressive of the lot due to the marvelous architecture and intricate carvings on show. Scattered around its fantastic Central Golden Hall and Eastern Golden Hall, you can find some breathtaking Buddhist artworks, and many more can be found in the nearby National Treasure Museum. With so much brilliant art and architecture for you to enjoy, Kofuku-ji is certainly unmissable.
6. Isuien Garden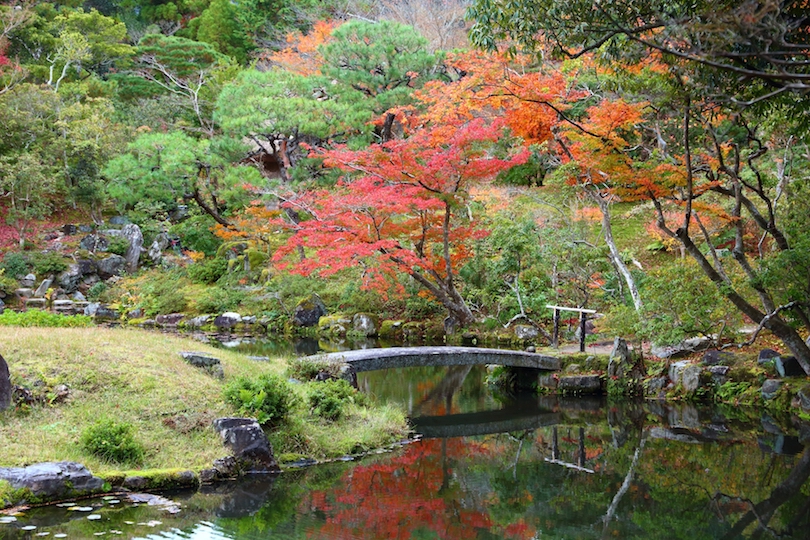 Beautifully laid out, the elegant Isuien Garden in the east of the city will delight nature lovers with its stunning scenery and immaculately presented landscapes. Divided into two parts, the garden was founded in 1673 by Kiyosumi Michikiyo, with a later section added in 1899. Encompassing a wide variety of different plants and trees, Isuein makes brilliant and inventive use of shakkei – the Japanese technique of 'borrowed scenery.'
As such, Todai-ji Temple's Nandaimon Gate and the surrounding hills of Kasuga, Mikasa, and Wakakusa are used to frame various natural elements in the park despite lying outside of its confines. This creates a visual harmony that is beautiful to behold, and the traditional tea houses, pagodas, and ponds in the garden only add to the perfect scene.
5. Nara National Museum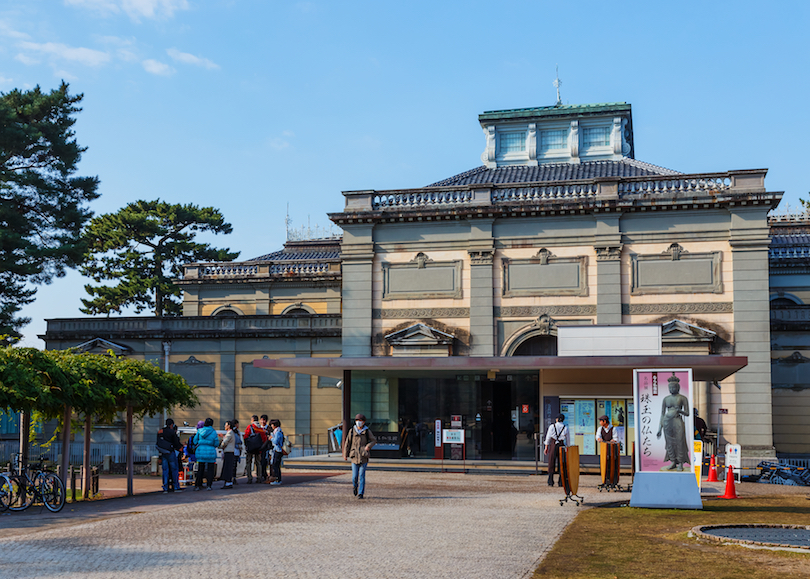 Housing an astounding collection of Buddhist artworks, the Nara National Museum is one of the best museums in the nation.
Established in 1889, the museum is located in Nara Park in a wonderful French Renaissance-style building, with a beautiful Buddhist Art Library also on display. Its extensive collection features some incredible statues, paintings, and images of the Buddha; these belong to various temples and shrines from Nara and its surroundings.
Among its many highlights are an exquisite ninth century statue of Buddha Yakushi sitting down, and the twelfth century Hell Scroll, which depicts various levels of hell. In addition, there is a fantastic exhibition on Chinese ritual bronzes for you to peruse. Clear and concise English explanations accompany every exhibit in the museum.
As so many of the city's main sights consist of Buddhist temples and shrines, it is well worth heading to the Nara National Museum to learn more about Buddhism and the profound impact it has had on both Nara and the country at large.
4. Nigatsu-do Temple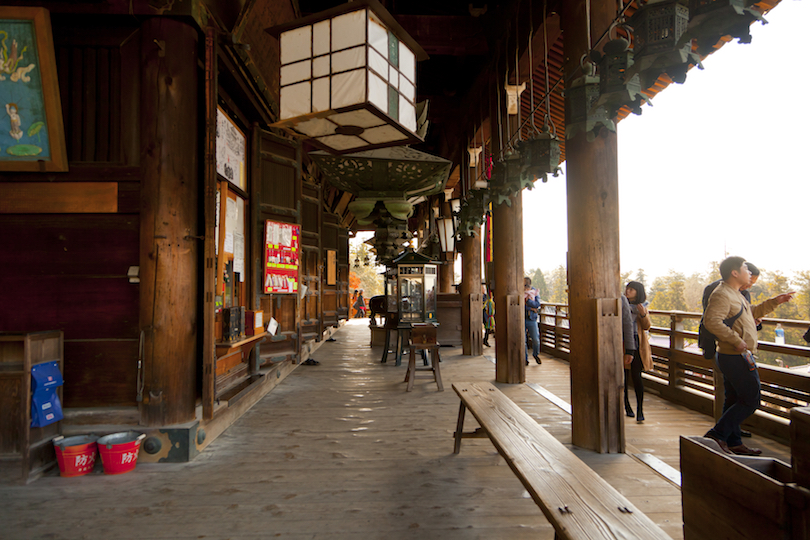 Located on the hillside of Mount Wakakusa, Nigatsu-do Temple is actually a part of Todai-ji Temple, although many people consider it to be a separate attraction. To reach the temple, you walk along an atmospheric alley before climbing to the top of a lantern-lined staircase. From its prominent location on the hillside, there is a breathtaking view of Nara for you to enjoy.
The temple is one of the most important and impressive buildings in the Todai-ji complex, and its main hall is designated a National Treasure. One of the main reasons that it is so famous, however, is because it is from its magnificent balcony that the annual Omizutori Festival is held.
To cleanse people of their sins, priests bear large burning torches from the balcony; the ash and sparks from the fire that rain down upon them are said to ward off evil. This obviously makes for a memorable spectacle as the centuries-old temple is dramatically lit up against the dark night's sky by the flaming torches.
3. Kasuga Grand Shrine
Founded all the way back in the eighth century to protect the city from harm, Kasuga is the most important Shinto shrine in Nara. Its many buildings, temples, halls, and shrines cover a vast area, and there is lots of beautiful architecture wherever you look.
Standing out delightfully against the lush trees and green gardens that surround it, the bright red Kasuga Grand Shrine's deer-filled grounds are just as magical to explore as the temple itself.
Wandering freely around the gardens and forests, the friendly deer are considered to be sacred messengers sent by the Shinto gods. They will often come up to visitors to ask for a snack. The Kasuga Grand Shrine is particularly worthwhile visiting in February and August when its hundreds of bronze lanterns are lit up during the twice-yearly Mantoro Festival.
2. Todai-ji Temple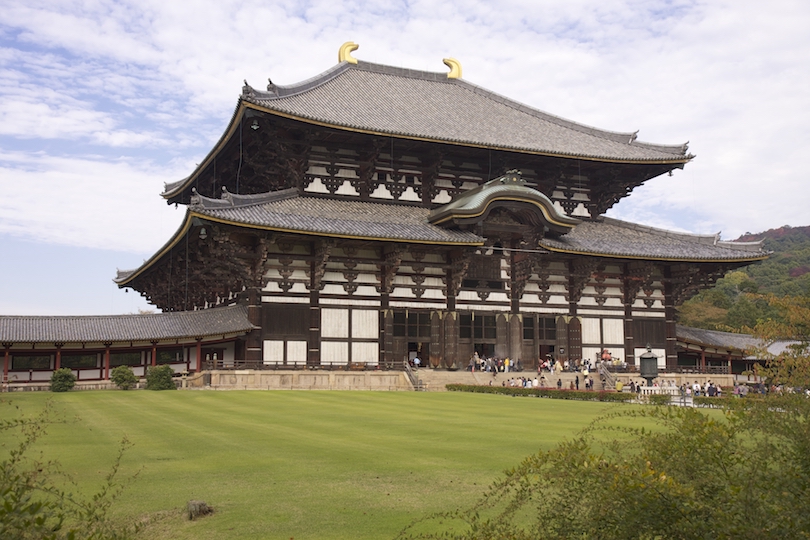 One of the most famous, important, and impressive temples in the whole of Japan, Todai-ji Temple is the undisputed highlight of any trip to Nara and shouldn't be missed out on. Built back in 752 AD, the temple grew so powerful that the capital of the country had to be moved from Nara to another city to lessen its influence.
Many National Treasures can be found at Todai-ji, with its enormous bronze Buddha statue – the largest such structure in the world – the most impressive of them all. Housed in Daibutsuden – or Great Buddha Hall – the statue is awe-inspiring to gaze upon, as are the fantastic architecture and artworks all around it.
The vast temple complex has loads of other wonderful buildings for you to enjoy, with the intricately carved Nandaimon Gate being another star attraction. Full of cute and friendly deer, its expansive grounds are very peaceful and pleasant to stroll around, with majestic historical, cultural, and spiritual sights wherever you look.
1. Nara Park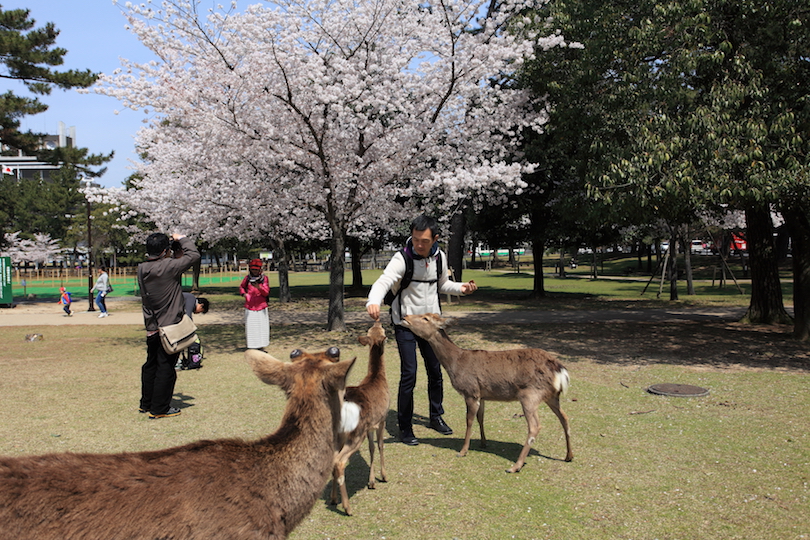 Established in 1880 Nara park is one of the oldest parks in Japan. Many of Nara's sights, including the Todai-ji and Kofuku-ji temples and the Nara National Museum, are concentrated in Nara Park, a wide, pleasant space of greenery. The park however is most famous for the hundreds of wild sika deer which freely roam the grounds and have have become very comfortable around people and can be fed and petted.
According to a legend, the god of the Kasuga Taisha came riding a white deer in the old days, so the deer enjoyed protected status as envoys of the god. After World War II, the deer were officially stripped of their sacred status and were instead designated as national treasures and are protected as such.
Today, you can purchase crackers to feed the deer in the park. Simply possessing some will inevitably attract a small crowd of five or six deer.
Best Time to Visit Nara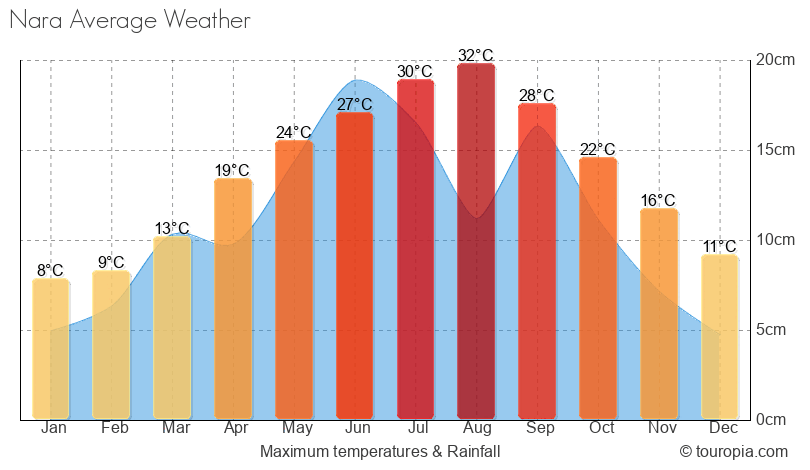 Nara enjoys a temperate climate with hot, humid summers and quite chilly winters. As such, spring and autumn are arguably better times to visit as the seasons are mild, the sun is shining and the weather is fine.
From March to May, Nara sees lots of visitors pour in, and come to see the spectacular cherry blossoms. Prices are higher around this period with huge crowds forming about its temples, gardens and shrines. Important traditional events like its Omizutori water drawing ceremony and Takigi Ono fire performances also take place then.
Although the city is again packed with people in July and August, temperatures of around 29 to 31°C (84 to 88°F) make sightseeing rather uncomfortable. Summer is also incredibly rainy so pack a jacket or umbrella whenever you go. If you need to cool off a bit, you can always hike, swim or raft in the nearby mountains.
October and November again see a huge spike in visitors as all the autumnal foliage creates some amazing photo opportunities. As with spring, temperatures are again mild and not too wet. Around the beginning of autumn, you can also watch the adorable Nara deer have their antlers cut at a special centuries-old ceremony.