Widely considered to be Japan's most beautiful city, charming Kyoto really is a delight to explore. Besides boasting over 2,000 Shinto shrines and Buddhist temples, it has tons of picturesque gardens, palaces and viewpoints to enjoy.
For well over a thousand years, it served as the country's capital until the emperor relocated to Tokyo following the Meiji Restoration. While fires, wars and earthquakes ravaged Kyoto from time to time, it still retains much of its rich history. As such, many attractive old buildings and atmospheric streets can be found alongside its more modern center.
Aside from its incredible art and architecture, the city is also set in a scenic spot amidst mountains and forests. Its enchanting temples also have lots of lovely Zen gardens to amble around while gaily dressed geishas can still be spotted in the historic Gion District.
With such a rich culture and cuisine to uncover and so many fascinating things to do in Kyoto, it is definitely one of Japan's most rewarding destinations. On your next trip to this ancient city, plan to see as many of these top tourist attractions in Kyoto as your schedule will allow.
In this post, we'll cover:
23. Kenninji Temple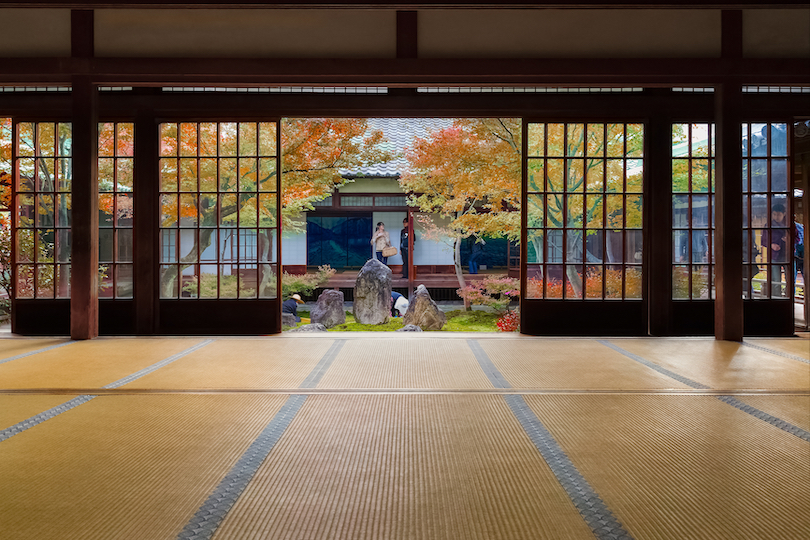 Even though it is the oldest Zen temple in Kyoto, Kenninji sees substantially fewer visitors than many of its neighbors. This makes its quiet complex on the south side of Gion even more special to stroll around as you almost have all its artistic treasures and architecture to yourself.
Located not far from the historic Hanamikoji Street and the stunning Yasaka Shrine, it was founded back in 1202. The main temple of its branch of Rinzai Buddhism, it has an exquisite sanmon gate, Dharma Hall and Abbot's Quarters to admire, all erected centuries ago. Inside too, there is a dramatic ceiling painting of twin dragons to take in alongside finely-detailed murals and folding screens.
Its gorgeous grounds contain a traditional Zen garden with tea ceremonies also being held here from time to time. We were very surprised that the temple was almost deserted when we visited but were very glad it was thanks to the serene ambience around the place.
22. Monkey Park Iwatayama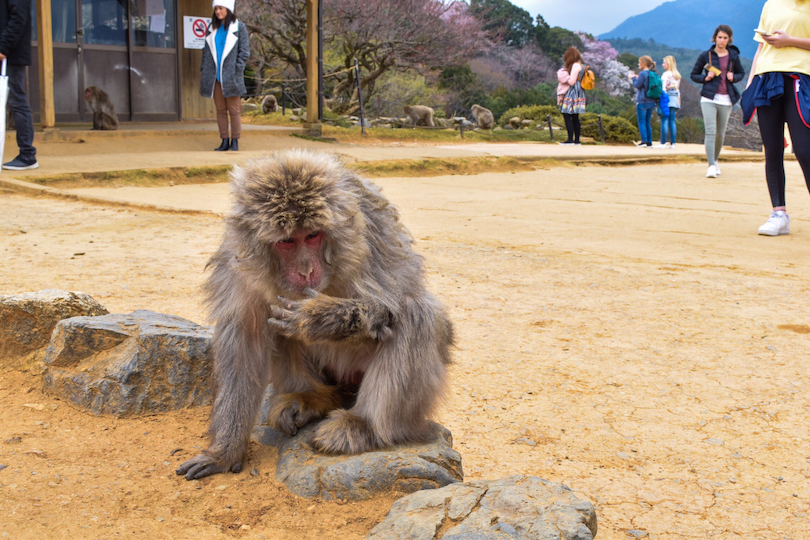 After seeing so many temples and historic sights around town, hiking up to Monkey Park Iwatayama makes for a fun change. Home to roughly 120 Japanese macaques, its lush site is perched atop Mt. Arashiyama and offers spellbinding views over all of Kyoto.
Situated just across Togetsukyo Bridge from the terrific Tenryu-ji Temple, the park was established in 1957 to protect the colony of cute snow monkeys that inhabit the area. Free to come and go as they please, the mischievous creatures play, feed and groom themselves right before you.
Whenever you visit, scores of them are sitting or scampering about the observation deck or swinging in the surrounding trees. Observing them up close and feeding them is an amazing experience – just don't make eye contact or provoke them by accident!
Bear in mind too it is a steepish, twenty-minute climb uphill to the monkey park.
21. Kyoto Station Building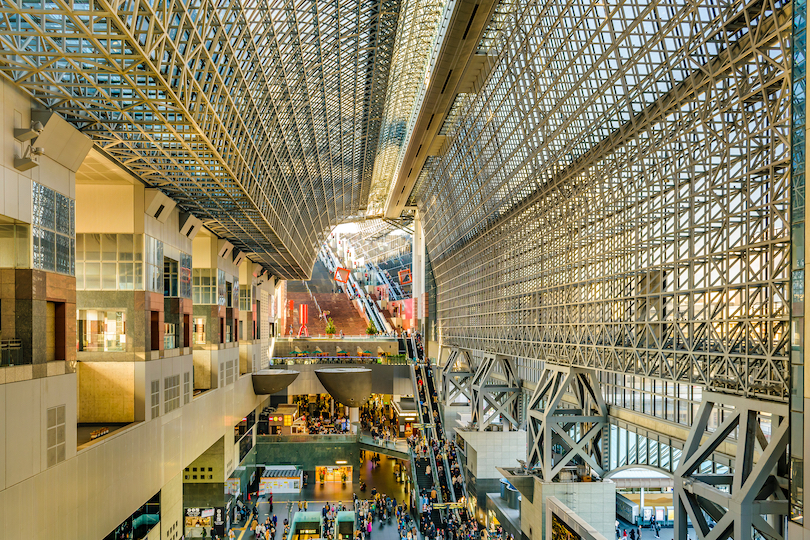 In contrast to all its ancient temples, the colossal Kyoto Station is one of its most distinctive modern buildings. Besides being an important train and transportation hub, it showcases some extraordinary architecture and has tons of amenities to make use of.
Actually the second-largest station in the whole country, it encompasses not just an immense Isetan department store and shopping mall but a hotel, movie theater and many restaurants too. Unveiled in 1997, its sparkling high-rise has fifteen stories for commuters, locals and tourists to explore. As well as a vast, futuristic facade, there is a mesmerizing multi-level LED-lit staircase to snap photos of.
Other than ogling at its sheer size and scale, you can shop until you drop or try some of its excellent eateries. After ambling about its cavernous interior, we particularly enjoyed heading up to its relaxing rooftop garden. A welcome escape from the hustle and bustle below, it provides some great views of the city from up high.
20. Samurai and Ninja Museum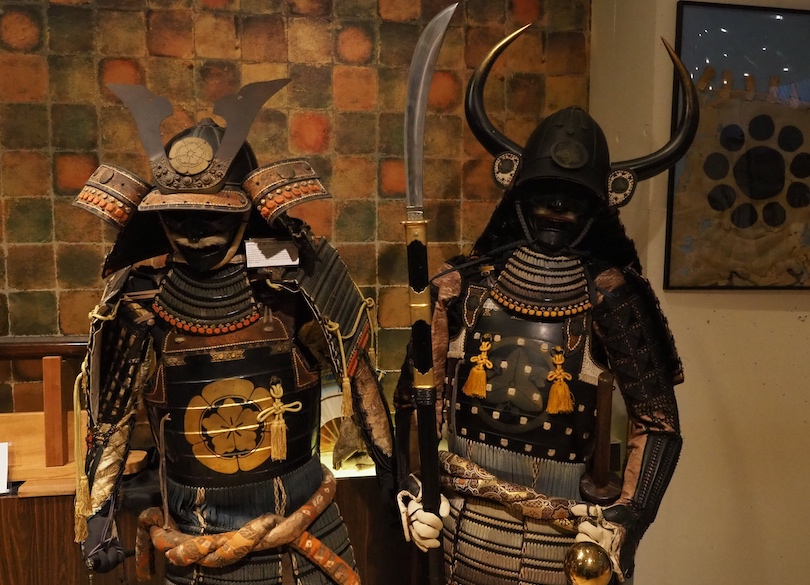 If you're looking to wield swords, throw shuriken and wear suits of armor, then you've come to the right place! At the superb Samurai and Ninja Museum, there are all kinds of fun interactive activities to try while learning a bit about the history and traditions of the two professions.
Set alongside the teeming Nishiki Market, the museum displays loads of cool old swords and sets of armor. Friendly guides explain each item before delving more into the fascinating hierarchy, culture and lifestyles of both peasants and nobles back in feudal Japan. Afterwards, you can dress in either armor or ninja outfits and hone your sword-fighting and blade-throwing skills.
While it is quite small and super touristy, their samurai and ninja experiences promise to be some of the best fun you've had in ages! You'll also take some of your best and most memorable photos here from your time in Japan.
19. Sanzen-in Temple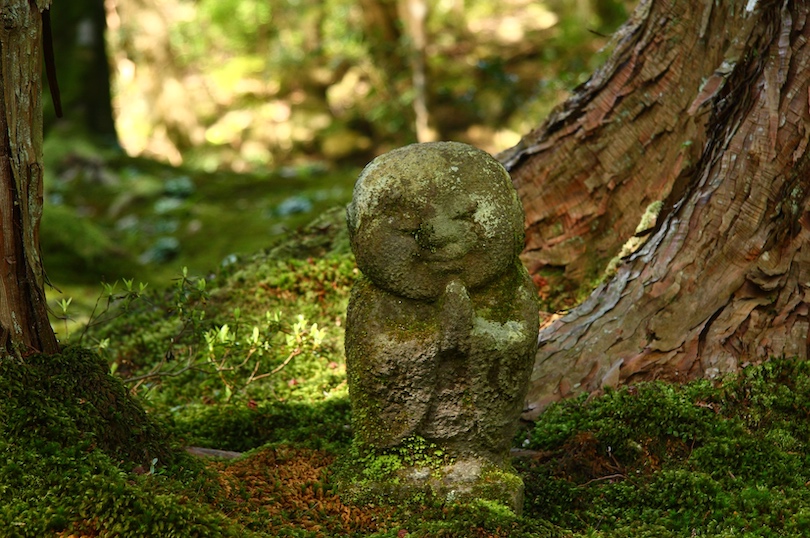 Although it is nestled roughly an hour's public transport journey north of Kyoto, the scenic Sanzen-in Temple is definitely worth visiting if you have the chance. Part of the tiny Ohara town, it is known for its peaceful atmosphere, amusing stone statues and tasty matcha tea.
Tucked away amidst towering trees, the venerable Buddhist temple remarkably dates to 784 CE with pretty gardens and walking paths lying all around it. Coating the forest floor is a marvelous carpet of moss through which smiling stone statues poke their heads. At their centre is a delightful old hall to see, built in 1143. This holds a statue of the Amida Buddha; Sanzen-in's most important treasure.
An oasis of peace and calm, the temple is a treat to visit at any time of year. While the winter's snow does somewhat hide its finest features, its white landscapes make for an enchanting atmosphere. In summer, its blooming hydrangeas create an explosion of color while autumn's fiery foliage is just as spectacular to photo.
18. Toji Temple
Also famed for its striking seasonal colors is the historic Toji Temple on the northwestern outskirts of the city. Asides from wandering about its landscaped gardens, you can gaze up at its phenomenal five-storied pagoda; the tallest in Japan.
Although the temple was founded in 796, its halls, gates and pagoda have all been rebuilt numerous times over the centuries. Now the main place of worship for the Shingon sect of Buddhism, it houses countless fine statues, paintings and carvings. Towering over everything is its 54 meter-high pagoda; one of the complex's standout sights.
Perfectly complementing its fantastic collection of art and architecture are the magnificent gardens all around them. After strolling along its picturesque paths and seeing all the statues of the Ashikaga Shoguns, enjoy a calming tea in its traditional tatami room.
Surprisingly overlooked by tourists, it was again one of our favourite stops due to its relaxed feel and resplendent scenery. Toji also apparently hosts a monthly market where hundreds of vendors sell arts and crafts, kimonos, food and more.
17. Hike from Kibune to Kurama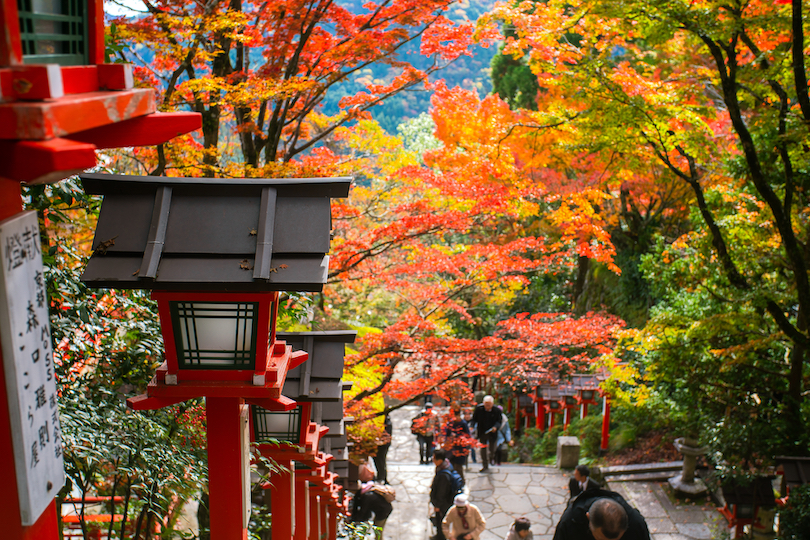 A wonderful way to see even more of the region and really immerse yourself in nature is to hike from Kibune to Kurama. Taking around half a day in total, the popular route passes through forests and alongside rivers, stopping off at temples, shrines and hot springs on the way.
Hidden away in the Kitayama Mountains, about half-an-hour's train ride from Kyoto, are the adorable towns of Kibune and Kurama. Connecting the two together is a seven-kilometer-long trail up over the mountains, through atmospheric-old growth forest. This sees you follow lovely lantern-lined paths to small shrines and sanctuaries with nature spots and viewpoints also dotted about.
At either end, you can visit Kifune Shrine and Kurama-dera Temple, both of which are set in stunning spots and exhibit some impressive art and architecture. Another highlight is the twisted 'Path of Tree Roots' and experiencing the temple's six-sided kongosho spot. This is apparently the point where the mount's spiritual energy is concentrated. After the hike, you can soak a while in Kurama's hot springs before heading back to Kyoto.
16. Togetsukyo Bridge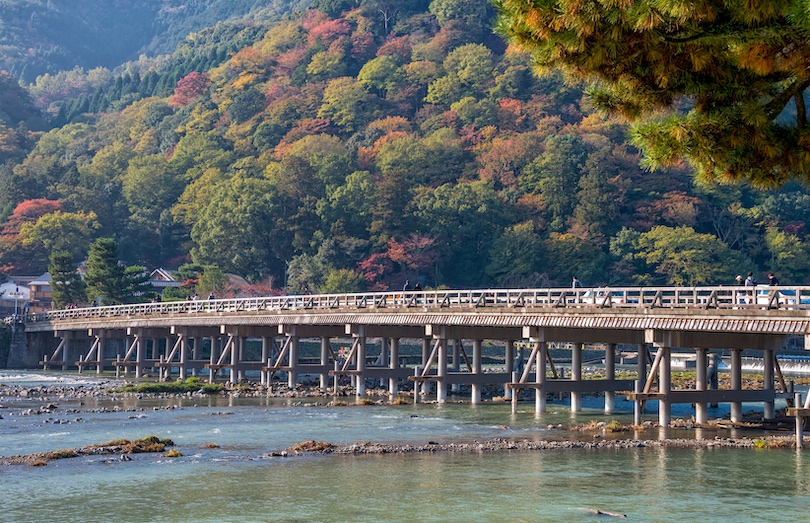 Besides being known for its beautiful bamboo grove, Arashiyama also boasts the iconic Togetsukyo Bridge. Spanning the rushing Katsura River, it makes for some superb photos and viewing, what with the rugged mountains and wide open waters around it.
Famously featured in esteemed ukiyo-e artist Hiroshige's series of woodblock prints, it was originally built in 836. Once wood, the 155 meter-long bridge is now mostly made of concrete as earlier ones kept being damaged by floods. Every day, eager crowds flock here to snap photos of the river and Mt. Arashiyama rising ahead.
If all the romantic views and scenery weren't enough, its name also magically means 'Moon Crossing Bridge' due to a poetic observation by Emperor Kameyama centuries-ago. Particularly popular times to visit are in spring for the cherry blossoms and autumn for its trees' colourful foliage.
15. Nanzenji Temple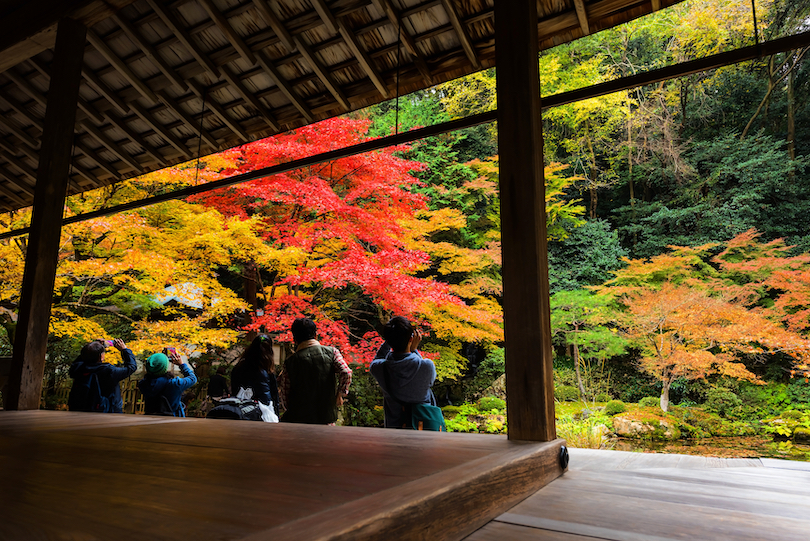 That same ancient emperor had the elegant Nanzenji Temple constructed in 1291. One of the quieter ones in Kyoto, it also contains an attractive Zen garden and an amazing old aqueduct. Many people stop briefly as they make their way along the Philosopher's Path that runs beside it.
As it has been destroyed numerous times over the years by fire, its complex has constantly varied in size, having last been rebuilt in 1905. Nowadays, guests are greeted by a gigantic Sanmon gate, one of the grandest in all Japan. Dwarfed by it are the art-filled Abbot's Quarters and a delightful little dry landscape garden from the Edo period.
Its most unique feature however is the hundred-year-old aqueduct that lies just up the hill to the right. Used to transport water from Lake Biwa, its fading red bricks and fine arches create some fabulous photo opportunities amidst the colourful leaves of the surrounding trees.
14. Kyoto Imperial Palace & Kyoto Gyoen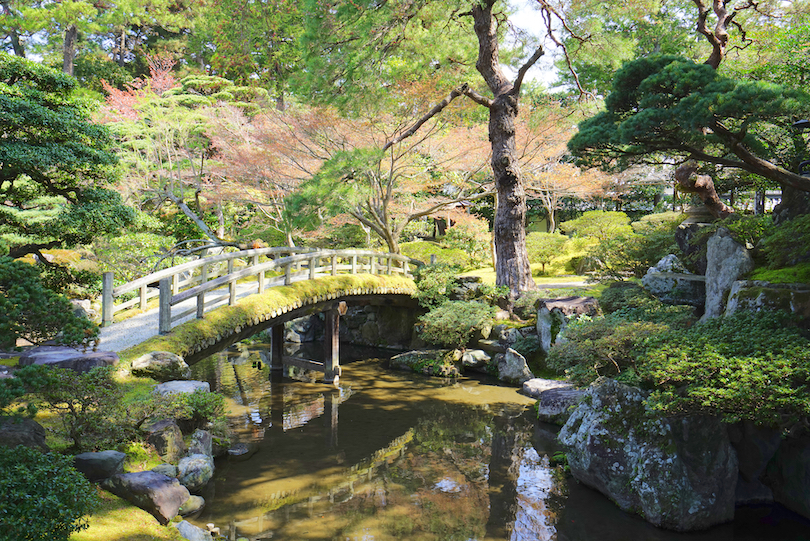 Covering an absolutely enormous part of the city center is the Kyoto Imperial Palace. Located within Kyoto Gyoen – large green grounds that are open to the public – it has interesting guided tours to take.
Up until the Meiji Restoration in 1869, Japan's emperors and their families resided here for centuries. Although the current complex only dates to a decade or so earlier (due to yet another fire), its ornate buildings and ornamental gardens are still all intricately-crafted.
On guided tours, you'll get to examine these handsome gates, palaces and historic halls. On the way, you'll also hear all about the Imperial Family, their role and impact on the nation. If you don't manage to book one, there is also a free audio guide app you can download beforehand.
While many would count the Imperial Palace as a must-see site, we weren't all that bothered by it. As with the palace in Tokyo, you cover huge distances without seeing all that much. If you're pressed for time, we'd probably recommend skipping this and seeing some of the city's other sights.
13. Nishiki Market
If you've already had enough of temples (they do lose their shine a bit by the tenth one), then Nishiki Market is perhaps one of the better things to do in Kyoto. Loads of fun to explore, its packed stands and stalls have tons of tasty Japanese delicacies for you to try.
For over 400 years, vendors have hawked their wares at the massive market affectionately known as 'Kyoto's Kitchen'. In total, its covered pedestrian arcades are lined by around 130 shops, all facing out to the public. Delightfully decorated, they display everything from fresh fruit and vegetables to sweet snacks, seafood and souvenirs.
Foodies will certainly love the market's remarkable range of products and its vibrant atmosphere. As there is so much to see and sample, we came back a couple of times to try out different restaurants and street food options.
12. Tofukuji Temple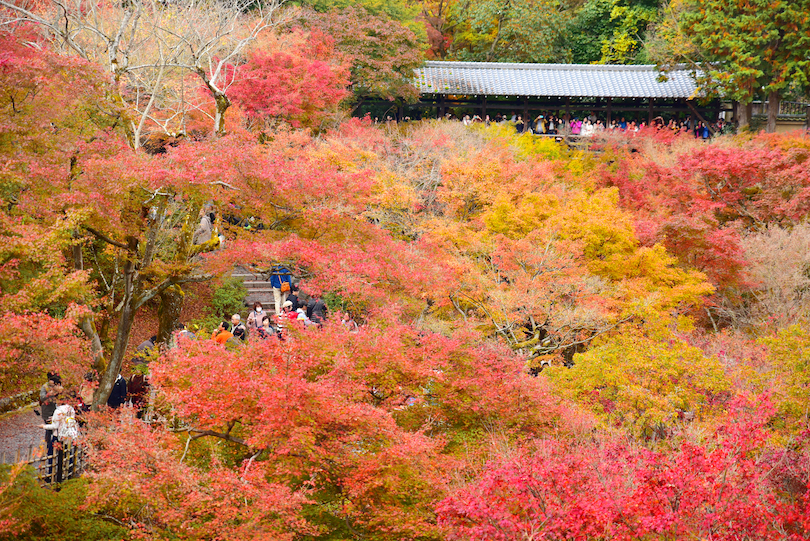 Just north of the infamous Fushimi Inari Shrine is yet another terrific temple to visit. One of the 'five great Zen temples of Kyoto', Tofukuji has lots of lovely architecture and artworks to admire. These all lie amidst some utterly idyllic gardens.
Established in 1236 by the imperial chancellor Kujo Michiie, its grounds once contained over seventy buildings at the temple's zenith. Various fires and the 1868 shinbutsu bunri decree to limit the wealth and power of the Buddhist sects eventually saw their numbers greatly reduced.
Nowadays, the complex has almost 25 sub-temples to stroll around with its two-story sanmon gate, the oldest surviving one in Japan, being the main highlight. Other than snapping pics of its paintings and portraits, you have to see its magnificent moss garden and maple trees. In autumn, visitors pack onto Tsuten-kyo Bridge to see the temple immersed in all the trees' astounding colours.
11. Eikando Zenrinji Temple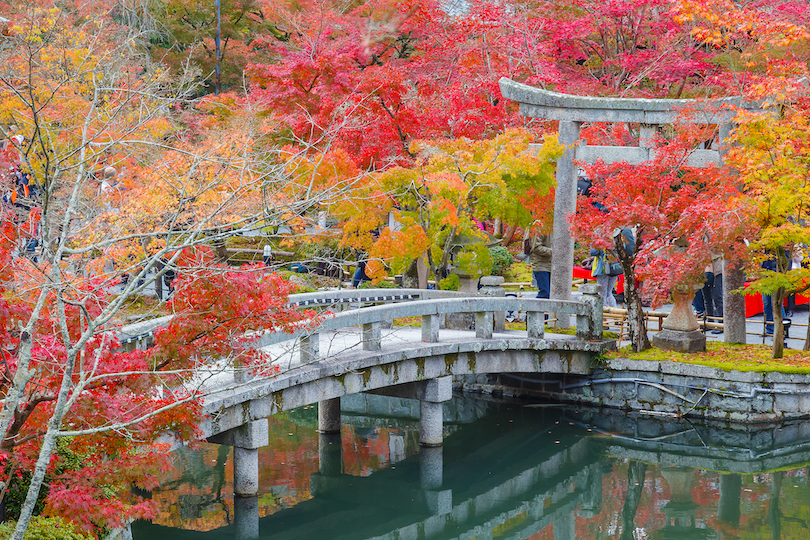 Also famed for its fall foliage is the enchanting Eikando Zenrinji Temple, just north of Nanzenji along the Philosopher's Path. Scattered across the slopes of Kyoto's Eastern Mountain, it is arguably one of the most beautiful in the entire city (and that's saying something!).
Founded back in 853, its gorgeous gates, halls and pagoda are linked by pretty paths and staircases, weaving their way up the hillside. Wandering around, you'll find koi ponds and cherry blossoms while glittering gold treasures and religious artworks decorate its interiors. The most important of these is the twelfth-century statue of Amida Buddha looking over his shoulder.
Even without seeing its arresting autumnal colors, we were blown away by the temple's serenity and scenery. Asides from the pristine presentation and layout of its gardens and buildings, there are also fine views over Kyoto to be enjoyed from its higher reaches. Exploring the temple without your shoes on somehow only adds to the experience!
10. Arashiyama Bamboo Forest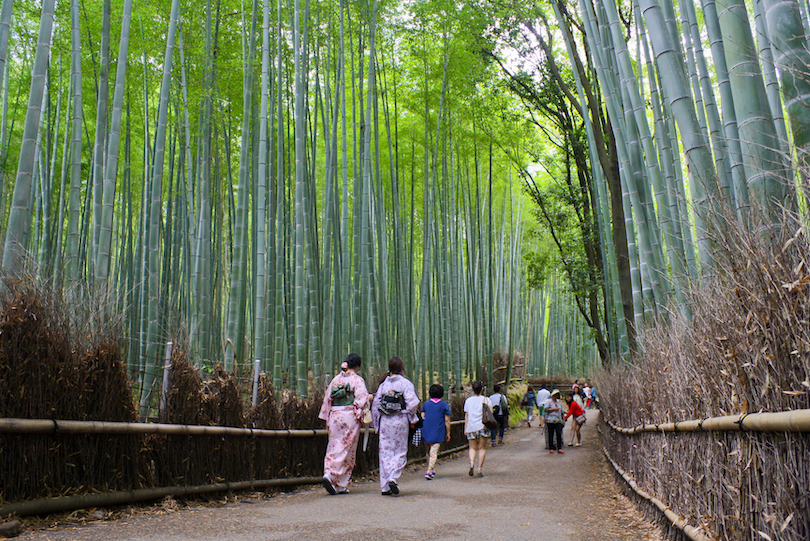 Certainly one of the city's most photographed spots is the now iconic Arashiyama Bamboo Forest on its northwestern outskirts. Although often overcrowded, there is a reason so many people head here to snap selfies and take pics for Instagram.
Located right next to Tenryu-ji Temple and Togetsukyo Bridge, the towering grove is mostly made up of moso bamboo. Snaking their way through the densely packed, bright green stalks are a few paths to amble along. Hearing the rustle of their leaves and seeing the light through the canopy reflect off of them is a very peaceful feeling, despite the hordes around you.
As it isn't very large, you're best off visiting early in the morning to avoid the worst of the crowds. The forest also has some small tea stands for you to stop off and several that sell souvenirs.
9. Ryoanji Temple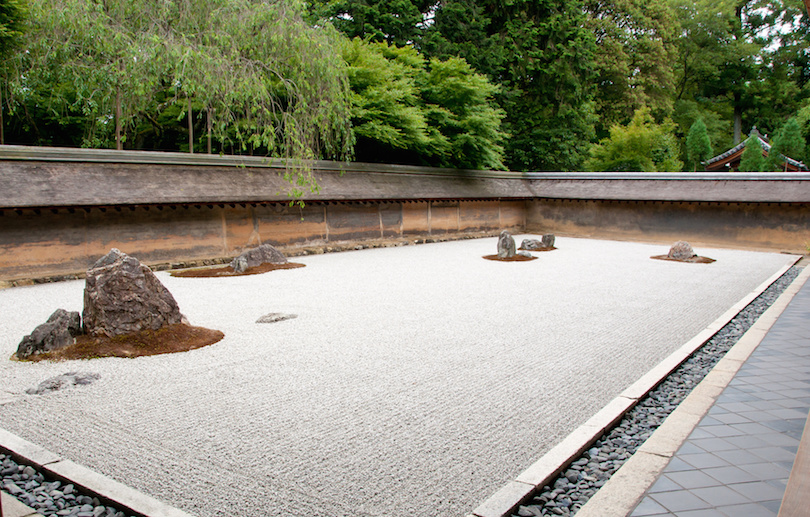 Ryōan-ji is a Zen temple in North Kyoto. It is one of the few examples that still remain of an art form known as dry landscape, or kare-sansui. This art is a type of Zen garden that features a bed of small, smooth pebbles and a few larger, distinctive rock formations.
The garden at Ryoanji features a collection of 15 carefully placed rocks, apparently adrift in a sea of sand, enclosed by an earthen wall.
The temple itself dates back to the 11th century, and it served as a mausoleum for several of the Japanese emperors after their passing. While these tombs can still be visited, it is the large rock gardens that receive the most attention from visitors coming from across Japan and even around the world.
8. Gion District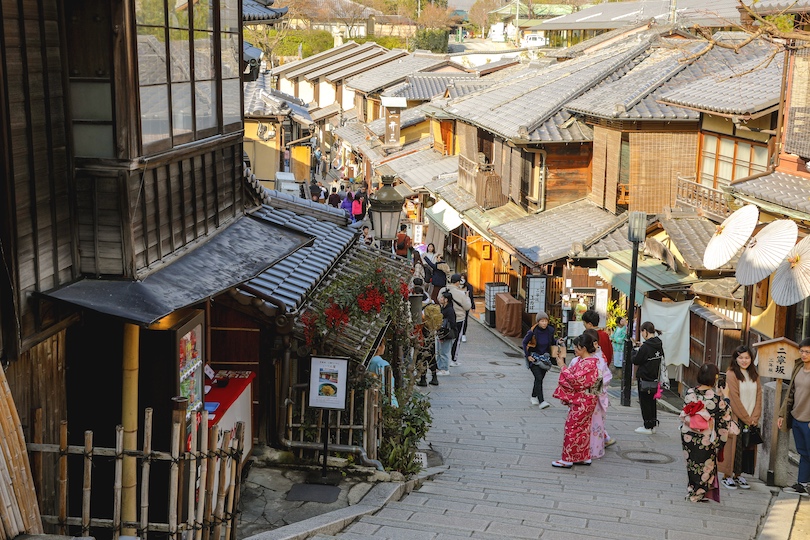 One of the most magical things to do in Kyoto is to explore its historic old Gion District. Offering up an alluring look into what life in Japan was once like, its atmospheric streets and traditional inns are still frequented by colorfully-clad geishas in kimonos.
Wonderfully well-preserved, the charming neighborhood in Higashiyama-ku slowly evolved over the centuries to accommodate and entertain visitors to Yasaka Shrine. Lying along the eastern bank of the Kamogawa River, its flagstones are bordered by beautiful old buildings, many now home to cosy cafes and restaurants or shops and izakayas.
Here you can take part in traditional tea ceremonies, watch dramatic kabuki theater plays and meet elaborately dressed geishas. Many rent kimonos for the day and explore the district, taking photos in the elegant outfits amongst its quaint streets. We absolutely loved Gion's architecture and ambience and can't wait to go back!
7. Nijo Castle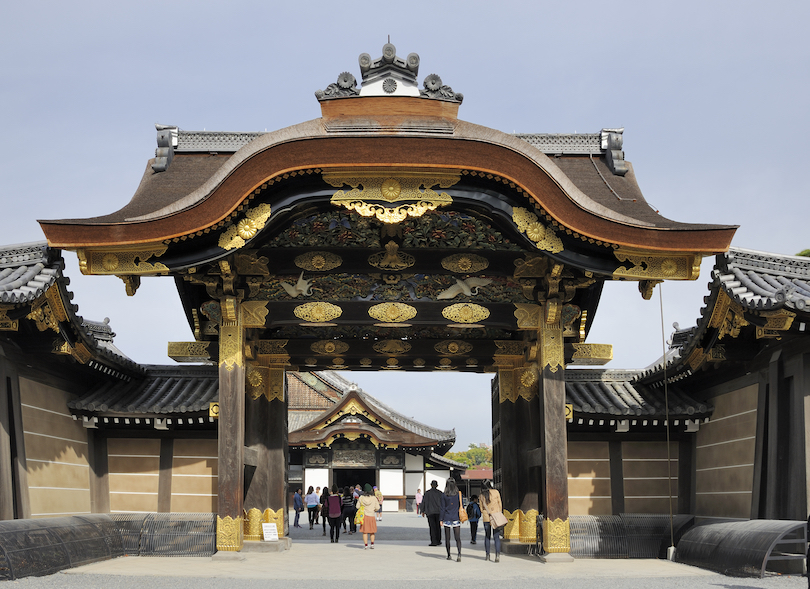 When most people imagine castles, they picture the Gothic stone palaces found in Europe. In Kyoto, however, Nijo Castle is actually made from wood. The design is highly unusual, being made up of two concentric rings, with a circular courtyard between the two.
Nijo Castle was built in the 17th century, and all of the feudal lords in Western Japan were required to aid in the funding of its construction. The palace itself is made from cypress and gold leaf is used extensively in the decor. Don't forget to look up when admiring the castle, because some of the ceilings are dotted with gold mosaics.
6. Ginkakuji Temple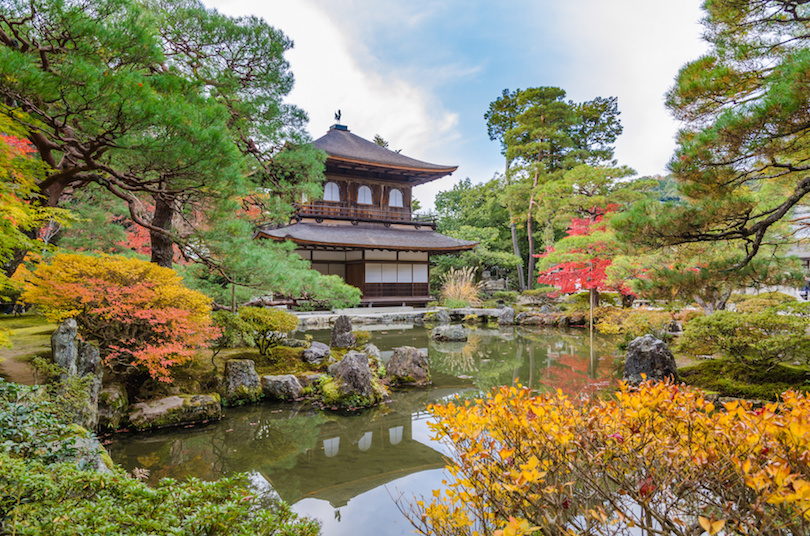 Right at the northern end of the Philosopher's Path is the popular and picturesque Ginkakuji Temple, also known as the Silver Pavilion. One of Kyoto's main tourist attractions, it is set in a tranquil spot amidst gardens, streams and small waterfalls.
Originally built in the fifteenth-century to be a retirement villa for shogun Ashikaga Yoshimasa, it was converted a couple of decades later into a Zen temple. Unlike the glittering Golden Pavilion, plans to paint it silver were never followed through. It still looks impressive however as bright green mosses, plants and trees surround the temple and lake before it.
Although often quite busy, the gardens still have a peaceful feel with phenomenal viewpoints dotted here and there. There are also some cool sand sculptures and of course, the architecture of the Silver Pavilion itself to enjoy.
5. Philosopher's Walk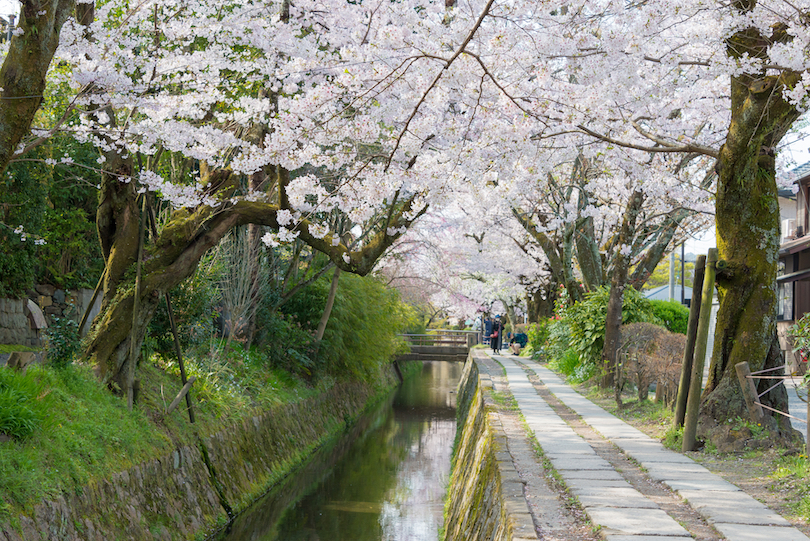 The Philosopher's Walk is a simple pedestrian trail that runs alongside a canal in Kyoto.
On either side of the walkway stand cherry trees, giving the route a mystical and particularly scenic appearance. The Philosopher's Walk is shorter than two miles, but it passes by a number of important shrines and temples.
An iconic Japanese philosopher named Nishida Kitaro used to walk along this stretch daily as a form of meditation, which is where the name Philosopher's Walk originated. However, you don't have to be a philosopher to admire the views, get great photos of the cherry trees and see a number of tourist attractions in Kyoto within a hour's walk.
4. Sanjusangendo Temple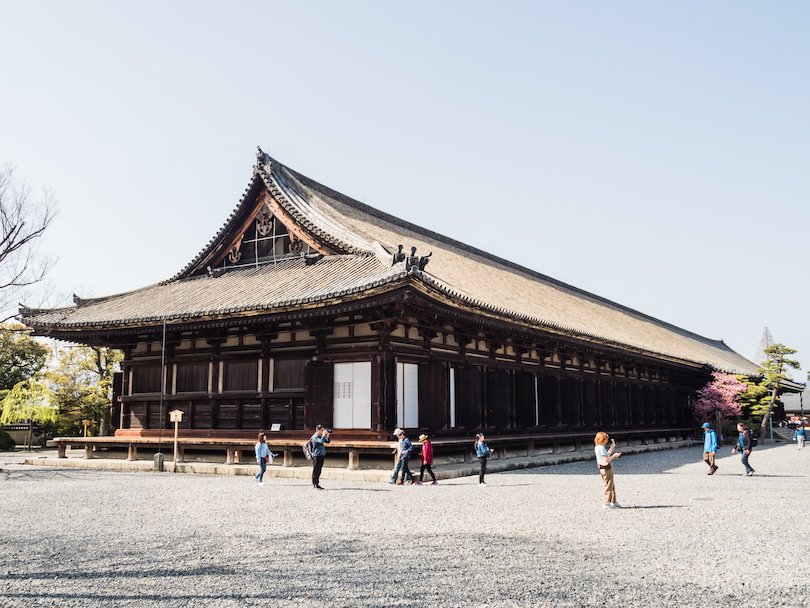 Unlike almost all of Kyoto's other incredible temples, Sanjusangendo isn't surrounded by spectacular gardens and doesn't display much interesting architecture. Instead, the iconic landmark is renowned and revered for the 1,001 intricately-crafted statues crammed in its interior.
Dedicated to Sahasrabhuja-arya-avalokitesvara (phew!) or the Thousand Armed Kannon, its very long hondo hall was impressively completed back in 1266. Still standing today, it contains countless rows of life-sized statues, covered in gold leaf. Even more remarkable is that each individual figure and face of the goddess of mercy is slightly different. All together, they and the heavy incense-infused air of the temple create quite a striking scene.
Outside, you can see 28 sculptures of guardian deities thought to have originated from Hinduism. A small but scenic garden at the back also provides you with a quiet space to contemplate and take a break before getting back to sightseeing.
3. Kiyomizu-dera Temple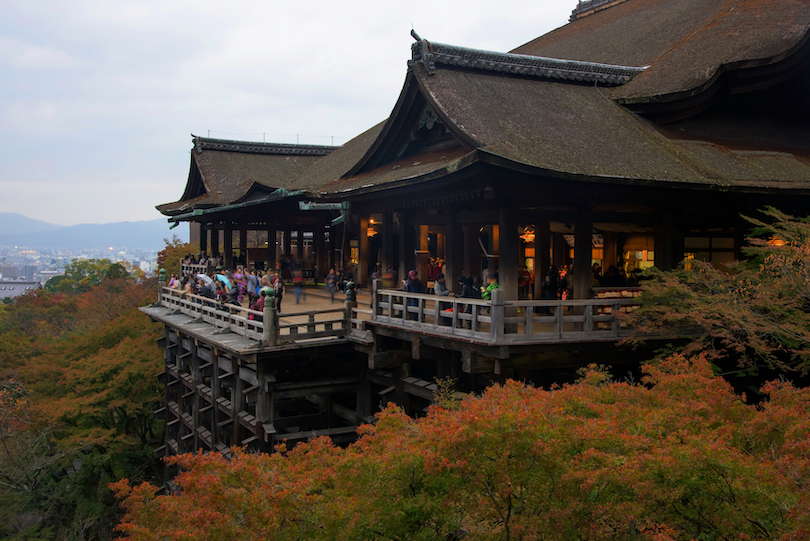 Spread across the rolling foothills of Mount Otowa in eastern Kyoto is the ginormous Kiyomizu-Dera Temple. Mostly known for its main hall's massive veranda, the religious site is an absolute must-visit for its captivating architecture, commanding views and cheery cherry trees.
While the important temple was founded in 778, all its current buildings 'only' date to 1633. The most eye-catching of these is, of course, its humongous hall that protrudes out from the hillside atop huge pillars. Already a stupendous sight, it was constructed without a single nail or screw – all its wooden parts having been placed snugly together so they can't budge.
Other than basking in its breathtaking views, you can explore the temple's lush leafy grounds and see the small waterfall after which it is named. Although the veranda and views were great, we were just as enamored with its bright orange-painted pagoda. Looking out over Kyoto, it makes for some fine photos, either against the sky or peeking above the nearby treetops.
2. Golden Pavilion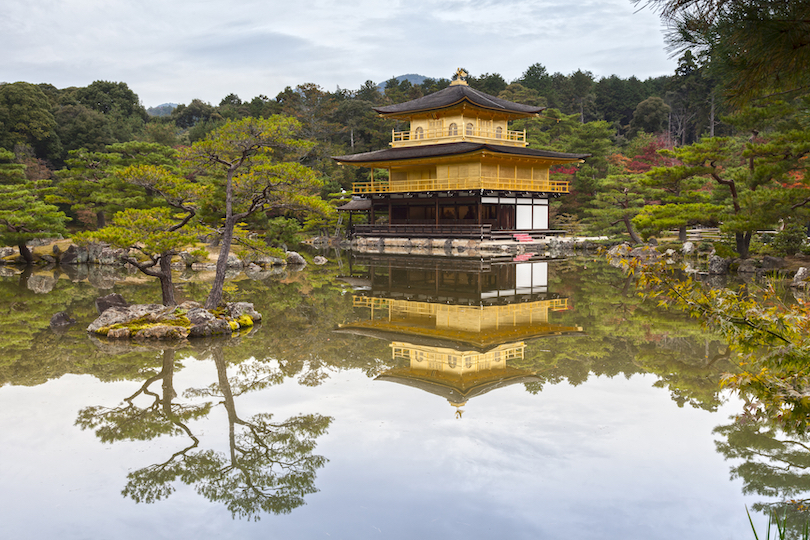 One of the most famous buildings in all of Japan is the Golden Pavilion, better known to locals as Kinkakuji. This Zen Buddhism temple was originally a privately owned structure, but toward the end of the 14th century it was converted to a temple.
The temple has three stories, and they seamlessly incorporate three major Japanese styles of architecture: Samurai, Zen and Shinden. Yellow and gold coloring, not to mention the bright bronze phoenix ornament on the apex of the roof, helps give the Golden Pavilion its name.
Surrounding the temple are beautiful, manicured gardens, some of which are designed to show the harmony between heaven and Earth.
1. Fushimi Inari Shrine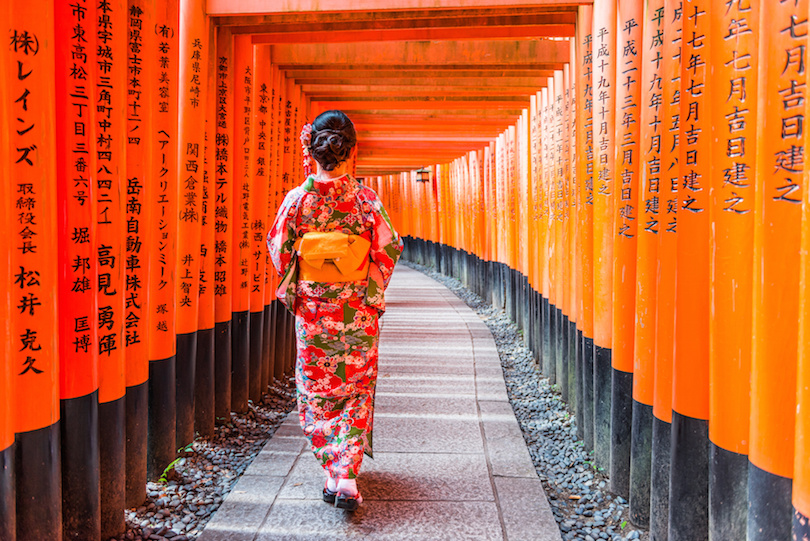 It is possible that the Fushimi Inari Shrine is the most impressive landmark in all of Kyoto. In reality, it is not just one shrine, but the head shrine (taisha) for 32,000 Inari shrines across Japan. Stretching 230 meters (750 feet) up the hill behind it are hundreds of bright red torii (gates).
You could easily spend several hours walking up the hillside, taking in the beautiful views of the city of Kyoto and walking through the torii, which appear luminescent in the late afternoon sun. This shrine still holds incredible religious and personal significance to local residents.
During the Japanese New Year, millions will come to pay their respects. As you approach the shrine, look for vendors selling the sweet tsujiura senbei, a kind of cookie local to the area and believed to be an early predecessor of the American fortune cookie.
Map of Things to Do in Kyoto, Japan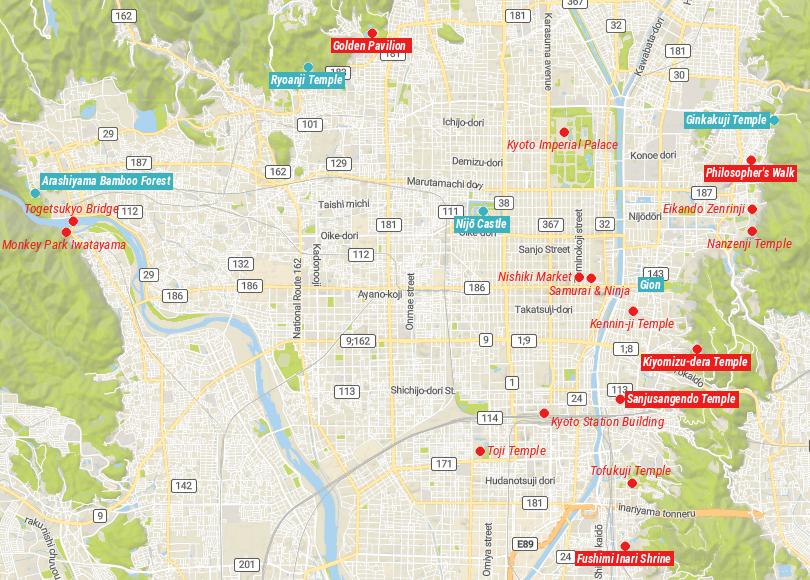 © OpenStreetMap © MapTiler © Touropia