Magical and mythical in equal measure, just the name Kathmandu evokes images of ancient, awe-inspiring temples rising amidst the towering Himalayas. While Nepal's capital is certainly an alluring place, its crowded, chaotic, and colorful nature threatens to be overwhelming at times.
Filling the Kathmandu Valley in which it lies, the 'City of Temples' is home to lots of astounding historical and cultural tourist attractions for you to explore. As such, you'll find marvelous palaces and age-old temples lying alongside bustling bazaars, selling every kind of product imaginable.
As well as being the commercial, cultural, and political center of the country, it is also its spiritual and religious heart. Consequently, some of the most interesting things to do in Kathmandu is observing the religious and cultural festivals which parade through its streets. Full of enticing sights, sounds, and smells, Kathmandu really is an incredible place and serves as a great gateway to the majestic mountains that lie nearby.
12. Dakshinkali Temple
Located on the outskirts of Kathmandu, Dakshinkali Temple lies tucked away amid the mountains and forests at the spot where two sacred rivers join. Dedicated to the goddess Kali, it has long been an important Hindu pilgrimage site and is often packed with worshippers.
The reverent yet lively atmosphere makes it a captivating place to visit, as does its pretty and picturesque setting. Dakshinkali Temple isn't for the faint-hearted, however, as priests regularly sacrifice animals to the goddess, particularly during the Dashain Festival.
11. Kumari Chowk
Lying in the center of Kathmandu, Kumari Chowk is a gorgeous courtyard that is remarkably home to a living goddess. Worshipped and revered by Hindus, a prepubescent girl is selected from various castes to be the living manifestation of divine female energy. Every day, you can see this goddess appear before onlookers from her ornately carved balcony.
Built in 1757, the wonderful red-brick building in which she resides features some lovely architecture and carvings. The main reason for visiting, however, is to catch a glimpse of the Kumari, who renounces her position when her first menstruation begins and the goddess leaves her body.
10. Chandragiri Hills
Towering to a height of some 2,500 or so meters, the Chandragiri Hills can be reached by a scenic cable car ride from Thankot. This takes you above some lovely nature, with breathtaking views out over the surrounding valleys, hills, and mountains. Annapurna and Everest can be spotted in the distance.
Besides its fabulous panoramas, there is also an exhilarating amusement park for you to check out, as well as a charming botanical garden and the beautiful Baleshwar Temple.
9. Garden of Dreams
Built in 1920, the Garden of Dreams really does live up to its name and is a very serene and tranquil place to spend some time. Hidden away within a palace complex, the Edwardian-style garden features lots of exquisite fountains, pavilions, and pergolas, with delightful designs wherever you look.
With a very elegant look to it, the garden is a great place to bring a book or bite to eat and simply bask in the stunning setting. Located just a stone's throw away from Thamel's hectic streets, this idyllic garden is an ocean of peace and tranquillity among the hubbub and noise outside.
8. Kopan Monastery
Perched atop a hill, the Kopan Monastery has long attracted Westerners interested in learning more about Tibetan Buddhism to its colorful, ceremonial halls. During its month-long meditation courses, visitors learn about the teachings of the Buddha and various spiritual practices, while sticking to a vegetarian diet.
In recent years, more and more locals and tourists have visited the monastery due to its magnificent decorations and ornamentation. Add in its special atmosphere, and it is easy to see why so many people make the journey to the outskirts of Kathmandu.
7. Pashupatinath Temple
Lying on the banks of the Bagmati River, Pashupatinath Temple is an absolutely remarkable place to visit; the complex includes more than 500 monuments, temples, shrines, and pagodas. While it is revered by Hindus and Buddhists alike, only the former are allowed into its majestic main temple.
Built during the 1600s atop previous temples which had collapsed, the site features lots of stunning architecture, with many intricately carved images and inscriptions on show. With so many amazing details to take in, such as its massive brass statue of Nandi, Pashupatinath Temple is simply a must when in Kathmandu.
6. Dashain Festival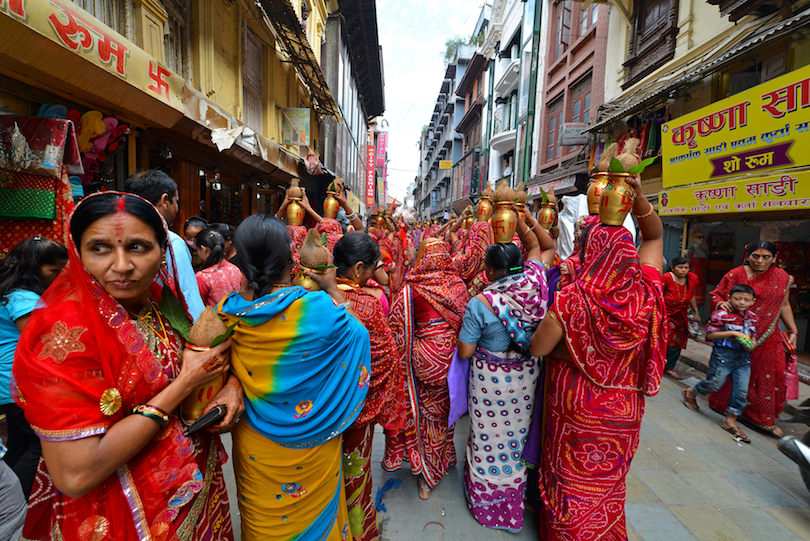 Celebrated by Buddhists, Hindus, and Kirats, Dashain is the most auspicious and anticipated of Kathmandu's many religious and spiritual festivals. Spread over 15 days, the enthralling spectacle sees finely dressed worshippers flock to important and impressive shrines, and to the shores of sacred rivers.
With endless ceremonies, feasts, and festivities taking place, colorful sights and tantalizing smells swirl through the air and music rings out wherever you go. During this period, lots of ceremonial processions and rituals dedicated to the goddess Durga take place. Besides the rather grim animal sacrifices, Dashain Festival is certainly the most wonderful time to visit Nepal and Kathmandu and experience its many delights.
5. Thamel
Home to a labyrinth of atmospheric alleys lined with cozy cafes, traditional restaurants, and lively bars, Thamel's many treasures beckon you on alluringly. With lots of shops, stalls, and stands on offer, it is a great place to pick up some souvenirs. In the evening, the neighborhood boasts lots of fun nightlife.
As it has been at the heart of the city's backpacker scene for more than four decades, there are loads of hostels, guesthouses, and hotels for visitors to choose from. Within walking distance of many of Kathmandu's main sights, Thamel is both a destination in itself and a gateway to untold treasures.
4. Hanuman Dhoka
Although it was founded over a thousand years ago, much of Hanuman Dhoka's sprawling palace complex actually dates to the 17th century. Once home to the Malla kings of yore, its many beautiful buildings and awe-inspiring temples are dotted with divinely decorated courtyards for you to explore.
Besides its splendid Hanuman, Dancing Shiva, and Narsingha statues, there are lots of excellent stone carvings and important images on display. In addition to this, it boasts a number of fantastic museums which look at the history of the palace and the kings who resided here. With so many artistic and architectural wonders on show, Hanuman Dhoka is not to be missed out on.
3. Swayambhunath
Set atop a hill in the west of the city, Swayambhunath is one of Kathmandu's most popular tourist attractions. Known as the 'Monkey Temple,' due to the mischievous creatures that clamber over its shrines and temples, it is one of Buddhism's holiest sites. At its heart is a stunning stupa that has the eyes and eyebrows of the Buddha painted on it.
The stupa's dome represents the world, and each morning, worshippers diligently and devotedly circumnavigate it, hoping to achieve enlightenment. Despite having been built almost 1,500 years ago, Swayambhunath is still very much in use, with pilgrims, priests, and revelers to be found here every day.
2. Durbar Square
Meaning 'Royal Squares' in English, it is here in Durbar Square that Kathmandu's kings of old used to be coronated. Actually consisting of three loosely linked squares, important and impressive buildings, temples, and palaces dot the area.
While most of the current buildings only date to the 17th century, having replaced earlier versions, there is still lots of incredible and ancient-looking architecture on display. This is despite the fact that much of the area was damaged by the disastrous earthquake that struck Kathmandu in 2015. Lying at the heart of the old town, Durbar Square is just one of the many highlights you can expect to see in the City of Temples.
1. Boudhanath Stupa
Dominating the Kathmandu skyline, the Boudhanath Stupa's golden spire glimmers in the sunlight from its prominent hilltop setting. One of the largest spherical and unique structure stupas in the world, the colossal monument certainly makes for a stupendous sight. As the original was destroyed by Mughal invaders, the current stupa dates to some time around the 14th and 15th centuries. Steeped in symbolism, each part of its gorgeous architecture and design mirrors the path the Buddha took to spiritual enlightenment.
Many lovely images and statues, as well as monasteries and shrines, surround it, while brightly colored flags flutter overhead. While it is often very crowded and noisy, Boudhanath Stupa is definitely worth visiting and will leave you with an enduring and endearing image of Nepal and its many delights.
Map of Things to do in Kathmandu, Nepal