Vast and diverse, China is a giant of a travel destination. With more megacities than any other country in the world, as well as the country with the largest population, any visit to this Asian giant is a beguiling and engaging mix of charming traditional culture and modernity. With 53 diverse ethnic groups and more than 292 spoken languages, each destination in China is different from the last.
Visitors making their first trip to China usually stick to the larger cities. More experienced visitors to the Middle Kingdom will strike out in other directions, where traveling may be a bit more frustrating because of the language barrier, but most definitely doable for independent travelers. With so much on offer, the only problem is how to fit all the best places to visit in China into just one trip?
flickr/ahenobarbus
Kunming, the capital of Yunnan Province, is the economic, transportation and cultural center of southwest China. It is linked by rail from all of China's major cities as well as with Vietnam; the rail link with Hanoi was established in 1901. Caravans to Southeast Asia, Tibet and India have passed through Kunming since the third century BC.
Kunming's mild climate makes it a good place to visit any time of the year. It has cool, dry winters though summers can be hot and humid. Growing conditions are great for flowers, with more than 400 varieties grown here. The camellia is the city's official flower. The city also is known for its lush green parks, such as Cuihu (Green Lake) Park with its waterways and winding paths. Younger travelers may enjoy a visit to Daguan Park because of its funfair and food stalls.
In addition to its own charms, Kunming serves as a base from which to explore the rainbow of ethnic minority in the area. The most well known nationalities are the Dai, Bai and Naxi. Another popular day trip is to the Yunnan Stone Forest that has been known as the "first wonder of the world" since the Ming Dynasty. Located 120 km (75 miles) from Kunming, the stone forest features awesome rock formations in various formations.
9.
Jiuzhaigou
flickr/B_cool
Jiuzhaigou Valley is a place that will appeal to travelers who enjoy the great outdoors and like their scenery pristine and uncluttered. A national park in Sichuan Province, it is home to several Tibetan villages, offering visitors a chance to see another lifestyle without having to brave the high altitudes of the Himalayan region. The region's name means "nine Tibetan villages."
The national park has been described as a fairyland because of its many waterfalls; snow-covered karst mountains, and its 108 blue, turquoise and green colored lakes that are so crystal clear one can see the bottoms. It is also the habitat of giant pandas, though the chances of seeing them are slim due to the park's size and the number of tourists.
Hangzhou is the capital city of the Zhejiang Province. Famed for its natural scenery, Hangzhou and its West Lake have been immortalized by countless poets and artists. In the 13th century Marco Polo described the city as the most beautiful and magnificent in the world.
Hangzhou's most famous sight, West Lake is a large lake separated by causeways and lined with ancient buildings and gardens designed for relaxation and spirituality. Visitors will find pagodas, temples, walking paths, sitting areas, tea farms and a museum along its shores and sometimes jutting over the water. Tea is an important part of the West Lake experience. Dragon Well tea produced there is one of the most famous teas in China.
While West Lake arguably offers the best that Hangzhou has to offer in terms of Chinese architecture, gardening and landscapes, Xixi National Wetland Park features a traditional temple and several homes, as well as a being a good representation of local wildlife and its habitat. The Botanical Garden and zoo provide typical city entertainment, but in a distinctly Chinese setting.
photo/Mercier Zeng
Yangshuo in south China was once a magnet for backpackers because of its cheap prices and laid-back atmosphere, but today it draws all sorts of travelers to enjoy its scenic beauty.
Yangshuo makes a good base to take day trips throughout the area. A favorite activity is to take a boat between Yangshuo and Guilin for a leisurely trip on the Li River, known for its beautiful scenery and karst mountains that have been made famous by photographers and painters all over the world. Many travelers choose to rent bicycles for the trip back, since the route is relatively flat and gives them the opportunity to view farmers toiling in their fields.
Yangshuo's other famous sites include Moon Hill, so called because a huge hole in the hill resembles a moon; Assembling Dragon Cave, named after the dragon-shaped peaks that surround it, and taking a class in Chinese from one of Yangshuo's many language schools.
photo/Mercier Zeng
Lhasa is one of the most important cities in Tibet and one of the highest elevated in the world at 3,500 meters (11,500 feet). Lhasa, in spite of its absorption into greater China, has retained much of its culture. During the 7th century, Tibet was unified under Songtsen Gampo, who built a palace on Mount Mapori. Over time, Lhasa went in and out of being the capital of Tibet, but it has always remained an important spiritual center.
Lhasa is very important to Tibetan history and is located meaningfully in a Himalayan Mountain valley. The city is home to the Potala Palace, which was the former home of the Dalai Lama. It was constructed on the Red Hill more than 360 years ago. It is composed of two parts, the White Palace, where the Dalai Lama lived, and the Red Palace, where religious study and practice took place.
Another palace in Lhasa is Norbulingka, built in 1755. It was the Dalai Lama's summer palace before his exile. Most noteworthy are the palace's gardens, which stretch nearly 90 acres with the sprawling palace. Other tourist opportunities include visiting Jokhang Market or Chokpori, one of the four sacred mountains of Tibet. To shop traditional wares and souvenirs, go to Barkhor Street.
Lhasa is also still clearly a city under occupation, with armed soldiers standing for the lookout on street corners and rooftops, and constant patrols throughout the city. Non-Chinese nationals are required to obtain a special permit to visit Tibet (Tibet Entry Permit) and hire a tour guide every day they stay in Tibet. This is strictly enforced but details change from time to time.
Xi'an is roughly as old as Beijing and serves as the capital city of the Shaanxi Province in northwest China. The history of Xi'an is one of its biggest draws. It was the start of the once indispensable Silk Road that made commerce between many countries in Eurasia possible. It was the imperial seat for no fewer than eleven dynasties, before the unification of China between 1000 BC and 1000 AD making it one of the Four Great Ancient Capitals of China. Today, it is a cultural and technological center, being home to the Xi'an Aerospace Science and Technology Industrial Base.
Its most famous attractions is the rather recently discovered Terracotta Army, the protectors of the tomb of the first emperor of China. The site of the ancient Daming Palace includes some original structures and some reconstructions that were only opened to the public in recent years.
Xi'an also boast 14th century city walls that are more than 12 km (8 miles) long. They are not only a part of the city history, but traveling in Xi'an sometimes requires going under, on or around them. Other interesting structures in the city include the Roman Catholic St. Francis Cathedral of Xi'an, the Ming Dynasty Bell and Drum Towers built in the 14th century, and the Islamic Great Mosque. Those who want a more Eastern experience can watch a traditional Chinese opera at the Shaanxi Grand Opera House.
Located on the East China Sea and the mouth of the Yangtze River, Shanghai is the largest city and most developed city in China. Nearly a third of China's exports come from the area and it attracts almost a quarter of all the country's foreign investment, more than any single developing country. Its skyline is filling with skyscrapers while shiny shopping malls, luxurious hotels and prestigious arts centers are rising alongside. The city nights in Shanghai are representative of the Western view of China cities with bright neon signs, bustling streets and numerous businesses.
When it comes to getting around in Shanghai, this city has everything, including an extensive Metro system. The most popular place to go for a stroll is the Bund, Shanghai's colonial riverfront along Huangpu River. While levies have significantly changed the Bund's appearance, a number of architecturally significant buildings are adjacent to the strip and are still visible.
Visitors will see a few remnants of old China in Shanghai. However, the city is markedly modern with futuristic buildings like the Mercedes-Benz Arena and the Oriental Pearl Tower dotting the landscape. Visiting museums is the best way to get a look at the culture of the area and how it has changed over the years. Moreover, the museums tend to be in interesting buildings as well. These include the Shanghai Natural History Museum, the Shanghai Museum and the Rockbund Art Museum.
Read more: Top Shanghai Attractions
3.
Great Wall of China
wikipedia/Severin.stalder
The Great Wall of China is an assemblage of smaller walls built by various dynasties over many years. Builders erected these walls for protection from invasions by those from the north. The Great Wall itself, with a history lasting over 2000 years, measures approximately 8,800 km (5,500 miles) in length, although some of the sections lie in ruin or have disappeared altogether. It is the longest man-made structure in the world.
There are several sections of the Great Wall of China that visitors find interesting. Badaling is the most popular section of the wall. It is close to Beijing and easy to access and climb.
Located off China's southeastern coast, Hong Kong is a glittering, world-class commercial center where Chinese culture, British colonial influences and modern day high-technology blend together. While it contains the world's highest concentration of skyscrapers and one of the highest population densities, Hong Kong also offers plenty of green spaces, mountain views and beaches.
Some of the must-see attractions include the famous Victoria Harbour, which is a spectacular sight at night with all the dazzling skyscrapers and The Peak, Hong Kong Island's highest hill which offers awe-inspiring views of the harbor. From amusement parks like Ocean Park and Disneyland Hong Kong to prestigious museums, fabulous shopping malls, bustling night markets, horse racing, beautiful beaches and rides on the world's longest outdoor escalator, Hong Kong has something for everyone.
Eating in Hong Kong is an experience all itself with a wide variety of cuisines from international to local Cantonese. A popular food style is dim sum, which involves small portions of food traditionally presented in steamer baskets. Typical dim sum dishes include tasty dumplings with meat, rice noodles, steamed vegetables and soups all served with Chinese tea.
Read more: Top Hong Kong Attractions
Beijing is the current capital city and remains one of the most popular places to visit in China. Its history dates back more than 3,000 years and much of that history is still alive within its borders. Beijing literally means Northern Capital, a role it has played many times in China's long history. It first became notable in Chinese history after it was made the capital of the State of Yan under the name Yanjing. The Mongols seized the city in 1215 and from 1264 it served as the capital of a united China under Kublai Khan. After the fall of the Mongol-founded Yuan dynasty in 1368, the capital was initially moved to Nanjing but was moved back in 1403 and received its present name.
Beijing is home to Tiananmen Square, the Forbidden City, the National Museum of China, as well as the Old and New Summer Palaces. These and other attractions are perfect for observing Chinese gardens, ancient architecture and Chinese culture from a range of periods in the country's history. There are numerous temples within and just outside of the city for those who want to witness Confucius, Taoist and Buddhist landmarks or perhaps have a spiritual experience. One of the most popular places to view the Great Wall of China is at Badaling, located about an hour by train or 1.5 hour by bus from Beijing.
Known for its flatness and regular construction, the city has only three hills and its concentric ring roads are actually rectangular, like the configuration of the Forbidden City. Beijing boasts an extensive public transportation network, which includes an extensive subway system. There are bike trails, but travelers may find the pollution too oppressive for cycling. For more than 100 years, Wangfujing Commercial Street has been the best place to shop in Beijing. However, the Yashow and Silk Street Markets are also very popular.
Read more: Top Beijing Attractions
Map of China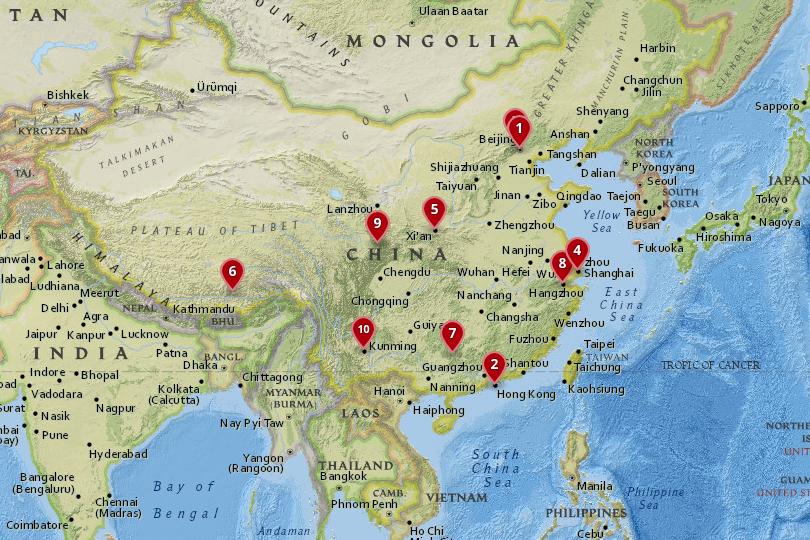 © OpenStreetMap contributors © Esri — National Geographic
Click to enlarge