A long, narrow country squeezed in between the South China Sea and the Laos and Cambodia borders, Vietnam is a land of striking landscapes that range from the lush rice terraces and forested mountains in the north to the picturesque valleys of the Central Highlands and the fertile delta and beautiful beaches of the south.
Vietnam has seen its fair share of struggles. Ruled for almost a thousand years by various Chinese dynasties until 938 AD, Vietnam became a French protectorate in the 19th century. After independence, there was the Vietnam War.
Today, Vietnam is a proud country and you can see why. Not just for fiercely defending its own independence, but for its incredible landscapes and history.
The first words on everyone's lips when speaking of Vietnam are undoubtedly Halong Bay, a beautiful set of karst islands and formations off the northern coast. Hanoi is the bustling, motorbike filled capital. Plan your trip to this beautiful Southeast Asia travel destination with our list of the best places to visit in Vietnam.
In this post, we'll cover:
17. Da Nang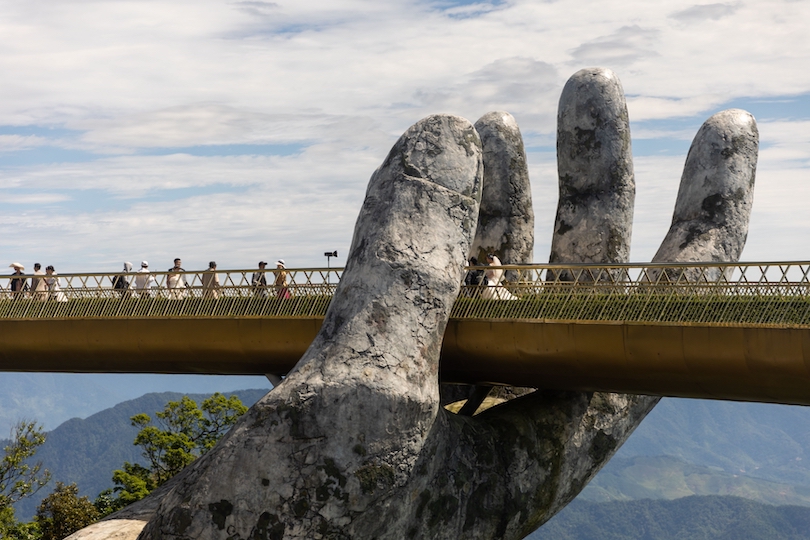 Nestled on the central coast of Vietnam, Da Nang is an energetic coastal city with a historic French colonial port.
It is known primarily for its fantastic beaches, including the famous My Khe Beach, which Tripadvisor has named as one of the best beaches in Asia.
However, it is also a popular starting point for exploration of the Bà Nà hills, which lie on the city's western reaches. From there, the spectacular Hải Vân Pass showcases incredible views of Da Nang Bay. Moreover it conveys the Marble Mountains, five imperious limestone outcrops crowned with ornate pagodas and yield caves containing lavish Buddhist shrines.
Da Nang boasts impressive landmarks like the iconic Dragon Bridge, world-class golf courses, and a modern skyline dotted with luxury resorts and upscale shopping centres.
The city is also home to many cultural experiences, including the Da Nang Museum of Cham Sculpture and Da Nang Fine Arts Museum.
16. Ha Giang Loop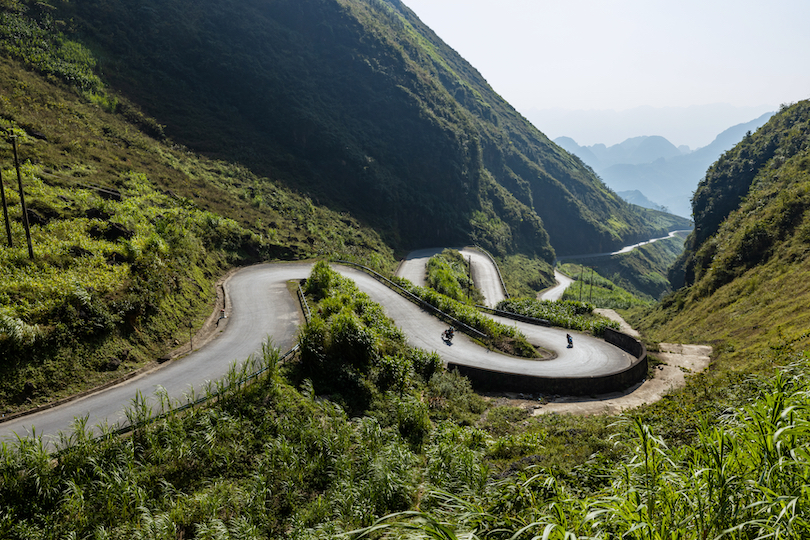 If you pride yourself on being an adventurous traveler, then you should embrace the Ha Giang Loop with open arms.
Located in the remote and breathtaking Ha Giang province, tourists can embark on a thrilling motorbike journey through some of the country's most awe-inspiring landscapes. This scenic loop takes you on a winding road that cuts through majestic mountains, lush valleys and terraced rice fields.
The journey provides an immersive experience, allowing you to connect with the authentic culture of the ethnic minority communities that call this region home.
Along the way, you'll encounter traditional villages, where locals showcase their rich heritage, colorful attire, and warm hospitality.
The loop offers stunning viewpoints such as Ma Pi Leng Pass, with its jaw-dropping vistas of the Nho Que River snaking through the mountains. You can also visit attractions like Dong Van Karst Plateau, a UNESCO Geopark, and the fairy-tale-like Lung Cu Flag Tower.
Typically, this journey takes three to four days to complete. Its rugged beauty and remote nature are perfect for those seeking an off-the-beaten-path experience.
15. Bai Tu Long Bay
If you can't get to or don't fancy visiting Halong Bay, Bai Tu Long Bay is an excellent alternative.
Situated in the northeastern part of Vietnam, it has all the pristine beauty and untouched landscapes of its more illustrious neighbor, only with greater tranquillity and fewer crowds.
The picturesque bay is characterized by its emerald waters, towering limestone islands, and lush vegetation. Cruising through it provides fabulous opportunities for kayaking, swimming and visiting remote fishing villages.
The bay is also home to a diverse ecosystem accommodating rare wildlife, colourful coral reefs and hidden caves waiting for you to discover them.
A tour of the area allows for a more intimate connection with nature and a chance to experience the serenity of the surroundings. Whilst there, be sure to visit the incredible Thien Canh Son Cave. One of 59 discovered caves in the area, it will wow you with its unique stalactite formations.
14. Tam Coc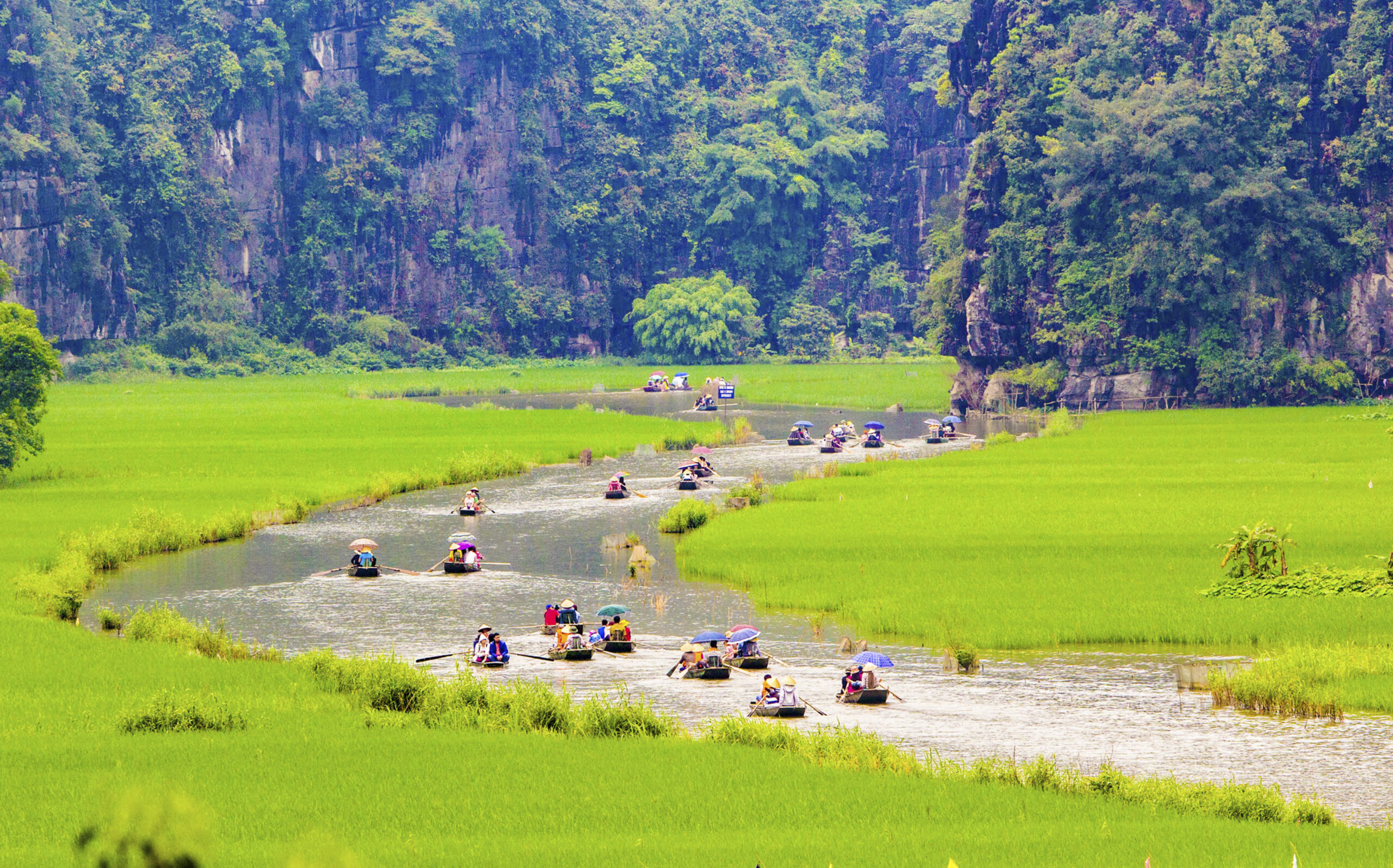 Tam Coc, often called 'Halong Bay on land', is an enchanting destination in the Ninh Binh province.
Forming part of the UNESCO World Heritage Tràng An scenic landscape site, it is renowned for its dramatic limestone karsts that dramatically rise out of emerald green rice fields. Tam Coc presents visitors with a stunning natural landscape that will forever leave an impression on their heart.
The main attraction in Tam Coc is a scenic boat ride along the Ngo Dong River, where local rowers skilfully navigate through a series of caves and limestone formations. As you glide along the tranquil waterways, you'll be mesmerized by the picturesque scenery and the harmonious blend of nature and verdant rice paddies.
Tam Coc is also home to ancient temples and pagodas, such as Bich Dong Pagoda, which is perched atop a hill and offers panoramic views of the surrounding countryside.
If you are into cycling, you can also explore the area in more detail on two wheels.
13. Mui Ne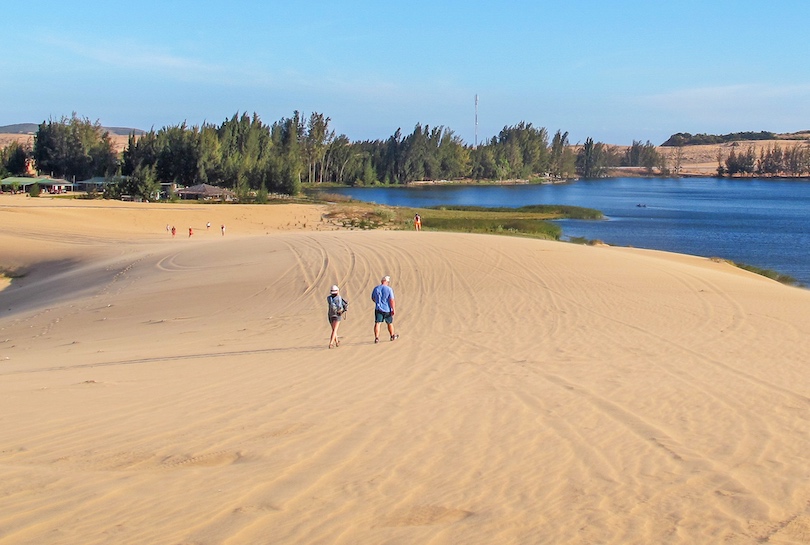 There are several places in Vietnam where you can go for some beach R&R, but few can compare to the sheer beauty of Mũi Né.
A stunning beach resort town along the southeast coastline, it boasts a long stretch of golden palm-tree-lined sand, perfect for walking and sunbathing. During the dry season, with steady wind conditions, the area becomes a fantastic destination for sailing, kitesurfing and windsurfing.
The highlight of Mui Né is undoubtedly its captivating sand dunes. The iconic White Sand Dunes and Red Sand Dunes offer a surreal landscape that resembles a desert oasis. On our last visit, we explored the dunes on an ATV ride and sand boarded down the slopes. Both were a lot of fun!
Beyond the beaches and dunes, Mui Né offers opportunities to explore nearby fishing villages, taste delicious seafood, and indulge in rejuvenating spa treatments. Close by, The Fairy Stream, with its gently flowing water and unique rock formations, is a popular spot for a refreshing dip on a stiflingly hot day.
12. Dalat
Year-round cool weather and idyllic scenery of misty valleys, lush pine trees and colorful flowers are some of the reasons that Dalat was once used by Vietnamese emperors and French colonials as a summer retreat. Today, this charming town in the South Central Highlands of Vietnam is a popular destination for honeymooners, weekend getaways and for those looking for relief from the heat.
A walkable city, Dalat is a beautiful scene of French colonial architecture and villas set amid picturesque landscapes. The city is well known for its royal palaces that were owned by the last emperor of Vietnam. These lovely palaces are open for tours as is the Hang Nga Guesthouse, the city's most bizarre attraction. Informally called the "Crazy House," this structure is a fantastical construction with caves, spider webs and shapes of animals and mushrooms.
Dalat's lively market is a great place to find fruits, flowers and vegetables grown in the local area as well as handicrafts and silk embroidered items.
Outside the city are scenic lakes, flower gardens, plantations and mountains offering pretty waterfalls and trails for hiking and mountain biking. A must-do is the Valley of Love, an incredibly beautiful valley with pine forests and lakes where tourists can enjoy pedal-boating and canyoning.
11. My Son
Located on the central coast of Vietnam near the Duy Phú village is the important archaeological site known as My Son. One of Southeast Asia's most notable heritage sites, My Son was once a significant center of religious Hindu ceremonies where the kings of the Champa Kingdom built numerous temples devoted to the worship of the god, Shiva, between the 4th and 14th centuries.
Believed to have once contained more than 70 temples that were constructed with brick and decorative carvings and sculptures bearing scenes of animals, priests, gods, mythical battles and inscriptions of Sanskrit and Champa, My Son today features a complex of ruins in varying states of disarray and repair, all arranged in several groups.
Within the site is a museum where visitors can check out exhibits and artifacts to better understand and appreciate the ruins. Near the entrance of My Son are a few cafes, food vendors and a shop selling souvenirs. At certain times of the day, visitors can watch live Champa dance performances. Additionally, the site is surrounded by jungle, hills and a lake where visitors can enjoy hiking and kayaking.
My Son is often reached by organized tour groups from Hoi An. However, visitors can also arrive at My Son by motorbike rentals.
10. Phu Quoc
Phu Quoc is a scenic island in the Gulf of Thailand. While it officially forms part of Vietnam, it is actually closer geographically to Cambodia. Today, it's characterized by dense tropical jungle, soft sandy beaches, and undulating hills. But the island has a fascinating history, having served first as a French missionary base and then as a French colonial wartime prison – a gloomy reformatory that you can visit today.
History aside, the island is most tempting for its alluring tropical nature. Days in Phu Quoc are spent sunbathing on sandy beaches, scootering around fishing villages, visiting pearl and pepper farms, and, if you're up for it, trekking to waterfalls.
An island that's famous for its seafood, don't miss an opportunity to try out Phu Quoc's famous fish sauce (nuoc mam) – you can even visit one of the fish sauce factories while you're here!
9. Phong Nha-Ke Bang National Park
Tucked away in the Quang Binh Province in Vietnam's Central Coast region, Phong Nha-Ke Bang National Park is one of the most picturesque parts of the country. With a steadfast reputation as a filming location for 2017 Kong: Skull Island, and with a nearby international airport, the national park is more popular than ever before.
Opened to the public in 2010, the appeal of Phong Nha-Ke Bang National Park is the escape from the city. Here, you'll live life in the slow lane as you cycle through Kong jungles at your own pace.
Home to 400 million-year-old karst mountains, there are hundreds of caves and secretive rivers to explore. The Son Doong Cave is a must visit. Home to its very own hidden jungle, microclimate, and Underground River, it's one of the largest caves on Earth.
Due to its location near the Laos border, access to the park is strictly controlled, and visitors can expect to find a strong military presence here. This is mainly due to its war history – the park has some of the world's highest numbers of undetonated bombs, which is why visitors can only visit this place with a licensed tour guide.
8. Ho Chi Minh City
Ho Chi Minh, formerly known as Saigon, is the biggest city in all of Vietnam. It's also the old capital of the Republic of Vietnam. When Saigon fell to the north in 1975, it was renamed to HCMC, yet its former name is still used today, particularly when describing the beating heart of the city.
Hoi Chi Minh has a bit of everything – temples, museums, parks, and tourist shopping. Whatever your interests, you'll find something to do here. Head to the top of the Saigon Skydeck for an astonishing 360-degree view of the city – especially impressive at night when the lights twinkle on below.
History buffs should not miss the chance to explore the mysterious network of the Cu Chi tunnels, the headquarters for many military operations during the Vietnam War.
The five stories of Reunification Palace – also known as the Independence Palace – is also a fascinating place to go. It's a famous spot in Vietnam's history as it captures the time when Saigon fell as a tank broke through the gates of the palace. A replica of this same tank can be seen on the grass outside the palace.
If you're curious to learn more about the war, you'll enjoy a visit to the War Remnants Museum or the Museum of Vietnamese History.
7. Mekong Delta
The Mekong Delta, nicknamed the 'Rice Bowl of Vietnam,' is a lush network of waterways in Vietnam known for its excellent nutrient-rich soils and diverse ecosystems – the banks are a veritable patchwork of fruit, vegetables, rice plantations and cattle farms that provide sustenance for more than a third of the country.
This impressive stretch of river frontage is the most biodiverse in the world if you don't count the Amazon. Taking up much of the south of Vietnam, the Mekong Delta is an extraordinary place filled with lily pad waterways, rice paddies, mangroves, and enchanting wildlife.
With plenty of bus connections and motorbikes, tourists can explore the Mekong Delta and its towns like Tra Vinh, which is considered one of the prettiest villages of the delta. A boat trip down the tranquil tributaries and mangroves of the Mekong is an unforgettable experience.
Paddled by a local in a wooden canoe, you'll be able to witness everyday life on the river, passing farmlands, fruit orchards, monkey bridges, water buffalo, and floating markets. The best time to visit the Mekong is during the dry season between December and May when there's less chance of flooding.
6. Nha Trang
If it's beaching you're after, you've come to the right place. Nha Trang is the most famous seaside resort in Vietnam, with a laidback atmosphere and exceptional scuba diving. While it's certainly not on the same scale as many of Asia's other beautiful beaches, Nha Trang offers warm water and some picturesque offshore islets.
The promenade that encircles the beachfront is always a hive of activity, filled with parks and sculptures that make a stroll here interesting. As with most beach resorts, most of the activity gets going when the sun goes down, and Nha Trang is no different. You'll find a host of vibey bars and restaurants near the beachfront.
There's much more to Nha Trang than sunbathing and strolls, though. Go for a soak in the Thap Ba Mud Bath or take a ride on the longest cross-sea cable car in the world. The sacred Po Nagar Cham towers, dating back to the 7th to 12th centuries, offer a taste of the city's history – they're an active religious site for Cham, Chinese, and Buddhists even today.
5. Sapa
Tracing the border with China, Sapa is a captivating remote town in the Hoang Lien Son mountains of northern Vietnam. Its elevation 1,500 meters above sea level is nothing to scoff at when you're trekking the terraced hills and slopes around this high-altitude mountain town. While there's plenty of natural beauty to tempt you to this far-reached corner of the country, much of Sapa's appeal lies in its raw and authentic culture.
Days are spent trekking through rice paddies, rural villages untouched by tourism, and the clouds of Fansipan – Vietnam's highest peak.
Scenery aside, the highlight is hands down the opportunity to chat with these fascinating people along the way – local kids will tag along and try to sell you some of their handmade jewelry or simply try to improve their English by speaking to you.
In the town of Sapa itself, there are attractive French colonial sites worth visiting such as the Gothic church, the town square and city hall. Sapa is a major market town where the various ethnic tribes in the area often gather to sell their handicrafts, which make excellent souvenirs. At the Sapa Culture Museum, visitors can learn all about the history and cultures of these ethnic groups.
4. Hue
Hue – formerly known as the Panduranga of Cham Kingdom – was once the imperial capital of Vietnam. Located in the central region, Hue had a huge role to play in the Vietnam War. Captured by the Viet Cong for a total of 24 days, thousands of people were killed here if they were thought to be sympathizers of the south.
Today, the city is split in two by the Perfume River. The old city with its ancient ruined citadel lies to the north and the modern-day city to the south. The Demilitarized Zone, which marks the official former border, is one of the most popular day trips from Hue while the Thien Mu Pagoda is the city's official symbol.
Of the city's monuments, the Citadel is the most famous. Once the seat of the Nguyen emperors, the Citadel is a sprawling complex of grand palaces, ornate temples, walls and gates. Prime attractions within the Citadel are the Forbidden Purple City, Thai Hoa Palace, and the Ngo Mon Gate. Another important landmark on the river is the city's official symbol, the Thien Mu Pagoda.
A stroll along the promenade is also recommended, through the statue-abundant parks and onwards by scooter or boat cruise to the Tombs of the Emperors on the outskirts of the city. Dating back to the 19th and 20th centuries, the Tomb of Tu Doc, with its striking Buddhist architecture is the cherry on top.
3. Hoi An
Laidback and charismatic with a charm all of its own, Hoi An is the highlight of any Vietnam itinerary. Located south of Da Nang within cycling distance of some excellent warm-water beaches along the central coast, this atmospheric old town is a feast of color, where bright and cheerful lanterns adorn each and every building.
The narrow, winding lanes of the old town are lined with beautiful historic buildings, Chinese temples and wooden-fronted shops with excellent opportunities for retail therapy. The bustling night market and lantern-lit streets are also great places for shopping and people-watching.
At the same time, you can also take a boat ride along the Thu Bon River or join a cooking class to learn the secrets of Vietnamese cuisine. Wrangle a tempting spa deal, and get a dress or tailored suit handmade for you at one of the town's many illustrious tailors.
Don't leave without a visit to the gorgeous Japanese Covered Bridge and the glaze-roofed Chinese merchant houses that date back hundreds of years and house a quarter of the town's population. There's plenty to fill your afternoons in Hoi An.
2. Hanoi
Hanoi, the capital of Vietnam, is truly chaotic, but that's all part of its charm. An interesting mix of French and Sino-Vietnamese influences, it's one of the most rapidly growing cities in Southeast Asia.
Those visiting this energetic capital should be prepared. It's a hive of activity at the best of times, utter chaos at the worst – a city where crossing the road could be taking your life into your own hands with cars, motorbikes, and tuk-tuks vying for right of way in a city without road rules.
One of the best places to experience the madness of Hanoi is at Legend's Corner. The well-located Legend Beer restaurant is the ideal spot to sit with a drink and watch the rush hour insanity just before sunset. You'll see pedestrians, dogs, cars, tuk-tuks, and scooters all entwined in traffic, yet somehow there are very few accidents.
Hanoi's historic Old Quarter is a maze of narrow streets filled with charming colonial architecture, street vendors, and bustling markets. The best way to explore it is on foot or by cyclo (cycle rickshaw). This will enable you to soak up its atmosphere and discover hidden gems like the ancient Temple of Literature or the vibrant Dong Xuan Market.
See also: Where to Stay in Hanoi
For a change of pace, go for a stroll around the freshwater Hoàn Kiếm Lake in the Old Quarter or soak up more Vietnamese history with a visit to the Thăng Long Imperial Citadel. The Ho Chi Minh Mausoleum, the final resting place of the Revolutionary leader and Vietnamese President, is a must-see.
1. Ha Long Bay
Located about 130 km (80 miles) east of Hanoi in northern Vietnam, Halong Bay is celebrated for its gorgeous emerald-hue waters, thousands of spectacular limestone karsts, astonishing waterside caves, and beautiful tree-topped islands.
It's a popular location for adventure – scuba diving, kayaking, hiking, and rock climbing can all be enjoyed in and around Cat Ba National Park. For those who wish to simply relax and enjoy the views, there are numerous Halong Bay cruises to choose from, from basic to top-level luxury.
The thousands of islands scattered about the bay are a real mixture, ranging from isolated landmasses home to free-roaming monkeys and antelope to bigger inhabited islands with some fantastic beaches. Boat cruises are the best way to experience the natural wonder of Ha Long Bay.
With hundreds of boats ranging from traditional Chinese junks to luxury cruisers, boat tours can vary from day trips to multiple-night journeys. These tours often provide meals, nightlife activities and excursion stops where islands, caves and lagoons can be explored. Most boat cruises are arranged either from Hanoi or from ports such as Haiphong, Halong City and Cai Rong.
As with most holidays on the water, Halong Bay is easily affected by the weather. Plan your trip between March and June to get the most out of your visit. June to September is the off-season, so you can usually get some great deals – just be sure to keep an eye on the weather forecast as monsoons can really put a dampener on your trip.
Map of Places to Visit in Vietnam
© OpenStreetMap © MapTiler © Touropia