Surrounded by Laos, Cambodia and China is the country of Vietnam, an amazing destination in the heart of Southeast Asia. Ravaged by war multiple times, Vietnam is a country with a rich history as well as a past filled with turbulence. Despite that, however, it is a welcoming atmosphere where visitors can mingle with locals and experience everything from city life in places like Ho Chi Minh to rural life in smaller villages.
With this itinerary in hand, you can expect to get to know the best of Vietnam in 2 weeks time, including its biggest cities and landmarks, as well as see some of the most scenic views by train.
2 Weeks in Vietnam Itinerary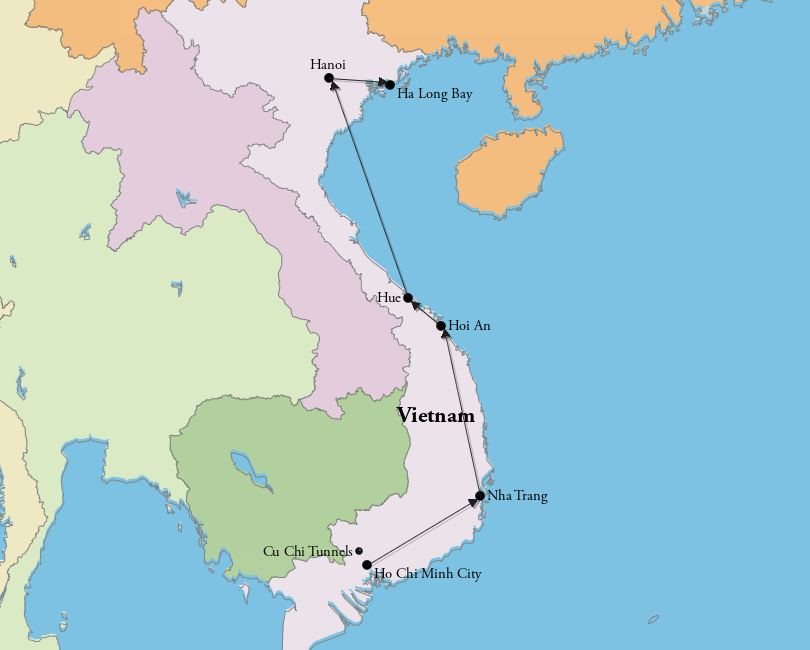 © OpenStreetMap © MapTiler © Touropia
Day 1: Arrive in Ho Chi Minh City, sleep in HCMC
Day 2: Explore Ho Chi Minh, sleep in HCMC
Day 3: Take Cu Chi Tunnels or Mekong Delta day trip, sleep in HCMC
Day 4: To Nha Trang, sleep in Nha Trang
Day 5: Explore Nha Trang, sleep in Nha Trang
Day 6: To Hoi An via Da Nang, sleep in Hoi An
Day 7: Explore Hoi An, sleep in Hoi An
Day 8: To Hue, sleep in Hue
Day 9: Explore Hue, overnight train to Hanoi, sleep in train
Day 10: Explore Hanoi, sleep in Hanoi
Day 11: To Halong Bay, take Halong Bay Cruise, sleep on boat
Day 12: Continue Halong Bay cruise, return to Hanoi
Day 13: Explore Hanoi, sleep in Hanoi
Day 14: Fly home
Ho Chi Minh City (3 nights)
Arguably the best place to start a trip through Vietnam is in Ho Chi Minh City, the former capital that is still commonly referred to as Saigon. After American troops left the city in 1975 during the Vietnam War, Ho Chi Minh City shrank in size, since many of the residents fled. In the decades since, the city has grown again, becoming the economic center of Vietnam.
There are an endless number of ways to pass the time here, but some of the truly must-see attractions in Ho Chi Minh City include the Reunification Palace, the French colonial City Hall, the Notre-Dam Cathedral and the Saigon Skydeck in the Bitexco Financial Tower, which lets you enjoy breathtaking views over the expansive city below.
Cu Chi Tunnels (day trip from HCMC)
Exploring the Cu Chi Tunnels is an amazing experience and a great day trip from Ho Chi Minh City that helps to sum up the incredible hardship of war as well as the tenacity and strength of the Vietnamese people. This elaborate system of more than 240 km (150 miles) of tunnels was dug exclusively using bare hand and simple tools throughout the French occupation and later the Vietnam War.
The residents of Cu Chi lived in these tunnels, which also gave American soldiers a wartime advantage. Today, guided tours are available that depart from Ho Chi Minh City and explore the tunnels of both Ben Dinh and Ben Duoc.
Nha Trang (2 nights)
Although Vietnam is closely associated with its recent wars, it is also home to beautiful beaches, some of which are found in Nha Trang. This coastal resort destination is the ultimate place to relax and unwind for a few days of your 2 weeks in Vietnam, and it boasts all kinds of outdoor recreation opportunities.
In addition to soaking up the sun from the sand of Bai Dai Beach, you can admire the Yang Bay Waterfalls, hike to the Thap Ba Hot Springs and Mud Baths, take a sailing lesson, go surfing, rent a bicycle or go scuba diving.
Hoi An (2 nights)
If you're interested in the ancient history of Vietnam, its architecture and its people, then Hoi An is an amazing place to visit. Hoi An was once a port city in the Cham Kingdom, and it dates back to more than 2,000 years ago. The Old Town of Hoi An is the hub for historic landmarks, museums, and architecture.
Don't miss out on seeing places like the Japanese Covered Bridge's Pagoda, the Quan Cong Temple, the Hoi An Museum of History and Culture and the Phung Hung House, which has been continuously inhabited by more than eight generations of the same family. Hoi An is a popular place to get custom shoes or suits made, so head to Hoang Dieu Street if that's what you're looking for as a souvenir.
Hue (1 night)
Hue was once the imperial capital of Vietnam, making it the home of several emperors in the 19th and early 20th centuries. On the banks of the Perfume River, Hue boasts countless architectural masterpieces and museums devoted to the history of the country.
Start in the Imperial Citadel, or Dai Noi, to tour the sprawling complex made up of the Thái Hòa Palace, where the emperors had their coronations, the Trường Sanh Residence, a royal palace, and the Hue Jungle Crevice, a sad monument to the ravages of wartime. You can also tour several imperial tombs as well as a number of hot springs just outside the city limits.
Hue to Hanoi: Overnight Train Journey
calflier001 / Flickr
There are plenty of ways to get around in Vietnam, but one of the best is the overnight sleeper train. The perfect journey is the one between Hanoi and Hue, which takes about 14 hours. The tickets are affordable whether you opt for a private compartment or a four-person bunk compartment, and the experience is a wonderful alternative to flying.
Enjoy a dinner in Hue and then climb aboard, make a few friends and tuck yourself into bed. In the morning, sit by the window and watch the sunrise over the landscape of Vietnam before changing in the bathroom and heading out for a day of exploration in Hanoi.
Hanoi (1 night)
As Vietnam's capital, there is no end to the things worth seeing, doing and exploring in Hanoi. For your first night in the city, start by checking out two of the biggest museums: the Ho Chi Minh Museum and the Ho Chi Minh Mausoleum.
These two landmarks are major attractions for visitors as well as the Vietnamese people. Then, make time to tour some of the many beautiful temples in Hanoi, which might include the Temple of Literature, which is more than 1,000 years old, the Ngoc Son Temple and the Bach Ma Temple.
Halong Bay (2 nights)
After your first night in Hanoi, head to Halong Bay for an escape from the hustle and bustle of the city. Ha Long Bay is perhaps the most popular destination in the country for those in search of breathtaking scenery, and it is easy to see why.
Multiple islands pop out of the clear blue water, creating an almost other-worldly landscape. The best way to spend time in Halong Bay is to embark on an overnight cruise. These cruises include accommodation, food and drinks, and they will bring you to see iconic islands in the bay like Ban Sen and Cat Ba.
Hanoi (2 nights)
After soaking in the ethereal beauty of Halong Bay, head back to Hanoi to round out your stay in Vietnam. Hanoi is home to several wartime landmarks from the 1960s and 1970s, and you may be interested in seeing the Hoa Lo Prison, often referred to as the Hanoi Hilton, the Army Museum and the Downed Aircraft Memorial.
See also: Where to Stay in Hanoi
Although Hanoi is a bustling city, there also plenty of green spaces like Hoan Kiem Lake and the Lenin Statue & Park. To experience some of Hanoi's heritage and artistic culture, make time for a traditional puppet show at the Thang Long Water Puppet Theater or a live performance of the Golden Bell Show.