With thousands of islands, islets, and atolls, one could spend a lifetime exploring the stunning coastline of Vietnam. Picture-perfect to behold, the pristine turquoise waters that border the idyllic sandy beaches beckon alluringly.
While the sun glints off the surface of the sea, below the waves, the rich underwater ecosystems teem with life, making scuba diving and snorkeling an unforgettable experience.
Exploring Vietnam's islands is a fascinating adventure, as thick jungle coats their interior and flocks of colorful bird's nest amidst the dense foliage. With secluded, sandy beaches stretching as far as the eye can see, these islands will really make you feel as if you are in paradise.
10. Quan Lan
© Van-khanh Tran / Dreamstime
Very much off the beaten path, Quan Lan is a world away from the frenetic streets of Vietnam's main cities. Despite being in Ha Long Bay, it is sparsely populated and sees relatively few tourists. A quiet, peaceful place, Quan Lan Village has one street full of bars, restaurants, and hotels.
Apart from that, there are just pockets of activity and life around the island. With its laidback way of life, just wandering around and taking in the beautiful scenery is the main thing to do if you're not lounging on one of Quan Lan's fantastic beaches.
9. Co To Island
Hoa Nguyen / Flickr
One of the most beautiful places to visit in the north of Vietnam, Co To Island is popular with local tourists but as yet, is relatively undiscovered by foreigners. With stunning beaches bordered by pristine, turquoise waters, the island is home to some distinctive rock formations at Cay My, which are well worth visiting.
While Van Chai beach is particularly lovely to kick back and relax on, more adventurous holidaymakers may prefer to go rock climbing or hiking in the interior of the island. With lots of accommodation and dining options on offer catering to every budget, Co To island is an easy and attractive place to visit with a range of incredible vistas.
8. Phu Quy
Blissfully undeveloped and untouched, Phu Quy is mainly made up of fishermen's villages. As such, there is a delightful, laidback vibe and it is a lot less touristy than many other islands in Vietnam.
Rocky in places, with undulating sand dunes and hills in others, the island is best viewed from the lighthouse at Cam Mountain. Here, you will also find the delightful Linh Buu Pagoda, which is well worth visiting.
As most of the island is relatively untouched by tourism, the beaches are uncrowded and often empty; it is very easy to arrange boat trips to nearby deserted islets.
7. Tuan Chau Island
© Hoang Trong Hoat / Dreamstime
Lying only eight kilometers away from famous Ha Long Bay and its gateway point Halong City, Tuan Chau Island has loads of fun and entertaining activities on offer and is a great place to kick back and relax.
With many different hotels, resorts and villas to choose from, as well as numerous dining options, visitors to the island will never be bored. Although artificial, the beach is perfect for taking in the sun and there are lots of water sports for you to partake in, with jet skiing and kayaking being particularly popular.
Everything imaginable is available here, and lucky visitors can enjoy rock climbing and deep sea fishing before watching a circus performance or martial arts show. With spectacular Ha Long Bay just a short trip away, Tuan Chau Island an ideal beach holiday destination.
6. Binh Ba Island
© Hien Nguyen Dang / Dreamstime
Lying just twenty kilometers off the mainland, Binh Ba Island is absolutely gorgeous and well worth heading to if you have the chance. Relatively easy to get to, it is also known as Lobster Island because of the large, tasty crustaceans that you can find here.
While the residential part of Binh Ba is a tightly packed mess of houses, there are still lots of secluded and peaceful areas of the island that aren't too far away. Its two main beaches are lovely to lounge upon, and the beautiful waters that border them are picture-perfect. The reefs around the island make for some great diving spots.
5. Cham Islands
The Cham Islands lie just fifteen kilometers from Hoi An and make the perfect getaway for people looking to get out of the city and hit the beach. Set in pristine oceans that glitter in the sun, lots of visitors come to the islands to snorkel, scuba dive or swim the day away; with a rich underwater reef system, there is lots to see.
While most of the islands lie untouched, increasing numbers of tourists mean that resorts are quickly springing up, although their laidback charm remains for now.
4. Con Dao Islands
Made up of sixteen islands that lie far from the mainland, the Con Dao Islands are of immense beauty and the archipelago is, in fact, a national park as the Vietnamese government tries to protect the pristine environment.
While the islands once housed political prisoners, it is tourists who now flock here to enjoy the beautiful scenery, stunning beaches and untouched coral reefs. With tropical jungle covering much of the islands, there are lots of great hikes and trails and the laidback island way of life is perfect for people looking to kick back and relax.
There are quite a few interesting historical sites to visit and some great pagodas and temples on offer, as well as lots of brilliant wildlife-watching spots. With fantastic snorkeling and scuba diving conditions in the coastal waters, Con Dao really does have it all.
3. Nam Du Islands
© Phuongphoto / Dreamstime
Consisting of twenty-one islands and islets, the Nam Du Islands make up a stunning archipelago that is steadily growing in popularity as word of its beauty spreads. Sandwiched between the beautiful blues of the sea and sky, the mountainous vistas of the island rise up from the water – a sea of green foliage amidst the waves. Undeveloped and untouched, small fishing villages dot the shores and beautiful secluded beaches are hidden about.
The largest island – named Hon Lon – is where most accommodation is found and there are some lovely restaurants here selling delicious local food. With some great trekking and hiking on offer, the islands also provide a fantastic opportunity to snorkel in the pristine waters about them.
As it is very easy to take boats to the neighboring islands, you can easily see quite a few of the Nam Du islands during your trip.
2. Cat Ba Island
The largest island in an archipelago of the same name, Cat Ba Island lies in Ha Long Bay; about half of it is covered by a national park. Increasingly popular amongst tourists, the island's main town is now full of soulless concrete hotels which have slightly ruined it, although most of the remaining island remains pristine, untamed and untouched.
Covered in jungle, the crags and cliff faces of Cat Ba Island are breathtaking and there are some delightful small beaches and local fishing villages scattered around. Hidden away among the limestone rocks rising steeply from the coast are some charming little waterfalls and grottoes, as well as Ech Lake. A beautiful place to visit, Cat Ba Island is well worth stopping by.
1. Phu Quoc
When you picture the most idyllic island imaginable, it is highly likely that an image of Phu Quoc springs to mind. With pristine turquoise waters surrounding the palm tree-lined perfect white sands of the beaches, it really is paradise on earth.
Lying off the coast of Cambodia, the island is very mountainous and beautifully cloaked in dense jungle. It is quite large, so there is loads for you to see and do. Because it is becoming increasingly popular, it is a good idea to book ahead and reserve a place at one of the numerous resorts dotting the island.
Renting a motorbike is a fun way to get around Phu Quoc and perfect if you want to enjoy all that is going on at Long Beach while staying somewhere a bit quieter. Sao Beach is ideal for relaxing on and there are some smaller beaches around, where you will almost certainly be the only person for kilometers – although rubbish does, unfortunately, wash up from time to time.
Whether it's snorkeling the coral reefs, kayaking around the island's small inlets or delighting in the local cuisine, Phu Quoc is an absolute joy of a place to visit.
Map of Islands in Vietnam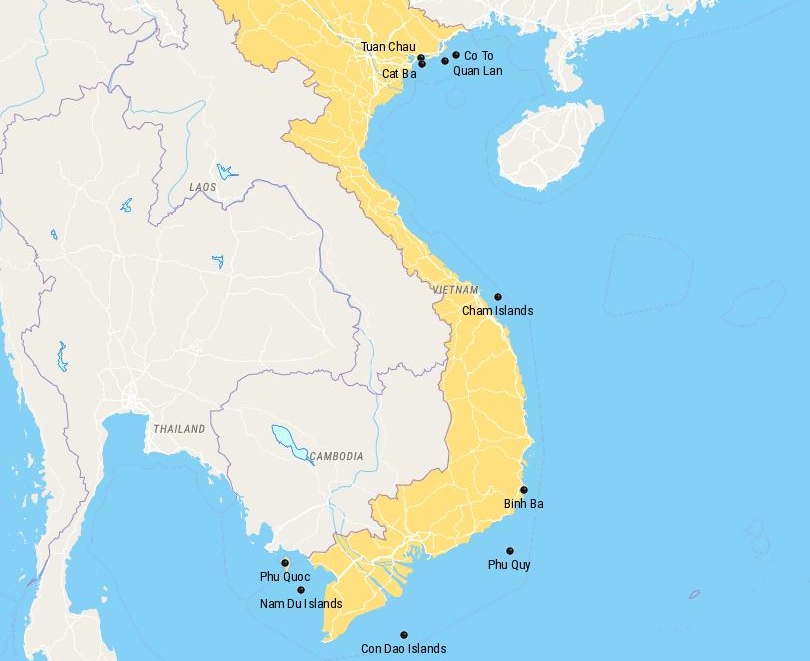 © OpenStreetMap © MapTiler © Touropia