One of the most popular and famous places to visit in Vietnam, Halong Bay has almost 2,000 karst islands and jungle-clad islets for you to explore. Whatever you put on your list of things to do in Halong Bay, you can be sure the scenery will be absolutely incredible wherever you go.
Located in the northeast of the country in the Gulf of Tonkin, the majestic bay boasts secluded beaches and floating villages, with a myriad of stunning viewpoints, magical caves, and wonderful watersports on offer. Traveling around the 'Bay of Descending Dragons' – as it is known in English – is an unforgettable experience, and while some parts are quite touristy, others are secluded and untouched.
In this post, we'll cover:
11. Ba Trai Dao Islets
Rising dramatically from the shimmering turquoise waters, the Ba Trai Dao Islets certainly paint a very pretty picture, and their distinctive shape makes them one of the most recognizable sights in Halong Bay. The three small islands are known as the 'three peaches,' named after a local legend where a fairy steals some peaches from heaven to give to a poor fisherman who she has fallen in love with; in doing so, she grants him immortality.
The King of Heaven found out, however, and in his anger instead turned the peaches into the craggy mounts you see before you today. As such, the unfortunate fairy never did see her love again.
Located not far from Cat Ba Island, the Ba Trai Dao Islets have a lovely little beach for you to hang out on among the rocks. Swimming in the crystal clear waters with the majestic scenery all around you really is a wonderful experience.
10. Hospital Cave (Cat Ba Island)
Used as both a safe house for Viet Cong leaders and a hospital for the sick and wounded during the American War – as the Vietnam War is called in Vietnam – the cavernous interior of Hospital Cave really does make for a spectacular sight.
Between 1963 and 1965, 17 different rooms were built in the cave on three different levels, and there was remarkably even enough space for a swimming pool and cinema. As well as marveling at the impressive architecture and rock formations, visitors can also take a look at the old operating theater, which is complete with mannequins and sickbeds.
While visiting Hospital Cave, it is well worth taking a guided tour to learn more about the cave's fascinating past.
9. Ti Top Island
Boasting one of the best views of Halong Bay, Ti Top Island is a very popular place to visit, and lots of cruise ships stop off here while on a tour of the bay. Its lovely crescent beach is perfect for kicking back and relaxing on, while the surrounding waters make for some fantastic swimming and snorkeling.
Named after the Russian cosmonaut, Gherman Stephanovic Titov, the small island has plenty of tourist facilities, with deck chairs, a restaurant, and bar all on offer. The main attraction, however, is the absolutely stunning panorama that greets you from the island's summit.
To get to the top of the mountain that lies at its heart, visitors clamber up over four hundred steps that weave their way through the lush forest that covers the karst almost completely. The 360-degree view from the top is simply divine.
8. Dau Go Cave
The largest of the many caves and grottoes that dot the region, Dau Go Cave's three enormous chambers are dazzling to gaze upon; as such, it's no surprise that it is also known as 'the Cave of Wonders.'
Meaning 'Wooden Stakes' in Vietnamese, Dau Go is so named because a general hid wooden stakes in the cave during the Mongol invasion of 1288; these were later used to defeat the horde. Beautifully illuminated, its many stalagmites and stalactites protrude dramatically from the cave walls, and the fantastical formations look as if they have just been taken out of a child's fairytale book.
Located on the island of the same name, Dau Go Cave is often visited alongside Thien Cung Cave, which lies nearby.
7. Cat Ba National Park
Covering almost half of the island of the same name, Cat Ba National Park has a variety of different landscapes and ecosystems for you to explore, each more beautiful than the last. As it encompasses everything from karst mountains and verdant forests to mangroves and marine waters, it is very biodiverse, with over 1,500 species of fauna and flora.
In addition, there are also 160 bird species and 20 types of mammals for you to spot, with its golden-headed langur, one of the most endangered primates on Earth, being the highlight of the lot.
Hiking around the park is a delightful affair, and it is well worth hiring a guide if you want to learn more about all of the majestic nature you pass by.
6. Cua Van Floating Village
Unlike anything you have ever seen before, Cua Van is fascinating to visit, as its villagers live in floating houses that bob about the bay. As such, they have developed a unique lifestyle. Children learn to swim before they can walk, and you'll often see them confidently paddling boats or kayaks between the houses.
Due to its scenic setting with awe-inspiring limestone islands and forest-coated islets all around it, Cua Van is very picturesque and is one of the last fishing villages in Halong Bay. Besides simply taking in the special look and feel of the place, visitors can also learn about what life is like in the floating village, as well as how to fish, make, and repair fishing nets.
5. Lan Ha Bay
Lying just off the south and east coasts of Cat Ba Island, Lan Ha Bay certainly rivals Halong Bay when it comes to its stunning natural beauty, with the bonus of being much quieter and less touristy.
Encompassing over 300 karst islands and islets, the bay has some absolutely gorgeous white sand beaches for you to enjoy, as well as a plethora of different watersports on offer. Tucked away among the amazing scenery are a couple of floating villages, such as Cai Beo.
Taking a sailing trip around Lan Ha Bay is simply a must if you want to see the many different sides to it. In addition to the majestic nature on display, visitors can also go rock climbing, snorkeling, scuba diving, and kayaking around the islands.
4. Dong Thien Cung
Located just a stone's throw away from the magnificent Dau Go Cave, Dong Thien Cung is equally bewitching to behold, and possibly even surpasses its neighbor in terms of the staggering stalactites and stalagmites. To get to the cave, visitors must walk along a meandering path lined by dense jungle until they finally arrive at its entrance.
Inside, the twisting and tumbling rock formations look as though they belong to another world, and it is easy to imagine that it once was the home of the dragon king and queen, as the local legend goes.
Fittingly located on Dao Go island – or 'the Island of Wonders,' as it is known in French – Dong Thien Cung certainly is a special place to visit. From the mouth of the cave, there is a fantastic view out over Halong Bay for you to enjoy.
3. Cannon Fort (Cat Ba Island)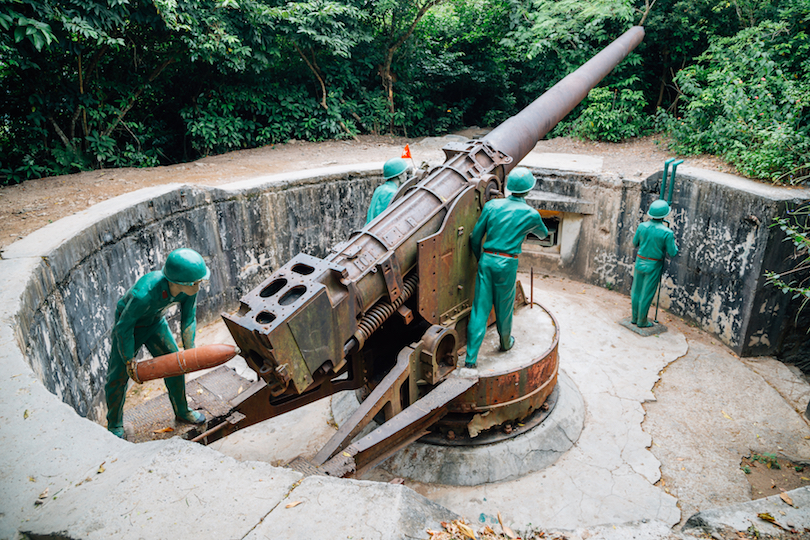 Speaking of views, Cannon Fort in the south of Cat Ba Island is the place to head to if you want to enjoy one of the most beautiful views imaginable. From the fort, jungle-covered hills and islands dot the glistening waters for as far as the eye can see, with little villages and fishing boats to be spotted amongst the incredible scenery.
Besides basking in one of the finest views in the country, visitors can also explore the mess of underground tunnels that lie beneath the fort, and its museum has several interesting exhibitions that document its history.
Originally established by the Japanese in World War II, Cannon Fort was subsequently used by both the French and Vietnamese in later conflicts, and the toy soldier-esque mannequins that man the colossal gun emplacements show you how they would have once been used.
2. Bai Tu Long Bay
As it is located in the far east of Halong Bay, Bai Tu Long Bay sees substantially fewer tourists than the rest of the region's many attractions. As such, it is perfect for people looking for an off the beaten path experience. This lesser-known alternative to Halong Bay has gorgeous beaches, impressive caves, and secluded villages for you to explore; these offer up a myriad of hiking, snorkeling, and rock climbing opportunities.
Due to its remote setting, the nature is pristine and untouched, with majestic, jungle-clad karst islands dotted about the sea. Taking a cruise around them really is an unforgettable experience.
1. Sung Sot Cave
One of the most popular and indeed famous attractions in Halong Bay, and rightfully so, Sung Sot Cave is a delight to visit due to all the majestic rock formations inside. Discovered all the way back in 1901 by the French, the cave is located on Bo Hon Island, and visitors have to clamber up a long flight of stairs before reaching the mouth of the cave.
Here, you can either wait a moment to take in the marvelous views of Halong Bay or head into its cavernous interior. Boasting three gigantic chambers that are spectacularly illuminated, the cave certainly makes for a spellbinding sight, and the rock formations appear as if they are from another world.