Laos is a tranquil landlocked country in Southeast Asia. Often overshadowed by its neighboring countries – Thailand, Vietnam and Cambodia – for their more famous attractions, Laos has plenty to offer, with the benefit of fewer crowds.
This small Southeast Asian country is an affordable and exciting destination to visit. Explore the wild side of Laos with its lush undulating mountains, meandering rivers, and remote Laotian villages. Trek to isolated hill tribes, swim in fast-flowing waterfalls, and creep through underground caves – Laos is nothing if not an adventure!
10. Bokeo Nature Reserve
[SEE MAP]
Christian Haugen / Flickr
The Bokeo Nature Reserve was created to protect its population of the black-cheeked gibbon, rediscovered in 1997, which was previously thought to be extinct. A visit to Bokeo Nature Reserve is not complete without a stay at the Gibbon Experience, an eco tourism conservation project. Guests stay in tree houses and travel by zip line through the forests in search of the Black Gibbon.
Besides the elusive black gibbon, visitors to the reserve may also see elephants, bears, tigers and wild buffalo. The Gibbon Experience also works to rehabilitate and return to the wild animals that were captured by poachers. With mountains ranging from 1,600 to almost 5,000 feet in altitude, the reserve also is a good place to watch birds.
james_antrobus / Flickr
Nong Kiau, sometimes called Nong Khiaw, is a popular tourist destination in Luang Prabang Province because of its many walking, mountain climbing and biking opportunities. A must-see site is the bridge across the Nam Ou River that was built by China. The bridge connects the two parts of Nong Kiau, and is a good place to see stunning views of the river and mountains. Nong Kiau is a rustic village, so visitors shouldn't expect truly luxurious accommodations. Spelunkers may enjoy exploring the Pha Tok Caves that are located about a mile from town. The caves housed villagers during the Second Indochina War.
Franc P. Lopez / Flickr
Tham Kong Lo is an incredible underground karst limestone cave tucked away inside Phou Hin Bun National Park in Central Laos. Also known as Konglor Cave – which means 'beauty in the dark' – the cave is accessible only by longtail boat. You can chug along one of the longest river cave systems in the world with your way illuminated by magical miner's lamps.
The boats will stop at certain points, where you will be able to explore the cave more thoroughly on foot. Recently added colorful lights create a charming and theatrical light show to what was once a pitch-dark caving adventure.
Tham Kong Lo is not the most easily reached destination in the country: it's an eight-hour bus ride on a pothole-ridden road from Vientiane. Yet visitors still travel from far and wide to witness its secret caverns, mysterious stalactites, and otherworldly limestone formations.
crosby_cj / Flickr
Luang Namtha, which means 'the area around the Tha River,' is the largest city in the Luang Nam Tha Province of Northern Laos. Located along the riverbanks of the Nam Tha, one of the dozen tributaries on the Mekong River, the town functions mainly as a stopover on the backpacker route between China and Laos – or as a way to break up the longboat journey between Huay Xai and Luang Prabang.
What makes a visit to this village so special is its easy access to the traditional hill tribes of Laos located in the Luang NamTha National Protected Area. There isn't a whole lot to see in Luang Namtha itself, but it's home to the Luang Namtha Museum – an anthropological museum where you can learn more about these fascinating local tribes. The little town is split into old and new; the former having been bombed during the 1970s war makes for an interesting discovery.
NPA trekking trips are common, and you can usually shop around in the village to find a good deal. Many include extra add-ons such as visits to waterfalls, mountain biking, and kayaking. For those who prefer to explore on their own, there are mountain bikes and motorbikes for hire so you can explore the surrounding jungle and villages at your own pace.
prezius / Flickr
Wat Phu Champasak, also known as Vat Phou Champasak, is an ancient Khmer Hindu temple complex spread across six terraces and three levels. Located at the base of Mount Phou Khao, Wat Phu – which means 'Mountain Temple' – has buildings that are well over a thousand years old.
Over the years, many more structures were erected. It's these more modern ruins from the 11th to the 13th centuries that can be seen at Wat Phu Champasak today. The highlight of the city is Wat Phou itself, an ancient shrine dedicated to Lord Shiva, one of the Gods of the Hindu Trimurti. It boasts intricate carvings, a sacred spring, and a set of beautiful Buddha images. The sanctuary was converted into a Buddhist monastery in the 13th-century – which it still functions as today.
If you'd like to stay longer and explore the surrounding landscape in Champasak, you can stay in the nearby cluster of villages with their French colonial mansions and Buddhist temples. Don't miss one of the evening shadow puppet theater shows.
ScruffyDan and Breanne / Flickr
Si Phan Don, which means 'Four Thousand Islands,' is a series of different-sized islands dotted along the Mekong River in Southern Laos' Khong District. The main island of Don Khong (the largest island) has a few temples and a museum, but there isn't a whole lot to do on the islands, especially when half of them are underwater after the annual Mekong flooding.
But with their backdrop of rice fields, waterfalls, and farmland scattered with riverside huts, that's all part of the charm of Si Phan Don. Sitting on the border with Cambodia, Si Phan Don's culture has a mixture of Laotian and Cambodian charm. Spend your days spotting freshwater Irrawaddy dolphins off the coast of Don Khong and photographing the remains of Laos' first railway, the Don Khon narrow gauge railway built by the French as a way to get around the massive Khone Phapheng Falls.
For those who can't enjoy the slow life of this river archipelago, there are some activities to keep busy. Rent a bike and explore the two main islands – Don Det and Don Khon, where you can explore one of the big Mekong Falls on two wheels, by boat, or on foot.
Mr ATM / Flickr
Phonsavan is the provincial capital of the Xieng Khouang Province in Central Laos, and the gateway to the Plain of Jars. Built in the 1970s to replace the old town that was destroyed during the Second Indochina War, the town is characterized by brightly colored wooden houses and cattle fields tended by Hmong cowboys.
Surrounded by undulating hills and pine forests, the scenic town of Phonsavan (which aptly means 'Hills of Paradise') has a great climate all year-round. The main attraction is the megalithic archaeological landscape in Laos that's made up of thousands of stone, jar-like structures dotted about the valleys. Believed to have been used as graves or to store rice wine, the remains of these mysterious stone jars are one of the most famous prehistoric sites in Southeast Asia.
But there is so much more to Phonsavan than the Plain of Jars, especially if you love the outdoors. The outskirts of the town also offer some immense scenery to be discovered on a trekking adventure – from cascading waterfalls to secret caves and secluded pools.
The reputation of riverside Vang Vieng precedes it. Surrounded by wild fields in Central Laos, Vang Vieng is a small tourist town popular with party-seeking young backpackers.
The town is home to all sorts of accommodation, from hostels to guest houses, as well as plenty of bars and restaurants that are open until late during the main tourist season. There are so many day trips to enjoy from Vang Vieng that can be booked at any of the travel kiosks in town, such as the trip to the aptly-named Blue Lagoon.
One of the most popular things to do in Vang Vieng is the infamous river tubing, where you can float down the river, stopping at various riverside bars along the way. Having met with disaster over the years (as you can imagine with young people swimming and drinking), the tubing bars have been restricted to just a few that are closely monitored by Laos standards.
When you've spent a sociable day floating and drinking down Vang Vieng's scenic river, the limestone karst-filled mountains that surround the town are an amazing location for trekking and rock climbing, so come prepared for adventure!
james_antrobus / Flickr
As Vientiane is the capital and largest city in Laos, it's worth a visit. But you don't need much more than a few days to enjoy all there is to do in this relatively small town.
Once a French trading post, Vientiane is usually used simply as a stopping point for those flying in or out of the international airport. There are several temples to explore, but the best way to experience Vientiane is with a stroll along the Mekong River at sunset, browsing one of the riverside markets along the way.
The most popular tourist attraction in this city, also known as "the city of sandalwood," is a Buddhist stupa, Pha That Luang, which dates back to 1586. The stupa stands 49 meters (147 feet) tall and is believed to contain relics of Buddha. Wat Si Muang, another popular site, is built on the ruins of a Khmer Hindu shrine.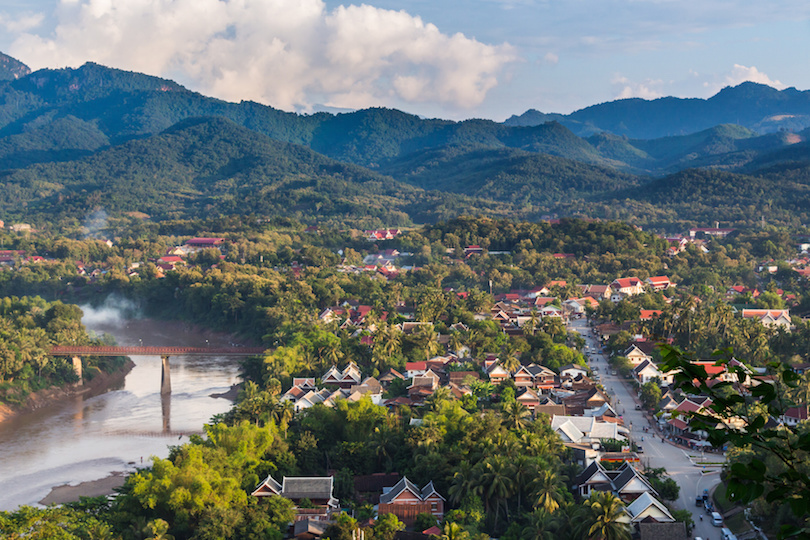 The most popular place to visit in Laos, Luang Prabang is an historic city that once served as the capital of the Kingdom of Laos. Today, it remains the unofficial tourist capital. Set at the point where the Mekong and Nam Khan rivers meet, Luang Prabang stands in front of a backdrop of a magnificent hilltop temple. All things considered, it's probably one of the most picturesque cities in Southeast Asia. Small it may be, but Luang Prabang is packed with things to see and do.
While in Luang Prabang, you will want to wake up early to witness the daily tak bat, where hundreds of the community's monks, clad in saffron robes, silently walk through the streets to gather alms. Explore the beautiful Pha Tad Ke Botanical Garden, home to more than 2,000 species of plants, and take your time bartering for souvenirs and rice wine at the local street market.
Luang Prabang is a great base for exploring some of Laos' most famous attractions on a day trip. The most popular of these is a visit to the glorious Kuang Si Falls, a multi-level waterfall with multiple fast-flowing pools you can swim in – if you dare.
Map of Laos
© OpenStreetMap © MapTiler © Touropia