With its many Buddhist temples and shrines, the northcentral Laotian city of Luang Prabang certainly lives up to its name, which translates as "Royal Buddhist image." Though it has a population of less than 60,000 people, the city has a lot of offer travelers. In addition to the most important monastery in Laos, visitors will find several major temples.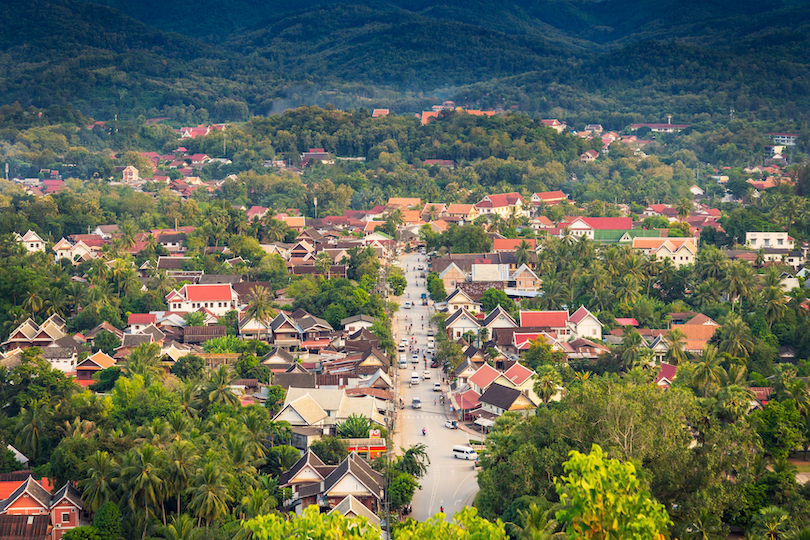 They'll also be able to see monks quietly walking the streets in the early morning hours gathering alms. When nature calls, there are two waterfalls that offer great swimming in the country. The historic center is a UNESCO World Heritage Area. Here you'll find most of the things to do in Luang Prabang but there are also many great attractions just outside of the city.
In this post, we'll cover:
17. Bamboo Bridges
The Bamboo Bridges are several bridges made entirely of bamboo and rope that allow people to cross the Nam Khan River – the river that eventually meets up with the Mekong. They're only usable during Laos' dry season, when the water levels drop – during the rainy season, the most common method of crossing the river is by boat.
The bridges were initially erected by a local family out of necessity, and since then, they have been maintained in traditional style and according to traditional methods. They appear to be wobbly, but they're actually super sturdy!
You'll find Luang Prabang's famous bamboo bridges all along the Nam Khan River during the dry season. And, since the rainy season is too rough for them, the bridges are dismantled and rebuilt every year to avoid damage.
16. Morning Market
Get a real taste of the local culture when you visit Luang Prabang's Morning Market. It's located in the Old Town, so it's right in the middle of all the action, and it's likely to be nearby where you're staying.
You may not know this, but Luang Prabang is a great destination if you enjoy trying delicious and unique foods. And, at the Morning Market, locals sell oodles of fresh vegetables from the surrounding areas. You'll even be able to buy some tasty snacks that are sure to whet your appetite.
Whether you're looking for something sweet or savory, you'll have no problem finding something delicious!
However, it's not just like a traditional farmers' market. You'll also be able to shop local spices mushrooms that have been collected in the local forests, and even some traditional medicinal products. The market starts before sunrise and boasts a nice, relaxed, early-morning atmosphere.
15. Kuang Si Falls Butterfly Park
Enjoy a little slice of heaven at Kuang Si Falls and Butterfly Park. Visit the waterfall and watch the water cascade through three different tiers. It starts with several small pools at the top, and they all lead into one large pool at the bottom. The water is a gorgeous shade of turquoise that'll take your breath away!
The butterfly park is just as breathtaking and one of the most fun things to do in Luang Prabang is walking around the park. When you visit, you can explore the gardens or even enjoy a foot spa while surrounded by butterflies.
Just 30 kilometers from Luang Prabang, a day trip to the Kuang Si Falls and Butterfly Park is sure to be a day well spent.
14. Living Land Farm
With incredible views of the farmland and rice paddies, visiting Luang Prabang's Living Land Farm is a great way to embrace the local environment and farming culture.
The farm still actively provides many local families with rice, and it also supports several community projects.
Visitors can spend the day learning about how rice is farmed and the customs surrounding the tradition. But you can do more than just watch. At Living Land Farm, visitors are invited to get involved in some of the activities.
Make sure you check out the local organic produce sold in the shop, including vegetables, herbs, and spices. And, if you're hungry, make sure to enjoy some delicious local Laos food at the restaurant!
13. UXO Lao Visitors' Centre
Learn about a somber part of Laos' history at the UXO Lao Visitors' Centre, located in the Old Town district. The center aims to educate people on the devastation caused by unexploded ordnances (UXOs) that still remain in the country today.
Laos is the most bombed country (per capita) in history, having suffered tremendously during the Second Indochina War from 1955 until 1975. However, during this period, a massive number of the bombs that were dropped did not explode. Thus, to this day, UXOs continue to be responsible for a significant number of deaths around the country.
The UXO Lao Visitors' Centre is a sad, yet educational, experience, and it's a tremendously important thing to do during your time in Laos.
12. Cruise the Mekong
See Luang Prabang's exquisite scenery from the water as you float up the Mekong River. You can take a day trip to see your surroundings and check out the Mekong floating market.
During the cruise, you'll see gorgeous green forests and charming little fishing villages. You'll also be able to see the city of Luang Prabang from a totally different vantage point, taking in the majesty of the local temples and old architecture.
The best time of year to do a Mekong River cruise is during Laos' dry season to avoid your cruise being canceled! So, try and do it sometime from November to April.
11. Tad Sae Waterfalls
Tad Sae Waterfalls doesn't get as many visitors as other Laotian waterfalls, though it's quite popular with locals. It's a bit harder to get to, involving a tuk tuk to the Nam Khan River and then a 10-minute boat ride.
The main reason people visit the cascading waterfalls is for the swimming; it's nicer than other waterfalls, plus offers an opportunity to swim with elephants. Tad Sae Waterfalls, located about 19 km (12 miles) from Luang Prabang, is best visited in the rainy season (August to November) when the water is high; other times the falls are non-existent. Modest swimwear is recommended; locals swim fully clothed.
10. Tamarind Cooking Courses
Laotian cuisine isn't as well known as other Asian cuisines. Cooks who want to add a new dimension to their meals when they return home may want to take a cooking course at the Tamarind restaurant.
Day classes begin with a market tour where students learn about ingredients making up Laotian cuisine. Then it's back to the school to cook dishes utilizing traditional Lao techniques. This includes pounded or smashing with a mortar and pestle, and cooking over an open fire.
Dishes include jeow, a traditional spicy dipping sauce; Mok Pa, a fish steamed in banana leaves, and a minced meat salad called Laap/Koy.
9. Traditional Arts and Ethnology Centre
Rob Young / Flickr
As the name implies, the Traditional Arts and Ethnology Centre is a good place to see artisans practicing traditional arts and learn more about the ethnic groups inhabiting Laos.
The center's goal is to celebrate and preserve the heritage of the various ethnic groups. Since Laos has 80 ethnic groups, the center makes learning about their heritage in one place convenient.
Visitors can watch demonstrations on making traditional arts and crafts then head over to the boutique to buy crafts made by ethnic groups around the country. Open only since 2007, the center is gaining in popularity with visitors.
8. Royal Palace Museum
As palaces around the world go, the Royal Palace in Luang Prabang isn't very old nor was it occupied for very long. The palace was built in 1904 for the Lao royal family during French colonial days.
The communists overthrew the monarchy in 1975 and converted the palace into a museum. The palace is a mixture of Lao and French architectural styles. Décor is traditional Lao.
One room contains gifts presented to the king by foreign countries; they are grouped by a nation's politics: socialist and capitalist. Exhibits trace the history of Laos back several centuries. A 2,000-year-old 71-meter (232-foot) high Buddha is located here.
7. Tak Bat
Every morning beginning about 5:30, meditating Buddhist monks walk the streets of Luang Prabang seeking alms. As the robed monks walk in silence, people place bits of food, particularly sticky rice, flowers or other offerings in their bowls.
Since there are 80 temples in the city, early-rising visitors can see this procession almost anywhere, though the most popular viewing locations are Th Kamal and Th Sakkarin.
Unfortunately, officials say this tradition is in danger of being cancelled because of unruly tourists. They suggest tourists should behave and dress appropriately since the procession is a religious ritual not a photo op.
6. Pak Ou Caves
Buddhist cave art is really popular in Asian countries. Mostly the Buddhas are carved into the caves, but at Pak Ou Caves they're carved out of wood or stone and then placed inside the caves.
The two Pak Ou Caves are actually a sanctuary for Buddhas, a place where damaged Buddhas are put out to pasture. More than 6,000 retired Buddhas of every imaginable size, shape, position and composition can be found within the caves; it's an accumulation of several hundred years.
The caves are located in a scenic spot along the Mekong River about 24 km (15 miles) from Luang Prabang.
5. Luang Prabang Night Market
Travelers need to dust off their best haggling skills when they visit the night market in Luang Prabang. That's because vendors frequently quote higher prices than stores open during regular day hours. They do this knowing they aren't likely to get their original asking price.
The night market offers diverse goods such as apparel, ceramics, ethnic arts and crafts, homemade whisky, hand bags and bamboo items. The city's main night market, open from 5 p.m. to 11 p.m., begins at Wat Mai and stretches along Sisavangvong to the town center. Travelers looking for street food will find it mostly at the market's end.
4. Mount Phousi
Mount Phousi, located inside the city of Luang Prabang, isn't really a mountain: It's a 140-meter (450-foot) high hill that is home to several Buddhist shrines and temples.
It's a good place to watch the sun rise or set over this Lao city. Mount Phousi is between the Mekong and Nam Khan rivers. Travelers must climb several hundred steps to reach the top but the climb is manageable for most people if they take it slow and easy.
It's recommended visitors take different routes up and down the hill. Notable temples are Wat Tham Phousi with its big reclining Buddha and Wat Chomsi at the summit.
3. Wat Xieng Thong
Built in the mid-16th century between the Nam Khan and Mekong rivers, Wat Xieng Thong, or Temple of the Golden City, was the place where centuries of Laotian kings were crowned.
It's considered the most important monastery in Laos today. More than 20 buildings serving various religious functions make up the temple complex. The architecture is stunning, with lots of gold leaf used.
A mosaic tree of life, statues of deities and an 25-meter (82-foot) high funeral carriage are just some of the goodies visitors will see. The complex has been restored several times over the centuries, but some original buildings remain.
2. Kuang Si Falls
Located 30 km (18 miles) south of Luang Prabang, Kuang Si Falls makes a good day trip to explore nature in the countryside. The falls, the biggest in the Luang Prabang area, are three-tiered, with the biggest fall 60 meters (200 feet) high.
Getting to Kuang Si Falls involves walking a maintained trail. Once there, visitors can cool down with a dip in turquoise lagoons as they cascade along the way. Energetic visitors can climb to the top for a look down at the falls.
The way is slippery, so proper footwear is essential. The falls are a good place to escape city heat since temperatures are cooler here.
1. Old Quarter
Luang Prabang's Old Quarter is a UNESCO World Heritage Site. It's historically rich and full of things to do and see – from temples to local stalls.
The best thing you can do is simply wander around and enjoy the atmosphere and feel the history of the area. Depending on your preferences, you can do this either during the day or by moonlight.
Interact with the street vendors and enjoy the 18th-century architecture throughout the town. The buildings are a big part of what creates the atmosphere. In fact, many of them are still made from the traditional combination of wood and bricks.
The two most popular temples in Luang Prabang are Wat Xieng Thong and Wat Sensoukharam. They're both utterly beautiful beyond words, and you simply have to see them.
Where to Stay in Luang Prabang
Deciding where to stay while traveling can be really tricky because there are so many things to consider. That is, your proximity to attractions in Luang Prabang and transport options; the scenery and atmosphere of the area; and finally, the price. There are three main areas in Luang Prabang to choose from.
The heart of the city, Old Town is probably where you'll spend most of your time wandering around and sightseeing, so it's a super convenient place to stay. The Mekong Riverfront: is the perfect combination of scenic and central, you'll be able to enjoy gorgeous views and still be very nearby the Old Town. If you're more keen on peace, quiet, and authenticity, the Nam Khan Riverfront is a smaller, quieter, and cheaper area, and it still has gorgeous scenery.
The Belle Rive Boutique Hotel will allow you to enjoy epic views and an authentic local atmosphere right on the Mekong Riverfront. The mid-range hotel also offers free bicycles and a delicious breakfast. Located in the historic center, My Dream Boutique Resort is a great budget option that is conveniently and centrally located. After a full day of sightseeing you can relax in their garden or cool down in the swimming pool.
How to get to Luang Prabang
There are plenty of options for getting to Luang Prabang – you can fly or catch a bus, train, or even a boat. The city's airport is only four kilometers from the center and it's an international airport which is super convenient.
However, if you're flying from somewhere that doesn't go directly to Luang Prabang, you can also catch a bus or train. Buses are very common (and affordable) from within Laos and from neighboring countries.
Or, if you really want to enjoy the scenery, you can opt for the slow boat on the Mekong River that'll take you to the city from Huay Xai at the Thai border.
Best Time to Visit Luang Prabang
As it is the dry season when the heat and humidity are much lower, most people visit Luang Prabang between November and March. Temperatures of 26 to 32°C (79 to 89°F) are ideal for ambling about its old town and visiting the stunning Kuang Si Falls.
Prices are higher during this period though due to all the crowds that converge on the city. A number of important celebrations like Boun Pha Vet and Boun Makha Bousa also take place as do the Hmong and Khmu New Year's festivities held in the villages around it.
While April also has the Pi Mao or Lao New Year parties to enjoy, the city is already getting a lot hotter with more rain falling. As farmers set fire to their fields, the countryside is not as attractive and the air quality is poor.
May through October is the wet season when most people stay away due to all the torrential downpours. Landslides can occur with the Mekong River sometimes even flooding in August and September. But the exciting Boat Racing Festival and enchanting Light Boat Festival are nice excuses to visit. Prices are also lower with barely any crowds being around.
Map of Things to do in Luang Prabang