March is a wonderful month to travel, enabling people to beat the winter ending with a fresh attitude and lots of fun, both in the sun and at a variety of festivals around the world. Cities not only celebrate spring, but also their cultural and religious heritage as well. These festivals provide educational opportunities to learn about different peoples without being encased within the four walls of a classroom. Travel doesn't get much better than this. An overview of the best places to visit in March:
10. Ivrea Battle of the Oranges
[SEE MAP]
wikipedia/AAM
A food fight with flair is perhaps the best way to describe the Battle of the Oranges that takes place in Ivrea, Italy. Legend has it a tyrannical nobleman attempted to rape a young woman on the eve of her wedding but ended up being beheaded for his efforts. The next day locals burned the palace. Today, teams – one representing the commoners and the other, the tyrant—throw oranges, instead of stones, at each other. The celebration also involves bonfires and is another way the Italians celebrate the end of winter.
9. Dedougou Dancing Masks Festival
[SEE MAP]
photo/tedchang
Every two years in March the Dancing Masks Festival takes place in the city of Dedougou, in the western part of Burkina Faso. The festival brings together masks and dancers from all over Burkina Faso, as well as neighboring countries, to perform and to keep their ancient traditions alive. Most masks represent animals or spirits from the bush. Griots, along with other musicians, accompany the dancing maskse with their music, usually drums or a flute-type instrument. Most of the spectators are from the immediate area, but the festival also draw some international tourists.
8. Austin SXSW SXSW
[SEE MAP]
flickr/Lars Plougmann
South by Southwest is a multi-faceted festival in the Texas capital. It is actually three celebrations rolled into one: film, music and interactive, which focuses on technology. The music festival is quite large, annually involving thousands of performers. The film festival concentrates on finding new directing talent in all genres, while the interactive part involves a technology trade show, speakers and venture capitalists who might be interested in investing in start-ups. The event started in 1987, and has grown significantly over the years, especially among musicians and directors wanting to be discovered by the big boys in the industry.
flickr/Cilia Schubert
By the time March rolls around, travelers who are tired of a long, cold winter are more than ready for some fun in the sun. It's when the weather is at its best in Belize, a Central American country once known as British Honduras. Sun is guaranteed March through May, with travelers providing their own fun, such as lazing on the beach, snorkeling and swimming. Belize has a subtropical climate similar to southern Florida, but also offers the uniqueness of vacationing in an exotic country.
6. St. Patrick's Day in Dublin
[SEE MAP]
flickr/William Murphy
'T is said everyone is Irish on St. Patrick's Day, so sure and begorrah, there's no better place to celebrate than Dublin. The celebration has mainly religious origins since March 17 is the day that St. Patrick, Ireland's patron saint, died. Today, however, it's a national holiday, with the biggest celebration taking place in the Irish capital. Crowds take to the street in parades with colorful floats, buildings are covered in green, people make music and dance, and, of course, drink lots of beer, green or otherwise.
5. Spring Equinox at Chichén Itzá
[SEE MAP]
wikipedia/ATSZ56
The 1st day of spring (spring equinox) is celebrated around the world every March, but one of the best places to mark the occasion is Chichén Itzá in Mexico. The ancient Mayans were known as keen astronomers, with Chichén Itzá being one of their most famous archeological ruins. What makes the festivale de primavera (spring festival) so unique is the way light plays on the El Castillo temple for a few days in March. The combination of sunlight and shadow makes it appear as if a snake is slithering along on the pyramid. This phenomenon begins in late afternoon. Visitors need to be on time, as the effect only lasts an hour or two.
4. Valencia's Las Fallas
[SEE MAP]
flickr/keith ellwood
Valencia's Las Fallas Festival is a celebration just made for pyromaniacs who can set fires without getting in trouble. Two million people annually come to this Spanish city, which is literally set on fire, or las fallas in Valencian. Valencians work all year on "ninots," dolls that are usually politically satirical and made of highly combustible materials. The ninots, which can be several stories high, are displayed around the city until March 19 when they are filled with fireworks. Street lights in Valencia are turned off and the ninots set ablaze at exactly midnight.
3. Auckland Pasifika Festival
[SEE MAP]
flickr/kylepost
The Pasifika Festival celebrates the culture of the South Pacific through song, dance, food and art. The two-day festival takes place at Western Springs Park in Auckland. The park is transformed into 11 villages, each representing a different region of the Pacific, from Hawaii to Tonga and beyond. The event honors both the diversity and unity of these cultures at the same time. It's held in Auckland because this New Zealand city has the largest Polynesian population in the world.
2. Cherry Blossom Festival in Tokyo
[SEE MAP]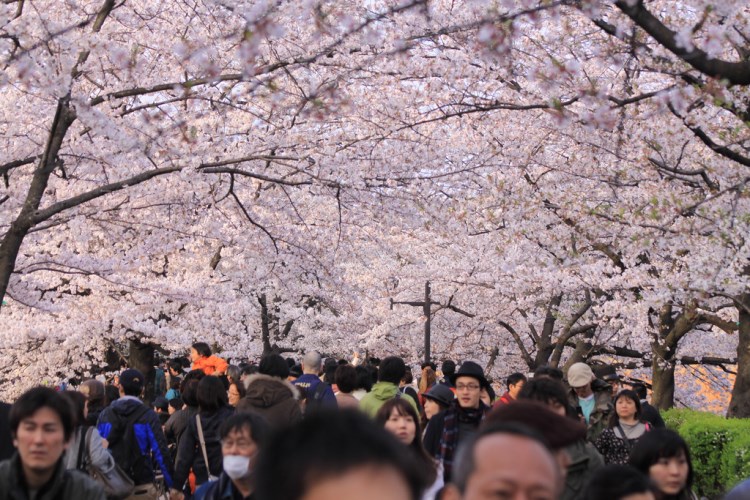 flickr/Hetarllen Mumriken
Tokyo is pretty in pink in the spring. That's when the Japanese capital hosts its annual Cherry Blossom Festival, a two-week span that starts in late March and ends in April. The sakura (cherry blossoms) are usually pink, with splashes of red and white blossoms adding to the color. The sakura is Japan's national flower as well as represents hope and renewal to the Japanese, who have celebrated this festival for centuries. The best places to see cherry trees in bloom are the parks at Ueno.
wikipedia/Narender9
Holi is a colorful mythology-based festival that is celebrated across India. A demon king wanted to kill his son and enlisted the help of his sister, Holika, to help him. Holika burned wood instead of the son, thus saving his life, so the celebration of this centuries-old myth is seen as a triumph of good over bad. Activities include bonfires to honor Holika's action as well as dousing people with colored water, eating sweets and drinking beer as the Indians celebrate with enthusiasm. Lavish decorations adorn Hindu temples.