Valencia, Spain's third largest city, sits on the East coast of the Iberian Peninsula along the Mediterranean. While the larger Spanish cities have a distinctly urban, high-energy feel, this port city has a more laid-back atmosphere and a commitment to celebrating its natural sights. Old meets new here, as you can find remnants of a 100BC Roman colony and ultra-modern architecture.
Every March, Valencia hosts the Fallas Festival where each neighborhood displays papier-mâché figures of all sizes and colors for a whole week. At the end of the week, the "fallas" are ceremoniously burned, and the communities party into the night.
However, March isn't the only time to party in Valencia. Every night, the city vibrates with lively bars and nightclubs in every neighborhood. Additionally, it is home of the famed Spanish paella, intricate ceramics and several world-renowned music schools.
With so many things to do in Valencia it can be difficult to decide where to start. For this reason, we have put together this list of the city's main tourist attractions.
In this post, we'll cover:
27. Torres de Serranos
On any visit to Valencia, you cannot miss the iconic Torres de Serranos.
Built towards the end of the 14th century in the Valencian Gothic style, it is one of twelve gates that formed part of the city's ancient Christian Wall.
When you first see the towers at ground level, you'll be struck by their imposing size and beauty. However, they are best appreciated from the top, which you can access by climbing up the narrow winding stairs, that leads you to it.
From there, you will be presented with a breathtaking view of Valencia's old town and surrounding areas. You can also see some of the city's other historic landmarks, including the Cathedral and Mercado Central. (More about them later!)
26. Instituto Valencia d'Arte Modern
If you love art, you'll want to visit The Institut Valencià d'Art Modern. Better known by its acronym IVAM, it was Spain's first modern art center when it opened in 1989.
Housing an impressive collection of modern and contemporary art from Spain and around the world, what we love most about this gallery is the range of exhibitions it presents. Not only are their works by famous artists such as Julio González and Joan Miró but there are also pieces from up-and-coming creators. This means there is always something new and exciting to see.
In addition to the exhibits, the gallery also runs workshops and events that provide a deeper insight into the artistic process and the present state of contemporary art.
25. La Estrecha
Situated in the Plaza Lope de Vega of Valencia, La Estrecha is a remarkable house that holds the record of Europe's narrowest facade. Measuring just 107 cm in length, this incredible five-story structure was originally a family home. Each of its five floors comprised a single room which were linked by a spiral staircase, the bottom of which was a family run jewellery shop.
During the 1980 its inner wall was removed, so essentially it is now part of the Tasquita La Estrecha, a tapas bar that lies adjacent to it. However, it still retains its own front door and resembles a separate, Instagram worthy structure.
Today, you can still enter the building and take a look around it to gain a sense of perspective of what it was like to live there. The original flooring has been kept intact and there is also a nice collection of photos of the house's interior to look at.
24. Plaza de la Reina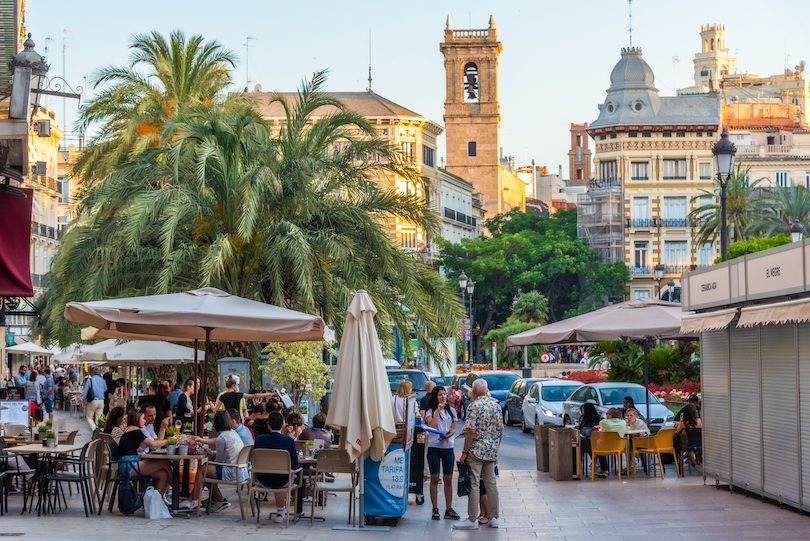 For any visitor to Valencia, Plaza de la Reina is a place you should spend a good amount of time at.
Situated in the heart of the city's historic district, it is a vibrant and bustling square which makes a terrific spot for people-watching. Strolling around the square and watching the locals go about their business it a terrific way to spend a few hours.
The atmosphere is always warm and vibrant and there are also several enchanting buildings to visit. This includes the beautiful Gothic-style Valencia Cathedral.
The square is surrounded by a range of cafes and restaurants, which makes it a lovely spot to enjoy a meal. One of our favorite places is the Restaurante Italiano, which serves up delicious tomato and steak pasta, which we share as the portion size is huge!
23. Barrio del Carmen
The historic neighborhood of Barrio del Carmen is somewhere everyone should visit when they come to Valencia.
Located in the heart of the city's old town, what we love most about this neighborhood is its winding streets and narrow alleyways. They are home to a wonderful range of tapas bars, cafes, souvenir shops and fashion boutiques, which entice you with their charm, ambience and delightful decor. Many of these are in stunning Gothic and Baroque-style buildings, which are a joy to look at.
This area is also the site of the medieval gates of Torres de Quart and the Institut Valencià d'Art Modern. While at night, there are several excellent restaurants and late-night bars you can visit.
22. Gulliver Park
If you happen to be visiting Valencia with children you should make a point of visiting Gulliver Park.
Located in the heart of the city's Turia Gardens, it features an enormous sculpture of Gulliver, the beloved character from Jonathan Swift's classic novel.
Unique and whimsical, the sculpture is designed to look as though Gulliver has been shipwrecked and is now lying on the ground. It enables children to climb and play on its body, which frankly looks like a lot of fun!
The park also features a range of fun and interactive elements, such as slides, tunnels, and climbing frames, providing a perfect opportunity for children to run around and play.
21. Ayuntamiento de Valencia
If you find yourself in the historic district, it is worth checking out the stunning Ayuntamiento de Valencia. Better known as the Valencia City Hall, this superb example of Neoclassical architecture has a very impressive façade, which you'll no doubt take plenty of snaps of.
Should you decide to go on a guided tour inside (very much recommended) you will get to explore many of its rooms and halls. They include the beautiful Plenary Hall, which features stunning frescoes and ornate decorations. You can also visit the many exhibitions and displays located throughout the building. Again, we recommend doing this as it provides a fascinating glimpse into the city's rich history and culture.
Depending on when you visit, there are also regular concerts and theater performances you might want to attend too.
20. Fine Art Museum of Valencia
Another place you should enjoy visiting if you love art is The Fine Art Museum of Valencia. Situated in the historic district, it has a stunning collection of paintings, sculptures, and other artworks spanning many different eras and styles.
As you explore its various galleries and exhibitions, you'll be able to see a self-portrait by Diego Velázquez and Gonzalo Pérez's Altarpiece of Sts. You will also see Goya's Playing Children and St. John the Baptist by El Greco.
What is most impressive about this museum is that some of its masterpieces dates back to the 14th century. You will be amazed at how well they have lasted the test of time, which is a mark of what defines them as special.
19. Museu Faller de Valencia
There are several wonderful museums in Spain, but none are quite like the Museu Faller de València.
Immediately immersing you in the colorful and vibrant world of the Fallas festival, it features a stunning collection of Fallas sculptures from past years. It also presents a fabulous range of costumes, photographs, and other artifacts related to the festival.
You could spend hours marveling at the displays, learning about the history and traditions of the Fallas festival and understanding the important role it plays in Valencia's cultural identity.
In fact, you will be so consumed by the stunning sculptures, intricate costumes, and lively music you will want to coincide your next visit to Valencia with it.
18. Ruzafa Neighborhood
One of the coolest neighborhoods in Valencia to visit is Ruzafa (or Russafa), which is located just to the south of the historic district.
It is a terrific place to come for food, full of quaint coffee shops, cafes with nice terraces and restaurants serving everything from burgers to Turkish and Moroccan specialties. We especially like to come here as it has several American-style bakeries that provide a little taste of home.
Overall, Ruzafa is a lovely place to wander around, and it also has charming streets filled with small art galleries, organic food shops and intimate clothing boutiques. Its centerpiece Plaça de Toros also hosts bullring concerts and bullfights, which you may be interested to see.
17. Plaza del Mercado
The Plaza del Mercado is somewhere most people will end up on their visit to Valencia. One of the busiest areas in the city, it is located in the center of Valencia's Old Town. It is also here that you will find the Central Market and the Lonja de la Seda.
When not visiting either attraction, the Plaza del Mercado is a lovely place to stroll around or people-watch. It also has some nice cafes and restaurants, which make for a pleasant place to enjoy a coffee or a meal.
The easiest way to get there is to take the metro station to Xativa, on lines three and five. However, you might prefer to catch the number 7 bus as this will enable you to see more of the city.
16. Albufera Natural Park
The Albufera Natural Park is located, just 10km from Valencia and is notable for accommodating the largest lagoon in Spain. Surrounded by paddy fields and woods, it features leisurely boat rides and incredible sunsets, providing visitors with a lovely way to relax after a hectic period of sightseeing. There are also six well-signposted routes that you can walk along to explore the area.
Another good reason for visiting Albufera Natural Park is that it is close to El Palmar, which is the place where paella was invented. If you do go there, you will be able to try this delicious dish in its most authentic form. As well as other specialties like all-i-pebre, which is an eel stew flavored with pepper and garlic. As you may expect, the paella served up at the restaurants in this town is sensational!
15. Estacio del Nord
Many tourists who arrive in Valencia will do so at the city's main train station, the Estació del Nord. And what a place to arrive!
In our minds, it is one of the most beautiful stations we have ever seen. Definitely on par with Grand Central Terminal in New York City and Union Station in Washington, DC.
Even if you didn't arrive by train, it is worth visiting, as you will be transfixed by its grandeur and elegance. The beauty of its intricate tilework, soaring ceilings, and ornate architecture is somewhere you could spend hours taking in. As the attention to detail and dedication required to create it is mind-blowing.
There are also a couple of nice cafes and restaurants at the station, should you want to extend your time to appreciate it.
14. Plaza de la Virgen
Another lovely square to visit is the Plaza de la Virgen, which is home to some of Valencia's most iconic landmarks. They include the stunning Cathedral of Valencia and the Basilica de la Virgen de los Desamparados. Both of which offer a fascinating glimpse into the city's rich history and culture.
At the center of it is a beautiful fountain, which you can sit beside to relax and watch people. It is a stunning monument dedicated to the Turia River and features eight female figures pouring water out of pitchers they hold. On the top of the fountain sits Neptune.
From ground level, the square is an impressive sight. But if you climb the nearby cathedral bell tower, you'll get an even more spectacular view of it.
13. Church of St. Nicolas
Officially known as the Parroquia de San Nicolás de Bari y San Pedro Mártir, the Church of St. Nicolas is Valencia's parish church for Roman Catholics.
Created in the Valencian Gothic style, it is a stunning structure everyone should make the effort to see, even if you are not religious.
If you visit it, you can't fail to be immediately taken by its striking facade. It features intricate carvings, stunning stained-glass windows, and incredibly ornate details that you'll have to take some time to process.
When you go inside, you'll be presented with its soaring ceilings, elegant arches, and beautiful artwork. The latter include priceless works of art, as good as anything you see in Valencia's other museums.
12. National Ceramic Museum
One thing you will discover during your visit to Valencia is that culture comes in many different forms. The National Ceramic Museum (Museo Nacional de Ceramica Gonzalez Marti) is one such example.
The museum is housed in a 15th century palace that was refurnished in the rococo architectural style. The front entrance is crowned by a statue of the Virgin Mary, pouring twin fountains from her hands.
Named after the collector who set it up, the museum houses ceramic pieces from several different locations, including Greek, Roman, Arab, and prehistoric times. Traditional Spanish pieces from regions like Manises, Paterna and Alcora are on display, as well as a number of contemporary pieces. These include some works by Picasso.
11. Plaza de Ayuntamiento
The Plaza de Ayuntamiento is probably Valencia's most famous plaza. So, this is something you should add to your 'must visit' list of things to do in Valencia.
Flanked by palm trees and stunning Spanish architecture, it is between the Ayuntamiento (town hall) and Edificio de Correos (post office). It is also not far from the Estación del Norte (train station) and Plaza de Toros (Bullring).
What is great about this place is its energy and lively atmosphere. The square bustles throughout the day, with people going about their daily lives. This makes it a prime spot for soaking up the Valencian way of life. The square also features some elegant buildings and an august fountain. While there are also some lovely cafes and bars in the immediate locality where you can enjoy a meal or a drink.
10. Bioparc Zoo
Created in 2008, the Bioparc is owned by the city of Valencia, but managed by a for-profit zoological company. It lies along the Turia gardens, and has a modern concept of having designated habitats for animals that are visited by people, instead of the other way around.
What we like about this zoo is that the barriers are almost invisible. Instead of separating animals from people by railings and cages, they use natural landforms like large rocks, ditches, and rivers to keep them separate. So, it creates the feeling of being out in the wilds of Africa with them!
The African animals are the highlight of the zoo, though there are a number of examples of other world ecosystems as well.
9. La Lonja
Built between 1482 and 1533, La Lonja de la Seda was once used for trading in silk (hence its name, the Silk Exchange). The three-part building and attached orange garden remains a major tourist attraction in Valencia today.
Situated just a two-minute stroll from the Mercado markets, the Lonja is arguably one of Europe's most iconic civil gothic monuments. It has been designated as a National Historic and Artistic Monument and a World Heritage Site.
The center building, Sala de Contratacion, was used for signing contracts and has rich decorations with spiral columns. One side-wing hosted the merchant tribunal, and features a ceiling mural that was a tourist attraction for royals. The second side-wing contains the holding cells for debtors that were sentenced by the tribunal.
8. Malvarrosa Beach
As beach lovers, we love to check out the local beaches on our travels, so we were excited about visiting Malvarrosa Beach on our first trip to Valencia. Thankfully, it does not disappoint!
The beach is a 20-minute cab ride from the downtown area and is easily accessible by public transportation.
Once there, you will find a stunning stretch of golden sand and crystal-clear waters, which are perfect for swimming and sunbathing. You won't be alone at the beach, as it is a popular destination for locals and tourists. But there is plenty of space available to throw down a towel.
At any time of the day, the beach is bustling with activity. Next to the beach is the Paseo Marítimo, a magnificent sea-front promenade, where visitors can enjoy walking, roller skating, jogging, or stop at a restaurant for a delicious paella and a glass of wine.
The house of the famous Valencian writer Vicente Blasco-Ibáñez is located at Malvarrosa Beach and has been converted into a museum with an exhibition of his personal belongings and literary works.
7. Mercado Central
Any visitor to Valencia, should head to Valencia's famous and bustling central market.
This public market is considered one of the oldest European markets still running. It is open six days a week, and closed on Sundays. The modernist roofed building that houses the market was built in 1914, and contains a number of beautiful stained-glass windows and room for over 400 merchants.
Lined with plenty of colorful stalls, you will find a massive range of fresh produce here. They include everything from seafood, cured meats and cheese to fruits, vegetables, and artisanal bread, all sold with passion and beautiful presentation.
For those who just want to soak up the ambiance, a large tapas bar sits in the center of the market in full view of many of the shops.
6. Valencia Cathedral
As you wander through its historic old town, you can't miss Valencia Cathedral, nor should you.
This iconic Roman Catholic church is one of the city's most popular attractions. It was built on the site of a mosque, with its construction taking place between the 13th and 17th centuries.
As it took several centuries to construct, its facade incorporates several architectural styles including Baroque, Valencian Gothic, Neoclassical, Renaissance and early Romanesque.
However, what draws many people to the church is that it is purported to keep the true Holy Grail in one of its chapels. Whether true or not, the chalice has made a name for itself as the official papal chalice, most recently by pope Benedict.
The cathedral also features a stunning nave and a beautiful chapel, as well as several priceless paintings dating to the 15th-century.
5. El Miguelete
While the Valencia Cathedral is worth visiting, if time doesn't permit an extended tour, you should at least check out its impressive tower.
Known as El Miguelete, the Gothic-style Valencian bell tower stands tall and proud against the city skyline. Overall, it took 48 years to complete, eventually being finalized in 1429. However, it was worth the wait because this iconic landmark now offers breathtaking views of the city.
Although the climb might challenge some, the effort is rewarded with vistas of red-tiled roofs, historic landmarks, and bustling streets stretching out before you.
The tower's architecture is also very impressive, boasting intricate details and a soaring height that is very Instagram-worthy.
4. Turia Gardens
Bas Leenders / Flickr
Valencia is a wonderful city to visit. But sometimes you can get a sensory overload from all that sightseeing. During these times, it is good to head to the more tranquil surroundings of The Turia Gardens, one of Spain's largest urban parks.
These gardens were created when the flood-prone Turia river was rerouted around the city. The old riverbed that remained was formed into the Turia garden, and includes a bike path across Valencia, along with several things to do.
The gardens are not only well landscaped, they have a number of fun attractions for others, including sports courts and fields, giant chess boards, skateboard parks, fountains, and much more.
It is a great way to walk to the city of arts and sciences, the Serranos towers, Bioparc, and other attractions in Valencia.
3. Oceanografic Aquarium
This highlight of the city of arts and sciences is a tribute to the spectacular Mediterranean ocean life off the coast of Valencia.
The largest aquarium in Europe, it is home to an incredible array of aquatic creatures from around the world, including dolphins, sharks, penguins, and sea turtles.
Take the time to explore the various exhibits, and you will be seduced by the brilliantly colorful fish, majestic rays, and graceful jellyfish. All of them swim in large tanks replicating their natural habitats, providing an insight into what life is like below our ocean's surface.
Undoubtedly, our favorite part of the aquarium is the fantastic underwater tunnel that takes us through a massive tank filled with sharks. It provides a thrilling and immersive experience that breaks you out into goosebumps!
2. Las Fallas Festival
As mentioned earlier, we have not been able to attend the Las Fallas Festival, but it is on our list for next time!
The traditional main celebration occurs every year between the 15th and 19th of March. While every day from the 1st to the 19th of March, the Mascletà – a magnificent spectacle of fireworks and pyrotechnics – takes place.
At this time the streets apparently come alive with music, fireworks, and people in traditional clothing, singing and dancing. All of which sounds wonderful.
Of course, the main focus of the festival is the fallas, like the ones displayed at the Museu Faller de València. Every year people try to outdo each other with their creations, some of which reach 20 meters in height!
1. City of Arts and Sciences
If you are looking for something to prioritize seeing on your visit to Valencia, then make it to The City of Arts and Sciences.
This modern architectural wonder is situated at the end of the rerouted Turia river. Along the water sit a number of futuristic and unique buildings, including the well-known Oceanografic Aquarium.
They also include L'hemisferic, which resembles a giant eye that can open and close, and contains a planetarium and IMAX theater. The museum of principal sciences is a natural history museum designed to look like a whale's skeleton.
The Agora is a tall covered sports arena, and the Palau Opera house has four theaters, an opening roof, and moving platforms to connect between floors. The city is connected by a landscaped walk featuring Valencia's native vegetation, and a beautiful suspension bridge.
Best Time to Visit Valencia
Blessed with a Mediterranean climate, Valencia is pleasant to visit year-round with average temperatures never dropping below 16°C (61°F). The most popular months are from June to October when the weather is warmest and you can sunbathe and swim in the sea.
If possible though, it's best to avoid July and August as prices are high and the beaches are packed. Average temperatures of 30°C (86°F) mean sightseeing is uncomfortable with many local businesses also closing for the summer holidays. The famous La Tomatina festival does take place though in the nearby town of Bunol.
Either side of the peak season are brilliant times to visit as some of the crowds have headed home and the city is a couple of degrees cooler. The price of hotels is actually higher though in June and September with the former hosting some large Corpus Christi celebrations.
Valencia's most famous festival, however, is Las Falles in mid-March. For five days and nights, elaborate floats, fireworks displays and music performances light up the entire city. Crowds and prices are obviously higher around this time. April also sees Semana Santa take place; another of the country and city's most important celebrations.
Map of Tourist Attractions in Valencia
© OpenStreetMap © MapTiler © Touropia