If you're a typical traveler, you'll probably only visit Spain's most famous cities like Madrid, Barcelona, Seville and Granada. True, these are must-see destinations in Spain. Savvy travelers, however, will go off the beaten tourist path to visit places that maybe aren't as famous but just as worthy of our time and attention. This Iberian Peninsula country has many underestimated destinations – destinations that will add to our understanding of Spain. For example, northwestern Spain is famous for its Roman ruins, not to mention gorgeous sea views. If we travel to learn about a culture, then visiting less famous places should definitely be on our bucket lists.
A Coruña, located on the Atlantic Ocean in northwest Spain's Galicia province, has been an important port city since ancient times. It was colonized by the Romans in the second century BC. They quickly recognized its strategic location. The Tower of Hercules is the city's most famous attraction. It was built by the Romans to last and last it did. It is the only functioning Roman lighthouse today. The city also boasts two great science museums, a museum dedicated to human psychology and a house where Picasso lived that is now a museum with 33 of his works. The glazed window balconies on A Coruña's houses also are a treasure.
One of the largest cities in Spain, Zaragoza is strategically located between Madrid and Barcelona on a high-speed railway line, but due to its low profile, remains often overlooked by tourists. If your taste buds dictate where you travel however, you might want to explore Zaragoza, which is known for its gastronomy. Fresh foods rule here and you can sample dishes from around the country. Cheese, made from cow, sheep or goats milk, is made here; try Tronchon that is mentioned in Don Quixote. Zaragoza also is home to the most important truffle market in Spain. When your taste buds are satisfied, you might take in the Basilica of Our Lady of Pillar, with its towers reaching into the sky, or the Aljafería, one of northern Spain's most important Moorish buildings.
If you're into legends, beat a path to Burgos. It's the home of El Cid, a minor nobleman who rose to become a Castilian hero in the 11th century. He was born in a village near Burgos; legend has it he is buried in the famed Catedral de Burgos, considered one of Spain's best cathedrals, known for its vast size and Gothic architecture. Other Burgos sights you'll want to take in include the Abbey of Santa Maria la Real de las Huelgas, an 11th century royal convent, and the Arco de Santa María, an impressive access gate to Burgos during the Middle Agnes.
Manuel / Flickr
Gijon, the largest city in Asturias, can be found hugging the coastline of the Bay of Biscay. It is another Spanish city with its fair share of Roman ruins. Among the ruins are a villa and a wall the Romans built around this former fishing village. Today, Gijon is a good place to take in impressive outdoor art, including the iconic statue, Eulogy to the Horizon that overlooks the sea at Santa Catalina Headland. Gijon has several museums devoted to local arts such as Juan Barola as well as museums on railways and bagpipes, and an aquarium.
If Roman ruins excite you, you'll definitely want to visit Merida, capital of Extremadura province. The city has the most extensive collection of Roman ruins in Spain, not unusual since it is was one of the most important cities in the Roman Empire. Ruins include Puente Romano, the longest existing Roman bridge that is still used today by pedestrians; the forum and Temple of Diana; the circus maximus; an aqueduct and an amphitheatre. If you're not into Roman ruins, how about Moorish, with the Alcazaba, a 9th century Muslim fortress? There's also the Santa Eulalia Basilica, a Romanesque church built on the site of a 4th century church.
Leon is the capital of the province of the same name, a province that grew to become one of Spain's major kingdoms. The city itself was founded by the Romans as a military camp in 29 BC. Top sights include the Leon Cathedral also known as the House of Light. It's built on old Roman baths and is known for its stained glass windows. The Basilica of San Isodoro is where Leon's rulers are buried; it's also known for its Romanesque paintings. Leon is a good place to spend Holy Week (Semana Santa) because of the numerous processions throughout the city.
San Francisco and Rome are built on hills. They're in good company since northwestern Spain's Salamanca also is built on hills along the Tormes River. Located 190 km (120 miles) from Madrid, Salamanca is one of Spain's most important university cities. The University of Salamanca was founded in 1218, making it the fourth oldest university in the western world. Salamanca also has a wonderful Old Town with a cathedral that dates back to the 12th century. You'll also want to check out the Plaza Mayor, the city's most important; some of the many convents and old churches, and the Casa de las Conchas, decorated with 350 scallop shells.
Jose Téllez / Flickr
Formentera, an island in the Balerics, is about a three-hour ferry ride from mainland Spain and only an half hour from Ibiza. Settled since prehistoric times, it's been ruled by the Carthaginians, the Romans, the Visigoths, Turks and Arabs. Even the Norwegians had a shot at it in 1100. Today, this former hippie haven is popular with yachters who swim in the blue waters surrounding their vessels. The rocky island also is famous for its great white sand beaches that allow nude sunbathing. Other sights include old lighthouses, and when you get hungry, you might want to give the squid paella a try.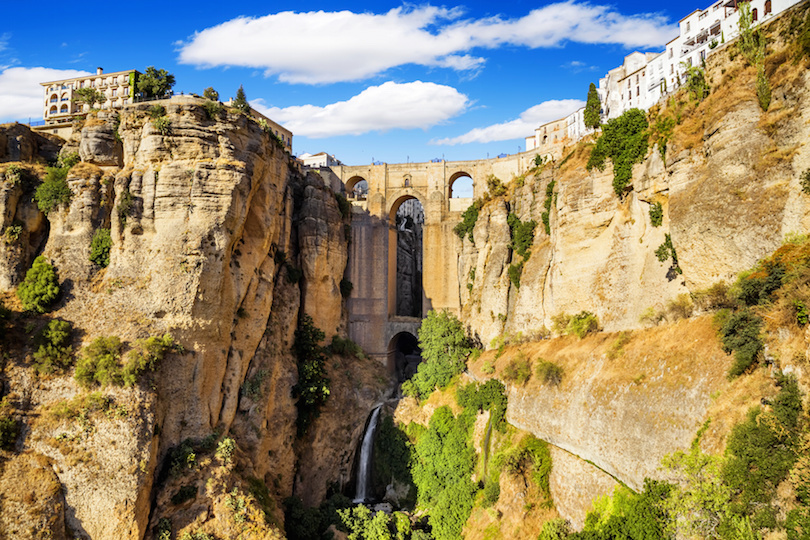 Ronda, located in Malaga province, dates back to the Neolithic Age, though the Romans take credit for its more modern founding. It was later ruled by the Visigoths and the Berbers, retaining much of its Islamic heritage today. A stunning sight is the El Tajo canyon upon which the city perches, with the Guadalevín River running through it. The canyon is spanned by three bridges, including those built by the Romans and Arabs. You might also want to take in the Corrida Goyesca, an annual bullfight that takes place in the oldest bullfighting ring in Spain. The Palacio of the Marqués de Salvatierra has a nice collection or Renaissance art.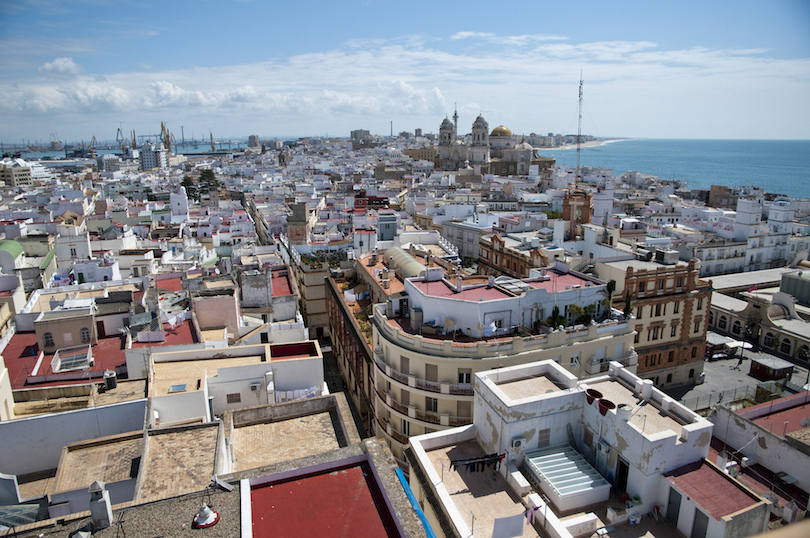 cudipeich / Flickr
If ancient appeals to you, Cadiz is one of the oldest cities in western Europe. Located in southwestern Spain's Andalusia region, this port city was founded by the Phoenicians. Cadiz, with ruins of an old city wall still in place, is a good place to experience a typical Andalusican city. Its Old Town is marked by narrow streets. As you wander through it, it's possible you'll come across a park with flora supposedly brought back from the New World by Columbus. Also check out the Cadiz Cathedral with its sculptures of Jesus wearing a crown of thorns, and the Museum of Cadiz with its collection of 17th century Spanish paintings.