Some of the most popular places to visit in the country, Spain's idyllic islands attract huge numbers of holidaymakers each year. With their relaxed feel and wonderful scenery, they are perfect for either lazing on the beach or trying out some exciting watersports and adventure activities.
Although Spain is actually home to hundreds of isles, most are grouped in two major archipelagos. While the Canary Islands are very volcanic and lie in the Atlantic off northwest Africa, the Balearic Islands are surrounded by the warm waters of the Mediterranean. Both boast loads of beautiful beaches and family-friendly resorts with good food and glorious weather guaranteed wherever you go.
If you're after a more adventurous time, then the lunar-like landscapes of Tenerife and Lanzarote may just be the place for you. The large island of Majorca instead attracts millions of sun worshipers with its attractive beaches and all-inclusive resorts. With pounding nightlife also to be had in Ibiza, the scenic, sun-kissed Spanish islands each have their own look, feel, identity and attractions for you to uncover.
11. El Hierro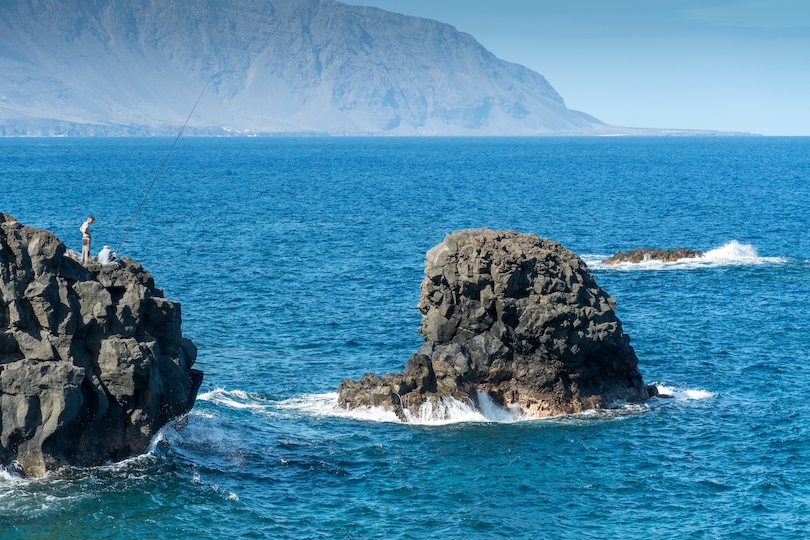 The smallest of the seven main Canary Islands, El Hierro is also the most secluded, lying right at the western end of the archipelago. Surrounded by the rough waters of the Atlantic, its unspoilt volcanic landscapes and lush forests are fascinating to explore.
Nicknamed the 'Meridian Island', it was long considered to be the end of the known world. Due to its remoteness, the isle was settled later than the others with only a couple of villages and towns lining its rugged shoreline. You'll also find a few small beaches and natural swimming pools dotted about and some lovely little churches and lighthouses.
Thanks to its relaxing feel and resplendent nature, many people come to hike about its mountains and forests or scuba dive offshore. Particularly popular places to head are the Pico de Malpaso – its highest peak – and the magical Mencafete forest. As almost all of the isle is recognised as a biosphere reserve, spellbinding views and scenery are on show almost everywhere.
With plunging gorges, giant plateaus and craggy volcanic craters to see, El Hierro makes for a great quiet getaway. To top it all off, some exciting paragliding and scenic boat trips are also available.
10. La Gomera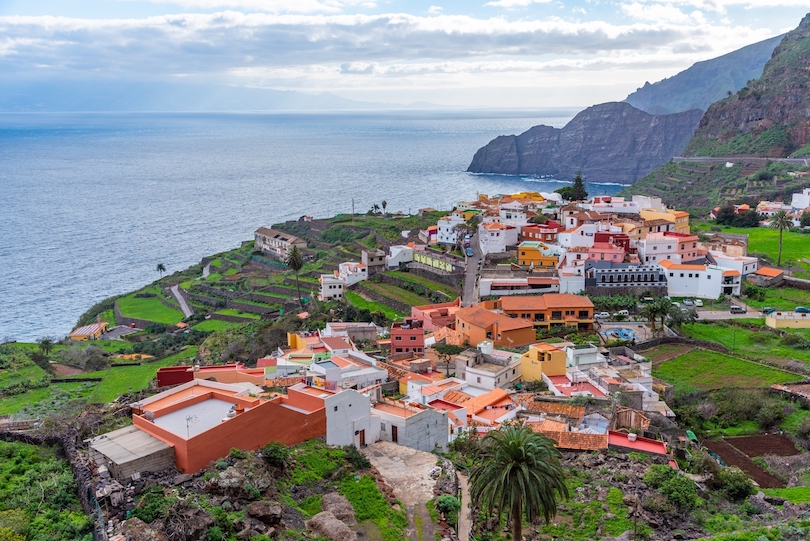 The nearest island to El Hierro is La Gomera which is also considered a hiker's paradise due to all its sweeping valleys, soaring peaks and steamy rainforests. Another of the archipelago's smaller isles, it can be reached in just forty minutes from Tenerife by fast ferry.
Although it is still quite undeveloped, La Gomera was actually Christopher Columbus' last port of call before crossing the Atlantic Ocean and discovering the Americas in 1492. Its capital San Sebastian contains a few sites relating to his voyage, as well as some brilliant black sand beaches. From here, you can enjoy phenomenal views of Tenerife and Mount Tiede rising dramatically in the distance.
While most of its sun-scorched coastline is rather bare and bleak, the upper slopes around its 1,487 meter-high summit are home to the largest-remaining laurel rainforest on Earth. Almost permanently shrouded in mist, the Alto de Garajonay, its wildlife and plants are now protected as a national park.
Winding their way about the isle's rocky reaches are over 600 kilometers of trails to hike along. These take you through verdant woods and vast volcanic landscapes to stunning rock outcroppings and hidden waterfalls.
9. Minorca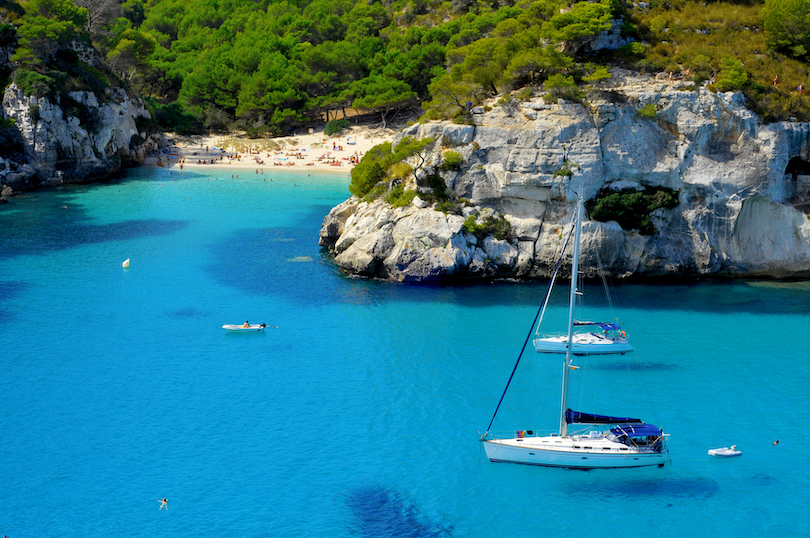 One of the peaceful islands in Spain to visit is Minorca (also known as Menorca), which actually boasts more beaches than any of the other Balearic Islands. More authentic than either Majorca or Ibiza, its sun, sea and sand is understandably the biggest draw.
Surrounded by the sparkling Mediterranean Sea, the archipelago's second-largest isle lies northeast of Majorca. Much calmer and quieter than its nearby neighbor, the two main towns of Mahon and Ciutadella are located at opposite ends of one another. Both have picturesque waterfronts and plenty of superb seafood restaurants to try out.
Away from all its incredible beaches, you'll find ancient archaeological sites studding its interior. Built millennia ago, the mysterious stone monuments and their towering T-shapes create some fantastic photo opportunities. Equally impressive is the colossal Lithica Quarry which now contains a labyrinth and has gorgeous gardens and a little animal sanctuary bordering it.
After days spent lounging on its marvelous beaches, seeing some of Minorca's tourist sites came as a very welcome change of pace. We were immediately struck by the immense size of the quarry and the unusual appearance of the Stonehenge-like 'taulas'. If you want to see even more of the island, a 185 kilometre-long trail known as the Cami de Cavalls loops its way right along its entire coastline.
8. La Palma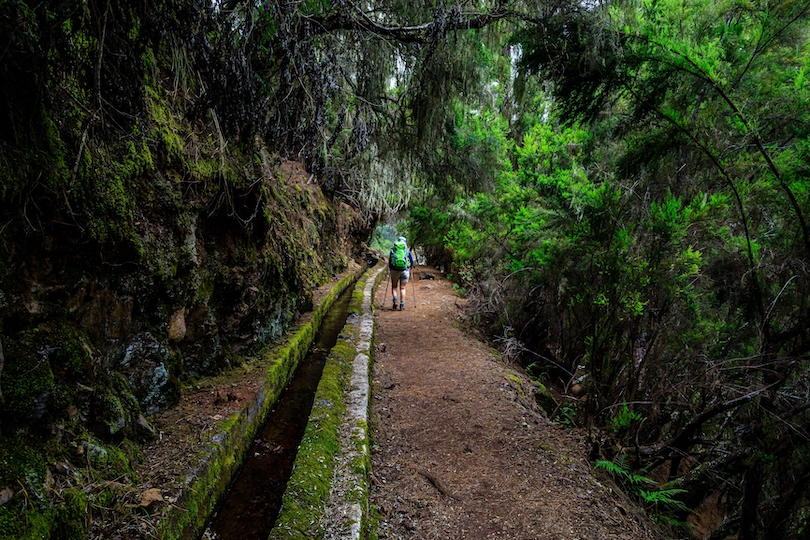 The northwesternmost of the Canary Islands, the picture-perfect La Palma is often referred to as 'La Isla Bonita' or 'the Beautiful Island'. Rightfully known for its spectacular volcanic landscapes, jungles and countryside, it offers all kinds of fun outdoor activities.
Despite only being the fifth-largest in the archipelago, what is believed to be the world's largest crater dominates its center. Also now preserved as a biosphere reserve, the island's tallest peak – the 2,423 metre Roque de los Muchachos – has some unbelievable hiking and rock climbing to enjoy. Its views from up high aren't half bad either!
Other than exploring the bizarre rock formations and lava fields left behind in the nine-kilometer-wide crater, some gorgeous beaches and giant cliffs can be found along its coast. The capital, Santa Cruz de la Palma, also has an adorable cobbled center and centuries-old architecture to wander around. In addition to hiking and camping the craters, stargazing is very popular here due to its dark skies.
7. Formentera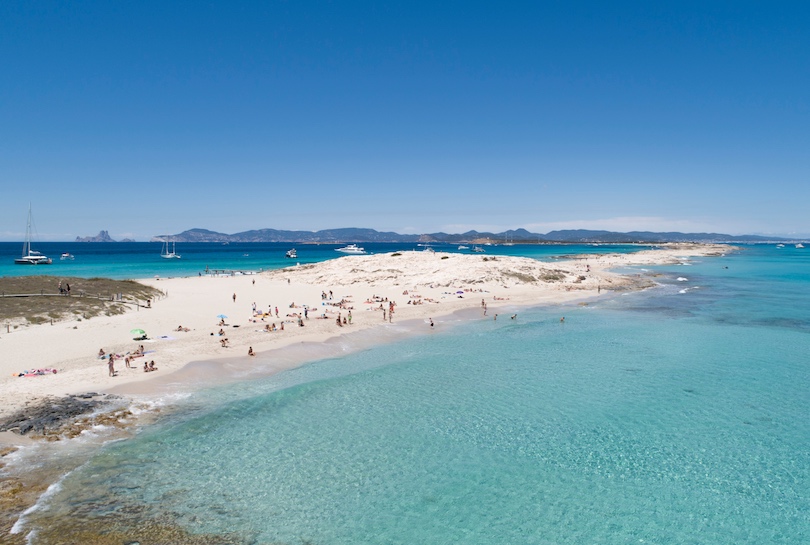 Back amongst the Balearics is the phenomenal Formentera and all its sandy beaches and twinkling turquoise waters. Set just half-an-hour south of Ibiza, around a three-hour ferry from the mainland, it is a wonderful, relaxed place to soak up some sun and escape the noise of the nearby party island.
The smallest and southernmost isle in the archipelago, Formentera has been occupied by everyone from the Carthaginians and Romans to the Visigoths, Vandals and Arabs. Besides its few megalithic sites though, not much now remains of its enthralling past. There is, however, an attractive, art-filled chapel to see at the heart of its small capital, Sant Francesc Xavier.
From the sixties onwards, a laidback vibe and sunny shores saw the island turn into a hippie haven with nude sunbathing still being a big thing. Aside from basking on its Caribbean-like beaches, there are some pristine lagoons and important birdwatching spots to hit up. Visitors can also kayak, jet ski and snorkel or snap photos of the lonely La Mola lighthouse.
6. Fuerteventura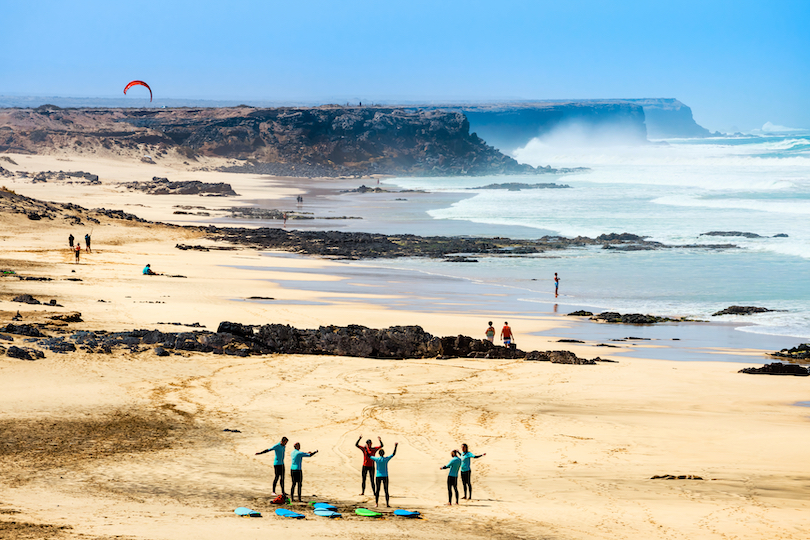 If you're after even more stupendous beaches and exhilarating watersports, then Fuerteventura may just be the Spanish island for you. Boasting over 200 kilometers of sun-kissed sands, strong winds make it a great spot to go kitesurfing and windsurfing.
Nestled in between Lanzarote and Gran Canaria, the second-largest of the Canary Islands lies less than a hundred kilometers off the northwestern coast of Africa. Formed many millennia ago by a volcanic eruption, it too is now protected as a biosphere reserve.
Due to its year-round warm weather, Fuerteventura is known as the 'island of eternal spring'. As such, many people come to top up their tans with a string of small towns and villages found dotted all along its shores. Along with Jandia and Costa Calma in the south, the most sought after is Corralejo in the northeast. This is due to the lovely landscapes and scenery on display in the natural park right by it.
Here you'll find some amazing dunes to explore and breathtaking white sand beaches to relax on. Kitesurfing or windsurfing here is also loads of fun.
5. Lanzarote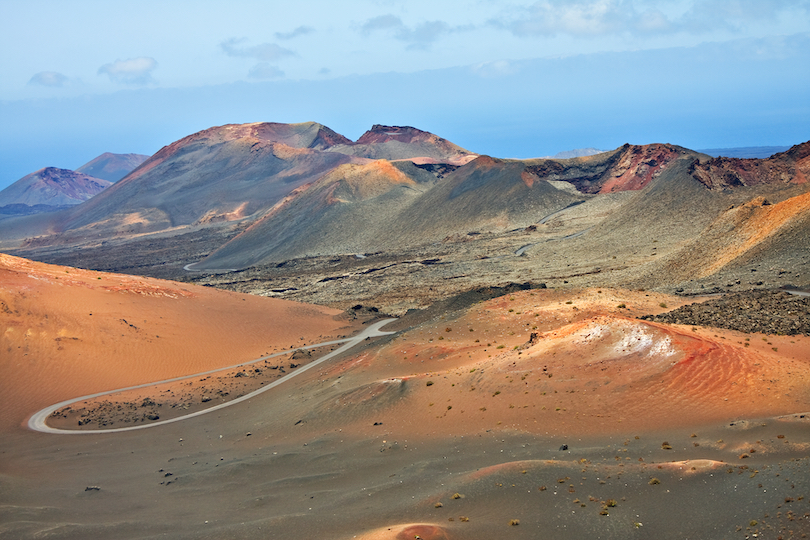 Just northeast of Fuerteventura is the rather stark, lava-scarred Lanzarote; the most volcanic of the Canary Islands. As well as exploring captivating caves, lava tubes and tortured landscapes, it has brilliant black sand beaches and relaxing resort towns to stay at along its scenic southern coastline. Some excellent swimming, surfing and scuba diving can also be enjoyed in its waters.
Despite its fiery reputation and Martian-like landscapes, it is actually the least mountainous of the Canary Islands. Covering an entire quarter of the isle though is Timanfaya National Park, named after its only active volcano. At least twenty more can be found here with gently swaying camel rides and bus tours now taking you about its cones, craters and calderas.
After enjoying outstanding views over all their striking silhouettes, you can relax at the resort towns of Puerto del Carmen and Costa Teguise. While the former also has a lively nightlife scene, the latter is preferred by families. If you're after a more active holiday, surfing, kiteboarding and windsurfing are available at Famara along the north coast.
Driving about Lanzarote is a treat as the whitewashed towns stand out dramatically against the scorched earth around them. One of our favorite stops was the Museo Lagomar, which preserves a unique, imaginative house designed by Cezar Manrique. Set amidst craggy caves and cliffs, its bright white walls and buildings make for some fabulous photos with all the turquoise pools and cacti scattered about.
4. Gran Canaria
Incredibly diverse, Gran Canaria is sometimes called a 'continent in miniature' due to its wide array of landscapes and climates. While it is a well-developed beach holiday destination for the most part, some places attract hikers and bikers or surfers and scuba divers.
The third-largest Canary Island, its green ravines and great big volcanoes slowly give way to endless beaches and white sand dunes. A hiker's paradise, it has numerous nature areas to explore with lots of fantastic local fauna and flora on show. Its rugged mountains also hide away glistening lakes, lush forests and atmospheric old cave dwellings.
After scaling its peaks and ogling at all its unusual rock formations, you can finally kick back at one of its idyllic beaches or resorts. Many head to Maspalomas for its beautiful blue waters and big sand dunes. Aguimes in the East instead highlights what traditional Canarian life used to be like.
If you need a bit of culture and nightlife, the capital Las Palmas has both historic sites and happening bars to check out. In Vegueta, the elegant old quarter, you'll find a Gothic cathedral and an ornate old governor's home to artifacts and exhibits on Columbus. Here too, countless shops and restaurants line its charming streets. As always though, pristine beaches are never far away where some superb sunbathing, snorkeling and surfing are all on offer.
3. Ibiza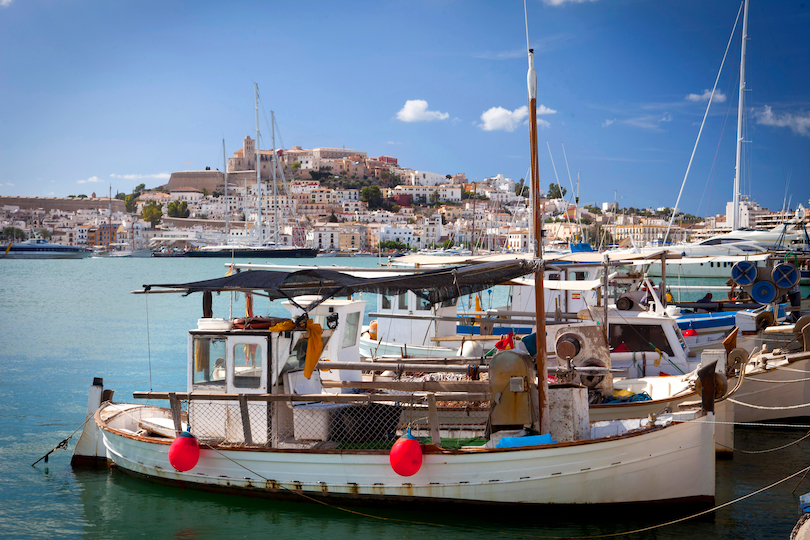 Often called the 'Party Capital of the World', Ibiza is rightfully renowned for its electrifying clubs and exciting DJ sets. While thousands pour in each summer to dance the night away, it also has a quieter side ideal for families, couples and nature lovers.
Lying between both Majorca and the mainland, the Balearic isle's boisterous nightlife is mainly based around Ibiza Town and Sant Antoni. Here you can watch some of the world's top DJs perform in notorious nightclubs like Amnesia, Eden, Pacha and Ushuaia. Outside of their dance floors, rows of busy bars border the streets with people packing them out until the early morning.
Away from all this madness, the low-lying island is largely unspoiled and rural with fishing villages and family-friendly resorts hugging its sparkling shoreline. Aside from splashing around in the sea and trying some watersports, there are secluded coves and historic towns to explore. Many also come to take yoga classes or meditation retreats amidst its soothing scenery.
2. Tenerife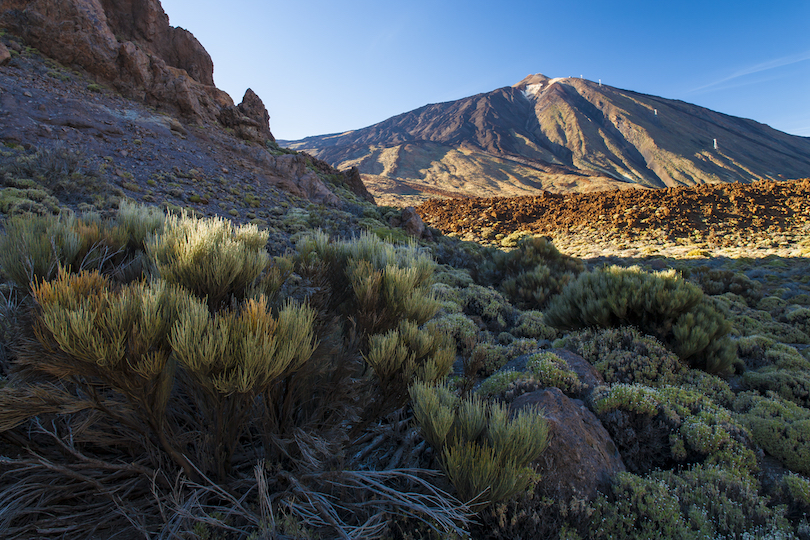 The largest and most populous of the Canary Islands, Tenerife is a wonderful place to both visit and vacation. Known for its sun-drenched beaches and striking scenery, its towns and resorts also have some awesome nightlife to enjoy.
Set right in the heart of the archipelago, its interior is dominated by the massive Mount Tiede. Spain's highest peak, it towers a staggering 3,715 meters with lava-scarred slopes sprawling across a ginormous area. One of the largest volcanoes in the world, its national park contains loads of pretty fauna and flora and strangely shaped rock formations. On hikes or from its cable car, you can bask in divine views over the island.
If you don't fancy climbing up to its lofty summit, there are plenty of picturesque beaches to choose from. While many are man-made, others are either black sand or small pebbles. At many of these, you can arrange boat and scuba diving tours or go surfing, jet skiing and kiteboarding.
Besides relaxing in popular resort towns like Costa Adeje, Playa de las Americas and Los Cristianos, there are also some cool archaeological sites to see. These include the stepped pyramids of Guimar and the various colonial castles, churches and a cathedral found in its capital Santa Cruz de Tenerife.
1. Majorca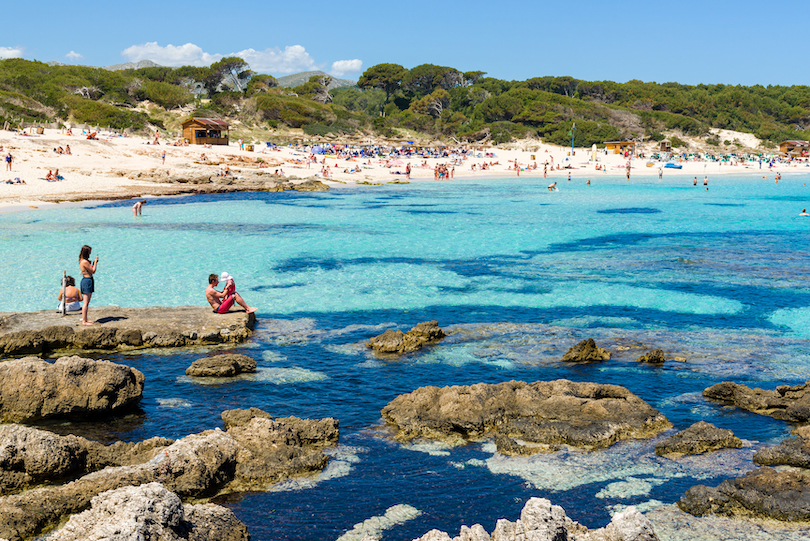 Long one of Europe's top holiday destinations, Majorca is visited by millions of sun worshipers every summer. It's easy to see why as its beautiful beaches and waters are easy to reach with its affordable prices and all-inclusive resorts also playing their part.
Often called the crown jewel of the Balearic Islands, its 550 kilometer-long coastline has roughly 260 beaches to visit. Nestled amid all its coves and cliffs are either quiet fishing villages or lively towns to stay at. Whichever you opt for, you're guaranteed delicious seafood dishes and sunny weather.
While the restaurants, bars and resorts along its southern and eastern coast do get very crowded, its mountainous interior is much quieter. Should you tire of lounging on the beach or splashing about in the Med, then its capital Palma always makes for a great day trip.
The island's only real city, its gigantic Gothic cathedral is bordered by the narrow, shady streets of its Old Town. Aside from avoiding the, at times, almost unbearable sun, we had a lovely time here at its little local cafes and the Joan March art museum. In the evening, stroll along Paseo Maritimo for fine views over the yacht-filled harbor and the cathedral lit up at night.
Map of the Best Islands in Spain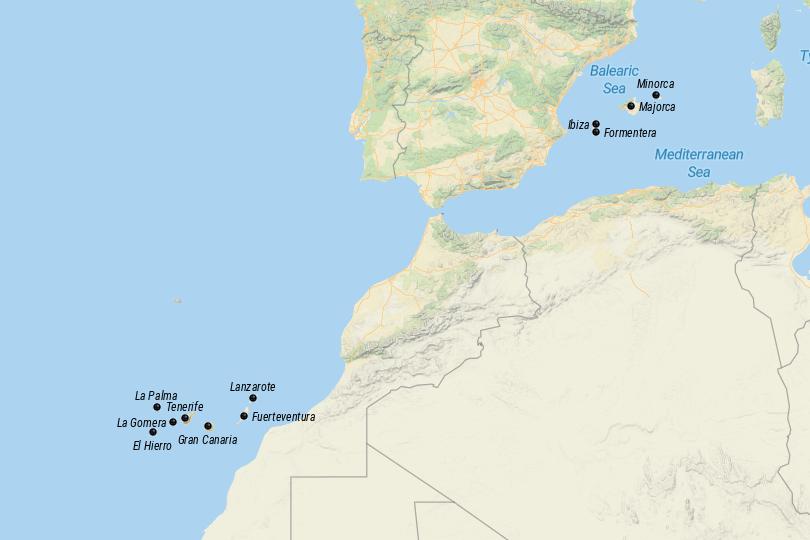 © OpenStreetMap © MapTiler © Touropia