Surrounded by the Balearic Sea, the Bay of Biscay and the Alboran Sea, Spain is an obvious choice for beach vacations. The country boasts miles of stunning coastlines, not to mention a few Spanish-governed islands. Whether you're looking for secluded beaches, vibrant culture or unforgettable views, Spain has it all. On your next trip, visit as many of these holiday destinations in Spain as your schedule will allow.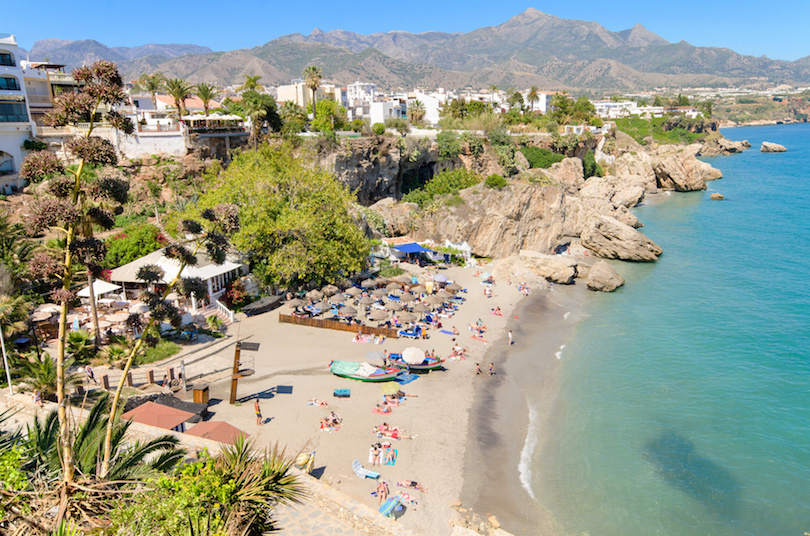 A few miles away from the bustling beaches of Malaga on the Costa del Sol is Nerja, a charming coastal destination located at the foothills of the Sierra Almijara Mountain Range. Once a traditional fishing village, Nerja has grown to be top tourist destination in Spain, but it retains an authentic Spanish atmosphere. For spectacular views over the water, head to Nerja's Balcony of Europe, where you can look down at the sea at the site of an ancient castle. There are 8 km (5 miles) of beaches in Nerja, but the busiest is the sandy Del Salon Beach. The water is clear and shallow, making it suitable for younger visitors.
Werner Lang / Wikipedia
Along the coast of the Mediterranean Sea is Sitges, a seaside resort that is within a short drive of Barcelona. Many city residents flock to Sitges for a day in the sun, but it is a worthy vacation spot in its own right. Along the coastline called the Costa Dorada, Sitges boasts a whopping 17 beaches. What makes Sitges so appealing to so many is that the beaches vary so much. You can find secluded pebble beaches, tiny coves, family-friendly spots and enormous sandy beaches where people gather to see and be seen. As a bonus, many of the beaches are easily accessible by foot.
Albert T M / Flickr
In Northern Spain, on a stretch of coastline called the Costa de Cantabria, is the city of Santander. Although it boasts a historic city center and the Magdalena Palace, which was once the summer residence of the Spanish king, Santander is best known for its beaches. Playa de la Magdalena, or Magdalena Beach, is just one example of a popular local swimming spot. The Playa Primera de El Sardinero is by far the busiest in Santander, and the Playa de la Virgen del Mar is a more quiet, secluded spot. Enjoy water views without the sand by walking on the promenade that stretches along the Santander Bay.
North of Barcelona, and close to the border with France, is the coastal region known as the Costa Brava. Here, you can find a number of seaside resorts, quaint fishing villages and major coastal resorts. If you're looking for lots of scenery and a very traditional Spanish beach destination, Tossa de Mar is ideal. Those who are eager to enjoy the nightlife as well as sandy days on the shore might prefer to head to Lloret de Mar. At Lloret de Mar, you can soak up the sun on Lloret beach, snorkel or party the night away at beachside bars.
On the stretch of coastline called Costa Blanca, you'll find the busy resort of Benidorm. Popular with expats as well as tourists from around Europe, Benidorm is a bustling destination with countless hotels, shopping malls and amenities. Of course, its beautiful beaches are still also a major draw. There are two major beaches in Benidorm: Levante and Poniente. Levante is the busier option, and it is packed with excellent restaurants, vendors and bars. Pontiente is still popular, but favored more by Spanish locals as well as families who shy away from big crowds.
Corralejo is a beach-town on the northern tip of Fuerteventura, the second largest of the Canary Islands. The island has many beautiful beaches, and it is widely recognized as a favorite destination for watersports enthusiasts. That's because, in part, of regular winds that improve conditions for things like sailing, surfing and windsurfing. Sand Dune National Park, located just outside of Corralejo, is a largely undeveloped and pristine spot where you can bask in the beauty of nature. There are even dune buggies to let you explore the full length of this stunning beach and all that it offers. In Corralejo itself there are four main beaches, some of which have cafes and restaurants.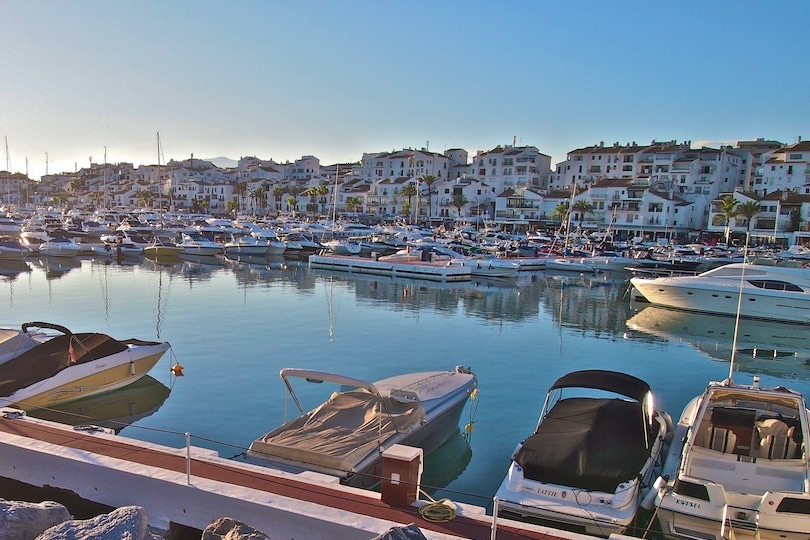 Olli365 / Flickr
Marbella in the Costa el Sol was once a tiny fishing village with just a few hundred residents. Today, it is one of the best known beach destinations on the planet. The Old Town and Orange Square are full of historic architecture, but the real attraction is the warm weather, the gorgeous beaches and the nightlife. Many of the larger beaches are fully equipped with seasonal lifeguards, watersports rental shops and beach bars known as chiringuitos. Playa de Alicate is a top beach in Marbella that offers pristine white sand, and Nikki Beach is the answer for those who want plenty of nightlife along with their sunny beach days.
Michele Solmi / Flickr
The largest of the Canary Islands off the coast of Africa is Tenerife. Visitors flock there throughout the year to enjoy the warm weather, the world-class nightlife and the exceptional beaches. While there are plenty of opportunities to kick back on the beaches with a cold drink, Tenerife also encourages all types of watersports. El Medáno, for example, is considered to be one of the best windsurfing destinations in the world. At Los Gigantes, you can go on deep-sea fishing expeditions or even spot whales from the coast. For something definitely unusual, head to Tenerife's Las Galletas beach for the chance to feed stingrays in their natural habitat.
On the southernmost tip of Spain, along the Costa de la Luz, is a small town known as Tarifa. The beaches are phenomenal in their own right, but what makes Tarifa particularly special is that you can see across the Strait of Gibraltar all the way to Africa from the coastline. If you're interested in beach sports, then make your way to the beach called Los Lances. This is a stretch of nearly six miles of pristine white sand and dunes, and regular wind makes it perfect for things like kitesurfing or windsurfing. The beach is also home to a lagoon called Rio Jara, which fills up and empties with each change of the tide.
The Balearic Island known for its nonstop nightlife is Ibiza. While the island undeniably comes alive at night, days at the beach are still an appealing option for many visitors. If you visit Ibiza, be sure to check out Cala Salada in the San Antonio region of Ibiza. The rocky backdrop is stunning compared to the bright turquoise waters, and this beach is ideal for photography. For a chilled cocktail and a rented sun lounger, make your way to Cala Jondal, a busy beach with fine white sand. If it is seclusion and scenery you're after, then the small cove of Cala Xuclar is a great place to unwind or even try snorkeling.
azuaje / Flickr
Gran Canaria is one of the most popular of the Canary Islands located off the coast of the Western Sahara in Africa. The Spanish island has plenty of appealing vacation spots, but one of the best is undoubtedly Maspalomas. Striking sand dunes and a bright blue sea make Maspalomas a visually appealing getaway destination. Maspalomas is divided into four areas. Families with young children can stick to the first stretch, while other sections are preferred by nude sunbathers. Maspalomas Beach is just a short walk from the city center, and there are several kiosks selling cold drinks and snacks along the way.
jonrawlinson / Flickr
Of the Spanish Balearic Islands, Majorca is the largest. Boasting countless white-sand beaches and clear water, Majorca is a fantastic spot for a beach getaway. Magaluf Beach is one of the most popular on the island, and an attractive promenade lines the sand and offers dining, souvenir shopping and nightlife. While many visitors to Majorca stay in oceanfront hotels and flock to the busiest parts of the shoreline, there are also some more secluded spots. Cala Figuera Beach, for example, is nestled between mountains in a quiet cove, and it boasts spectacular views and few very crowds.