While most of Spain's vast landmass is located on the Iberian Peninsula in Southern Europe, it also includes the volcanic archipelago of the Canary Islands off the northwest coast of Africa and the beautiful Balearic Islands in the Mediterranean Sea.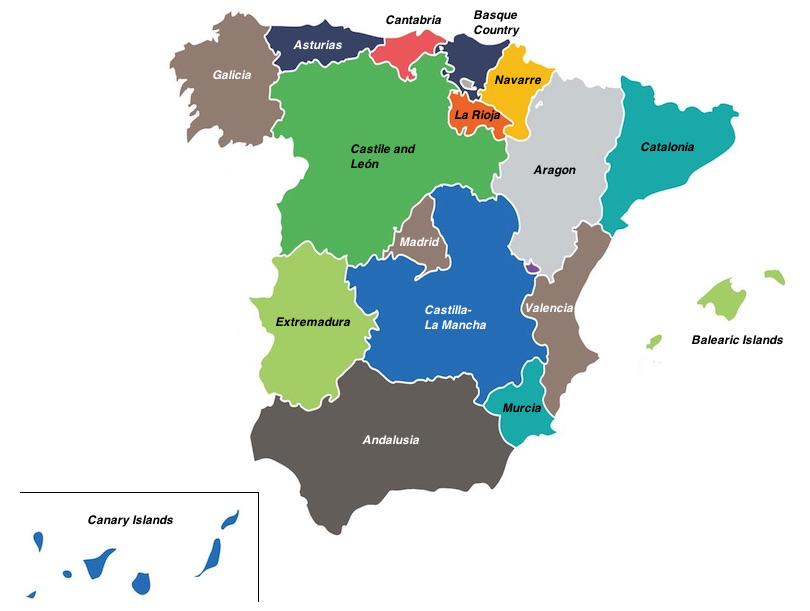 Spain is home to a vast array of different landscapes, with numerous mountain ranges such as the Pyrenees lying alongside beautiful countryside, dramatic valleys, and gorgeous wine regions, while its long scenic coastline stretches along the Atlantic Ocean, the Bay of Biscay, and the Mediterranean Sea.
Among all this stunning scenery are a wealth of historic towns and thriving cities for you to visit, with Sevilla, Madrid, and Barcelona just some of the most impressive.
Andalusia
Covering Spain's southern coastline, Andalusia is a fascinating part of the country to visit. It is home to breathtaking landscapes, beautiful Moorish architecture, and a wealth of marvelous historical and cultural landmarks.
Here you'll find the magnificent Sierra Nevada range, which features the peninsula's tallest mountains. The arid desert scenery hosts the glittering Lake Negratin and a plethora of glorious beaches along the Costa del Sol and the Costa de la Luz; Andalusia is awash with stunning natural sights that make for some fantastic hiking, horse riding, and rock climbing.
Tucked away among its many marvels are magnificent towns such as Ronda and Ubeda for you to check out, while the seaside towns of Marbella and Malaga are top-rated amongst holidaymakers for their beautiful beaches.
As the region used to be ruled by the Moors and the Romans, there are loads of historic towns on boasting everything from old medieval cities and crumbling fortresses to massive cathedrals and awe-inspiring palaces; Almeira, Cadiz, Cordoba, and Sevilla are particularly impressive. Additionally, the magnificent Moorish architecture at the Alhambra in Granada really is a must-see when in the region.
Aragon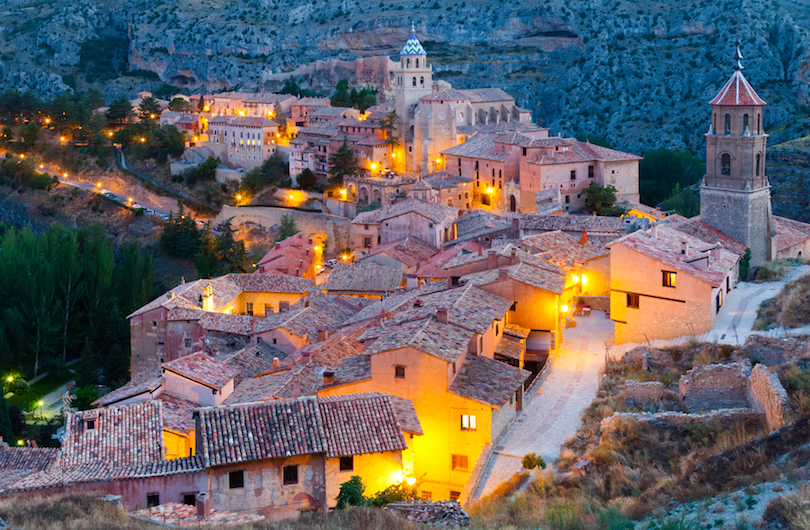 Tucked away in the north of Spain on the border with France, Aragon is a very historic region, as it was here that the Crown of Aragon was once based, with its former capital of Zaragoza being the largest and most impressive city to visit.
With part of the Pyrenees running through it, Aragon is very mountainous, and lots of astounding valleys cut their way through its fertile farmland and barren steppes; Aigueta de Barbaruens and Isabena are just two of the most amazing to squeeze into your itinerary.
Lots of scenic hillside towns and villages dot the area, and from Alquezar and Hecho, there are a wealth of great outdoor activities, such as hiking, mountaineering, and canyoning.
Loads of lovely rivers meander through Aragon's sparsely populated countryside. Due to its remote and wild feel, it is an ideal destination for people looking to get away from it all and immerse themselves in nature, while still benefiting from the architectural marvels that can be found in Teruel.
Asturias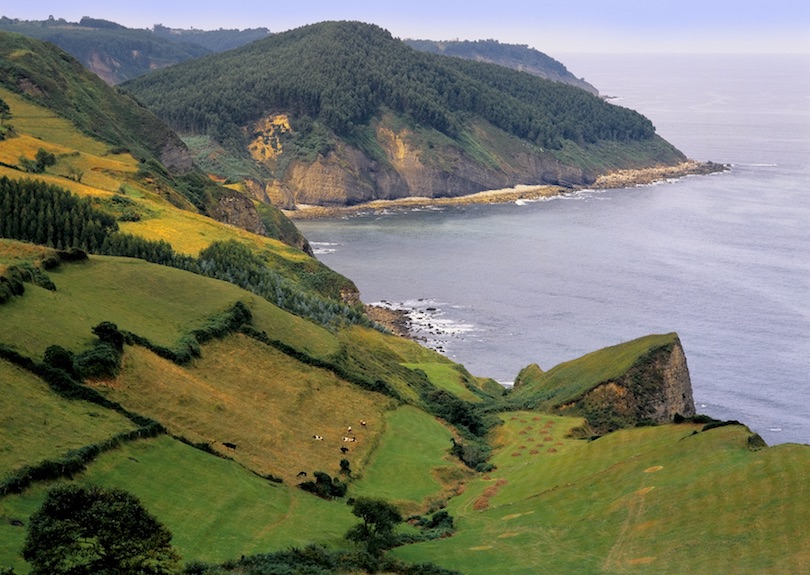 Hugging the northern coastline of the country, the small region of Asturias borders the Bay of Biscay, and its rugged, cliff-filled coast is punctuated here and there with beautiful sandy beaches and scenic coves.
Its mountainous interior is equally delightful; covered in glorious woodland, it is for good reason that Asturias – as well as the neighboring regions of Galicia and Cantabria – are commonly referred to as 'Green Spain.' There is lots of splendid nature to explore here, with Picos de Europa National Park and Parque Natural de Somiedo offering some of the most spectacular mountain scenery in Spain.
Although it is undoubtedly lovely to explore, the weather here can be a bit unpredictable; the climate can change quite quickly due to the region's proximity to both the sea and the mountains.
Away from its beautiful mountains and stunning coastline, Asturias boasts some fabulous towns and cities, with Oviedo and Gijon being particularly interesting to visit due to their wealth of impressive historical sights and cultural landmarks – some of them date back to Roman times.
Balearic Islands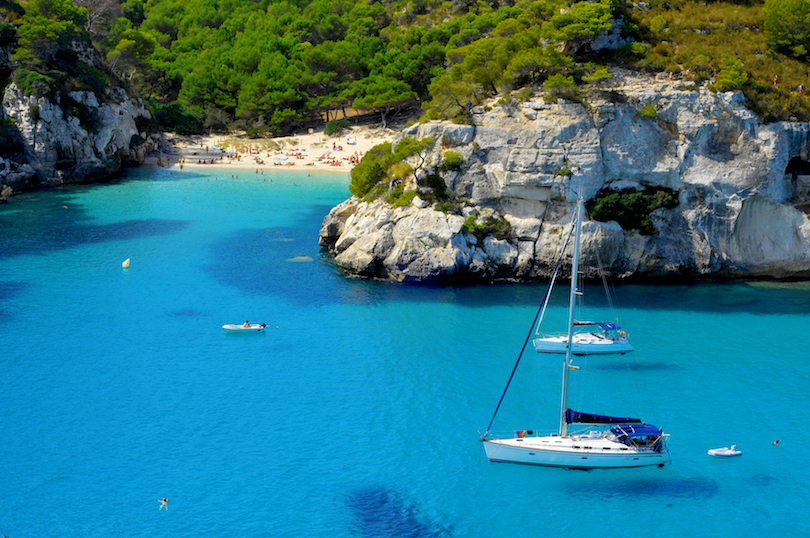 Encompassing both Mallorca and Minorca, the party island of Ibiza, and the quieter Formentera, the Balearic Islands are located in the Mediterranean Sea. The small archipelago is a very popular holiday destination with visitors from all around Europe and further afield.
Blessed with excellent weather, beautiful beaches, charming seaside towns, and much, much more besides, the islands really are fantastic to visit; each has a unique look and identity, and the sparkling waters all around only add to their attraction.
While Ibiza is renowned for its party scene, Formentera presents a much quieter and more relaxing alternative. Mallorca and Minorca – the two largest of the islands – are home to stunning scenery, a plethora of historic sights, and fantastic towns and cities such as Mao, Valdemossa, and Palma de Mallora; this is the largest city in the Balearic Islands and boasts a truly impressive Gothic cathedral.
Basque Country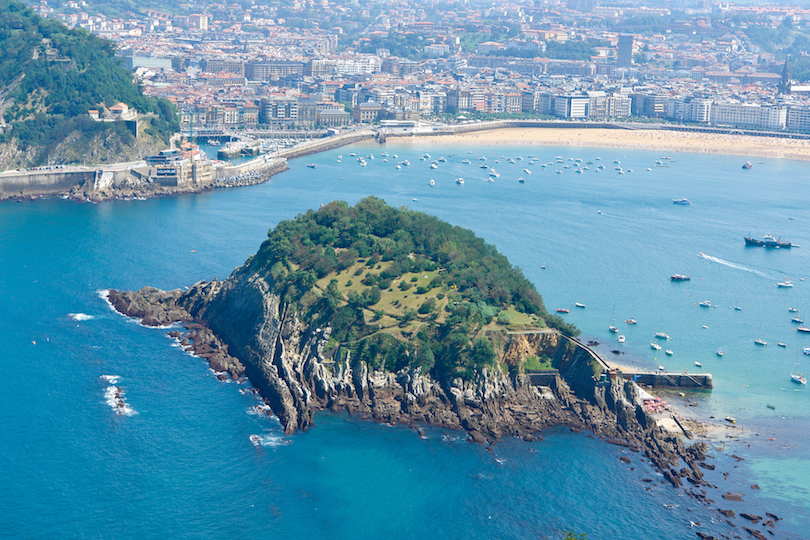 With its own distinct language, culture, history, and identity, the Basque Country in the north of Spain really stands apart from the rest of the country; this is in large part, what makes it such an interesting place to visit.
Lying on the Bay of Biscay, the region sports a very diverse geography and topography. Mountains, valleys, and rivers cut through parts of it, while other areas are home to the Atlantic Basin and Alava Plains; the latter is covered in picturesque vineyards and charming wineries.
Tucked away along its scenic coastline and among its picturesque countryside, you can find lots of exciting cities and towns to visit, with Bilbao – the largest city in the region – and San Sebastian among its most popular destinations.
Canary Islands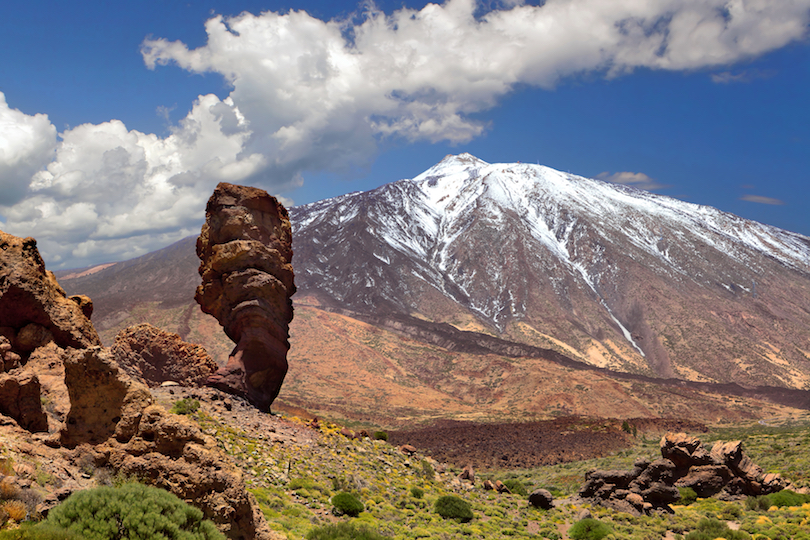 Lying off the northwest coast of Africa, the volcanic archipelago of the Canary Islands is awash with beautiful, lunar-like landscapes. Coupled with its warm weather and inviting beaches, it should come as no surprise to learn that they are for a top-rated destination with holidaymakers.
While Tenerife is the largest, most populous, and most popular island due to its incredible beaches and stunning mountain scenery (which is dominated by El Tiede – Spain's tallest mountain), each of the islands has something special to offer.
For instance, Lanzarote, with its breathtaking volcanic landscapes is breathtakingly beautiful, while La Gomera's ravine-filled terrain is a dream for hikers and Gran Canaria has lots of great nightlife for you to explore. All in all, the Canary Islands make for a fantastic holiday destination.
There is an incredible array of ways in which you can enjoy the beautiful nature all around you, whether you choose to hike and climb in the hills and mountains or swim and sail in the sparkling waters.
Cantabria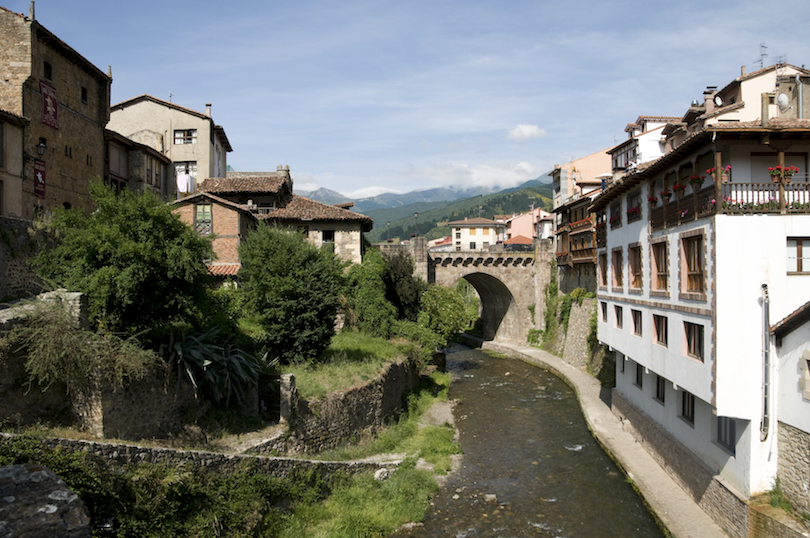 Also considered part of 'Green Spain,' Cantabria borders the Bay of Biscay in the north of the country. Home to lots of lush vegetation, it is quite a wet place due to its location between the spectacular Cantabrian Mountains and the ocean.
While traveling around the fertile and mountainous region, you'll come across lots of wonderful nature. Its low-lying coastal strip is equally delightful to explore, as beautiful beaches and lovely fishing villages dot its coastline. Santander – the capital of Cantabria – is its largest and most important city.
Due to its mountainous topography, there are lots of beautiful caves dotted around its rolling countryside, with those of Monte el Castillo and Covalanas particularly worth checking out. In addition to this, there are a number of beautiful nature parks scattered around Cantabria. Santona, Victoria, and Joyel Marshes Natural Park are very popular amongst birdwatchers who come to watch them winter amongst the wetlands on their way to southern climates.
Castile and León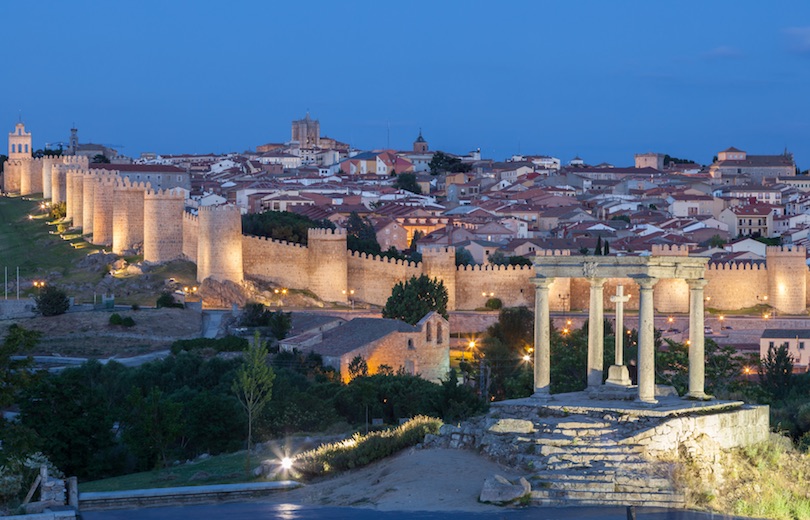 Covering a vast swathe of territory in the center of the country, the region of Castile and Leon mainly lies on a huge plateau that is bordered by various mountain ranges. Picos de Europa and the Moncayo Massif are the most impressive, with the latter home to the highest peak in the region, San Miguel.
Away from its mountains, the region boasts the scenic Douro river and the spectacular rugged scenery of Las Medulas, which is very distinctive.
History also abounds in Castile and Leon, with Leon, Salamanca, and Valladolid its most popular draws due to their scenic centers, amazing architectural sights, magnificent monuments, and more.
Castilla-La Mancha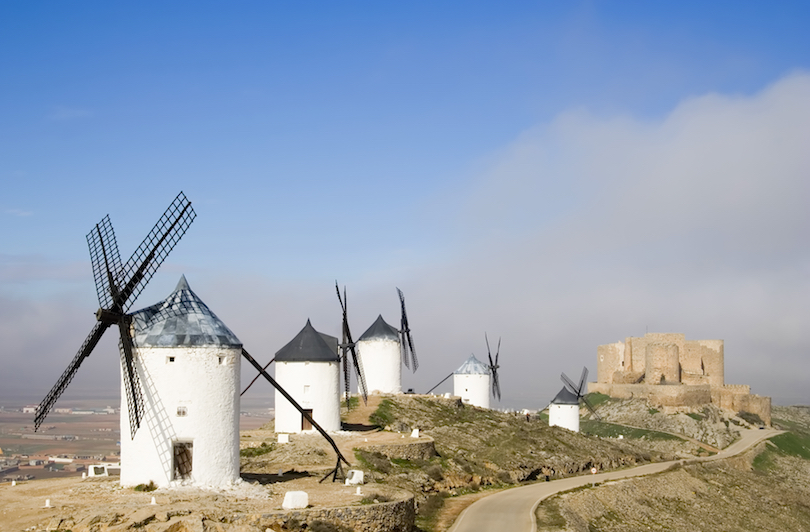 Lying to the southeast of Madrid, Castilla-La Mancha is famed for being the setting of the famous novel Don Quixote. Its windswept plateau is still home to the centuries-old windmills that the fictional character fought in the book.
Despite being almost desert-like in parts, the region is also home to some fantastic vineyards and wineries. Low-lying mountain ranges border its endless sprawling plains in the northwest and southeast.
Tucked away among its uninviting yet beautifully desolate landscapes are lots of great towns, such as Cuenca and Toledo; both of them boast marvelous cathedrals and lovely medieval centers.
Catalonia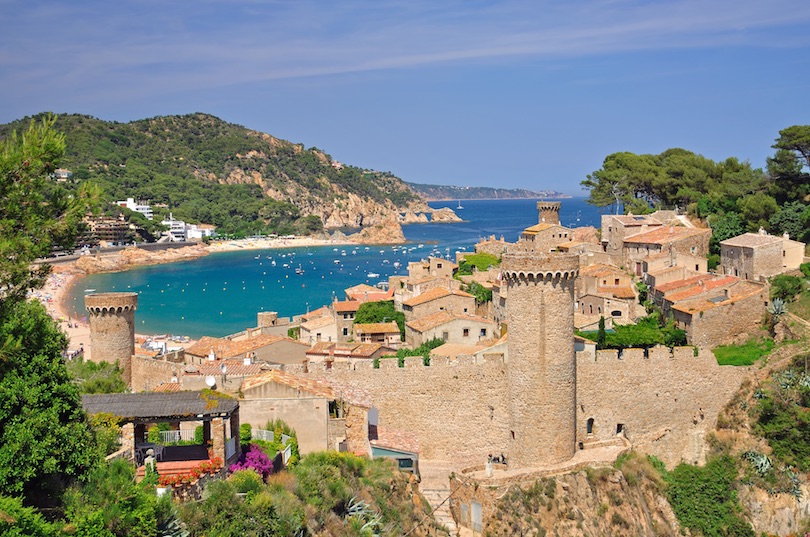 The heartland of Catalan culture and identity, Catalonia in the northeast of Spain boasts a wonderful array of beautiful landscapes for you to explore. It is bordered by the Pyrenees in the north and blessed with a gorgeous, beach-filled coastline as best exhibited at the Costa Brava.
The majestic city of Barcelona is the vibrant capital of the region; here you can find everything from astounding art galleries and incredible architecture (in the shape of La Sagrada Familia) to pulsating nightlife, fantastic sporting events, and fine dining.
The rest of the region is similarly intoxicating, with Girona and Tarragona sporting a wealth of historical sights, while Lloret de Mar and Salou are famous beach resorts.
Community of Madrid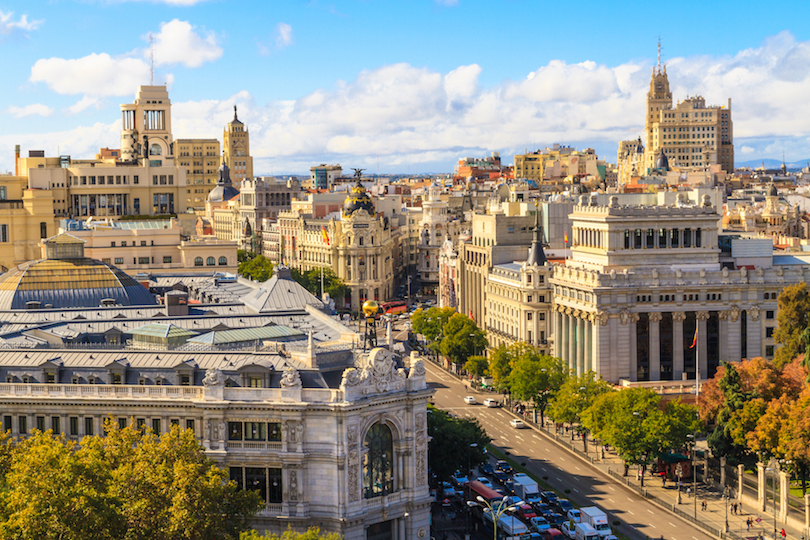 Although it is dominated by the nation's capital that lies right at its heart, the Community of Madrid has a lot more to offer visitors; the history-filled towns of Alcala de Henares, Aranjuez, and El Escorial are just some of its most fantastic sights.
Its main draw, however, is Madrid. Here, you'll find a myriad of incredible monuments and museums, as well as lots of fascinating historical and cultural landmarks. There's also a thriving fine dining and nightlife scene to hit up after the sun sets.
Although often overlooked by visitors, who instead flock to Spain's cosmopolitan capital, the medieval towns of Chinchon and Buitrago del Lozoya are well worth checking out, as are the wonderful mountains in the Guadarrama National Park.
Extremadura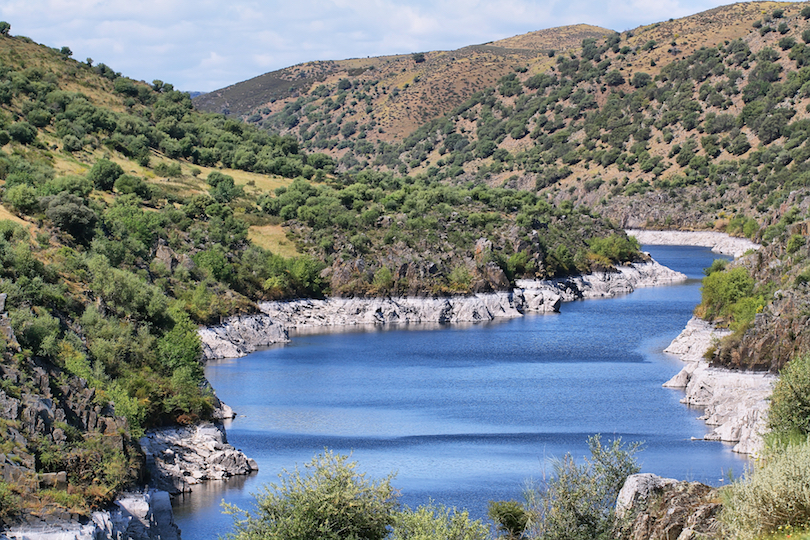 Lying in the central west region of Spain bordering Portugal, Extremadura is a very wild and remote part of the country, which sees relatively few visitors in comparison with other more popular regions.
While parts of Extremadura are quite mountainous, four hydrographic basins punctuate its scenic landscape; it is this diverse array of habitats which make it so fascinating to hike or cycle through. You'll often find yourself alone with the spectacular nature all around you, as it is quite sparsely populated.
Tucked away among its fantastic countryside are some brilliant medieval towns, such as Caceres and Trujillo, while Merida has lots of fascinating archaeological sites dating all the way back to Roman times.
Galicia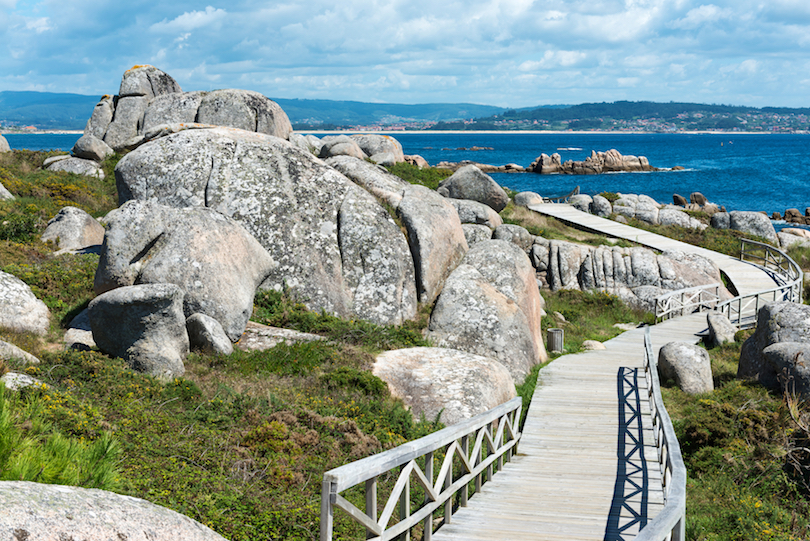 The most northwestern region in the country, Galicia makes up part of 'Green Spain.' It is primarily known for being home to the historic city of Santiago de Compostela, which is the culmination of the fantastic Camino de Compostela pilgrimage route.
Galicia boasts some absolutely gorgeous scenery and its long coastline is home to lots of jagged peninsulas that protrude into the Atlantic Ocean. The spectacular Rias Baixas are four deep river valleys which cut through the surrounding countryside and are full of fertile vineyards and wineries.
In addition to its stunning natural features, Galicia boasts a rich cultural heritage, with A Coruna, Tui, and Ribadavia all home to lots of incredible architecture, historical sights, and cultural landmarks displaying the region's proud heritage.
La Rioja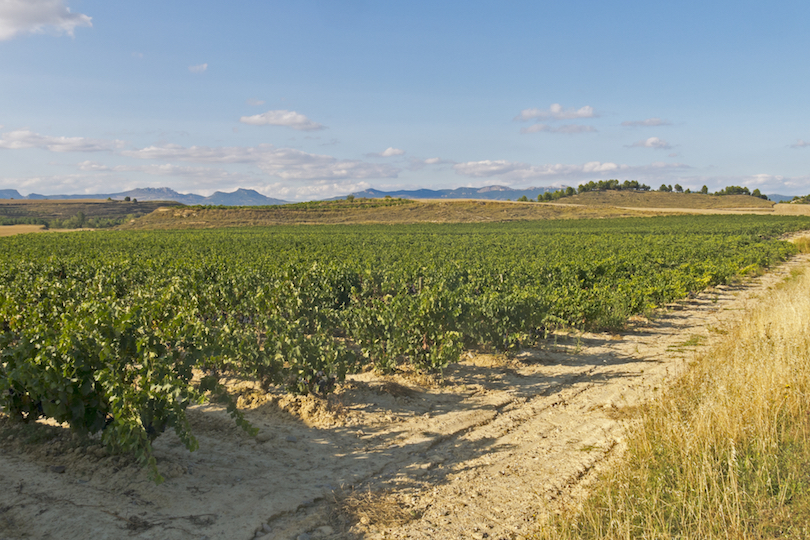 Covering part of the Ebro Valley and the Iberian Range, La Rioja in the north of Spain is famous for its fantastic wines. Tucked away among its many mountains, rivers, and valleys, you'll find lots of scenic vineyards and internationally renowned wineries.
While Logrono is the capital of the region, it is well worth venturing further afield; Briones and San Millan de la Cogolla are very picturesque and have a lot of interesting historical sights on show.
The sparsely populated region is also home to lots of beautiful cathedrals and monasteries that are scattered around here and there, and many pilgrims pass through La Rioja while following the scenic Way of St. James.
Navarre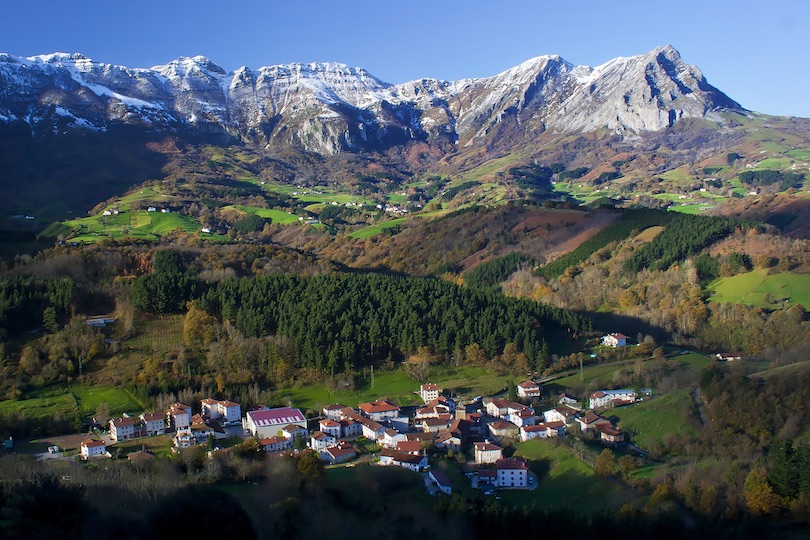 Bordering France in the north of the country, Navarre is home to two contrasting landscapes; the impressive Pyrenees mountain range makes up much of its territory, while the low plains around the Ebro river valley form the rest.
While lots of delightful medieval monuments and towns litter its picturesque countryside, it is Pamplona with its famous Running of the Bulls festival that attracts the most visitors. The region's largest and most populous city has lots for you to see and do the rest of the year as well, as it is bursting with beautiful buildings, leafy parks, and pretty palaces.
In addition to this, the historic towns of Olite and Tafalla are also well worth checking out, with Tuleda being the only other city of note in Navarre.
Region of Murcia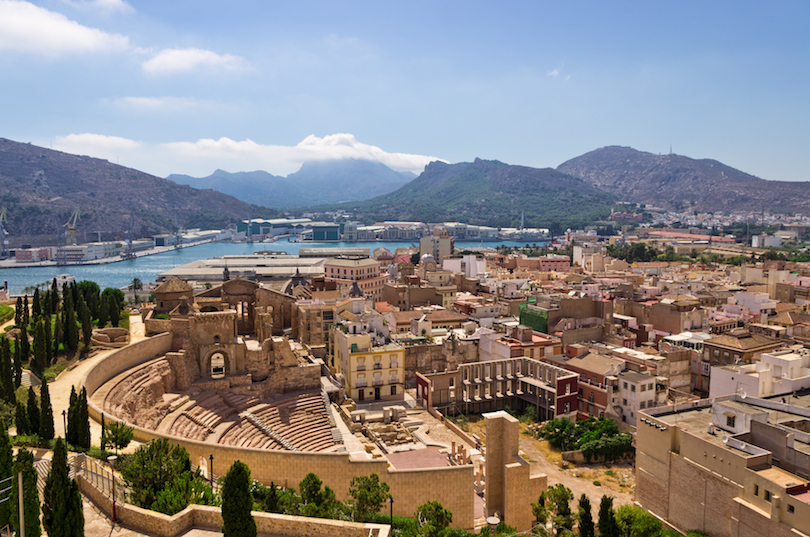 Located in the southeast of the country, the region of Murcia is a delightful place to visit. Its myriad of interesting sights offer the perfect combination of history, culture, beaches and nature.
As around two-thirds of its territory is made up of stunning mountains and valleys, there are loads of great outdoor activities – such as hiking and mountain biking – for you to enjoy, while its low lying plateaus and flatlands slowly give way to its glittering coastline.
Lots of rivers also snake their way through the region, and one of its most remarkable natural sights is the Mar Menor – a huge salty lagoon which is ideal for watersports.
Hidden away amid these diverse landscapes are lots of little charming towns and villages, each with its own local festivities and customs on show. The capital of the region, Murcia, is also well worth a visit, as it has some fantastic Baroque churches and museums scattered around town.
Valencian Community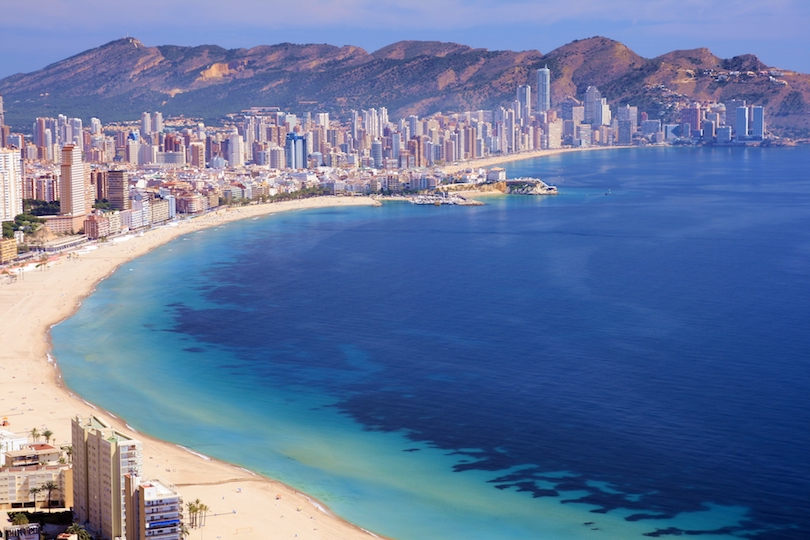 Centered around Valencia (the largest, most populous city in the region) on the southeast coast of Spain, the Valencian Community is awash with beautiful nature. Its many fines beaches are bordered by the sparkling waters of the Mediterranean.
Due to its stunning scenery, warm, climate, and wealth of seaside towns and resorts, it is a trendy place to visit among holidaymakers, with the Costa Blanca around Alicante being one of its main draws.
In addition to its lovely coastline, the region also has lots of great historical sights and museums for visitors to enjoy, while its warm waters lend themselves perfectly to all kinds of watersports. Alongside the vibrant Valencia, popular towns to visit include Gandia, Benidorm, Alicante and Bunol, which is home to the world-famous La Tomatina festival.